Vitra expands its accessories range with Charles and Ray Eames, Alexander Girard, Arik Levy and Front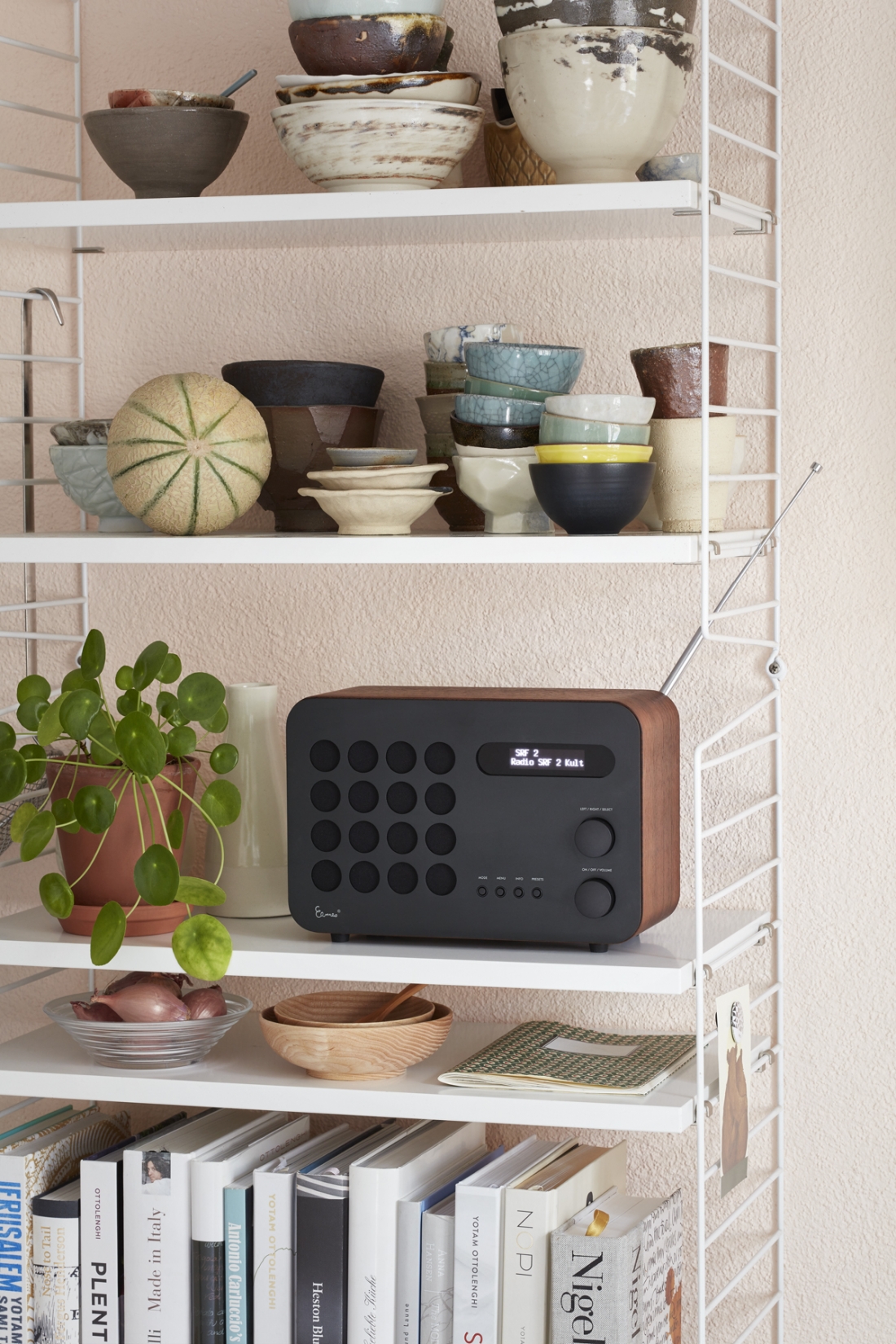 Vitra has expanded its Accessories Collection for autumn/winter 2018, adding to its growing range of design objects, accessories and textiles based on classic patterns and objects by Alexander Girard, George Nelson and Charles and Ray Eames, and including pieces by contemporary designers.
Resting Animals by Front is the result of a recent research project focussing on the close connection between humans and figurative objects. The design duo randomly selected people, who were asked to identify the most emotionally enriching and meaningful objects in their lives. The majority of answers turned out to be animal figures that were perceived to have personalities, specific attributes or a shared history. Previous works by Front have been devoted to the systematic observation of how various animals sleep or hibernate.
This interest is now expressed in a group of slumbering creatures – Resting Animals – whose poses exude a serene tranquillity. The largest is a knit-covered bear that can be used as a stool, ottoman or backrest, for example. The smaller designs are decorative ceramic figures depicting a cat and two birds of different sizes.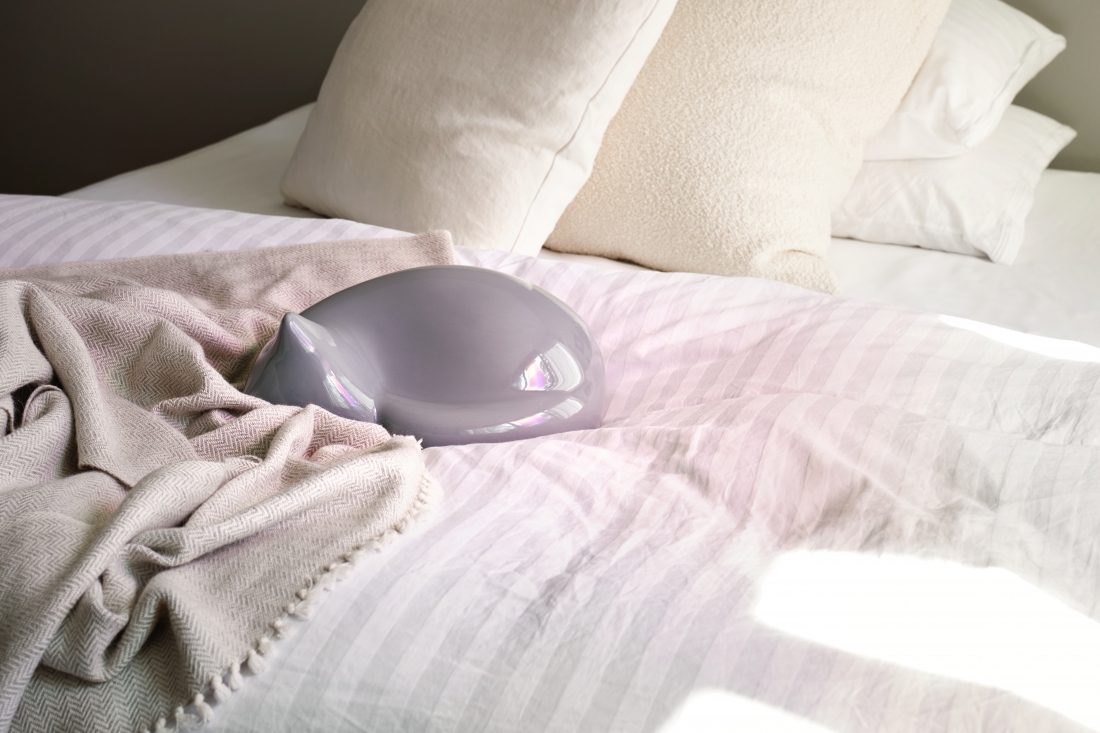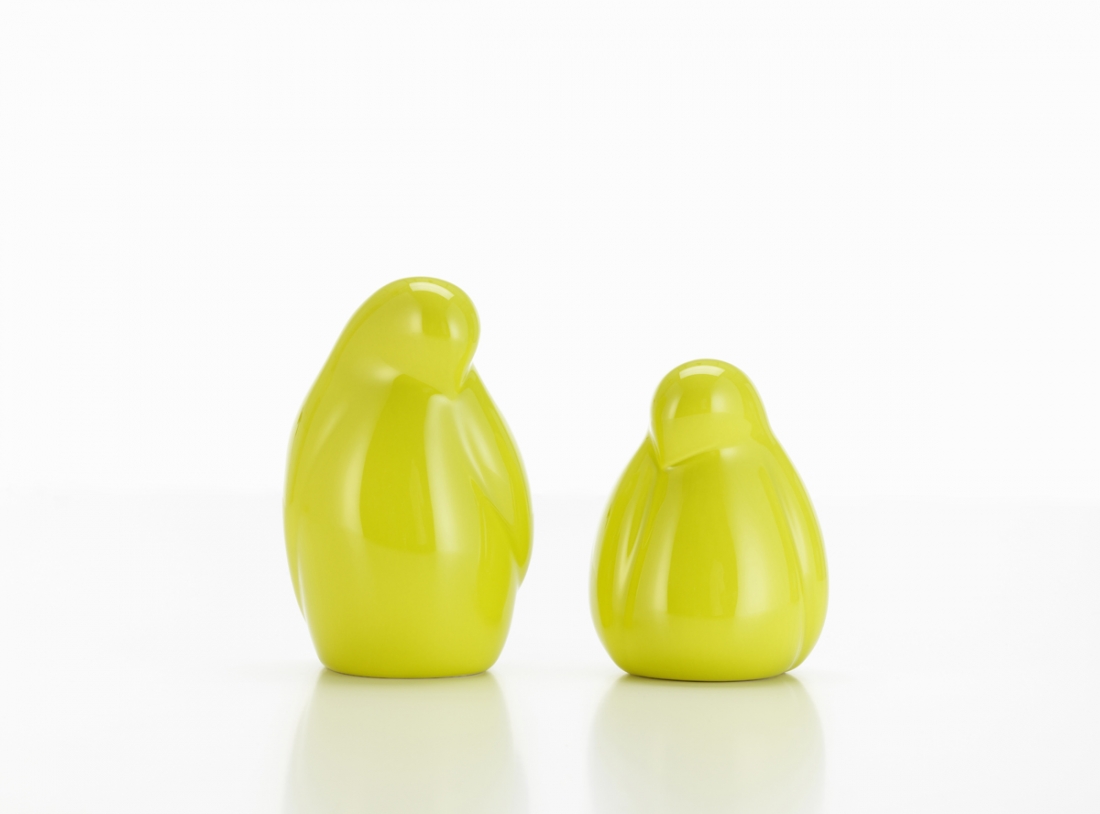 Also available is the limited-edition Eames Radio by Charles & Ray Eames. After developing a successful method for moulding plywood in the early 1940s, Charles and Ray Eames employed the acquired know-how to create a wide range of products – including radio cabinets. By 1952, roughly 200,000 radios designed by the Eameses had been sold by various manufacturers.
One design, however, never went into production: an elegant table radio with a moulded plywood case, whose compact shape and austere, more technical look was unusual for the time. Conceived in 1946, the radio was rejected by the designated manufacturer, who wanted a "normal design". Charles and Ray sent photographs of the prototype to the magazine Interiors; matchbooks were included in the pictures as a scale reference. Their aim was to increase the acceptance of smaller, more modern devices. However, this goal proved elusive, and the production of Eames radios was discontinued in the early 1950s.
More than 70 years later, Vitra has joined the Eames Office to revive the design of this compact radio, which was a favourite of Charles and Ray. Encased in an elegant walnut cabinet and equipped with up-to-date technology by the British manufacturer REVO, the Eames Radio today bears witness to the designer couple's unwavering belief in progress.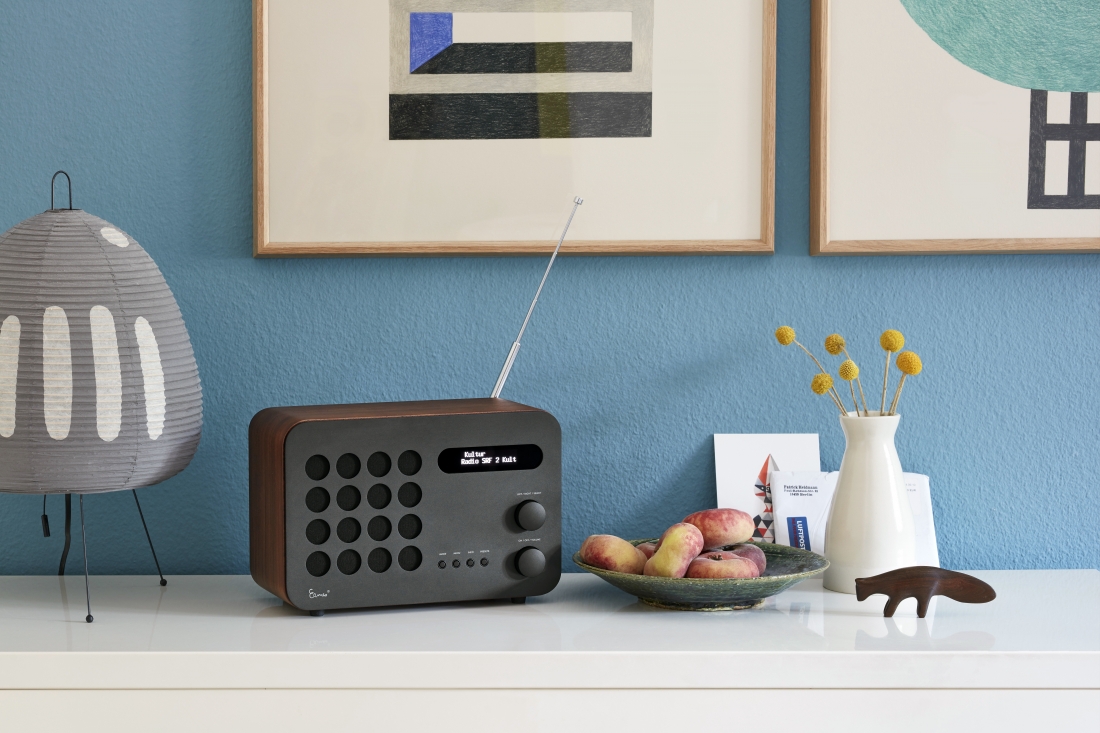 Charles and Ray Eames were keen travellers their entire lives and brought back numerous objects and accessories from their travels to furnish and decorate their private home, the Eames House. One of these items is a blackbird figure that has stood in their living room for over fifty years. Highly treasured by the couple, it also appeared as a frequent accessory in photographs taken by Charles and Ray.
In collaboration with the Eames Office, Vitra is now issuing a version of the Eames House Bird in dark walnut with a clear lacquer finish. The visible grain gives the wooden bird an authentic and natural look, which also highlights the carefully handcrafted production process.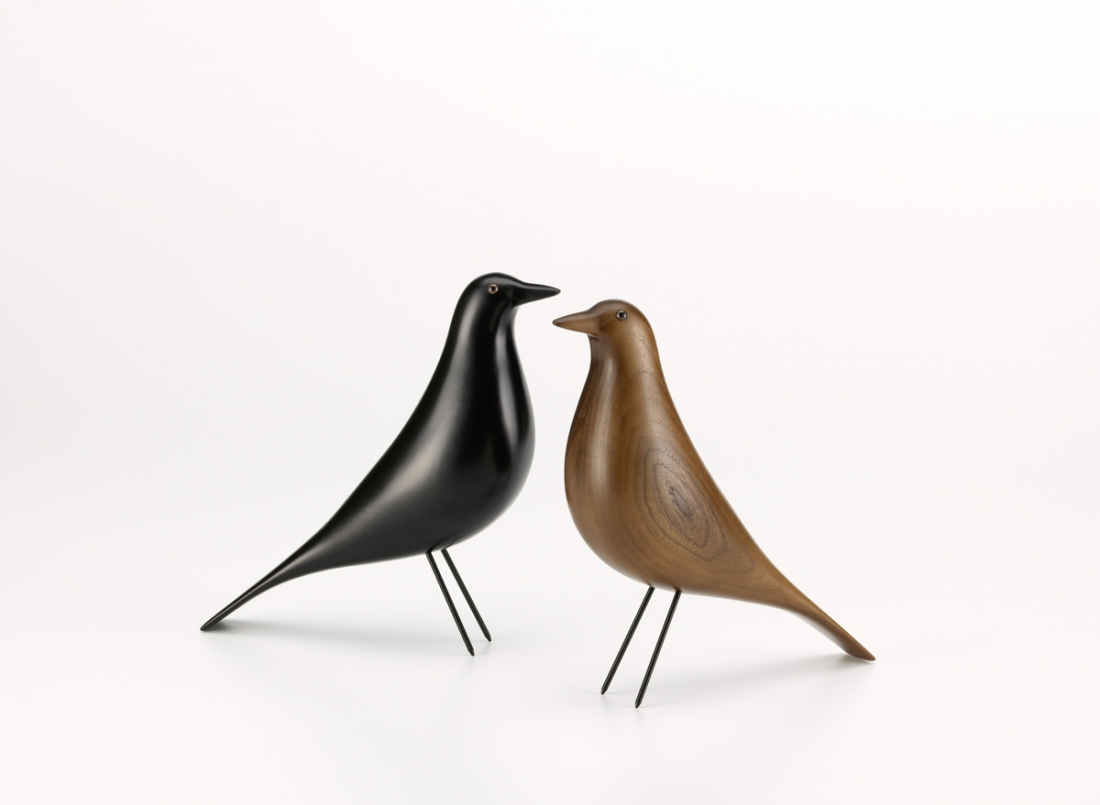 Along with his colleagues Charles and Ray Eames and George Nelson, Alexander Girard was one of the leading figures in American design during the postwar era. While textile design was the primary focus of Girard's oeuvre, he was also admired for his work in the graphic arts as well as furniture, exhibition and interior design. Girard brought a playfulness to twentieth-century design that had been absent from the austere aesthetic of classic modernism.
For the Table Runners, Vitra collaborated with the Girard family to select the textile designs Broken Lines and Geometric E, developed by Alexander Girard in 1964 and 1971 respectively.
Meanwhile, the Metal Wall Reliefs are examples of wall decorations developed by Girard for a number of projects. The Sun, Arrow, Heart and Little Heart, which were created for The Compound Restaurant and Girard's own house in Santa Fe, now welcome a new addition to the collection: Metal Wall Relief Dove.
The dove of peace first made an appearance in Girard's work in 1965 and was used repeatedly throughout his creative life and career in a variety of manners – such as for diverse textile applications, on his Tree of Life or in his legendary graphic design work for Braniff Airlines.
Selected by Vitra together with the Girard family, the motifs for the Metal Wall Reliefs are manufactured in robust metal.
Girard also made the Angel Candle Holder himself for his home in Santa Fe, where it stood on the dining table surrounded by folk art and vases. He also used the motif in his graphic designs for the exhibition Hemisfair – The Magic of a People, which was held in San Antonio, Texas in 1968. Vitra collaborated with the Girard family to develop the white candle holder for serial production in powder-coated steel.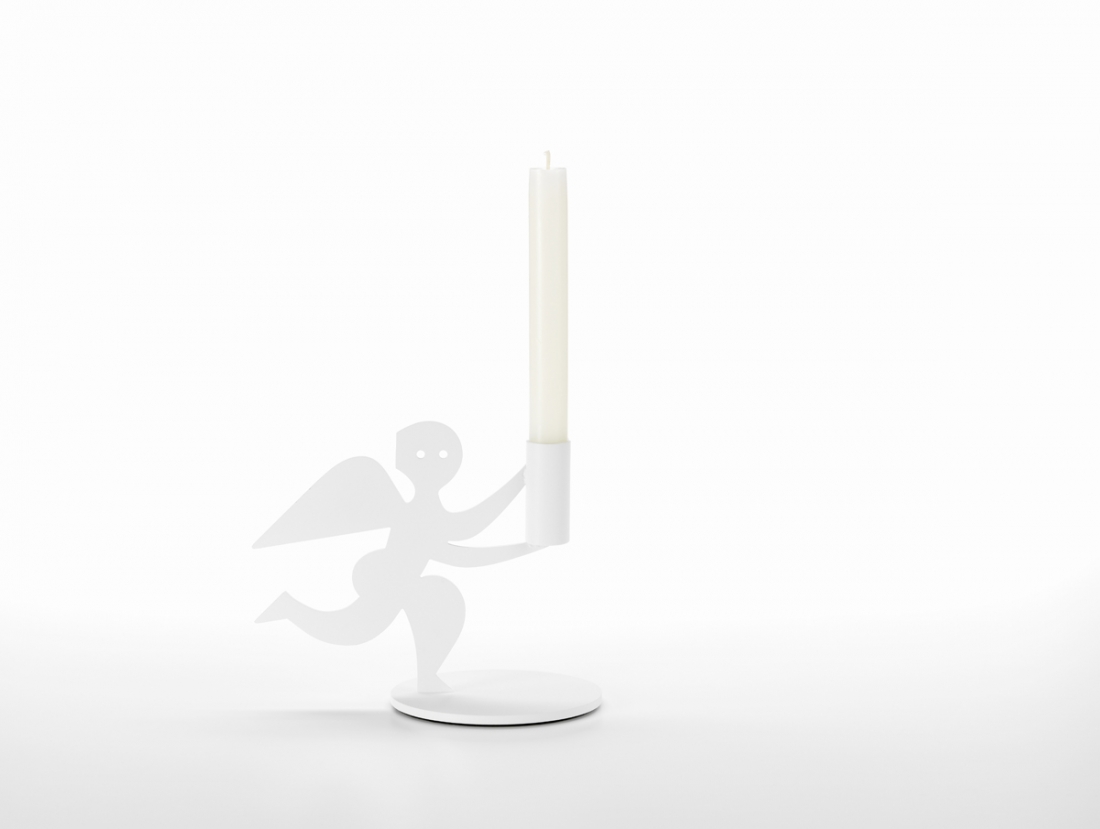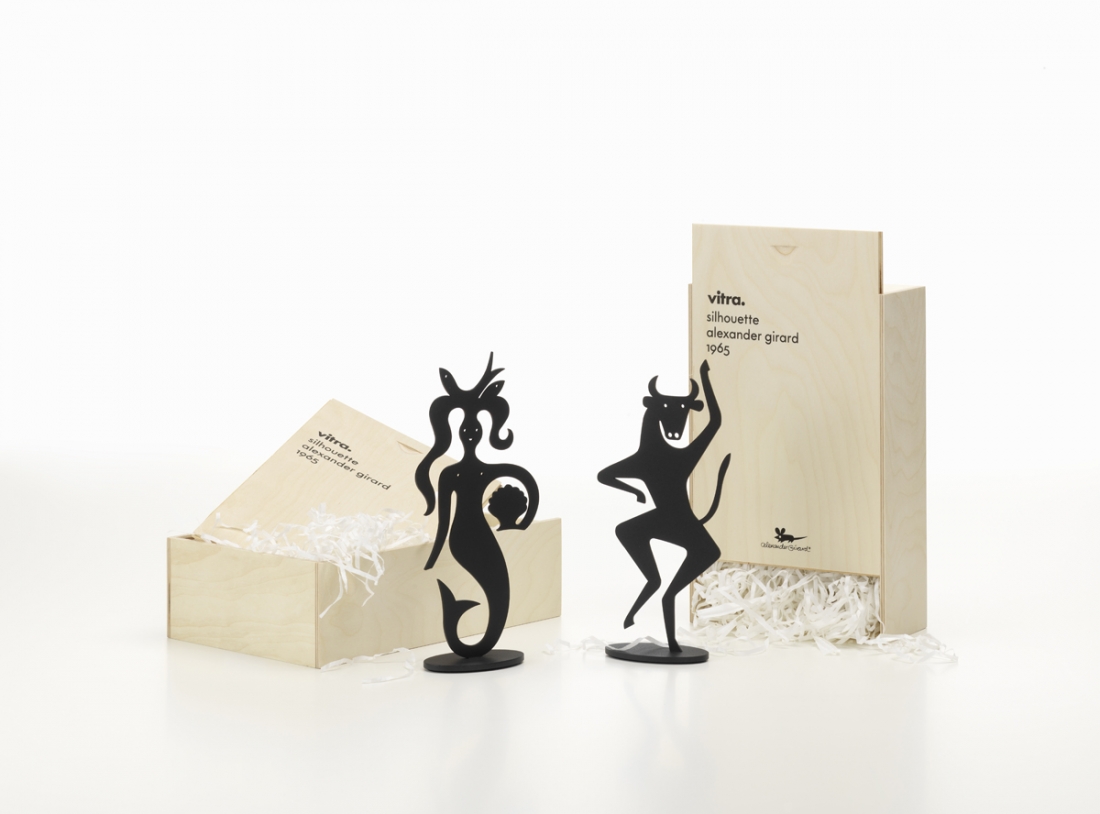 In the 1960s Girard created the interior concepts for several restaurants – La Fonda del Sol (1961, New York), L'Etoile (1966, New York) and Compound (1967, Santa Fe) – with comprehensive solutions ranging from decoration, furniture and tableware to napkins, business cards and matchboxes.
In 1965 he was commissioned to design the New York restaurant La Reserve and created a series of charming metal figures that appear to be dancing: Silhouettes. They were to be positioned between the dining tables, adding a cheerful touch to the ambience, while simultaneously serving as attractive partitions between guests.
The restaurant La Reserve unfortunately never came into being, but the plans and drawings by Alexander Girard were preserved and are part of the Alexander Girard Collection held by the Vitra Design Museum. Together with the Girard family, Vitra studied all the ideas developed for La Reserve and decided to bring the Silhouettes to life – initially with the motifs Bull and Mermaid.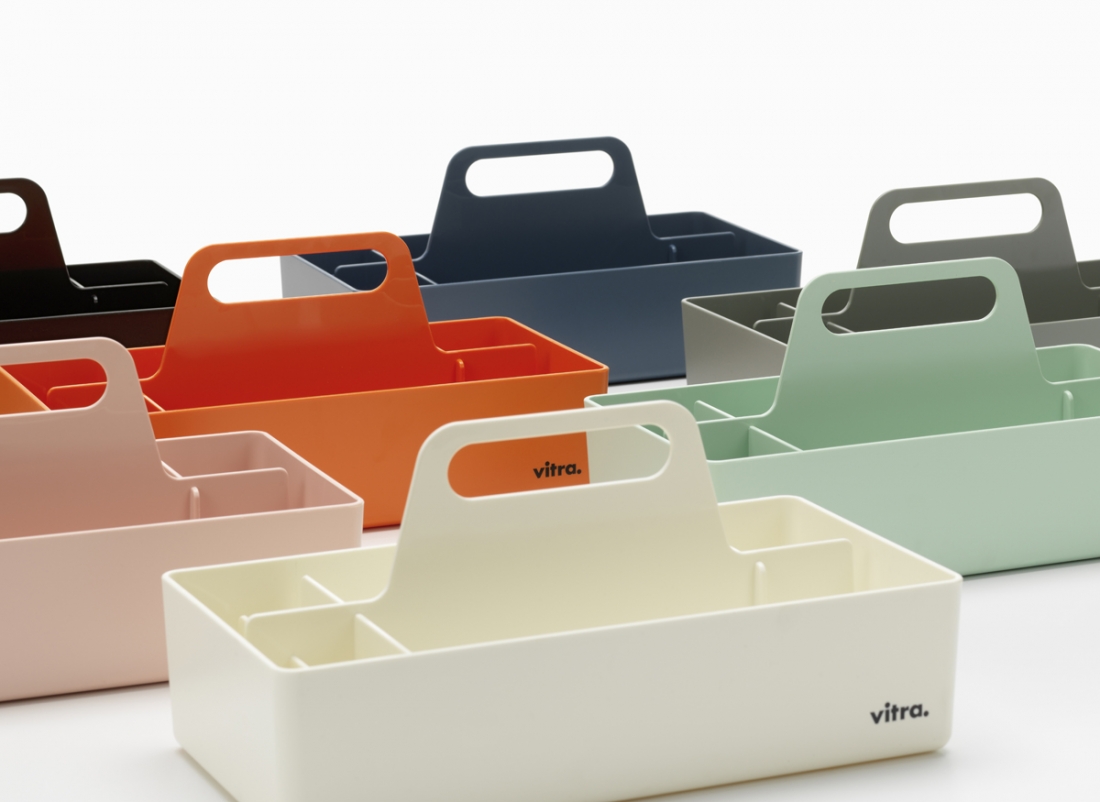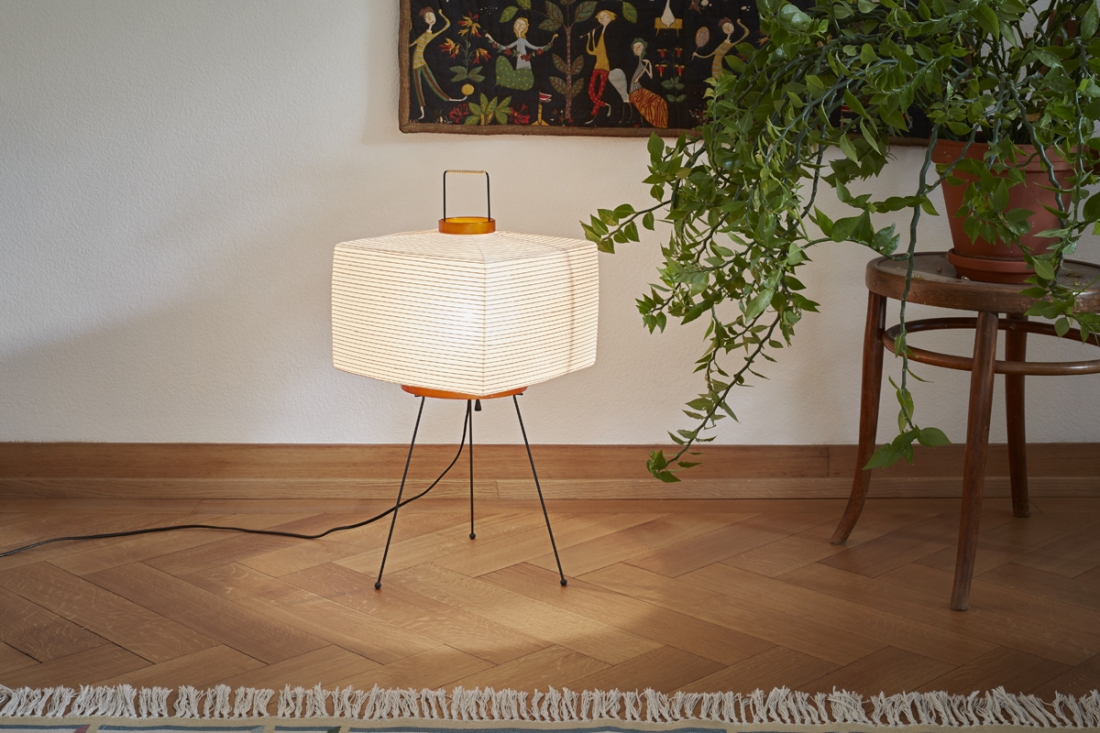 Meanwhile, Toolbox by Arik Levy is a practical storage container with a handle for use in the home and office. Designed with functional compartments to organise all sorts of items, such as accessories, make-up, kitchen utensils, medication, work materials and writing paraphernalia. It's now available in an updated palette of colours.
Last but not least is the Akari Light Sculptures by Isamu Noguchi. In 1951 the Japanese-American artist and designer began to develop the Sculptures, a group of works handcrafted out of paper that eventually comprised over 100 luminaires – table, floor and ceiling lamps. He chose the name "Akari" for these objects, a word that means "light" in Japanese, connoting both illumination and physical lightness.
Three new models have now been added to this inspirational collection, offering an even greater choice for diverse interior styles.
Each luminaire is elaborately crafted by hand in the Ozeki workshop, a traditional family-run company based in Gifu, Japan. The Akari Light Sculptures are marked with a stylised sun-and-moon logo designed to resemble the corresponding Japanese characters. This guarantees the authenticity of each product.
"The harshness of electricity is transformed through the magic of paper back to the light of our origin – the sun – so that its warmth may continue to fill our rooms at night," said Isamu Noguchi.
Discover more at www.vitra.com.