American Tulipwood Pavilion featured in David Adjaye: Making Memory at Design Museum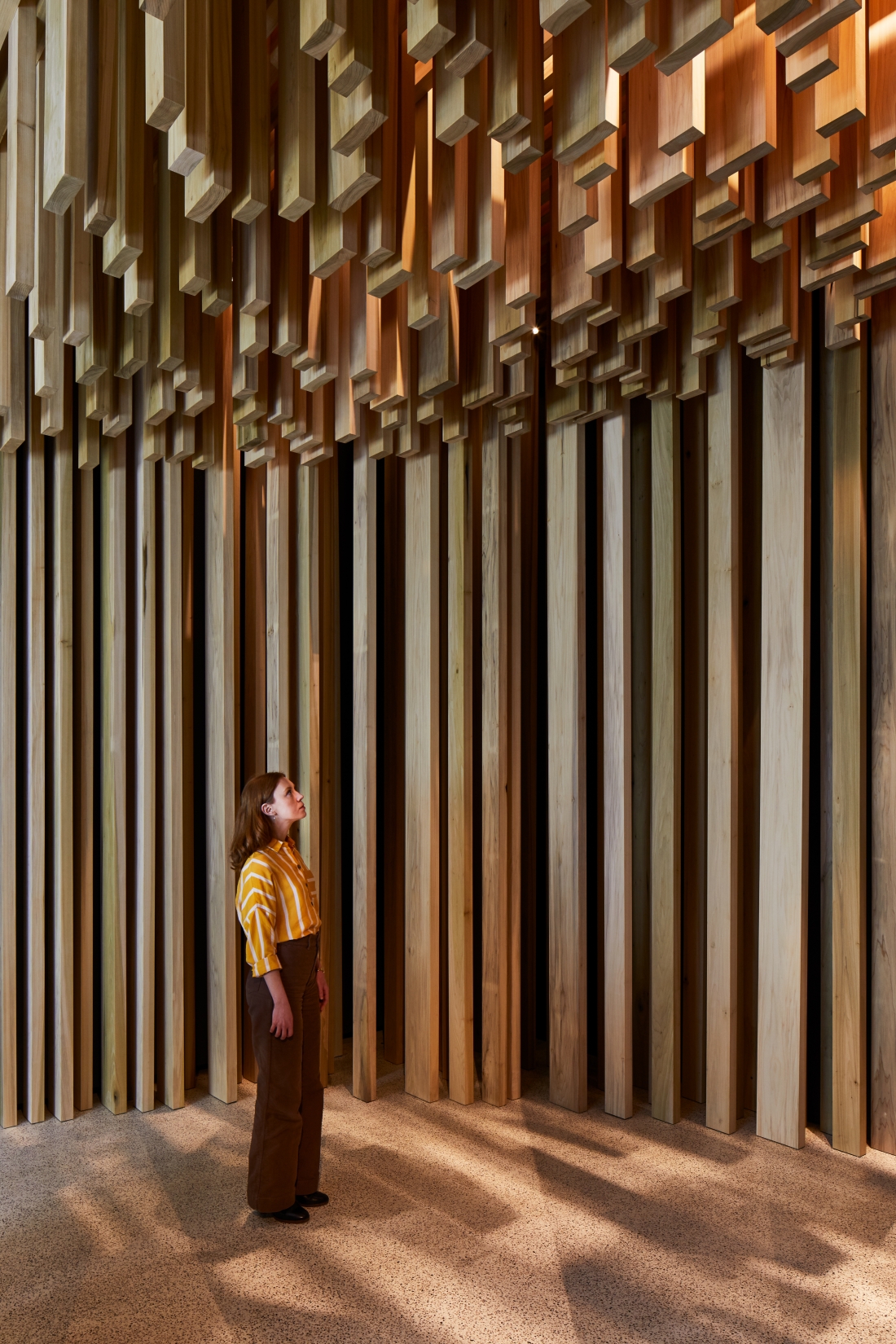 A collaboration first presented in 2008 by the American Hardwood Export Council and Sir David Adjaye is part of a new exhibition at the Design Museum in London.
Sclera, originally commissioned for the London Design Festival, is one of seven projects featured in David Adjaye: Making Memory, which runs until 5 May 2019.
British-Ghanaian architect Sir David Adjaye OBE will explore the role of monuments and memorials in the 21st-century through seven of his projects. He will examine the idea of the monument and present his thinking on how architecture and form are used as storytelling devices. This exhibition shows that contemporary monuments are no longer static objects in a field – plaques, statues or neo-classical sculptures – but are dynamic and complex spaces that serve a wider purpose.
A fragment of the Sclera pavilion will be showcased in one of the exhibition rooms. The original Sclera was an elliptical 12 x 8-metre American tulipwood outdoor pavilion located near The Thames on the Southbank Centre Square.
Inspired by the human eye, it was an exploration of form and space, and was designed as a public room in the heart of the city that could be simultaneously calming and uplifting – an immersive urban monument about slowing down in order to see and understand the world better. The fragment at the Design Museum, which has been replicated following the original drawings by craftsman makers Benchmark, measures 4.5 x 3.4 metres and will invite visitors to get a glimpse at what the original experience inside the pavilion was like and to explore the look and tactility of the tulipwood.
"Working with tulipwood timber allows to really bring out a series of positive and negative forms together. The architecture looks opaque and solid as you approach it, you think it's a sealed room that dissolves as you enter. You realise that it is a moment where your heightened feeling of light and air are brought into the fore and the visual world is taken away from you," Sir David Adjaye tells Material Source.
"I wanted to think about the role of sacred spaces, respite spaces, quiet monuments that played a certain role in our cities and maybe have now become more formal as religious spaces. I wanted to really find a way in which we could make a space that didn't have the connotations of religion or formal monuments but one that could just allow citizens to retreat from the bustle of everyday life. Timber, such as tulipwood, brings a sense of calm and being amongst nature when surrounded by it."