Run for the Hills unveils stylish design for boutique cinema TIVOLI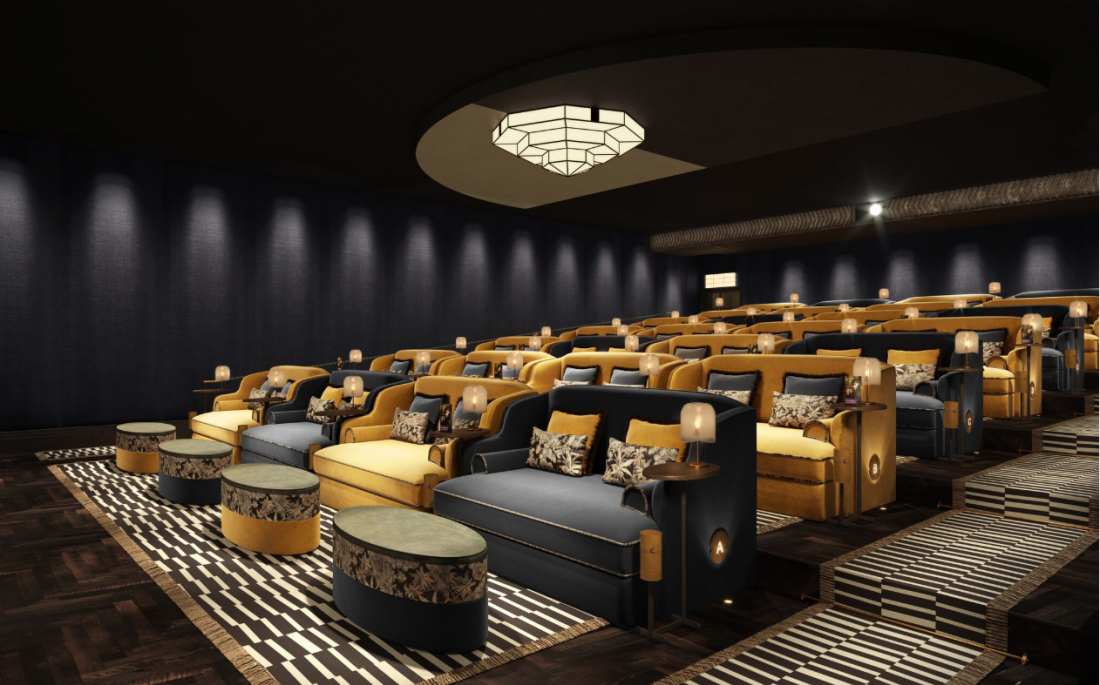 London-based consultancy Run For The Hills has unveiled its design of boutique arthouse cinema TIVOLI, launching this December in Bath.
TIVOLI has four, fifty-seat screening studios, a twelve-seat Directors Lounge and a bar, lounge and restaurant. The overall feel of the interior scheme is stylish, yet welcoming and comfortable, with an Art Deco twist.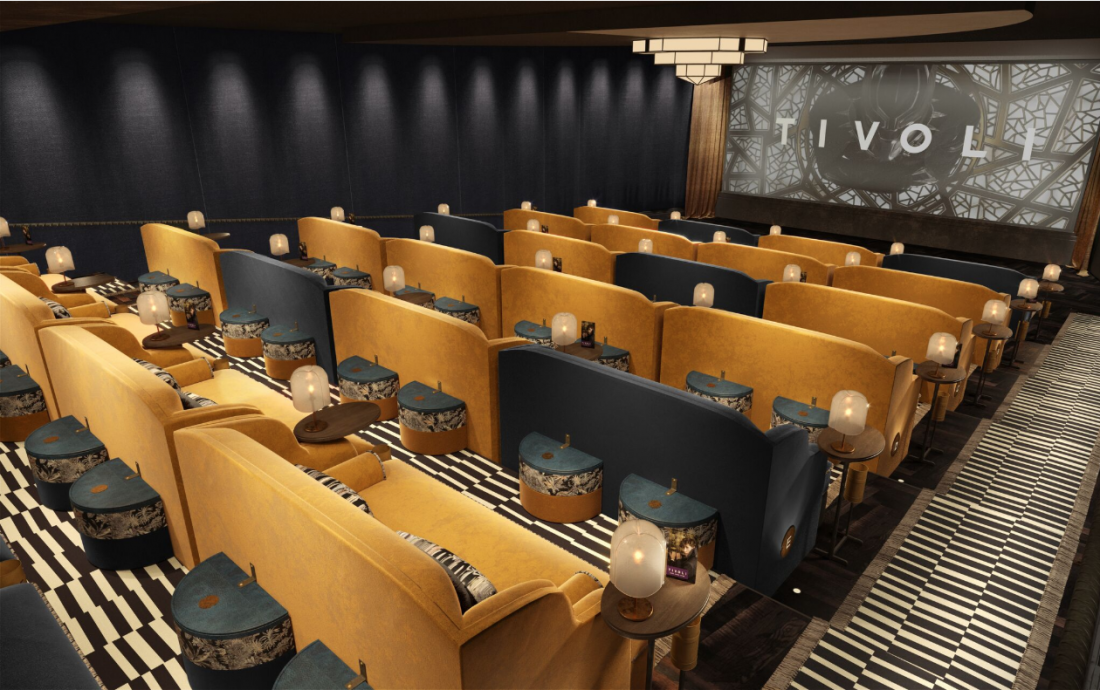 The interiors use an earthy and warm palette of rich golds, green, ochre and dusky blue tones in slouchy linens, brassy velvets and deeply textured weaves. Chalky and marbled stones are paired with a mix of metals including bronze, antique brass and blackened steel.
The bar area features glamorous bar stools in a mix of antique brass, blackened steel and dark tropical patterned velvet. A monochrome tile-patterned floor leads visitors to an Arabescato marble-topped bar, with heavy antique brass bullnose edging and a softly lit mesh front. The exposed bar storage is crafted from a mix of rich-toned timber, antique mirror and blackened metal and brass joinery.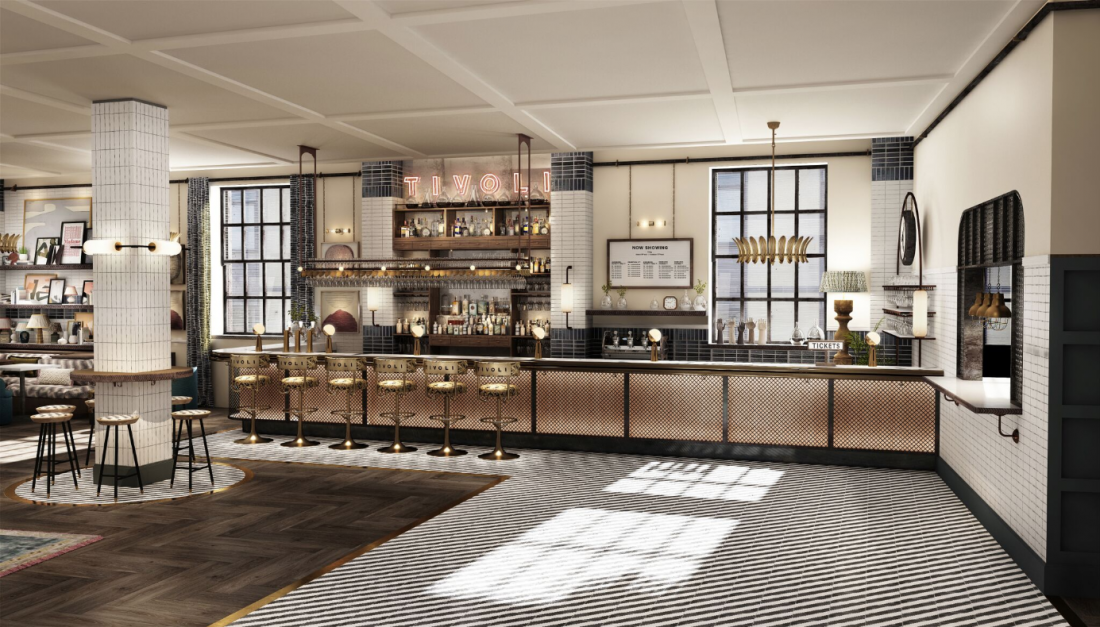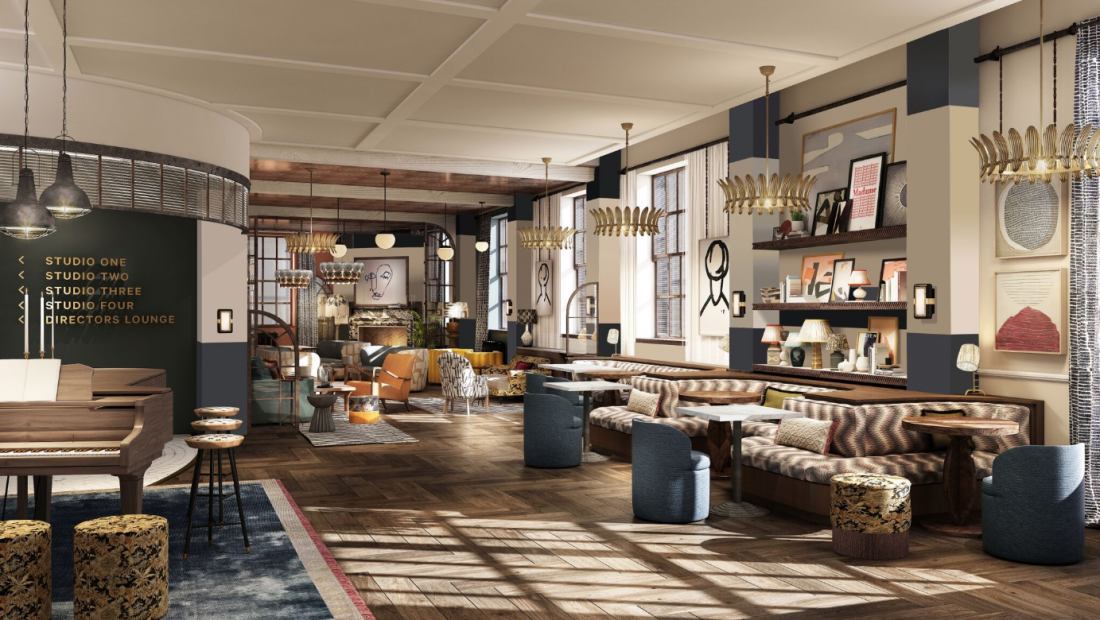 Beyond the bar is a beautiful, relaxed café-bar and lounge area, dotted with comfy sofas, deep armchairs, decorative rugs, wooden chairs and upholstered stools in contrasting textures and patterns. A black iron picture rail surrounds the entire perimeter of the space, used for hanging art on decorative chains and adding softness with textured curtains and drapes. Flooring and tiles are kept monochromatic, ranging from stone-hued neutrals to black and white stripes.
As TIVOLI is an all-day venue, Run For The Hills has styled the space with a morning-through-night feel, using oversized Georgian lattice windows that cast streams of sunlight onto the herringbone oak floor during the day. After sunset, atmospheric lighting adds to the buzz around the bar area while soft, flattering pools of light zone the seating and dining areas.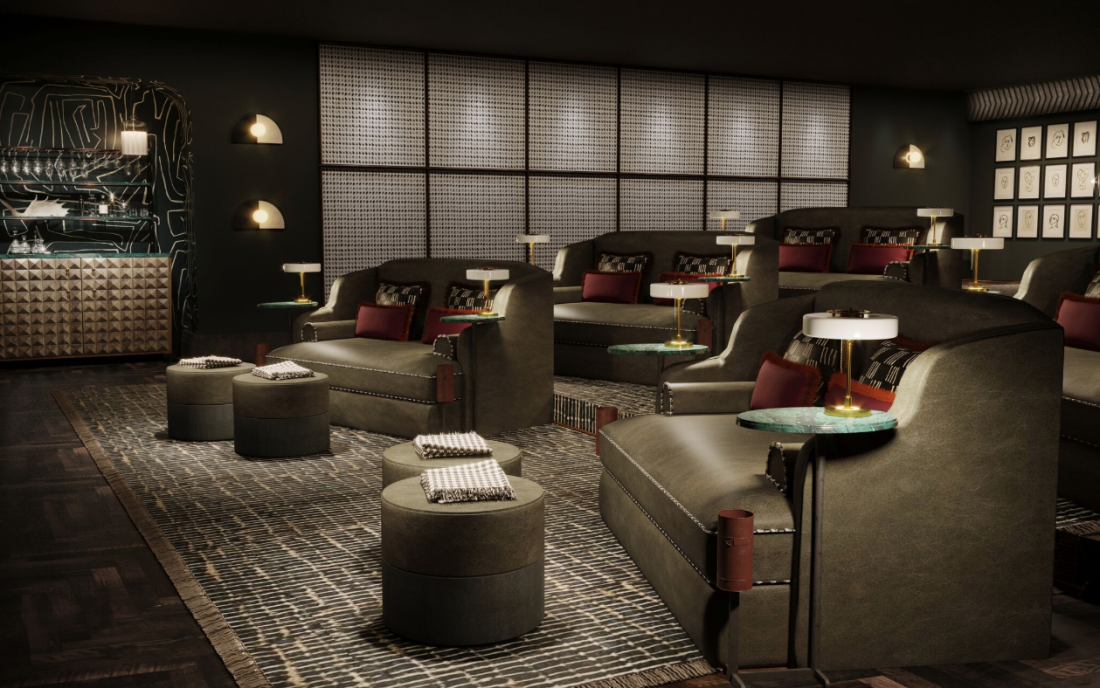 The cosy twelve-seater Director's Lounge has a sleek and sophisticated design. Dark leather seating, geometric wall-fabric and upholstered wood panels are used throughout. Dark tropical print cushions add an unexpected flair. The room is filled with custom joinery and brass accents and each of the two-seater sofas is paired with a footstool ensuring the ultimate cinematic experience.
"This is our first foray into cinema design and we've absolutely loved it. Tivoli is a bold, charismatic new concept and our interior styling marries seamlessly with TIVOLI's branding, also designed by our graphics studio," says Run For The Hills Creative Director, Anna Burles. "Our client really enjoys the design process and it has been a privilege developing the concept with him."