Vancouver design team Ste. Marie brings old-world Italian charm to Caffè La Tana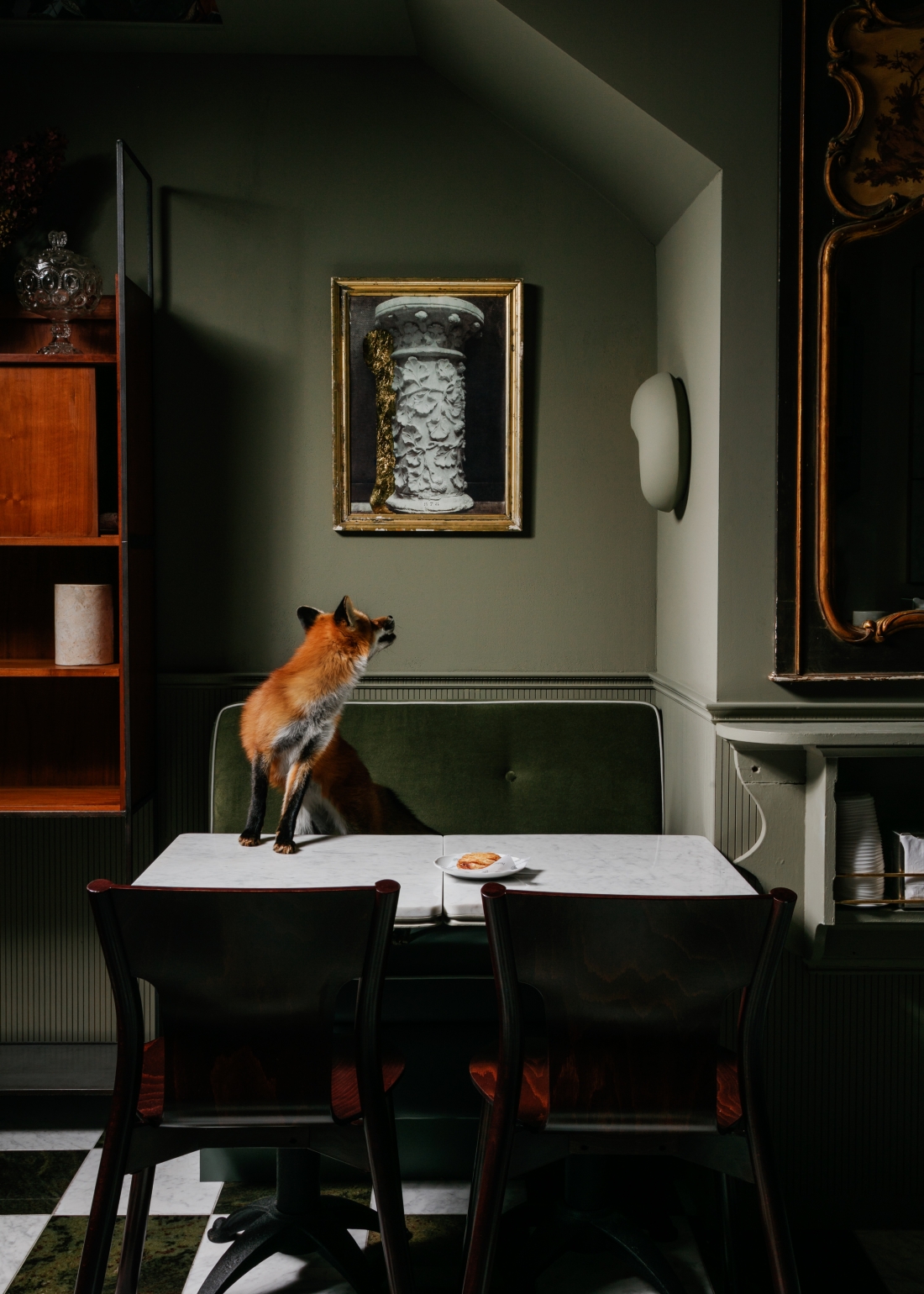 Rare antiques sit alongside wall-mounted sculptures and modernist custom art in an Italian cafe designed by studio Ste. Marie in Vancouver.
The name La Tana can be loosely translated as 'the den' and plays on the connection to a sister restaurant Savio Volpe (wise fox). The idea of this space being the home for their beloved fox became the driving narrative behind the interior design.
The project vision was to create a space that encapsulated the cosiness of a 19th-century Italian cafe, imbuing a sense of familiarity from the moment customers walk through its doors.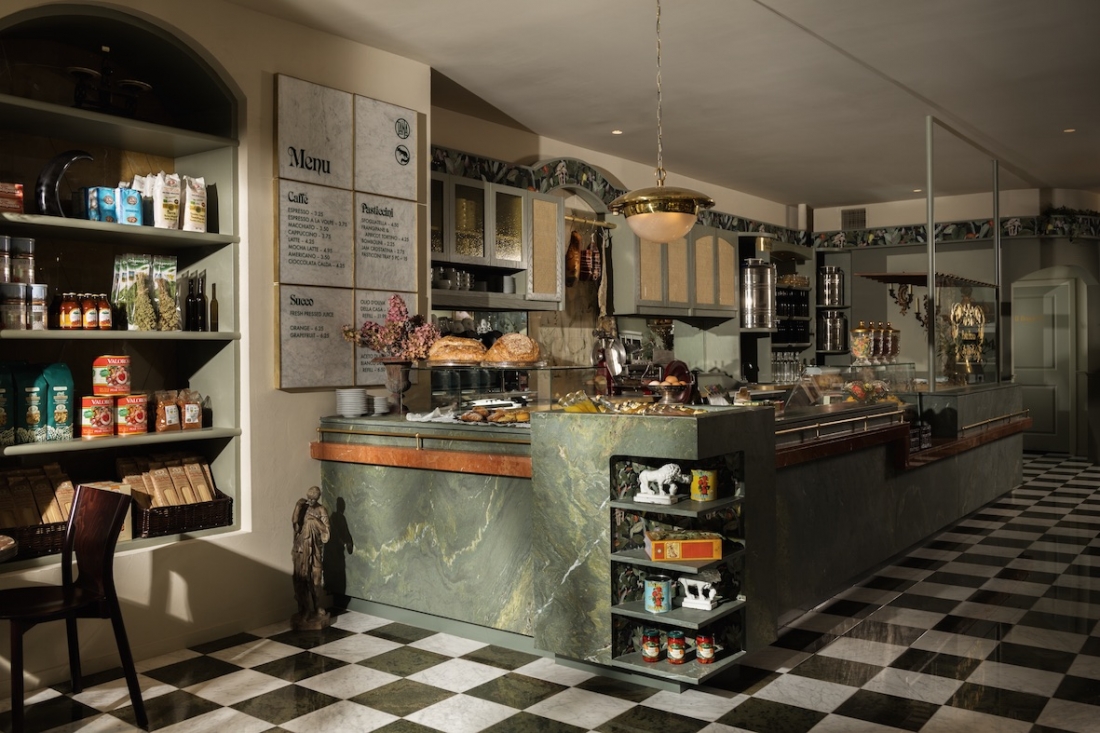 "We endeavoured for La Tana to be two things: elegant and effortless - a physical manifestation of the Italians' age-old gift of making art out of life", said Craig Stanghetta, Ste. Marie creative director.
Caffè La Tana is styled after the Italian alimentari: a small, neighbourhood gathering place serving pastries and simple meals; brewing strong, Italian style espresso; making fresh pasta in-house; and stocking the finest imported Italian meats, cheeses and dry goods.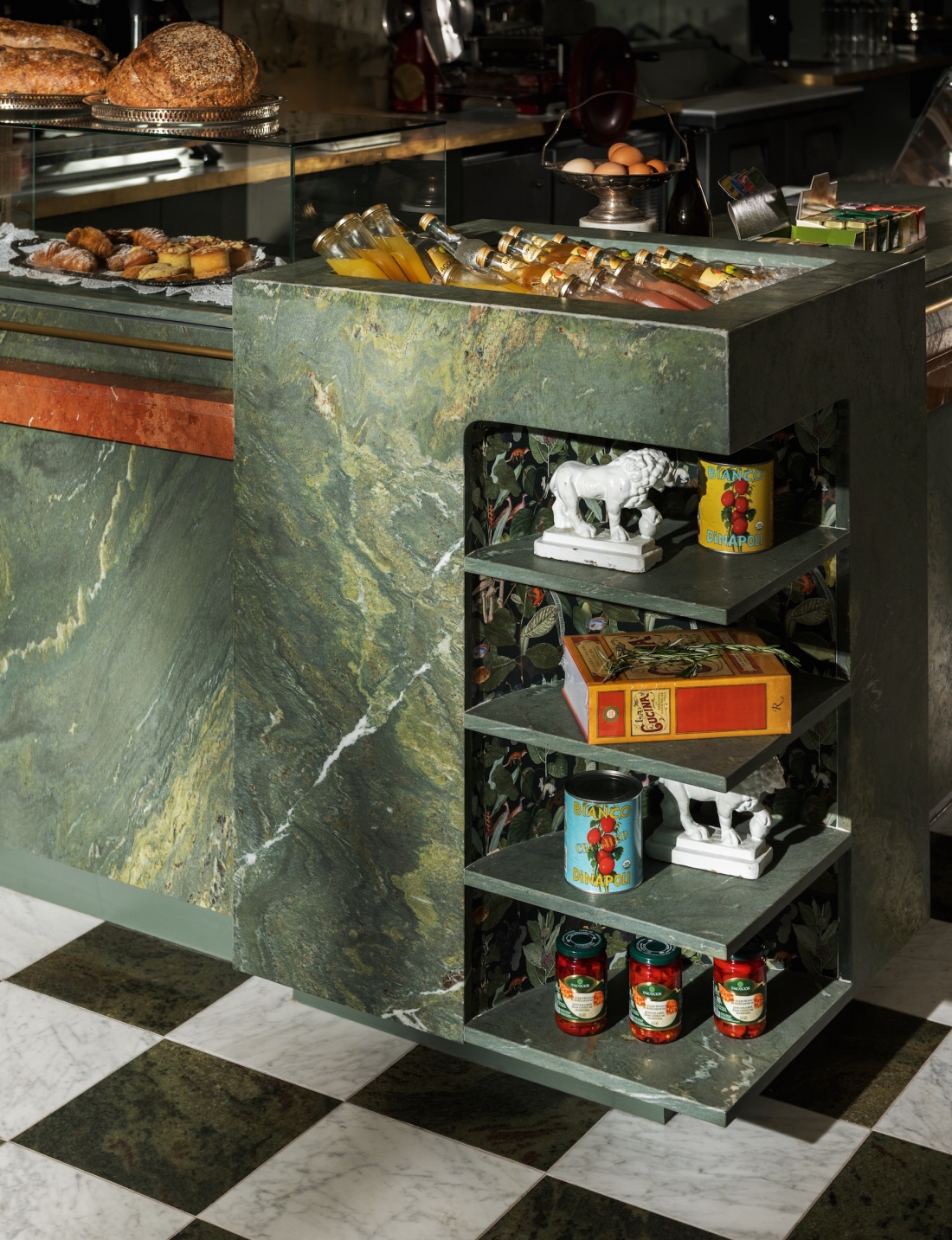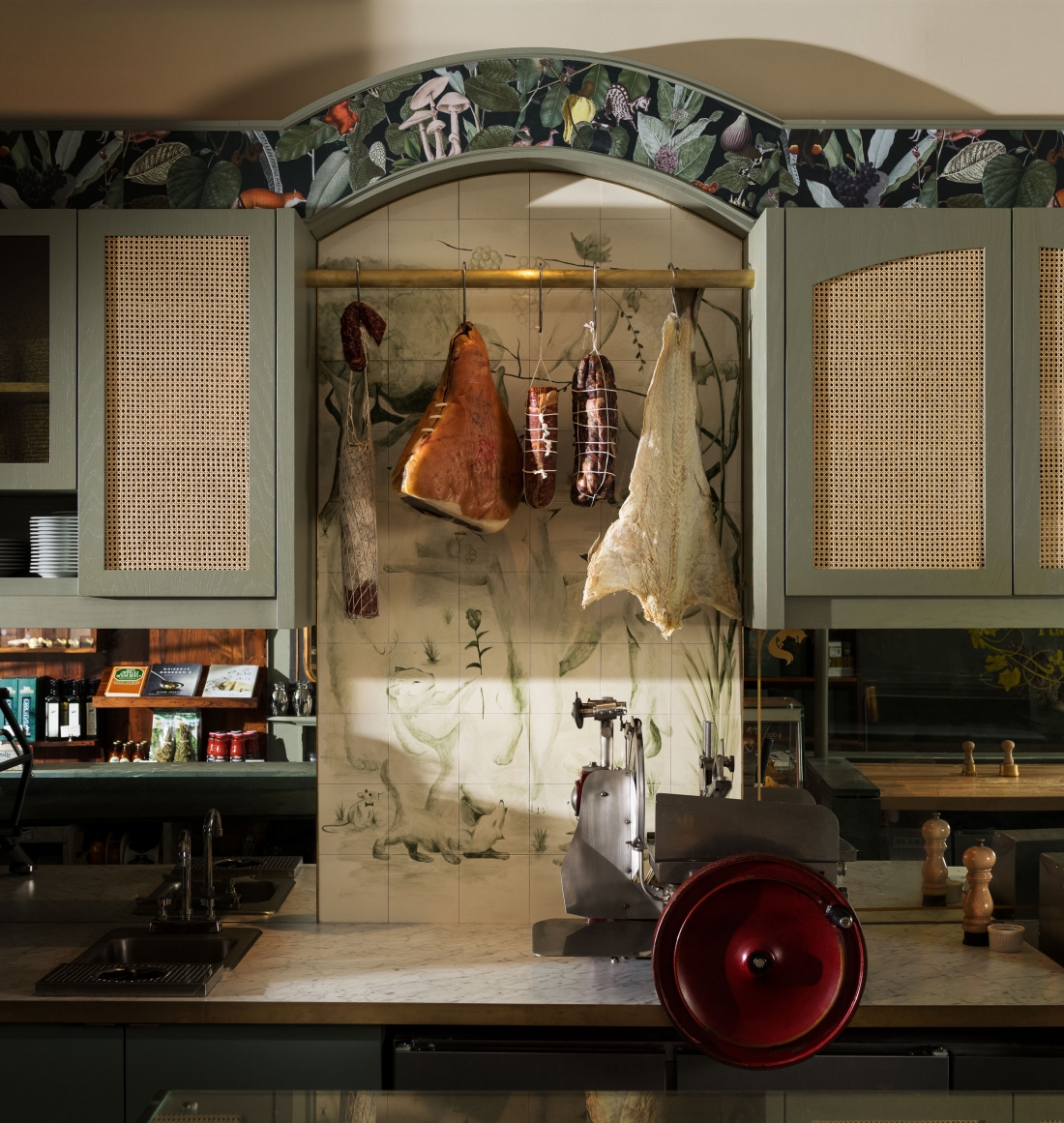 "Selfishly, I wanted a place that would bring me back to my favourite memories of travelling in Italy with my family and happening upon a tiny hole in the wall that turns out to be warm, welcoming and special", added Craig Stanghetta.
Evoking European elegance, the cafe features deep green marble, antique shelving and custom woodwork alongside classic tiled flooring, and a tailor-made, hand-drawn wallpaper.
A solid green marble bar grounds the space, with subtle hints of yellow and white veins flowing together. The striking orange ledge sweeps across the entire length, staggering at different heights and drawing the eye further into the cafe.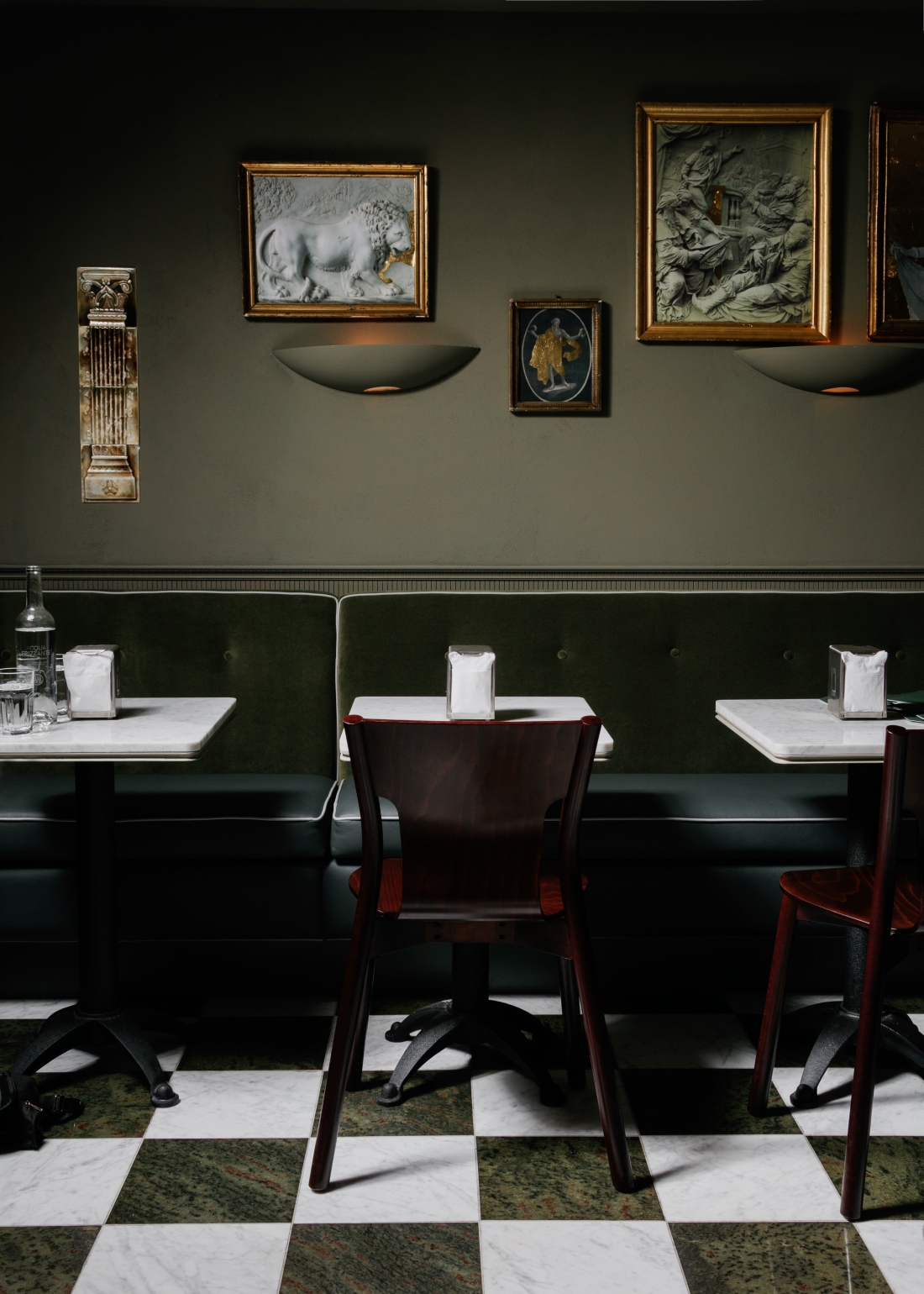 "From there you continue to look around to uncover the many details that build on the narrative of the fox's den," said Carmen Cheung, senior designer and project lead.
A hand applied plaster technique gives an aged surface texture on the walls and sits alongside a contrasting custom-designed wallpaper, with images pulled from archived zoology textbooks.
A colour pallet is comprised of monochromatic, muted grey-greens tones with a selection of unique marbles layered throughout. Subtle hints of orange focus attention toward the front bar, accentuating the featured daily food offerings.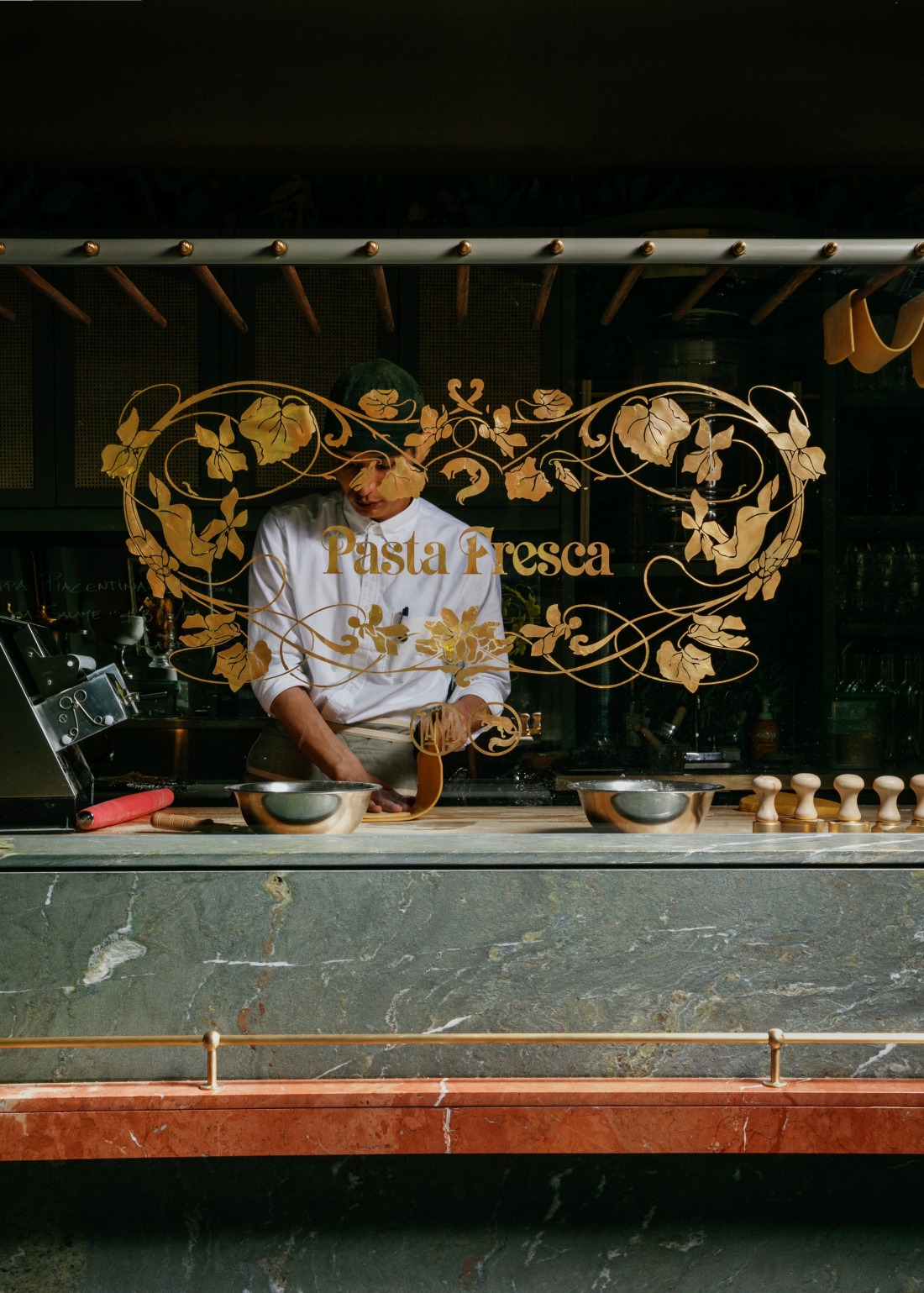 The designers were particularly happy to find a rare brass light fixture designed by Luigi Caccia Dominioni in 1965 - its warm glow can be seen from outside the café in the evenings, welcoming you in.