Becca Stern & Jess Gray of Mustard Made on mixing playfulness with practicality to disrupt the interiors market.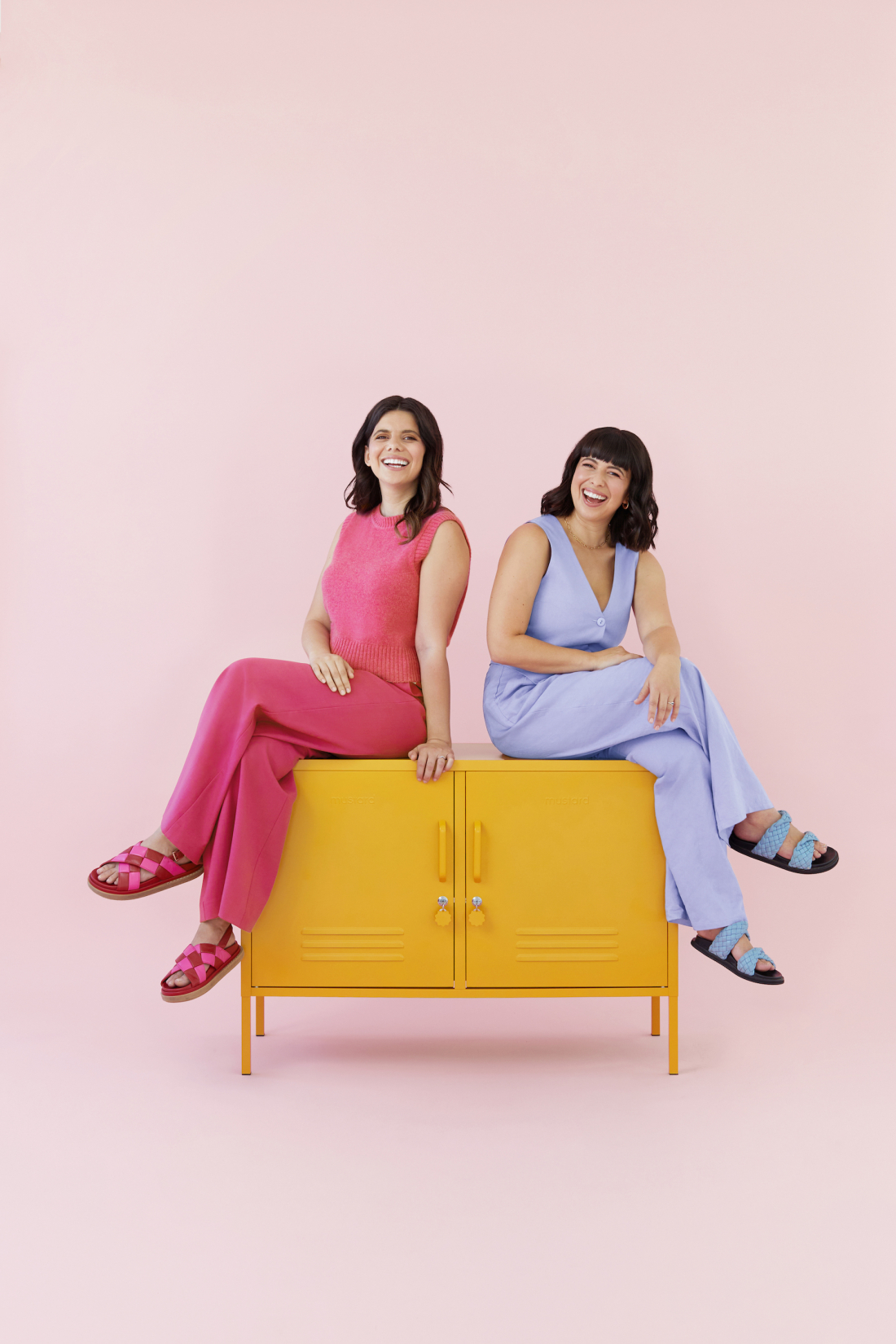 Mustard Made is a "cult furniture and homewares brand" founded by sisters Becca Stern and Jess Gray.
One of the newest additions to our Material Source Studio family, Mustard combines playfulness and practicality for its collection of statement lockers in a rainbow of shades, which provide the perfect amount of pop to interior schemes.
The company has been making waves both here in the UK, and overseas in Australia (Jess is UK-based, and Becca is Australia-based) - most recently, Mustard was included in the Sunday Times' '100 fastest-growing companies in Britain 2023' list amongst a roster of other trailblazers.
Being new to our Studio, and with such an inspirational story, we were keen to find out more about how Mustard Made came to be, and where sisters Becca and Jess, alongside their team, are on their exciting journey so far. Without further ado, it's over to Mustard...
Firstly, can you please introduce us to Mustard Made?
"Mustard Made is a cult furniture and homewares brand founded by sisters Becca Stern and Jess Gray. Mustard is known for its colourful palette and love of metal lockers in all shapes and sizes. We make beautiful, functional homewares to help you organise your life with style. Mustard launched in Australia (where Becca lives) and the UK (where Jess lives) in 2018 and we've been spreading the locker love around the world ever since. With versatility and function at the core, our lockers bring colour and playfulness to any space."
How did the company get started?
"The idea for Mustard was inspired by Becca's love of vintage lockers. We had spoken for years about starting a business together. It was one of those long-term dreams that had always been something we wanted to do 'someday'. Then I was in Australia to meet Becca's newborn son, Ellis, in 2016 and on one long walk along the beach we started to really brainstorm what a business might look like.
"Becca had a few old lockers in her home and studio that she had found in antique shops and flea markets over the years. They had so much charm, but they were never very functional. We could see the potential to reimagine them into something that was both beautiful and practical. Six months later we were in China, with baby Ellis along for the ride and six months after that we launched our first products at a trade show."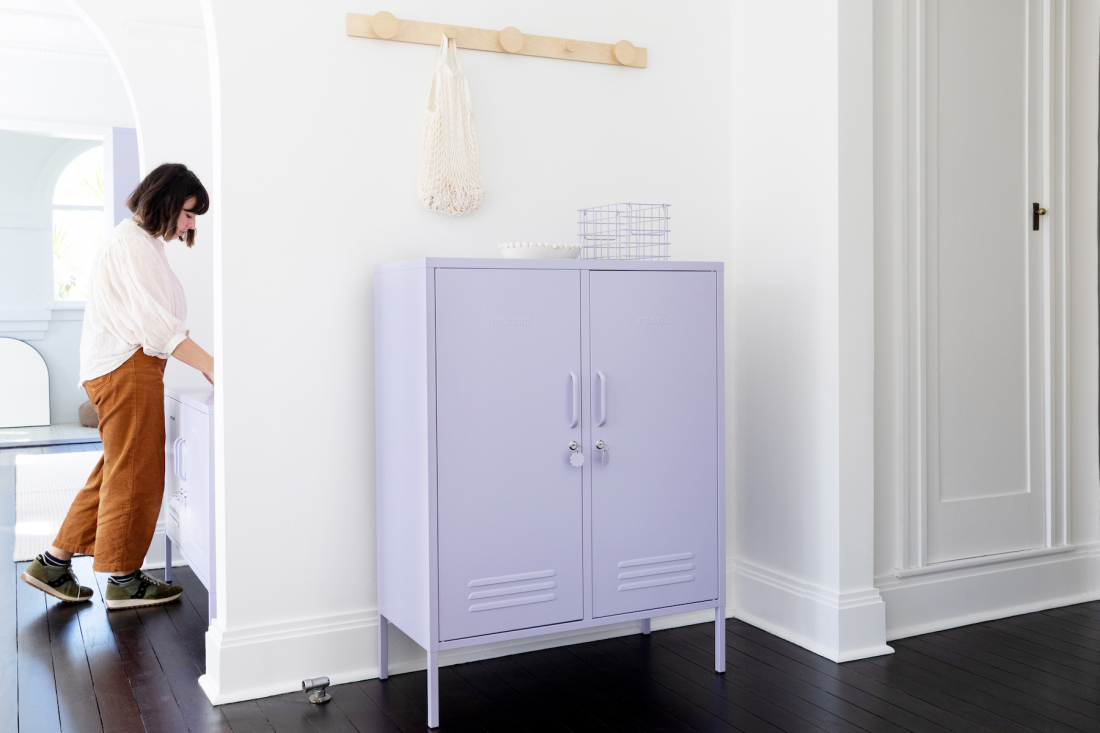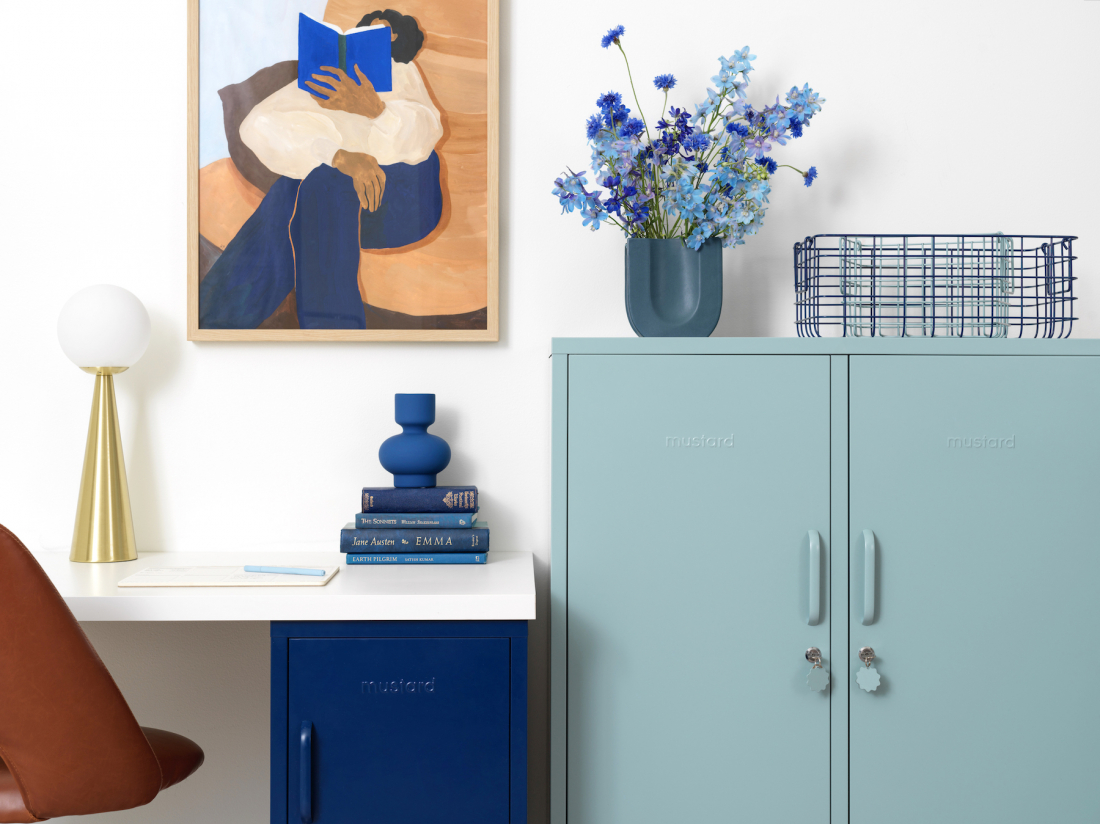 Can you tell us about the colour palette on offer and how it was inspired?
"When we launched Mustard in 2018 we had two products (our Skinny and Shorty lockers) available in six colourways. Since then our rainbow has grown to 11 colourways, including brights, pastels and neutrals but our signature colours have always been our Mustard (of course) and our Blush. As we've expanded our rainbow we've done so in a way that always aims to complement our existing palette and especially our two signature colours."
What design influences and trends do you take inspiration from?
"Our focus with Mustard has always been to create products that are timeless and seasonless. Our lockers lean into a sense of nostalgia while bringing a really fresh take on the vintage school locker."
What did you want to do differently within the locker realm?
"We always aim to create products that we would want to have in our own homes, so for our lockers that meant ensuring they are the perfect combination of pretty and practical. The vintage lockers in Becca's house that first inspired us really lacked functionality, and many other locker-style products are lacking on the aesthetic side, so bringing both together was our vision."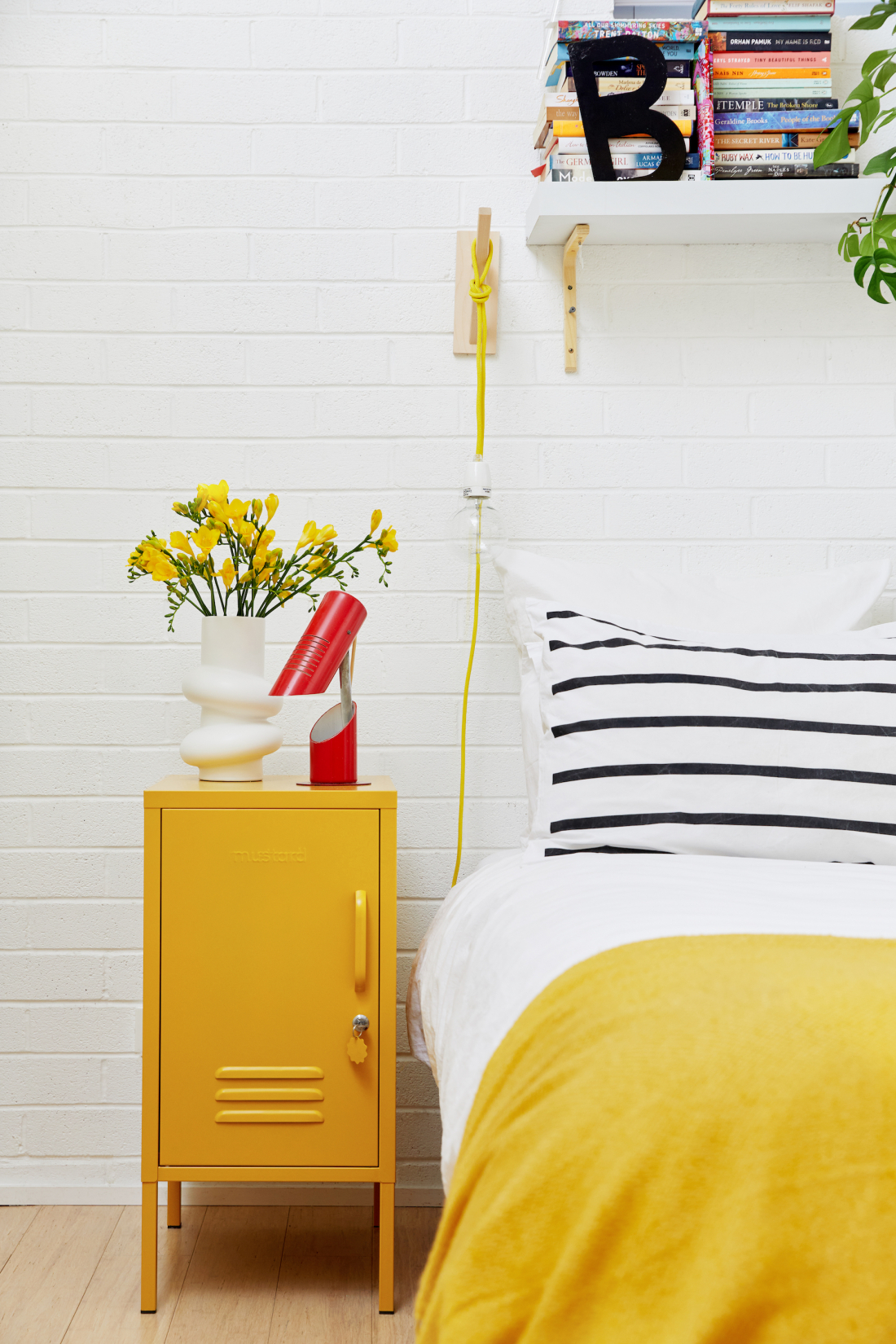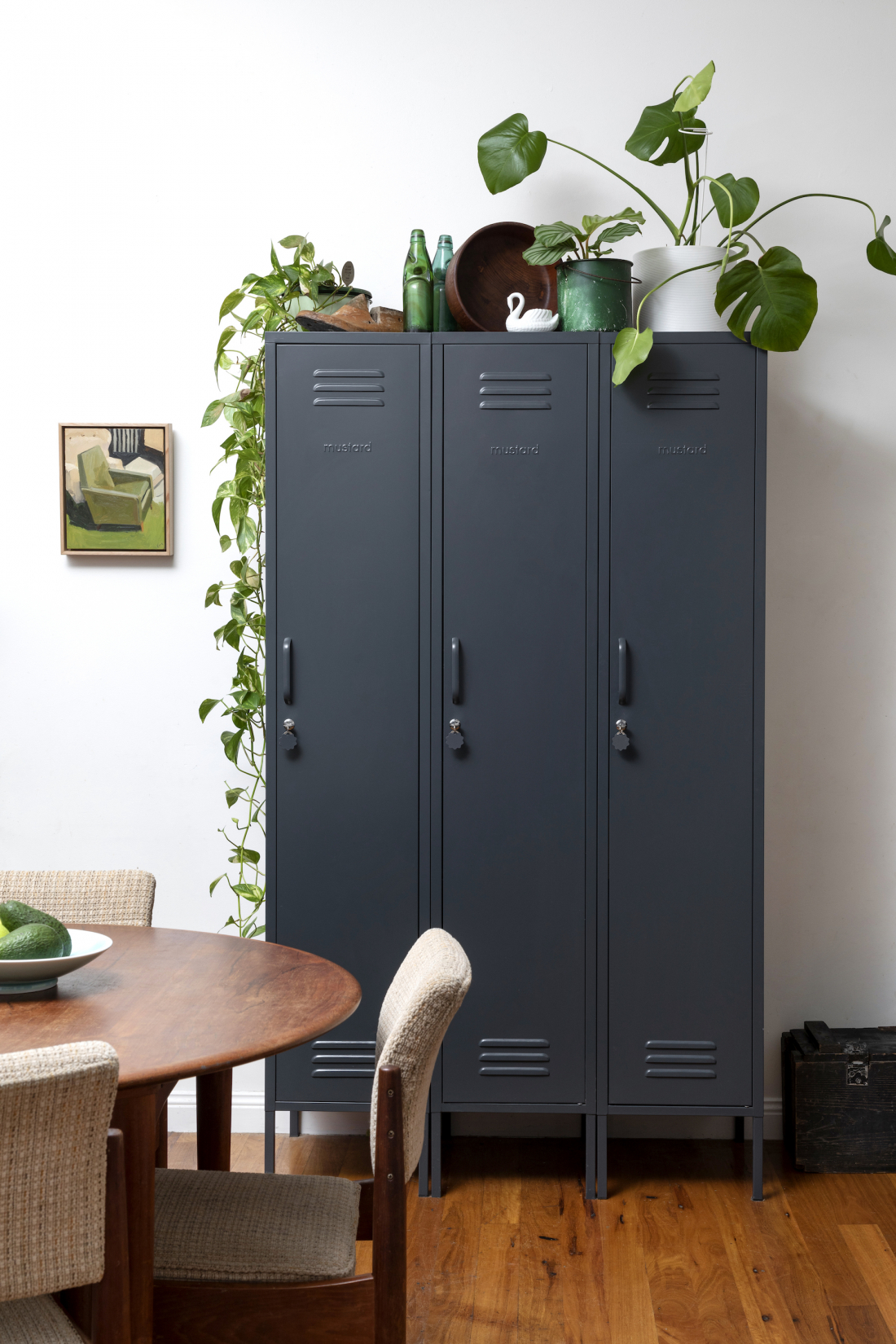 How does your product aim to transform a space?
"Mustard is on a mission is to inspire people to design colourful, organised and inspiring spaces whether it's their living room, kids' bedroom, a big shared office or a work-from-home nook. We want to help people create spaces they feel good in, whether that's by helping them tidy up or by helping them express themselves through colour."
How are you expanding from retail to the contract market?
"Working with our trade partners has been a key strategy for Mustard from very early in our journey. Joining the Material Source family is a really exciting opportunity for us to take this to the next level and expand those relationships even further."
As a new partner at Material Source Studio, what are you looking forward to most?
"We're so excited to have a physical space to be able to share our products with the contract market. We know our lockers are even more beautiful in real life, so being able to showcase them here, where people can come and get hands-on with them, to see our beautiful rainbow and feel the matte finish on the powder coating is really exciting!"