Christabel Balfour on tapestry weaving, seeking inspiration from the past and sharing her craft.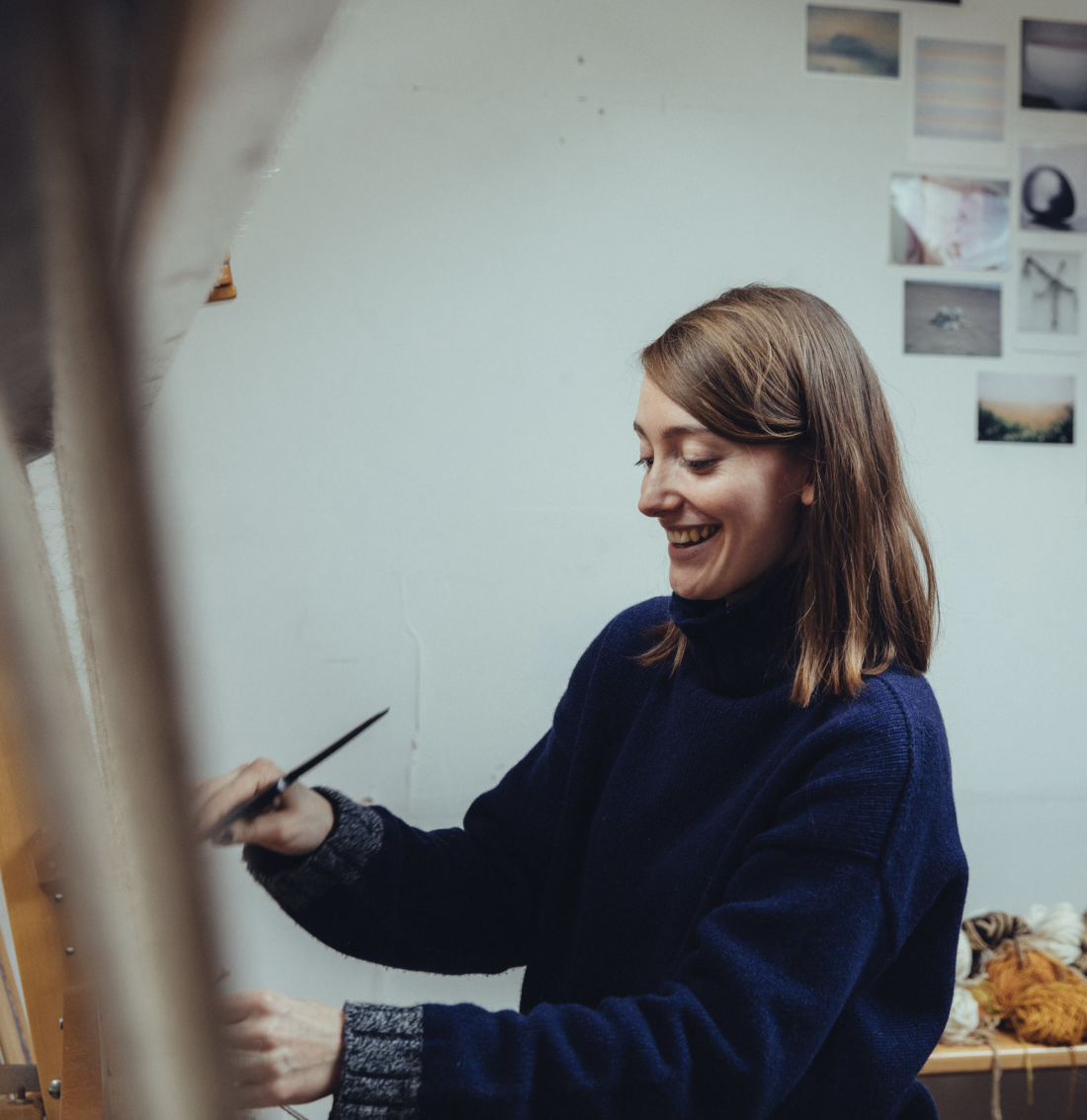 Christabel Balfour is an artist and tapestry weaver, living and working in south east London. She studied at Camberwell College of Art before heading to the Ruskin School of Drawing and Fine Art.
Since graduating in 2013, she has developed a practice as a tapestry weaver, and set up her studio in 2015. She specialises in rugs and woven wall-hangings, and says she has been weaving, in some form or another, for the last eight years. Inspired by her captivating craft, we sat down with Christabel to find out more about her work, inspiration and journey so far...
Before becoming a tapestry weaver, you started off creating sculptures. Can you explain how you made this creative transition?
"At art school, I worked with both woven sculpture and painting, and tapestry weaving felt like a natural way to bring these two sides of my practice together. I wanted to combine the subject matter of my painting with the craft of weaving, and I have been working primarily with tapestry ever since."
Can you describe your creative process?
"All my weavings begin as rough sketches. I tend to draw the same compositional elements over and over again until I create a formation that I am happy with.
"The next step is to set up one of my looms to work on, finalise the colour palette, and begin weaving. I try to leave things as open ended as possible, and to be responsive to what is happening on the loom, so I frequently change my designs while they are being woven.
"I work with rug wool on a linen warp, and I have four different looms, which I use for different things – from quick sample projects to larger scale pieces."
As well as creating your own art, you also teach weaving. How important/difficult is it to pass on these skills?
"Teaching creates a healthy balance in my practice between solitary work and community. I really enjoy sharing my craft with others and it has helped me become a better communicator and advocate for my own work. It's also really special to see people discover weaving for the first time."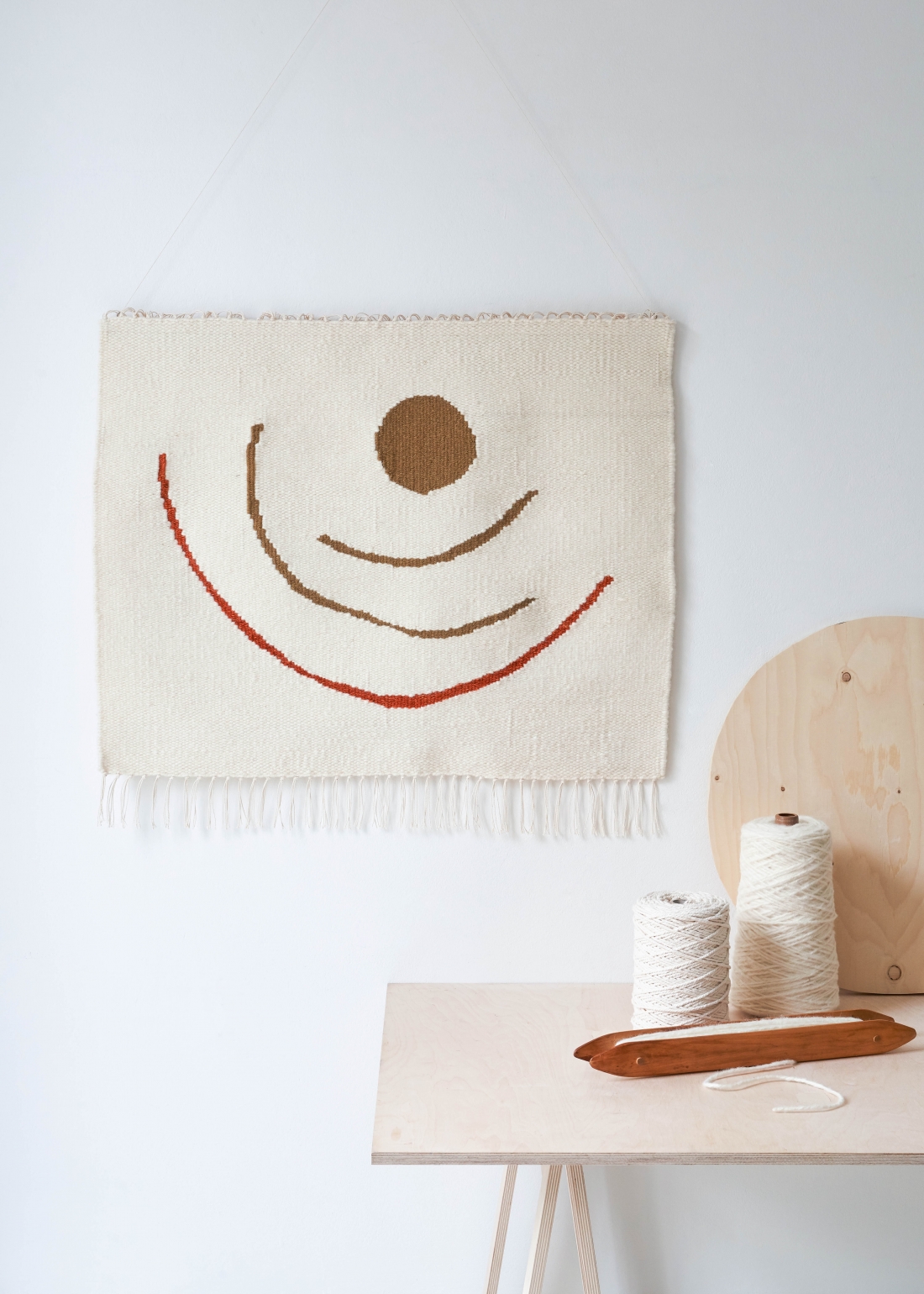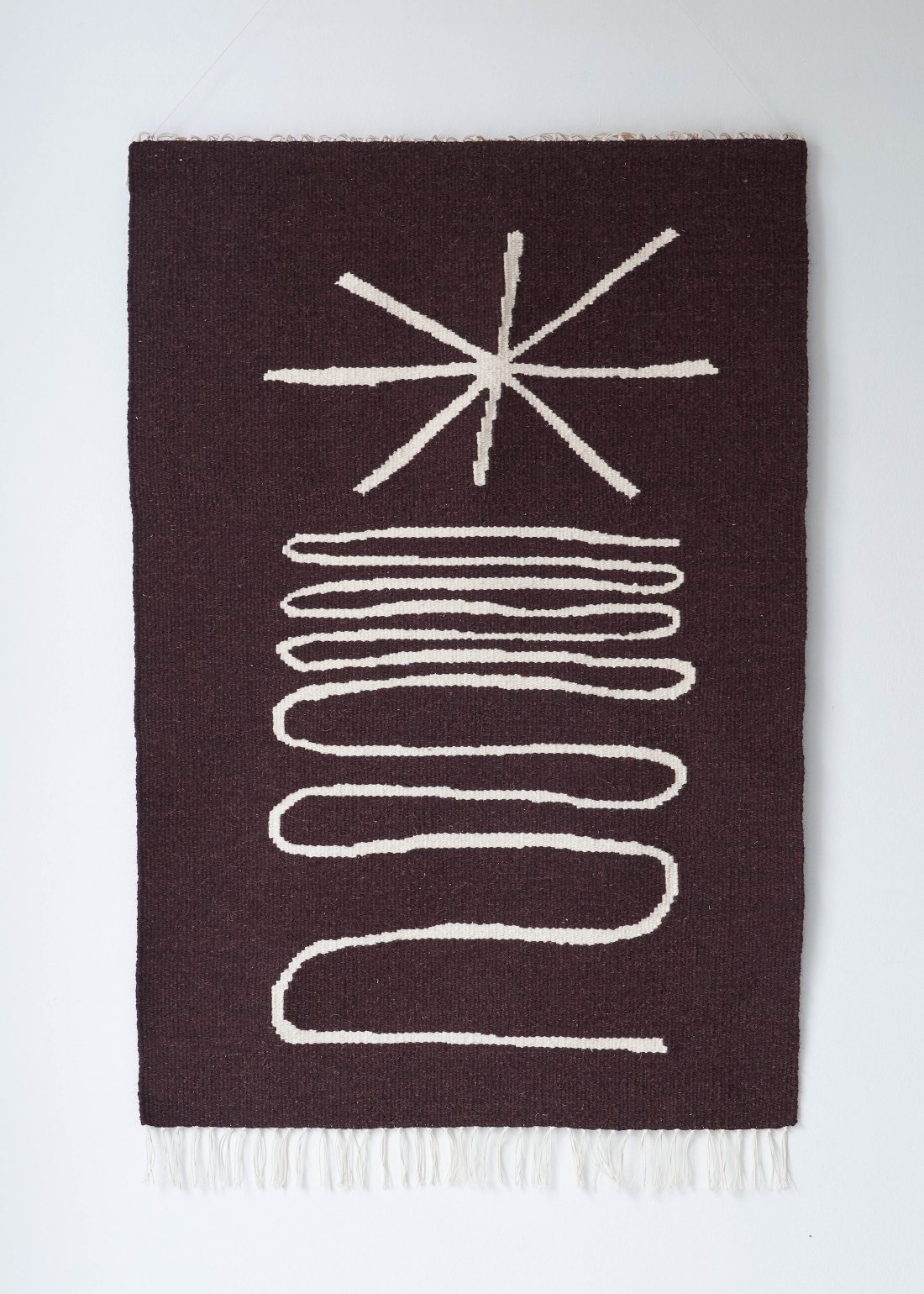 Who or what inspires you and why?
"I draw a lot of influences from minimalist artists and architecture. The artists that inspire me include Richard Serra, Agnes Martin, Isamu Noguchi and Mimi Jung.
"The architects I look to are Tadao Ando and Shigeru Ban. I'm interested in how we can create a feeling of space, tranquility and openness in the busy modern world."
Are you influenced by trends?
"Haha, probably! I try to focus on what I'm passionate about and what speaks to me. If there's a current trend that resonates with that, then great! But if not, that's ok too. The best thing for any maker is to make what they genuinely love making, because people will always be drawn to that."
Do you stick to a particular colour palette? Are there any shades you normally veer towards/steer clear of and why?
"I do have some colours that I come back to again and again – off white, pale pink and the colour of natural, un-dyed linen. I tend to work with a colour until I get bored of it. And in terms of colours I'd steer clear of – I can't see myself ever working with neon yellow, but then again, never say never!"
What response do you want people to have to your work?
"I hope my work is able to create a sense of calm and openness, and I want my tapestries to be experienced both as woven images and as physical objects. I love when people are moved to touch and interact with my work as well as look at it."
Do you have a favourite historical tapestry?
"There are so many! I love the Unicorn tapestries in the Met, and the tapestries produced by William Morris' studio in the 19th Century. But I've probably been most influenced by the weaving traditions of the Navajo nation, the geometric imagery they use and the intuitive process by which they design their weavings."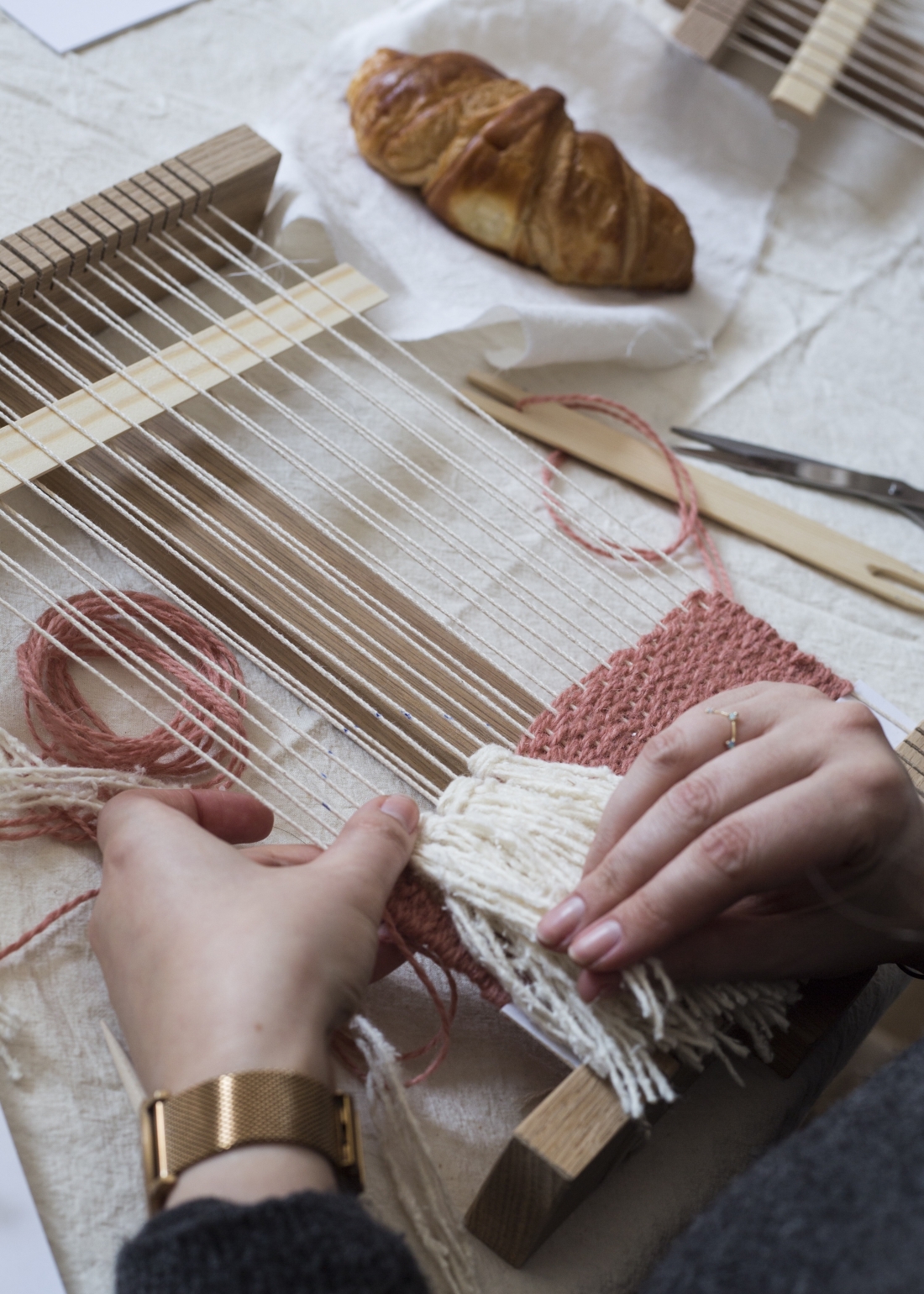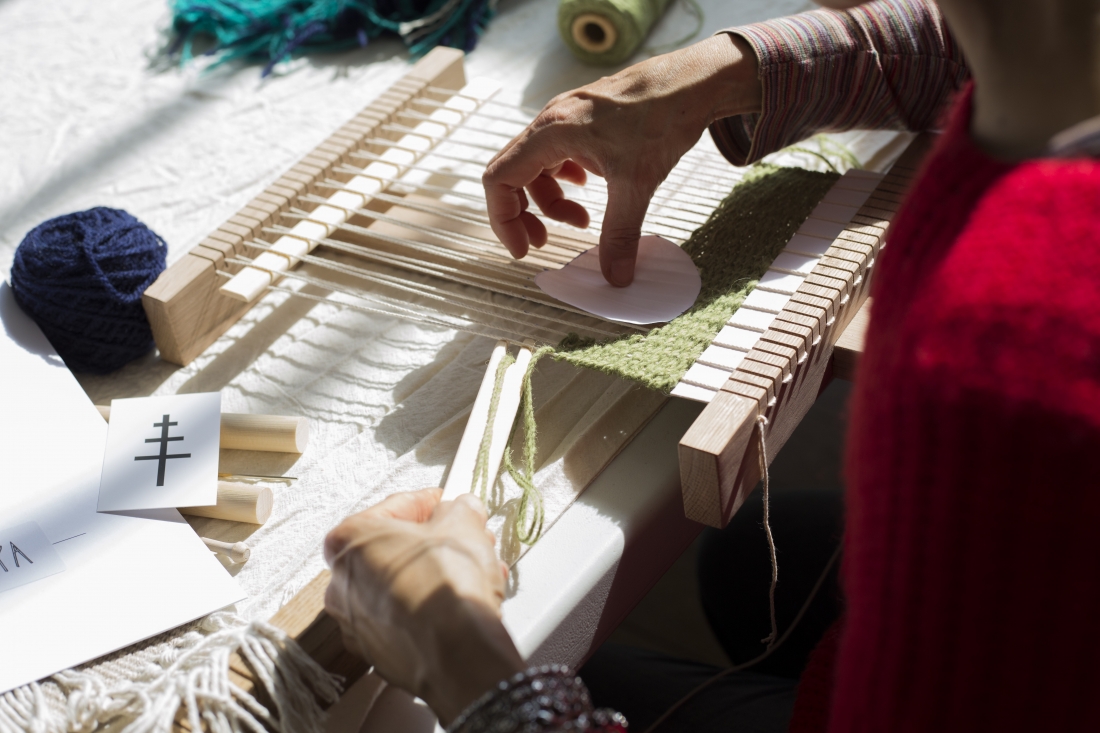 What are you most proud of?
"Setting up a studio and a daily routine that allows me to make the work I want to make every day."
What are you currently working on?
"I'm currently working on several commissions, and preparing for my summer workshops. I'm also putting together an online course, to bring my teaching to a wider audience."
And, finally, what's next?
"Taking a break from commissions to focus on developing new tapestries. I'm working towards an exhibition in 2020 which will showcase my larger-scale work and installations."