Roar unveils state-of-the-art Vintage Vaults in Dubai.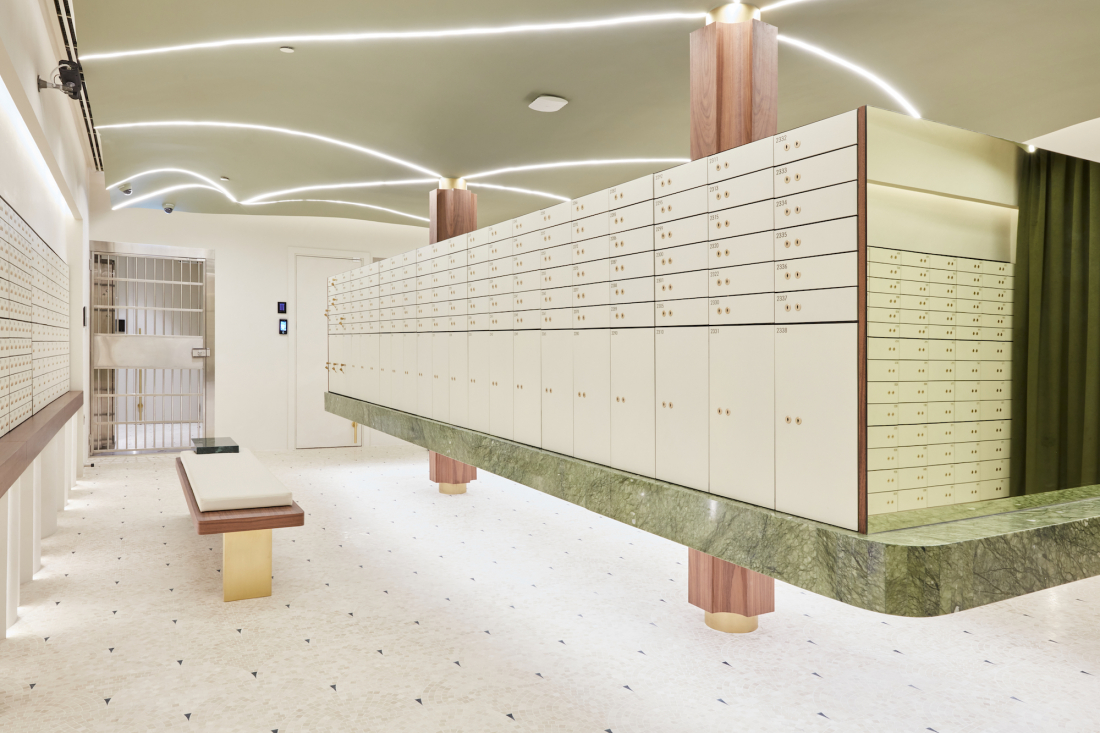 Roar has revealed its interior design for Vintage Vaults, a new state-of-the-art rental deposit-box facility in Dubai, seamlessly uniting the eclectic duality of yesteryear glamour and contemporary geometry.
Bridging the two distinct design styles of the space is the intricate flooring – made from a series of small mosaic tiles adorned with emerald green cap – and the concave ceiling which incorporates curved lighting components and is a modern interpretation of the traditional vault form.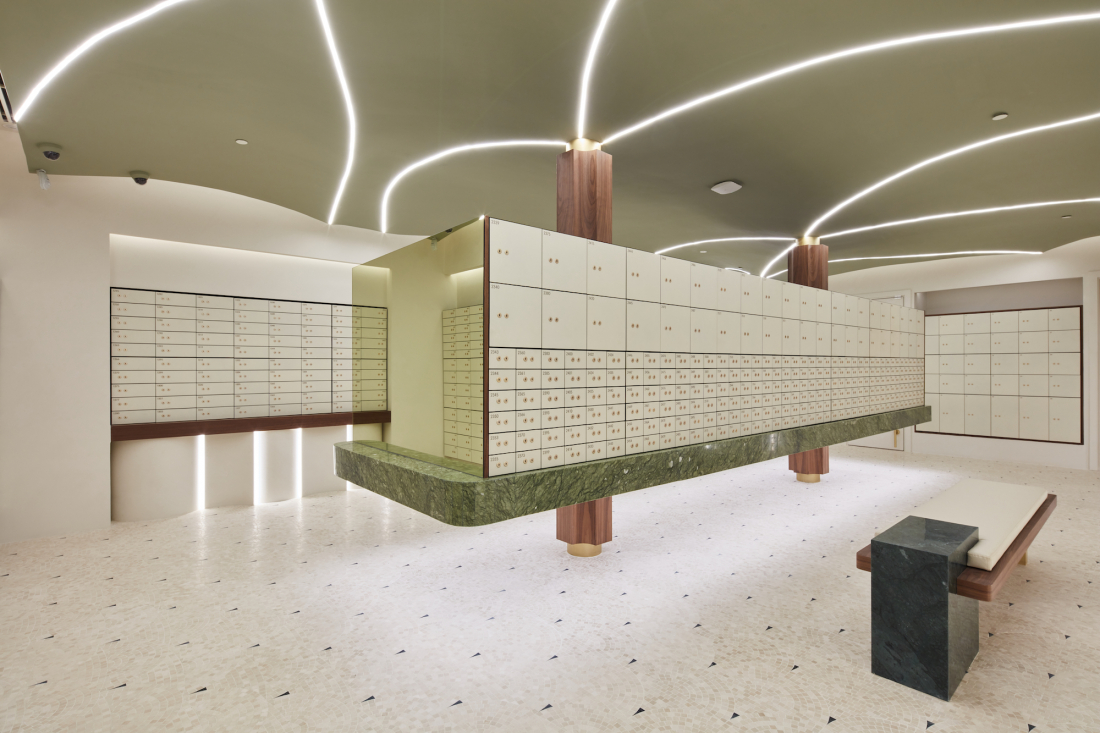 Roar has used a soft colour palette to create a sense of calm and openness; sage green features on the ceiling of the main vault space while an off-white paint envelops the reception area. Carefully chosen accents of green are dotted around the scheme: lush velvet drapery in deep green serves as the backdrop to the reception desk while a light green onyx fringe delicately trims the central lockers and an emerald green marble slab forms the edge of the two custom-made benches. To complete the palette, a shade of dark ochre outlines the joinery elements and a dusty gold hue emerges through the smoked glass mirror and signage.
Pallavi Dean, founder and creative director of Roar, comments: "This is not a very large space so we had to be clever in breaking down the design elements. We wanted to devise a very luxurious, welcoming experience for the users, making their time in the Vaults as serene as possible, away from the rush of the city outside."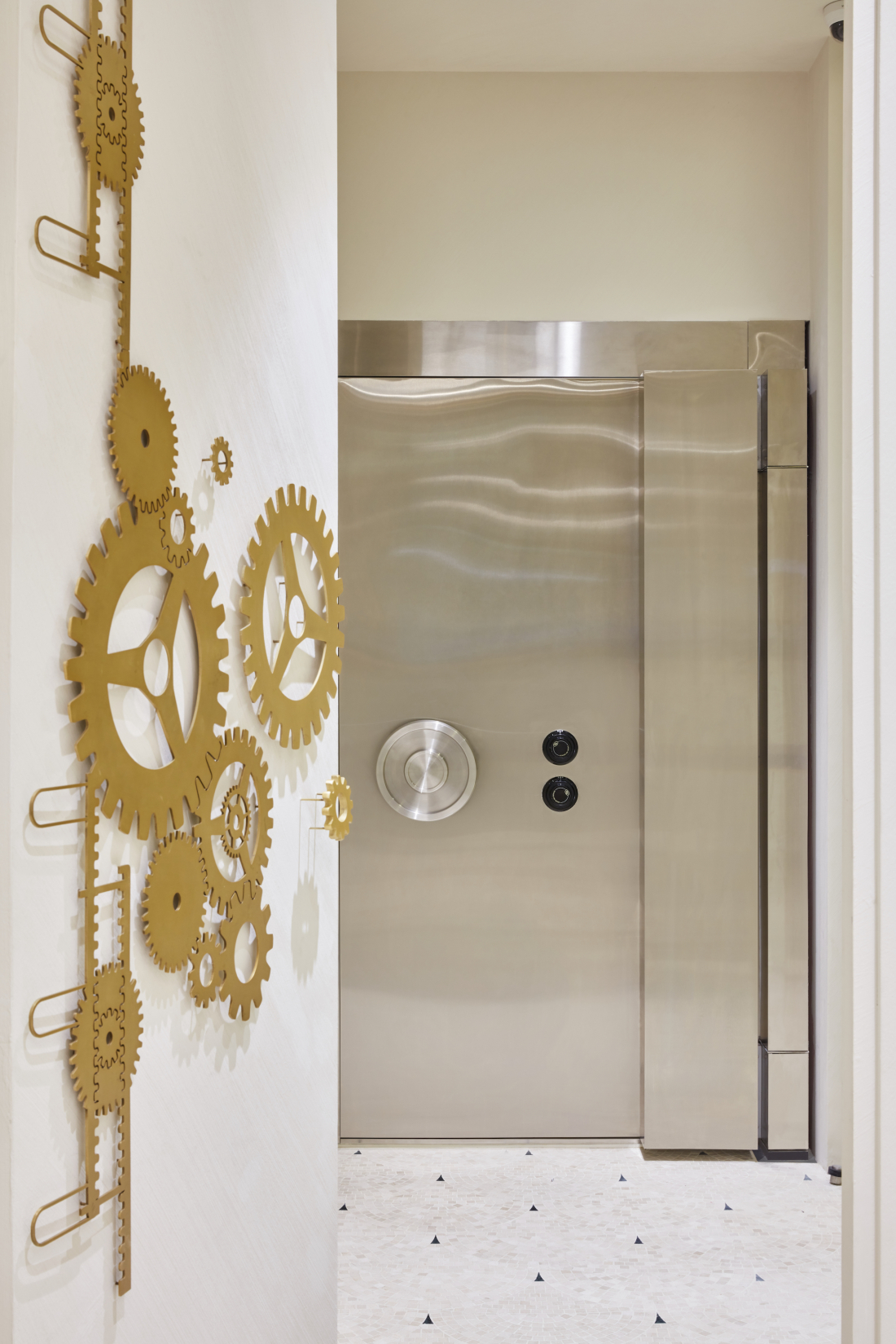 Pallavi continues: "The customers' journeys start in the reception area where they are offered refreshments at the hospitality bar; they are then led to the main space by a wall sculpture depicting vaults' gears as a playful nod to what is to come. The main vault space hosts two private rooms with biometric access control where clients can confidentially open their boxes. Adjacent to these are a managers' office and security room.
"We have chosen to not create floor-to-ceiling vaults in an effort to avoid overcrowding the space; instead we inserted concave-shaped detailing underneath the safes on the two side walls that mimic the ceiling's curves. In the centre of the room, we have created a floating feature supported by two columns, which adds to the atmosphere of celestial lightness."