Rodi McLean of Form Design Consultants on designing both a people and planet conscious workplace.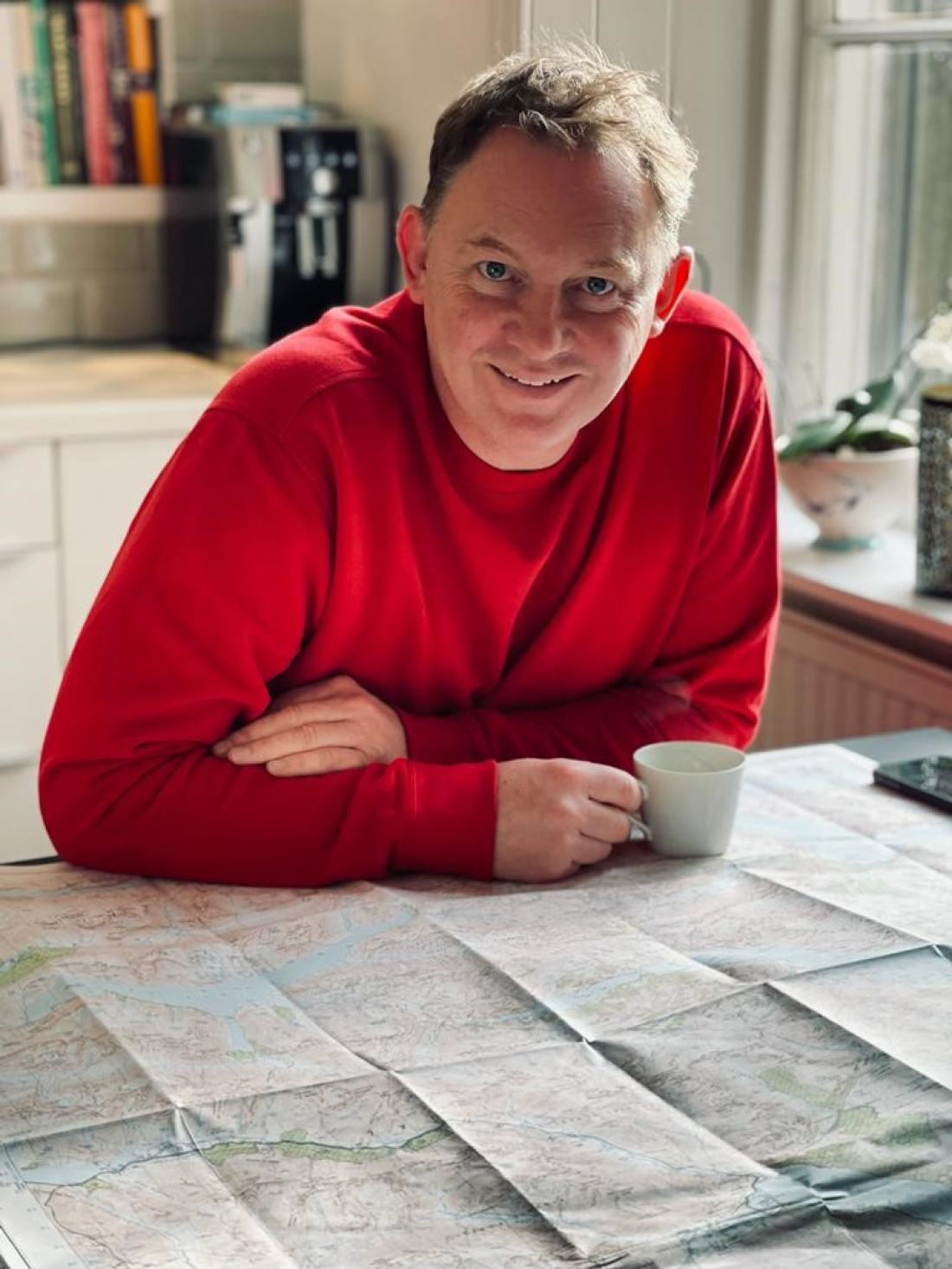 Rodi McLean is the Managing Director and Founder of the Edinburgh-based practice, Form Design Consultants. With a wealth of experience in commercial interior design, space analysis, sustainable design analysis and workplace consultancy - Rodi brings a meticulous eye and an innovative approach to every project.
In light of our recent conversation with Associate at Form, Morag Dearsley - we felt it was high time we chatted to Rodi about all things workplace design and delve into the hard work involved in a WELL AP Gold certification.
To kick off, could you please introduce us to Form Design Consultants?
"Form Design Consultants are experts in Workplace Design. Our approach is centred around establishing a strategic brief for our clients and delivering beautiful, effective environments that are healthy, sustainable and add value to our clients' operations.
"Form will be ten years old this year and I am proud of what the team at Form have achieved in that time. I am excited to think about our future, given the collaborative relationships we have built with our clients and fellow property and design consultants."
What are you working on at the moment?
"Personally, I am helping to create the briefs and the design concepts for several clients across a variety of sectors. I love the interaction with clients and their people at the start of the design process.
"A lot of my time is spent supporting and challenging the team to ensure the best solutions are considered. That runs across all the projects and is part and parcel of the design and review process. I am also involved in the later stages of an exciting fit out in London for RLG. It has been a complex project in many ways, but it's really coming together now."
Can you share with us some of the processes you employ at Form that are tailored to improve people's interaction with space?
"Clearly, how people interact with space depends on how that space is designed. Most people can recognise bad design and are quick to criticise. Sometimes this comes down to cost or lack of creativity. To create good design, you must take a holistic view and ensure as many factors as possible are considered.
"At Form we have teams that have a passion for some of the key elements to consider. We have Health and Wellbeing, Sustainability, Health and Safety, Technology in the Workplace and Diversity and Inclusion experts, who share their knowledge with the studio to ensure we continually get that extra "nugget" from the design. These knowledge sharing sessions are a great way to challenge the norm and help us to design space where people want be."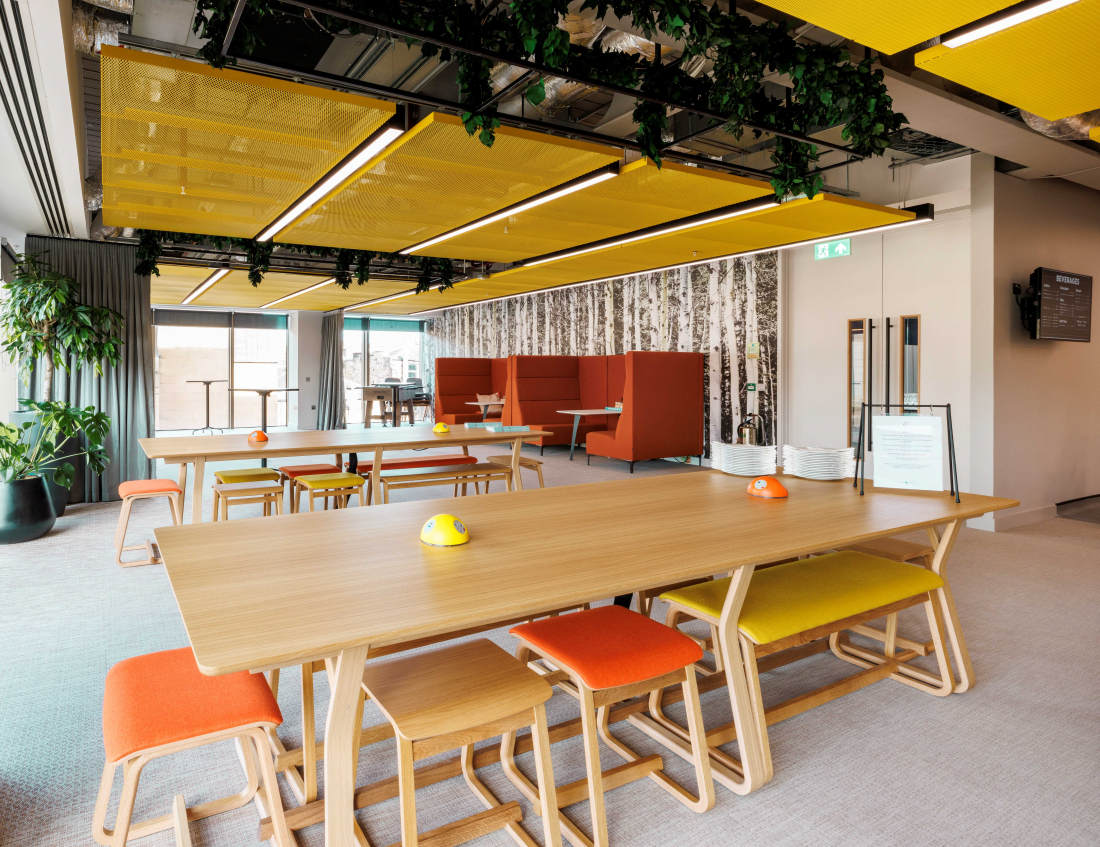 You've just delivered Scotland's first WELL AP Gold Office. Can you give us an insight into this project of Form's?
"This project was delivered for Pinsent Masons, who I have worked with now for over a decade. They have always been open to new ways of working and adopted agile working practices in 2017. The Edinburgh office was an evolution of their way of working and achieving WELL AP Gold was the natural step forward.
"Our design methodology aligns with the scoring elements for WELL, such as Acoustic Design, Active Design and Sustainability, so we were delighted when Pinsent Masons confirmed their commitment to this accreditation. It shows they place a real importance in providing healthy environments for their people and visitors.
"To be awarded WELL AP certification is difficult and requires joined up approach from the client, the project team, and the contractors. It's testament to everyone involved, that the project was a success. In addition, the project was probably the longest we have ever delivered – it began with briefing in 2018 and was delivered during the outbreak of the pandemic in 2020, delaying the project handover to 2021.
"However, the finished office is tremendous. People love working there and visitors often comment that it feels fresher than their own office. We can put this down to the investment in circadian lighting, increased fresh air volumes, ultra-low VOC levels and several other environmental enhancements. And the occupancy levels are high, so we can see the office acting as a magnet, attracting people back to their workplace and the benefits the office provides."
Workspaces are extremely variable in their design and function for its workers. What are some of the overarching, fundamental components for designing spaces that foster people's health & well-being?
"Since the Covid-19 pandemic, the business agenda has been reordered. If it's okay to say that something good came out of this horrible pandemic, it would be that many companies recognise their people's health and well-being is paramount. This change in thinking has led to the adoption of key design factors that improve our working environments. Better acoustics, biophilic detail, more fresh air and spaces that encourage movement, are now fundamental components that are considered in tandem with more traditional measures such as space density, colour, and good lighting levels.
"Ultimately, good design starts with listening to the client, understanding what they need and responding to the issues with creativity."
How did WELL certification inform your consideration of qualities and properties materials and products in this particular project?
"It was an essential part of the specification process. There is no shortcut to achieving WELL. Material choice was fundamental and informed the selection of everything from joinery lacquers to fancoil filters.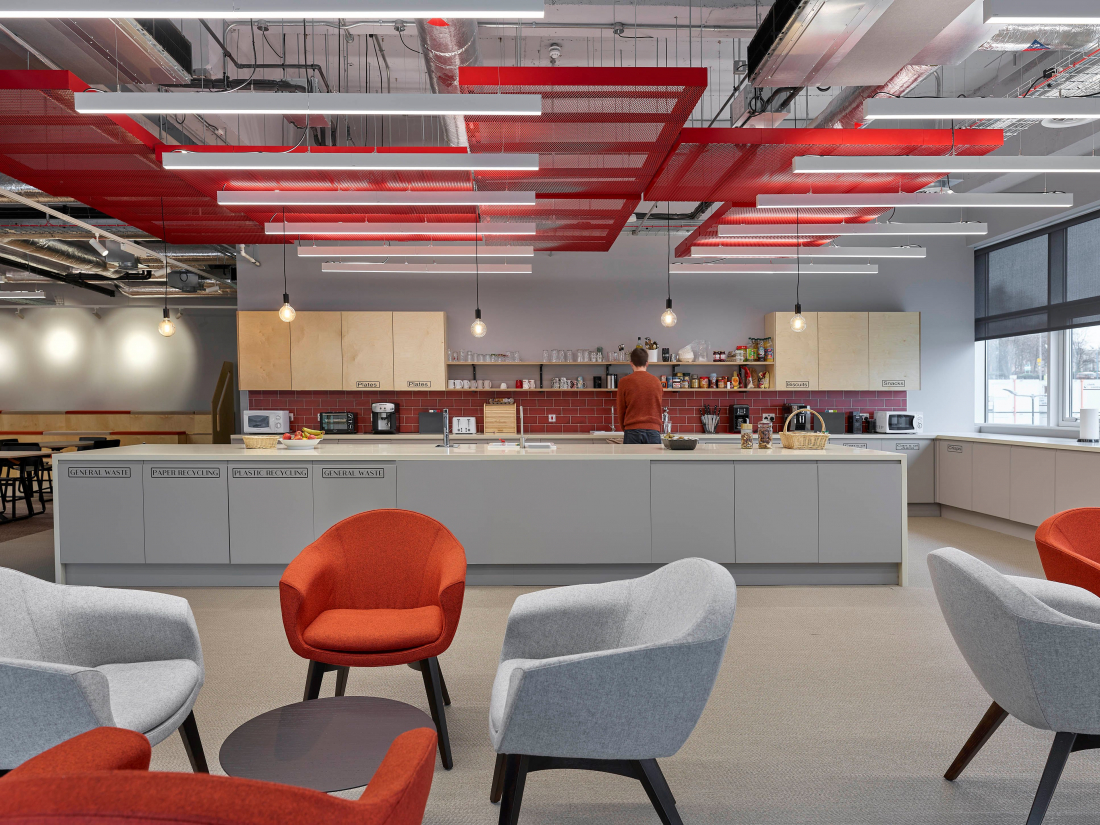 Sustainability is notably a key driver in shaping Form's ethos and approach to design. How has a passion for sustainability been cultivated throughout your career? And what are some of your personal key drivers for considering health and well-being in the spaces you design?
"Before we founded Form, I had a passion for sustainability. I remember "doing the rounds" with a colleague where we proposed that sustainability could lead to better design, better buildings and improved rents in buildings. It initially got some good traction. Then the 2008 financial crash swept any discussions around the importance of sustainability off the table. It was important back then but it's even more important now. I admire designers, especially Engineers, who draw inspiration from nature. Heating, cooling and structures can all draw lessons from millions of years of evolution. This can be true for all design.
"The challenges we face not reduce energy usage and make sustainable material choices in our workplaces and lives needs to be met. It is on the design community to drive this change through learning, creativity and championing the best practices. We have the biggest influence on the built environment and it's up to us to help our clients make the best, most informed decisions that help us meet and exceed sustainability targets."
Do you apply WELL certification to your ongoing and future projects? If so, could you give us some other examples?
"Our methodology is aligned with WELL thinking so all our projects place importance in the health and wellbeing of the occupants. We have two other projects that are currently being assessed for WELL certification. I am hopeful both will hit the mark. We always ask clients if it's something they want to go for. It takes time, commitment, and a degree of financial clout so it's not for everyone."
The human health impact of a space is undeniably important, but there is a growing need for spaces to be ecologically healthy too. How can we strike a perfect balance between human health and environmental ? Or do they go hand in hand?
"For me they go hand in hand. Most people agree that natural materials connect us with the outside and our ancient past when we were all cave dwellers or roaming the hills. But material selection, especially of natural products, should always be in the knowledge that they have been sourced correctly and contribute to the circular economy."
Based in Edinburgh, you're soon to be a short train journey away from our studio expansion to Glasgow. What are you most looking forward to regarding the Scottish offering of Material Source Studio?
"I am genuinely looking forward to this. Scotland has for many years really lacked this type of space and it will provide well needed support to the design community and their clients. I'm most looking forward to seeing a broad selection of products in one place. I'm sure there will be lots of events too, which will bring learning opportunity and expertise."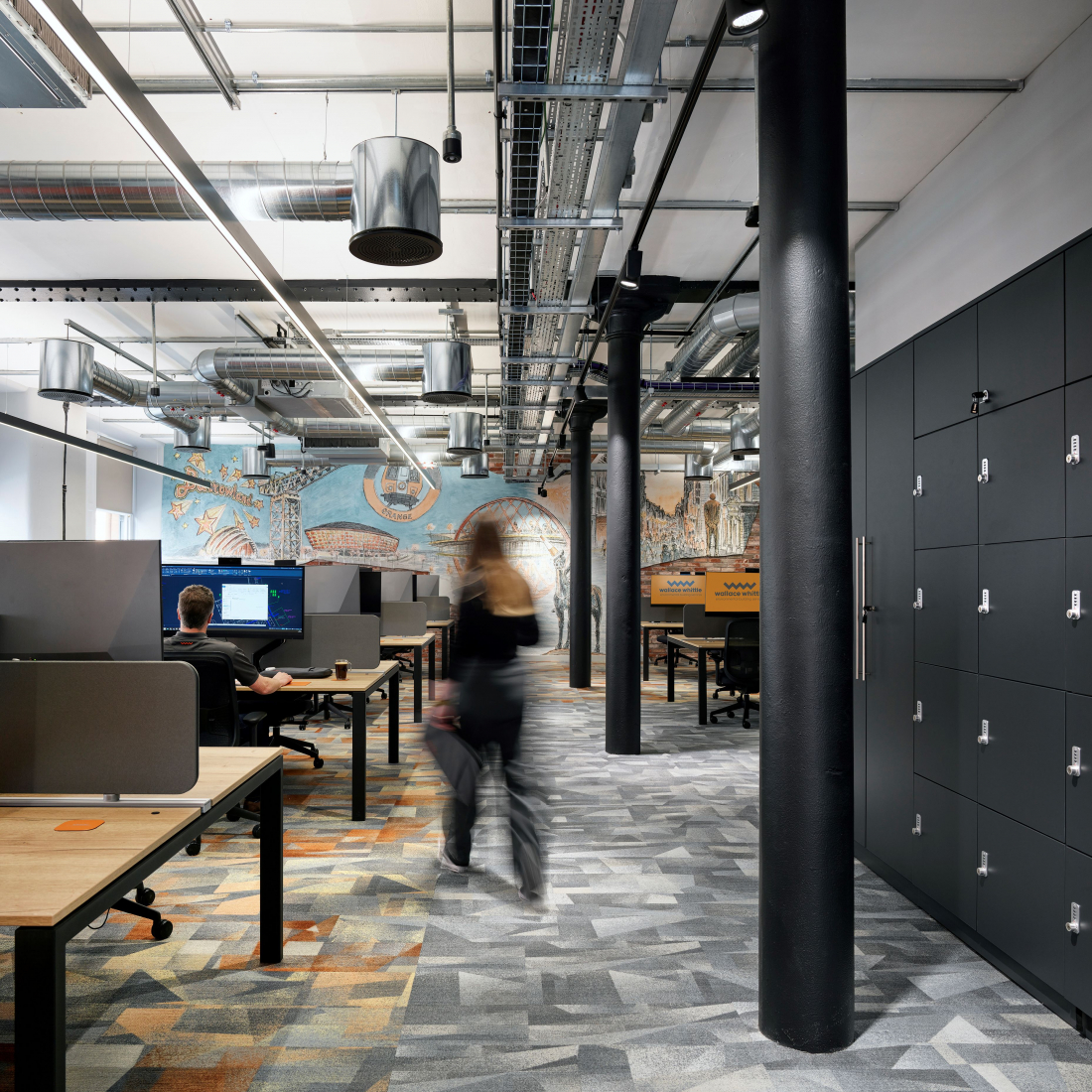 Finally, what are your thoughts on the modern workplace? And what is going to be important to consider in the years to come?
"In recent years, technology, demographic shift, globalisation, sustainability, health and wellbeing and increased workplace mobility have affected how we design and use our workplaces.
"The modern workplace will continue to evolve, with technology continuing to have the biggest influence on change. With more integration of technology, companies will look to have even more flexibility and hybridisation will become more effective. Space will be more shared. I believe it will become more cellular too. The key things we will need to consider is that the office is a product that we will continue to use, and therefore, what do we want it to do for us? The workplace will be a different product for each organisation.
"This will lead to even more creativity as companies recognise that their workplace is the physical manifestation of their brand, and as such, needs as careful consideration as any business strategy."