Smile Plastics teams up with Another Country to produce furniture fit for the future workplace.
Smile Plastics has teamed up with British furniture brand Another Country to launch the new Work Series II table at Clerkenwell Design Week (24 – 26 May 2022).
The collaboration signifies a key marker for both businesses, with Smile renowned for reimagining waste and predominantly working with plastic to make exceptionally designed surfaces, and Another Country creating stunning heritage furniture pieces that celebrate natural materials. For the Work Series II table, which will be unveiled as part of the British Collection at Clerkenwell Design Week, the companies' expertise has been combined to equally celebrate the beauty of natural and man-made materials.
The table has been designed with the needs of the contemporary workforce in mind, offering flexibility by way of a removable top created from Smile's popular Alba material. Made from discarded yoghurt pots, it is a 100% recycled and recyclable terrazzo-style surface, flecked with metallic hints - from the foil yoghurt pot lids - to create a marble-like effect. It can also be fully recycled at the end of its lifespan.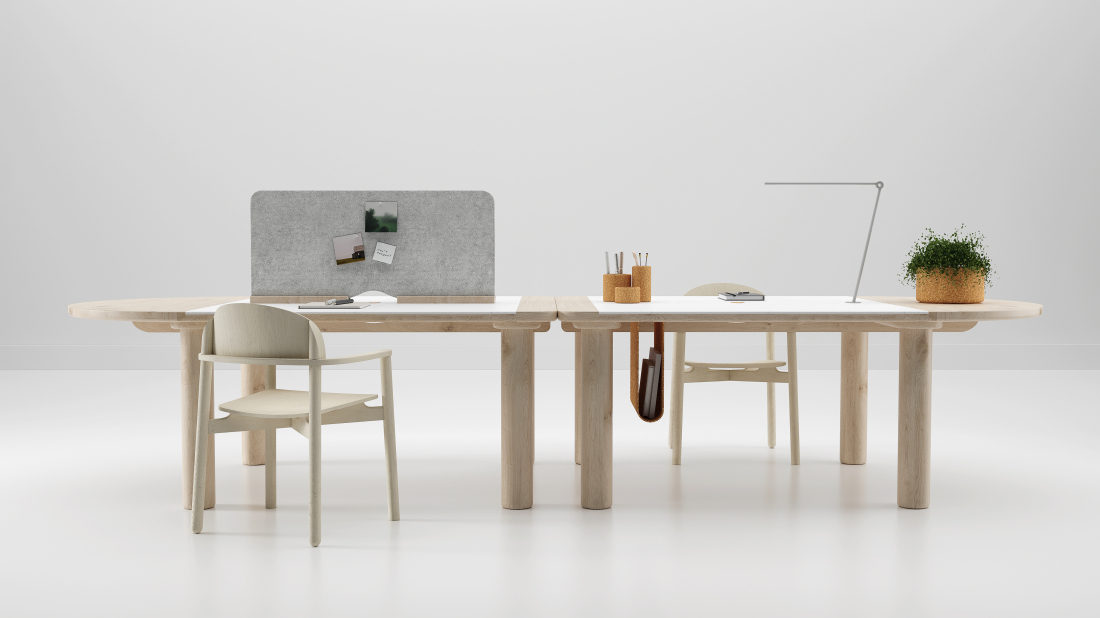 Another Country, a sustainably-minded brand, was inspired to take action after learning that 1.2 million desks end up in landfill in the UK each year (Waste & Resources Action Programme (WRAP), and in response imagined a design that would directly address this issue of waste within the industry. Smile, being advocates of circular economy, were keen to support.
Embracing biophilic and WELL Standard principle, the new table explores soft, organic forms and tactile materials through its circular shape and rounded edges. Its frame has been constructed from Portuguese eucalyptus wood, a material local to the factory which is fast-growing and quick to harvest. The frame is constructed using non-formaldehyde-added glue and finished with zero-VOC plant-based finishes. Other eco-friendly materials featured in the design include cork accessories and natural wool, which has been used to create a sound-absorbing privacy screen. The desks will come in various sizes, with a choice of power options and desk accessories to give the user more control over their workspace.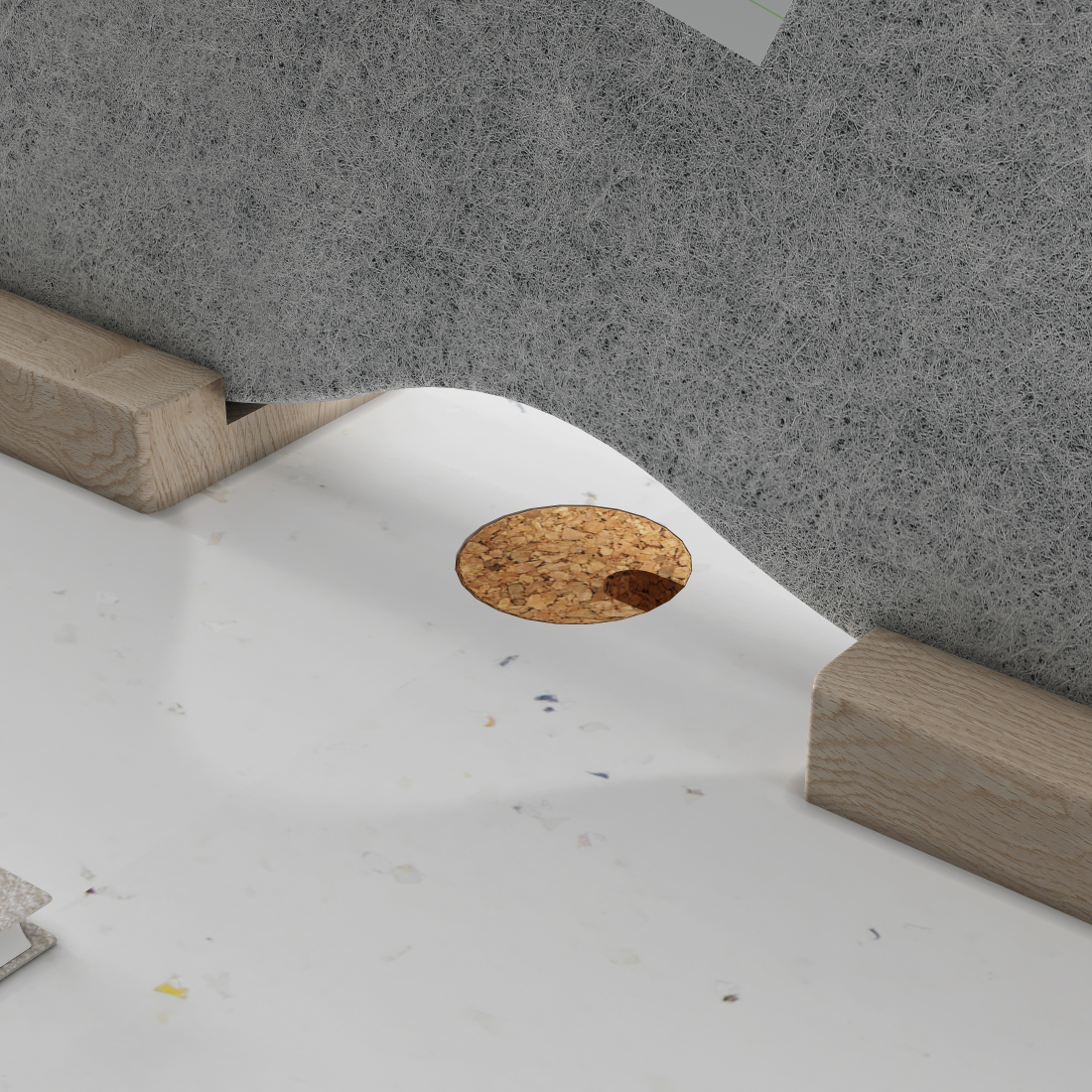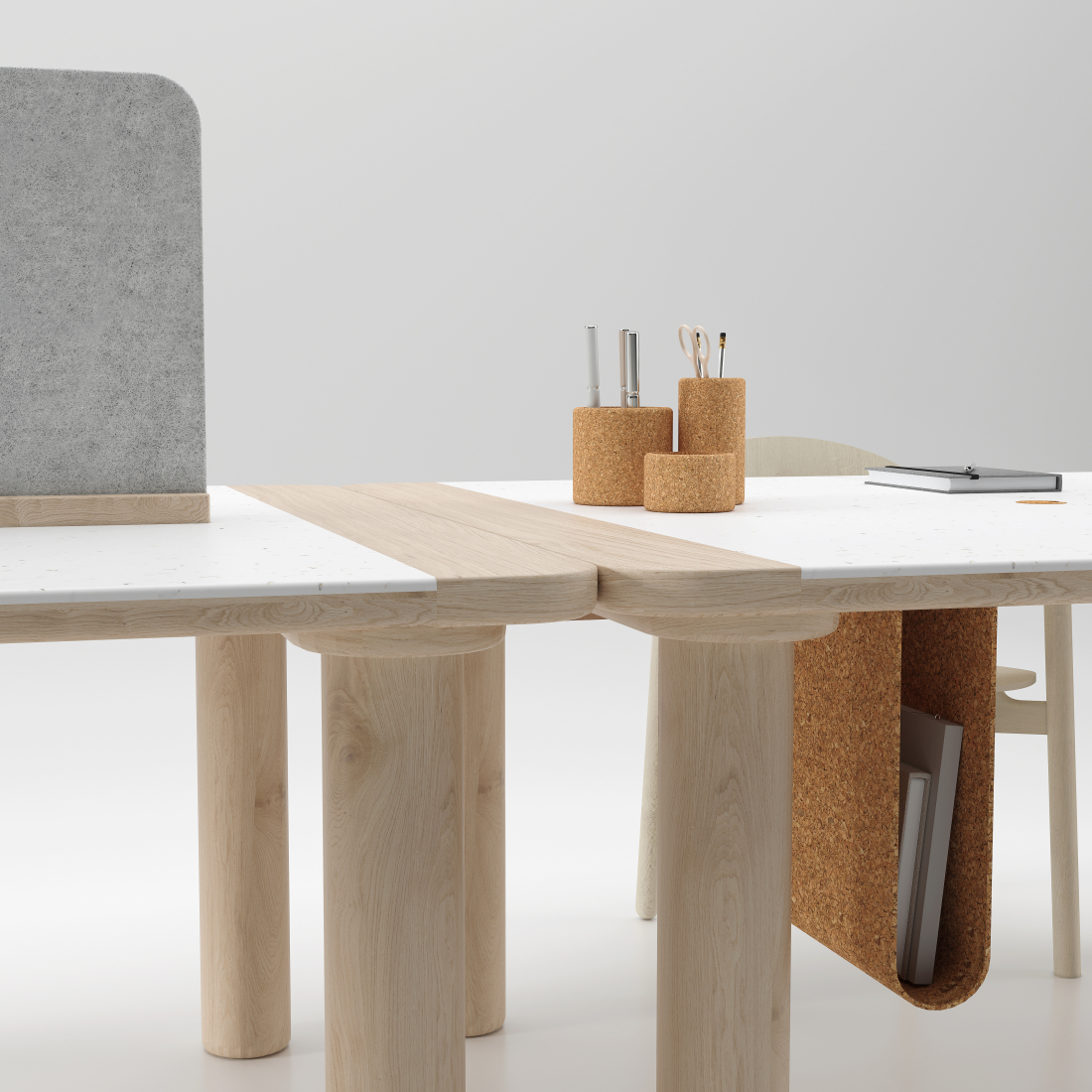 Emily Skinner, Project Manager at Smile Plastics comments: "Our collaboration with Another Country signifies a key marker for both businesses. At Smile, we're renowned for reimagining 'waste' and predominantly working with plastic to make exceptionally designed surfaces. Another Country creates stunning heritage furniture pieces celebrating natural materials.
"We met Paul at last year's Planted, and he discussed a need to include recycled materials in his product range to fully embody their sustainability mission. The products being launched at Clerkenwell Design Week comprise unique furniture pieces that equally celebrate the beauty of natural and man-made materials."
"We're delighted to be a part of Clerkenwell Design Week's return, bringing a new workplace offering and a classic home office solution" adds Paul de Zwart, Founder of Another Country, "Sustainability is an underlying pillar of Another Country's ethos and we're always looking for new ways to express our commitment to protecting the planet. This collaboration has enabled us to pair our design legacy with innovative recycled materials in order to weave the natural environment into everyday life in a new, creative way. Smile Plastics aligns well with our values, whilst its unique materials allow us to experiment with a new visual expression.
"As society continues to evolve and adapt, we believe Another Country's timeless designs can bridge the gap between familiar comforts and creative innovation."
Catch an exclusive glimpse of the collection at Clerkenwell Design Week's British Collection from 24-26 May 2022. Sign up to attend here.