Yinka Ilori sits down to talk about furniture with soul, upcycling and telling your story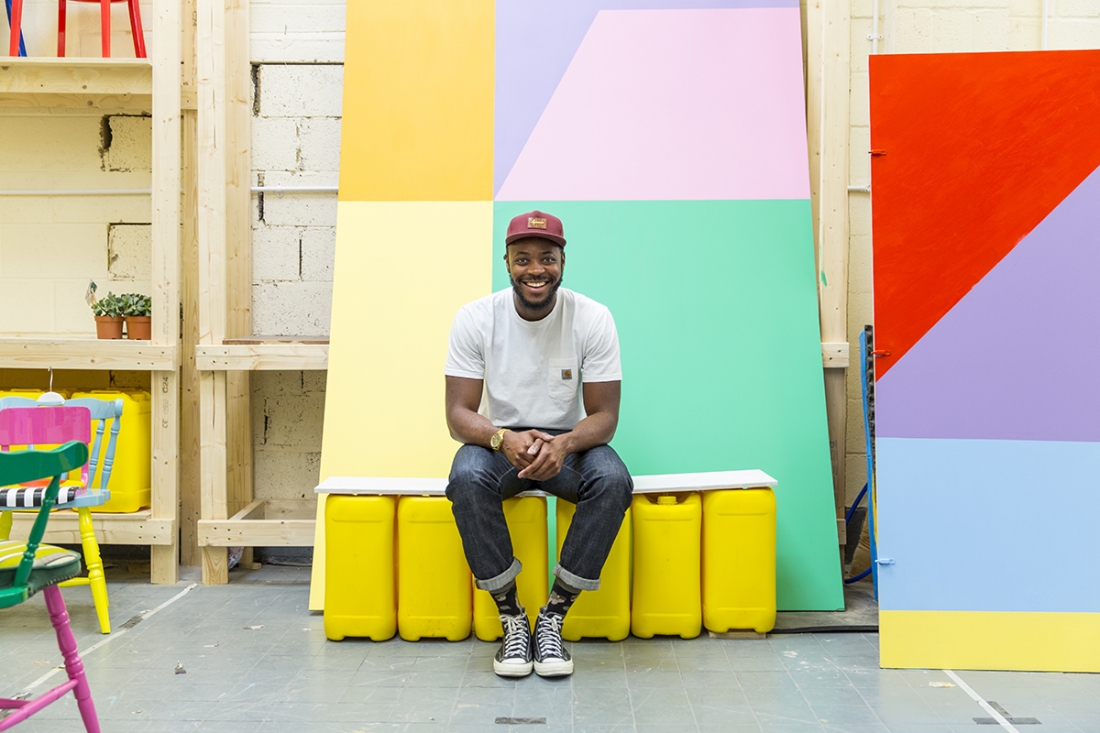 Yinka Ilori has made quite a name for himself in the design world. His relentless, sunbeam positivity, his dedication to sustainability and the sheer vibrant imagination behind his furniture make him one of the most exciting creatives on the scene.
From his East London Studio, Yinka upcycles chairs. So far, so hipster-maker cliché, but the difference is that Yinka has a talent for using his work to communicate narratives and evoke strong emotional responses. From two or three found pieces of furniture, he creates sculptural hybrid chairs that muddle different design traditions and social histories into something colourful, heart-warming and completely new. We spoke to Yinki about this and more.
Tell us about your journey. How did you get here?
I studied Product Design and Furniture at London Metropolitan University and during my first year we had to complete a project called 'Our Chair'. It was set by my tutor Jane Atfield and was inspired by Martino Gamper's chair series '100 chairs in 100 days'. The brief was to source two old chairs, dismantle them into pieces and use all the original compartments to create a new chair, giving it a new function and identity. This project opened my eyes to new ways of working and understanding the importance of storytelling through chairs.
After graduating, I secured an internship with Lee Broom and had the opportunity to spend one or two days a week in his studio. After completing the internship I then applied for funding from the Princes Trust so that I could start running my own studio and produce new work that could be exhibited during London Design Festival.
The loan from the Princes Trust really helped me launch my first collection of work which I then presented during LDF in 2011. Thankfully, it was well received, and since then I have never looked back. That's pretty much how I got here!
You upcycle chairs. Aside from the inspiration at university, what else made you choose this particular sustainable path?
Chairs have always been a huge part of my culture, especially at home. If my dad came back from work and you sat in his chair, you just knew you had to get up, so he could sit down because that was his chair. It was a sign of respect offering your chair to someone who was a lot older than you. Not only that, old chairs are really powerful objects that have many stories to tell – to have the opportunity to try and unravel those narratives is why I love what I do.
A chair is an object that we all share together, whether we like it or not because we have to take a seat at some point during each day. This could be in a public space, church, bar or on public transport. We share ideas, feelings, and emotions when we sit on a chair and that's the beauty of chairs – they have this unapologetic vulnerability about them, and we automatically trust a chair without even knowing, it's incredible.
Chairs are conversation-starters and I like how they bring people together in the simplest of ways. The most exciting part about my practice is being able to incorporate my heritage and tell stories through chairs, creating objects that make people smile but at the same time ask themselves the questions: can I sit on this chair? Is it functional?
The stories that I tell through my work are based on Nigerian Parables, which are words of wisdom told to me by my parents when growing up as a child. Being able to create a chair that is meaningful, as a story is incredible.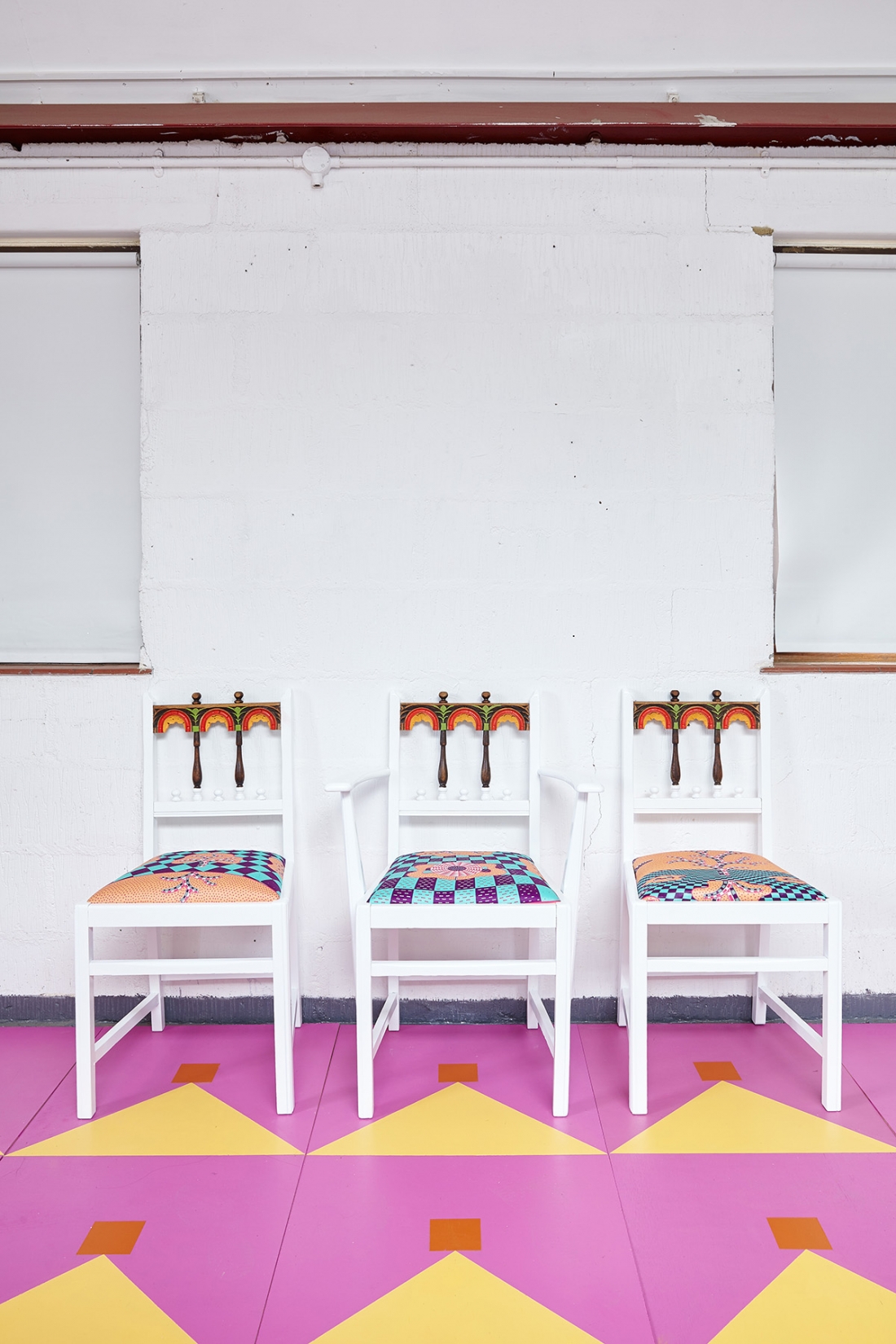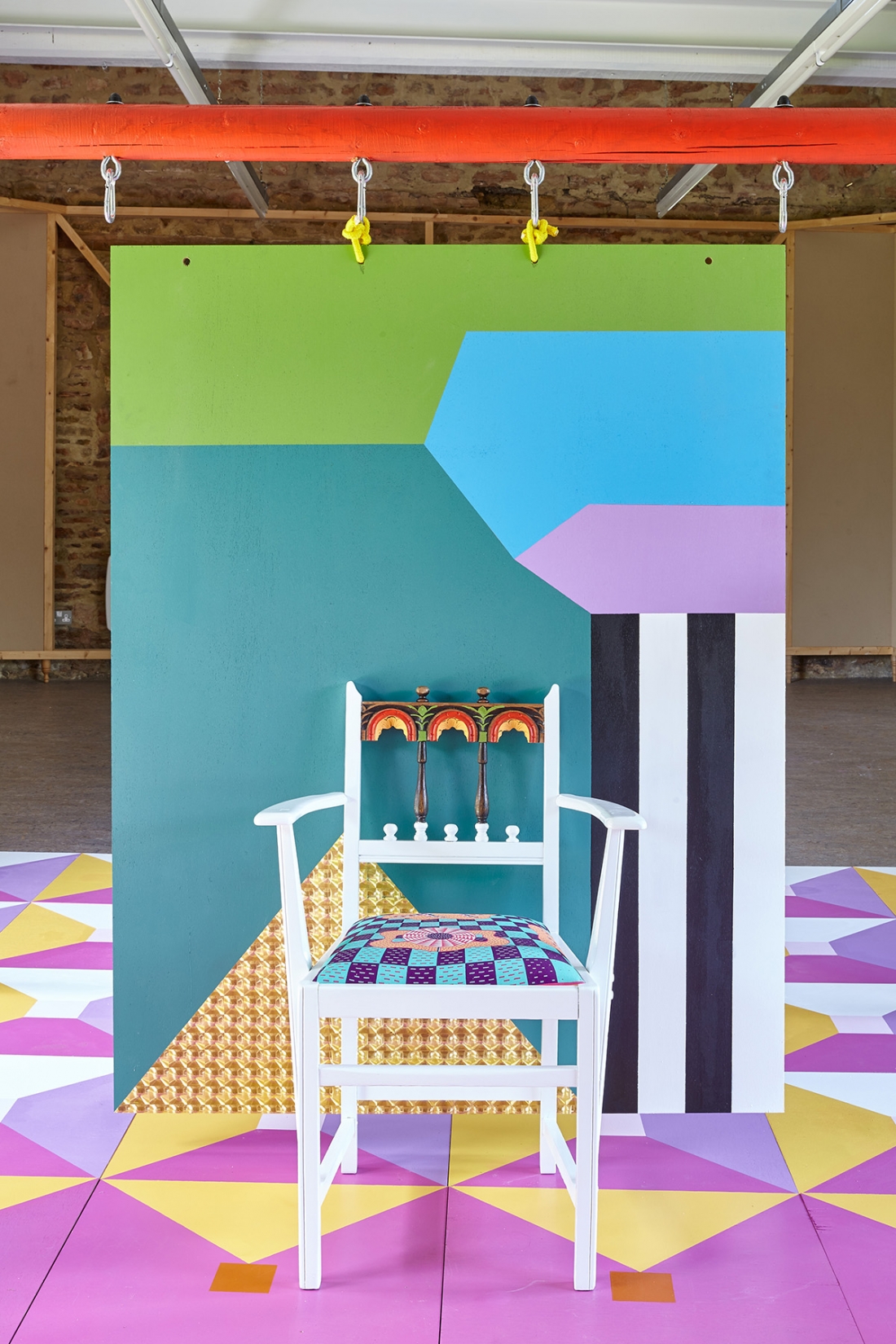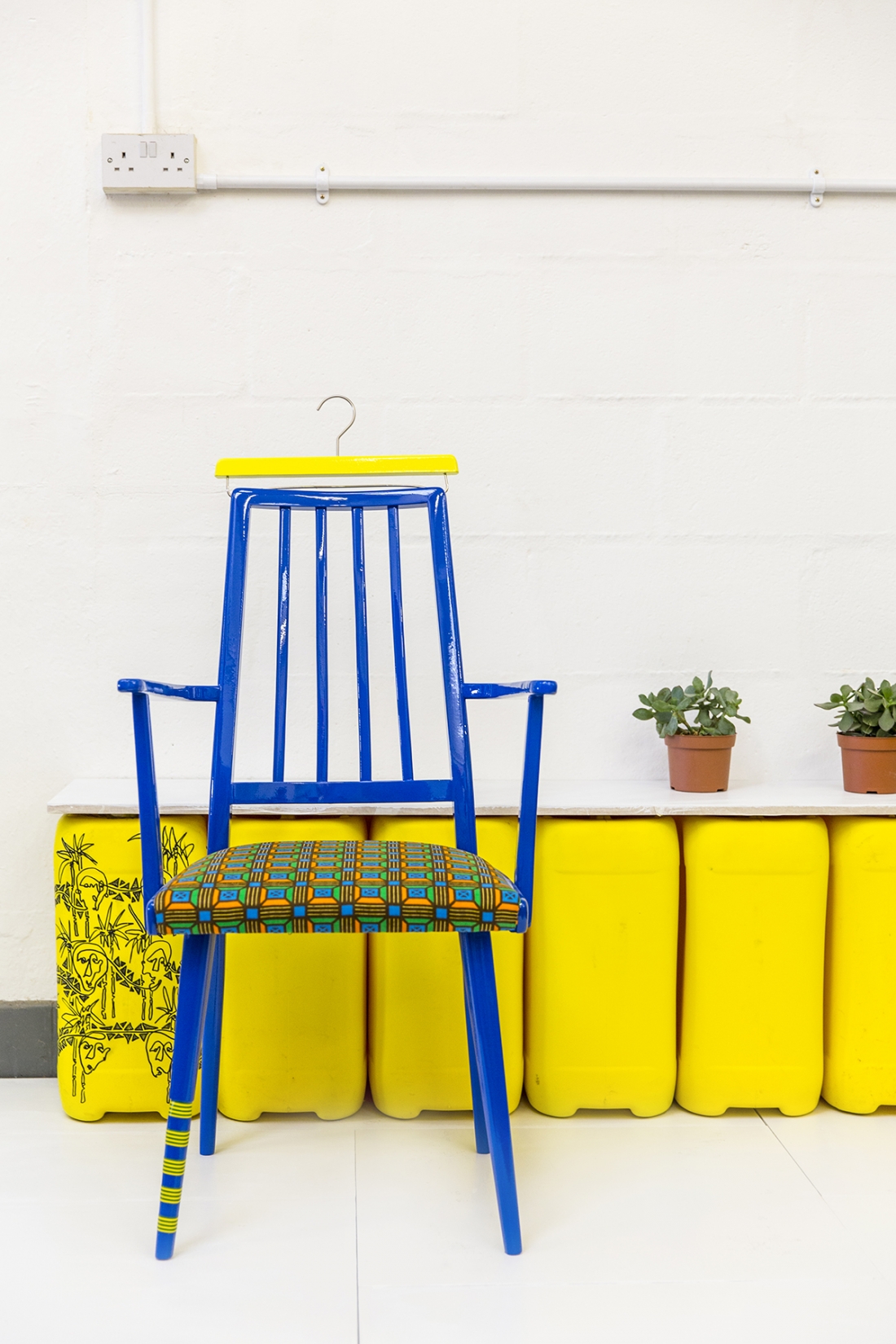 What's your design process?
Select a Nigerian Parable. Put on some music 'Fela Kuti'. Select a chair and dismantle it. Reconstruct it. Sand it down. Prime it. Paint it. Let it dry. Select a Dutch Wax print. Upholster the chair's seat. Repeat.
Where do you source old furniture from? Any particular pieces that turned up in an unusual place?
The chairs are sourced from charity shops, second-hand shops, skips – you name it, I'll find them anywhere. I mean, sometimes you might see me with two or three chairs in my hand, walking down East London trying to get on a bus because I'm always bumping into chairs! If you do see me with chairs and I look like I'm struggling, I'd really appreciate your help! Thanks in advance!
Any favourite pieces that you've made?
Ah, that's a tough one! To be honest, they are all my favourites because they have important narratives and mean a lot to me. That's such a difficult question, it's like someone asking you who is your favourite out of your children! You just can't do it!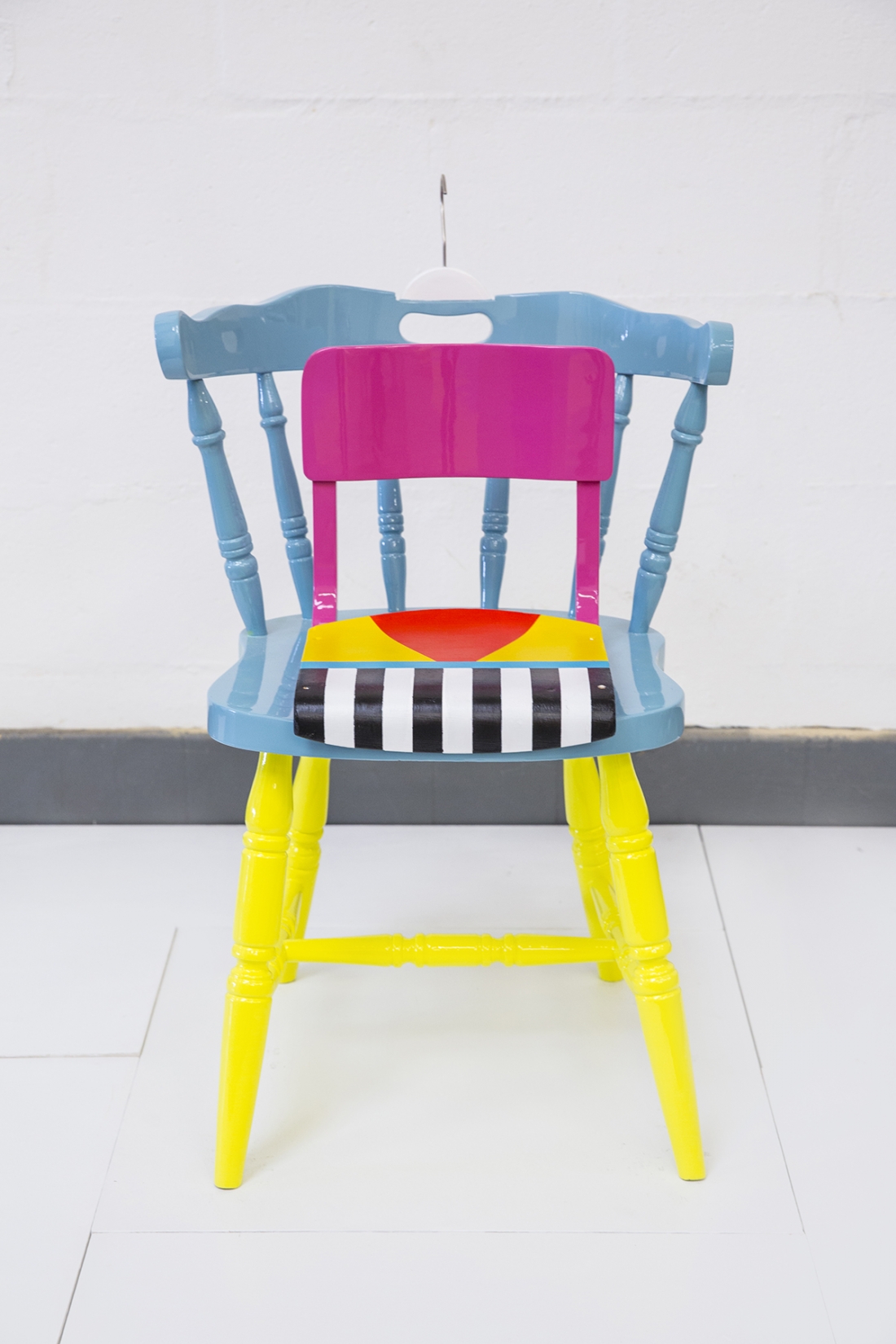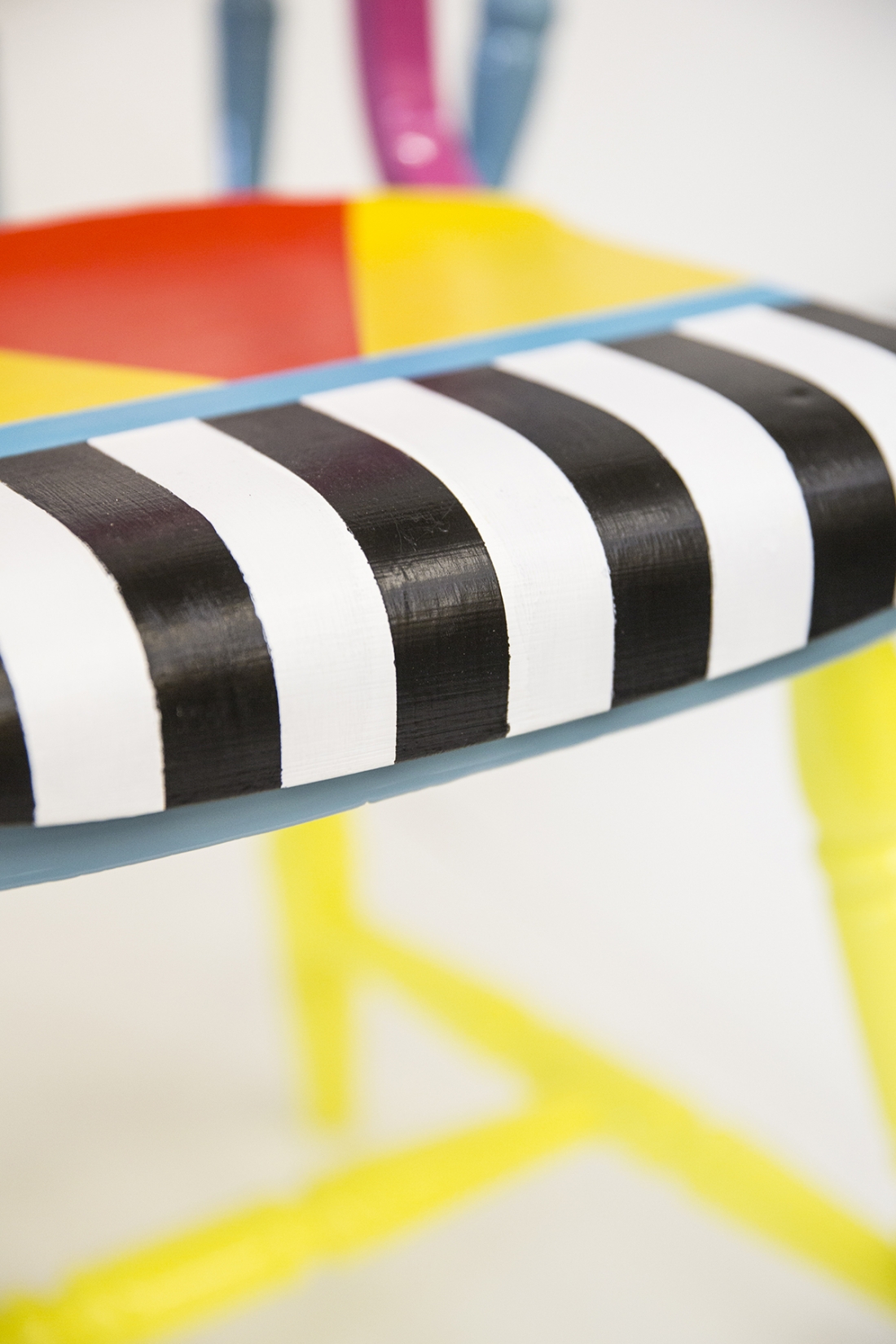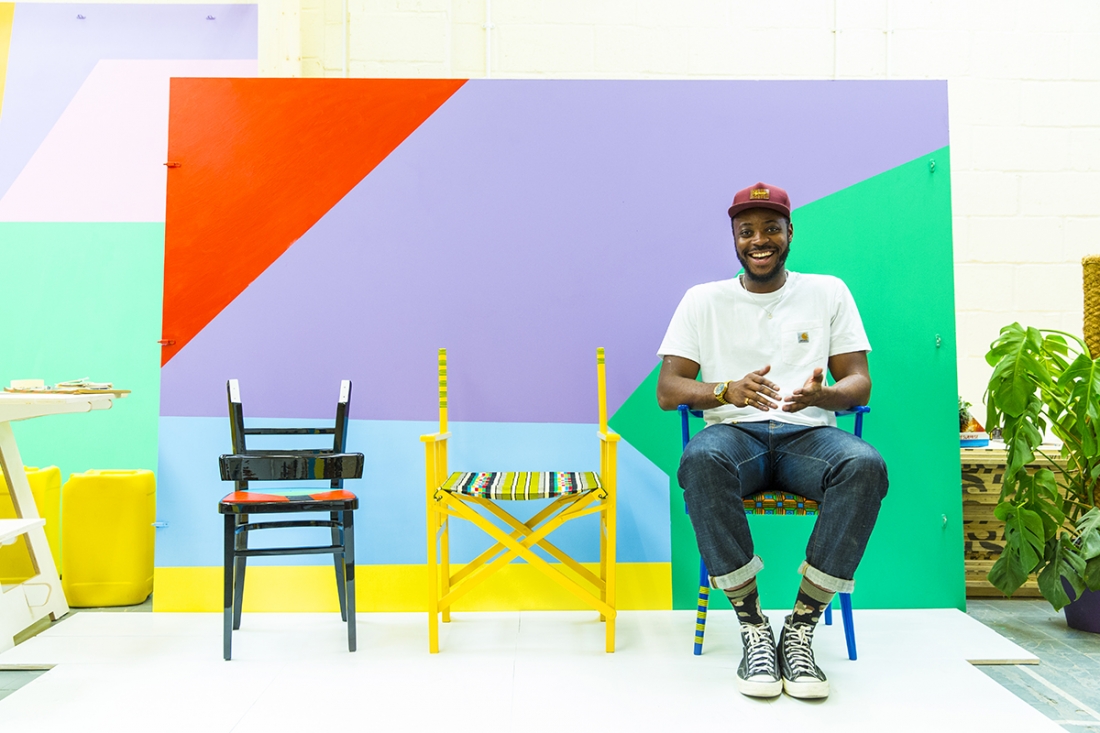 Where do you get your inspiration?
At the moment, I get inspiration from my childhood and look at experiences with people that have shaped me as a person.
The design industry can be tough. How do you ensure you stand out on the circuit?
It can be tough but the only way to ensure you stand out on the circuit is to always tell your own story, do your research and don't try and cut corners because you will only end up having to start again.
Is there anything that frustrates you about the design industry? What would you change if you could?
Yes, there are hundreds of creatives who have such amazing ideas but struggle with writing proposals. If I had the funding I would love to set up a consultancy that helps creatives who struggle with writing proposals and supports them in making funding applications so that they have a better chance of having a successful application.
You're based in East London. Describe your local creative scene...
Yes, that's right! East London is full of tastemakers who create greatness. My local scene is an eclectic mix of architects, fine artists, print designers, metal spinners and furniture makers. The beauty of this is that there is an opportunity to collaborate with any of these creatives and share ideas.