Yorkshire Sculpture Park presents Portuguese artist Joana Vasconcelos.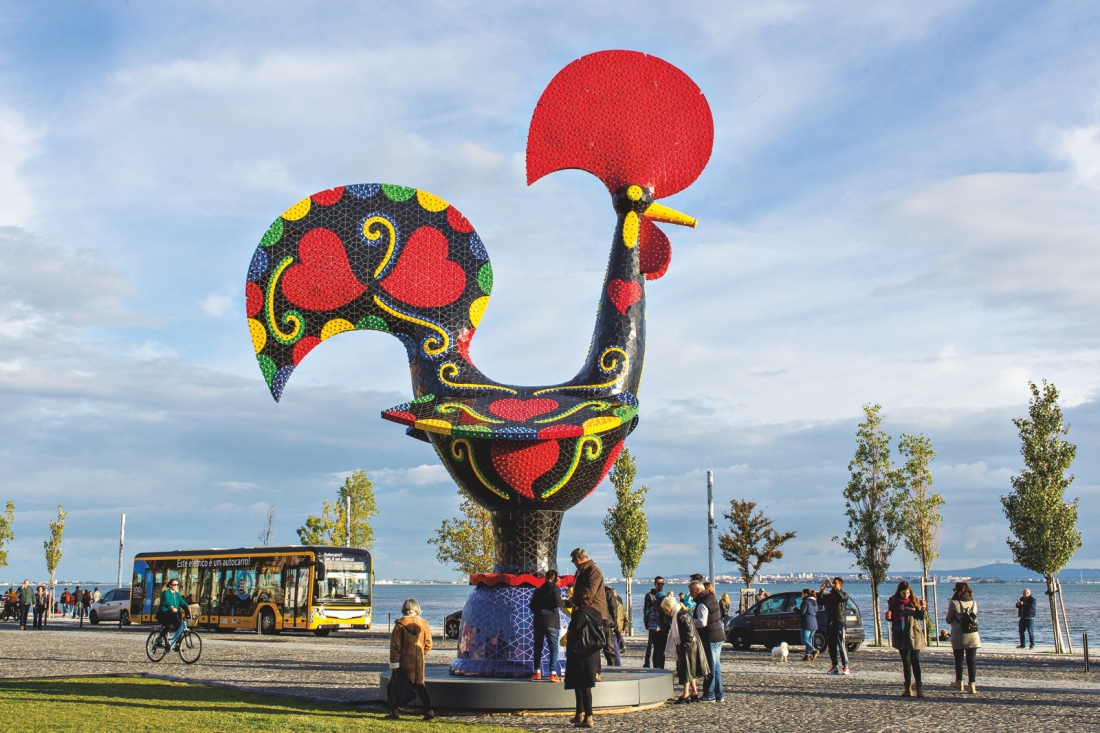 Yorkshire Sculpture Park will present a major exhibition of over 25 works by leading conceptual Portuguese artist Joana Vasconcelos, from 7 March 2020 to 3 January 2021.
Regarded as one of the most prominent female visual art practitioners in the world, this is Vasconcelos' largest exhibition ever held in the UK, and YSP's headline presentation for 2020 in a year of programming dominated by women artists.
Bringing together works produced over the last twenty years, Joana Vasconcelos is a dramatically choreographed selection of vibrant sculptures that engage with one another across YSP's unique contemporary architecture and 18th century landscape. Shown in the Underground Gallery and extending into the surrounding gardens, the exhibition will present dynamic and playful sculptures that examine, expose and celebrate the creative lives of women.
Exploring historical and contemporary societal structures, Vasconcelos focuses on the subversion of material and the decontextualisation of everyday objects. She frequently uses items associated with domesticity and craft, including household appliances, fabric and crochet, to comment from a feminist perspective on national and collective identity, cultural traditions and women's roles.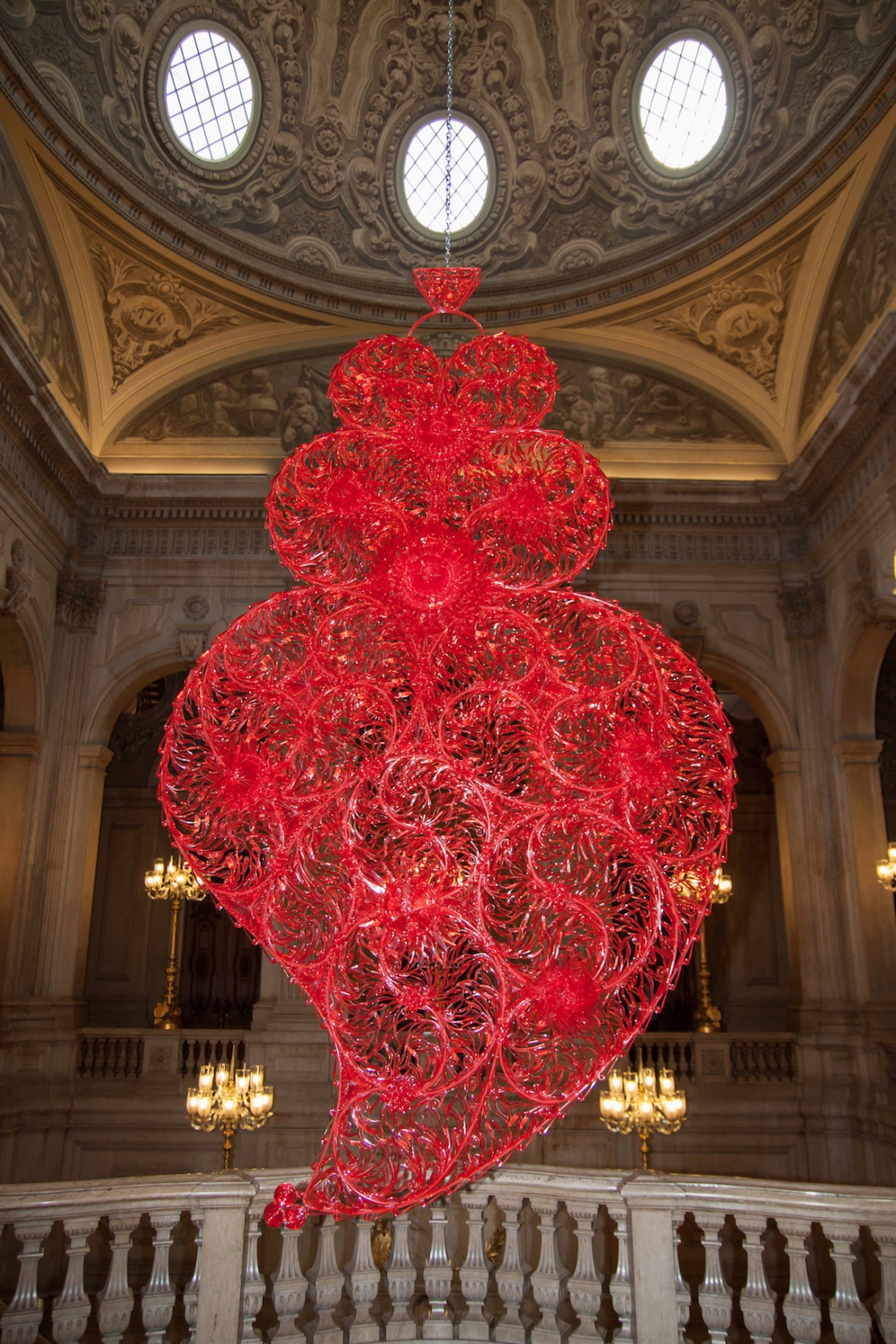 The hand-crafted versus the industrial is reflected in one of Vasconcelos' most energetic and colourful works, Pop Galo (Pop Rooster) (2016). Inspired by the image of the Portuguese rooster, Pop Galo brings historic and modern methods of making together, fusing handmade ceramic tiles and LED light technology, to create a contemporary pop art statement which celebrates the rooster of Barcelos – the most popular piece of traditional Portuguese pottery. At over nine-metres-high and covered by 17,000 Portuguese glazed tiles, by day the work traditionally represents the pop culture icon. At dusk, Pop Galo becomes animated by 15,000 LED lights, illuminating the historic parkland. Programmed alongside the lights, a composition by Portuguese musician Jonas Runa plays from the rooster.
Also in the open air is Solitário (Solitaire) (2017), a seven-metre-high ring made of golden car wheel rims topped with a huge diamond crafted from crystal whisky glasses. Representing the stereotypical ambition of our society to acquire wealth and material possessions, the work unites symbols of luxury – cars, jewellery and alcohol – which bridge social classes. Sited at one of the highest points in the Park and drawing attention to one of the most wonderful views across the landscape, Solitário will entice visitors uphill and create delight in the discovery of its fabrication.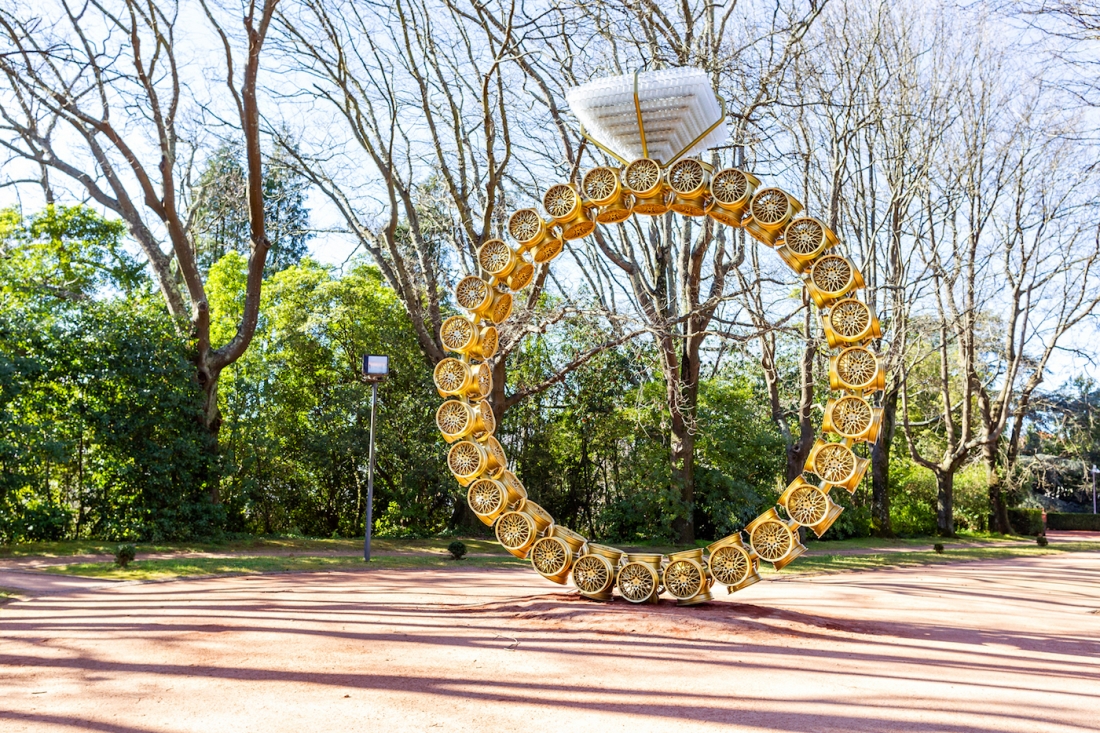 Within the Underground Gallery, the exhibition continues with works that celebrate the artist's unbridled imagination. The monumental 23-metre-long Material Girl (2015), which hangs suspended from the ceiling, is one of a series of dramatic works that represent 'valkyries', female figures from Norse mythology who selected warriors on the battlefield worthy of a place in Valhalla. Made from hand-stitched pink and purple fabrics, sequins, crocheted panels and LED lights with tentacle limbs that reach across the gallery, Material Girl embodies the power of these figures through a dynamic mass of texture and colour that is intended to be both menacing and protective.
Made from stainless-steel saucepans, the iconic oversized silver stilettos of Marilyn (2009/2011) comment on social conventions and highlight the division between women's traditional domestic and contemporary public roles. Referencing Marilyn Monroe, one of the most notable American actresses to symbolise female sexuality, the work pays homage to her absent figure. Marilyn proposes a revision of femininity by drawing attention to dichotomies which play a significant role in Vasconcelos' practice, including private versus public life, tradition versus modernity, and 'pop' culture versus 'high' culture.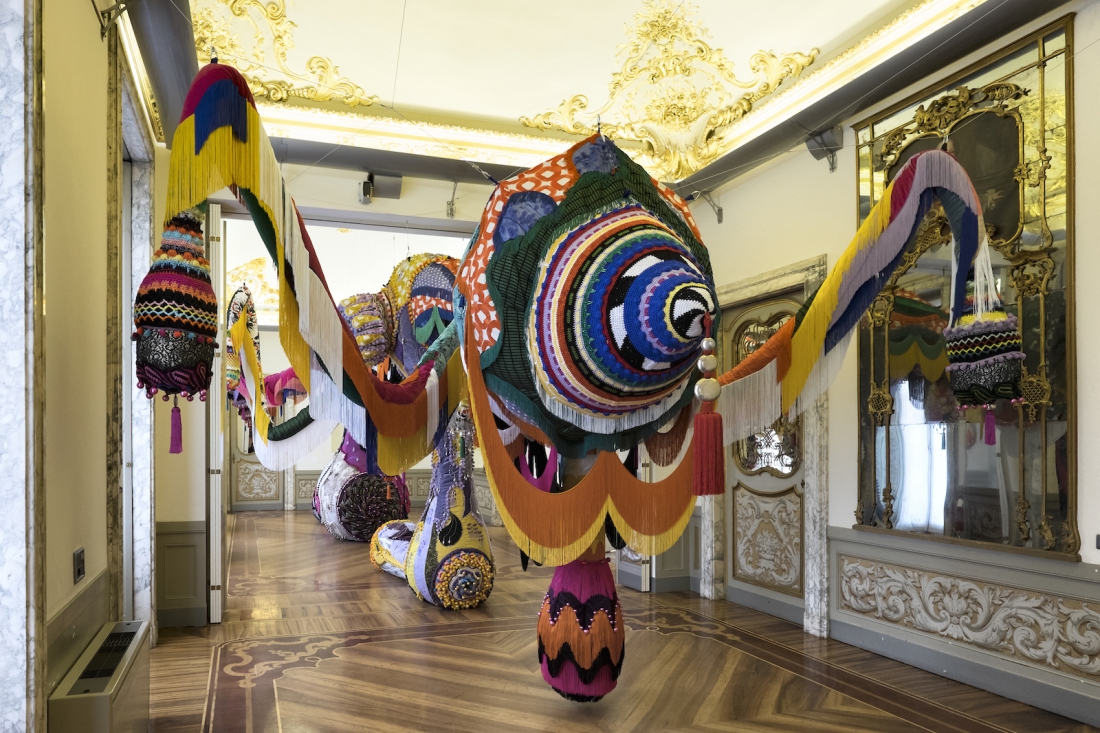 These sculptures are joined by the stunning and elaborate Red Independent Heart #3 (2013). For this work, Vasconcelos makes use of the form of another well-known Portuguese emblem, the Heart of Viana, which symbolises honesty and generosity, and scales it up to over three metres high. The sculpture rotates in the gallery space and is made entirely of red plastic cutlery, which has been abstracted to such an extent that the lines between luxury and coarseness are blurred. Dramatically lit, it is accompanied by recorded Portuguese fado songs, which speak of love, loss and the conflict between emotion and reason.
Joana Vasconcelos runs from 7 March 2020 – 3 January 2021 at Yorkshire Sculpture Park. For more information, visit ysp.org.uk.