Bella Freud and Maria Speake's elegant interiors for Helios 710 at Television Centre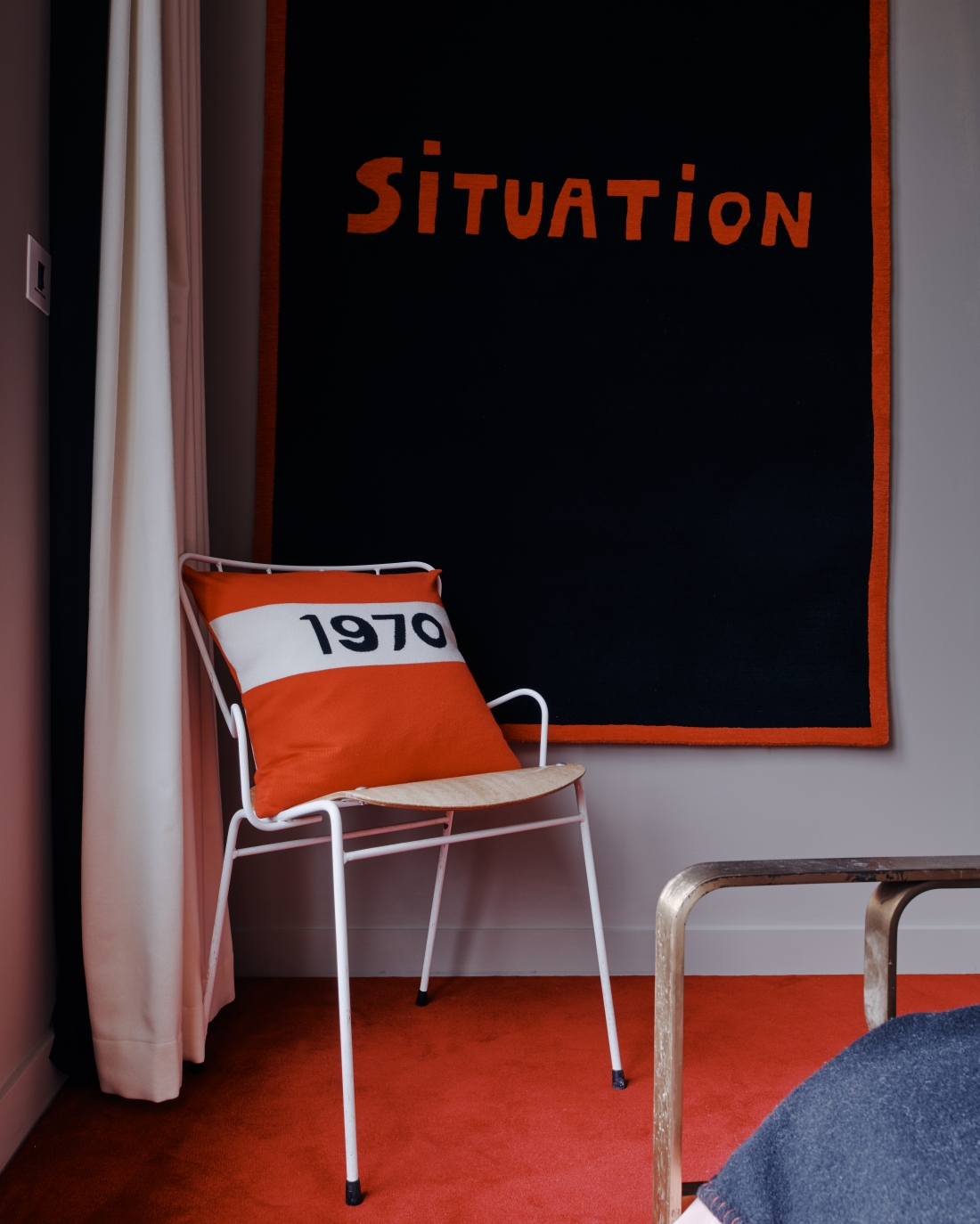 British Fashion designer Bella Freud has collaborated with Maria Speake, co-founder of design and salvage mecca Retrouvius to apply her cool-girl chic to Helios 710, a three bedroom penthouse in The Helios, a circular Grade II-listed building at Television Centre, the former BBC headquarters in West London.
Synonymous with elegant West-London style, Bella Freud's beautifully made, covetable clothing is informed by a passion for music, art and cinema, and a love of rock n' roll glamour.
For Helios 710, Bella and Maria have created an interior that echoes spaces dear to Bella's heart, with art and objects that share cultural references familiar from her fashion. The bold colour, eclecticism and glamour of the 1970s have been a key reference. Vibrant block colours – angelica green, lipstick red and marigold used on the floor and walls – act as a dynamic framing device for objects and occupants alike.
The apartment has been furnished with vintage pieces, alongside special edition rugs featured as carpets and wall hangings. The rugs, made in collaboration with the Rug Company are inspired by the text on Bella Freud's signature sweaters. Artworks include photographs from Lorena Lohr, colourful and subversive plates by Eliza Hopewell, and op-art prints by Jacob Wolff.
Maria has previously collaborated with Bella on two successive London homes, as well as her flagship store on Chiltern Street. As with Bella's West London home, Helios 710 has been imagined as a sanctuary for the designer and her family, creating private as well as social spaces - including a cosy snug on the upper level - leaving their use flexible, ready to adapt to changing needs.
"It was great to work in a place with so much history – that has been so entwined with my life and my interests – and to imagine how I would live there." says Bella.
After a three-year transformation, Television Centre – the former BBC headquarters in White City – has reopened as a mixed-use development. At its heart is The Helios: a Mid-century Modern masterpiece opened in 1960 and now home to a collection of apartments. Helios 710 is one of five designs by architects Piercy&Company for the most premium apartments in the scheme: The Architects' Series, which are now available for viewings.
The apartment sits over two floors, offering a dual aspect to the east and west and views of the London skyline beyond the refurbished Helios statue in the courtyard. The apartment is being listed for £3,925,000, fully furnished, at Television Centre.