Zaha Hadid designs a $50M luxury penthouse home in West Chelsea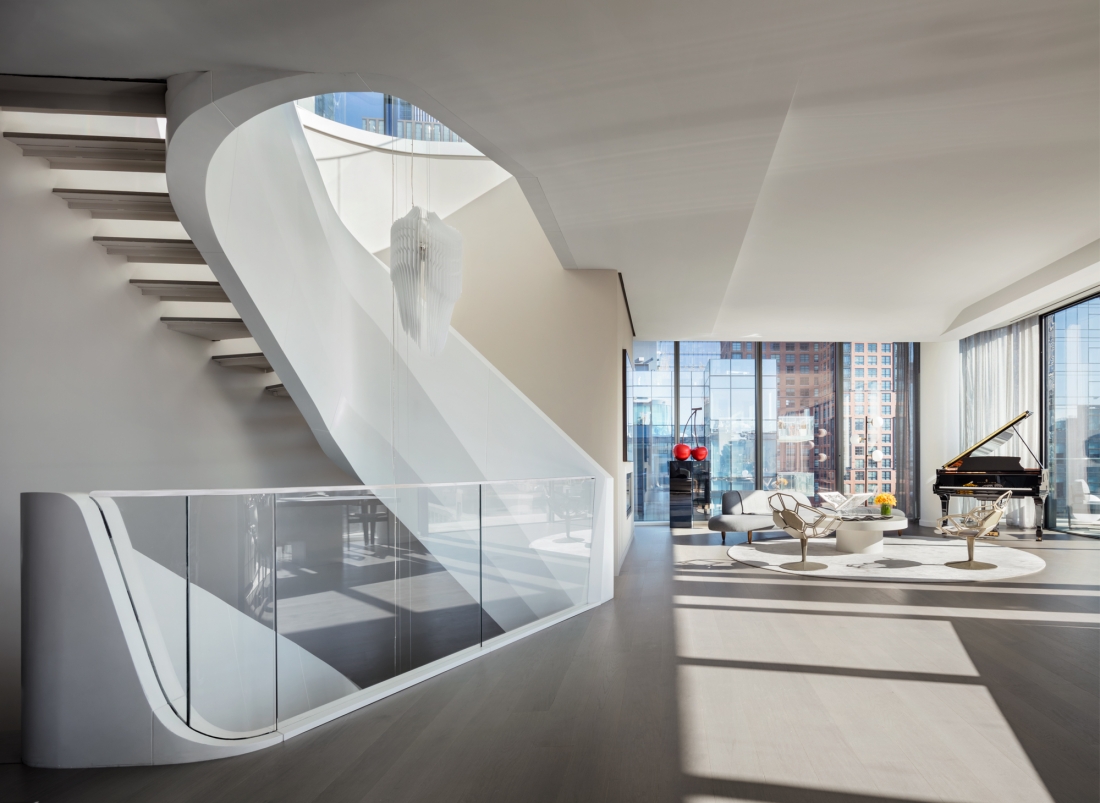 The long-awaited interiors of the triplex penthouse residence inside the revered building by Zaha Hadid at 520 West 28th Street have been unveiled, marking a final look inside the inimitable 21st-century dwelling in West Chelsea.
The vast interiors of the luxurious three-level home at the top the 39-unit condominium span 6,853 sq. ft, with views to the North, South and East. There are five bedrooms, including a corner master bedroom within the lower level that comes with a private balcony, full dressing room, and dual bathrooms.
A mid-floor entertaining level features a library, powder room for guests, and a 1,250 sq. ft. double-corner great room adorned with private balcony and fireplace, and there's a spacious eat-in kitchen designed by Zaha Hadid in collaboration with Boffi which holds a full Gaggenau appliance suite. There's also direct resident elevator entry, as well as an in-residence elevator, for privacy and to easily move between the three levels.
Framed by floor to ceiling glass windows at a vast height of nearly 11 ft., the residence holds a distinguished, signature three-story internal sculptural staircase, a design by Dame Zaha Hadid herself, mirroring the project's admired sinuous exterior façade and vast interior aesthetic.
The home also boasts 2,552 sq. ft. of exterior space, including a terraced garden and wraparound roof veranda with an outdoor kitchen.
"Each apartment at 520 West 28th was designed with bespoke millwork at its centre that continue the geometries of the building's façade," says Johannes Schafelner, Project Director, Zaha Hadid Architects. "These hand-crafted pieces are unique to every residence, individually designed and finished for their particular location and function.
"Within the penthouse, this centrepiece is manifest as the sculptural staircase that extends all three floors, connecting its interior with the large outdoor terrace. An evolution of the flowing spiral staircases within Zaha Hadid's cultural buildings, this staircase is designed with multiple perspectives that engage perception and draw the eye from the horizontal to vertical – uniting the penthouse's three levels with the fluid design language of the building's facade."
There's an array of luxury amenities at 520 West 28th Street, including automated valet that tends to residents' vehicles on call, the only private IMAX theatre in New York City, private automated storage, a fitness centre with 75 ft. sky-lit pool, and a spa-suite complete with hot tub, rain showers, treatment beds, plunge pool, sauna, and steam room.
The penthouse residence is being listed for $50m by real estate firm Related Companies.