Award winning artist and furniture maker Kevin Stamper presents his latest work inspired by Madeira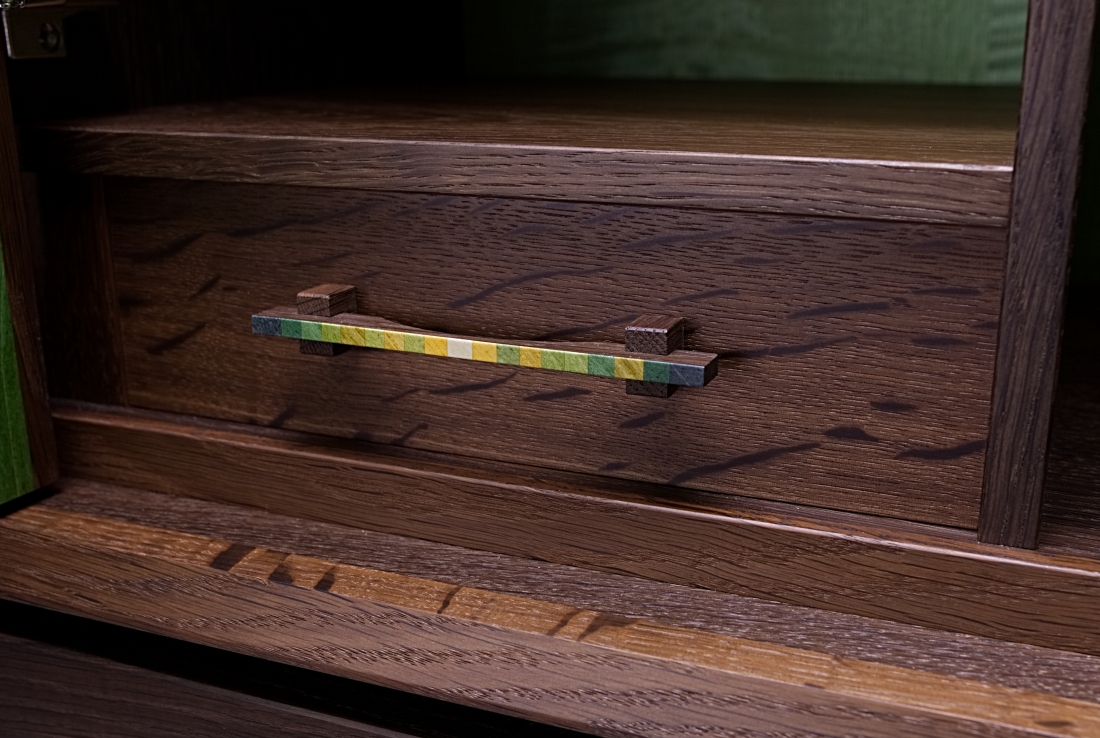 Award winning artist and furniture maker Kevin Stamper will be presenting a new range of cabinets and wall hanging abstract art panels using his signature pixelated style at Decorex International, Olympia London, 6 – 9 October 2019.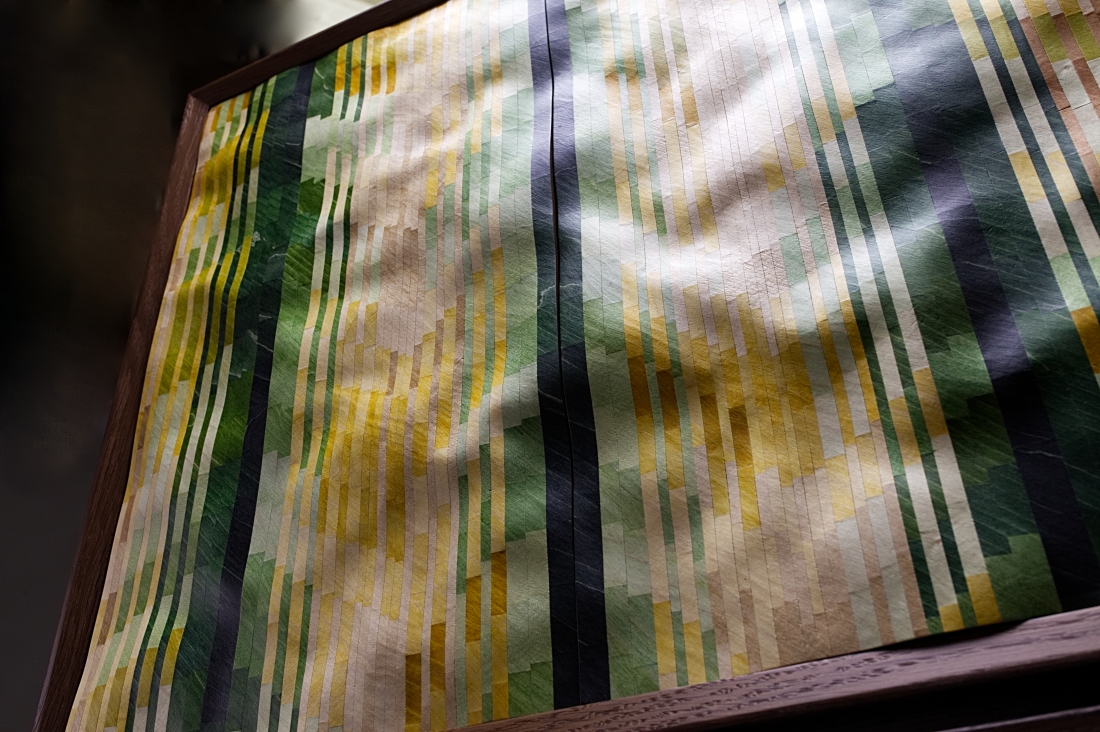 Kevin Stamper works in wood veneer and solid wood producing abstract art panels and furniture using colour, form and texture as a creative base. Each piece is made up of hundreds of individual squares of sycamore veneer that have been hand-dyed using a unique process developed by Kevin Stamper himself. His imaginative designs have twice won the Worshipful Company of Furniture Makers design prize.
He originally trained as a teacher in art, design and technology, and spent some time teaching and making bespoke furniture in addition to exploring his work as an artist. His focus is now on creating new artwork that builds on a lifetime of working with wood but moves beyond the confines and traditions of furniture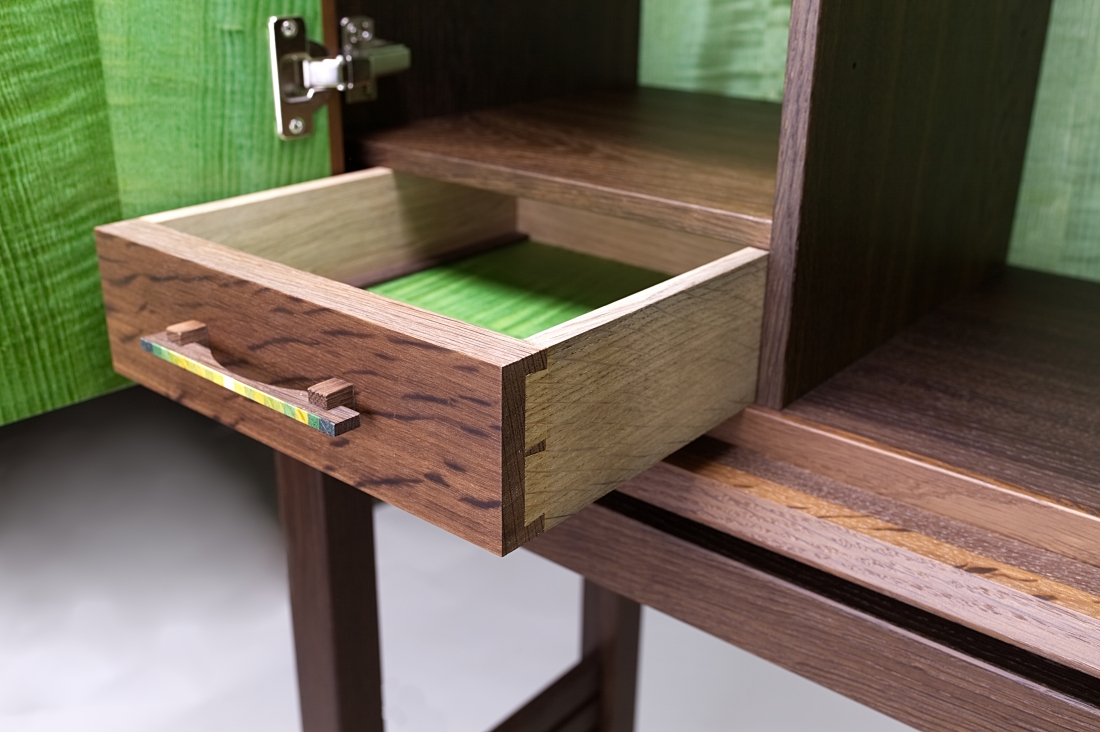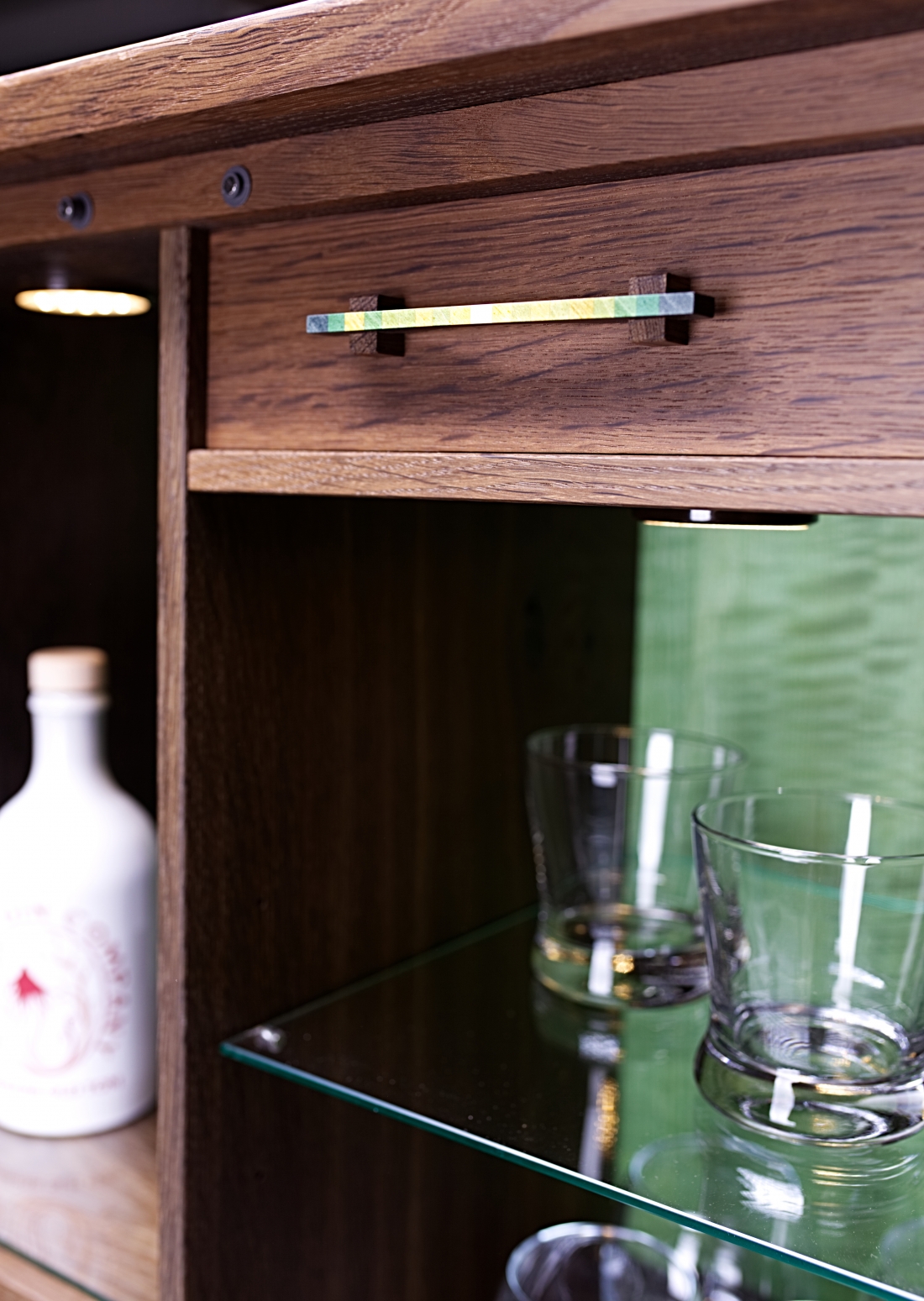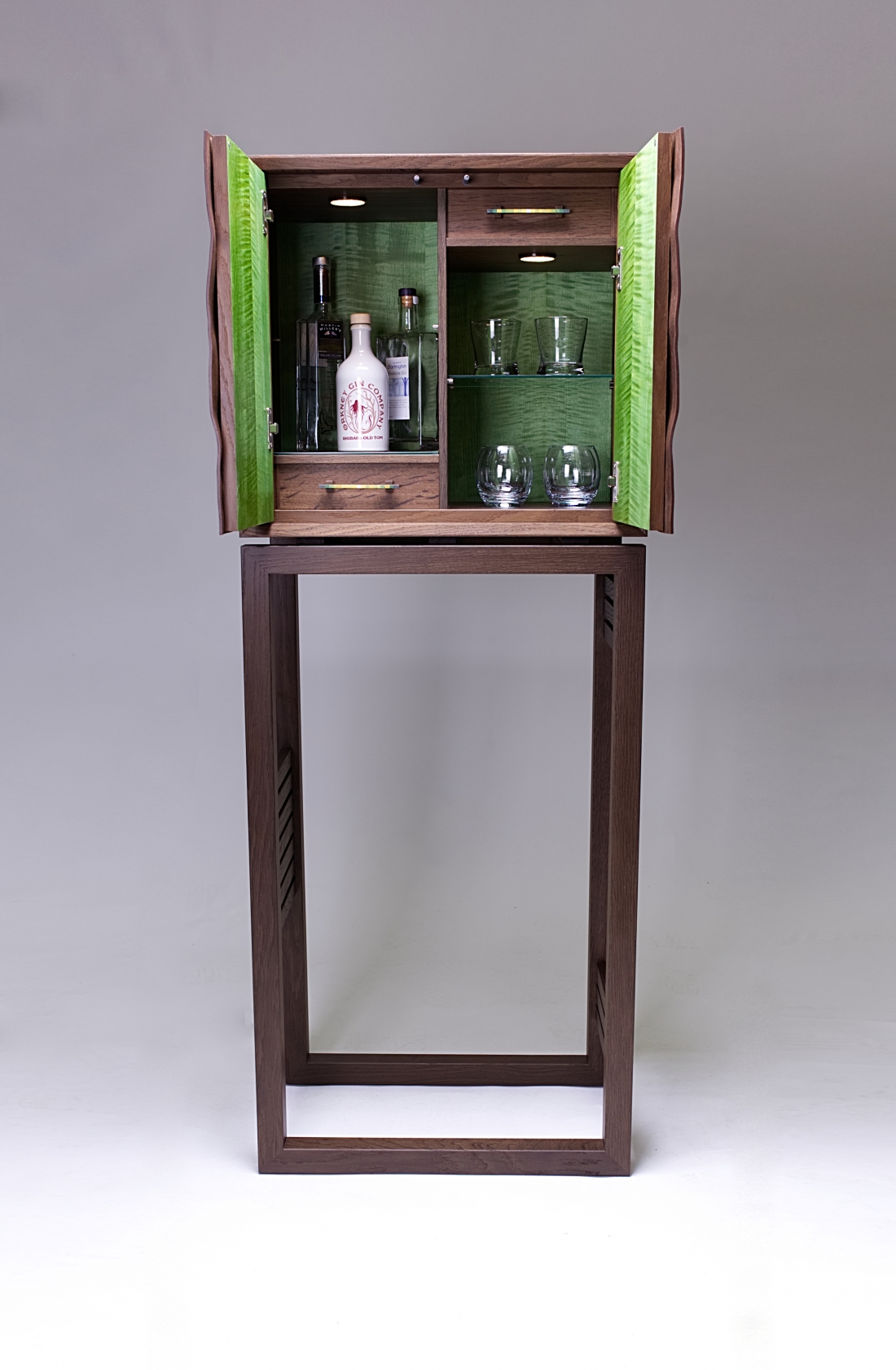 In his latest work, Botanical Cabinet, he explores nature and man-made structures on the island of Madeira:
"The idea for the Botanical cabinet stems from a Levada walking holiday on the Portuguese island of Madeira early in 2019. Levadas are narrow irrigation channels bringing water from the west and northwest of the island to the drier southeast, with most incorporating maintenance paths that can also be used for hiking. - Kevin Stamper
Strong green and yellow hand-dyed veneers reflect lush vegetation and verdant forests and the levada theme is represented by a thin irregular green band around the sides and top of the cabinet. Thin strips of veneer on the doors are manipulated to show the rise and fall of the hills and mountains in the interior of the island and the pattern is laid over an undulating surface to enhance this notion. The surface finish has been kept deliberately coarse and rough to the touch, as in the nature of a wilderness, and the coloured veneers are set against deep brown fumed burr oak to create areas of dark and shade found in the forest.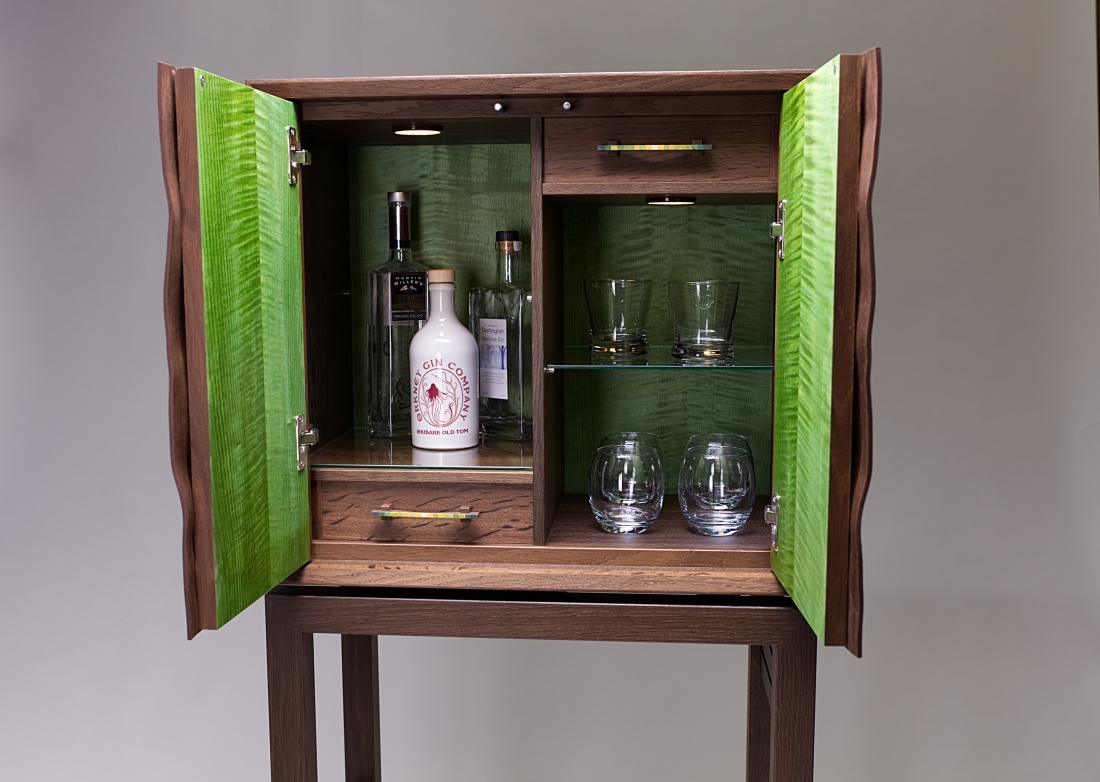 The colour themes continue to the inside of the cabinet with delicate drawer handles repeating the colours of the doors and lustrous green hand-dyed figured sycamore giving the impression of leaves and fern-like growth. Combining these with the fumed oak interior creates an intimate and seductive inner space that is arranged with two small dovetailed drawers, two adjustable glass shelves and illuminated by unobtrusive LED lights operated by a switch below the cabinet.
For further details visit Kevin Stamper