Coralla Maiuri's new Bottega d'Arte vases with pearly, iridescent effects and volcanic eruptions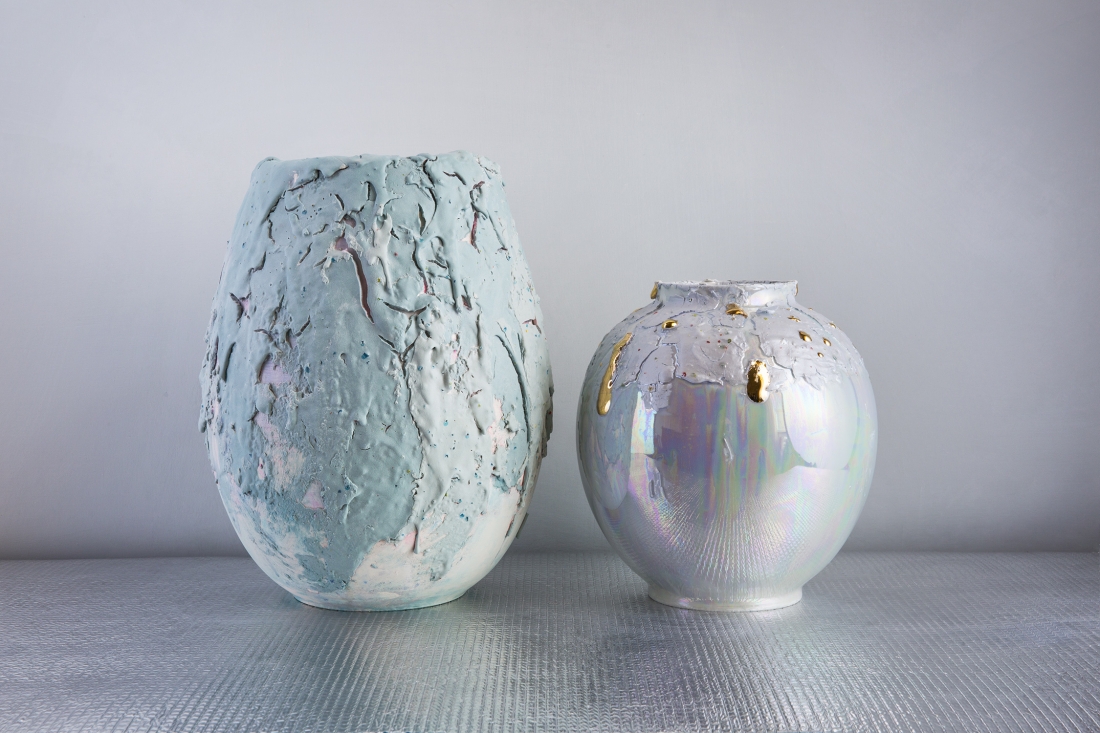 Coralla Maiuri has just launched three new Bottega d'Arte vase collections with iconic shapes and rounded surfaces resulting from her recent experimentations with materials.
Pearly and iridescent effects coexist with relief surfaces that seem to have dried up after a volcanic explosion; golden drops erupt from the magma. As on a palette on which colours are superimposed on thick irregular layers until the painter intervenes, without rules, to bring to light the underlying layers.
The raw effect is immediately mitigated by the sunny and delicate colour shades, but with the gritty gait of unexpected contrasts between shiny and opaque and daring freedom in execution. Each piece is unique, as the most spontaneous gesture of an artist. Thus the artist's research continues in this extraordinarily elegant collection.
The Alba vases are glazed in shaded colours drips topped with a craquelé décoration around its neck either pink, yellow, orange, blue or white. The Iris vases, meanwhile, are plain-coloured and characterised by the mother-of-pearl lustre and an extended craquelé decoration around the neck with irregular gold drops. Available in four colours: orange, yellow, pink and light blue.
The Dust & Light vases are drop-shaped and distinguished by opaque splotches of clay applied with the Ingobbio technique, alongside shifting mother-of-pearl lustre areas. Some of the vases are decorated with a golden rim around their neck.
Discover more: www.corallamaiuri.com.