d line launches FAT, Tom Dixon's first architectural ironmongery collection.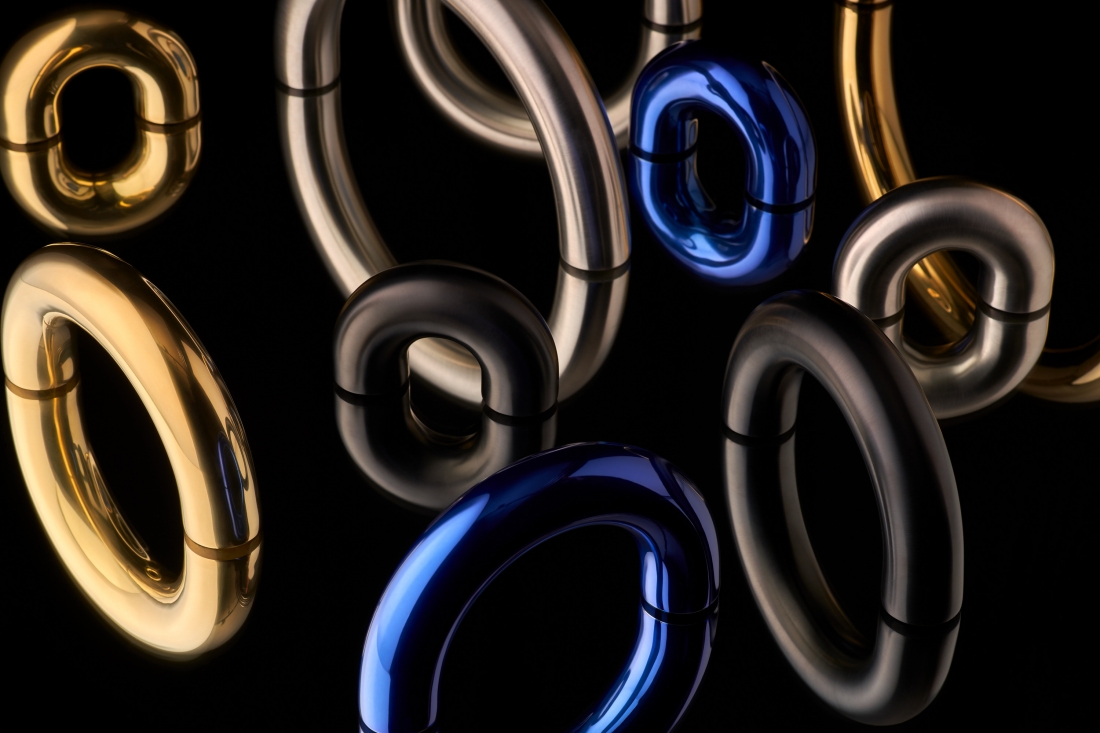 Together with British designer Tom Dixon's Design Research Studio, heritage Danish architectural ironmongery brand d line has launched FAT, a new line of hardware.
The collection comprises a lever handle, key escutcheon and thumb turn, as well as a door knocker, pull handle, flush pull and door stop. Like the rest of the d line portfolio, each piece is minimalist enough to be timeless in its design, its beauty coming from its rounded profile and inflated silhouette, rather than from superfluous details. The pieces are enduringly crafted in the highly resilient AISI 316 stainless steel preferred by d line and enhanced by a tight edit of PVD finishes for different expressions in colour.
To achieve the collection's aesthetic, Design Research Studio – the interior design agency at the heart of Tom Dixon – has magnified the silhouette of each piece's 'normal' aesthetic, to create softer edges and a generous profile.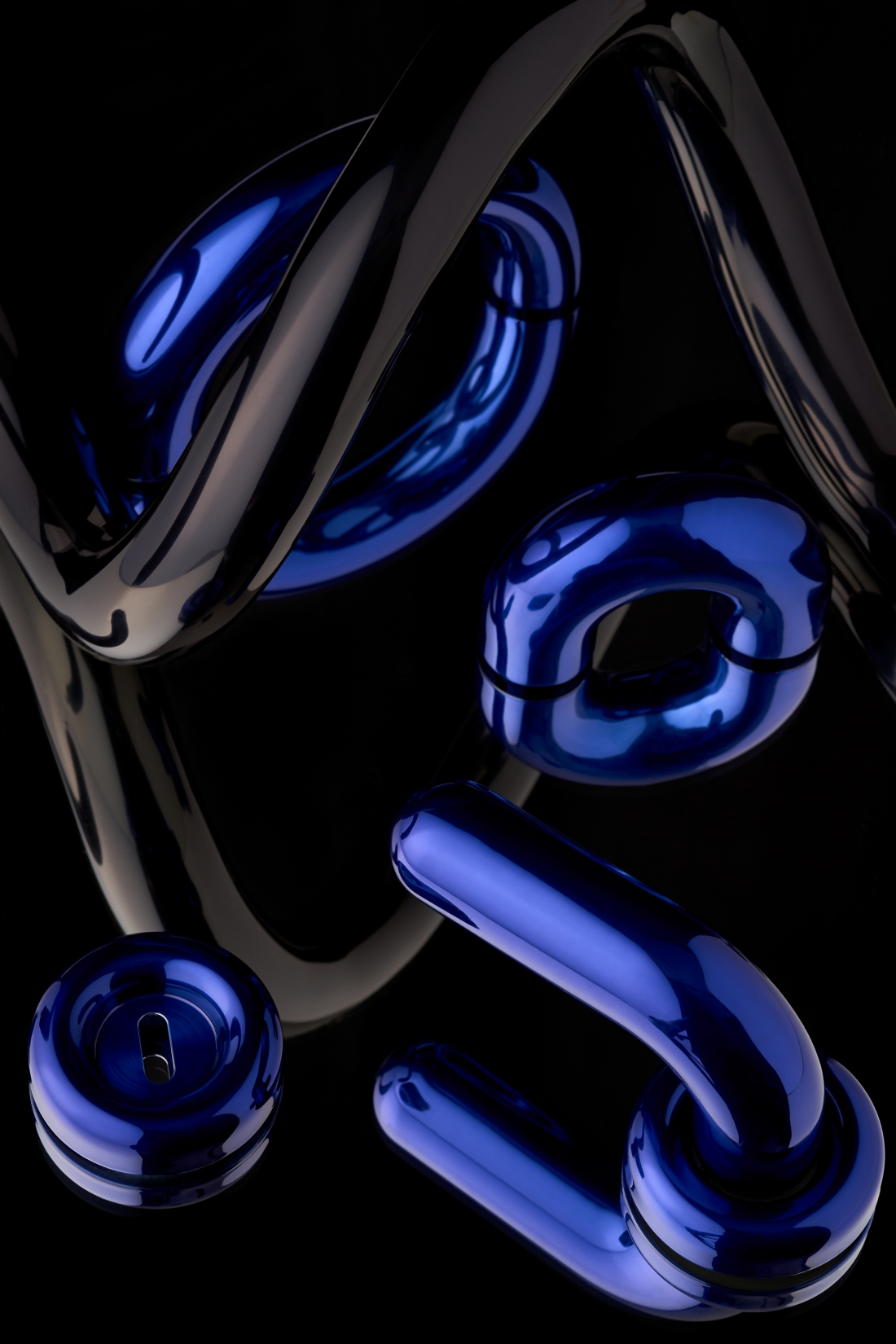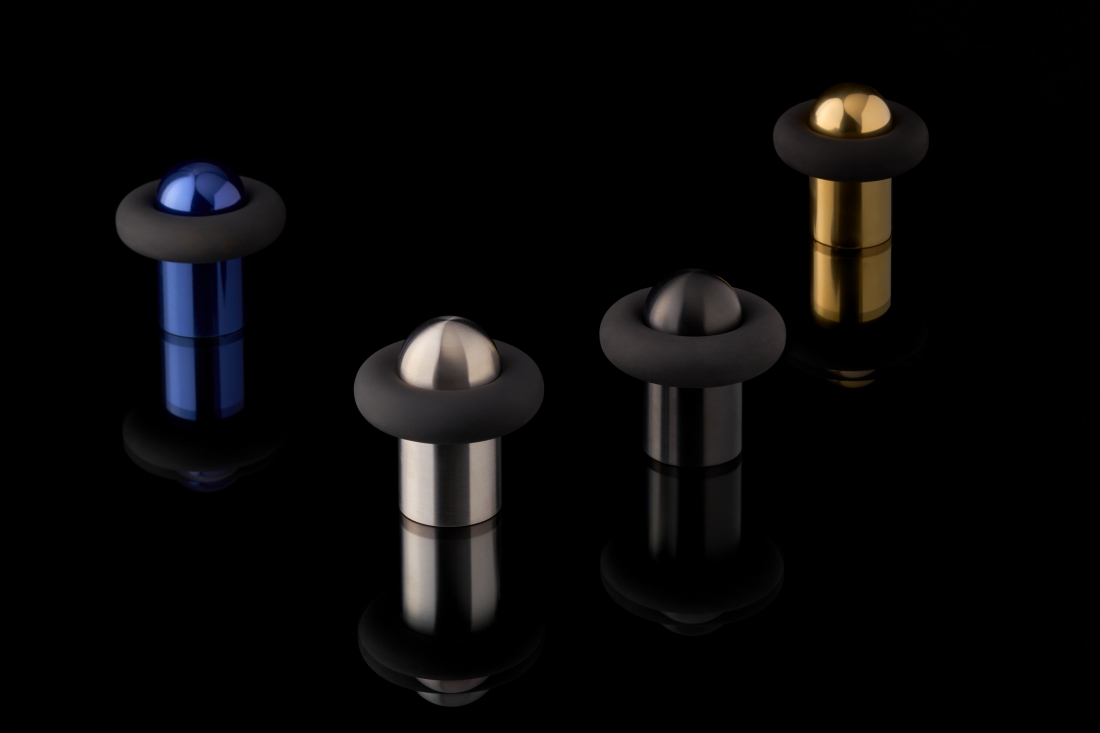 Having applied what Tom calls a 'fat edge' or 'fat profile' to several different objects in development at Tom Dixon Studio, the designer had already been using the word 'fat' to imply generosity and softness of form. So, with the studio's move into architectural ironmongery, and with the same 'inflation' process applied to a regular handle, the name again relates. The result lacks any trace of sharpness or angularity and is a collection of pumped-up pieces that are simply 'fatter' than the norm.
With the last 18 years spent building the Tom Dixon brand and collaborating as little as possible, a highly recognisable style in furniture, accessories and lighting is now established. Design Research Studio is the part of the business that works on interior projects and products, and a natural extension of this is both the architectural elements and details that go with them: wall colourings, technical lighting and door handles. It's in the creation of these products that the studio has developed partnerships – all towards being able to deliver a complete interior.
Tom Dixon, said: "I think FAT could go in any type of high-traffic building – from nursery schools to hospitals to fashionable nightclubs. The thing is, by having very rounded ends and very grippable handles, they work in a multitude of applications."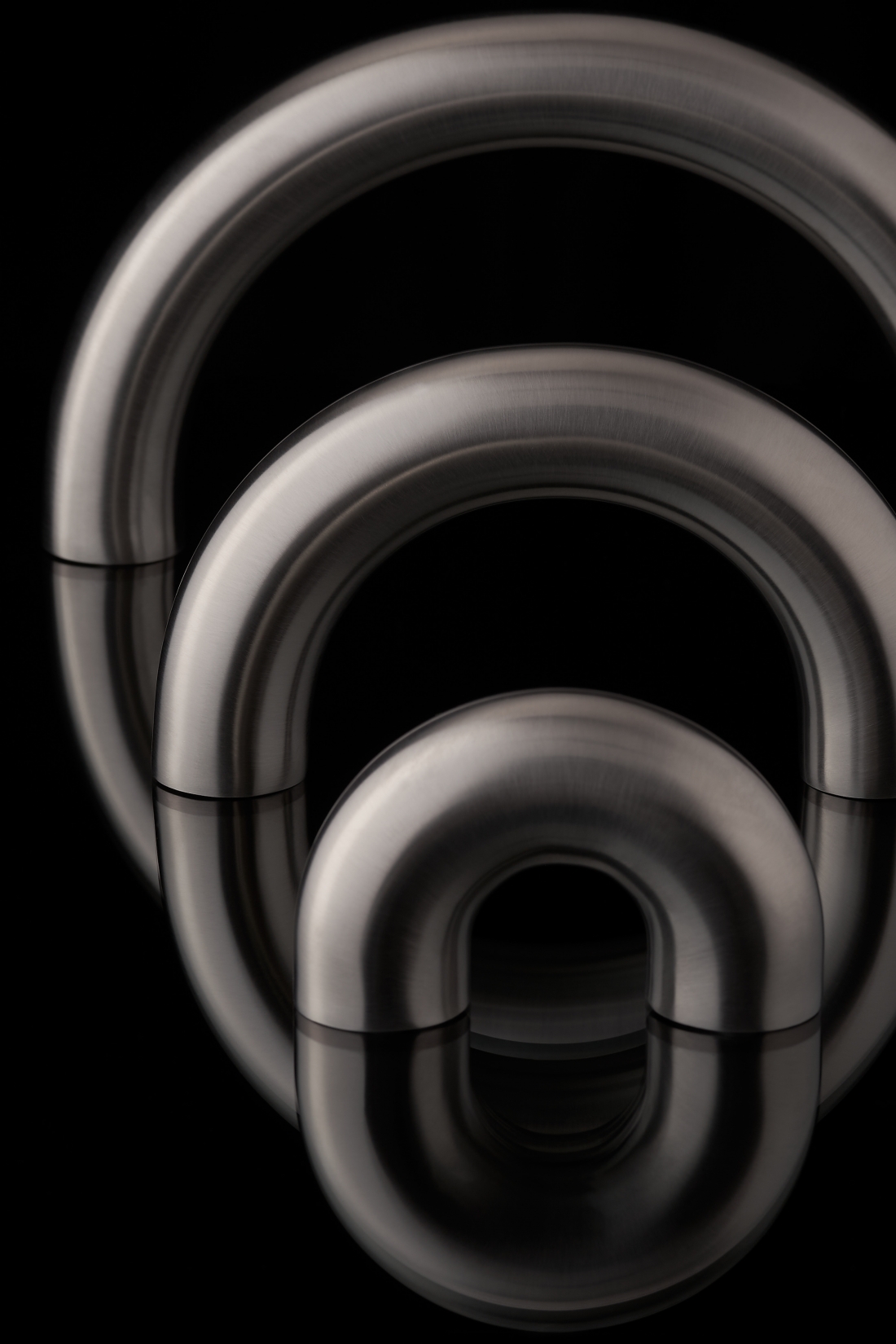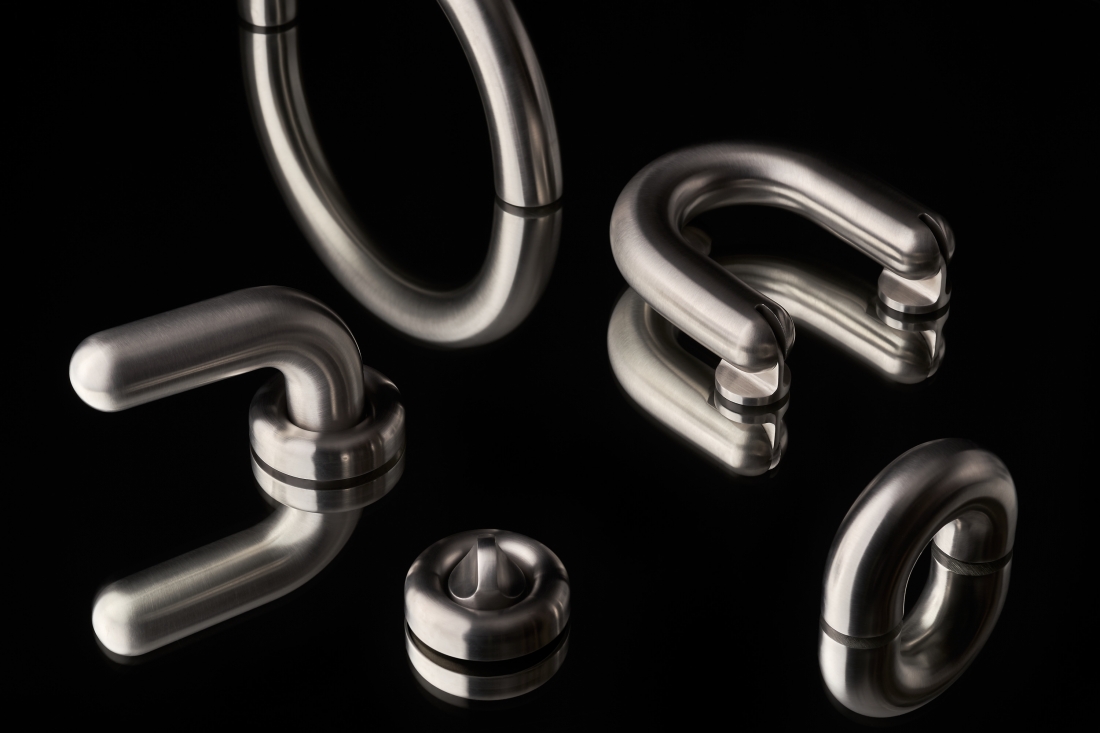 Considering d line's renowned streamlined aesthetic, the collaboration with Tom Dixon is a bold move. The FAT Collection is a new exploration for d line that disrupts a product category otherwise considered straightforward and conservative. This is why making a bold statement in both silhouette and colour palette could only happen in partnership with one of the greatest designers of our time. It's a way for the brand to do what it does best in terms of sticking to its core production principles of no-compromise craftsmanship and quality, while challenging itself to think and work in new ways with traditional hardware.
Tom Dixon describes door handles as having "a particularly difficult and hyper-functional set of challenges, because they've evolved rather than being designed." He observes that often designer handles are less functional than traditional ones, because a handle is something with which there's little to be done to affect the aesthetic beyond what's come before. The challenge for him and his studio, therefore, has been the creation of something that functions well, yet looks distinctively different from what's already out there.
New collections tend to be launched in stainless steel, both for its practicality and universality. But when Design Research Studio lined up finish and colour samples for FAT, they loved them all. Satin stainless steel is joined by polished brass, as well as PVD Black and Electric blue – the team saw that with this palette of materials and colours in play, the collection addressed many different project types because of the way each changes the character of the pieces.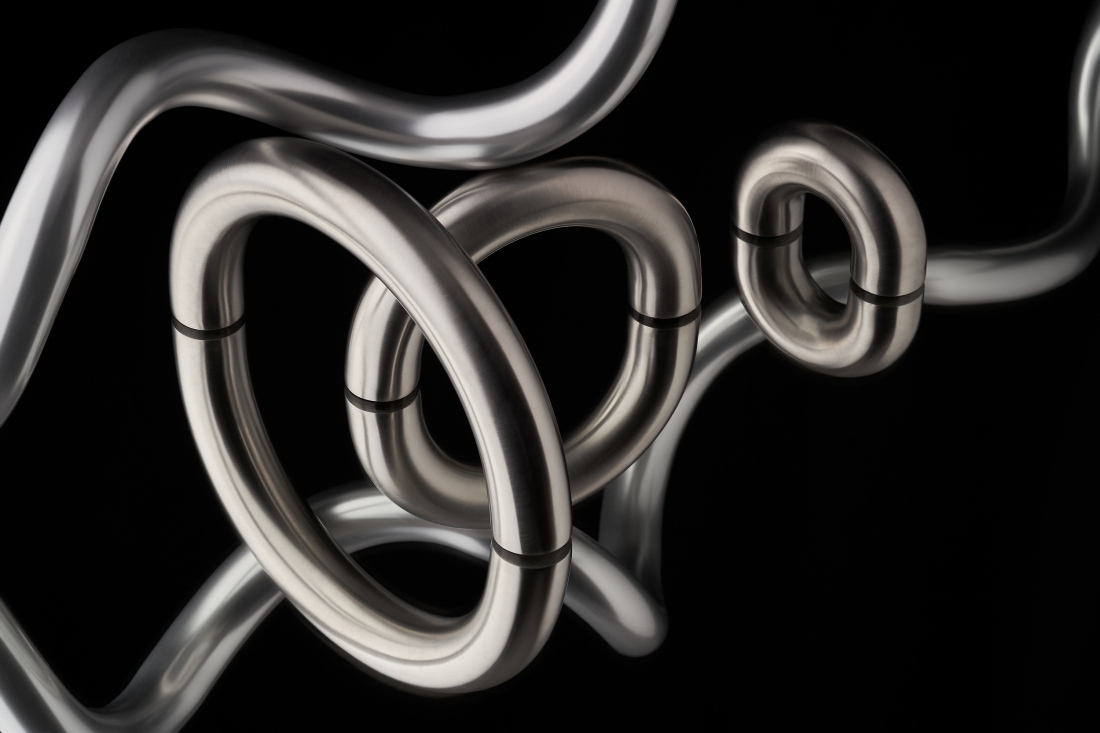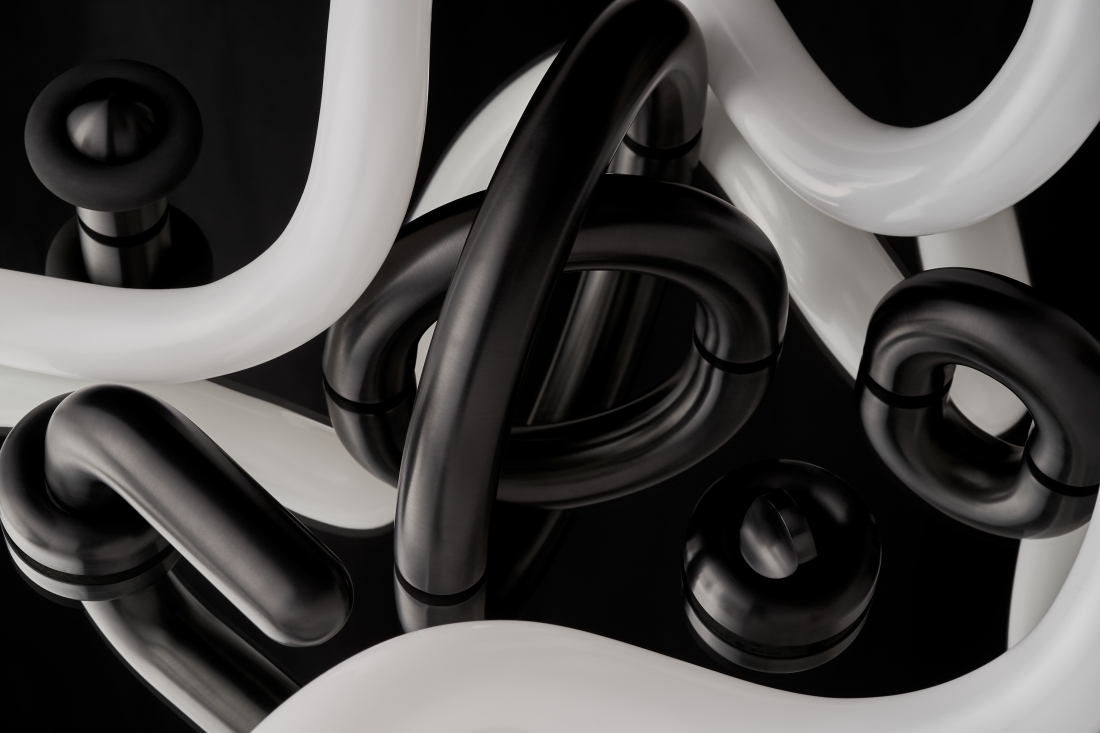 "Often architects want absolute neutrality, as they understandably don't want anything to take away from the building's bones. But our job in interior design is to start thinking about how we populate those minimal architectural elements", comments Dixon.