Elizabeth Ashdown on passementerie weaving, Instagram and the importance of colour.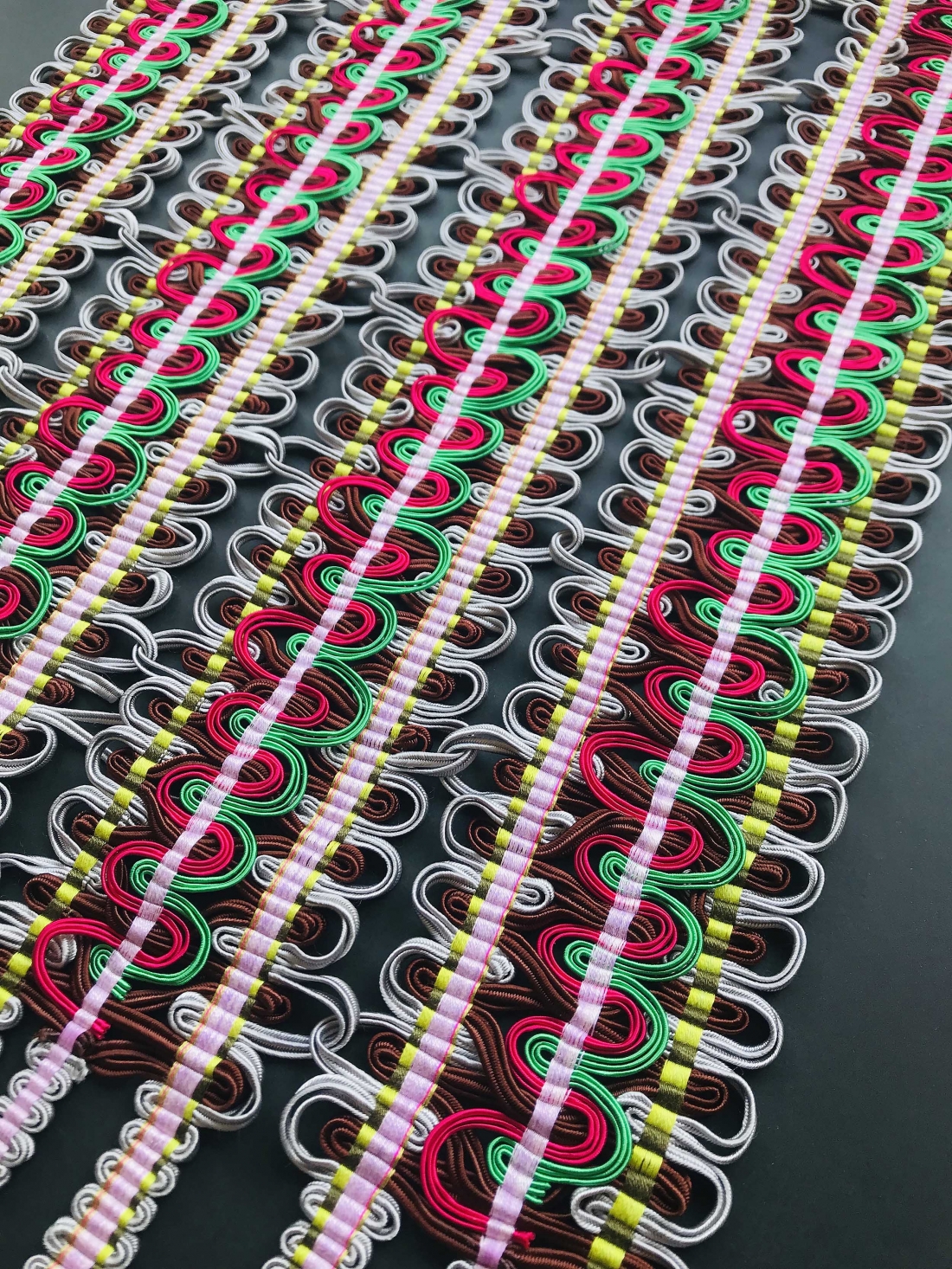 Elizabeth Ashdown is a London-based artist that creates distinctive hand-woven passementerie artworks from her studio at Cockpit Arts in Deptford.
Only one of a few hand passementerie weavers left in the UK, Elizabeth creates unique, intriguing and distinctive art pieces for a variety of commercial and private clients. Traditional passementerie weaving techniques are combined with an energetic use of colour, pattern and material combinations to create contemporary, exclusive one-off pieces, both large and small.
Elizabeth has produced exclusive handmade designs for clients such as Liberty, the Clothworkers' Company, Cassamance and Camira Fabrics, as well as undertaking bespoke commissions for private clients.
Having been stopped, mid-scroll, on Instagram after spotting one of her bold and beautiful works, we just had to find out more about Elizabeth's unique craft. Here's what she had to say...
You're one of the only hand passementerie weavers left in the UK - can you tell us how you got started?
"I've always loved textiles and trimmings and I've always collected scraps and bits and bobs. It wasn't until I was a student at Central Saint Martins that I learnt about passementerie. We undertook a short project to produce trimmings and I was hooked. For the rest of my time there I taught myself the basics of passementerie.
"I continued to teach myself techniques, mainly by studying drawings and looking at antique examples. I worked for two years between CSM and the RCA (freelancing and selling passementerie samples). At the RCA I continued to teach myself more skills and I also experimented with scaling my designs."
In your view, why is this skill dying out?
"I believe there is a number of reasons for this: 1.Tastes – The use of passementerie surges in popularity in times where ornateness and maximalism were popular – such as the 1980s. Good passementerie is also expensive to purchase/commission and I think a lot of people are unsure of how to use it.
"I also believe it's dying out as there isn't anywhere you can actually go to learn the skills. You can learn to create a simple tassel easily but anything more than this is very complicated. The creation of passementerie is also so time consuming and laborious – you need to be extremely patient and happy to sit at a loom for hours on end on your own!"
How much effort goes into sourcing your material? And how important is it to the outcome?
"I do put a lot of effort into sourcing materials and I am always on the look out for interesting materials that hold their shape well – this is important to achieve a nice shape in passementerie weaving. How a material looks and behaves is of paramount importance to my work – I only use a material if it combines usability and beauty together."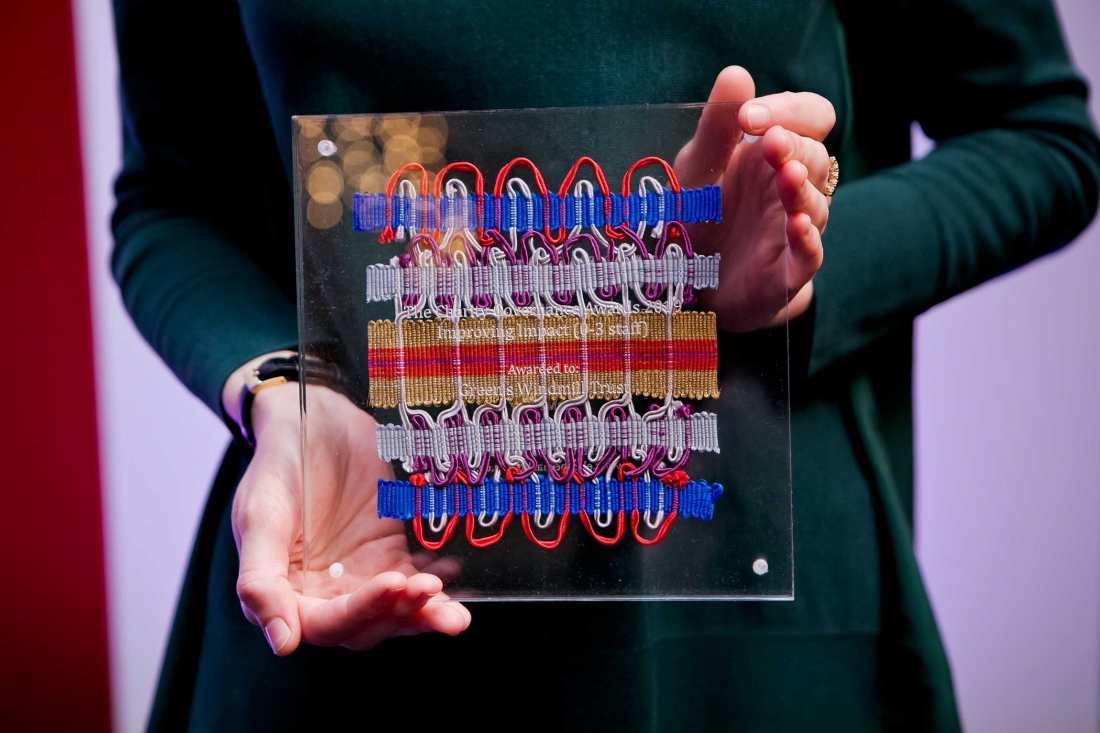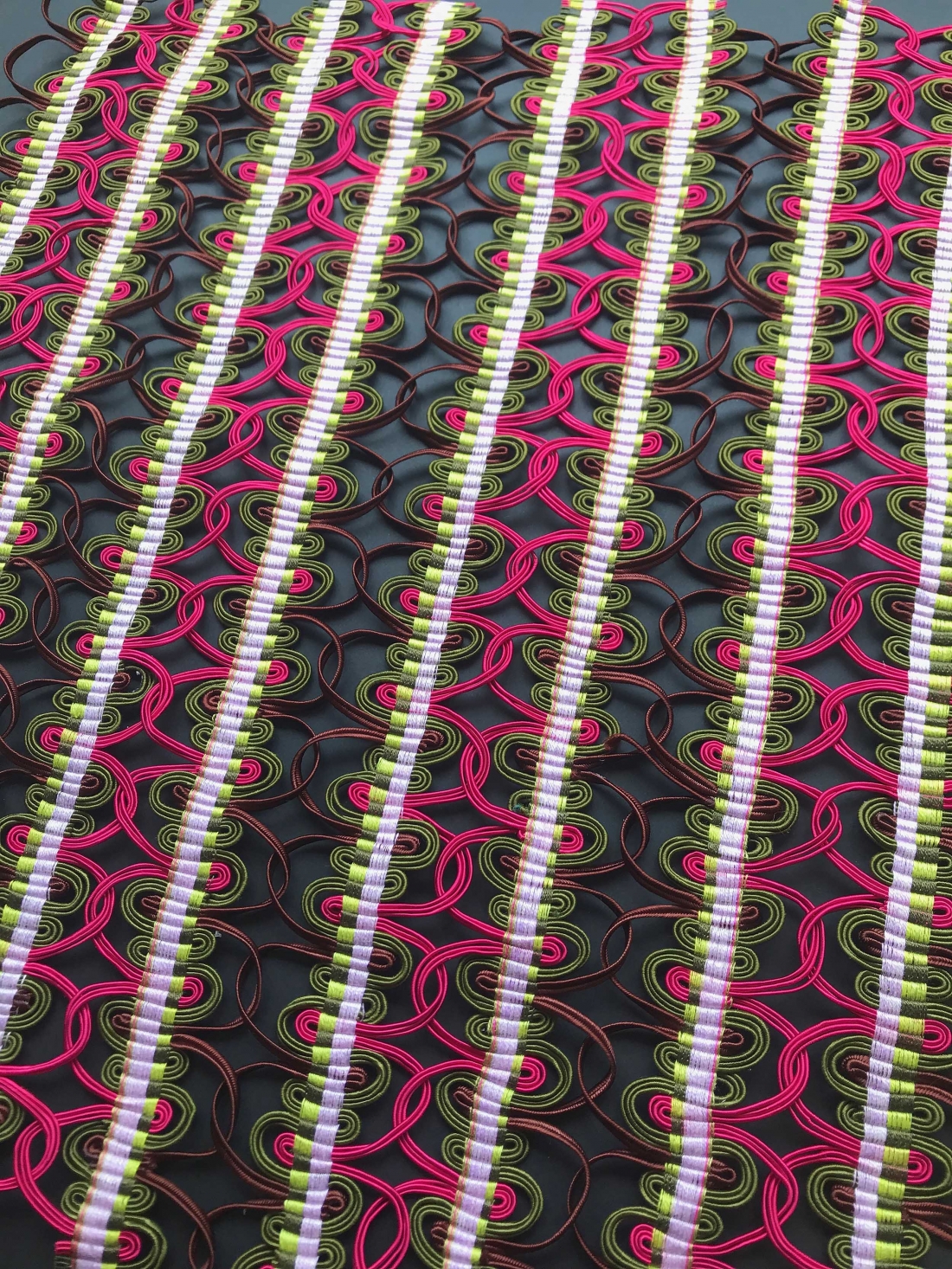 Your work is very colourful - how important is colour to your creative process?
"Colour is extremely important to me. I'd actually say how I use colour is the most important part of my work. I spend a lot of time playing and experimenting with different colours in my sketchbook using pens and colouring pencils. I use colour in an instinctive and intuitive way, spending time drawing and colouring in my sketchbook to achieve a balance of colour that I am happy with.
"Colour fascinates me, especially how it changes under different lights. I dye the majority of the yarn I use as I like to be very specific about which shades I'm using. Dyeing yarn is a much longer process than buying yarn off the shelf, but dyeing allows me to achieve the exact shade I need. Dyeing also allows me to create bespoke colours for clients.
"Once I have decided on the colours I would like to use for a particular piece and I have set up the loom, I play around further with different shade combinations to get a good balance of colour. Sometimes I have to spend quite a bit of time exploring how colour works on the loom because of the passementerie weaving techniques I use. It can be quite a fine balance between the application of colour and the visibility of the pattern."
My colour is always developed on an instinctive and intuitive basis
Can you briefly talk us through your making process from start to finish?
"I have a lot of sketchbooks that I create in order to provide inspiration for my woven work. I keep sketchbooking all the time, adding bits in when I come across something interesting. Once I've come up with some ideas to take to the loom I spend time choosing yarns, dyeing colours and making a plan for the loom.
"I usually start of with a warp that's narrow and only a few metres long. This allows me to play around with different materials, ideas and techniques. I take this weaving from the loom and look it over for a few days before deciding whether to turn these smaller pieces into larger scale work."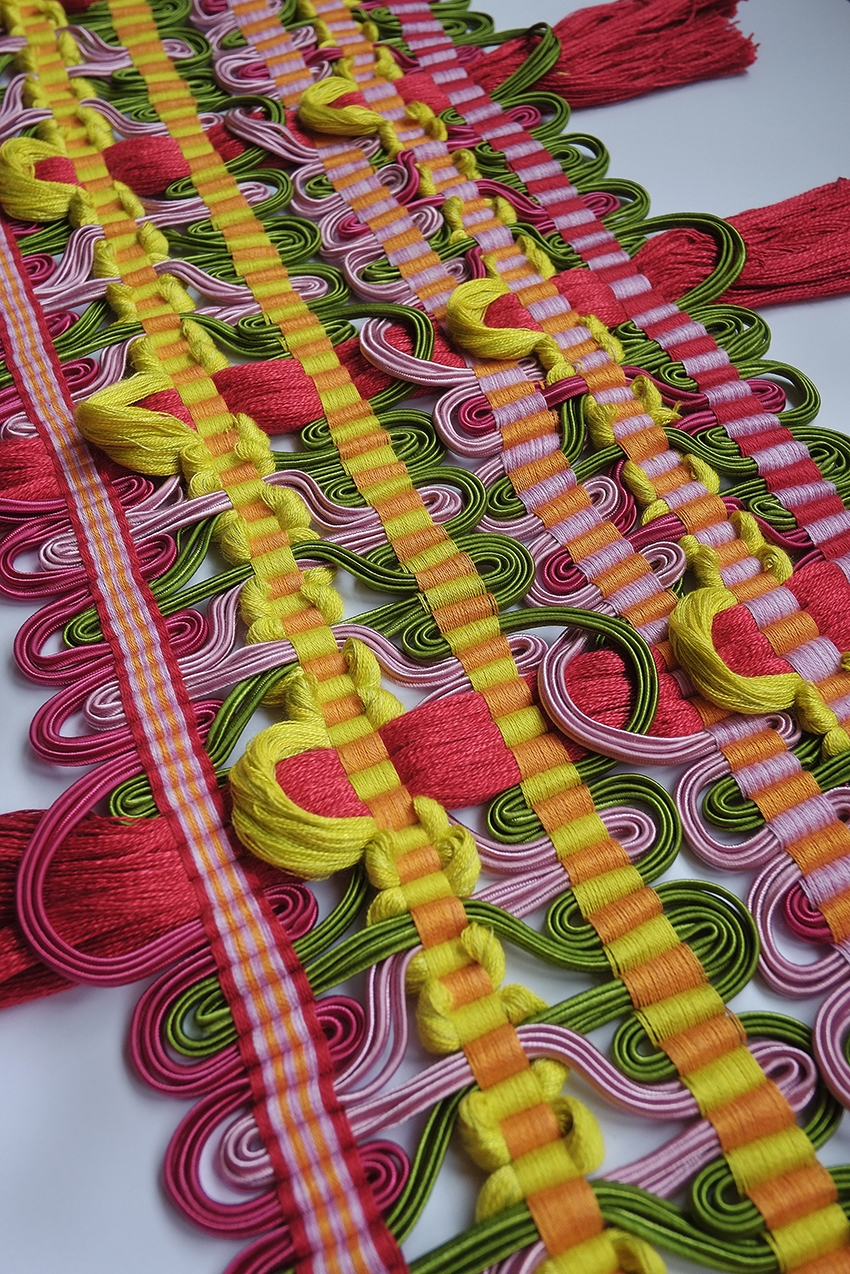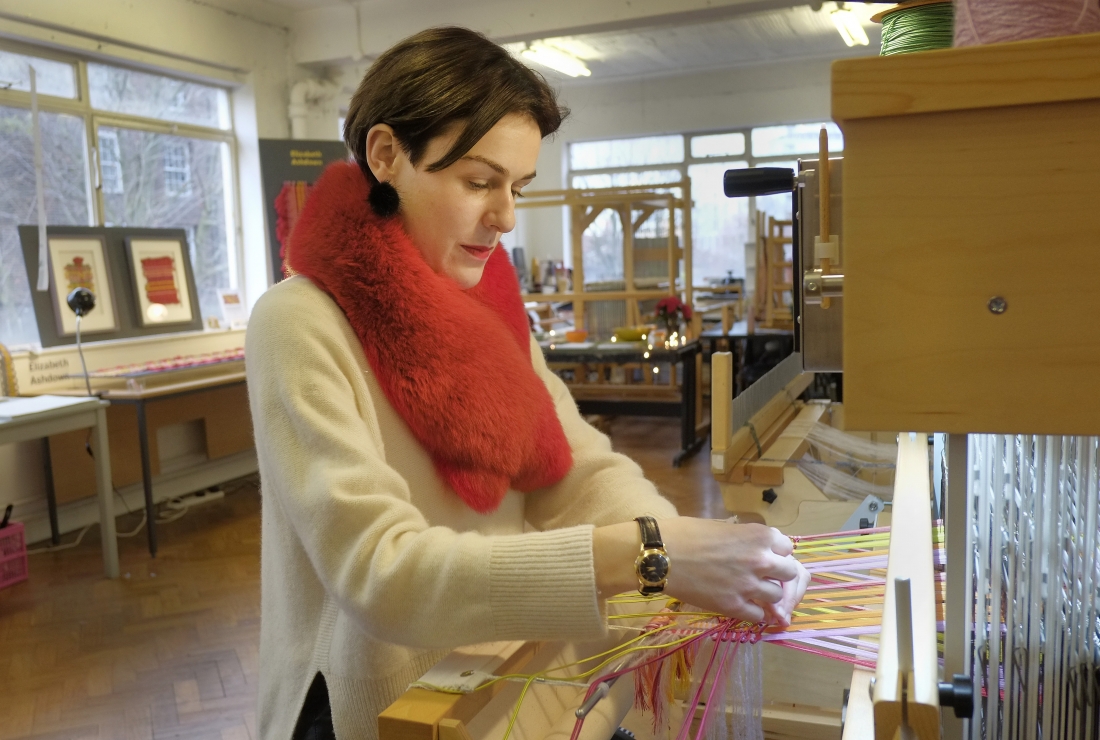 What type of clients typically commission your work? And for what types of project?
"I've worked with a range of clients, but the majority of my work to-date has been creating bespoke artworks for private clients. I originally hand weaved bespoke passementerie lengths that were used to embellish curtains, cushions foot stools etc.
"Now I use the same techniques to create art pieces for clients and for exhibition. An interesting recent commission was for the Clothworkers' Company – I created small passementerie artworks that were set in Perspex award trophies. I'm currently working on two commissions for private residencies – one as an anniversary present for a client's husband, and a larger piece for a recently renovated master bedroom."
In addition to your weaving you're also a lecturer at Central Saint Martins and the Royal College of Art, among other highly respected institutions. Do the two strands of your work influence one another?
"Yes they absolutely do influence one another! I love teaching and I have been lucky enough to teach at a range of institutions. I get so much back from teaching students and I find it very rewarding. Its also quite nice to think about someone else's work aside from your own work sometimes!"
Who or what inspires you?
"I am largely inspired by the themes of parade, carnival, masquerade and folk/outsider art. I undertake a lot of research into these areas, especially in relation to ornate and decorative costumes, performance outfits and accessories. Alongside this I also undertake a lot of research into antique and traditional passementerie weaving techniques and designs."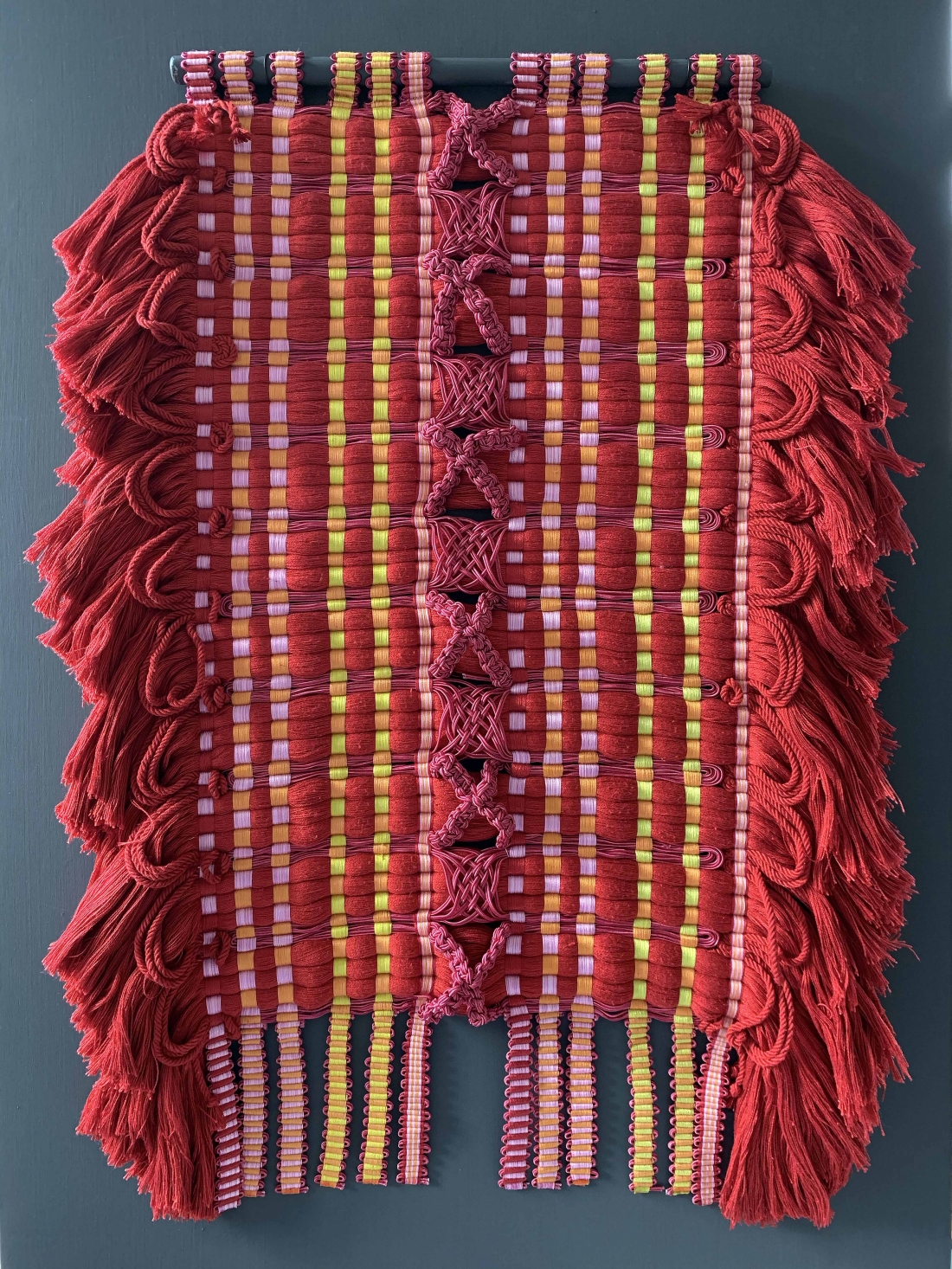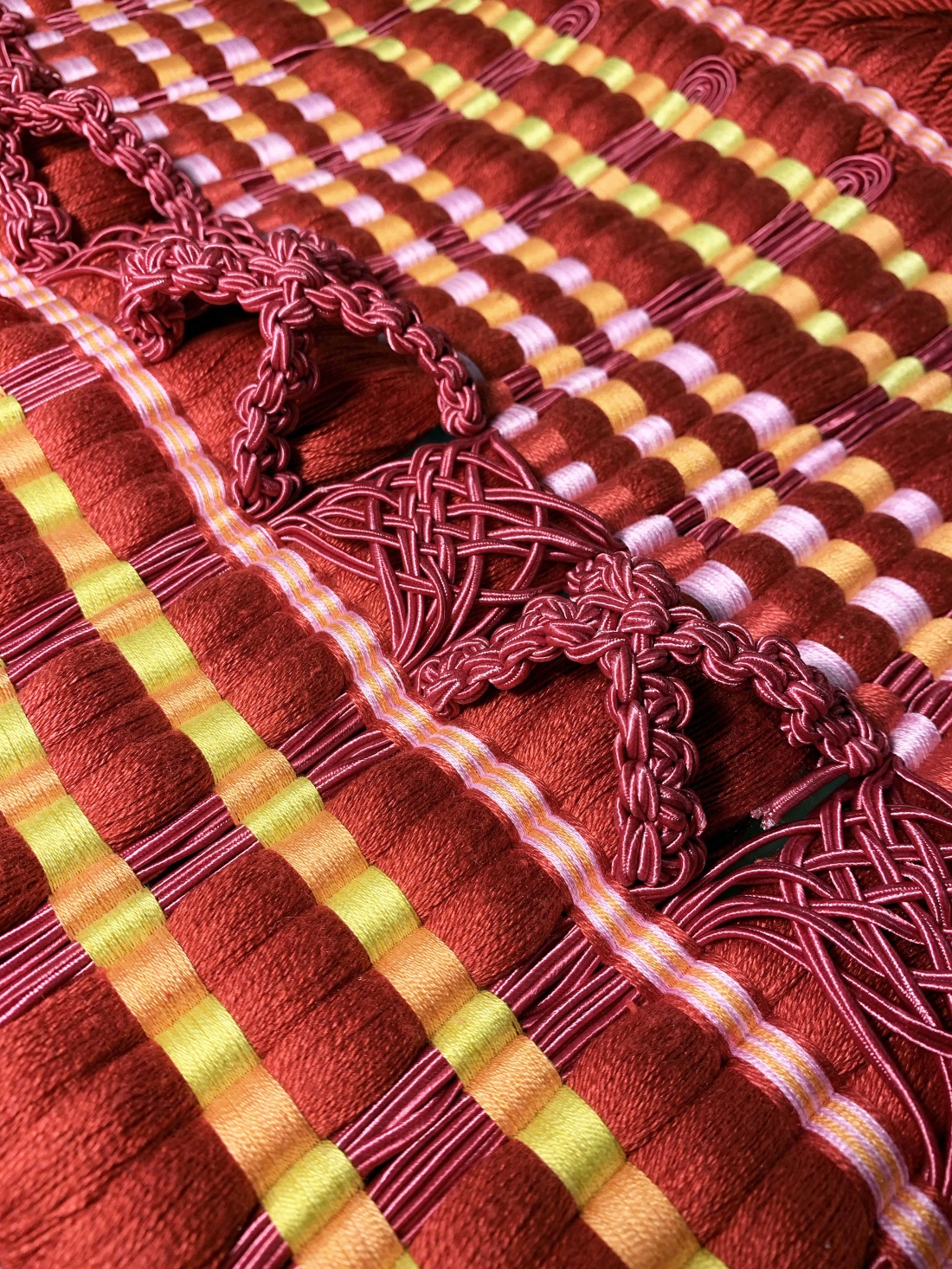 Combining colour and pattern, your work is very 'Instagrammable'. Are you influenced by trends?
"Not at all! I've been told by a few people lately that my work is very 'Instagrammable'- I think it's the fact that I use bright colours combined with an unusual weaving technique that appeals to people. I don't look at trends at all - I have always loved bright and contrasting colours and I really enjoy playing around with different colour combinations until I get something 'right' for me.
"My colour is always developed on an instinctive and intuitive basis through playing around in my sketchbook with coloured pens and bits of yarn. I've never used red, chartreuse and brown before, but now I can't get enough of these colours. I don't recall researching these colours, or being influenced by a piece of art etc – I just started playing with pens and I liked the result."
What's next?
"I have loads of new ideas and new colours to experiment with on the loom in order to create a selection of wider artworks."