Giles Miller on experimenting with surfaces, escaping reality and why 'impossible' is good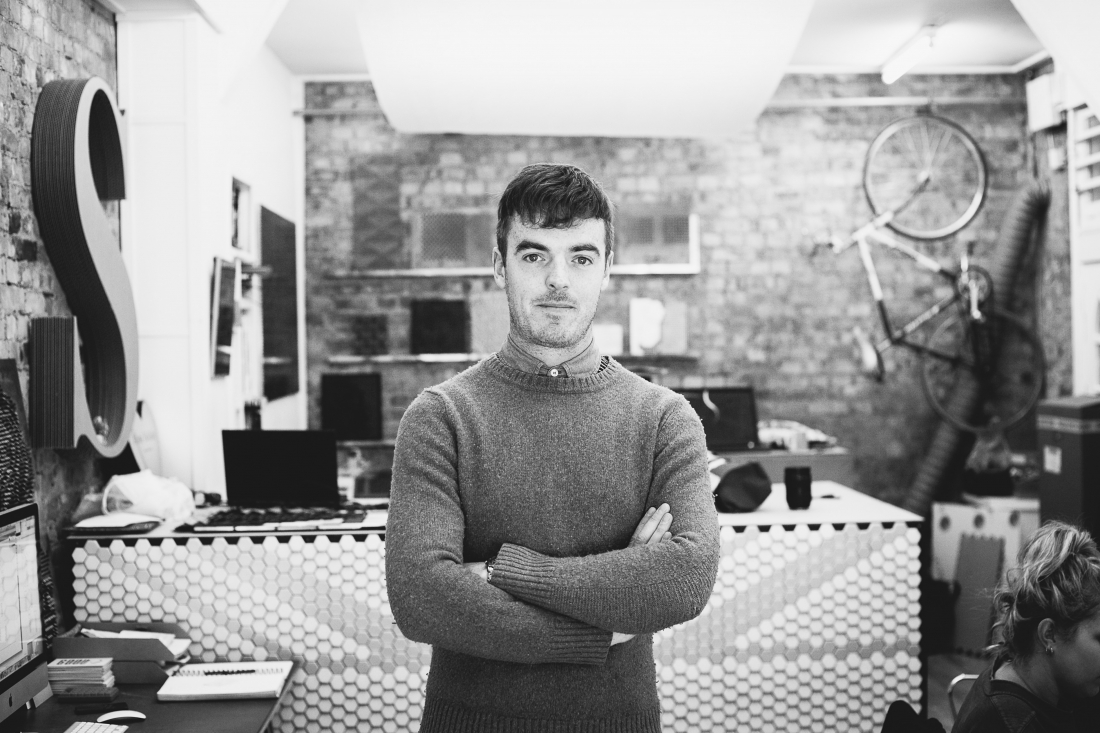 As you will undoubtedly be aware, Giles Miller is an acclaimed London-based artist and designer, specialising in the development of innovative surfaces, materials and sculptural artworks.
Fascinated by the relationship between light and material, his studio's work is experimental and constantly breaking boundaries, and he is no stranger to overcoming the most challenging briefs. His award-winning, innovative projects for some of the world's most prestigious brands are in fact designed in-house with the vast majority being completed by hand.
This combination of innovation with traditional techniques is what drives the ongoing success and popularity behind Giles Miller Studio. We spoke to Giles about current projects, impossible requests and what he has in store for us.
What themes and inspirations are currently shaping your projects?
We are fascinated predominately with the relationship between light and geometries. It's a fairly recent acknowledgement of a life-long interest that I have and my colleagues share. We experiment with materials and invent new ways of composing them to enhance function, aesthetics or to evoke a better understanding of spaces and their definition. It's an ongoing experiment that we thoroughly enjoy.
When someone comes to you with an idea, how do you turn it into reality?
Our commissioned projects are a fusion of the client's ideas, brand character or context with the creative trajectory of the studio at that particular moment. Our clients generally buy into our way of thinking and so they understand that the process is a collaborative and evolutionary one.
The process starts with a rigorous investigation into the context of the artwork or installation that we are looking at, which then informs the materials, system, format or form that we look to work with. From initial research into context and the introduction to the client of our latest thinking, we then work together to conceptualise, model, visualise and then prototype the works that will hopefully follow.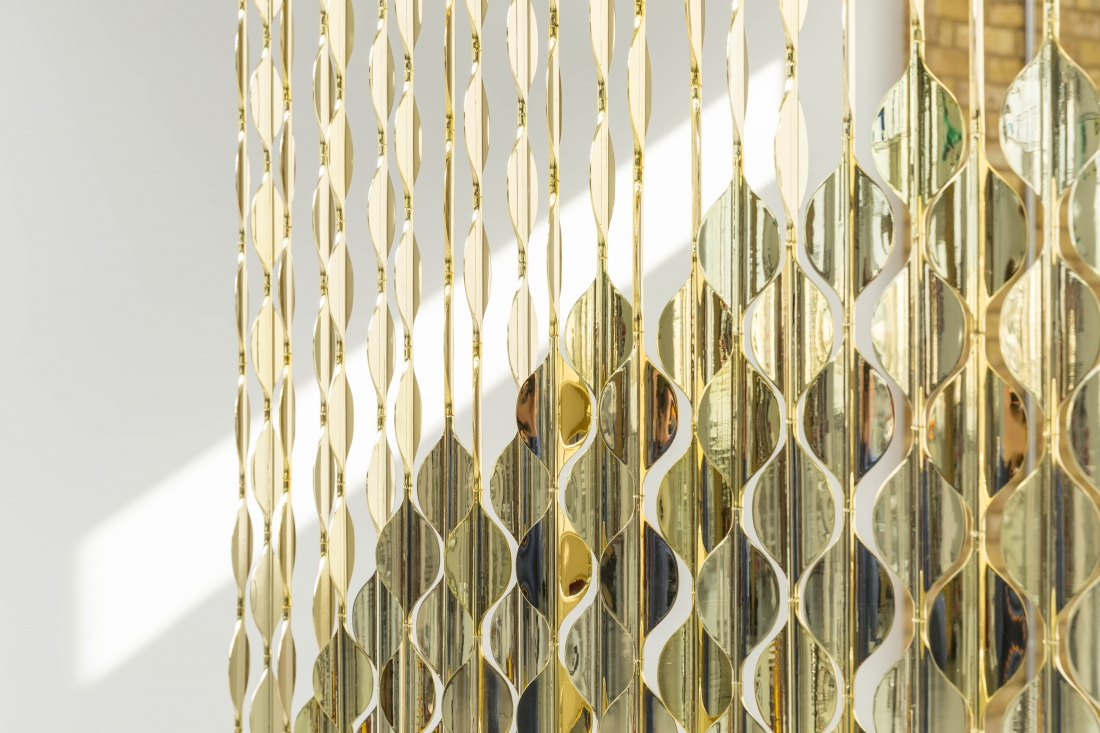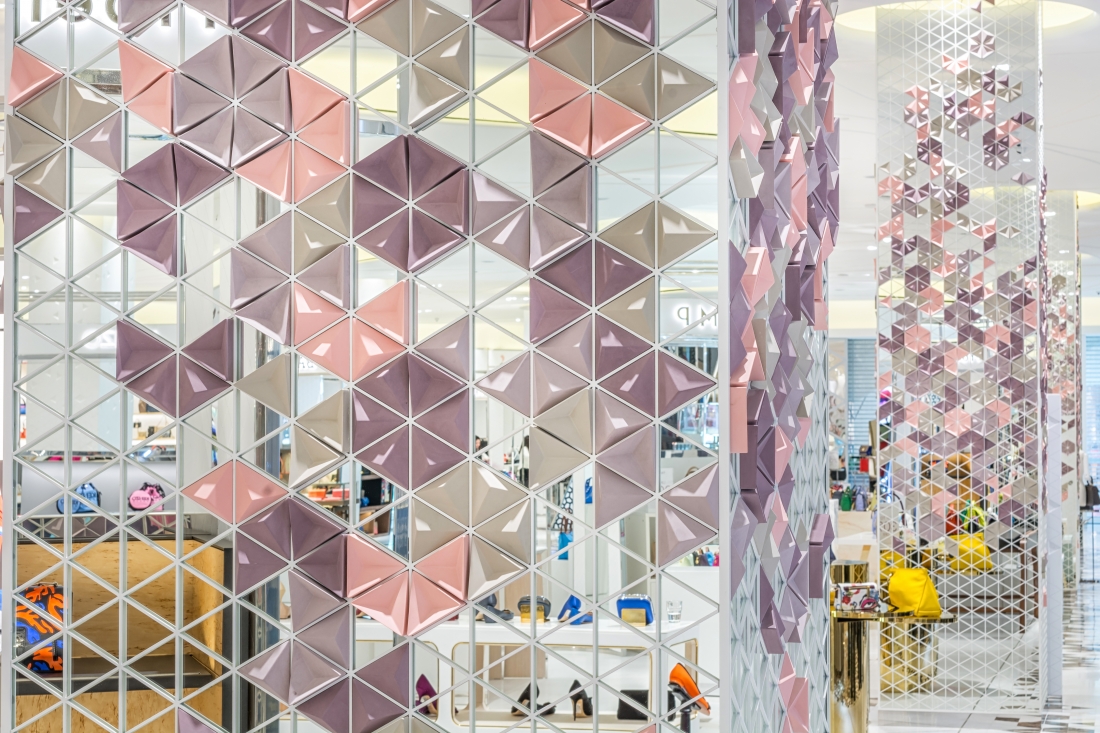 Has there ever been an impossible request? How did you tackle it?
The challenges that are presented often have the biggest impact on the character or detail of the outcome, so we try to see restrictions or apparent impossibilities as good things! That said, our work is ever-increasing in scale and structural complexity and so we are coming across structural or functional specifications that often contradict the detail in our work. We just try to adapt and evolve our work to suit these challenges, I guess.
Is it possible to pick a favourite material? Do you have one?
I'm not sure it is possible! What is as important as the material is the process, or manipulating or forming that material into something beautiful, and it is often the process that I fall for. We've done quite a lot of work with etched metals, like sheet brass, which is the same process used to produce circuit boards. It's an incredibly intricate and perfectly finished thin sheet metal process that allows for incredible detail in our components. That has been a favourite of mine for a number of years now.
Are you noticing any emerging trends for 2018/19?
We are fairly blinkered when it comes to trend as we find it can easily steer our work, which is something I'm keen to avoid. However, we are exposed to trends via our clients and their aspirations, so have some idea of what's happening.
I feel there's a movement towards escapism both from the city as an overly energetic habitat but also from reality. We can respond to that through materials as well as the content of our surface murals and that's a positive theme that I think will keep evolving throughout 2019.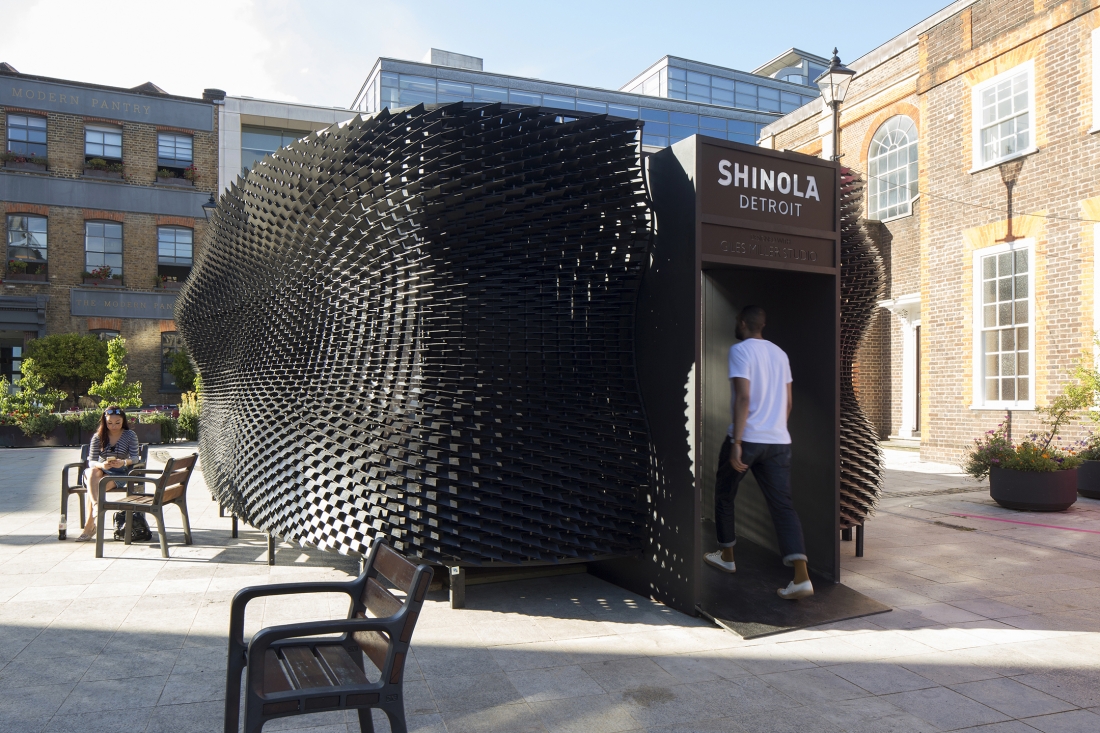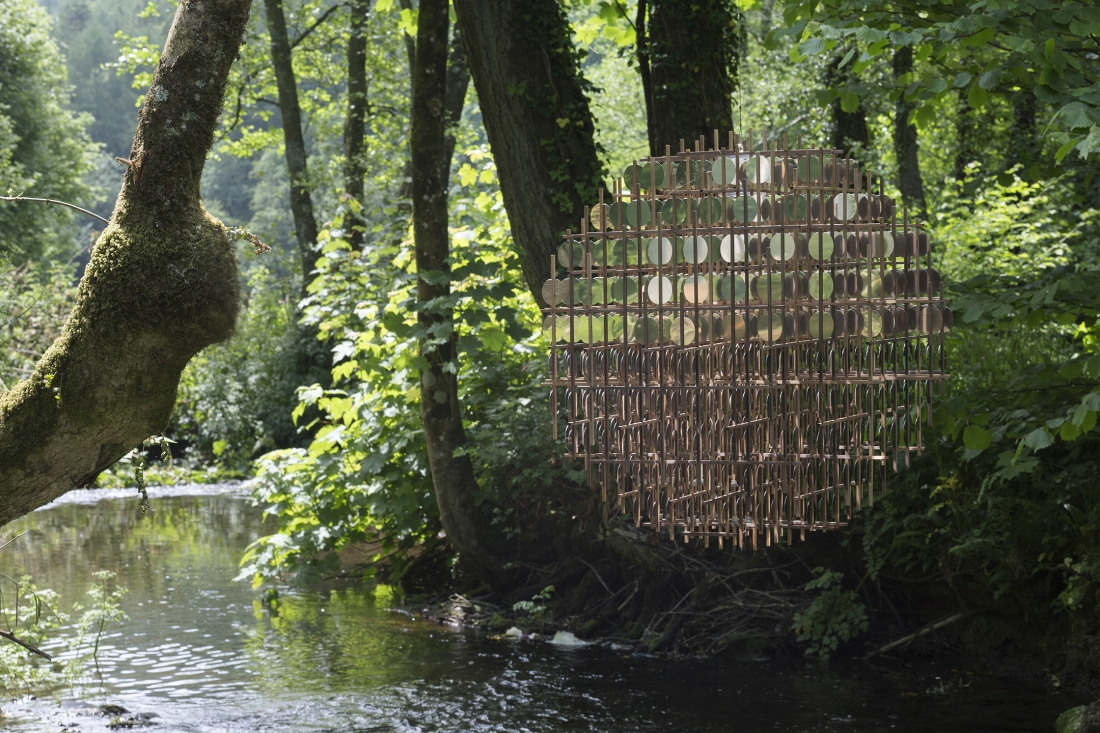 How do you keep pushing yourself and staying truly innovative?
As I said, I think it's important for us not to pay too much attention to what is going on around us, at least to some degree. We try to find a balance between awareness and exploration, and it's our pursuit of innovation and originality that ensures we only produce work that we feel is progressive. It's hard to find "new" but we constantly try.
Are there any innovations you've recently come across and introduced to your own work?
We tend to use relatively mainstream processes as our work is about the composition of many components, and those components are generally produced using established methodologies.
We do embrace technology when it comes to communication with clients. And we try to understand our work before it becomes material, so I'm keen to learn about holographic imaging. But it might be a while before we have the technology.
What are you currently working on?
We have just completed a large-scale solid-brass sculpture for a building in St James, London, which has been very exciting for us.
It's a 17-metre sculpture suspended across the first floor of an office space, that allows light in and enables the occupants to see out while protecting their privacy by blocking the view from the double height reception below. It's a wonderful fusion of functionality and sculpture which is an interesting area for us.
We're also working on a couple of buildings which will be coming to fruition in 2019, so that is extremely exciting in terms of scaling up our work in surface and sculptural design.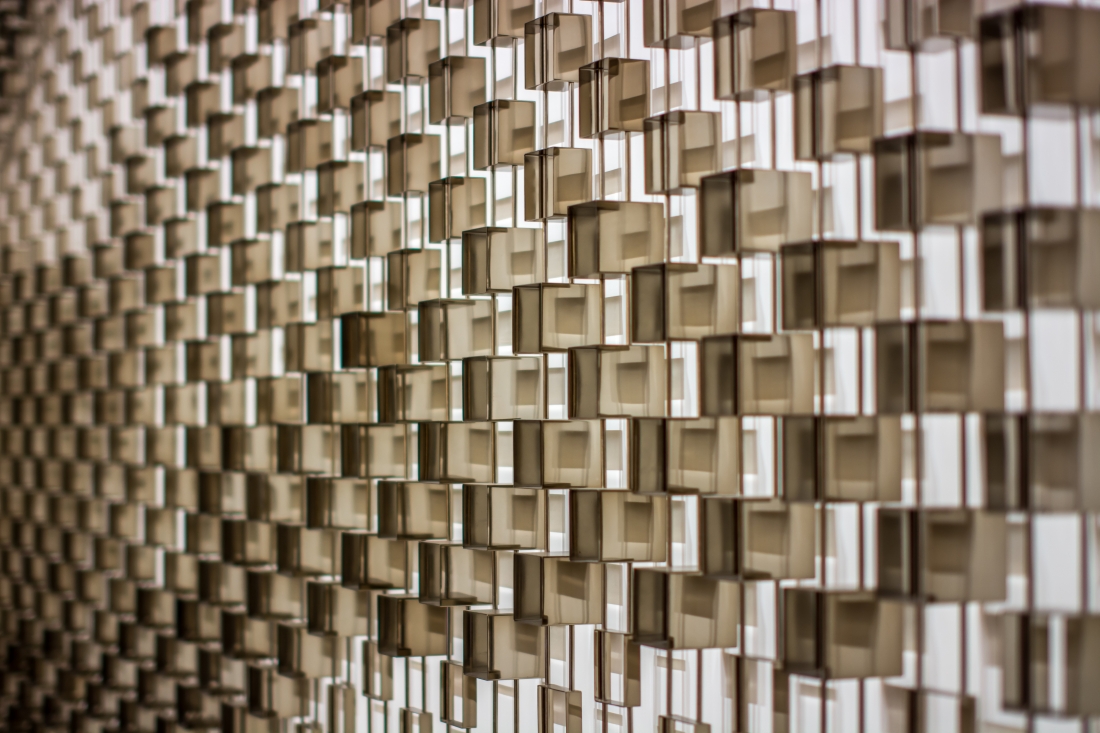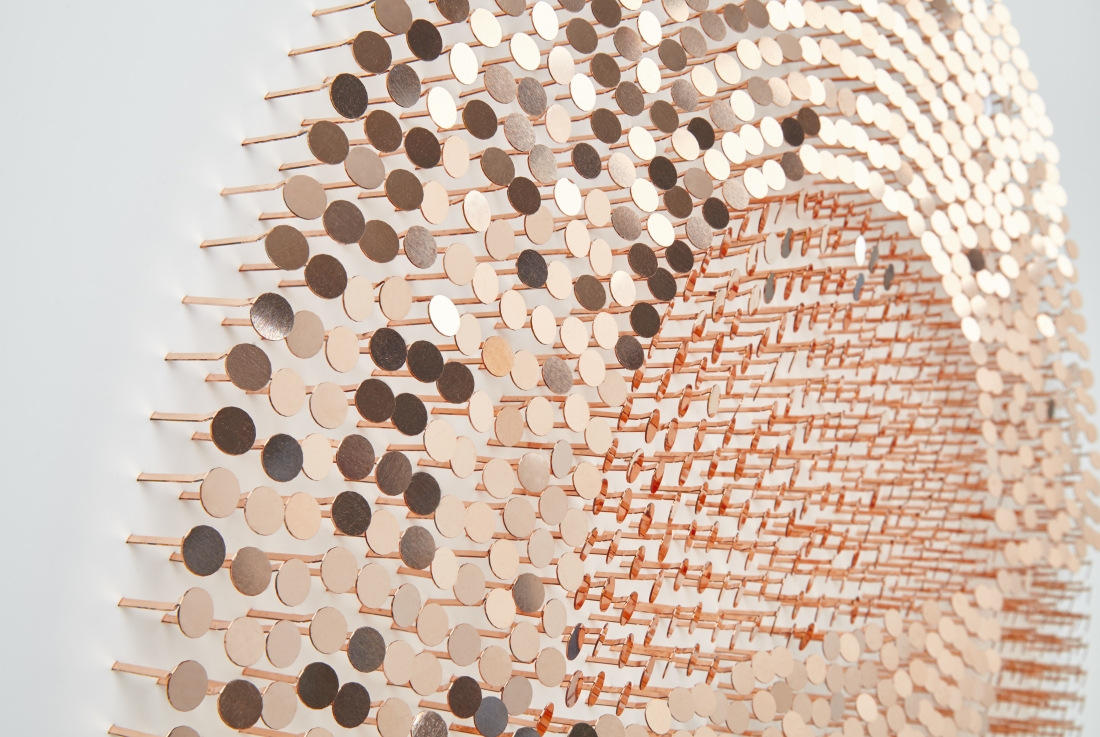 How are you considering the environment through your work?
Our belief is that we can dramatically improve the way people experience spaces through our work in surface and light. It's a cause that we feel will impact people to such an extent that it will inject positivity into their lives and those of others.
There is resource consumption associated with building anything, but I believe that this is the responsibility of the designer to create ultimate value, and in doing that we can reduce waste of both materials and energy and fill the world with things that inspire and bring positivity to those who experience them.
What's next for you and your studio?
Aside from the architectural scale projects that we look forward to presenting in 2019, we are also thoroughly enjoying the evolution of our surface and sculptural work which we hope will bring new possibilities to our clients in terms of the experience of those entering these spaces. We're very much enjoying ourselves!