IVC Commercial creates inspiring spaces at Assemble by Seven Dials.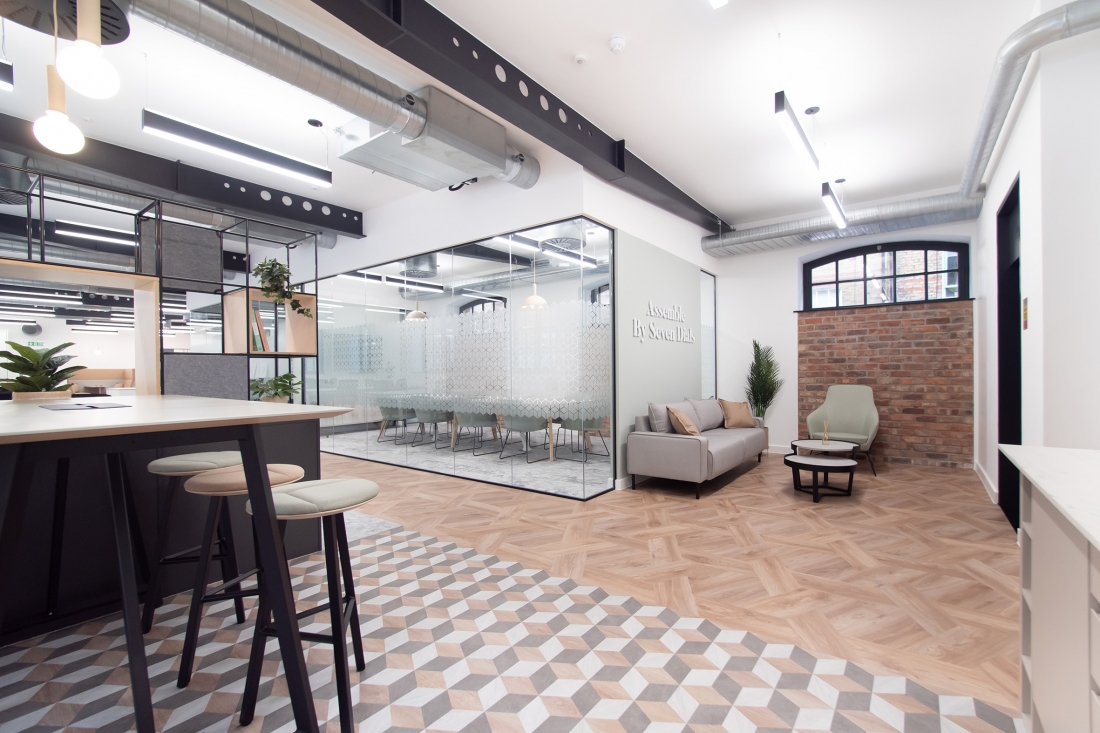 IVC Commercial's award-winning Studio Moods modular vinyl concept has been used to make a feature out of the floor at 16&20 Short's Garden, a contemporary office space in Covent Garden, London.
A Cat A office in London's Covent Garden district, 16&20 Short's Garden blends urban warehouse with contemporary office design. Across two buildings directly opposite the iconic Neal's Yard, the Grade II Listed Victorian warehouse provides three floors of office accommodation amounting to some 990m2.
On the first floor of 16&20 Short's Garden is a plug and play ready workspace that's used as a showcase of Assemble by Seven Dials, a turnkey fit-out programme offered by the landlord. Here, IVC Commercial's Studio Moods modular vinyl floor was specified by fit-out specialist STOiCA to create a designated zone for the fully integrated kitchenette and breakout and congregation areas.
Ciara McClelland, STOiCA, says, "We originally proposed LVT but felt that IVC Commercial's Studio Moods modular vinyl would be a really great way to elevate the space. We just loved the aesthetics of the flooring and have since received positive feedback reinforcing our own thoughts. Great design was delivered at a sensible price."
Selecting Studio Moods Diamonds and Wicker patterns, STOiCA have used a range of natural wood and stone effects to create a relaxing look that upholds the premium feel of the entire space. In breakout and congregation areas, the design team selected Sierra Oak in a stylish Wicker pattern for a modern solution to wood effect flooring. For the kitchenette, Diamond in a combination of Verdon Oak and two shades of Jura Stone for a striking tri-tone geometric pattern.
Made in Belgium using 50% recycled content, Studio Moods is IVC Commercial's modular vinyl floor that brings bespoke floor design to commercial interiors. Using nine geometric shapes combined with wood, stone and colour decors, the concept provides 107 off-the-shelf looks that make it fast and easy to select a floor personalised to projects. The modular vinyl also allows the creation of unique patterns, as well as a completely bespoke floor in any combination of 160 Moduleo 55 looks.