Studio spotlight: Sustainably driven brands to specify now at Material Source Studio.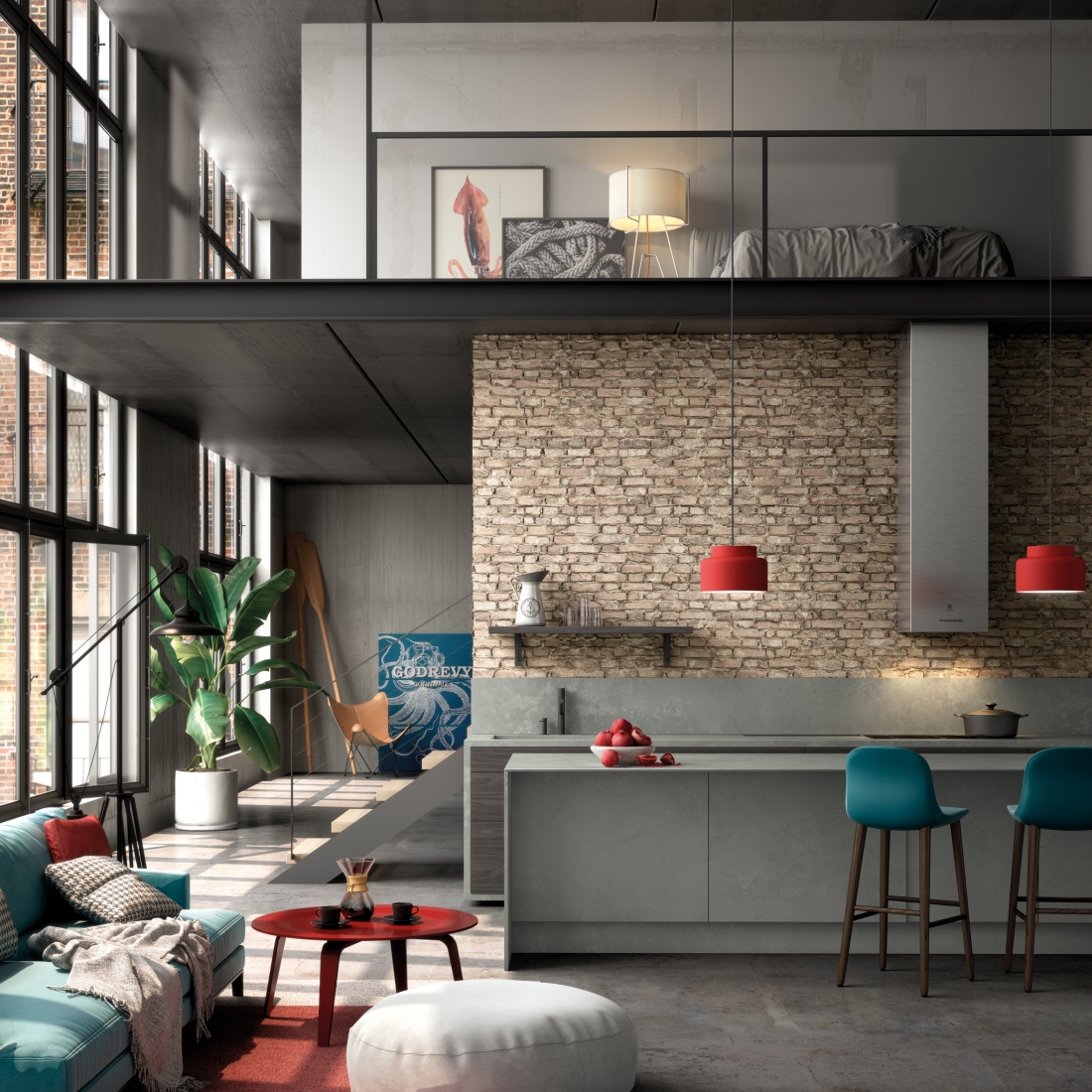 The doors to our very first Material Source Studio are well and truly open in Manchester's NOMA, featuring the latest products and materials from 35+ leading built environment brands, and up-and-coming makers alike.
With so much inspiration and innovation quite literally on our doorstep, we wanted to offer a closer look at some of the trailblazing initiatives our partners are undertaking to help you meet your sustainability goals.
Here are just a handful of the sustainability-driven companies you can experience, and specify, at Material Source Studio.
"At Cosentino we embrace a greener way of working in everything we do and are dedicated to a business model that allows us to address our commitment to sustainability. We implement a Yearly Environmental Strategy Plan and a Carbon Footprint Reduction Strategy and in 2019 we made major strides in this area by increasing our waste recycling rate by 33% through a rise in surface production using salvaged materials to nearly 20% of total output. Since 2019, we have invested over 10 million euros into environmental assets, such as the installation of heat recovery in furnaces, process improvements for the recovery of raw materials, and the digitalisation of processes and new manufacturing technologies.
"Last year we developed and introduced our HybriQ technology with the Silestone Loft series, which set a new standard in the surface industry and changes the face of quartz worksurfaces and cladding forever. HybriQ surfaces are made from a new hybrid blend of mineral raw materials with equal or better performance than quartz, as well as materials of recycled origin. This makes it possible to reduce the use of crystalline silica by an impressive 50% and achieving a reduction of up to 90% for certain colours. It also harnesses two major changes in production process for manufacturing Silestone - using 100% renewable energy and 99% reused water. For HybriQ+ surfaces, the product composition also comprises a minimum of 20% recycled materials.
"The technology therefore offers consumers the same performance and hygienic benefits as before - but with sustainability at its core. As homeowners seek out eco-friendly products more than ever before, this new technology from Silestone is the start of a new era for quartz manufacturers and the focus should be on helping reduce impact on our planet." - Laura Davie, Marketing Manager at Cosentino UK.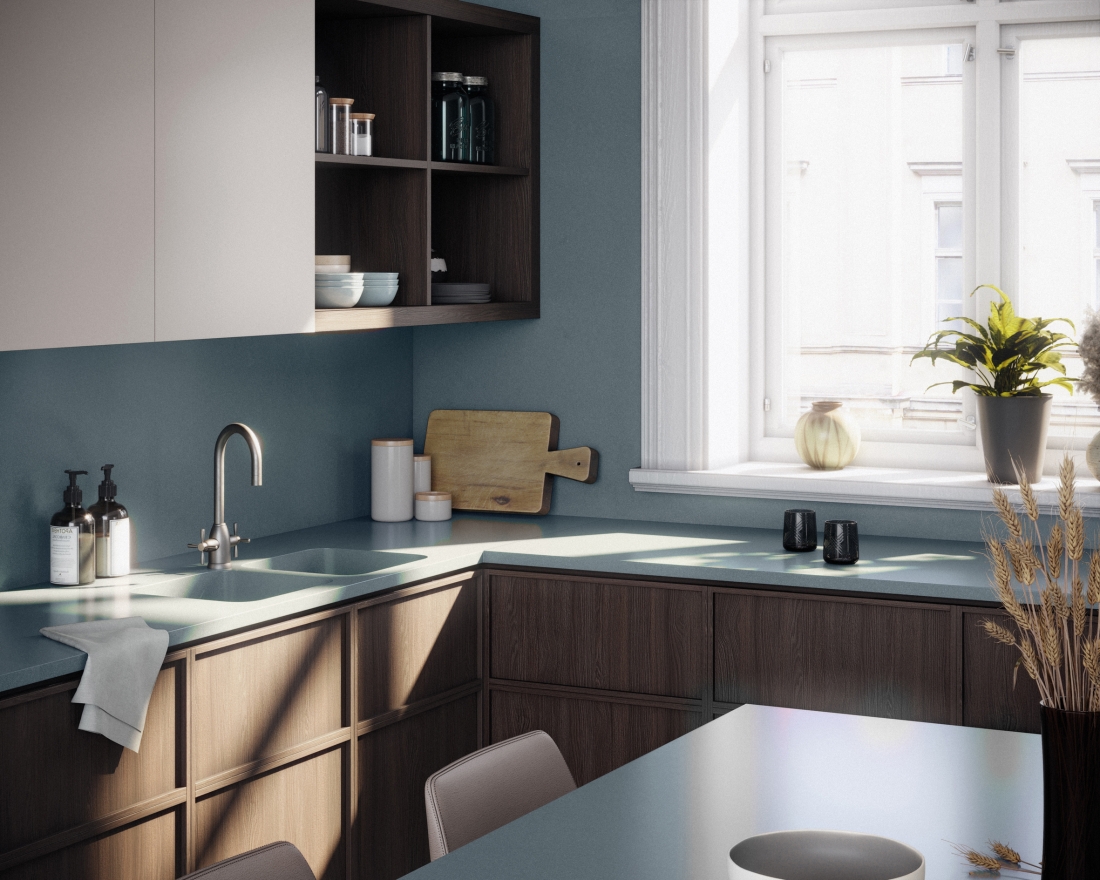 Forbo Flooring Systems is committed to minimising the environmental impact of its products and processes wherever possible. By using Green Design guidelines, green energy and the 4R principle of: Reduce, Reuse, Recycle and Renew, Forbo is able to fulfil its mission to create better environments.
In fact, the global manufacturer of floor coverings has managed to develop a truly CO2 neutral solution from cradle to gate without offsetting: Marmoleum.
Unlike many vinyl or resilient floor coverings, Marmoleum does not use plastics such as polyvinyl chloride (PVC) and is instead made from 97% natural raw materials. This includes flax, jute and linseed oil, which are obtained from annual crops, and wood flour and pine rosin that are sourced from sustainably managed forestry plantations. Moreover, 62% of the natural ingredients are renewable, of which 29% are rapidly renewable, meaning it will grow back within one year. Marmoleum also boasts 43% reused and recycled content to reduce the demand for virgin raw materials.
The carbon neutrality (from cradle to gate) of Forbo's Marmoleum collection is confirmed by the independent Environmental Product Declaration (EPD), which shows that the CO2 removed from the atmosphere during the growing of its natural ingredients balances out the CO2 produced in the extraction, transportation and manufacturing processes. For specifiers and contractors this means that, for example, using Marmoleum on a 10,000sqm project could equate to a 66,200kg/CO2 saving when compared to a PVC vinyl floor.
In addition to its sustainability, Marmoleum offers true design freedom with over 300 colours and designs to choose from. It is also phthalate free for improved air quality and Allergy UK approved. All of Forbo's Marmoleum products also feature the Topshield high performance UV-finish, which prevents staining, scuffing and scratching for a longer lasting finish, as well as easier cleaning and maintenance.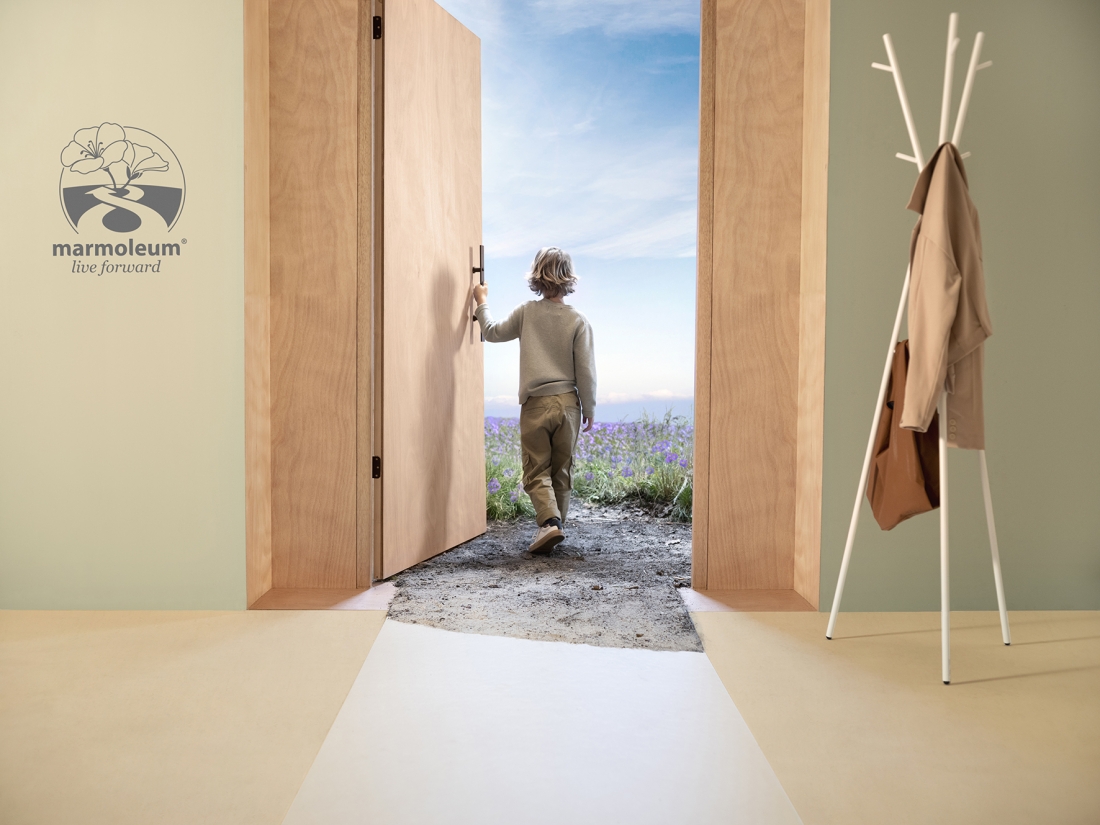 "At Smile Plastics, we have two main goals. Firstly, we want to create the most beautiful circular plastics in the world – 100% recycled and 100% recyclable materials. Secondly, we want to challenge ideas about "waste" and the system that creates it.
"Our decorative surface panels are a step towards a comprehensive circular economy and closed-loop material cycle. If you love your Smile Plastics material, don't part with it – you can always hit repeat to keep coming back to it. Because they're high in quality, designed to last and solid throughout, they can easily be refinished or repurposed for other projects.
"We follow a zero-waste production model – seeing our off-cuts as opportunities. We re-use pieces generated by production and can offer our customers the possibility to reclaim the material. In a world of increasing waste handling costs and regeneration awareness, this is a compelling possibility.
"Our materials are designed to last but at the end of their life, they can be recycled over and over again both through local recyclers as well as through our buy-back schemes, so that the plastics are constantly regenerated. We can take back your offcuts, plus any end-of-life Smile Plastics materials. We re-work them into new panels, closing the loop and ensuring the plastics can brighten someone else's day in the future. A true full circle ecosystem!"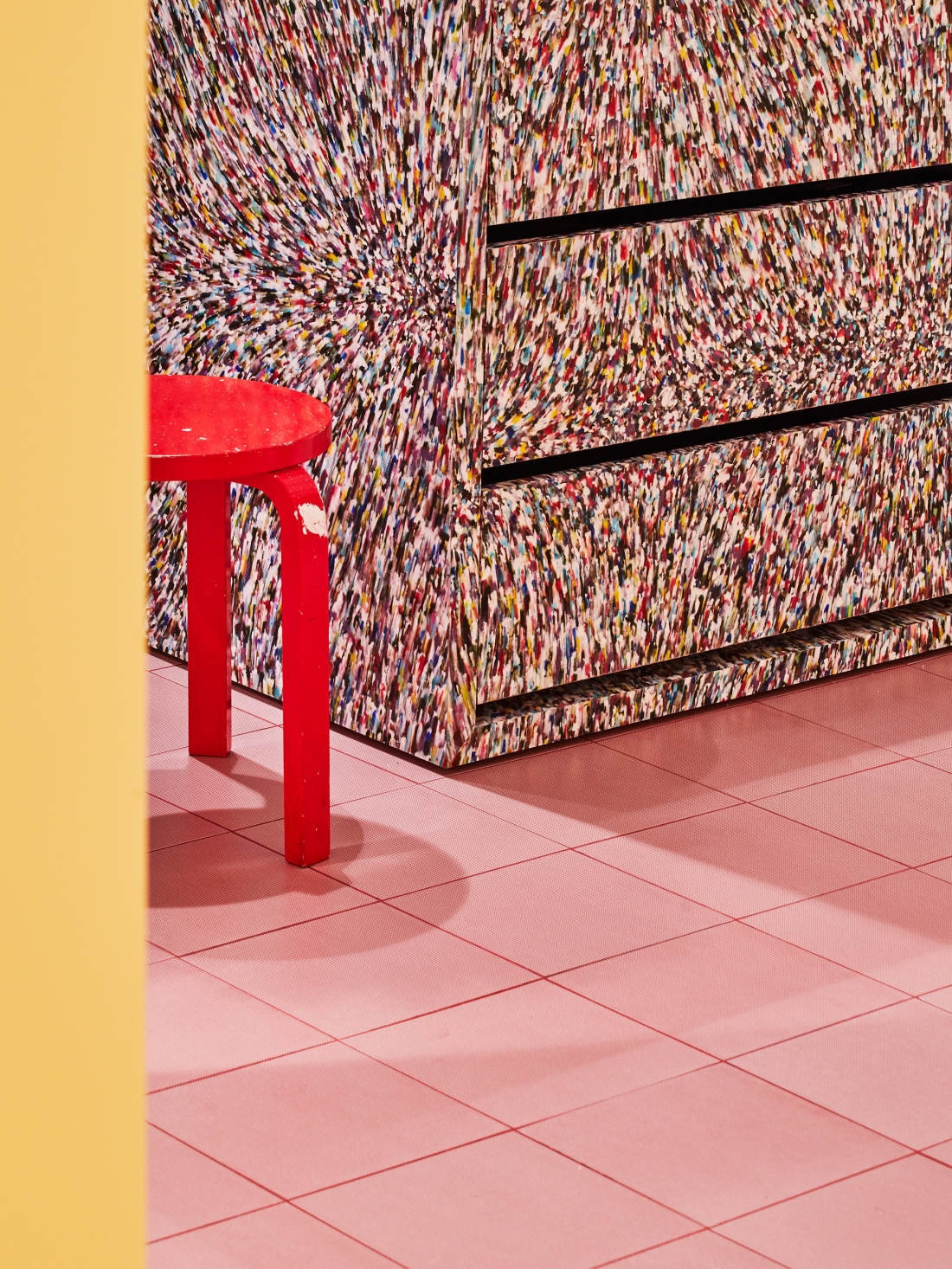 Last year, sixteen3 launched the UK's most sustainable commercial soft seating product yet – Reece, a range of modular lounge seating that has been designed using 83% recycled materials.
Available in a variety of configurations from a single armchair up to a three-seat sofa, Reece utilises recycled panels made of waste plastics as an alternative option to traditional, less sustainable materials such as plywood or hardwood. Furthermore, the products' full life cycle was considered at the point of development, with the construction being designed to be easily disassembled, allowing for easy repairs and replacements, as well as achieving 100% recyclability at the end of its lifespan.
Paul Chamberlain, managing director at sixteen3, said: "As a business we have a real focus on innovative design and over the past few years we have also spent a lot of time looking at our impact on the environment as a manufacturer and how we can innovate to be kinder to the planet. We are investing significant time and money in finding the right partners to supply us with sustainable materials including the recycled plastic panels and Bamboo, both of which are available for specification on Reece. This product launch is the first step towards a more environmentally friendly future and it is our hope that eventually we will be able to give customers the option of choosing recycled finishes and substrates on our full product range."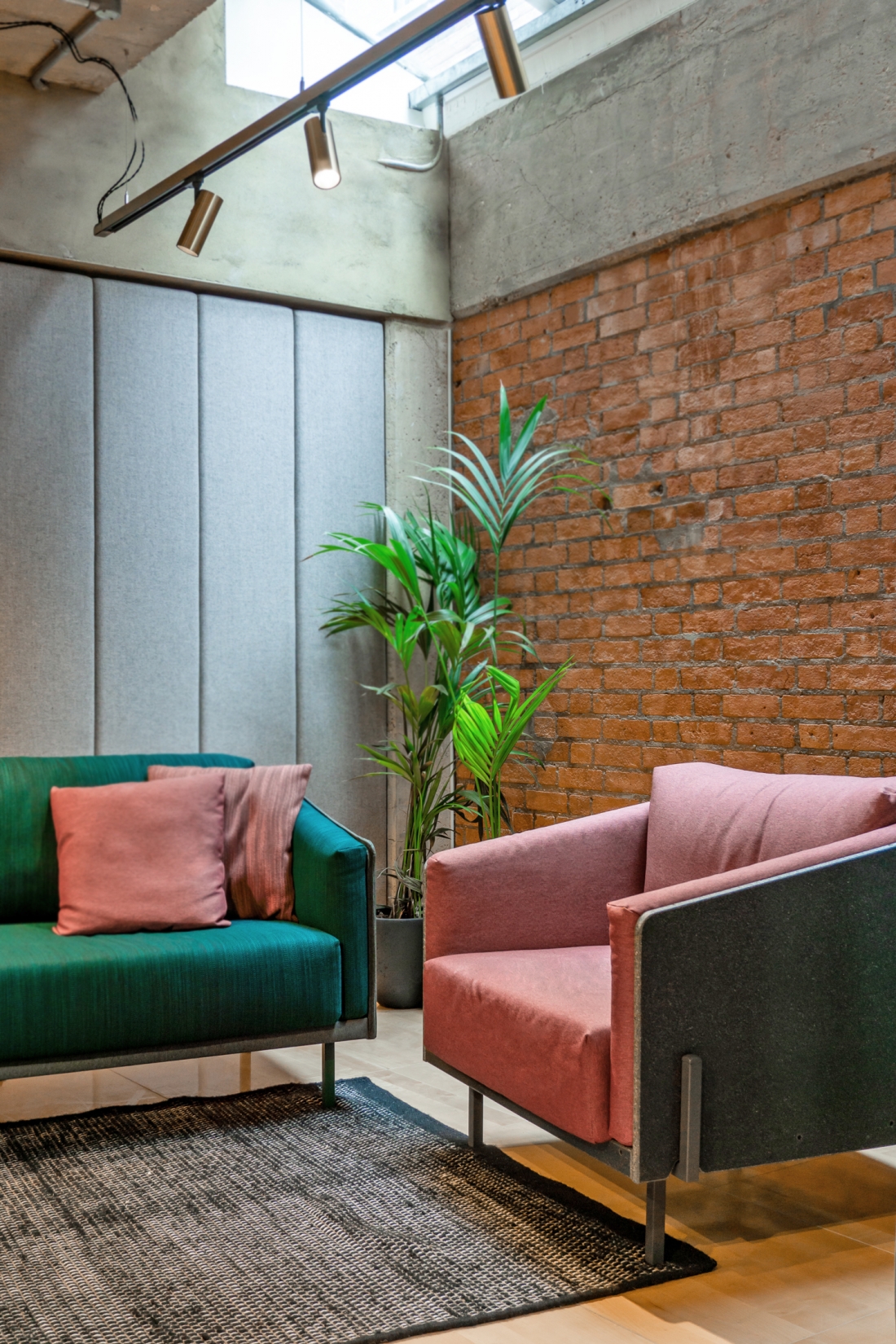 EcoTWILL™ by Panaz is the industry's first, contract quality, 100% recycled polyester basecloth for print.
An environmentally conscious innovation within our industry, EcoTWILL™ meets the demand for sustainable contract textile options; with a delicate, inviting texture ideal for the hospitality and workspace sectors, while achieving over 100,000 Martindale abrasion rubs and full fire-retardant contract quality.
Made in England, this truly sustainable, low carbon footprint fabric is offered as a basecloth for hospitality and workspace upholstery, available for print with any Panaz design or colourway, ensuring that it becomes a standard option not just now but for all future Panaz print collections.
Woven with yarns manufactured from recycled plastic, each metre of EcoTWILL™ repurposes dozens of 500ml plastic bottles into a desirable, long-lasting fabric which itself is recyclable at end-of-life.
In line with Panaz's aims to bring environmentally conscious innovations to our industry, EcoTWILL™ helps in reducing the levels of plastic waste in our environment without compromising on its commitment to providing high-performance, desirable fabrics.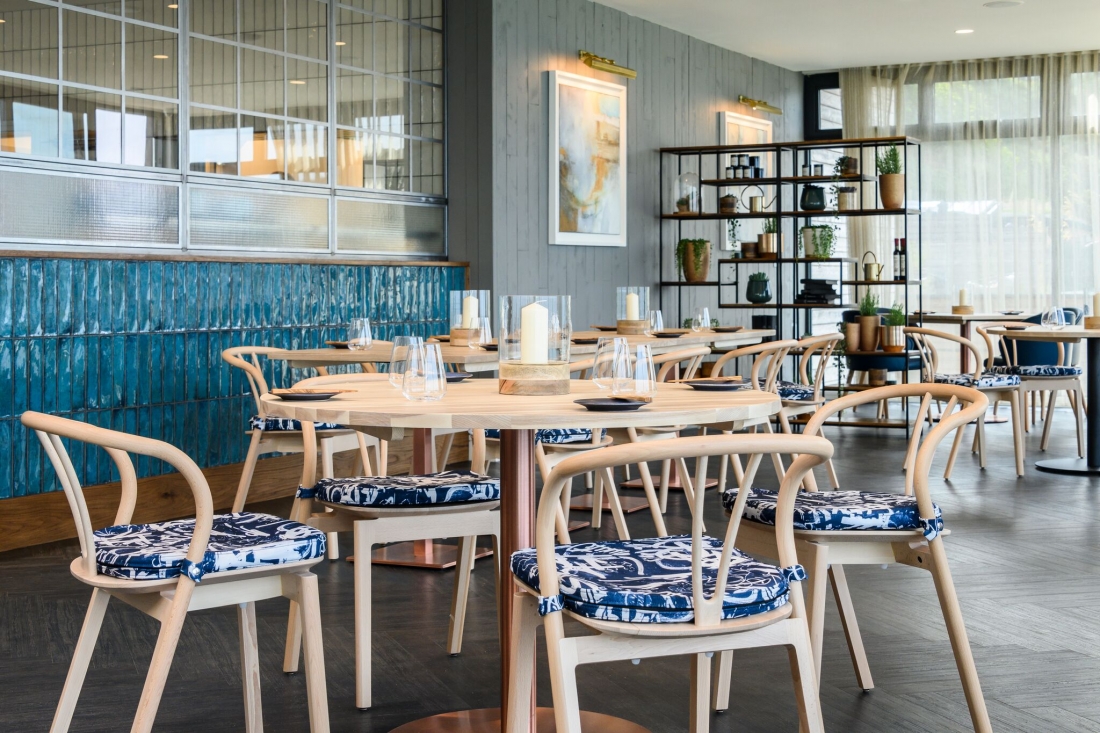 Crown Paints has committed to several sustainable actions, each one designed to help the planet flourish and enable customers to make more responsible choices.
The business started to blaze a trail in the industry in 2011 when it committed to a partnership with NIMTECH, a social enterprise that provides waste recovery and recycling services to the whole of Crown Paints' UK operations. As well as supporting Crown's circular economy objectives by reusing products where it can, NIMTECH also offers employment opportunities for the hard-to-reach, and long-term unemployed in the community – providing social benefits as well as environmental. NIMTECH can recycle any paint can returned to Crown Paints. This helps underpin Crown Paints' Can Back scheme, which was set up to encourage decorators to return empty paint cans for free recycling at any Crown Decorating Centre across the network.
In 2020, it recycled more than 200 tonnes of paint cans – equal to 2.4 million litres of paint. Now, the scheme has even been extended to accept cans from any paint manufacturer – not just Crown Paints.
Crown Paints is the first and still the only paint manufacturer that uses packaging made from 100% PCW plastic – beating the industry standard by 25%. Between now and 2025 Crown Paints is aiming to ensure that 100% of its containers make maximum use of recycled and recyclable materials.
Meanwhile, Crown Paints' formulations are designed to meet the stringent requirements set out by BREEAM – the highly recognised scheme that assesses and rates the overall sustainability of buildings. Before paints can contribute positively towards BREEAM ratings they must meet the specified limits for VOC content and emissions. Crown Paints has five products that meet the requirements to an exemplary level. Paint and coatings also contribute to BREEAM's assessment of responsible sourcing of materials, BES 6001, which all of Crown Paints water-based products fulfil.
But Crown Paints is not finished there. Following successful partnerships with NIMTECH and Emballator, and its work to contribute to the sustainability of the built environment through its products, it has created an ambitious plan to do even more to improve sustainability.
This includes its aims to become carbon neutral across all manufacturing operations, create full circularity across products and packaging and send zero waste to landfill by 2025.
Crown Paints knows what a difference it can make to people and the planet, which is why the business will continue to push what is possible – creating a brighter more sustainable future for everyone.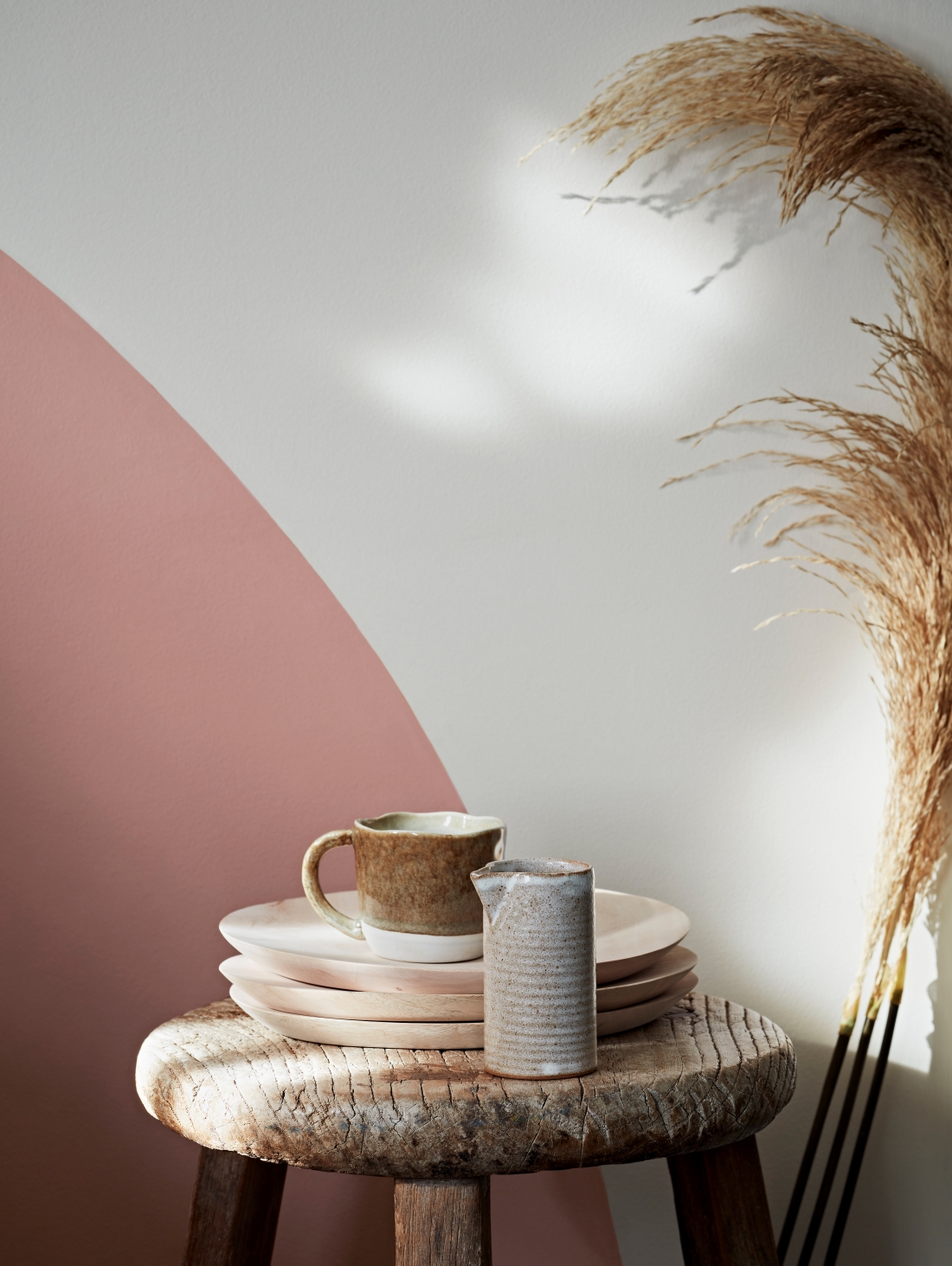 Leading supplier of solid surface materials and complementary products, CDUK, has launched sustainable material PaperStone® to the UK and Ireland markets.
PaperStone is a new generation sustainable material, made from recycled paper with natural resin, the surface has a unique, textured effect creating an organic warmth, which can be specified in a range of natural hues and tones. Selected colours are produced from 100% FSC recycled paper and cardboard.
This environmentally friendly product is ideal for architects and designers looking for a sustainable solution and is well suited to interiors across the commercial, office space, hospitality, residential and healthcare sectors. PaperStone offers specifiers the opportunity to reconnect people with the natural world through design, with its tactile warmth and hint of texture this surface material is beautifully unique.
Its composition delivers high performance across a range of applications. These include but are not limited to bars and tabletops, furniture, vertical decorative wall panels, washrooms, kitchen worksurfaces and cabinet doors, and washrooms.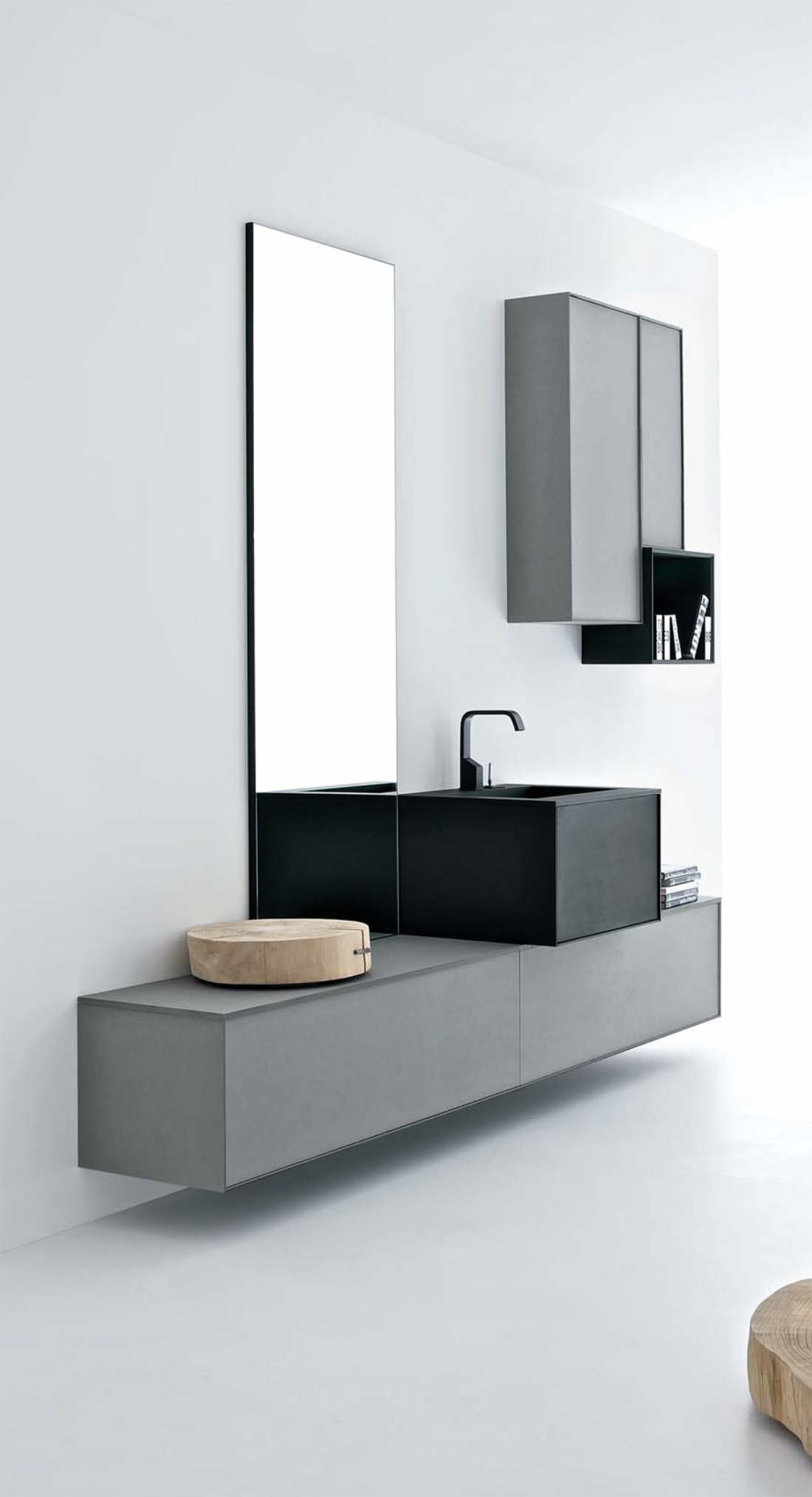 "A green thread runs through everything we do. It has for decades and will continue into the future.
"We believe that every carpet is an opportunity to improve the sustainability of our environment and the wellbeing for people. We walk the talk on recycled materials. Our Ecotrust tile backing consists of 100% recycled plastic bottles, plus all our carpets are 100% Cradle to Cradle Certified™ which makes us do our utmost to keep valuable materials in circulation, cut down on waste and harmful substances, take care of our scarce resources, sustain precious groundwater, reduce CO2 emissions and ensure social fairness in our operations and value chain.
Sustainability is not an option. It is weaved into everything we do. We challenge the industry standards and rethink how quality and sustainability can become one.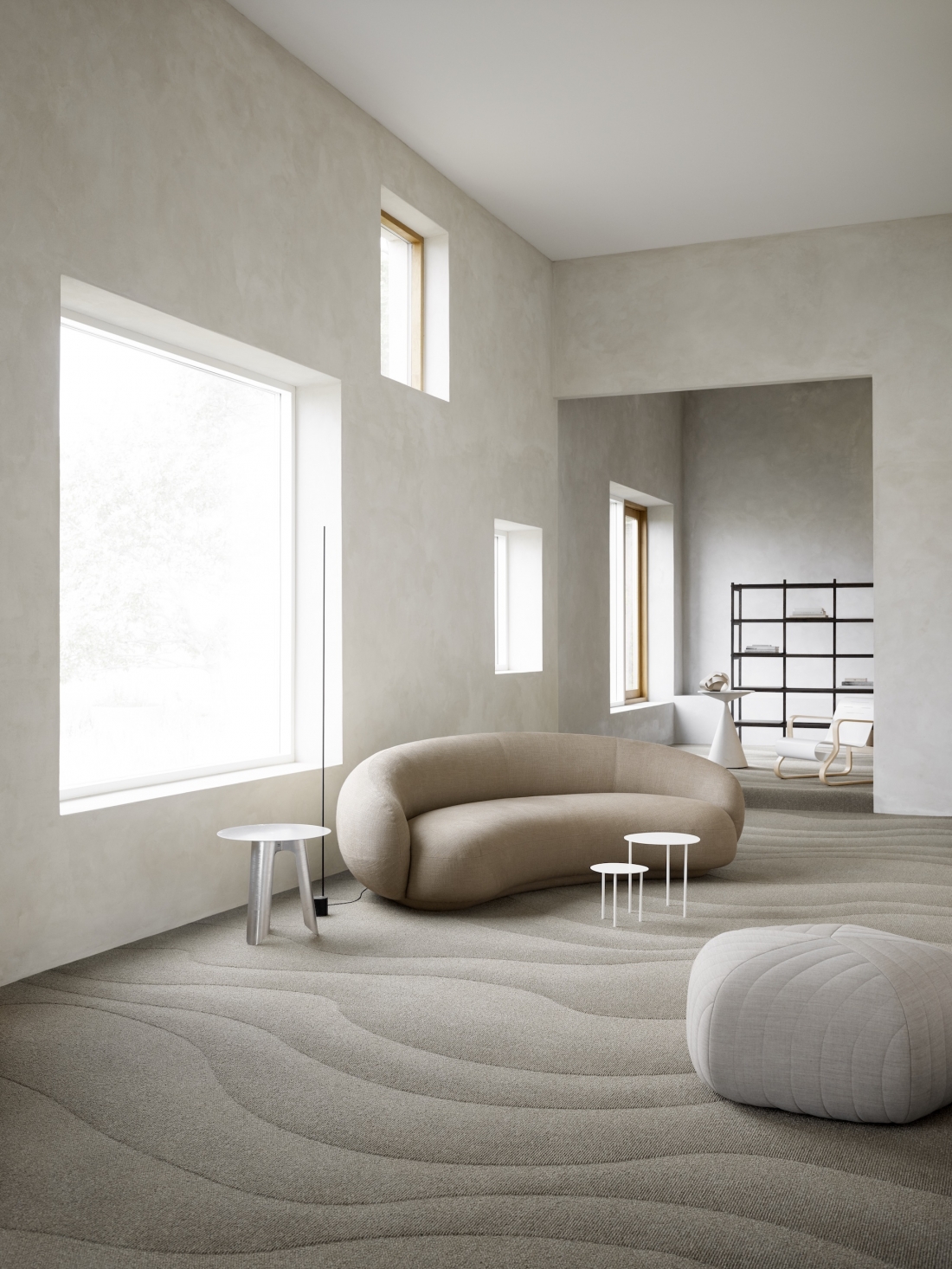 For more information and samples from these brands, visit Material Source Studio, 1 Federation Street, NOMA, Manchester, M4 4BF. Open Monday-Friday, 10am-6.30pm. And in the meantime, check out our Studio page.