Studioshaw creates a community co-working space for Kindred inspired by cocktail bars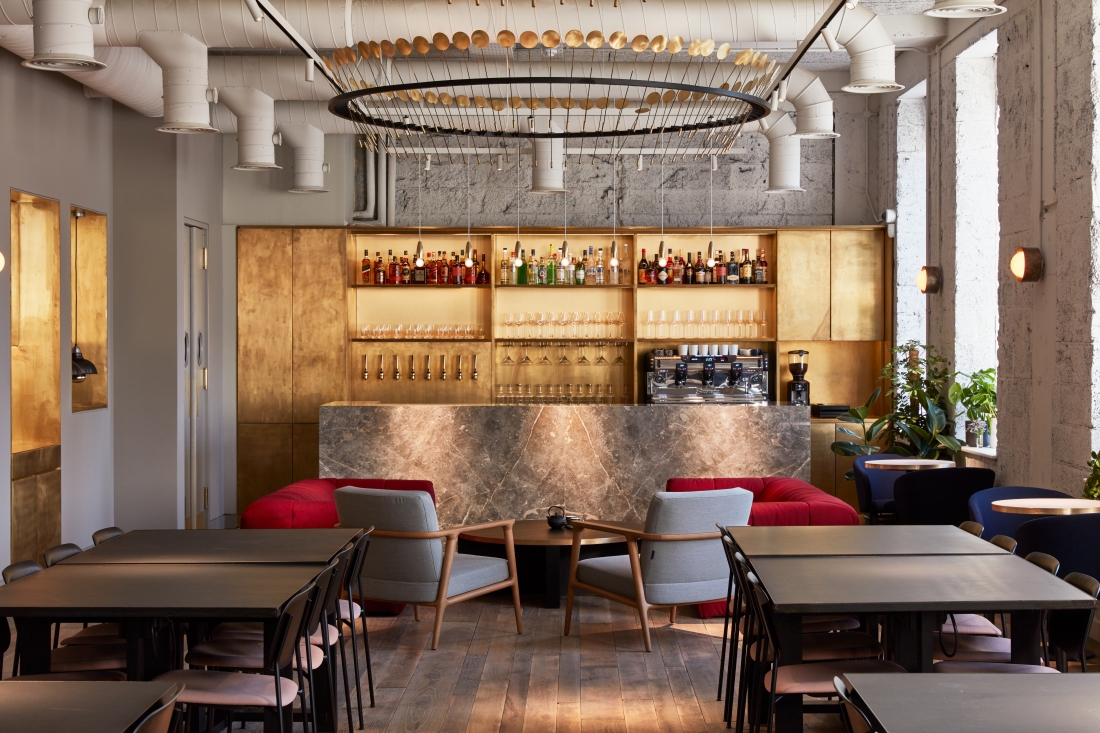 Studioshaw has taken inspiration from an elegant cocktail bar in its reinvention of a central London co-working space, Kindred.
Seeking to promote community spirit and collaborative working, the scheme, located in a three-storey Grade II listed building, comprises a café, bar, restaurant and live events venue, as well as studio rooms for wellness activities.
The sensitive design has made use of existing features of the building, stripping back the layers to reveal the original walls, while large Georgian windows have been renovated to allow natural light to flood the space. Studioshaw designed each of the rooms with a distinct style to reflect their different uses and characters.
The ground floor, open all day to the local community, connects to a planted terrace and public square. Here, the design team has installed a tall, brass shelving unit behind the bar to anchor the space and added hints of glamour with marble and brass detailing. Furniture, by Danish company Hay, adds a sleek Scandinavian style and is multifunctional, working equally well for working or dining.
A striking chandelier takes inspiration from fluttering leaves and features 70 long-stemmed brass stems that balance from a ring-shaped canopy. Conceived as a focal point for the space, the sculptural light-fitting was a collaboration between gallery Matter of Stuff and designer Umut Yamuc.
The two upper floors are reserved for Kindred members and their guests. The second floor has been designed to provide a multipurpose event space: by day it functions as a co-working space, and by night it will offer food, music and events. A small stage sits to one end of the room, providing a space for music or performance.
"Community spirit was central to the client's brief, so we have created a design that allows members to sit down and relax with one another at the end of the day, whilst also offering a space that will maximise creativity, productivity, and collaborative working," explained the studio.
The top floor continues the heritage theme. Painted in deep reds, greens and blues, it contains a series of rooms accessible by members only and has been created for meetings, private dining, yoga or meditation. A flexible layout also allows the rooms to be reconfigured and connected to host larger events.
On this floor is a room featuring ornate cornices and wall panels that were previously housed at the Geffrye Museum and returned to the site in the 1990s. Elsewhere, all architectural features and artefacts have been salvaged and incorporated into the interior of the building.