Kirsty Neil, Senior Designer, Bute, talks about their spectacular backdrop, manufacturing, materials, and rich history of collaboration.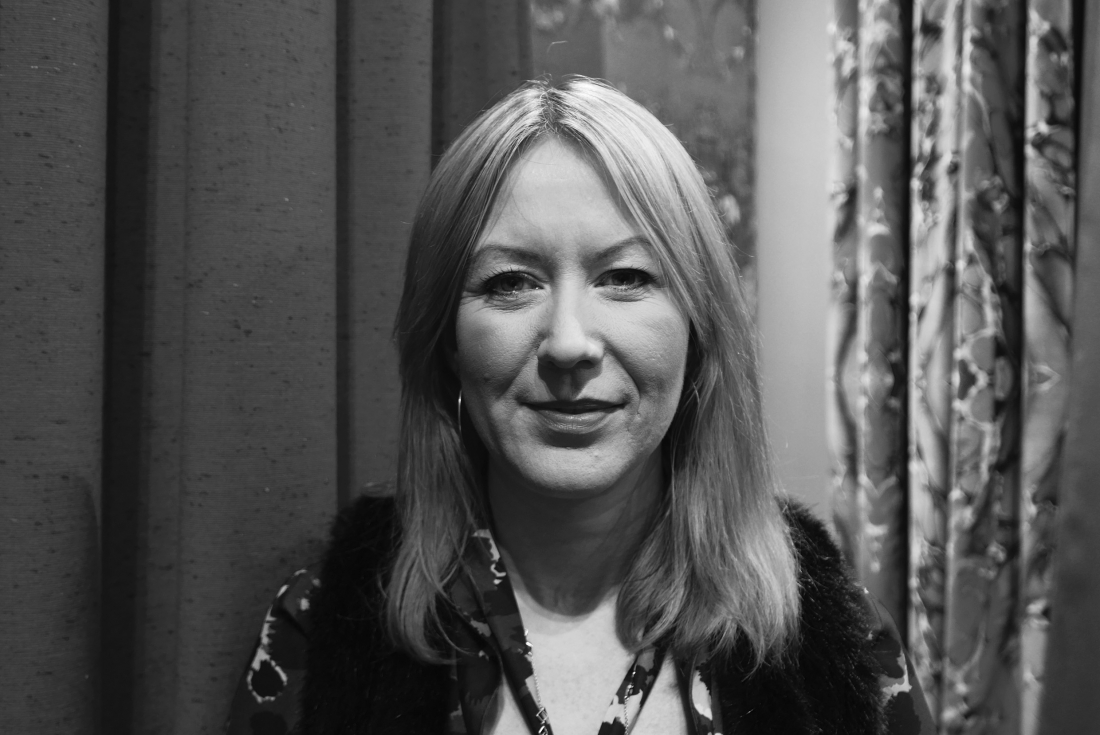 Bute pride themselves in their unique story. The mill was founded in 1947 by the 5th Marquess of Bute with the sole purpose of providing employment opportunities for service people returning home from the Second World War.
Since then, they've gone from strength to strength, cultivating markets worldwide and consistently pushing the boundaries of innovation.
Situated within the Firth of Clyde, Bute is steeped in history. There is an astonishing array of different landscapes: heather-covered moorland, lush rolling hills, wild forests, sweeping beaches, and an ever-changing seascape. These ready-made palettes of vibrant colours and textures provide a continual source of inspiration.
We caught up with Kirsty Neil, Senior Designer, to tell us more about Bute, their spectacular backdrop, manufacturing, materials, and collaboration.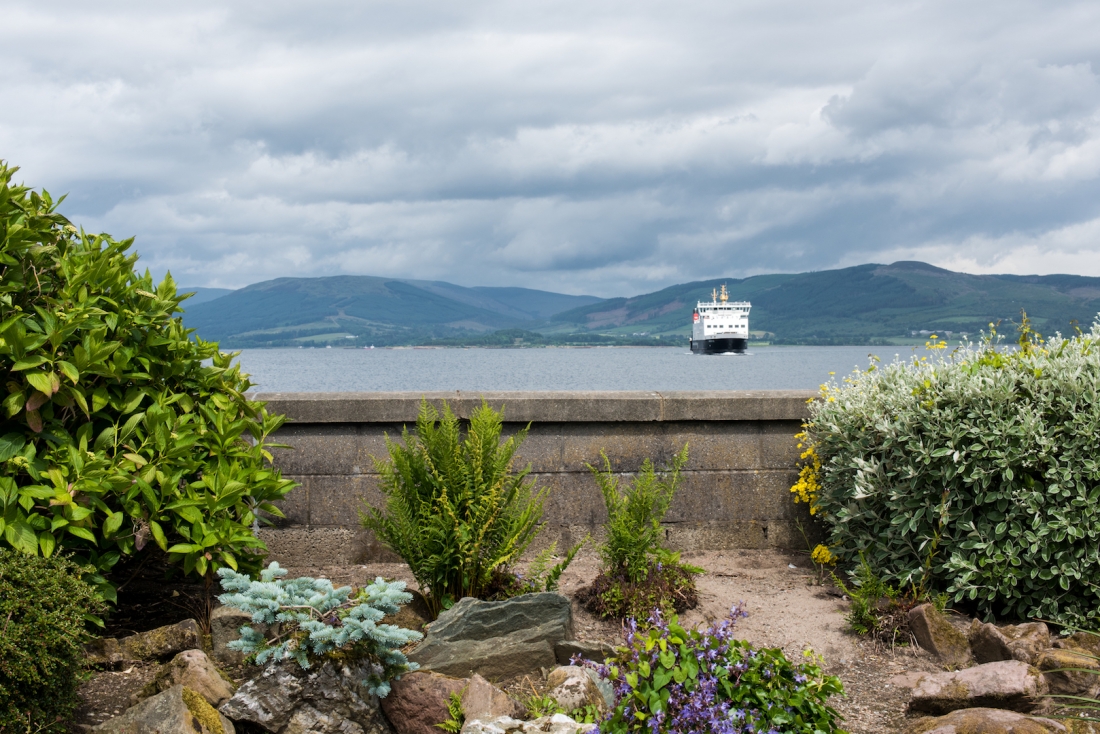 Kirsty, tell us about Bute, its history, and ethos?
The origin of Bute Fabrics as a company is rooted in its people. The Mill was founded in 1947 by the 5th Marquess of Bute with the sole purpose of providing employment opportunities for service people returning home from the Second World War. The foundations of the company are still at the core of its operations today, celebrating heritage, craftsmanship, skill, and the local community where 46 employees reside, while also nurturing connections with the mainland through education and a worldwide network of suppliers, finishers, and clients.
The innovative textile design and manufacturing company based on the Isle of Bute off the west coast of Scotland is known for its visionary colour palette and beautiful use of texture. The Bute name has always been an assurance of sustainability, quality, and durability, recognised internationally. Situated within the Firth of Clyde, Bute is steeped in history. There is an astonishing array of different landscapes: heather-covered moorland, lush rolling hills, wild forests, sweeping beaches, and an ever-changing seascape. These ready-made palettes of vibrant colours and textures provide a continual source of inspiration.
The Mill has a long and varied history of producing textiles and has adapted to market changes over the years since its foundation. Established initially as Isle of Bute Industries, the Mill produced handwoven tweed apparel fabrics for the couture market. Later renamed Bute Looms in the 1960s, the Mill went on to design and manufacture power loom woven apparel fabrics for luxury international fashion brands.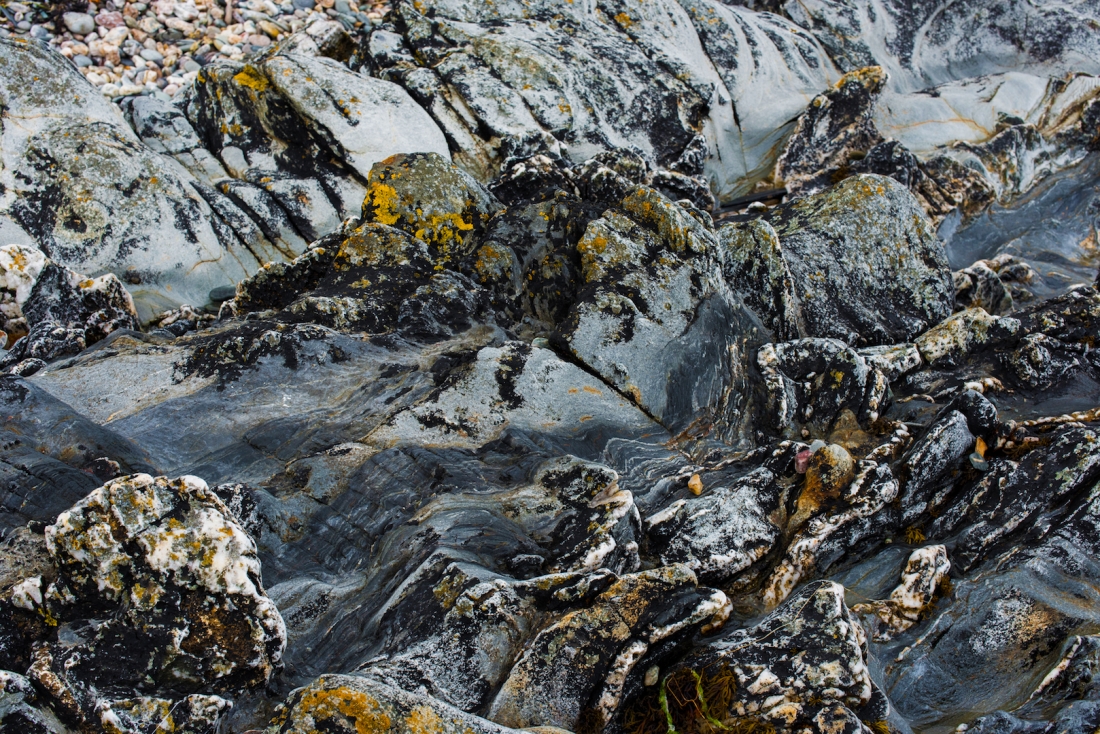 In the 1980s, with market demands changing and increased competition in the apparel sector, the company decided that a change of strategy was needed. Contract upholstery fabrics subsequently became the production focus for the next 30 years under the name of Bute Fabrics. With updates in machinery and experienced personnel, Bute Fabrics now produce luxury curtaining fabrics, sheers, accessories, and residential upholstery fabrics to complement their contemporary range of contract textiles.
Most recently, Bute Fabrics have launched two new collections: Identity & Strata, which celebrate the history and heritage of the Mill and the island, created in collaboration with designer David Irwin. With truly unique inspirations, these collections are synonymous with the Bute name. This year will see the launch of six new fabrics created in partnership with renowned product designer Tom Dixon. The narrative of two intrinsically British companies, each with mutual respect for quality, sustainability, and the environment, provided the foundations for this exciting collaboration and celebrates the British heritage of both brands.
Bute Fabrics produce some of the world's most technically advanced woollen textiles for sectors such as workspace, hospitality, auditoria, cruise, and residential. It's the celebration of their foundations and inherent craftsmanship that ensures they are the natural choice for fabric solutions worldwide, providing a versatile product their customers love.
With such a spectacular backdrop, does this influence the fabrics you design and manufacture?
The island surroundings are varied; they offer a rich source of colour, texture & pattern as an initial design concept for many of our new collections. The landscape, views, and island details also offer a unique resource for us to convey the story of the Mill, our location, and of course, design inspiration to our customers to give them a sense of who we are as a company.
Inspiration can come from so many sources, and when you least expect it! While out for a walk with the dog you can find the most beautiful shell or driftwood or experience the most beautiful vista inspiring natural colourways - the landscape on the island is so diverse from moorland, beaches, lush farmland, beautiful details on ancient buildings in Rothesay town, fishing boats in the harbour to name but a few….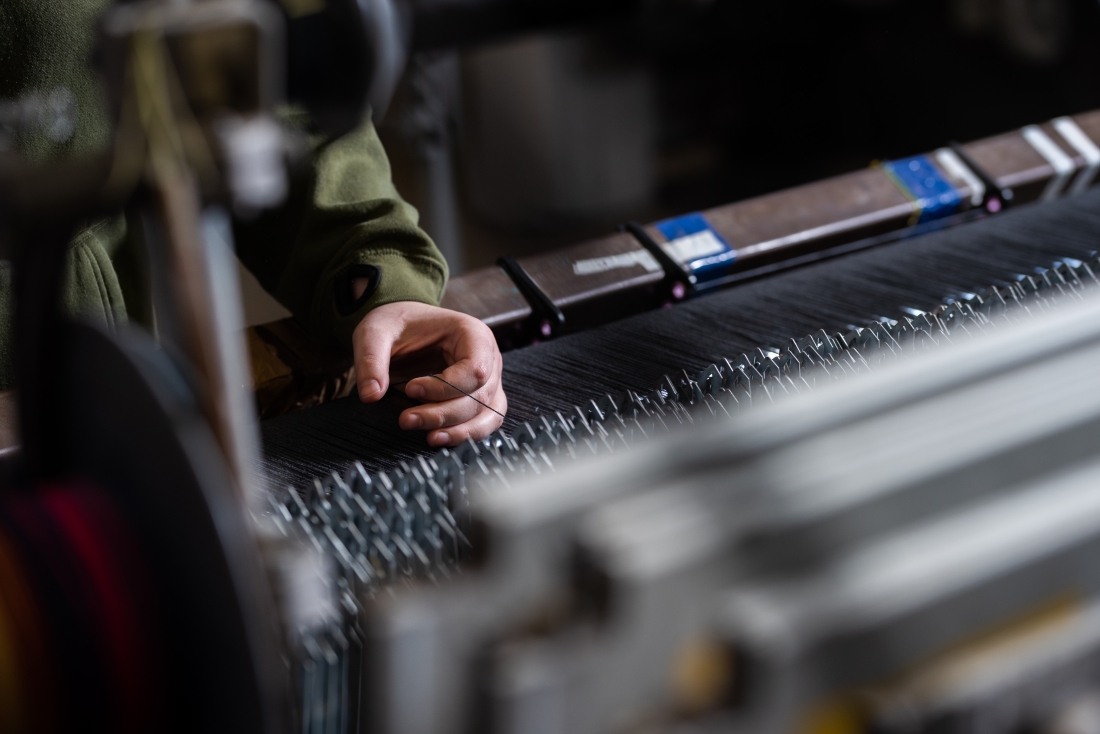 Can you briefly talk us through Bute's manufacturing process?
From completion of the design stage process, the lead-time for the bulk fabric to be woven can take around 8 weeks, depending on the complexity of the weave, yarn availability, and loom-space available in our weave-shed.
The design moves through the Mill, first to warping. The warp is the vertical threads in the cloth which run throughout the cloth: multiple cones of yarn are spun with the exact amount required on each cone to complete the warp length for the total meterage of fabric as requested by the customer. This can be anything from 50mtrs to 5000mtrs! Warps can mainly be solid colours, but we can also create complicated designs when there can be many different colours used for a tartan. The exact number of these coloured threads needs to be calculated and warped. Hence, precision and accuracy are paramount at this initial stage.
The warp is then transferred from the warp mill to the loom. At this stage, it is crucial that the correct tension is applied to the threads, as this helps significantly throughout the weaving process. Different types of fibre require different tension applied, and it varies from cloth to cloth, so our team's expertise is used here to ensure the set-up is perfect.
Each individual thread is then drawn through a heddle (similar to a needle) in the exact order according to the drafting plan. Attention to detail is extremely important here as any mistake will show up as a fault in the woven cloth.
Our Tuners then set up the loom with the weft yarn (horizontal yarn that gets fed from side to side by a rapier); this is what creates the cloth by interweaving the warp and weft threads according to the weave structure/pattern set. Depending on how many metres are required, the cloth can take a few hours to weave or indeed a few days.
Once the fabric is woven, it gets taking off to our inspection area where any faults are marked, such as a broken thread ends or a missing pick. These are fixed by our darners before the fabric is rolled, packed, and delivered to our expert finishers in the Scottish Borders, whom we have worked with since the founding of our Mill. They wash & process and finish the cloth as per our instructions. The finish can involve brushing, pressing, steaming, or coating the fabric, so it is extra fire retardant, or the fabric can be dyed by the specialist dyers to match the customers' preferred shade.
The fabric is then brought back to Bute for a final inspection - ensuring that it meets our stringent quality control standards for colour, pattern & finish. The exact length is carefully measured, rolled, and prepared for shipping worldwide.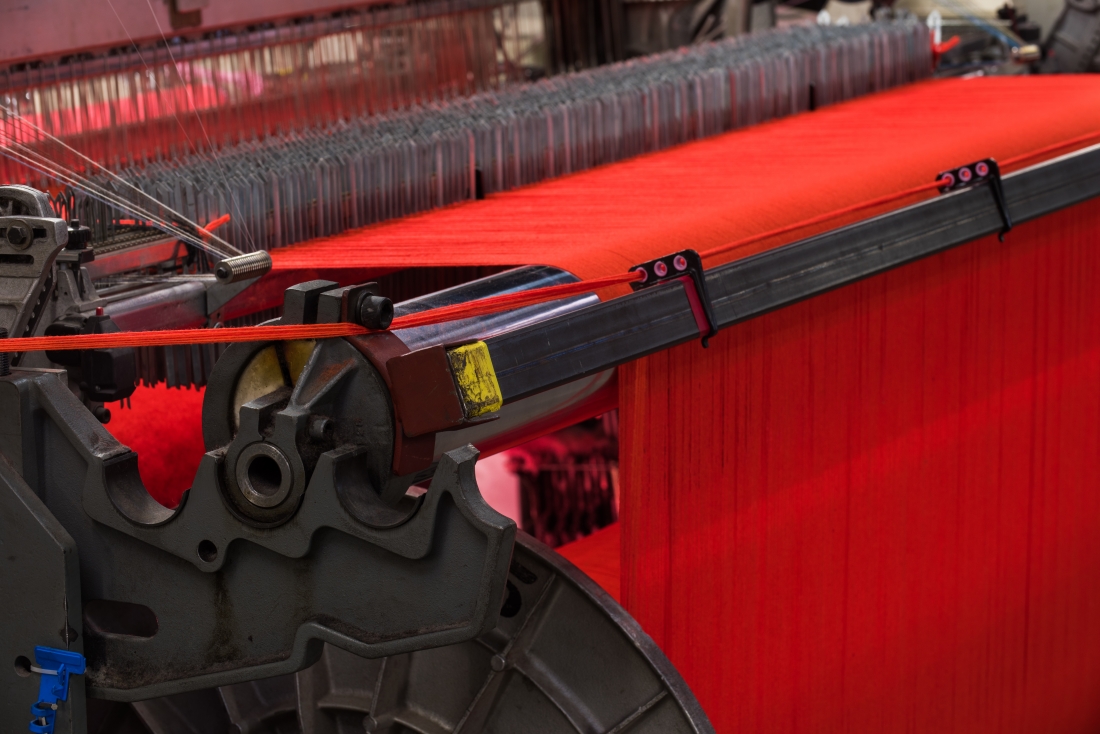 From a design perspective, how does your process start, the inspiration, the initial idea for a new collection?
Our process changes depending on the brief: whether it's for a bespoke project for a customer or our own collection - often it begins with a meeting of our Sales and Design teams, alongside the client to understand precisely what they require for the end-use, their expectations, and timeline for the product launch.
After that, meetings involve colour, trend & pattern swatch boards (often using inspiration from the island for colour and texture), and fabric samples in existing qualities, sometimes taken from our archive, to help outline the direction the development process needs to take. At this stage, we would always encourage our customers to visit our Mill on the Isle of Bute where possible, and if not, we try to give them a sense of the surroundings by way of the mood boards we create.
Our designers can then create CADs of the Dobby or Jacquard designs to give the customer a clear idea of the layout, scale, and colour. We often create handwoven samples of dobby designs in our studio as the customer can sign off an initial development in fabric form rather than just paper, a fantastic advantage. We have the option to create multiple colourways of design, and this is where 'chance happenings' can occur - unexpected variations arise from the numerous colour crossings which may well make the final selection, and this is always great fun!
After they have made their selection, we can then proceed to weaving full width, production woven cloth on our power looms. The fabric then gets a specialized finish applied to meet the customer's exact requirements, and the fabric is dispatched from the island to any destination worldwide.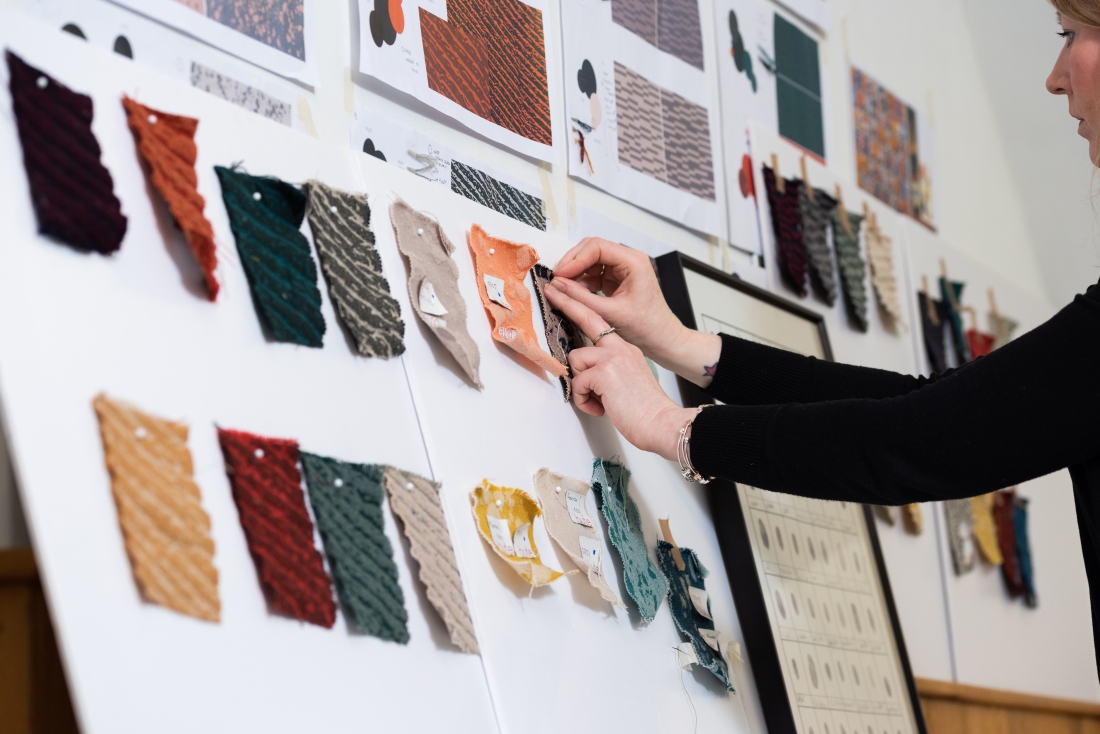 What materials go into Bute's fabrics, and what role does sustainability play in your choice?
Traditionally, Bute Fabrics was renowned for using wool in its products and collections, and this source material still forms the basis for many of our fabrics today. We absolutely love using wool, either 100% or blended with other noble fibres. It has many amazing properties such as being hugely durable, has natural stretch ideal for upholstery, naturally stain repellent, and fire retardant without having to be treated with chemicals, to name but a few…
For one of our new collections, Magic, launching soon, we have sourced an 100% recycled wool which is created by woollen jumpers being re-spun into beautiful melange shades and we have woven it into a fantastic Melton cloth, soft but extremely durable. This fabric has already had a tremendous amount of interest generated due to the recycled wool used to create it. We will definitely be sourcing other ethically produced yarns for other developments in the future.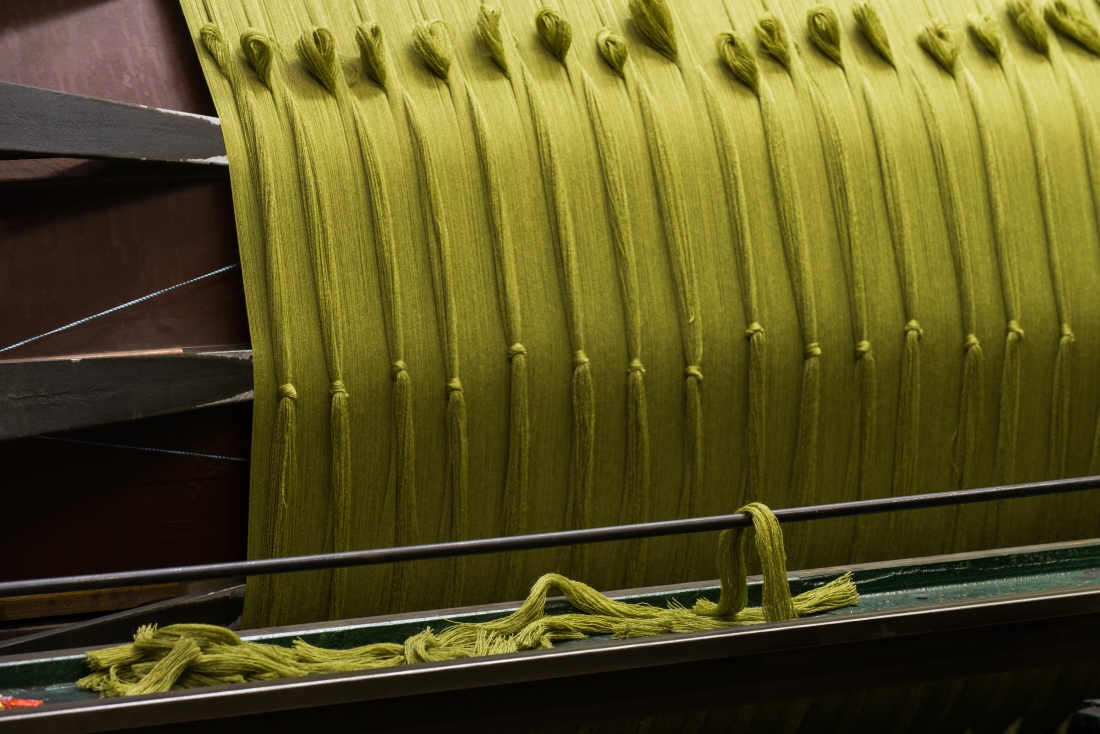 With the above in mind, what themes and inspirations are currently shaping your projects?
The recycled wool is such a beautiful yarn to weave with and versatile, so we are using this to create some interesting new compositions and qualities ranging from fine, lightweight blankets to reassuringly heavyweight jacquards for upholstery.
I think the most important theme we are aware of as we are designing is to be mindful of what yarns we are using and, most importantly, have traceability as to where they are from. We are lucky that we have a great relationship with all of our yarn suppliers, and they are very forthcoming as to answer our questions for ourselves and our bespoke customers who we are asking for more assurance as to the origin of fibre and how it is treated before we weave into cloth.
Looking to nature and our surroundings are the constant sources of inspiration for myself and the designers at Bute Fabrics. You cannot help but use the unique colour palette from the island and beautiful patterns and textures on our doorstep to form the basis for many collections.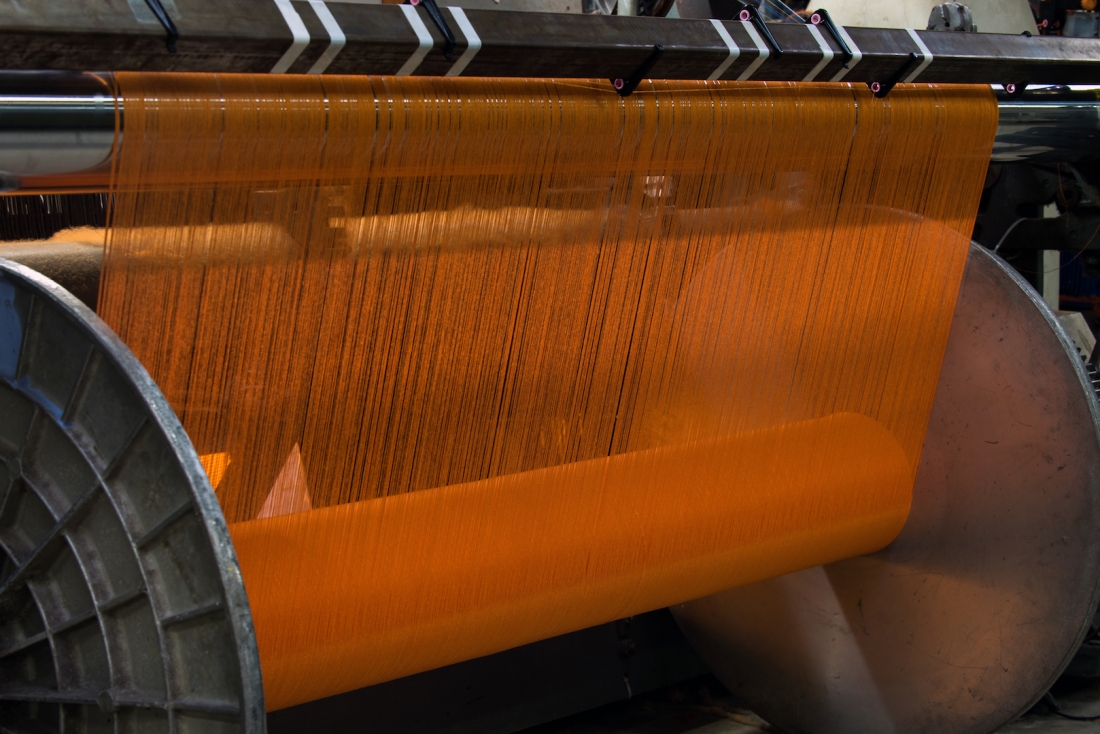 We see that you actively collaborate with external designers, your collection with David Irwin for example, how important is collaboration?
Bute Fabrics have a rich history of collaborating from its beginnings in the late 1940s until the present day. It is a process we always enjoy as the range of fabrics created is always diverse, interesting, and unique. Working alongside another design team makes you think differently and push the boundaries as you strive to meet the brief and their expectations. They learn from our expertise and the same for us – we have fun with the process, and most often, working so closely means long-lasting relationships are formed for years to come.
David Irwin fully embraced the Isle of Bute and used its landscape and heritage as the basis for the design inspiration behind his 4 jacquard collections. The whole collaboration was brilliant from start to finish, and what we all created together is something we are all very proud of. One of the designs required all of our employees, not just the design studio, to create the unique pattern, 'Kin,' which incorporated everyone's thumbprint in the artwork for the jacquard pattern.
Of course, this means that the design is unique to Bute Fabrics as all of the staff contributed to both the creating and making processes. I think because of this, we all love telling the story of the fabrics David Irwin has created and how they directly correlate to the island, plus they look absolutely amazing on furniture too!
Our most recent collaboration has been with Tom Dixon, who has been a friend of Bute for many years. The Tom Dixon team visited the island and loved the broad range of fabrics within our archive and the various textures within the island landscape. These elements formed the basis for the 6 fabrics which make up the full collaborative range – the first 2 of these will be launched this year with the others being launched in 2021.
We particularly loved this design phase. Working with Tom and his incredibly talented team was a fantastic experience - they have such a unique sense of colour a strong signature of Tom Dixon, and mixing this with our expertise in fabric design has been a winning combination. We are hugely excited to see the finished furniture pieces in the coming months, as this is when you really get to see the end result of the collaboration and experience the feedback from the customers.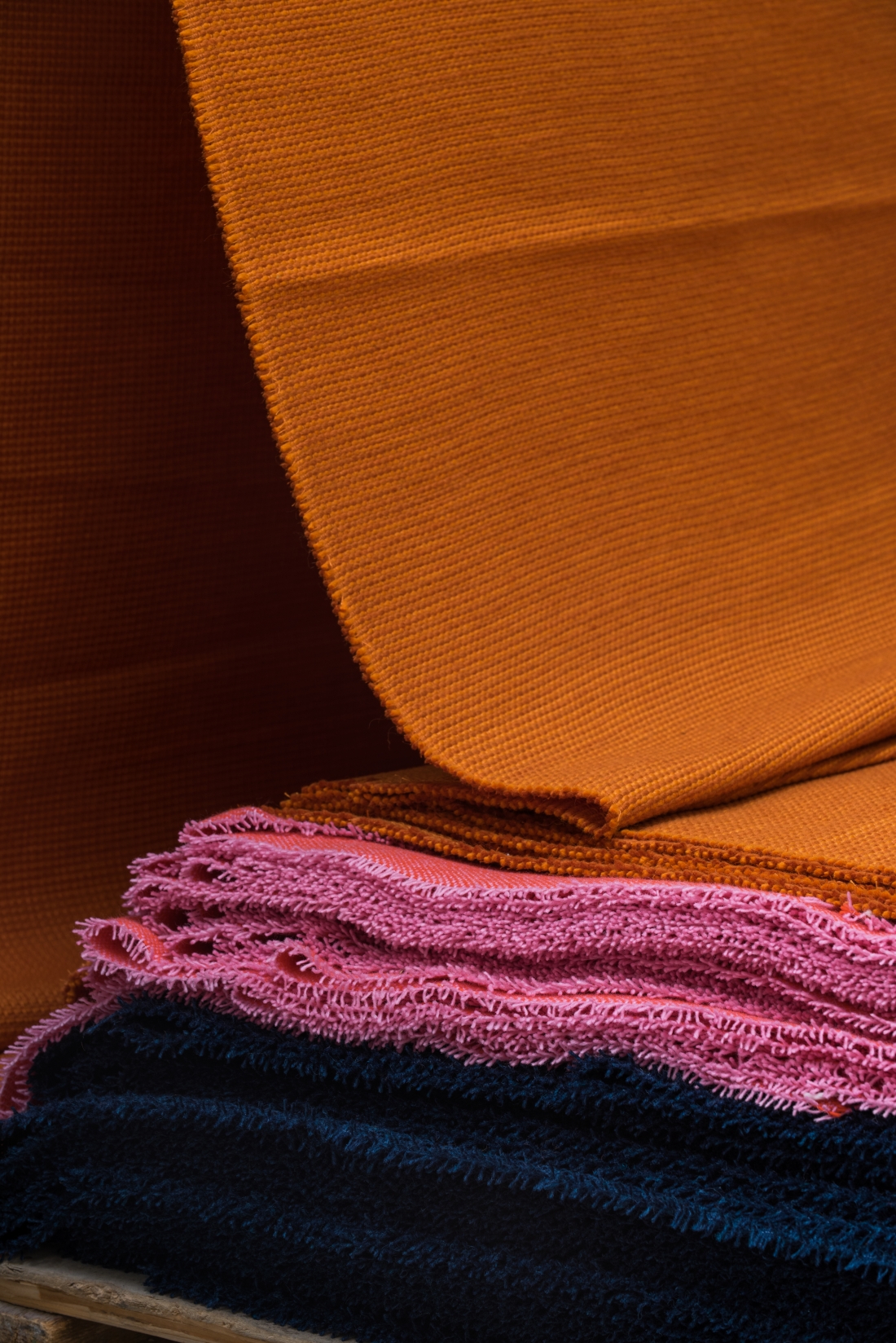 Are there any new innovations or materials that you've recently come across that you would like to introduce into your fabrics?
Sustainability and traceability are two areas of extreme importance within textile design currently. I think this will increase going forward as customers want to know exactly where the raw materials are from, how they are processed, and how and where the fabric is produced. We (Bute Fabrics) have a responsibility to provide this information for our customers, so our main priority will be to source ethically sourced yarns from companies with the same ethos and outlook. We are focussing on wool, wool blends, and cashmere, which are either recycled or reclaimed and have full certification to back up their authenticity.
We are also looking to develop machine-washable fabrics to alleviate the need for dry cleaning. We currently supply bespoke throws to many hotels. They often ask us for a machine washable solution, so we have recently been sourcing yarns and weaving initial samples to try to see if this request can be fulfilled shortly.
Both development projects are really exciting to be involved in and crucial in moving forward and building our fabric portfolio.
Finally, what's next for Bute?
The origins of Bute Fabrics lies in the design and manufacture of fabrics for apparel during the early 1950s to early 1970s when the company was known as Bute Looms. During this time, they created beautiful woollen cloth for the likes of Harrods, Liberty's and couture fashion labels such as Balenciaga and Nina Ricci.
We have a fantastic archive of some of these gorgeous fabrics, and we would love to recreate some of these and showcase them to illustrate our rich heritage and how the colours and textures have formed the basis and inspired our current collections today.
Discover more about Bute.