Wood, pink and maximalism: Some of the tile trends for 2019 revealed at Cevisama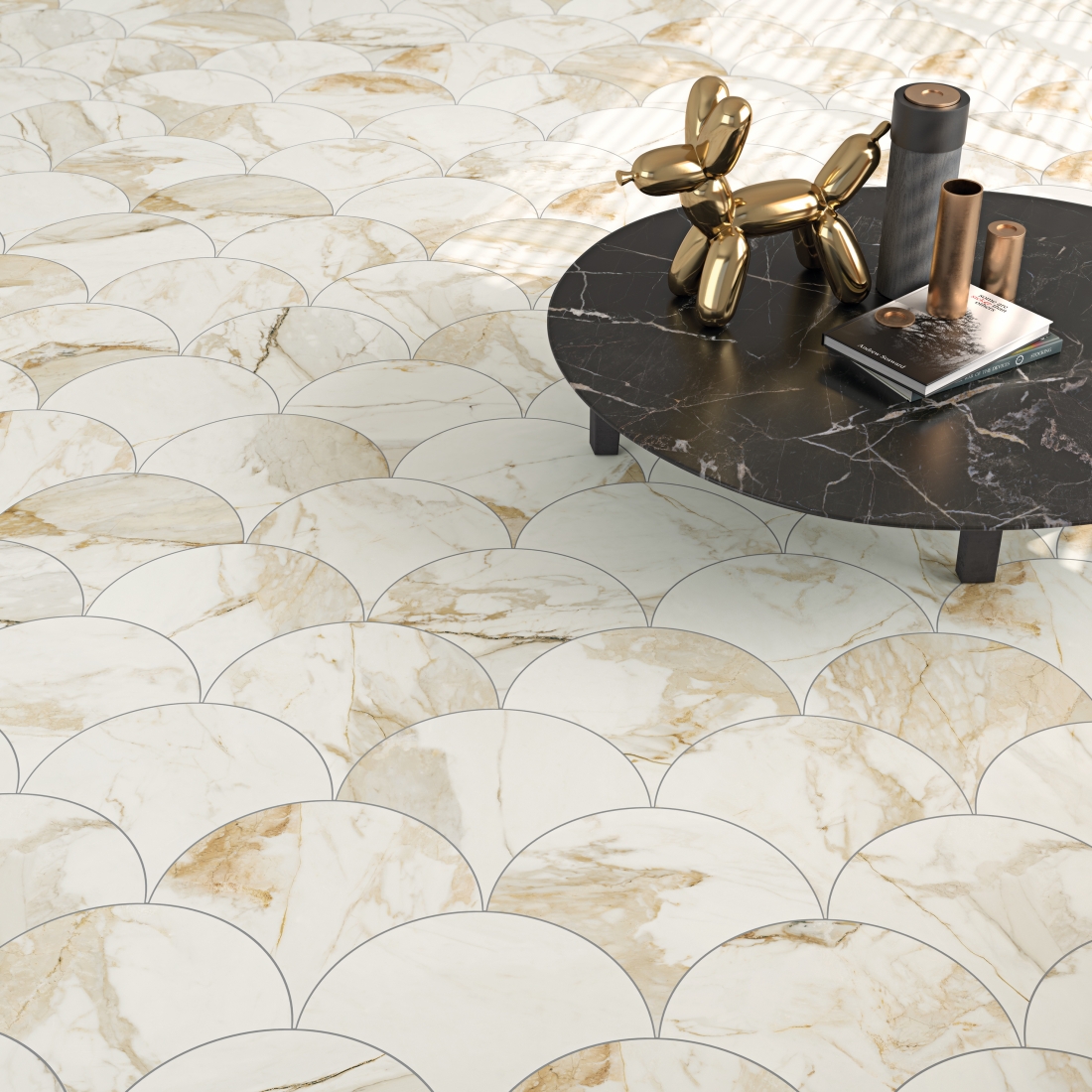 As one of the leading events in the tile industry, Cevisama is always impressive in size and this year attracted nearly 800 exhibitors from across the world.
We were amongst the many visitors, getting to grips with the latest emerging tile trends – from wood effects, diamonds and pinks to transitional tiles and maximalism, the Valencia-based show certainly provided excellent insight and inspiration.
Cevisama is, of course, held not far from Castellón, famed for its unique clay and where many of Spain's porcelain tile factories are traditionally based.
Here, we've teamed up with Tile of Spain to share its latest tile trend report, revealing some of the themes we can expect to see more of in the coming months.
Wondrous Wood
Wood-effect porcelain has always been a steady seller and impressive with its likeness to the natural material, yet it was apparent at Cevisama that there remains scope for Spanish manufacturers to push the boundaries with their inventiveness.
The diversity of designs for wood-effect tiles has expanded significantly this year and there is no shortage of subtle details and mixtures of textures. Colour palettes have grown, too, with Nordic whites hitting a more contemporary note. Inspiration also comes from the woodcarver with decorative reliefs drawing upon many artisanal techniques.
Might we suggest Cuatro by Saloni's Eukalypt collection? A porcelain floor and wall tile in a 48cm x 38cm format that combines the four colours of the coordinating floor planks in the range.
Or perhaps Atlas Hexa by Bestile – a porcelain hexagon tile for wall and floor in a 25.8cm x 29cm format and available in eight colours.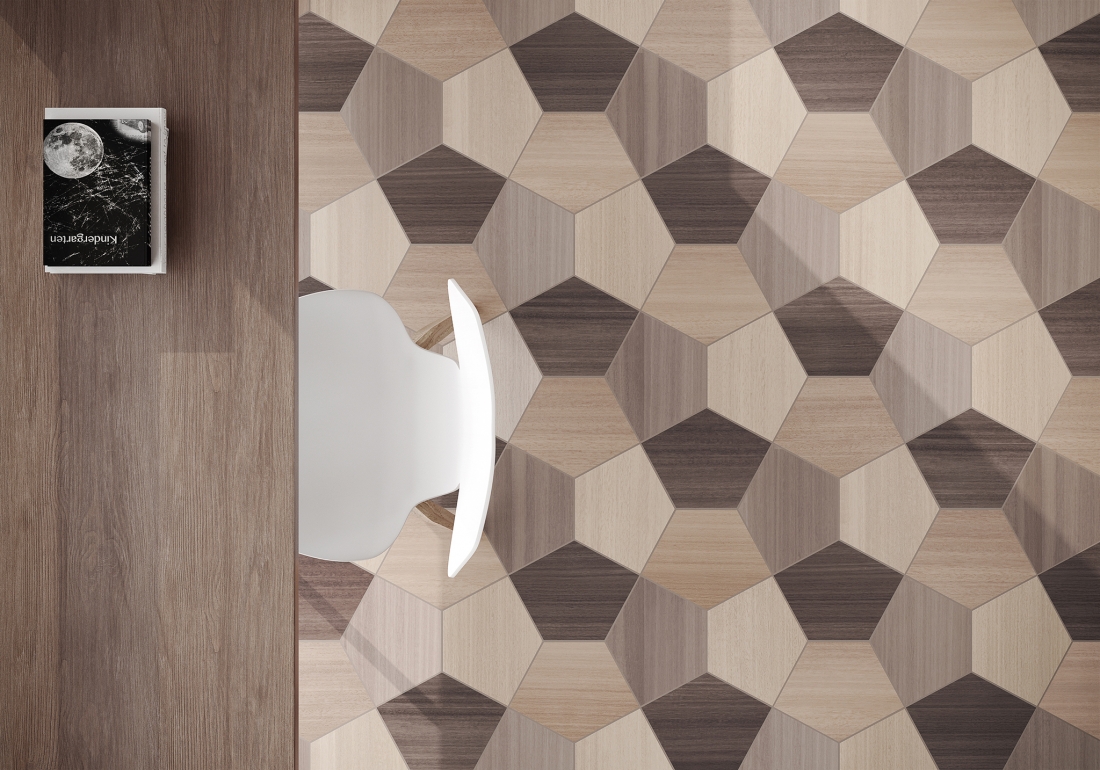 Diamonds are Forever
With geometric tiles never ceasing to be popular, the diamond shape is a dazzling motif and is used with panache to embellish surfaces whether it's a heritage-style hydraulic tile or a sleek polished contemporary small format.
This interesting shape offers multiple geometric attributes for designers to explore. A diamond can appear with all four sides congruent or as two opposite pairs of congruent sides.
As the trend for maximalism reaches a crescendo, diamond patterns lend themselves to being used in big and bold ways.
Take a look at City Concret by Natucer, a porcelain wall tile in several formats including a Rombo 11cm x 18cm available in two solid colours and three decors including Houston.
Or there's Takahama by Estudio Ceramico, a porcelain 20cm x 20cm format for walls that comes in four solid colours and nine décor options.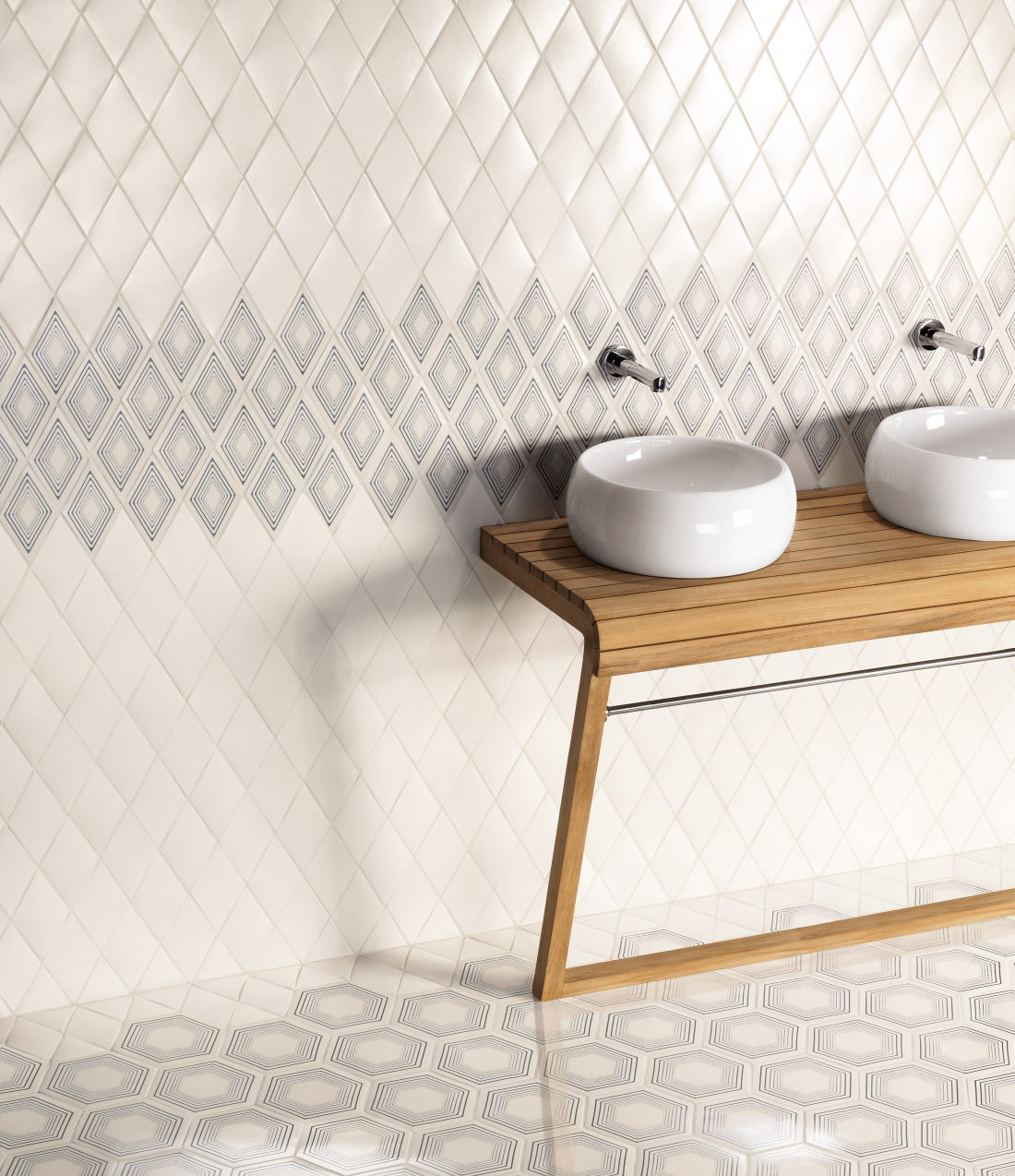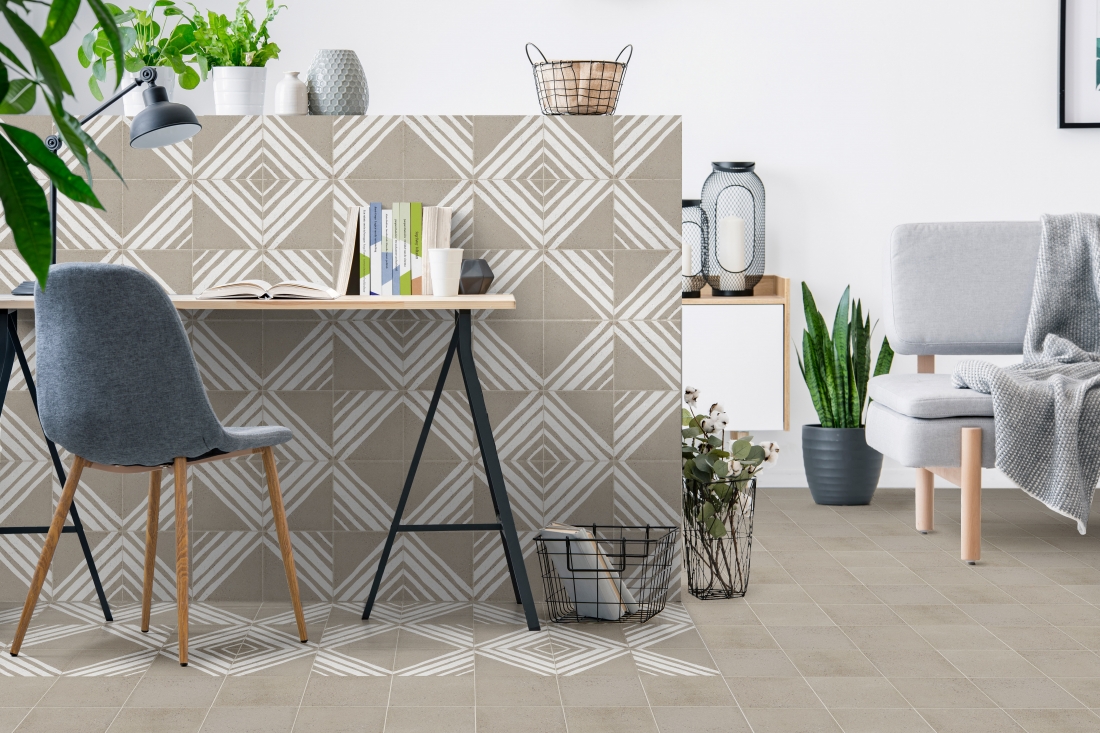 Transitional Tiles
Creating tile ranges that can easily be mixed and matched with other co-ordinating ranges is not a new idea, but it's certainly a buzz concept. It is now essential to provide the customer with everything needed to complete a room or space.
Previously, marble and wood looks might be kept apart, but now you can mix them up, enabled by a choice of identical formats in complementary tones. A heritage-style hexagon tile can transition gently into an uber-contemporary cement-effect format. New Spanish tile designs offer even greater fluidity in the combining of materials.
Tropic by Da Vinci Ceramica is a hexagonal wall tile in a 15cm x 17cm format offered in grey and green in a variety of designs and a solid colour tile.
Gallery by Undefasa allows you to mix and match geometric designs in 25cm x 25cm formats from their Classic and Black&White ranges featuring four designs each, complemented by four solid colour tiles including white, grey, beige and slate.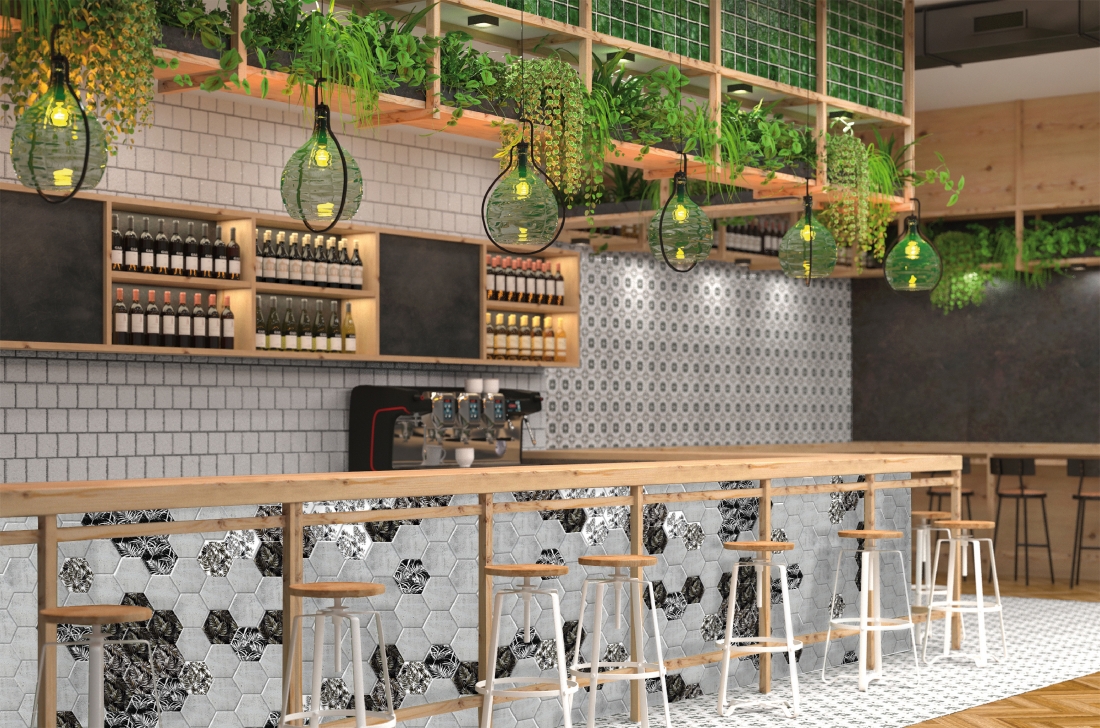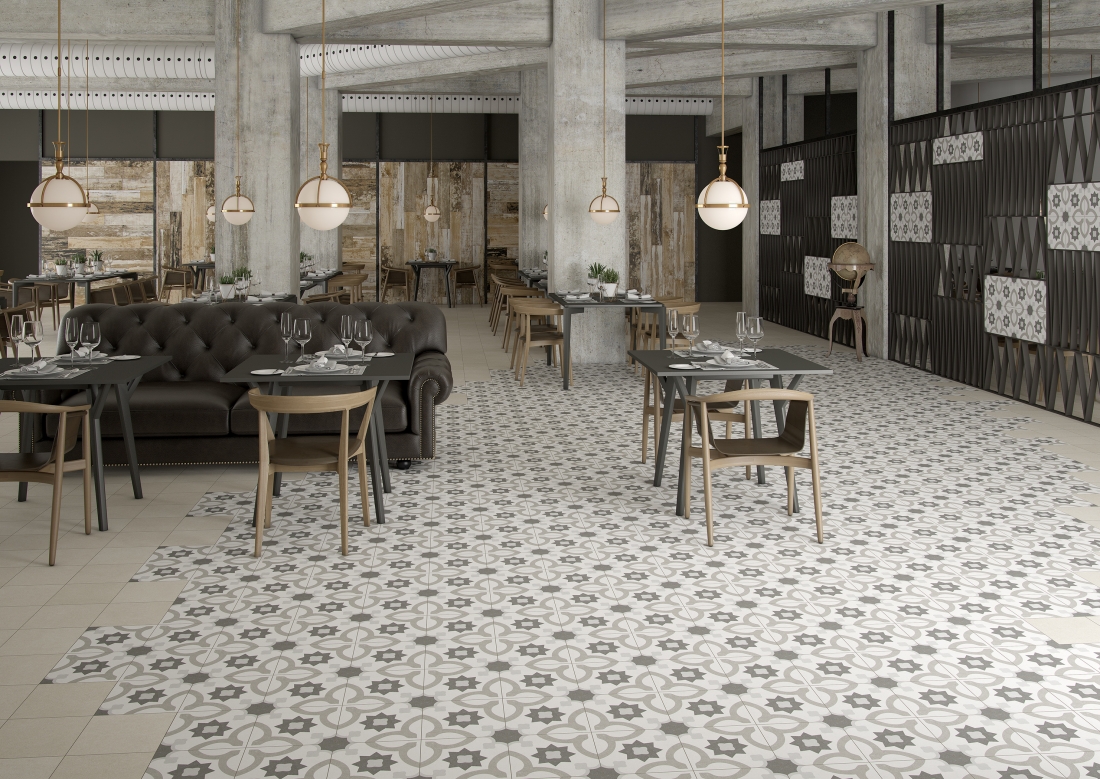 Maximalism
Dramatic, bold looks are everywhere and extremes in decoration are expressed eclectically through Spanish tile designs.
Several big players in the ceramics world are creating tile ranges that show off their ability to create something elaborate such as a forged gateway or a painted scene. Maximalism can be any kind of material or effect, so long as it is spectacular – richly veined, often over-exaggerated marble effects or a geometric heritage pattern or even a solid colour that is particularly vivid.
To embrace maximalism, consider Fowler Décor 4 by Estudio Ceramico – porcelain for walls and floors in a 15cm x 15cm format that's available in five decors and three colours.
Or there's Laurent by Museum, a porcelain tile inspired by Noir St Laurent marble, which comes in a 75.5cm x 151cm, 60cm x 120cm and 90cm x 90cm format.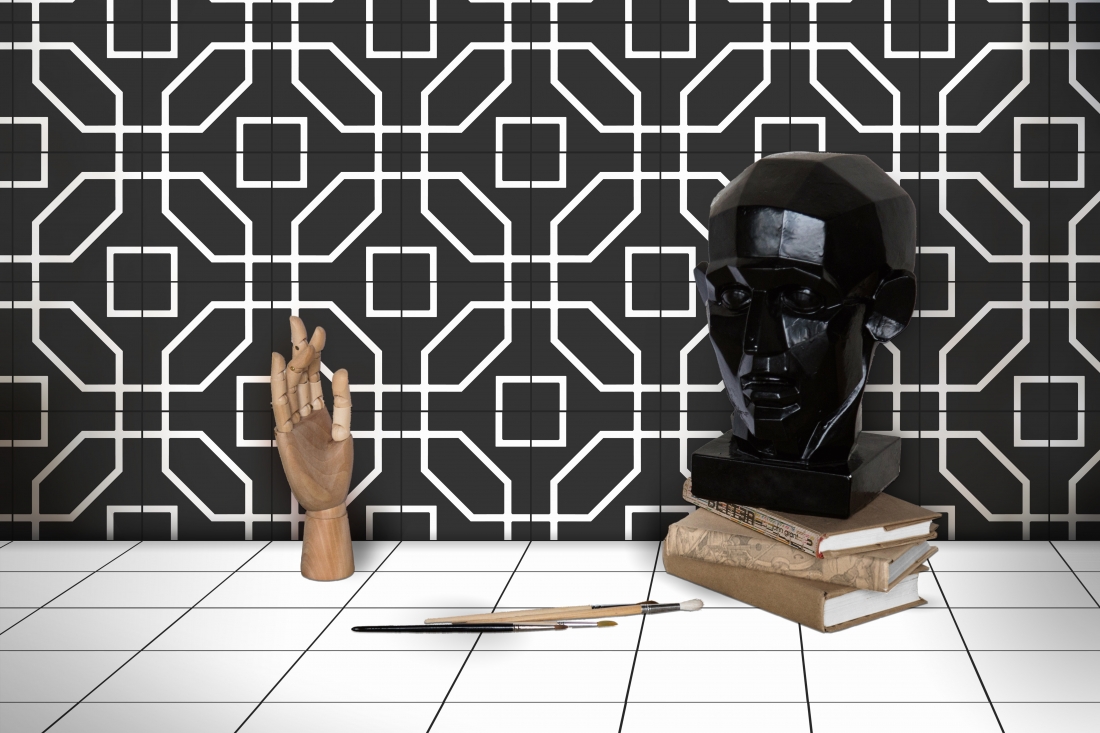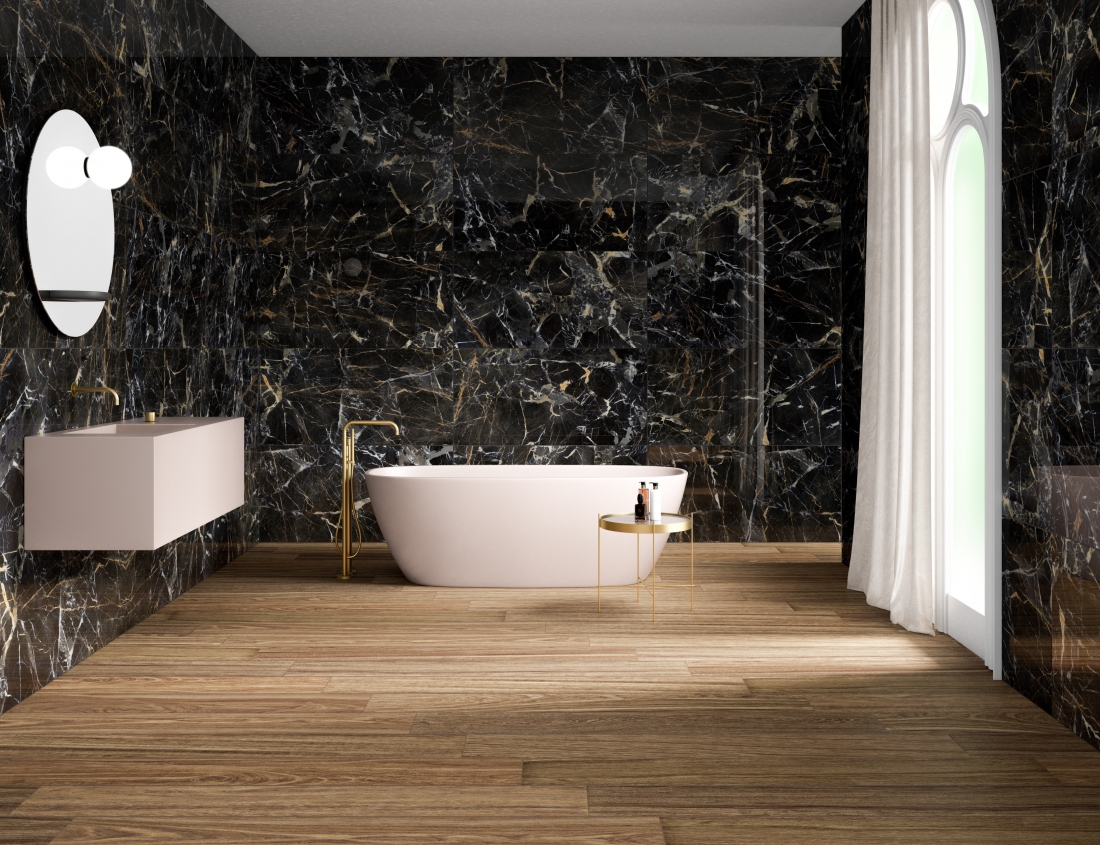 Pink Pleasure
Although it is challenging to say that one colour is more in favour than another, a large number of Spanish manufacturers are offering an imaginative décor tile range in soft pink to work as an accent alongside ranges of neutral larger formats.
It seems this soothing tone continues to be in step with the mood of the times and is equally effective in a Seventies retro pattern as in a metro-style glazed format.
If you love this trend, take a look at Twinkle Pink Lines by Stone Designs for Harmony. These porcelain walls and floor tiles come in a 15cm x 15cm format and are available in six colours.
Or there's Nago Marsala by Vives, a white body wall tile in a 23cm x 33.5cm format available in a variety of décor tiles as well as solid colour tiles.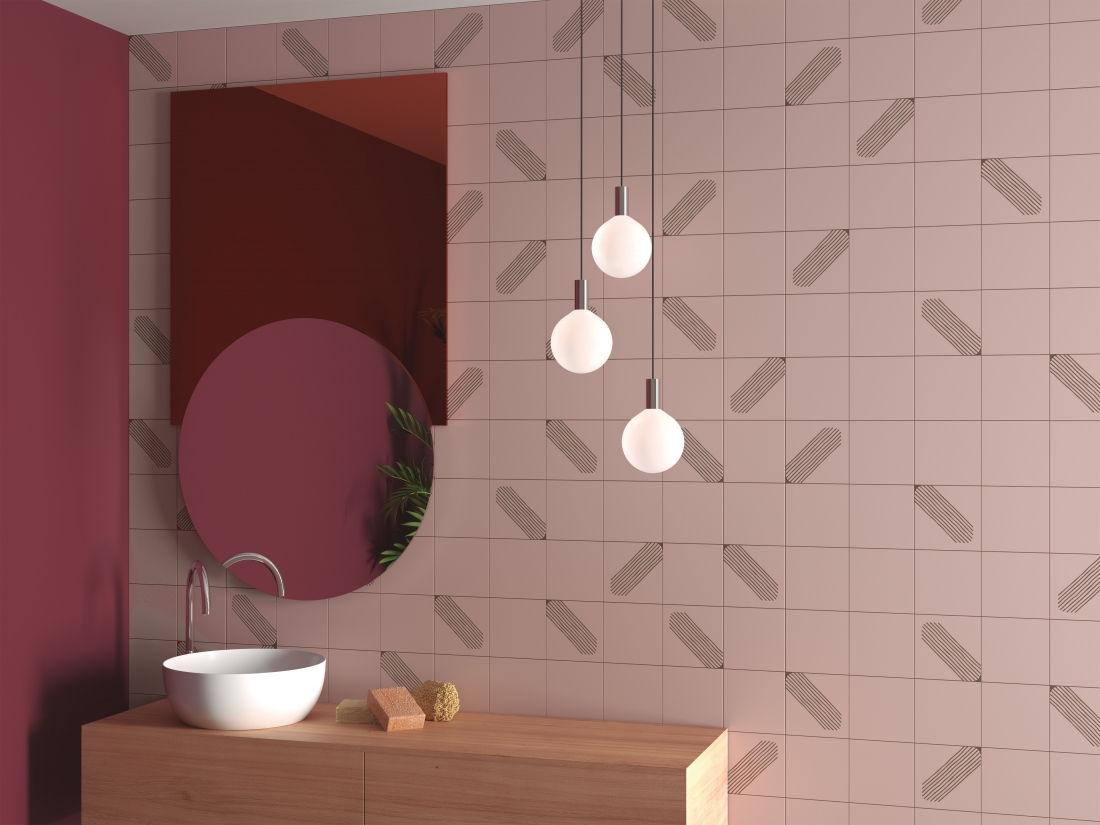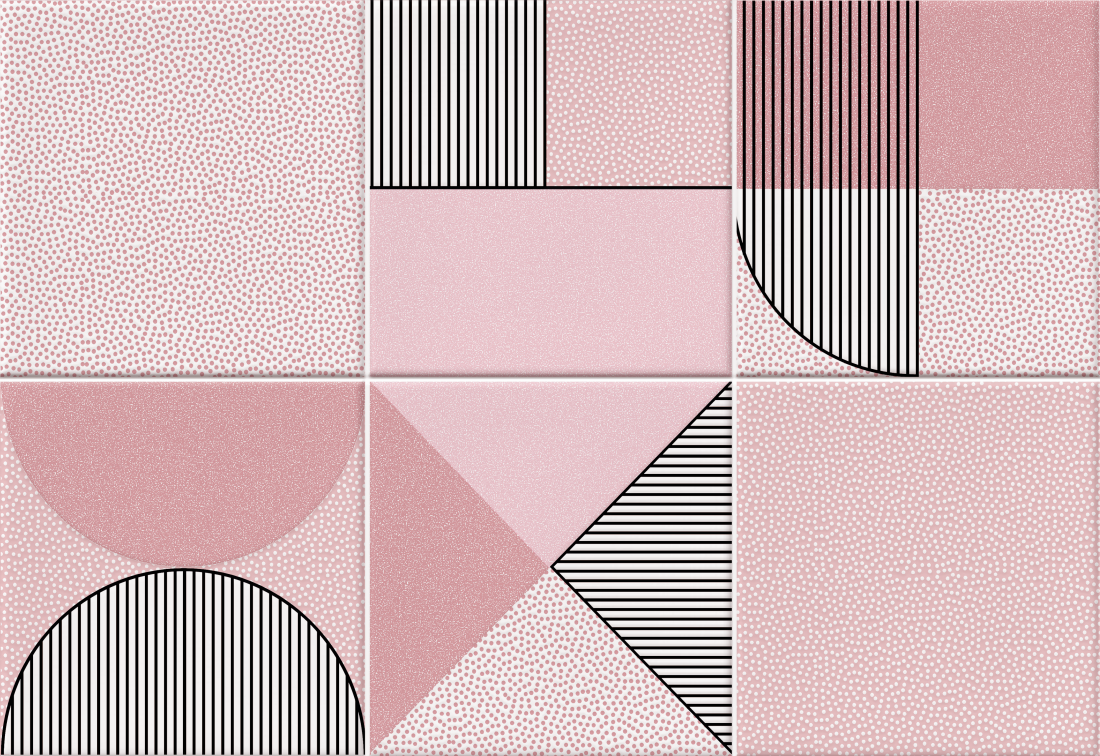 Leafy and Green
Botanical patterns and green hues are proving popular for décor tiles. Greens are evocative of the rainforest or woodland and can appeal to our wilder natures through their subtlety and simplicity of their beauty.
Finishes range from lustrous rich glazes such as those seen on artisanal-style tiles or a more contemporary matt.
And for a really dramatic focal point, multi-coloured botanical designs make a strong statement, often featuring green as a dominant colour, but also vibrant colours such as red, pink or yellow.
To add this trend to your next project, check out Botanic by Da Vinci – floor tiles with a botanical pattern in a 20cm x 20cm format.
Artisan by Life Ceramica, meanwhile, is a white body glossy wall tile with different tonalities in nine colours including green and available in a 13cm x 13cm format.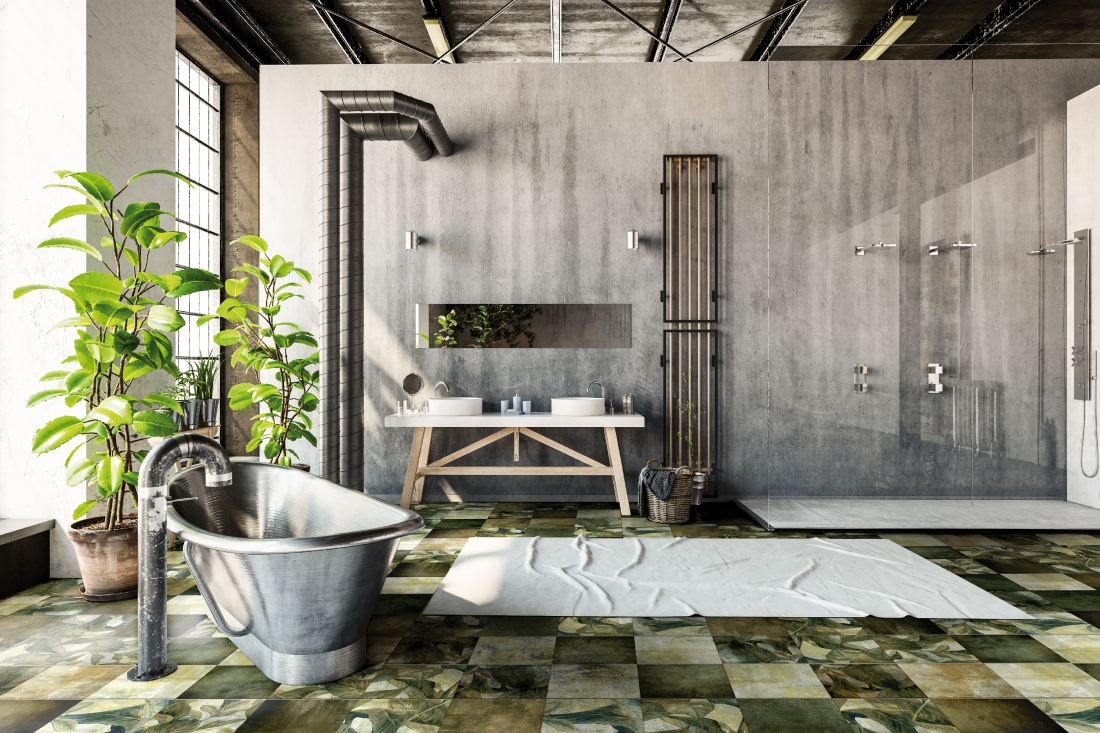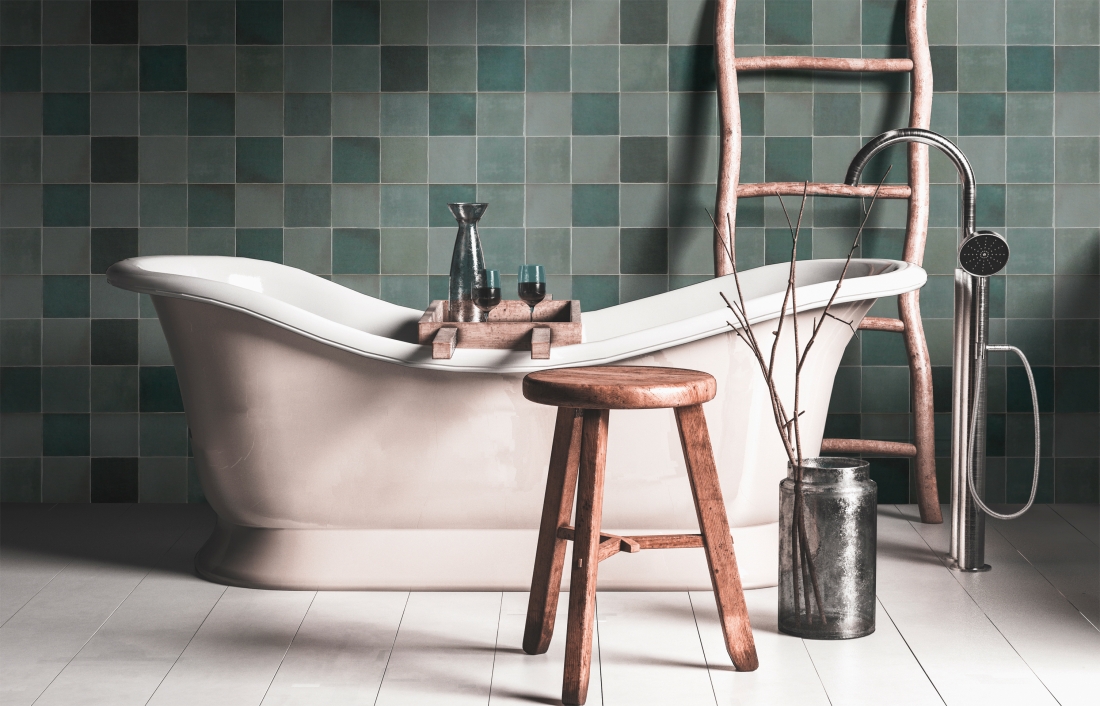 New Neutrals
Neutral surfaces will always play their part in commercial and residential schemes with designers and architects stimulated by the greater choice in the market.
Whether white, beige, taupe, grey or black, 'the new neutrals' are remarkable not because one hue is more dominant than another but because the tile surface is notable for its innovation and high performance.
Flooring surfaces are available that are frost-resistant, anti-slip and suitable for high-traffic areas, making them ideal for a sleek segue from interior to exterior.
Wall tiles are equally flexible. New technology allows for matt and polished finishes to sit alongside each other and to add lustre or sparkle effects. 3D tiles are ever more inventive and most often offered in neutral colours while all kinds of textures allow for customisation in any space. Slab formats including marble, stone and cement effects are larger and thinner than ever, offering ease of installation and dramatic results.
Deco Sassi Arena by Gayafores should be on your shopping list. These tiles are concrete-effect and available in 32cm x 62.5cm and 45cm x 90cm formats with line decoration in a palette of neutral colours.
Or there's Décor Bimba by Unicer from its Bosco Collection. A rectified décor wall tile in a 25cm x 80cm format available with complementary solid colour tiles in white, nude or grey.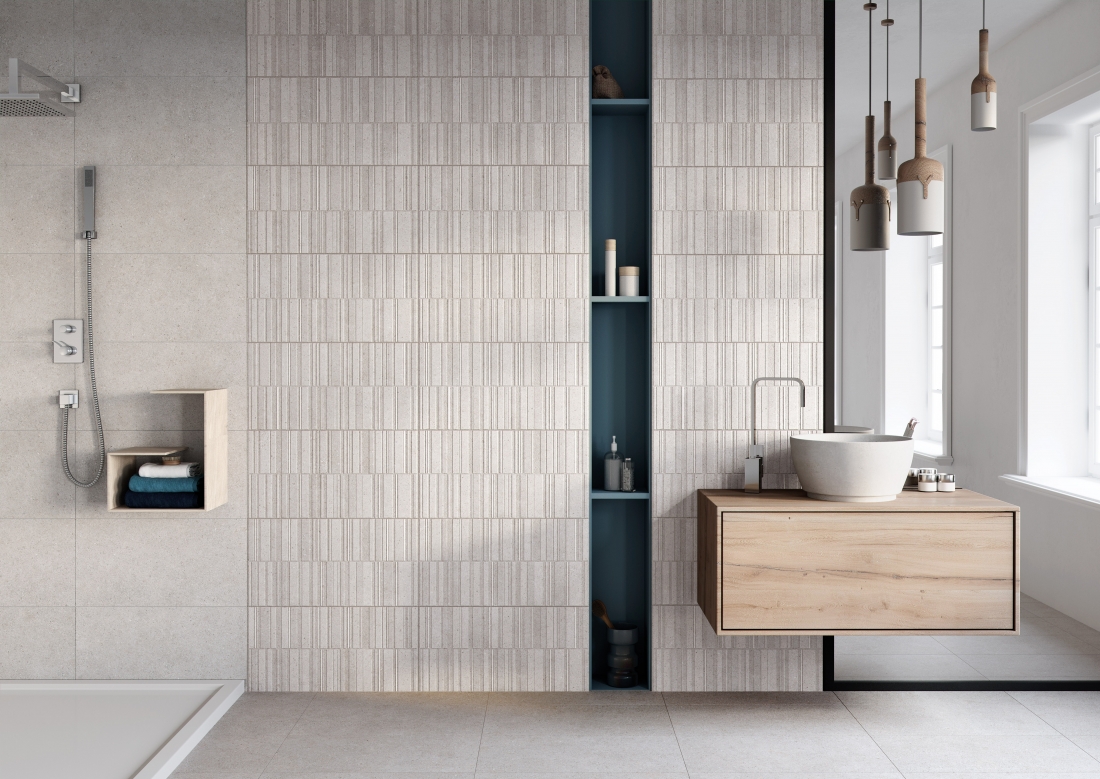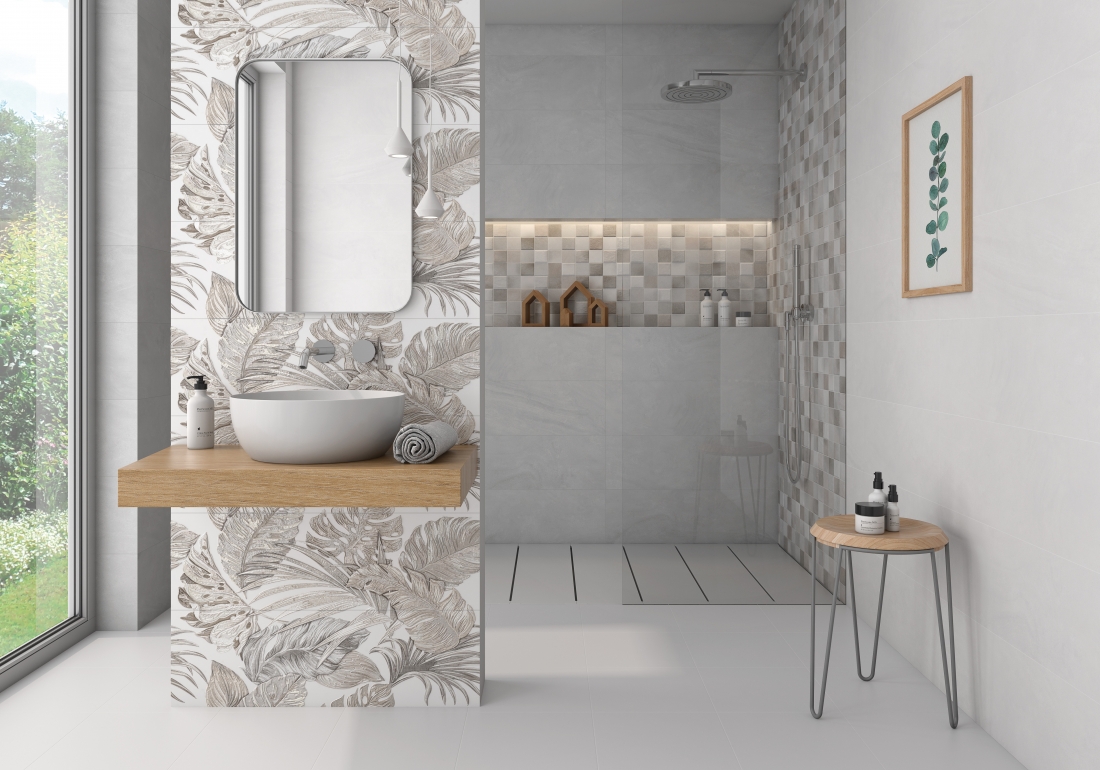 Artisanal Ambience
For every trend that takes hold of our imagination, there is its counterpoint. As much as Spanish manufacturers are impressively embracing high-tech and innovation in their sector, they are also proudly conscious of their rich heritage.
The popularity of artisanal-style tiles increases unabated and there's no shortage of small-format tiles with sumptuous glazes and "homemade" effects to add character to any space.
One to specify is Piastrella by Natucer, polished white body wall tiles in a 5cm x 25cm format available in eight colours. Or there's Crackle by Equipe Ceramicas, white body wall tiles in 7.5cm x 30cm and 7.5cm x 15cm formats in eight colours including mustard and a crackle finish.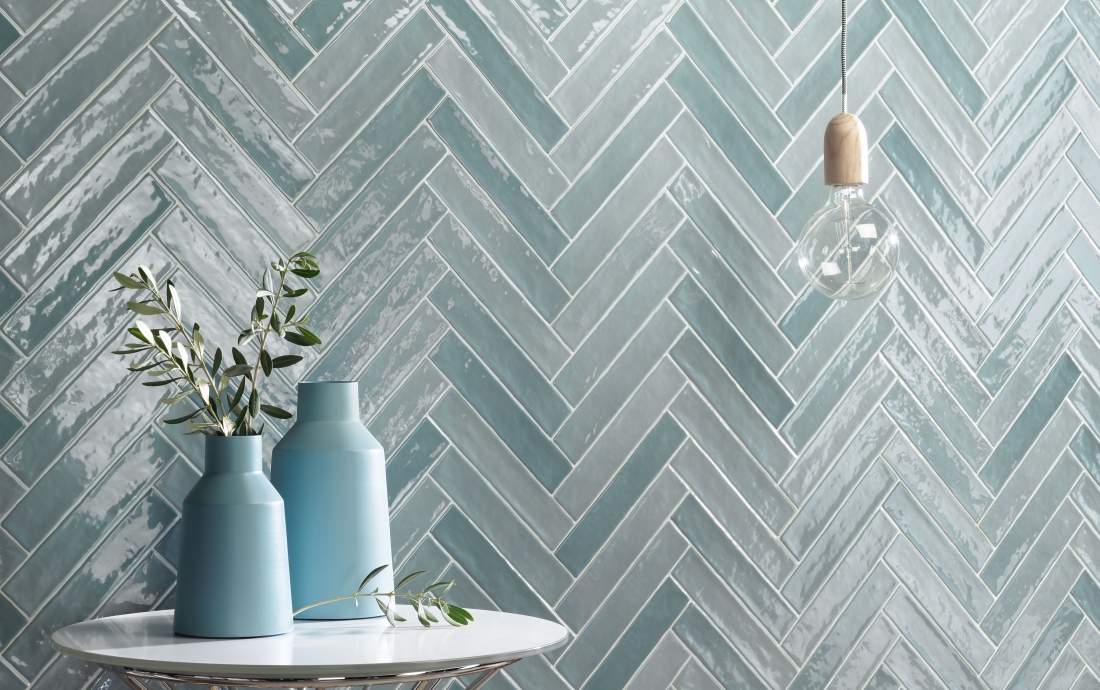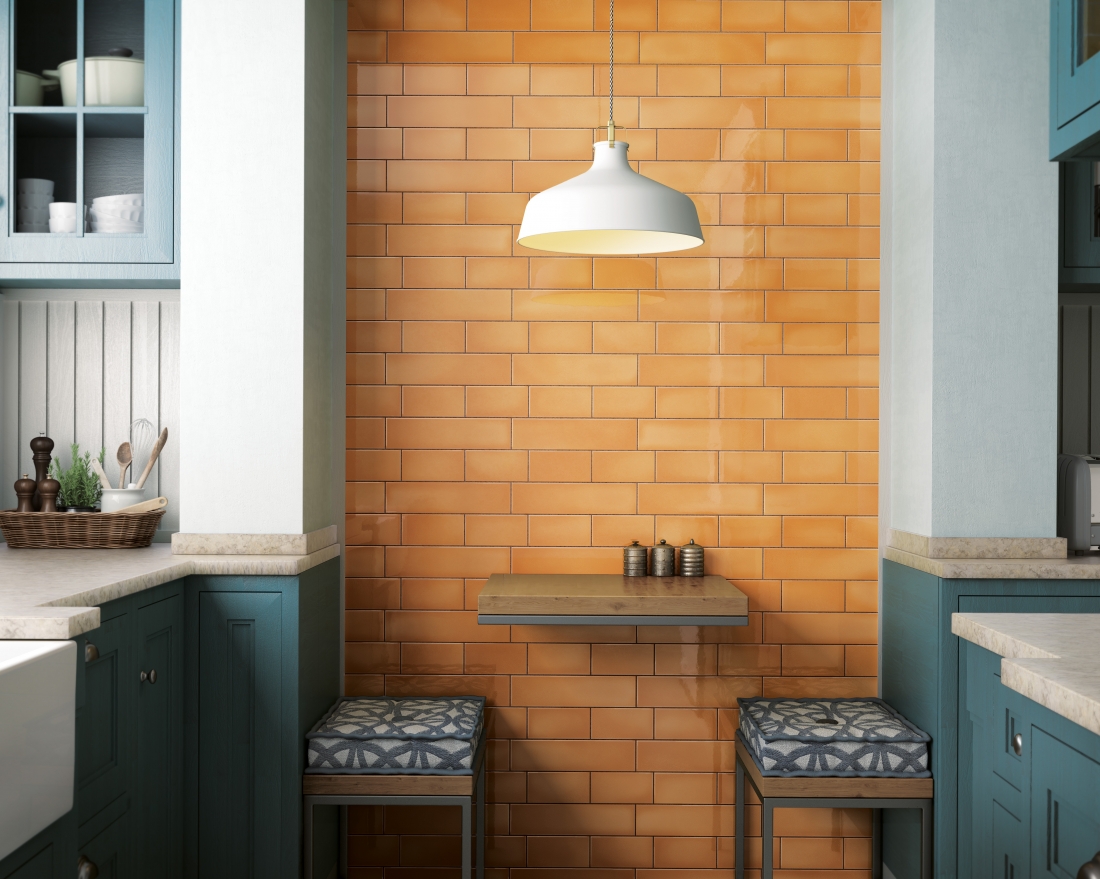 Our special thanks to Tile of Spain for providing this tile trend report for 2019 – the voice of the Spanish tile industry and encompassing more than 125 tile manufacturers.
Renowned worldwide for an inspiring blend of aesthetic and technical innovation, Spanish tiles draw on a rich heritage of skill and creativity, while remaining at the cutting edge of design.
Manufactured in Spain and widely available in the UK, these products embody the spirit of an industry that prides itself on proposing beautiful, meaningful and high-performance solutions to flooring, wall coverings, furnishing and external paving and cladding.