Makers 1 - Manchester: Celebrating craft in the city.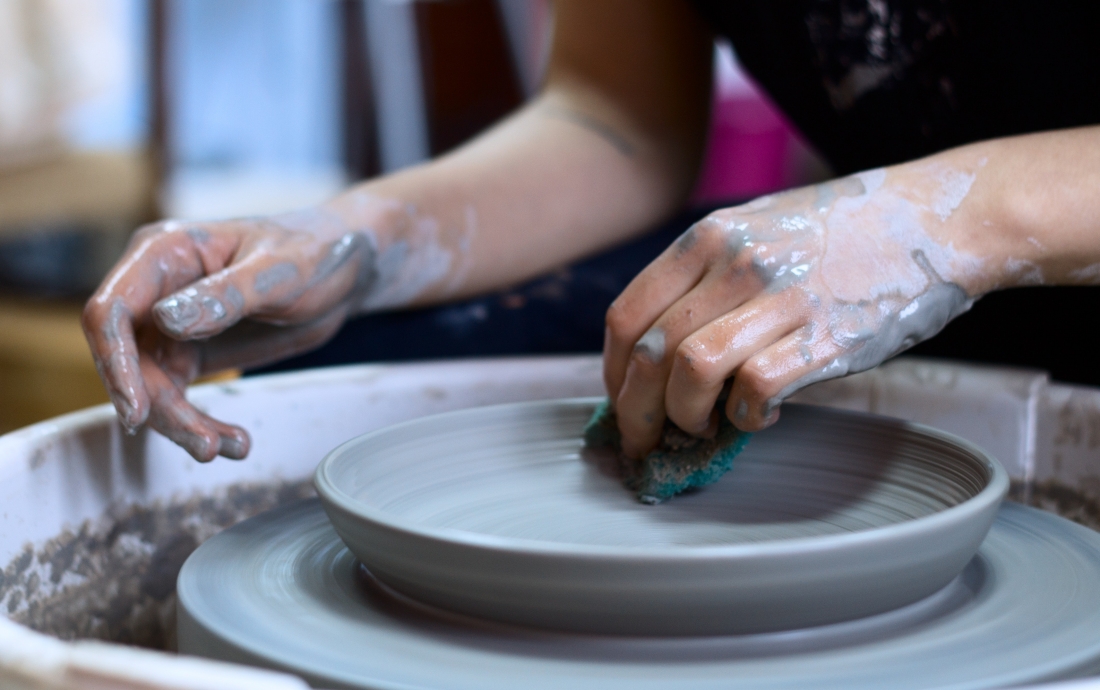 The northern city of Manchester is currently experiencing a design 'moment'. This bustling hotbed of creative talent has, at its foundations, an underground scene of craftspeople, blazing a trail in heritage skills such as ceramics and glassware.
Being keen to shout about emerging talent here at Material Source, and with Manchester being our home, we met with some of the local makers flying the flag for their trade.
Frida Cooper, Ceramics
Frida Cooper is a ceramicist working from a small shared studio in Manchester, producing hand-built and thrown stoneware pots. She strives to make minimal, functional, utilitarian pieces that can be appreciated and used in everyday life.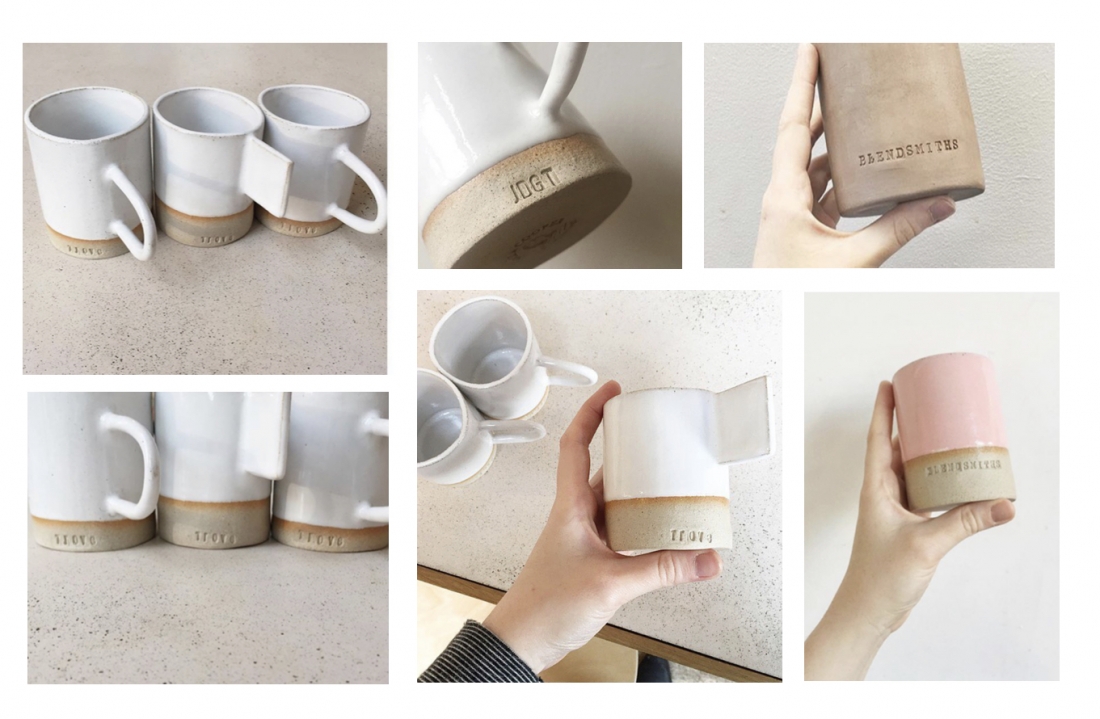 How did you get started?
"I have always been fascinated in ceramics from childhood, my father was a huge influence in this too growing up, with his excitement for beautiful ceramics and Japanese tea bowls. I think from a young age I realised how much nicer it was to eat and enjoy food off handcrafted ceramics. Two years ago I decided to sign up to a pottery class and finally put into action my need for wanting to create table wear, I had some wonderful teachers at 7 Spot Pottery and my love grew from there."
Can you explain your making process from start to finish?
"If you make ceramics, you will know what a weird and wonderful process it is and how unpredictable it can sometimes be. But I find beauty in this as it often leads you down paths you wouldn't normally explore.
"My practice is very varied as I love to hand build as well as throw on the wheel so my time at the studio is always quite different. It all starts with a ball of clay, which is then prepared to be manipulated on the wheel or by hand. Once your piece is created it's left to dry, then put in the kiln for a bisque fire. After being unloaded from the kiln, it's sanded, painted or glazed then put in the kiln for a final fire.
"The items in which I hand build are often quite geometric shapes with the contrast of soft cylinders. These are cut out a little like a box template and fitted together using a method called 'score and slip'. Scoring is to make the clay textured to help it to bond together, and slip is clay mixed with water which acts like a clay glue. I love keeping it simple with neutral colours and creating contrast with different shapes, but always thinking about the functionality."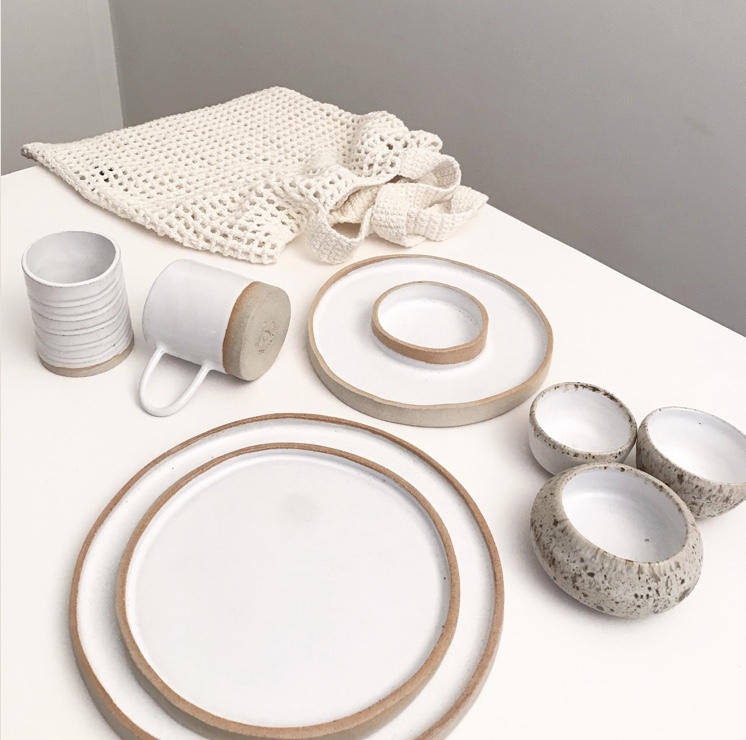 Who do you envisage as your target customer/client?
"I hope my work appeals to a wide audience as my ethos is functional, usable, simple pieces, and I hope my wares are used and fit comfortably in people's everyday lives. I have recently had the amazing opportunity of collaborating with some wonderfully talented people to create bespoke pieces for Blendsmiths, Trove Foods, Cultureplex & AOI.project, which has given me the chance to widen my customer base."
How important is material research and sourcing to your end product?
"Material research is extremely exciting, I love finding new materials, sourcing different clays and making new glazes that inspire me to come up with new ideas. The whole process of my making is done by myself with the amazing support and studio space of 7 Spot Pottery. I'm the sole creator from start to finish, every item is handcrafted by my own two little hands meaning each item is slightly different and unique."
How would you describe the creative scene in Manchester?
"Manchester is full of wonderful, creative and talented collectives and individuals that make a small scene. 7 Spot Pottery – the studio I work in – is a small part of Islington Mill, which is an artist led studio in an old mill in Salford filled with extremely inspiring people.
"Manchester is also lucky to have some inspiring independent shops supporting local makers, which we need to support and keep alive! For example, Form Lifestyle is a beautifully curated space and store in the Northern Quarter."
Jahday Ford, Glass
Bermudian artist Jahday Ford is a recent graduate from The Manchester School of Art specialising in hot glass and mould design. He focuses on the combination of glass blowing with compatible materials alongside multiple digital processes. The materiality of his glass objects changes radically between each making stage, therefore expanding the diverse field of digital-craft.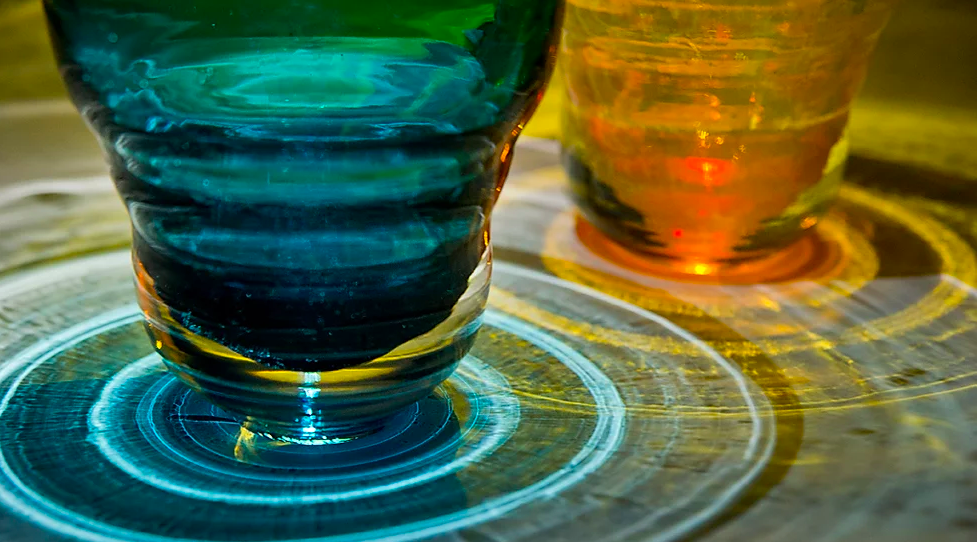 How did you get started?
"My early days as an artist began back home on the Island of Bermuda during my high school studies in art & design. The natural tropics that surrounded me impacted the majority of my relations to organic matter and creating objects primarily in clay and mixed media."
Can you briefly explain your making process from start to finish?
"Initially, I focus on the objective of what it is I want to manifest and/or challenge materially. My practice medium investigates hot glass and its compatible materials including wood, metal, ceramics and digital programming.
"Once I've completed hand and digitally drawn designs, I input each analysis into CNC, water-jet cutting or hand sculpted techniques that forges various types of single, two piece and three piece moulds. Once molten glass is blown into compatible moulds it manipulates the form into very unique qualities and characteristics copying distinct details that couldn't be predicted during the initial designing stages."
Who do you envisage as your target customer/client?
"My client market aim is levelled between gallery and small batch production surrounding multiple platforms. For example, I recently consigned my product to UK based art vendors, gallery shops, exhibitions and commissions for clients at HOME Gallery and Bermuda Airport.
"Most of my customers range from exhibition salesman to post-grad students. Given the price variation of my glass pieces my budget manoeuvres on a monthly basis due to the increasing costs of making hot sculpted glassware."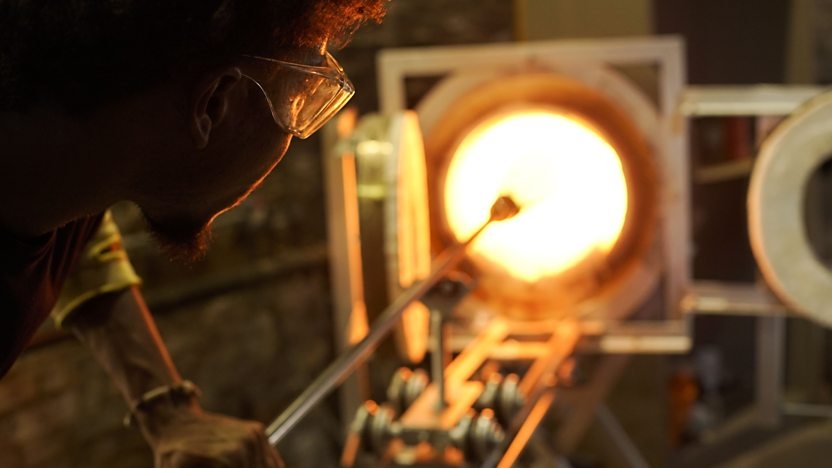 How important is material research and sourcing to your end product?
"For me, experimentation within my practice is the most significant element towards any successful outcome. Mould making, glass blowing techniques and digital machinery all depend on how well glass interacts with its compatible material.
"Years of material investigation in wood showed me how adaptive Beechwood can be when sourced at good quality and thickness. It works 5x more efficiently than other soft-wood or bonded woods, which release chemicals when burned into with glass close to 1000°C."
How would you describe the creative scene in Manchester?
"After settling in Manchester, I've found its music scene and creative community stemming from diverse multicultural backgrounds is what gives the city such a rich identity. I've had the pleasure of collaborating with like minded artists and institutions alongside Manchester Craft & Design Centre, The Whitworth Art Gallery and Manchester International Festival.
Mostly every creative development surrounding me has roots from South America, Caribbean, Africa, China and even Bermuda, which was a surprising encounter given our population is a massive 65K!"
MissHandled - Amanda Tiller, Homewares
MissHandled is an independent Manchester-based homeware brand which uses Jesmonite to create uniquely stunning geometric pieces. Although each MissHandled piece is completely bespoke, the brand is instantly recognisable and works with an unmistakable synergy. Playing with bright colour palettes and a distinct marble effect, the pieces are eye-catching and timeless yet effortlessly modern.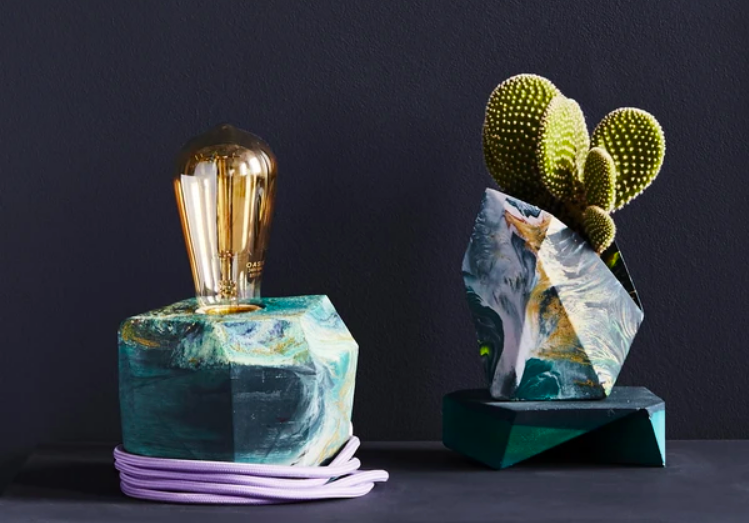 How did you get started?
"I started after doing a 3D deign degree as a mature (34yr old) student... I wanted to make and create, be unique and design something interesting. I started to buy Danish furniture and up-cycle it, then I thought there weren't any interesting handles to make each piece unique. So I started to play with materials, resin, plaster, clay and then discovered Jesmonite, I then found the perfect shape to transform into handles, then started to perfect the colouring and marbling. This is how I came up with my name MissHandled...Miss used furniture with handles!"
Can you briefly explain your making process from start to finish?
"I design my products by sketching, then I build them in 3D using different materials to get a former shape. I then take the shape and mould it in order to make the product. Then I hand mix the Jesmonite liquid and mineral stone powder together, adding in colour (red/blue/yellow/black/white) then mix and make the colours up each time by eye, marble the colours and then pour into my mould.
"I have only 5-7 minutes to make each mix as it sets very quickly, disasters do happen! I then leave for 2-3 hours demolishing, then leave to dry for 24-48 hours to let the water evaporate! Then sanding begins to get rid of any excess on the mould joints, then I seal twice. I then make some products into hanging planters, clocks, jewellery by drilling holes etc, then the final stage is to wax, and you get my finished piece."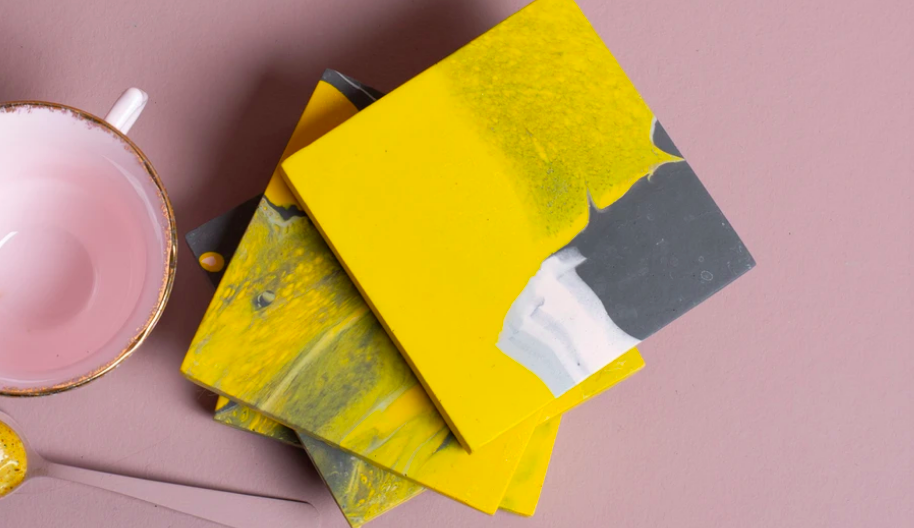 Who do you envisage as your target customer/client?
"I am learning as my business grows who my target customers are, I'm still not sure, but the lovely bunch who do purchase from me and even write me lovely messages and come to visit my markets to say 'hi' seem to be very colourful, love something no one else has, and likes to see my work in person and choose each piece selectively! And lots of fellow markers who really appreciate hand crafted design - thank you guys!"
How important is material research and sourcing to your end product?
"It was very important to get my materials right as it needed to be something natural, no toxins, water based and heatproof for the plans I have! But also to be able to dye it to make beautiful colour combinations that keep their pigment!"
How would you describe the creative scene in Manchester?
"It's brilliant, I am in a few creative groups which are there to support each other with any weird and wonderful questions we all ask! I have also met lots of brilliantly talented new friends too, we meet regularly (for wine) and chat design, colour, dogs, and everything in between! Manchester is a great hub for artists, I am based in a studio in Ancoats, full of other artists and small biz owners, I love it, I am originally from Aberdeen in Scotland, and I feel Manchester is the place to be!"
Michelle Keeling, Glass
Michelle creates contemporary kiln formed glass in studio 26 at Manchester Craft and Design Centre. Michelle established her creative practice in 2005, creating her studio glass range of jewellery, interior accessories and wall art, alongside creating large scale artworks for corporate environments.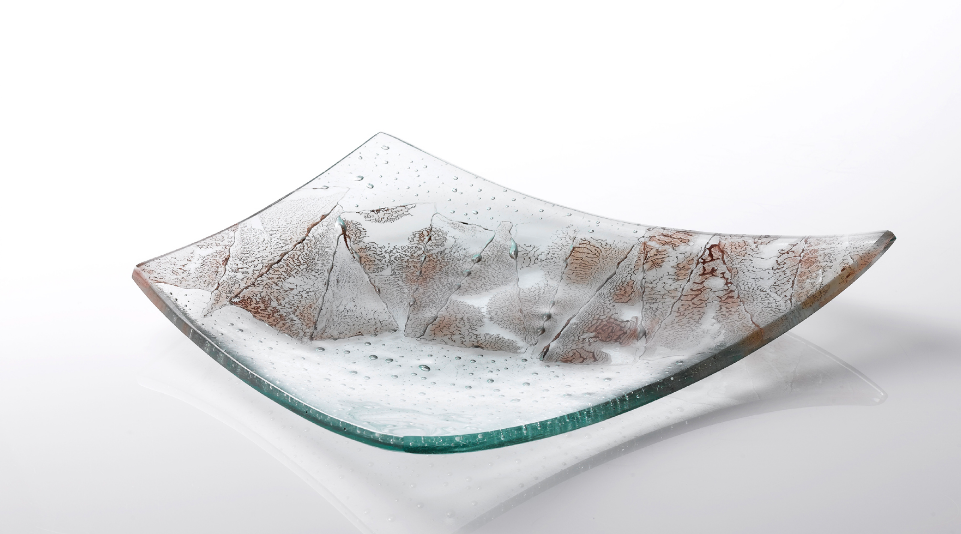 How did you get started?
"I have always known I wanted to do something creative but wasn't really sure until very close to the end of my degree what that would be. I took a fairly standard creative education route from A Level, through Art Foundation and onto my degree. I chose BA (Hons) Decorative Arts.
"We got to try a bit of everything - wood, metal, ceramics, glass. I was using plastics in my final year - slumping perspex and casting with resins and my tutor kept on saying to me that what I was designing looked like it should be made from glass. Glass has a weight to it that the pieces were lacking and so after a lot of persuasion I tried it and found my material!"
Can you briefly explain your making process from start to finish?
"I work with kiln formed glass, so I am working with layers of sheet glass, which get melted together in the kiln. Most of my pieces are three or four layers of glass and I put various inclusions in the middle layer(s) to create my designs. There's an element of chance to the pieces, so I put the colours and patterns where I want them to go, but exactly where the bubbles appear and the details of the pattern, happen when the inclusions are exposed to the heat of the kiln.
"This means that I can repeat pieces but each one has its own unique qualities. The flat piece is in the kiln for almost 24 hours and then starts the cold working process. I have a few different ranges, so for some of my work, I will simply grind the edges and then they'll go back into the kiln to re-fire; but with my polished range I will continue through the polishing stages to bring the edges of the glass back up to a polish.
"They're a bit of a labour of love! Once the edges are finished, most of my interiors pieces will go back into the kiln to slump into the shape that I want them to be. Slumping is basically using heat to bend the glass."
Who do you envisage as your target customer/client?
"I think it really varies. With my jewellery, I find they have quite a wide appeal for different reasons for each customer.
"I make big statement pendants right down to quite dainty stud earrings, but all within my style. With my interior accessories and wall art, I've seen them fit into all different styles of decor - from quite traditional to very modern.
"I've worked a lot to commission with my interior work, which gives the client a chance to really be part of the process and for me to understand what they want and tailor the pieces to fit their home, again though still working within my style."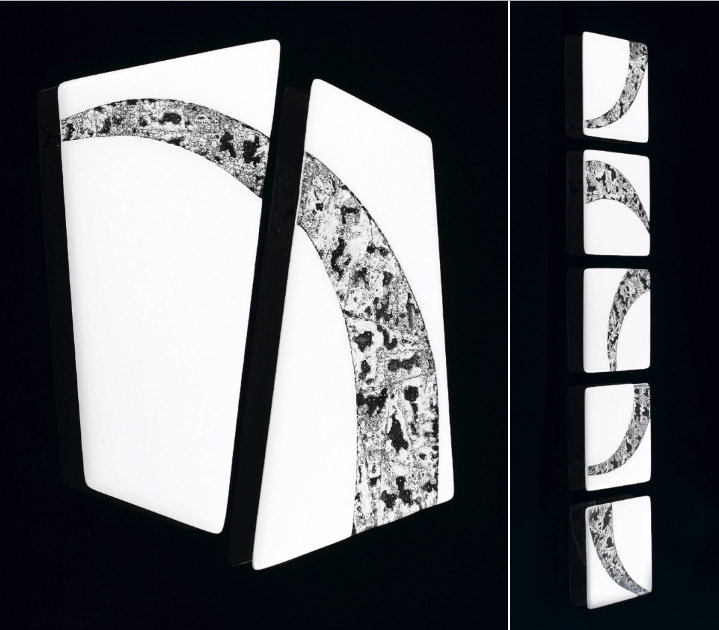 How important is material research and sourcing to your end product?
"I think it is really important to research and understand your material - with glass, you can get all sorts of effects just by tweaking the temperature, so it's really important to experiment and learn what the glass can do.
"I've been working with glass professionally now since 2005 and I'm constantly trying out subtle changes to develop my work further. In terms of sourcing, I design the metal fixings for my wall work so that they are integral to the pieces, and so it's been important for me to source other tradespeople that I can trust to fabricate these.
"I am a perfectionist, so even with my jewellery range, I have worked with a jeweller to facilitate some of my ideas for findings. My brooch backs for example are made for each piece, so that the silver is just as much a part of the piece. It's the small details that make a difference I think."
How would you describe the creative scene in Manchester?
"I think Manchester has a really vibrant creative scene. I have worked from the Manchester Craft and Design Centre for the last three years and there's such a variety of hugely talented craftspeople just under that one roof. You're never far away from a specialist if you need some expertise from another discipline! It's more than just the city centre too - there's a number of arts trails that take place in various suburbs of Manchester (Sale and Heaton are two well known ones).
"Professional artists and makers open up their studios for the weekend, showing their own work as well as inviting other makers from the area. I've exhibited at Sale Arts Trail for a number of years and it's amazing when you go around, how much creativity there is, quietly going on in people's garages, gardens, spare bedrooms!
"I sometimes feel surprised though that given the amount of creative talent, that there aren't more permanent outlets for selling craft in the city. We're lucky though that we also have a number of really good quality shows, for example the Great Northern Contemporary Craft Fair, that champion high end but accessible craft.
"Unfortunately I am also seeing more pop up makers fairs who don't always place the same emphasis on quality and genuine craftsmanship and this can be a confusing message for our customers. That said, I think creatives are very enterprising and there are maker/artist led events and collaborative projects happening and that's really positive for Manchester's creative scene."
Main image: Pexels