MONIKA Studio to deliver a new co living concept for Kosy by Brundell Property Group.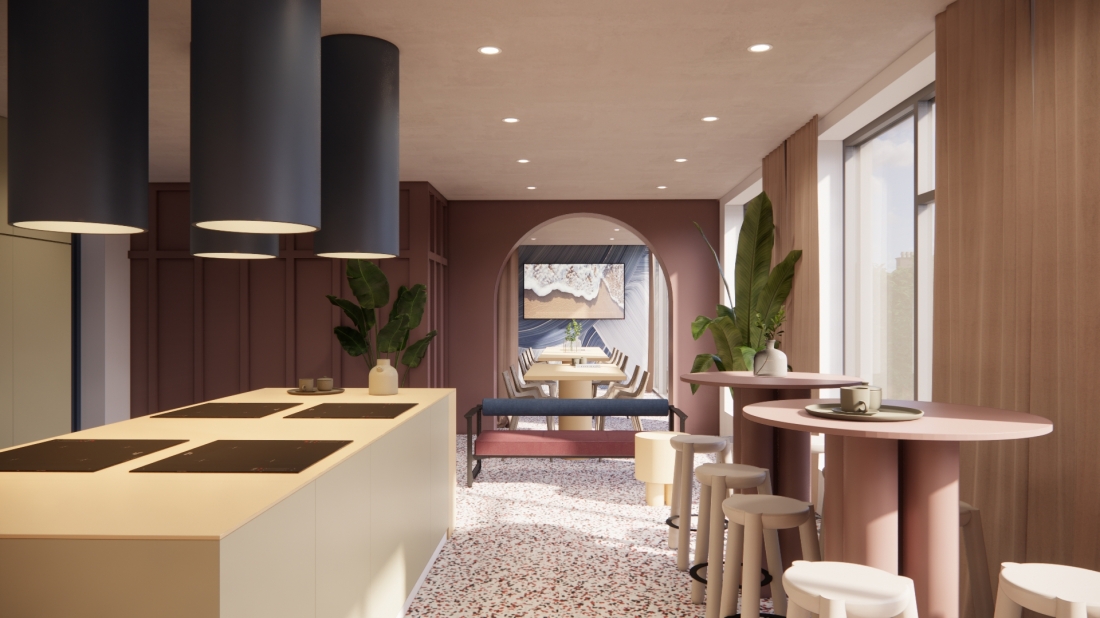 MONIKA Studio has been appointed to deliver a design concept in co living for new lifestyle brand Kosy created by Brundell Property Group.
Kosy's ambition is to re-define modes of living across a range of typologies and user groups, and its co living development in Brighton will be the forerunner to its ambitious UK rollout plan.
MONIKA Studio developed the proposals in creative partnership with industry experts ZUZU, and award-winning building operators BOHO - who bring their unique philosophy and significant market experience to the project.
Brighton's unique demographic, bold culture and exceptional location make it a perfect destination for Kosy's ambitions to deliver, not just a single building, but a series of neighbourhoods which come together as a full-scale co living village. Melbourne Street will be the first phase of this exciting scheme.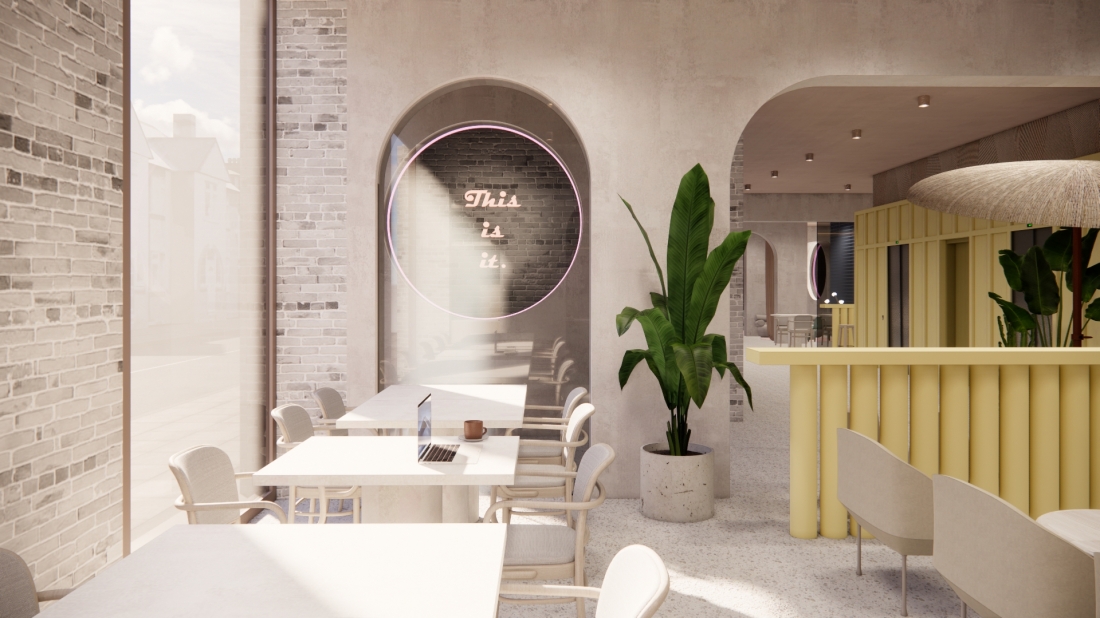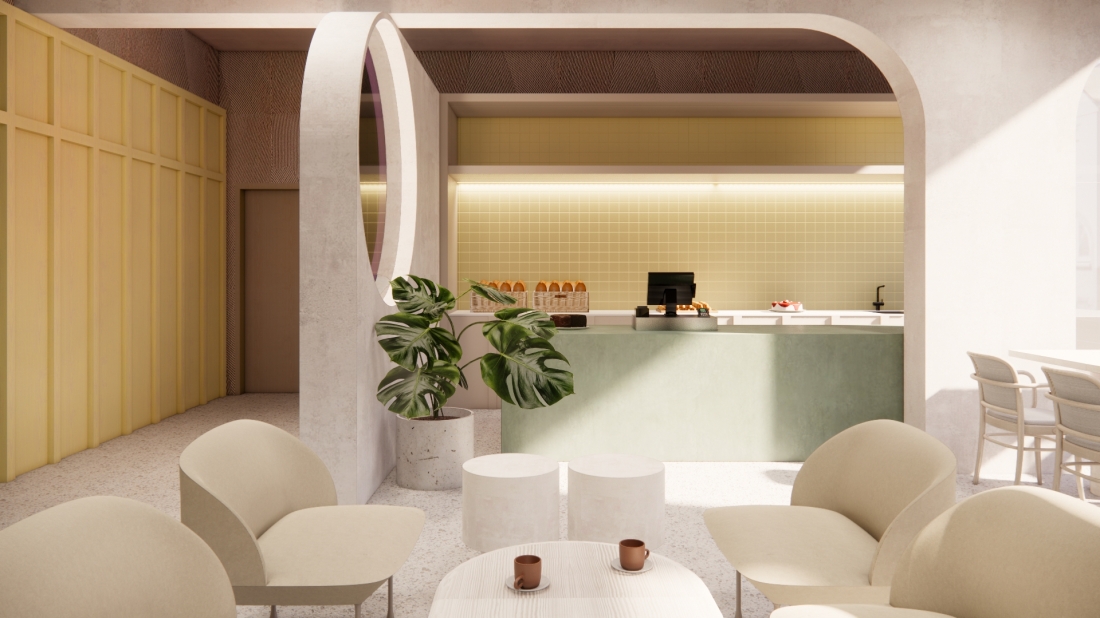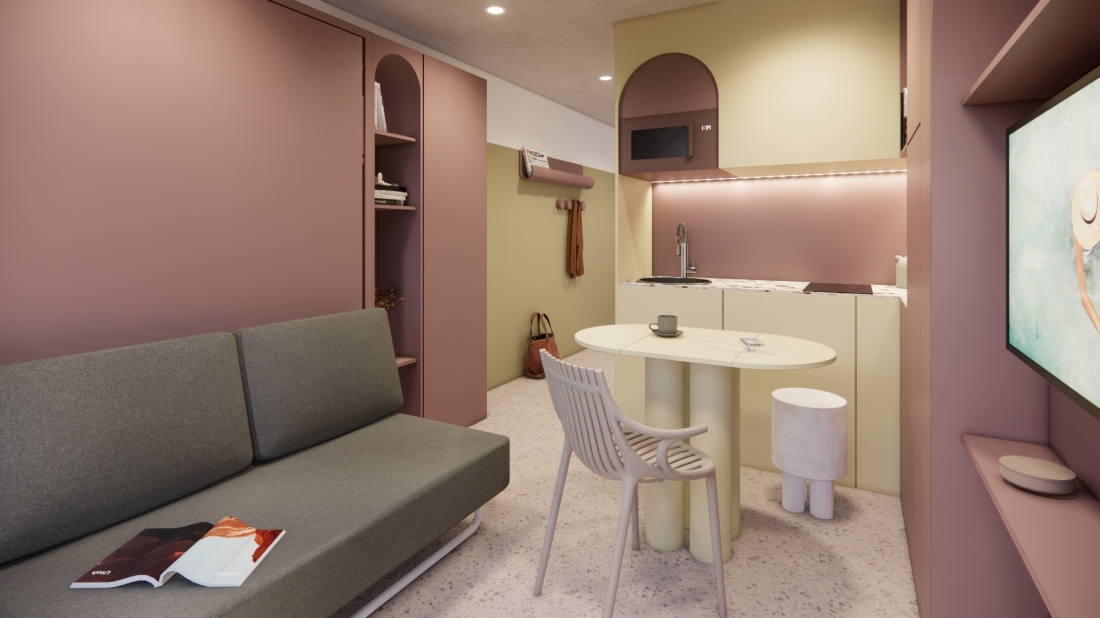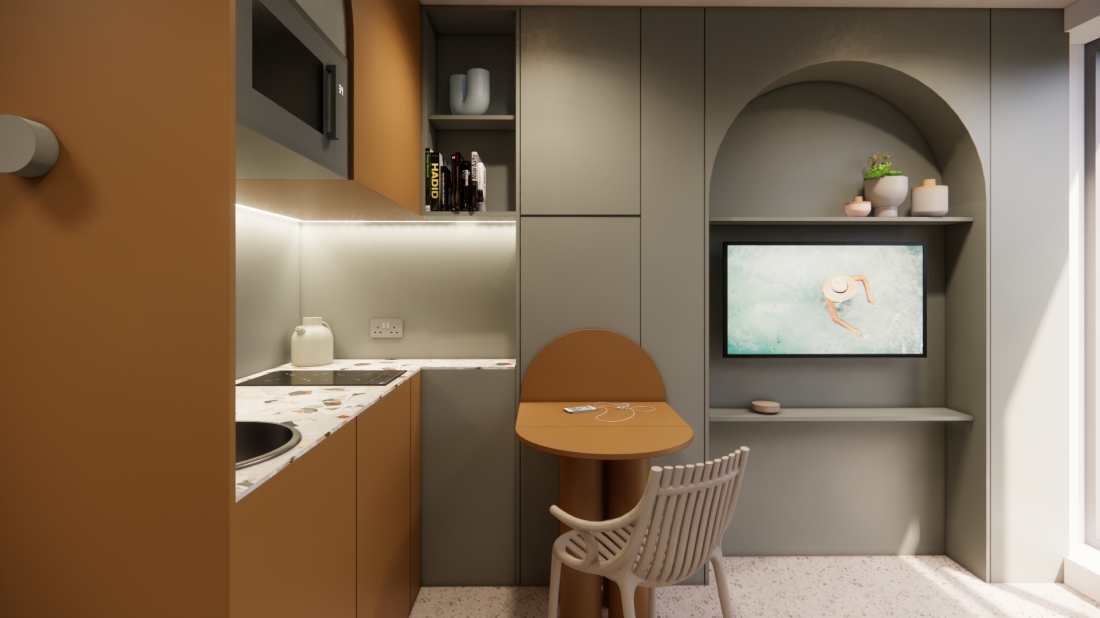 MONIKA Studio seeks to graft Brighton's unique identity and cultural heritage into the conceptual narrative for the project. This has a strong link to Kosy's brand DNA of contextual, flexible and sustainable spaces, in a creative community of contemporary thinkers and doers.
The first phase of the project will see the development of 83 transformative studios complete with co working spaces, a cafe, roof top terrace and a range of shared spaces for cooking, dining and socialising as well as making and creating. MONIKA Studio has focused on creating a story for the design which will help the residents find their purpose in Kosy's mini universe.
The visual narrative developed by MONIKA draws strongly on Brighton's seafront location and playful recollections of Great British Summer Artefacts, colourful rock candy, beach balls and sun umbrellas.
The ground floor space has been designed to flow between a series of feature archways, structures, and objects reminiscent of sandcastles and beach activities which create pockets of function that facilitate parallel work and play for the users, in spaces where privacy is as valued as social connection.
All spaces are designed for 24hr use with a focus on flexible arrangements so that the co working environment can be transformed to a lively break out space or evening retreat.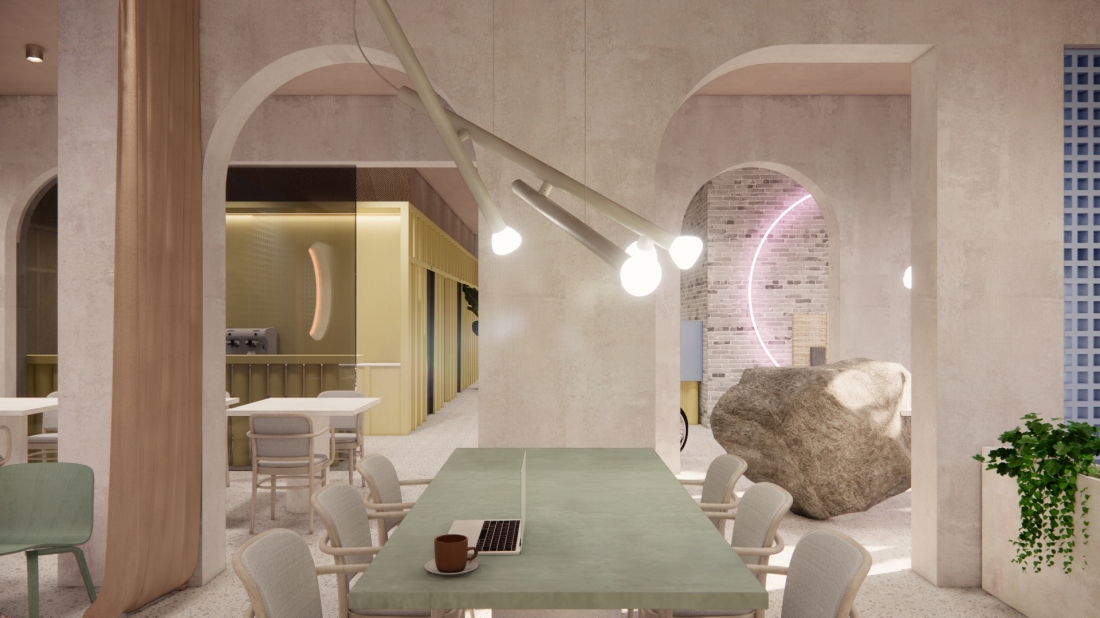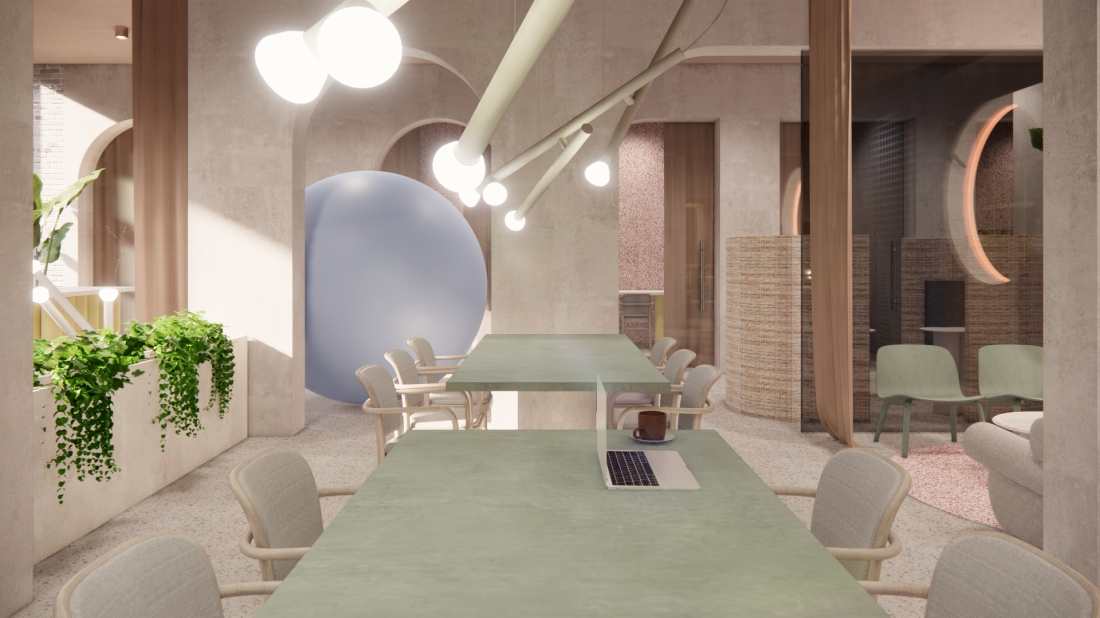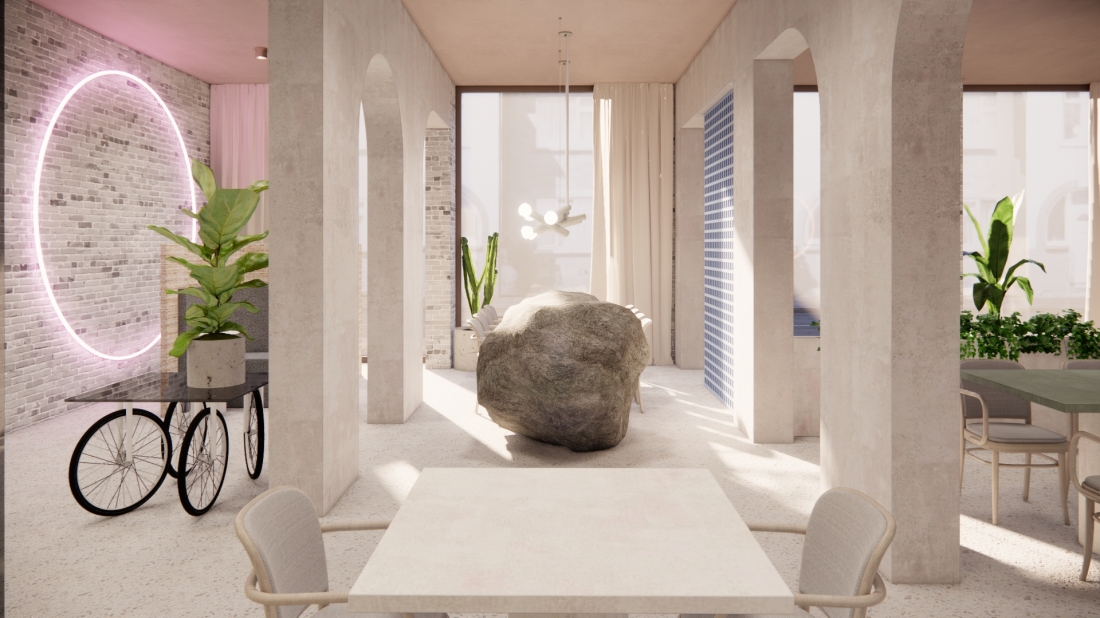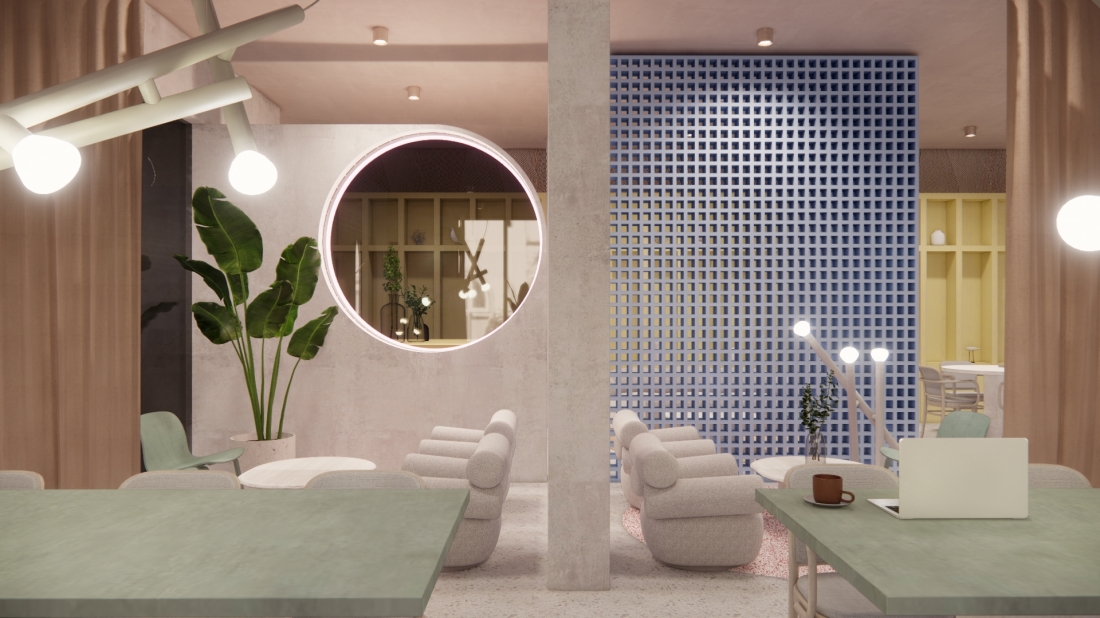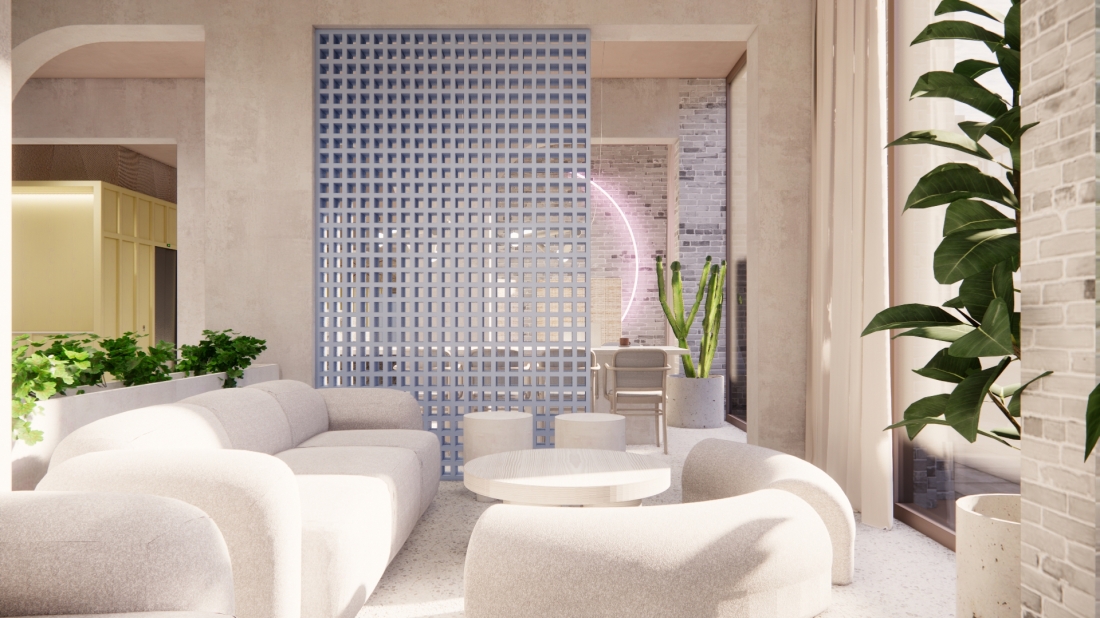 BOHO who will be managing the property once operational, have plans for regular social events for residents to get to know their neighbours and connect with the co working space users. From games nights and networking events to DJs and live music, the flexible design will allow for spaces to be easily transformed for a multitude of events.
The concept strives to be responsive, with as little fixed structure and furniture as possible, to facilitate ever changing uses and needs whilst remaining inspiring and engaging.
Objects placed in the spaces remind us of the need to stay positive and playful - an oversized beach ball and a collaboration table built around an unearthed 'boulder', coupled with feature lighting that references candy and marshmallows. These all help create a light-hearted backdrop for curious and inspiring exploration.
The material palette has a very neutral background accented with uplifting pastel tones. The interiors are intentionally curated to facilitate an emotional response and encourage resident's own involvement in shaping their environment.
The natural colour palette is consistent throughout the project but within the studios this becomes richer and more defined referencing deeper earth and sea tones to create a more nurturing living environment.
Rooms have been designed to allow their users to transform the space according to their needs and mood, from an ambient bedroom to a cosy lounge and from a workspace to dining area.
Personal spaces strive to deliver a high-quality environment that maximises storage and functional adaptability whilst allowing a degree of personalisation - helping nourish a sense of ownership and permanence.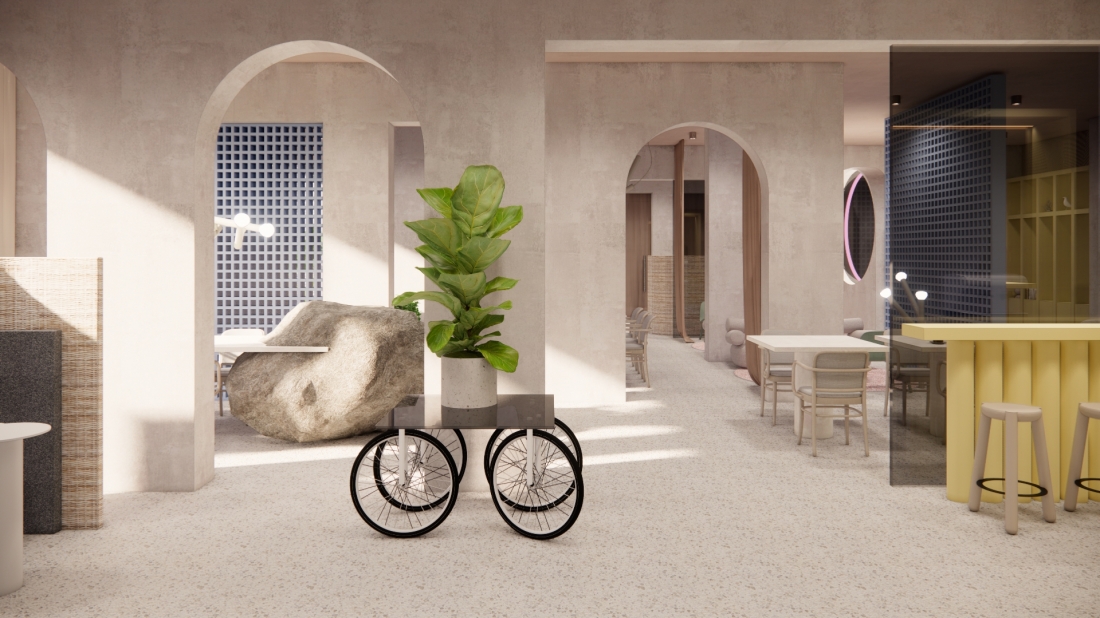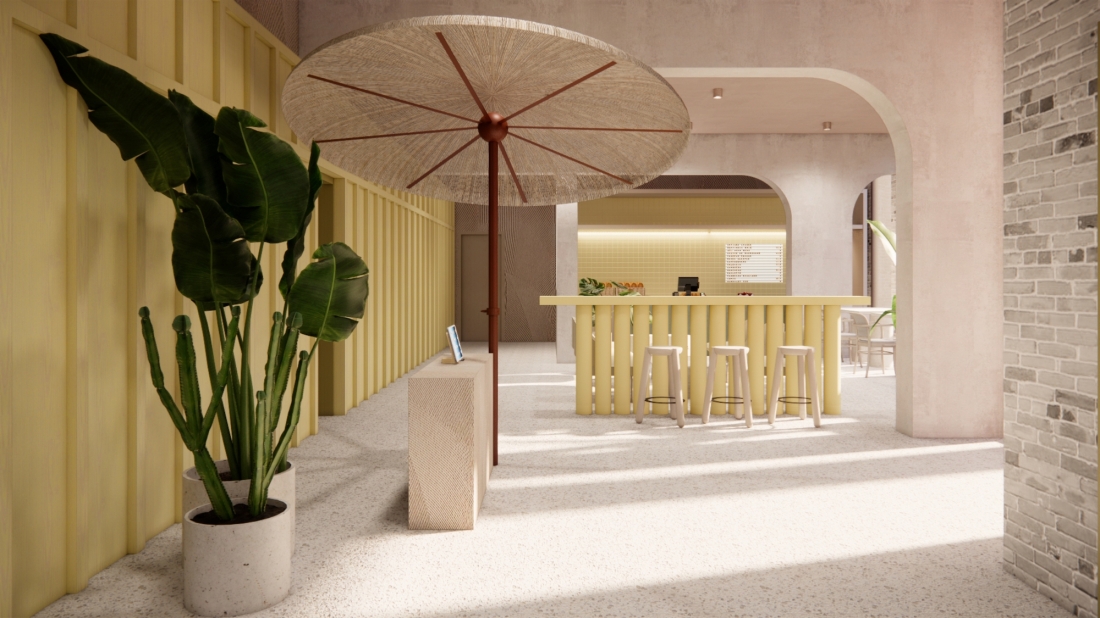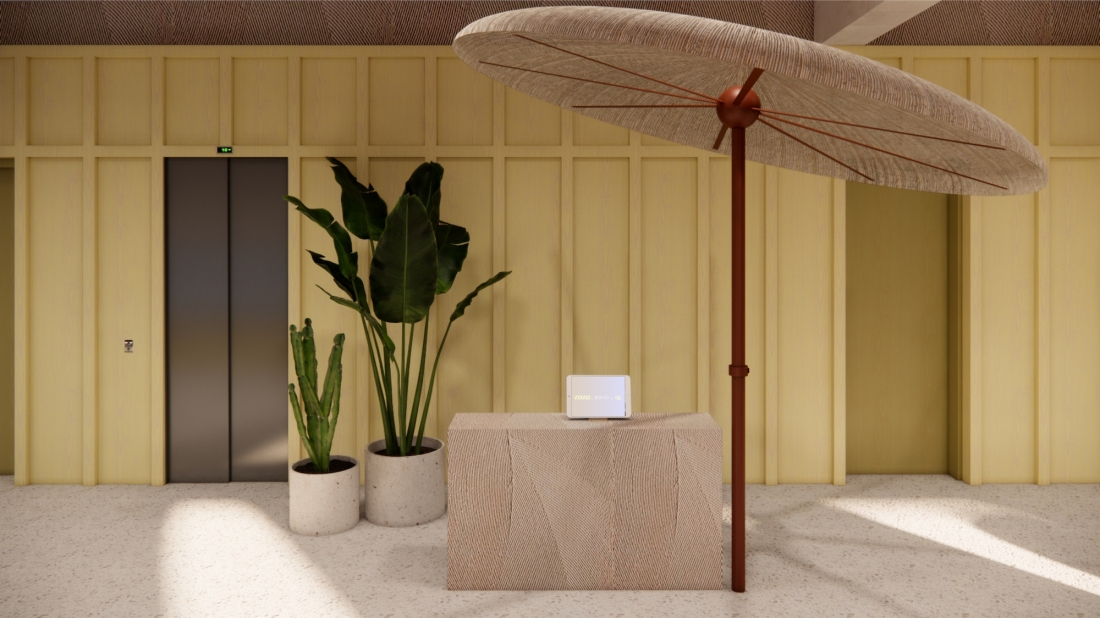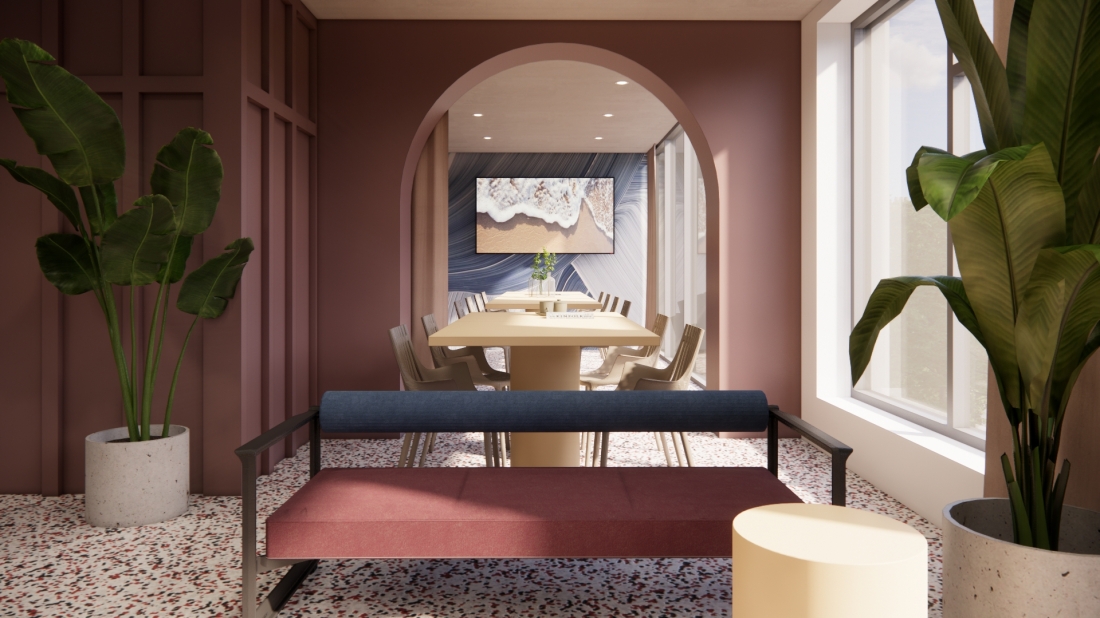 Kosy is committed to finding sustainable solutions for its buildings and using alternative materials which have been re-used or recycled, as well as energy management solutions in attempt to keep their carbon footprint to a minimum.
MONIKA Studio has incorporated into the design the walls to be lined in natural clay plaster, chosen not only for its aesthetics, but also as a low carbon footprint alternative and for its enhanced acoustic performance.
Material choices prioritise circular solutions, such as using Tarkett intelligent quality circular vinyl flooring, Ege carpet tile and recycled plastics from Smile Plastics.
The team are also currently exploring the possibility of re-used commercial packaging and waste for internal cladding and other fixtures in the scheme.
The concepts of circularity and efficiency are not just delivered through the physical creation of space but also the technological management.
Property consultancy firm ZUZU is working alongside the team on the building design, mobilisation and operational management plan. This includes the installation of an industry-leading energy management and resident wellbeing solution which aims to reduce energy consumption and carbon emissions.
IOT sensors will be installed to measure temperature/climate control, light, CO2, noise, motion, and occupancy to feed back in real time. The multi sensors allow for a building-wide wellness score to be created, ensuring residents are living and working in optimal environmental conditions.
MONIKA Studio has coupled their creative and purposeful approach to design with a strong philosophy of activation. Management and operational transformation, through collaboration with ZUZU and BOHO is set to deliver a mini neighbourhood where residents can thrive as individuals as well as part of a growing community.