Natasha Bonugli of The Bon Collective on delivering quality over quantity, authentic spaces & repurposing materials.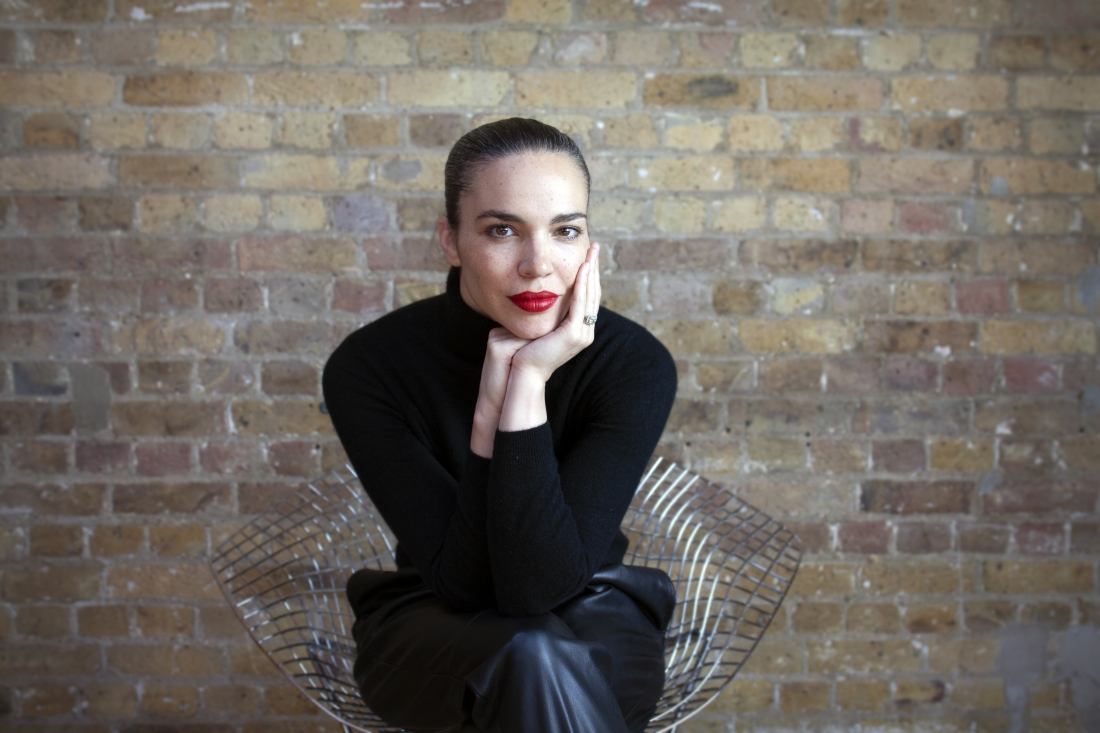 To say Natasha Bonugli was an industry heavyweight would be an understatement. With a CV that most designers could only dream about: Pringle Brandon (now Perkins + Will), Woods Bagot, BDG and Unispace all feature, and now having launched a cutting-edge practice of her own: The Bon Collective, Natasha is a tour de force.
Originally from Boston, Natasha studied architecture at Syracuse University before taking a job at the city's largest construction company. In 2005, she headed to the UK, taking a role at Pringle Brandon (now Perkins + Will) to work on Portsmouth's Mary Rose Museum. From there, directorial and principal positions followed at Woods Bagot where Natasha was head of workplace interiors for Europe, at BDG where Natasha was director of workplace, and at Unispace as global principal design, EMEA & North America.
This year, Natasha has launched The Bon Collective, a practice that tells stories and creates experience for its clients and users. We recently chatted to Natasha about her ethos and vision for the business, the future of the workplace sector and the importance of material selection.
Firstly, congratulations on launching your interior design practice, The Bon Collective. Can you please give us an introduction to your mission and key areas of focus?
"Our mission is to inspire our clients with a finished project that goes beyond their expectations. Our philosophy is to produce unique and individual design results that not only reflect our clients or their brand but enhances their lives.
"We are storytellers and experience makers at heart. We are passionate about all facets of design and believe it's an essential component to delivering a comprehensive and successful project. The focus is always on creating spaces that are authentic, refined and genuinely reflecting a client's personality or brand. As a collective studio we strive to always approach the built form, materials and project briefs with a worldly outlook, eschewing trends in favour of a more considered, directional and wholly tailored approach leading to contemporary designs of a refined and timeless nature. Client experience and service is our number one priority.
"We take pride in the fact that we don't have a house style, we design and bring our clients' visions to life. Every project is approached with the same rigour, passion and attention to detail. It is about the perfect balance between aesthetics, practicality and longevity.
"At the moment, our key areas of focus lie within the workplace and residential sectors. However, our teams expertise spans all sectors. We hope to expand more into hospitality in the future as well as product design, branding and other collaborations. The idea behind the collective is to bring the right expertise in for each project depending on the scope and brief. We believe in a multidisciplinary approach."
What inspired you to set up on your own?
"To be honest I have always wanted to set up my own practice but it just wasn't ever quite the right time. These past few years have put things into perspective and there have been a number of factors that solidified my decision to finally take a risk. Having my own practice gives me the freedom to be selective about the projects we work on across all sectors, the ability to have a better life/work balance by spending more time with my partner and three year old son Hugo, and the opportunity to build something unique from scratch. This year everything seemed to just fall into place after a few clients got in touch directly - so I knew the time was now.
"As my career progressed over the years and my roll eventually evolved into a global one, I found myself less involved in projects on a day to day basis and spread too thin across multiple facets of management. My passion is design and working closely with clients so I wanted to get back to delivering bespoke solutions and being hands on with a team. For me it has always been about quality rather than quantity. There is a real gap in the market to provide a premium boutique service to clients."


You have a keen interest in workplace. How have you seen the sector change since the start of your career?
"Workplace Evolution: Every five years or so a new occupational style seems to emerge in the world of workplace and over the past eighteen years I have seen styles evolve from cellular to open plan to activity based working and to agile environments. The rate of acceleration that we are now experiencing because of the pandemic would have normally taken years to roll out. Trust and autonomy have come automatically for the workforce and it is all about giving people choice and flexibility moving forward. Future workplaces will be destination hubs to pull people back into the office for collaboration, innovation, problem solving and community building. As talent pools expand with the ability to work in a hybrid way, organisations need to put their people first in terms of retention and attraction.
"Blurring of Sectors: Cross sector influences have been present for years with workplace taking cues from the world of hospitality, retail and education. The hospitality sector and experiential design has influenced the types of spaces we now include in offices, how we accessorise spaces and how we create varying moods through the use of lighting levels. The retail sector has shown us how to design flexibility from day one and develop a reusable kit of parts whilst many organisations have been inspired by the education sector to develop new programmes/platforms for training, developing and nurturing their staff.
"Data, Integration of Tech & User interface: Offices are becoming far more customisable based on people's data. Workplace apps are allowing our clients to adjust preferences to suit their daily needs as they occupy space. While offices continue to evolve, the future workplace will see interesting advancements in what amenities are provided in personalised environments, the types of technology to enable to you to connect simultaneously with people face to face as well virtually and furniture and settings that are better for our health. There will be a stronger focus on people and their needs based on the task they are doing when they are in the office."
As the world starts to open back up, how do you think workplace can adapt to suit the new requirements of the post-pandemic social landscape?
"As humans, social interaction is essential to every aspect of our health. The COVID-19 pandemic forced big changes in the way we work, but even more in the way we socialise. The post-pandemic social landscape is based on a key difference from the pre-pandemic: people now better recognise what works remotely, and what doesn't. In a year of accelerated learning, finding the right balance between the physical and digital life has been a challenge of its own. In a hybrid/balanced model, physical proximity will bring advantages to those who can be present, while those who can't will take part digitally. Future workplaces need to be designed to accommodate both physical and digital interaction.
"We have been thinking a lot about the future of the office and how we create destination environments that people love being in - not have to be in. Now that we can work anywhere, we have come to the realisation that the office may not necessarily be the best place for concentration work for some but it is irreplaceable for ideation, collaboration and sharing ideas. This is particularly important for junior staff who learn, in large part, through osmosis from their senior peers. Face to face interaction will always be important for the development of certain skills."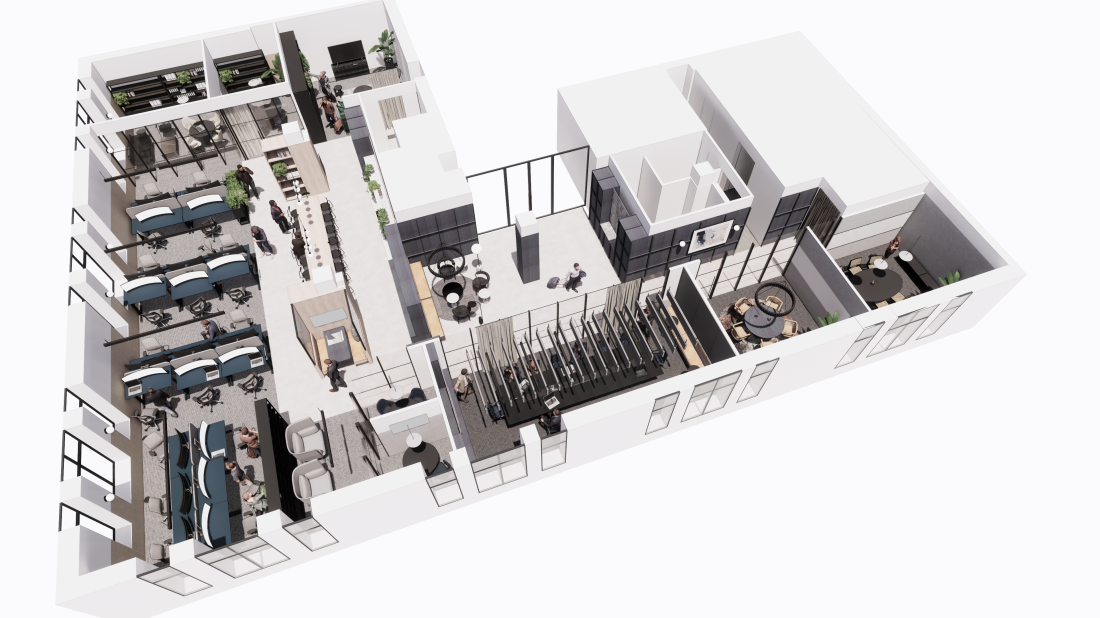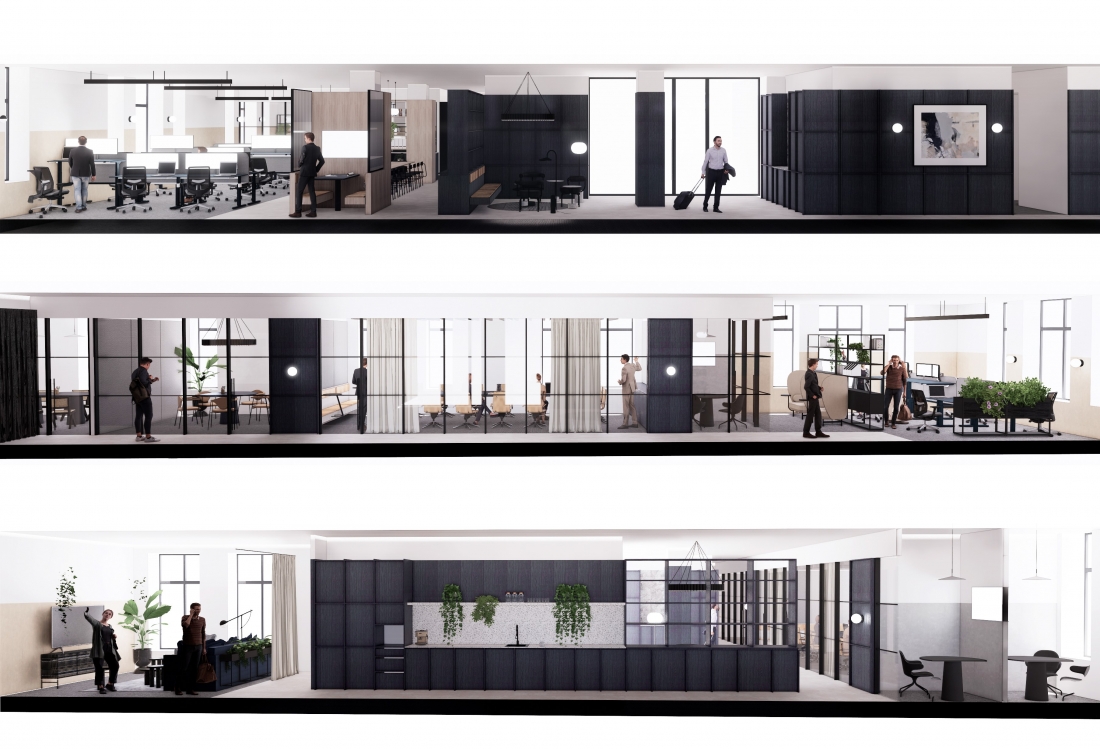 You also specialise in residential design at The Bon Collective. How have you seen this sector change?
"My previous experience in the residential sector has predominantly been for large developers or PRS (Private Rented Sector) schemes. Over the years developers have realised the importance of creating a sense of place within their schemes. Vertical communities have become an extension to the flat you buy or rent within a development starting with the activation of the public realm at ground level, and the provision of state of the art amenities dotted throughout the rest of the scheme.
State of the art amenity spaces have evolved to now include concierge services, member's clubs and lounges, restaurants, fitness and wellness centres, co-working spaces, cinema rooms, rentable spaces and a variety of gardens or green spaces to enjoy.
"When it comes to private residential projects, we believe a home should be a reflection of its inhabitants - the places they've travelled to and the objects and ideas that have inspired them."
Do you think the lines between commercial and residential design are blurring?
"Yes as I mentioned before I believe the lines between commercial design and a number of other sectors including residential design have been blurring for years. Workplace environments are becoming more and more like the home in terms of the variety of spaces and settings, the use of softer furnishings, how we accessorise and dress the space – I like to call this "Homing from Work".
"Also now that the home has become an acceptable place to work moving forward for most, having a proper work set up at home is high on everyone's agenda."
Where do you seek your inspiration?
"Our inspiration is drawn from a myriad of sources both past and present - travelling the world, experiencing new cultures and places, meeting new people, fashion, art, architecture and of course nature.
"Project specific inspiration can be from getting under the skin of our client's brand or the specific location of the project and its history. We look for ways to bring the storytelling of spaces to life. We also use a number of online resources including Pinterest, Instagram, blogs and digital magazines."
How important is material selection in your work?
"It is essential in what we do as it sets the tone for the scheme – masculine vs feminine, modern vs. traditional. One particular material can form the basis for an entire concept design.
"As a practice we are drawn to creating timeless schemes allowing the users and their belonging to bring the personality to the space. More recently we have been trying to break out of our comfort zone playing more with colour, pattern and the juxtaposition of materiality."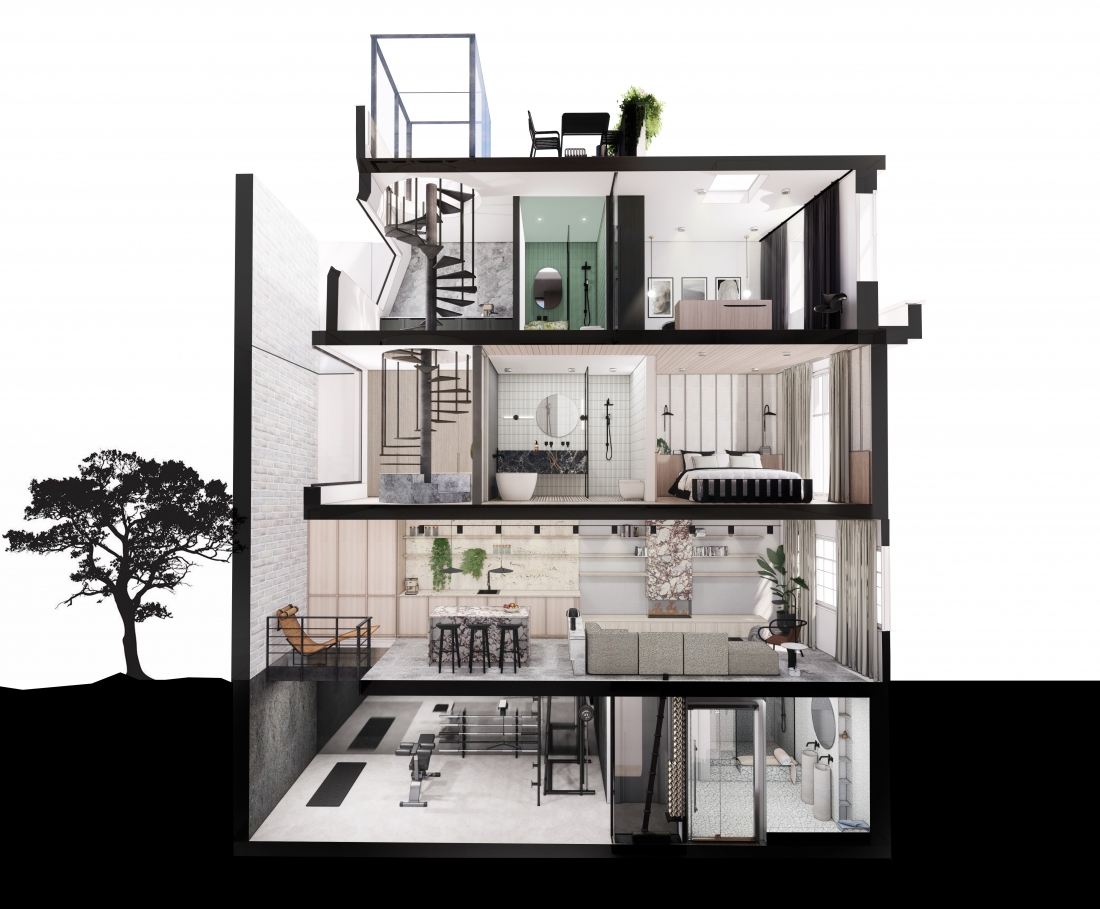 Do you have a favourite material to work with?
"It is hard to choose one material but we tend to go for authentic materials and love to play with their raw and refined forms - marbles and other stones, concrete, mixed metals and timber. Multi sensory experiences can be created by layering textures and materiality giving a project more depth and interest throughout.
"We have been experimenting a lot with repurposed materials from existing sites. For one of our residential projects we salvaged the original marble floor tiles and cut them down into smaller wall tiles in the guest bathroom. We have also reused original timber floor boards and created benches, headboards and the framing around new Velux skylights as a ceiling feature."
What are you currently working on?
"In terms of workplace, we are on site with a project for a boutique investment bank and about to commence the concept design for a 100,000ft2 unique co-working project in a repurposed retail space – both in central London.
"At the same time we are extremely busy with a variety of residential projects including the interiors for a mews house in Kensington, a flat in Shoreditch, a penthouse flat in Tower Hill and the refurbishment of a small flat in Paris."
And what's next?
"Our client from the investment bank has asked us to design the interiors and select the furniture for their new 5,000ft2 ground up family home in NW London as well as help them find an industrial property to buy and convert as a location to store their luxury car collection and create a hang out space away from the main residence.
"Together with our co-working client we are also reviewing three other potential sites for their next projects in London."