Panaz COO Rollie Attard on heritage and innovation, collaboration and being a business hero.
Panaz is a global supplier of high quality decorative fabrics and wallcoverings for the hospitality, healthcare, cruise and corporate sectors.
For more than 30 years as UK fabric suppliers, the company has focused on design excellence and differentiation through technical innovation resulting in a diverse and comprehensive range of beautiful, exclusive and durable fire retardant furnishing fabrics.
We recently caught up with COO Rollie Attard to find out more about how the brand became established, its current projects and how it is supporting clients during the Covid-19 pandemic.
Tell us about Panaz?
"Panaz began operations selling fabrics from the corner of an old Lancashire cotton mill. Textiles are really part of the heritage of the area, so growing the business until we owned that first mill and beyond, while creating new fabrics and new jobs alongside, has always been something we've been very proud of.
"In 2015, we celebrated our 30th anniversary and opened our current headquarters, still in the heart of Lancashire. We've opened an office in the US and now have representatives in more than 80 countries.
"It's been incredible to see the company grow from just a small handful of people to becoming global designers and suppliers of fabrics. We're excited to see where we go next."
You have a wide spread of products available covering all sectors, tell us more about your product design process?
"We pull design inspiration from everything around us but our philosophy is fundamentally grounded in our commitment to making innovative, safer, longer lasting contract fabrics without compromising on look or feel.
"Textiles are such tactile products, we spend so much of our lives in contact with them that it's vital that everything we create satisfies our aesthetic and textural needs as much as it satisfies performance needs such as abrasion, fire retardancy and antimicrobial resistance testing.
"It's the challenge of matching those two demands which drives us and successful product development across such a wide range requires close control from the day the product concept is conceived to the day it's launched."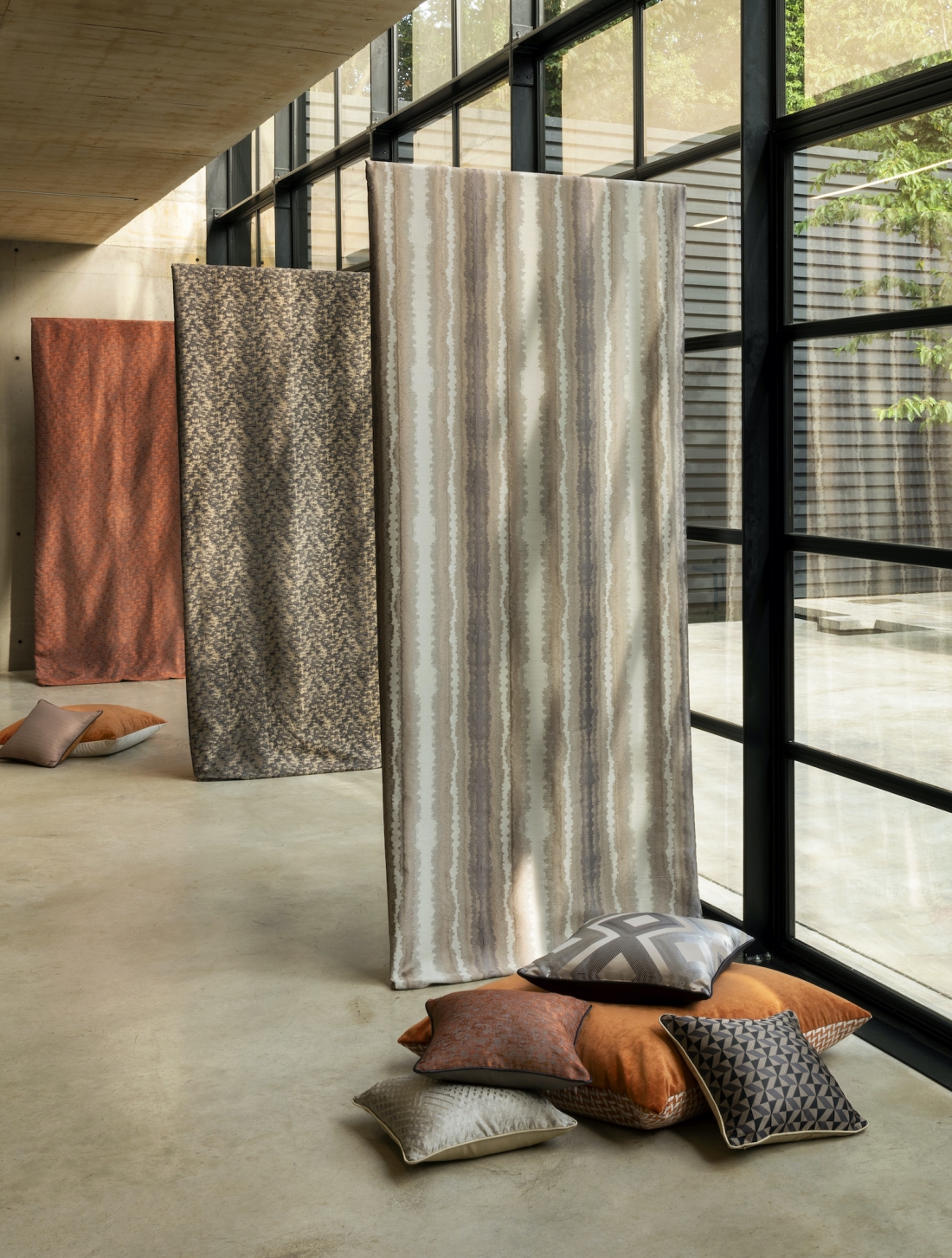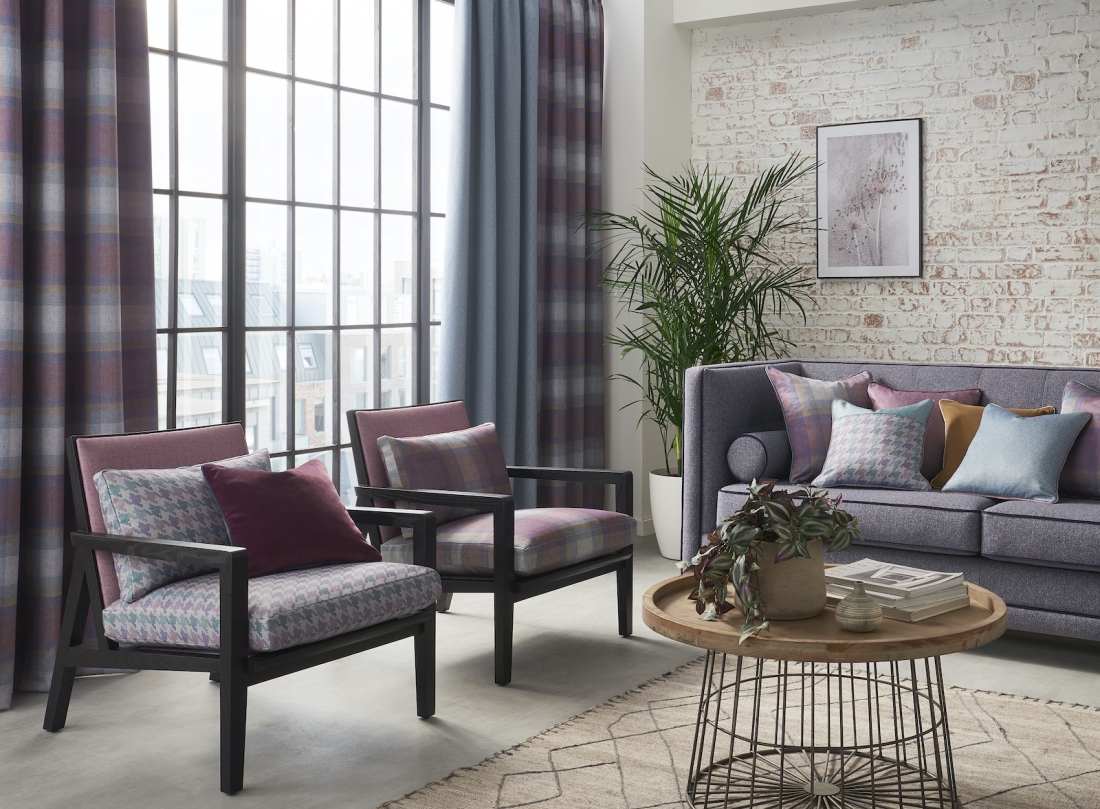 When deciding on your product choices how much do current themes influence your thinking?
"We're constantly inspired by things happening around us. Whether it's visiting exhibitions and fashion shows, a walk in our beautiful Lancashire countryside or trying to implement new innovations, we're always looking to bring something fresh and different in design.
"On the other side of that, we're thinking about how we can add value for our customers based on feedback we get from them. Can we offer it in wide width? Can we make it stain resistant? Can we make it more durable?
"It's only really when we have something that satisfies all of those questions, that we know we have something we want to take to market."
Alongside your in-house design team, we have spotted you like to collaborate, how important is this?
"Collaboration is an essential force in modern design. We feel that driving creators to break out of their routine processes, to articulate their concepts in new ways and adapt to outside ideas and techniques leads to something unique, exciting and purposeful. It's a learning process which appeals to our natural urge to communicate and work together.
"Our production of new collections with designers such as David Fox and Patternistas have been exceptional experiences which have taught us so much. And digitally we're collaborating with designers on social media to create more interesting content and share what we're all about, which is all the more important in an age where face-to-face meetings aren't as easy as they once were."
With pressure on designers and architects to always deliver something new, we are really excited by your new online tool 'ReMake', tell us more?
"With ReMake I think we're tapping into something anyone who works with fabric has wanted for a long time. When it comes to bespoke fabrics, bridging that gap between the client's idea of the brief and the manufacturer's has always been a slow, difficult process.
"ReMake is a powerful online creative platform, available anywhere with an internet connection, which gives our customers unlimited control over the scale, pattern and colour of thousands of patterns, and the ability to receive a fabric sample of their design concepts in a matter of days.
"Creating custom fabrics is something that should be exciting, not laborious, and by offering this intuitive, creative tool to our customers, we're making the process faster, more efficient and more fun."
We noticed that 'ReMake' allows the user to print onto various surfaces including 'ECOTWILL' made from '100% recycled sources', what's the story behind this fabric?
"We were proud to be able to introduce ecoTWILL recently as the contract industry's first 100% recycled and 100% recyclable FR basecloth. It was born from a desire to provide our customers with an environmentally responsible option for high-performance fabrics, so we looked to recycling plastic waste as a source of polyester.
"Just one metre of ecoTWILL takes dozens of plastic bottles out of the environment, all while achieving rigorous abrasion and fire retardancy standards.
"Making ecoTWILL a standard option for all our print designs, rather than a single design or collection, was important to us. Achieving sustainability means making green options part of our everyday decisions and offering ecoTWILL as part of our basecloth options helps make this easier."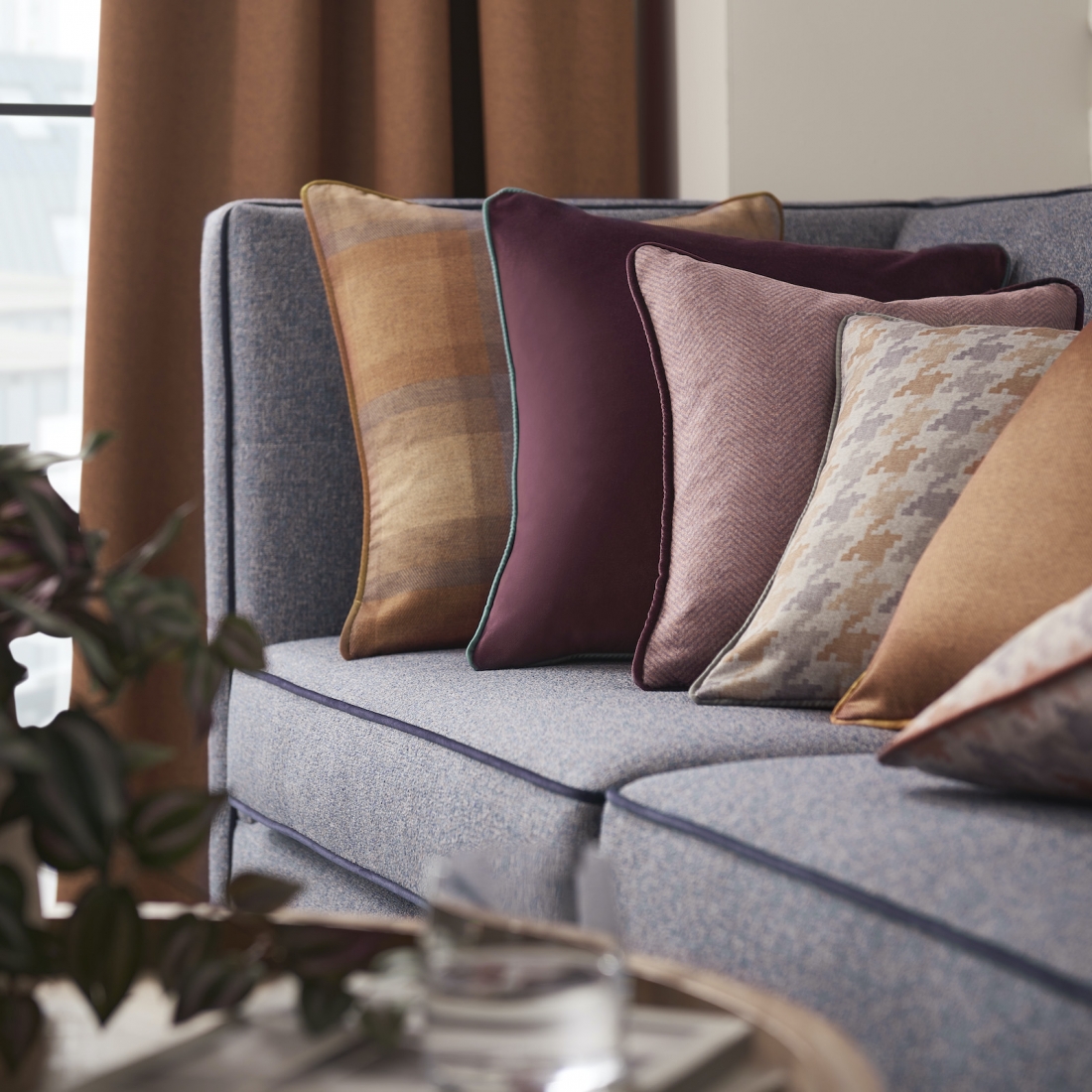 With the above in mind, how important is sustainability to Panaz?
"Sustainability is something that is becoming increasingly important in all our lives, whether at work or at home. Luckily, it's something that, as a business, we have been conscious of for a long time. For instance, we were the first in our industry over 30 years ago to make the move to sublimation printing over traditional wet printing and eliminate environmentally damaging water waste from our printing process.
"More recently, we've introduced SilicaStone into our product range. Made from 98% recycled glass and ceramic, SilicaStone is sourced and produced in Lancashire and is an environmentally kinder alternative to quarried stone for wall-cladding and solid surfaces. It's an incredibly versatile product, having all the benefits of real stone without the destructive extraction processes involved in quarrying.
"Behind the scenes we've also made changes, such as investing in digital paper printing, lowering our carbon footprint on importing paper stock and our Shieldplus antimicrobials don't contain any heavy metals, making them far safer for the environment than standard antimicrobial fabrics."
Commercial, hospitality and residential spaces are becoming much more fluid, with home, office and leisure environments blurring into multi-use buildings. How has Panaz responded to this movement? And do you think it's here to stay?
"We feel that it's definitely here to stay. Particularly with workspace, the events of 2020 have hastened something that's been a growing trend for a while. With so many more people now needing to work from home, a lot of us have had a chance to rethink our work-life balance, as well as the advantages of office working.
"We see a lot of workspaces now designed with conversation and collaboration at their core, and that's what we're also seeing from people returning from lockdown, that they've missed those conversations which spark ideas.
"From our perspective, the demand for multi-use fabrics is something we're well used to, we've seen a similar blending of healthcare and hospitality. The growing awareness of the importance of mental health has led to traditional hospitality sensibilities becoming more common in healthcare and on the opposite end we're now getting a lot of enquiries about using our antimicrobial technology Shieldplus for use in hospitality and workspace."
As a global operator covering all sectors how do you find trends and product demands differ around the world, your fabrics for healthcare for example?
"Healthcare has certainly been an interesting space to be in over the last decade or so. We've seen places like care homes and hospices become far less sterile aesthetically and more design-led. There's a lot of emphasis on designing for healthcare with mental health in mind, creating spaces that are inviting and stimulating, while still functioning as a care environment.
"Things like using bright red used to be off the table for care facilities, but we've found that in certain circumstances, for example caring for an avid Manchester United fan, those colours can have a positive impact on wellbeing.
"So, when you take that to a global level, with different associations colours have in different parts of the world, there's a much more diverse scope for design in healthcare than would traditionally be expected.
"My belief is that we have to look at global trends if we want a globally successful product so different regional styles are always important to consider when in the development process. However, the biggest trend we are seeing across all fashion industries at the moment is customisation and this is the reason we developed ReMake."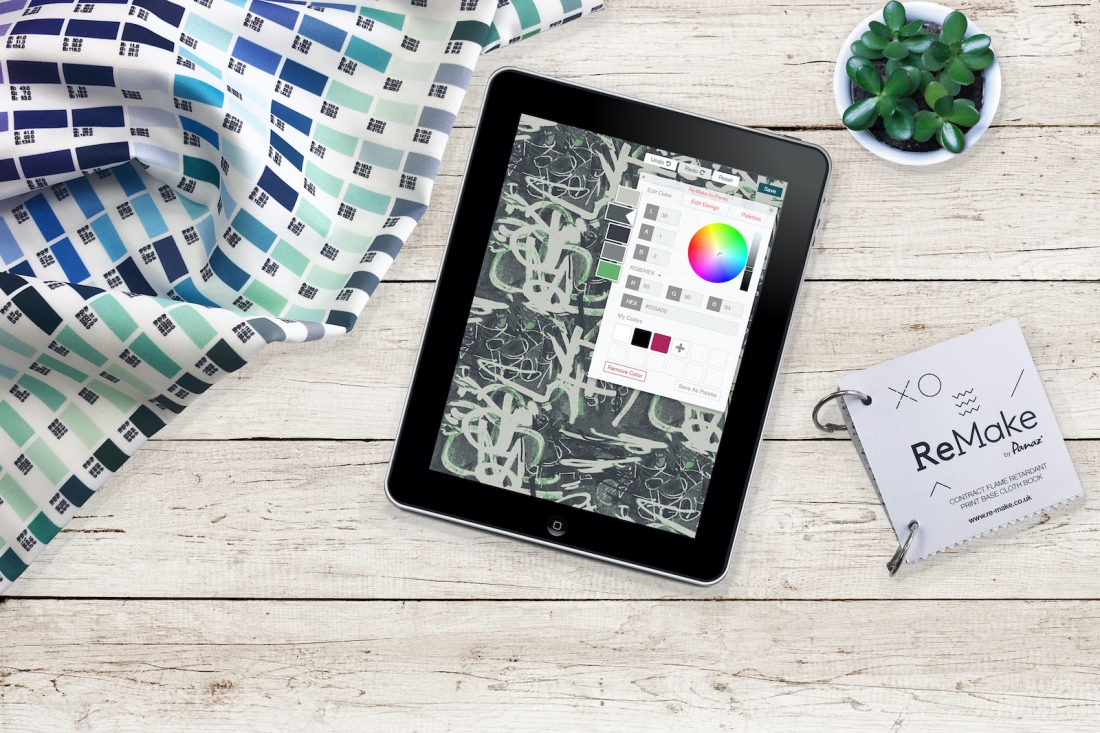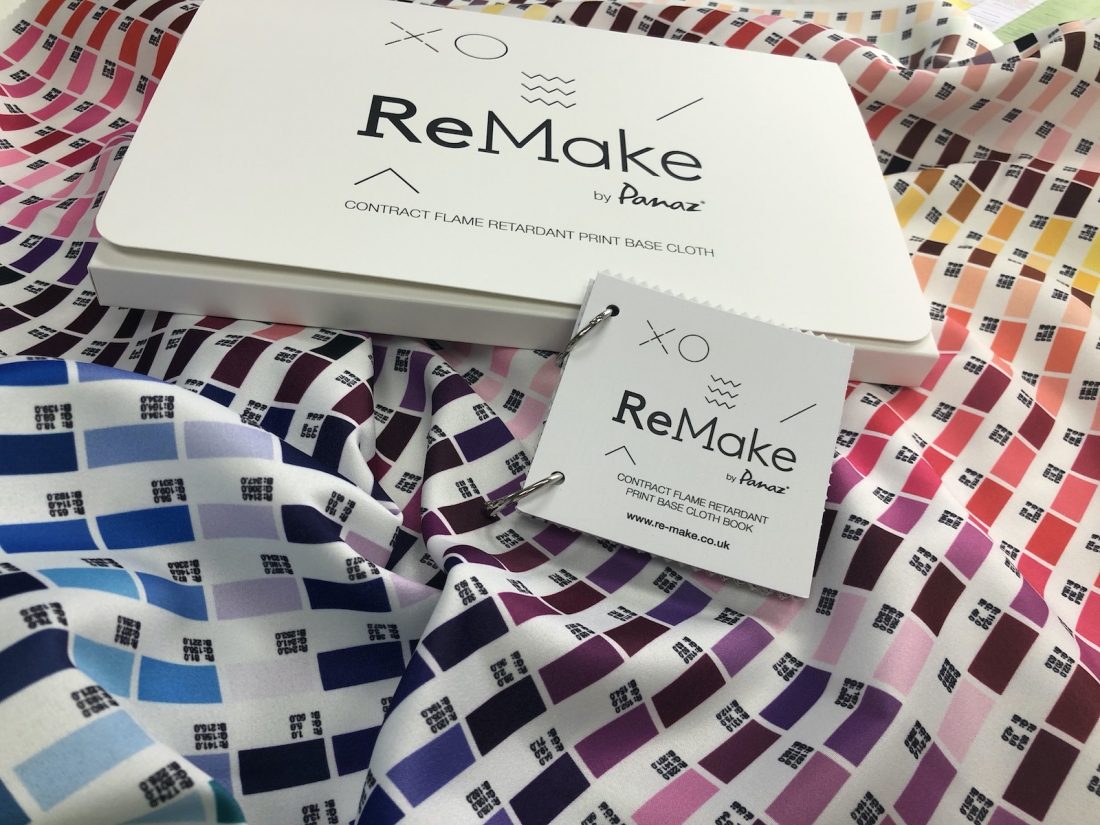 Finally, what's next for Panaz?
"A little bit like everyone else, our focus right now is on doing what we can to help things get back to normal. We were recently recognised by the British Chamber of Commerce as a UK Business Hero for our response to the pandemic, helping support the NHS and supplying the Nightingale hospitals.
"We also developed a range of sprays and laundry additive for use in healthcare or hospitality that provides a long-term antibacterial and antiviral surface protection and in doing so are helping people get back to work. All of these things we are very proud of but we understand that these are still difficult times so are working harder to connect with our customers and help other companies.
"In the same way that we've seen healthcare trend towards hospitality elements, the greater awareness of how infection spreads is seeing more demand for healthcare technology in hospitality spaces, so we're doing what we can to help raise awareness of antimicrobial fabrics and technologies to create safer environments.
"We're also dealing with a lot more designers who are working remotely now, so ReMake has really come along at the right time, giving people that chance to easily create and customise new fabrics on their mobile phone or from their home office.
"We always believed that antimicrobials and remote design work were great things we could offer, however, we didn't go into 2020 thinking that they would become quite so relevant, so quickly. This has been a very introspective year for people and businesses, and going forward will be just as much about evaluating what we already have and recontextualising it, as much as it will be about creating something brand new."