Red Deer's Art Deco, green and white striped interiors for an Italian restaurant in Soho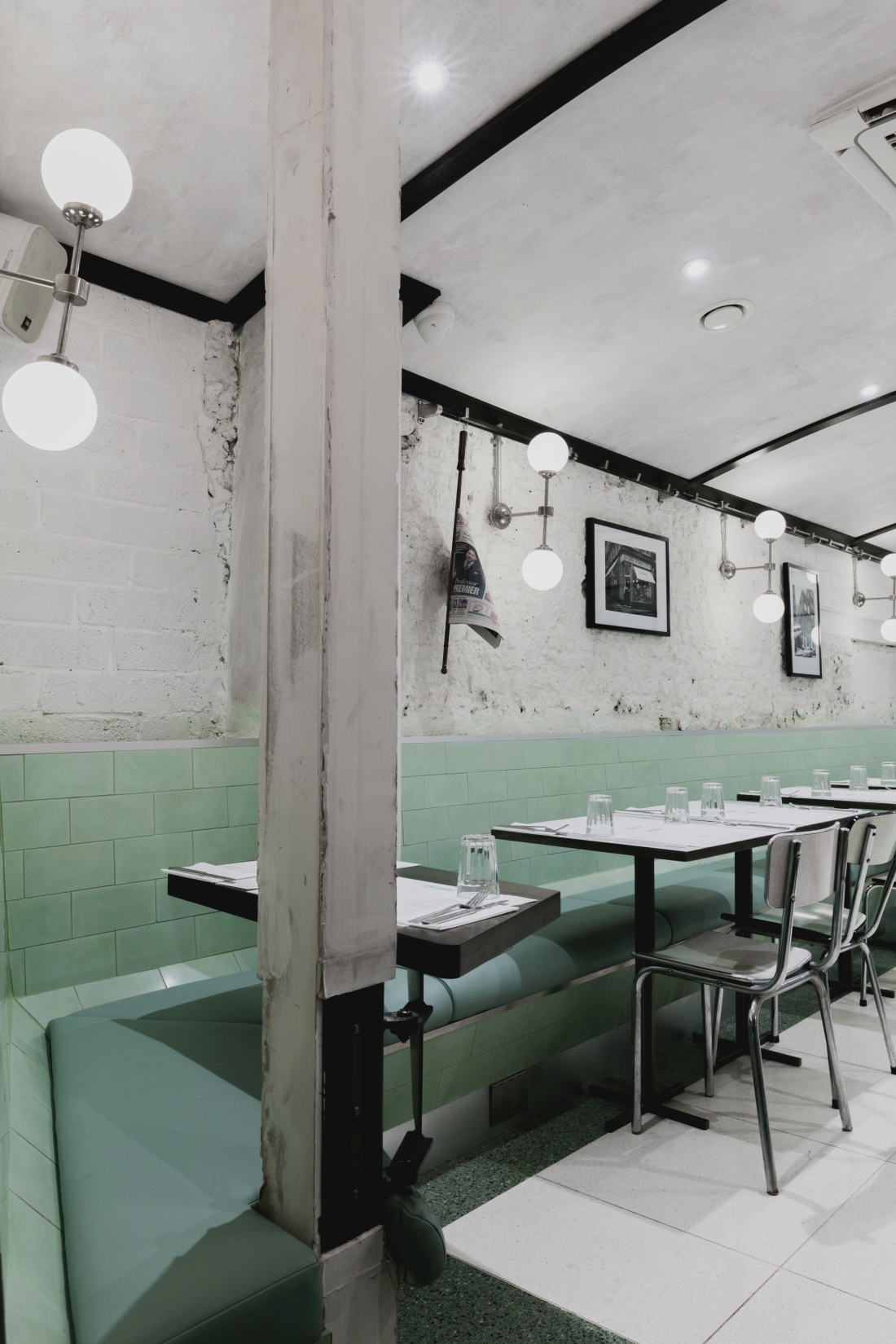 Lina Stores has been trading on Brewer Street in the heart of London's Soho for over 75 years, serving the city with its selection of Italian meats, cheeses, antipasti and sandwich platters. Now the "local institution" has launched its own restaurant on nearby Greek Street, appointing London-based architecture practice Red Deer to create its interior.
Making best use of the building's existing features, Red Deer has sensitively reimagined many recognisable stylistic elements and materials of the pistachio-green and white Brewer Street namesake to create an evocative and authentic design. "The original Lina Stores opened in 1944 and we didn't want to duplicate the design with the restaurant," says architect Lionel Real de Azúa, "we looked for visual cues with the original deli that we could bring over to 51 Greek Street."
Drawing inspiration from the mid-century Art Deco cafes and bistros of Europe, the restaurant façade features an intimate bar seating area, a traditionally inspired mosaic floor, hand-painted signage and striped awning. Pale green cement tiles, granite and fluted glass add a contemporary aesthetic.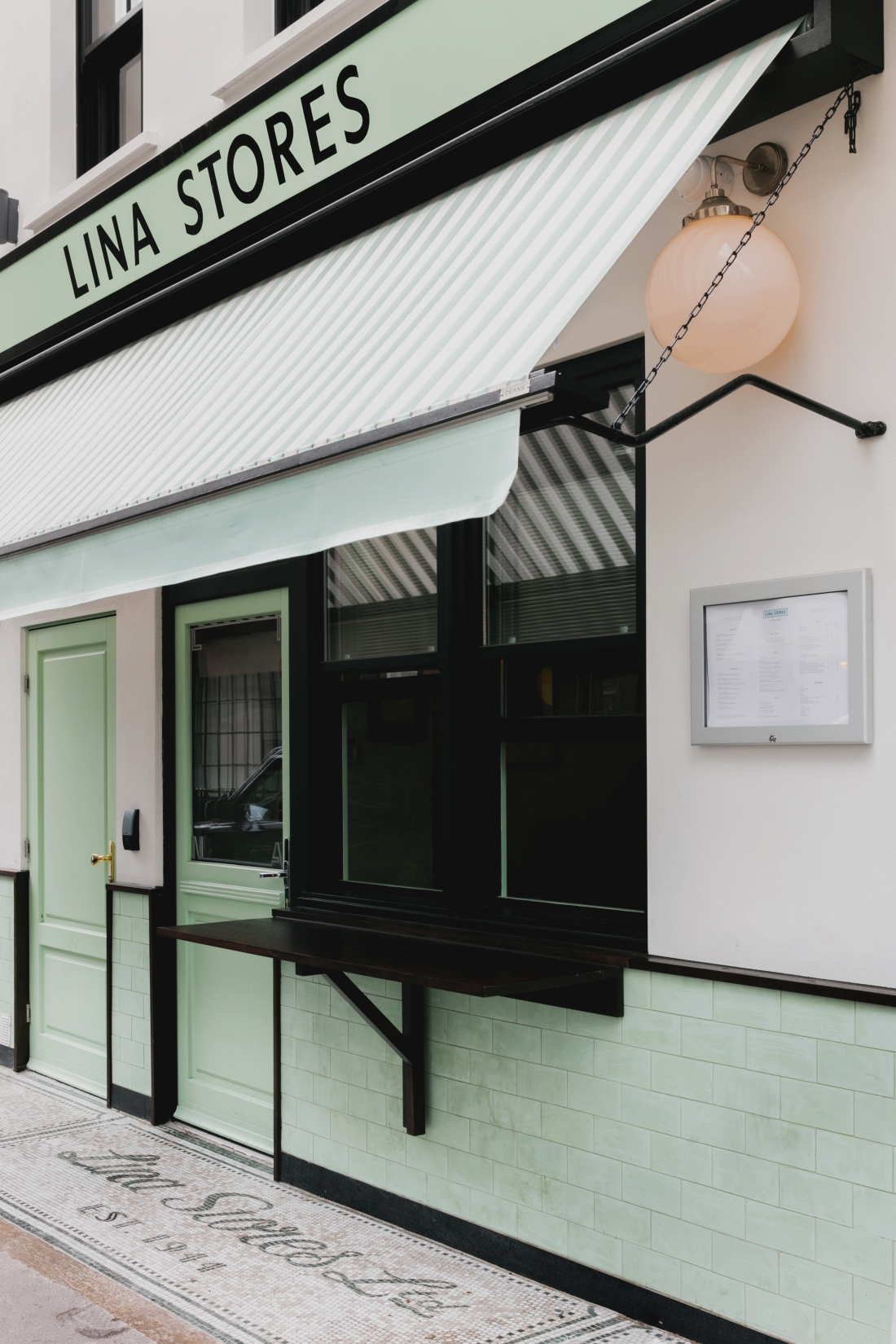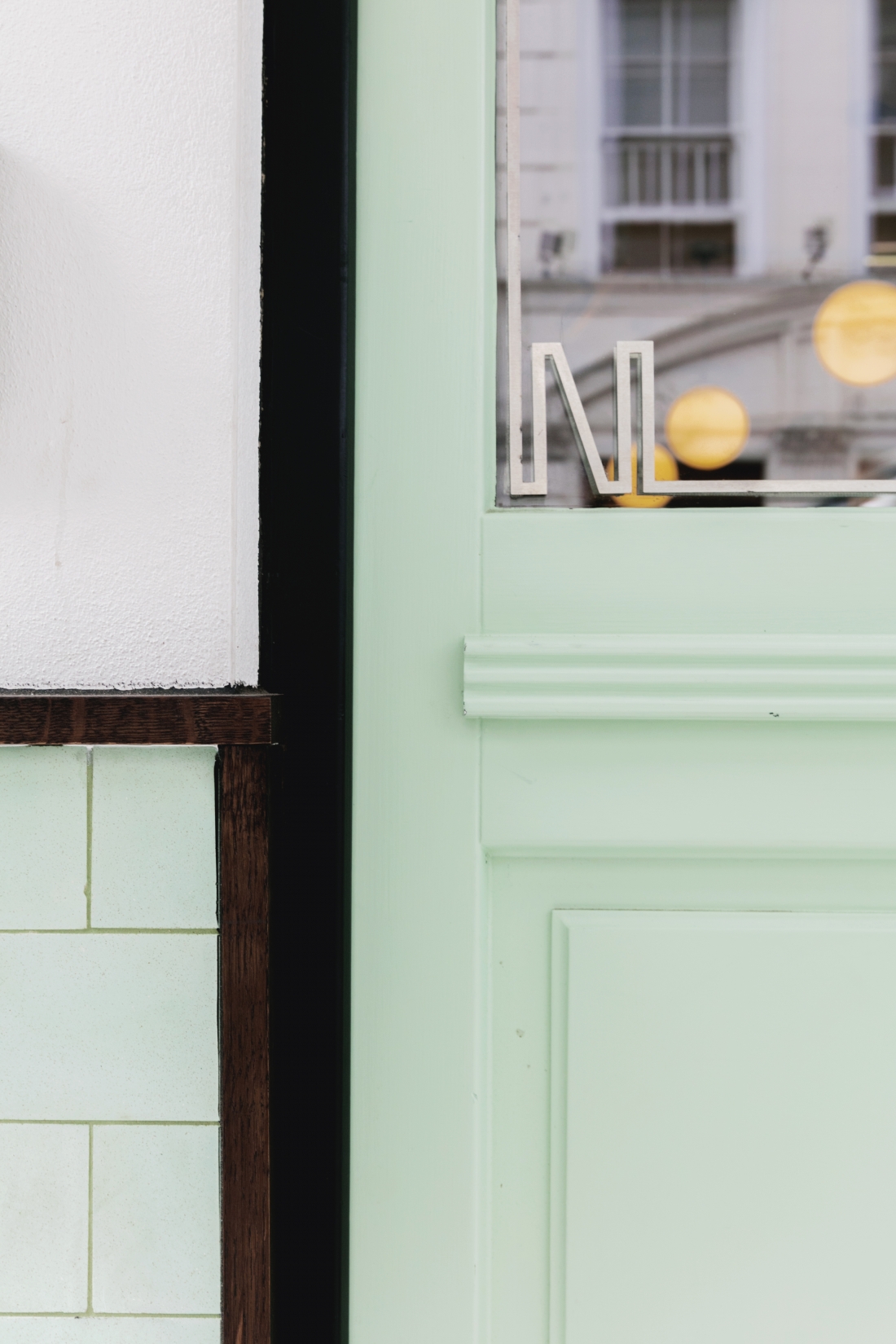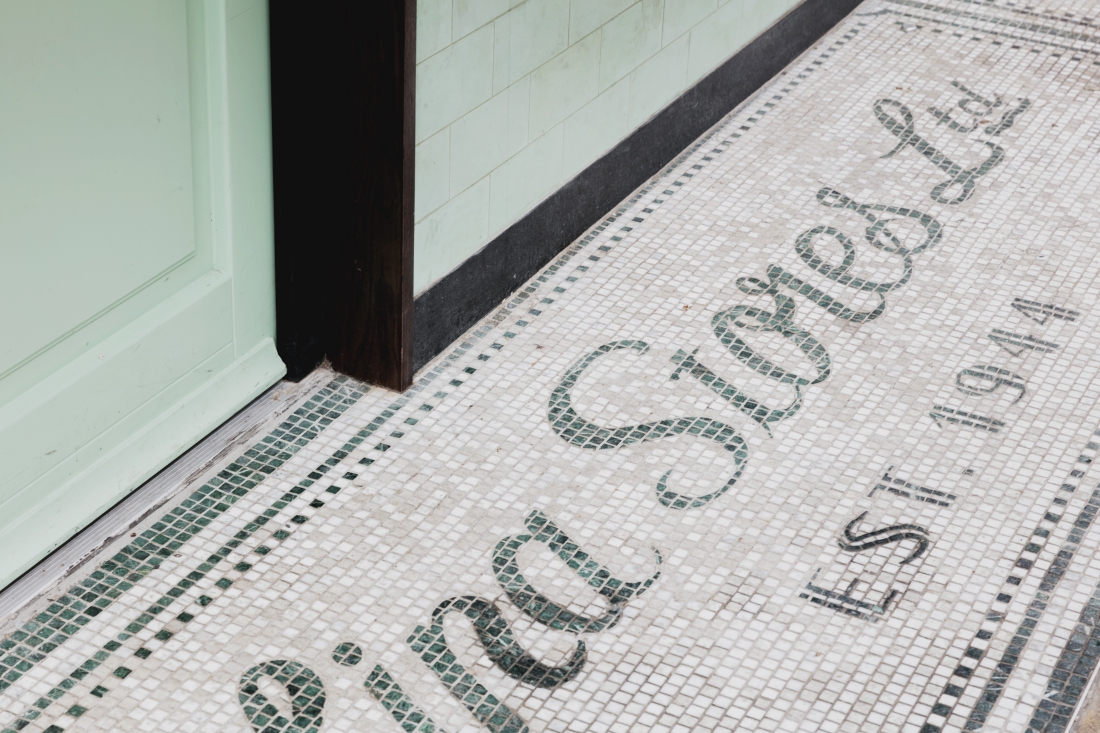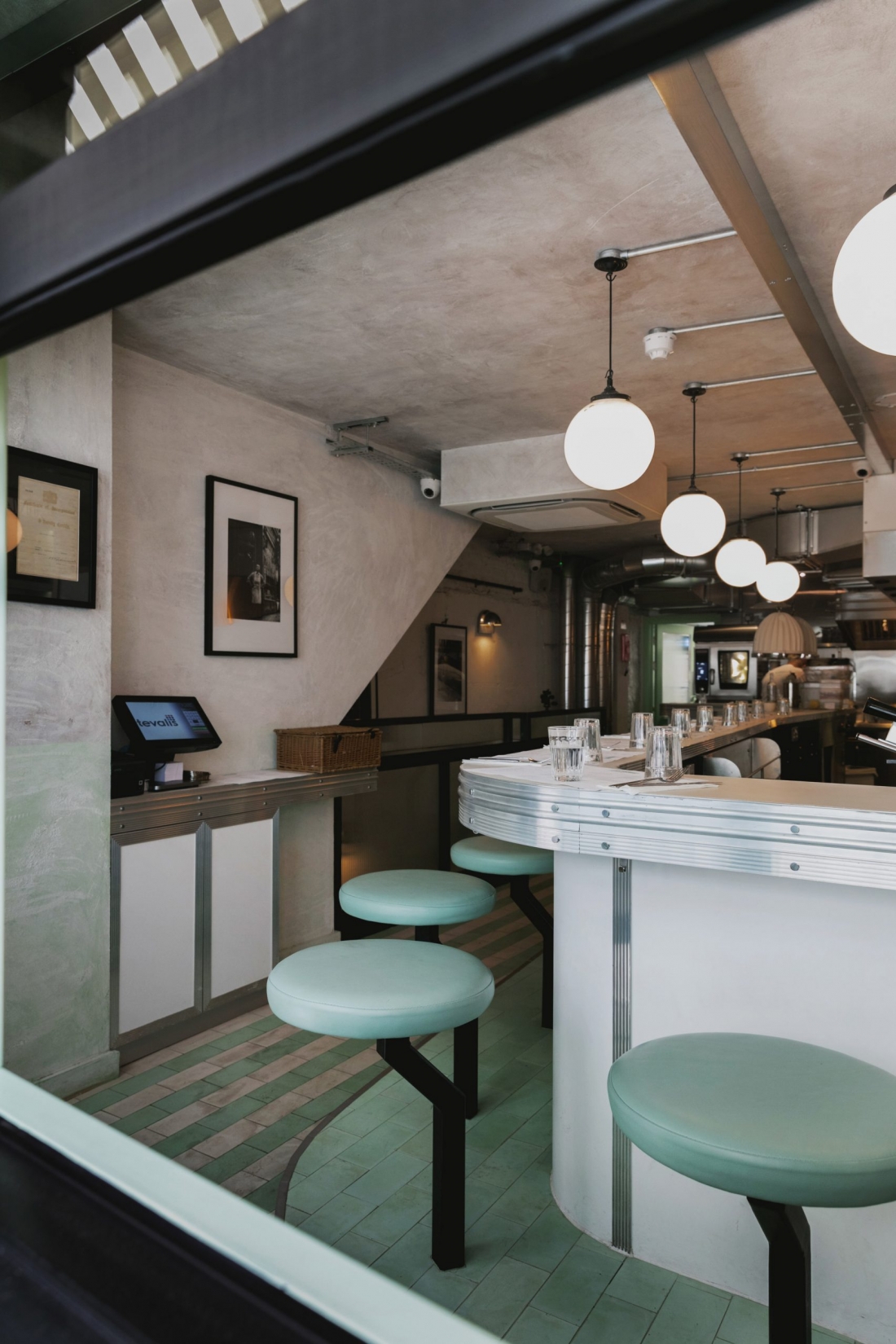 Inside, the restaurant and bar feature a mix of dining-height and high counter seating. Upon entering, the ground-floor restaurant is a raised 12-seat mid-century diner characterised by a sleek Formica bar with fluted aluminium detailing, concrete bar top and pale green leather bar stools.
In contrast, walls and ceiling have purposely remained untouched and their rawness enhanced further by making use of exposed brickwork, piping and ventilation and a highly texturised unique plaster mixed with leftover ground coffee beans from the Lina Stores deli. "As a practice, re-use is of great importance to us. For the design of Lina Stores, we reclaimed where we could and played with the innovative repurposing of materials," explains Real de Azúa.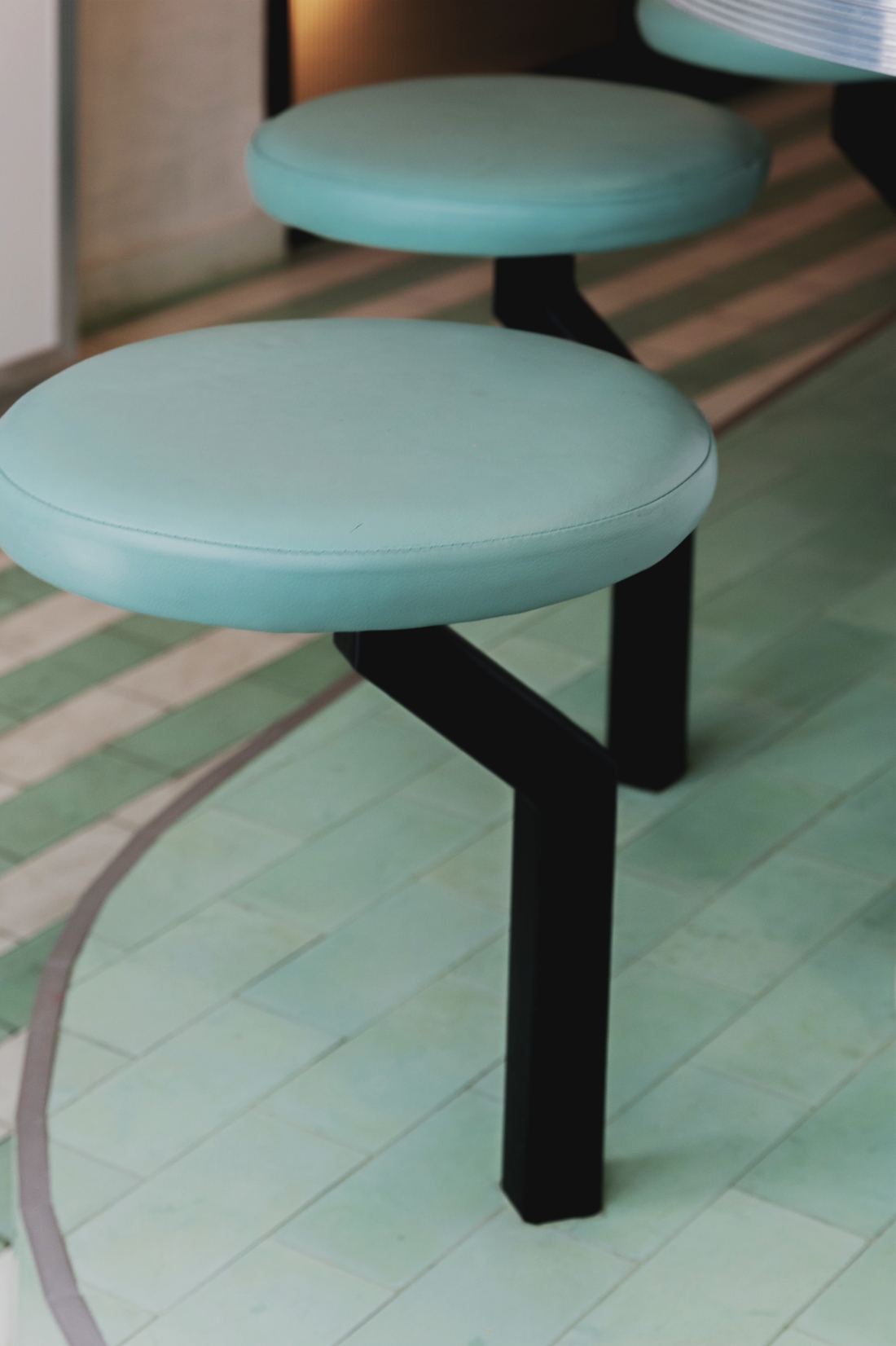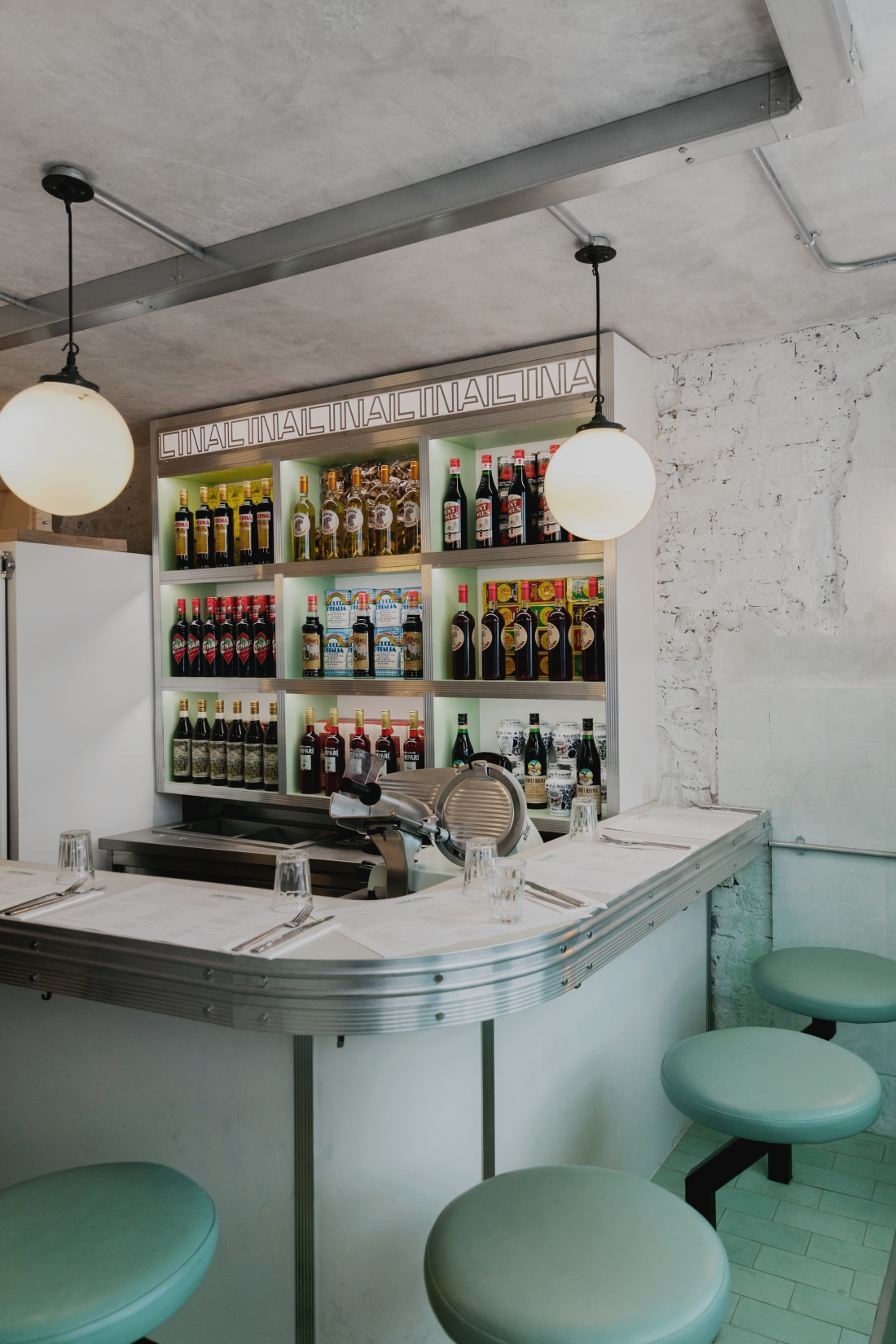 Lighting plays an essential part in the design, with Art Deco elements throughout. Reclaimed globe lighting, for example, sits above the bar and the restaurant's open plan kitchen counter with pillar wall lights providing accent lighting.
Striped white and green floor tiles take guests on a journey to the lower-ground floor and a more formal 37-seat dining experience. A welcoming and unexpected space in the heart of Soho, the vaulted space is a unique backdrop to showcase the fresh colours and flavours of its menus.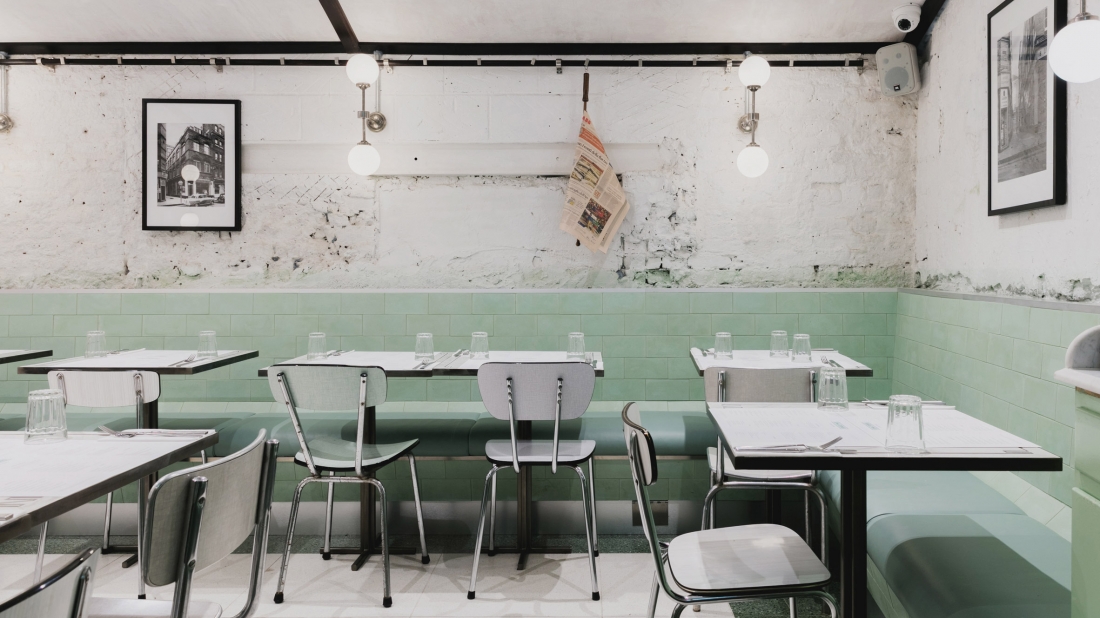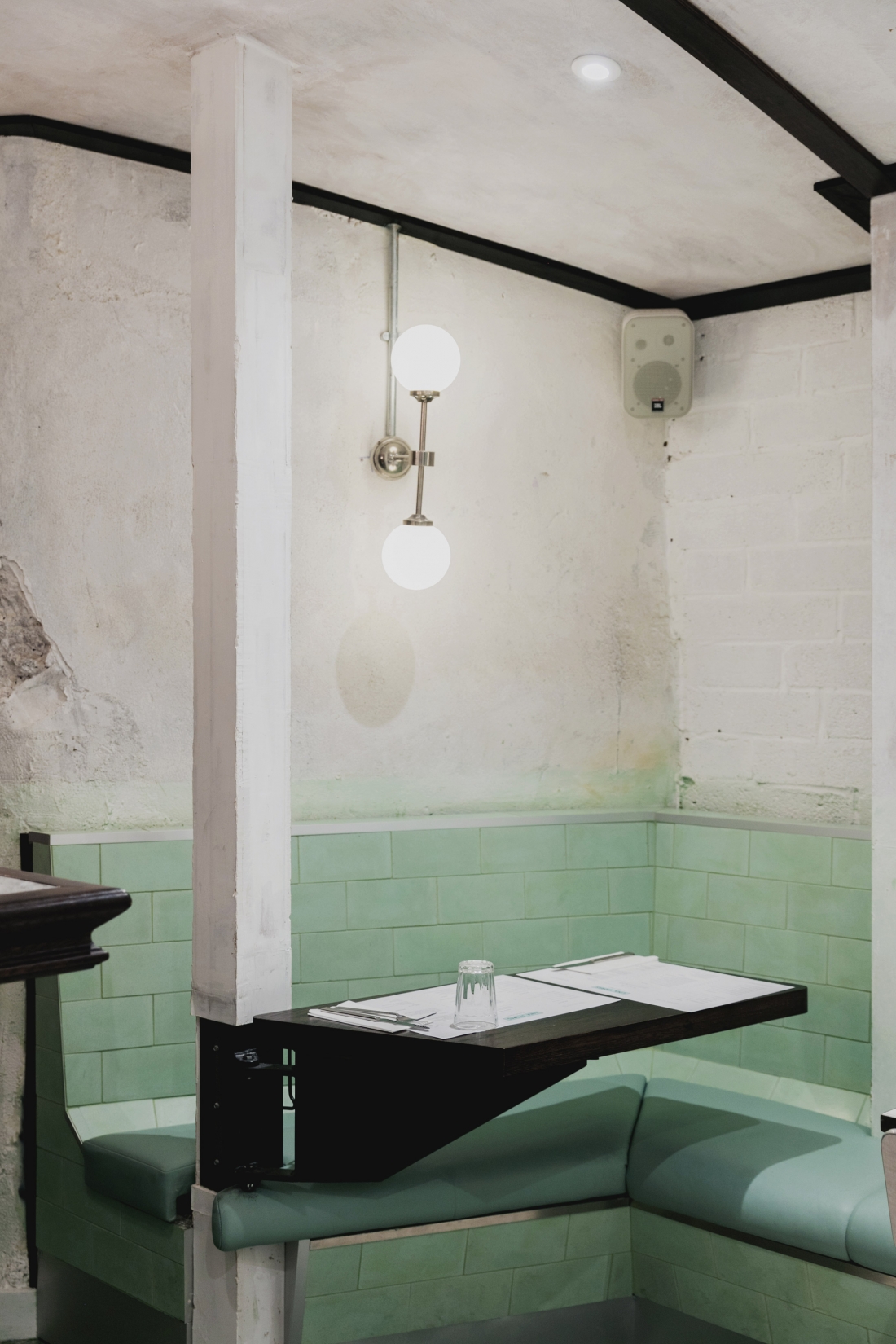 The colour palette of muted warm green and aqua hues runs throughout all aspects of the lower-ground restaurant alongside rich dark timber and classic white. Materials are, of course, key in Red Deer's concept, used to differentiate and zone areas and function. Flooring is a mix of traditional green and white terrazzo. Bespoke Carrara marble and aluminium tables are paired with reclaimed Formica dining chairs and fixed tiled green banquettes with leather seat pads.
"We designed the tables with the help of graphic designers EverythingInBetween," says architect Gianna Pagliarulo. "We originally wanted a graphic inlay on the tables and they came up with the idea to use the Lina logo on the four corners."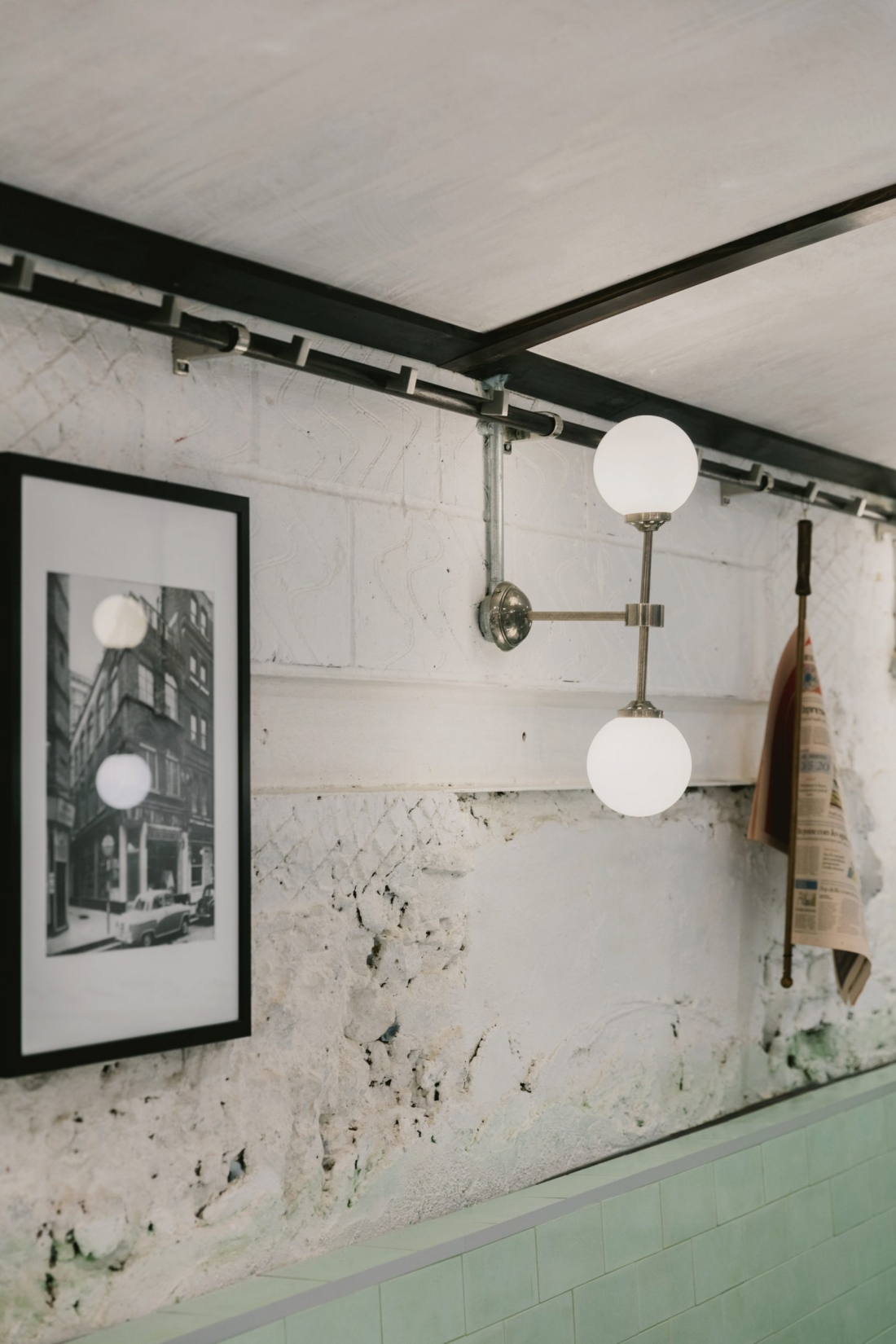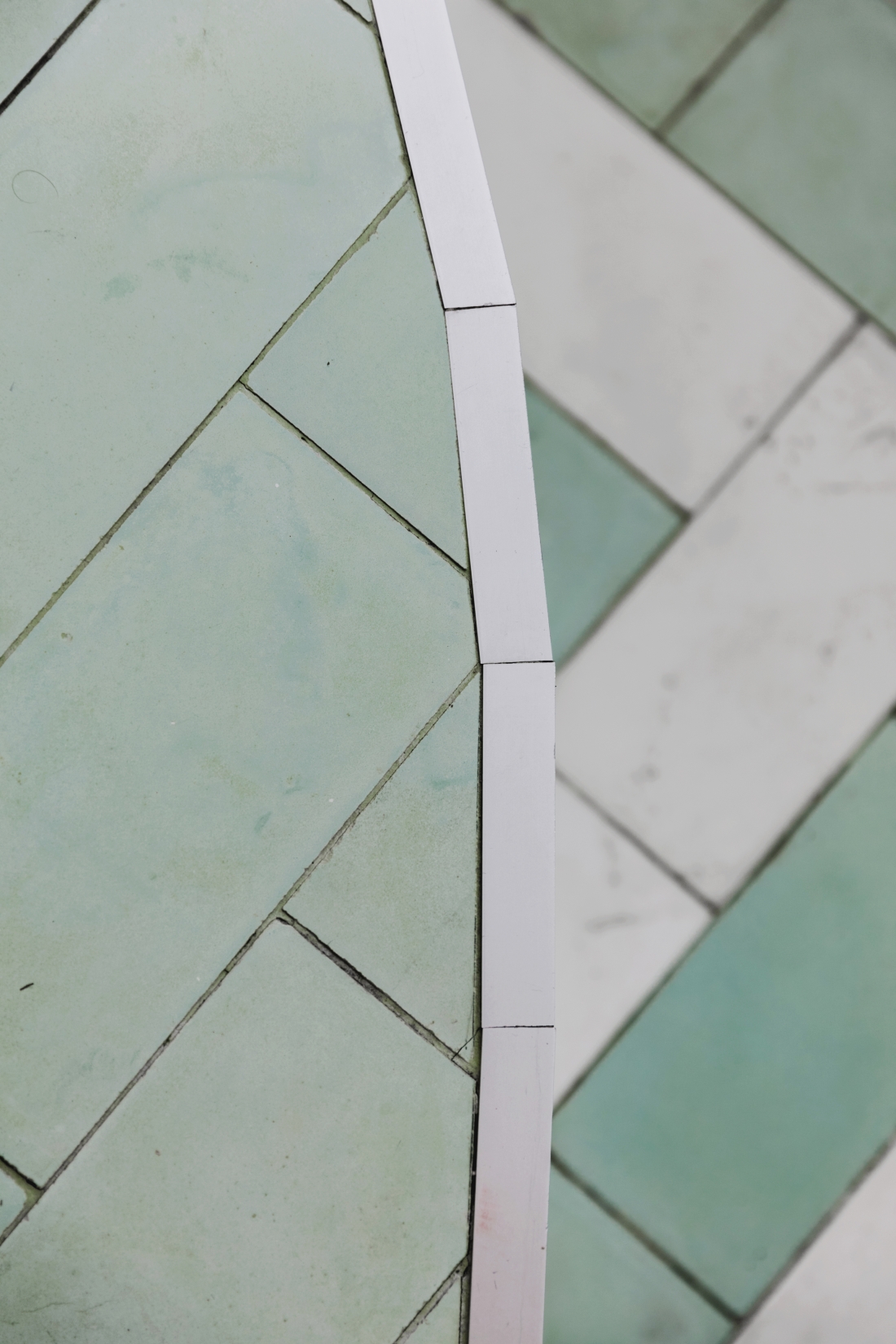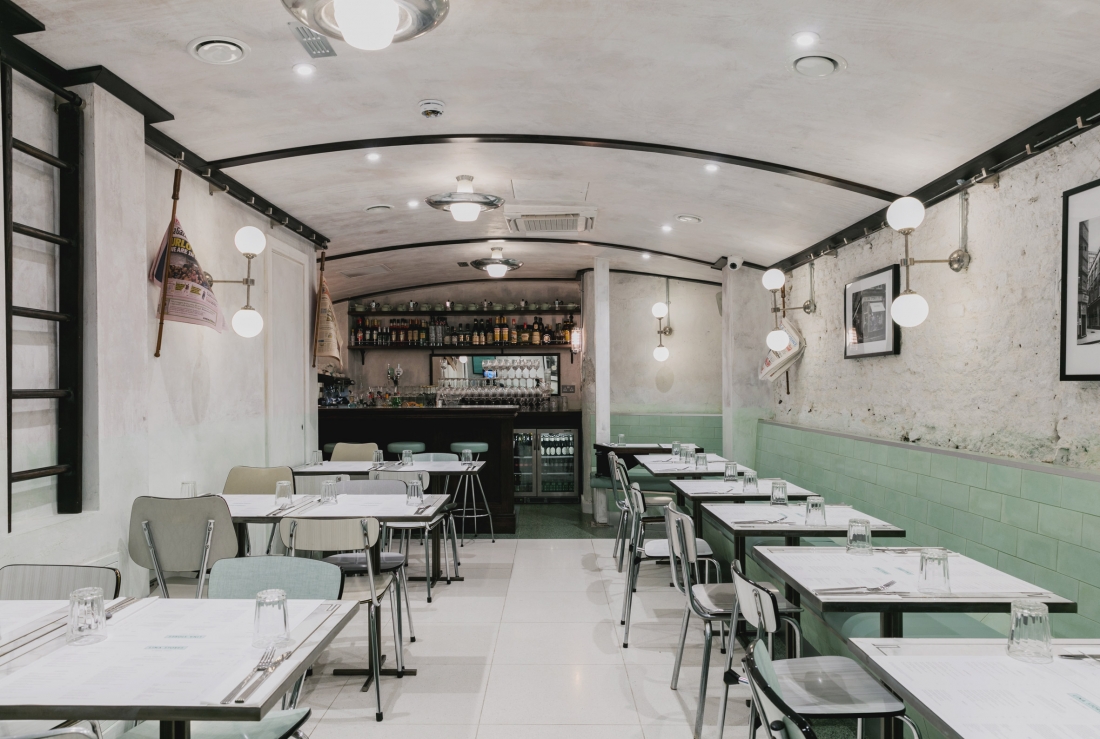 Elsewhere, a traditional rich timber aperitif and cocktail bar feels both classically Italian and Soho-Esq. Walls mirror the upstairs interior with two-tone plaster and exposed brickwork a backdrop for a mix of paraphernalia including traditional espresso makers, newspaper racks, vintage photography and planting all elevating and enhancing the dining experience. The curved ceiling, meanwhile, was created to make the space feel more intimate for diners downstairs.
Launched in April 2018, Lina Stores on 51 Greek Street has an iconic mid-century aesthetic that makes a beautiful tribute to its 75-year history and cements its reputation as a Soho institution. Discover more at www.linastores.co.uk.