Roar takes inspiration from Rajasthani ancestral architecture for Jaipur Rugs' Dubai showroom.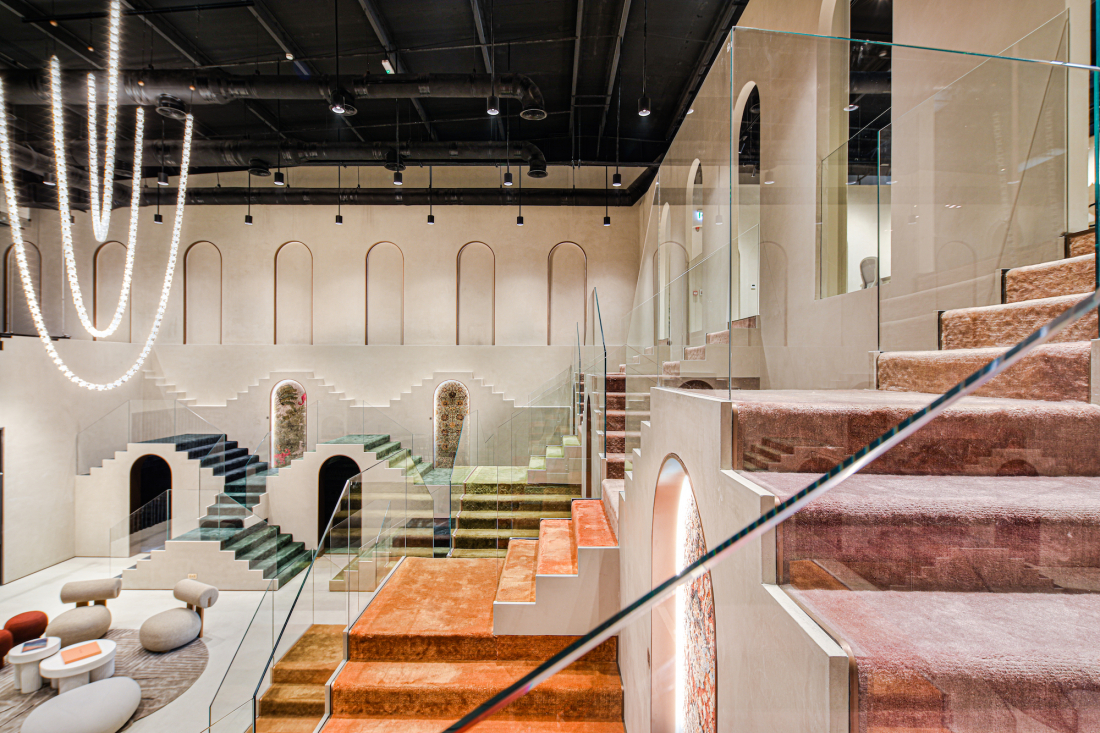 Roar was commissioned by leading rug manufacturer, Jaipur Rugs, to transform a 780 sqm warehouse in Dubai's creative district, Alserkal, into its first showroom in the UAE. And, as you'll see in the images, the results are stunning.
The conversion takes its cues from the history and culture of Jaipur, the capital of Rajasthan where Jaipur Rugs was established 45 years ago. Often called the Pink City, due to the hues of its distinctive ancestral architecture, Jaipur was recognised as a UNESCO World Heritage Site in 2019. The city's distinguished architectural vernacular of recurring stairs and arches and colour palette of pink and terracotta served as the inspiration for Roar's design scheme.
Nikita Chellani, Lead Interior Designer at Roar, explains: "Every design starts with a story. Here the genesis was the city of Jaipur and its remarkable aesthetic. After our initial meeting with Jaipur Rugs, it soon became apparent that the company's birthplace and home city was a tremendous and endless source of inspiration for them so it felt essential to also reference it in our interior design."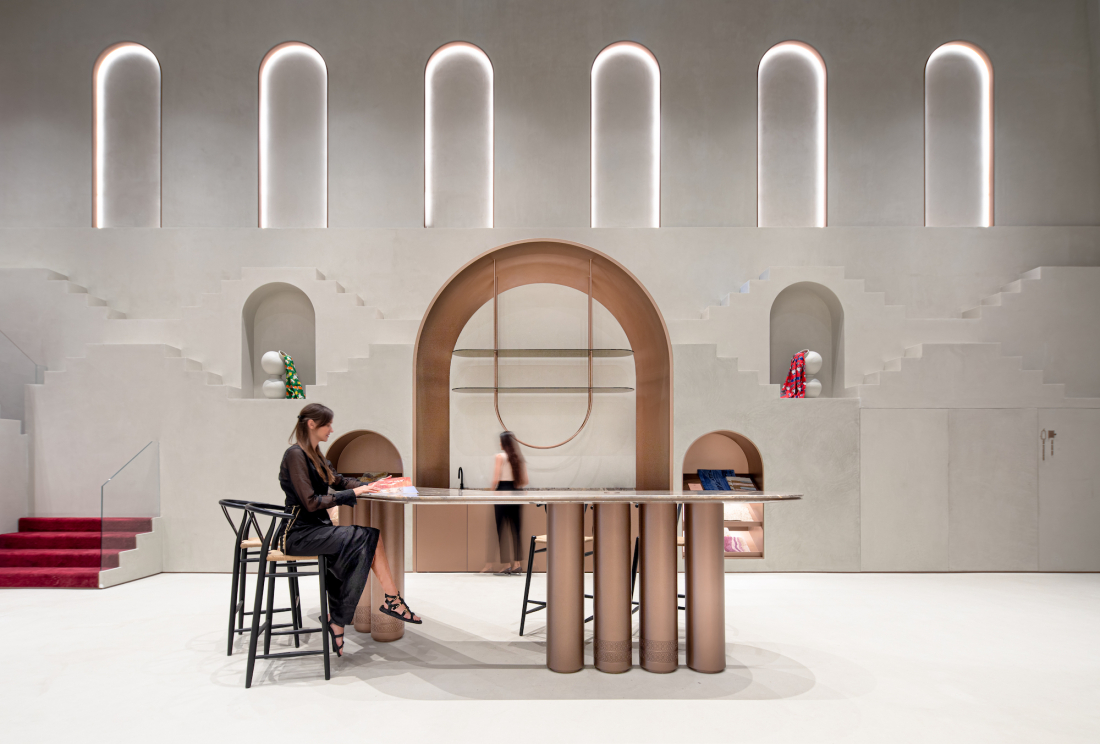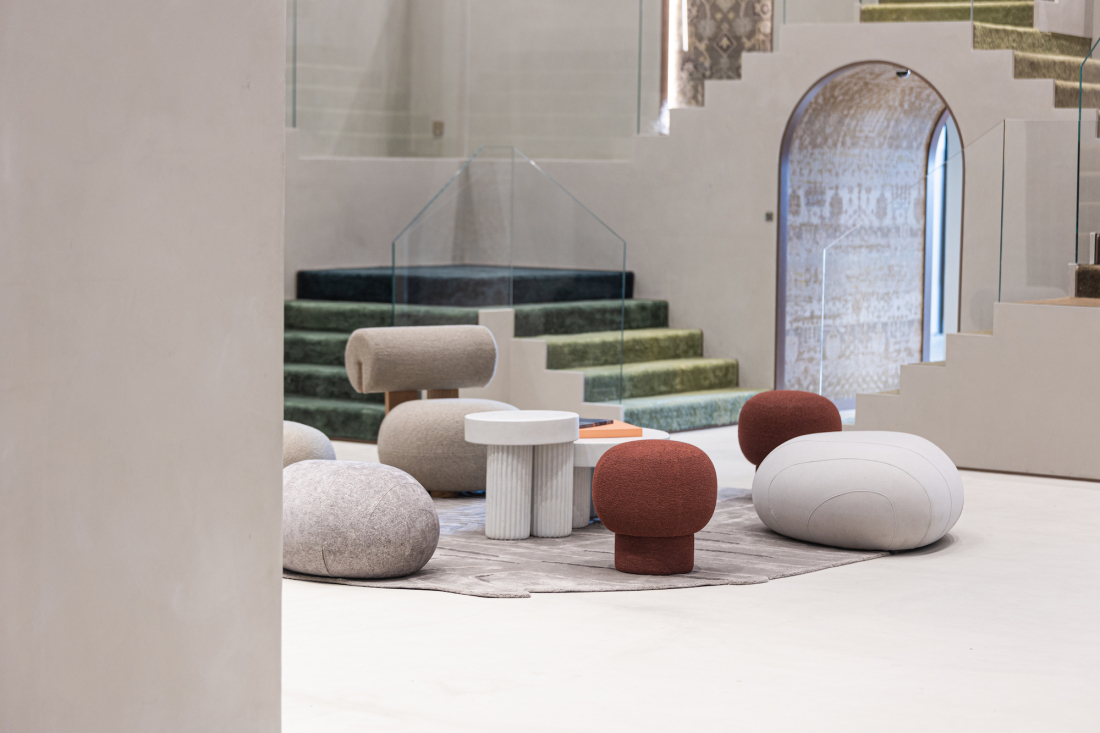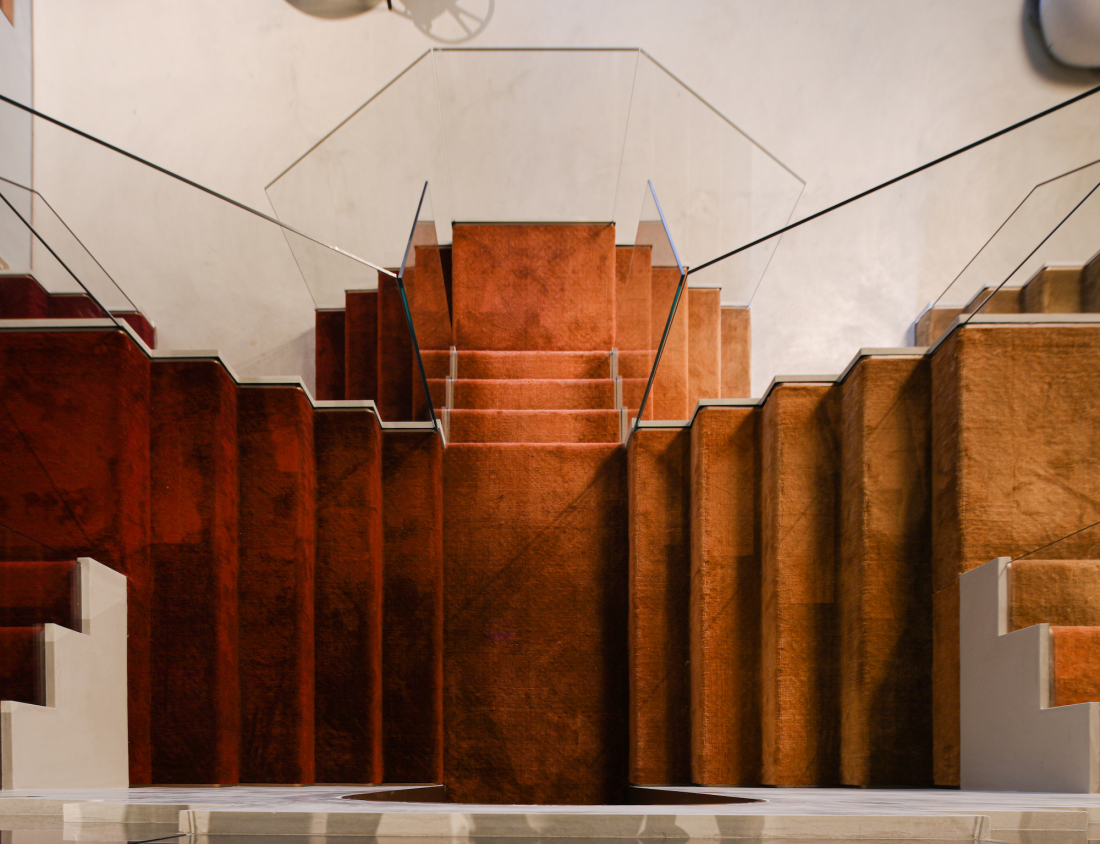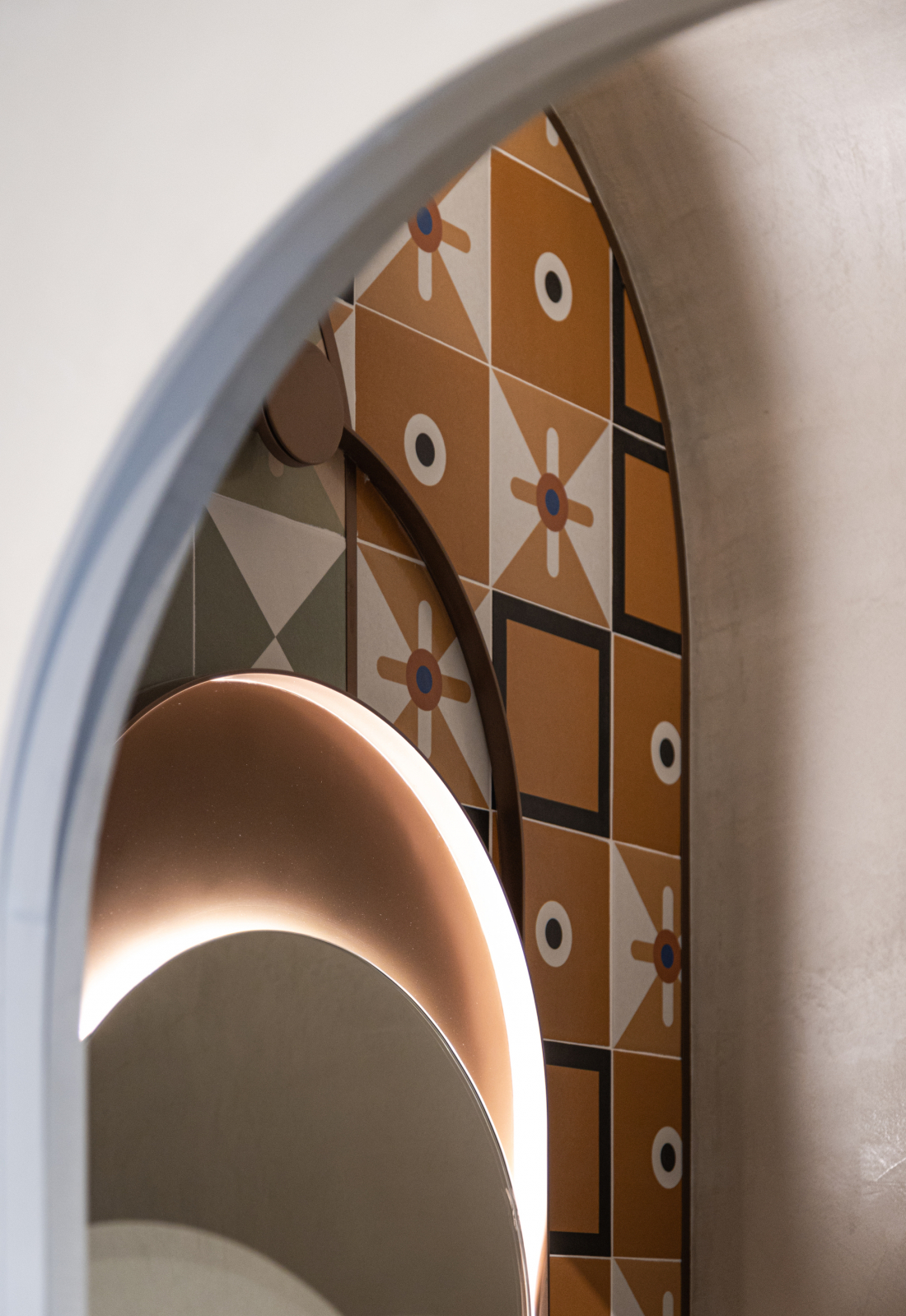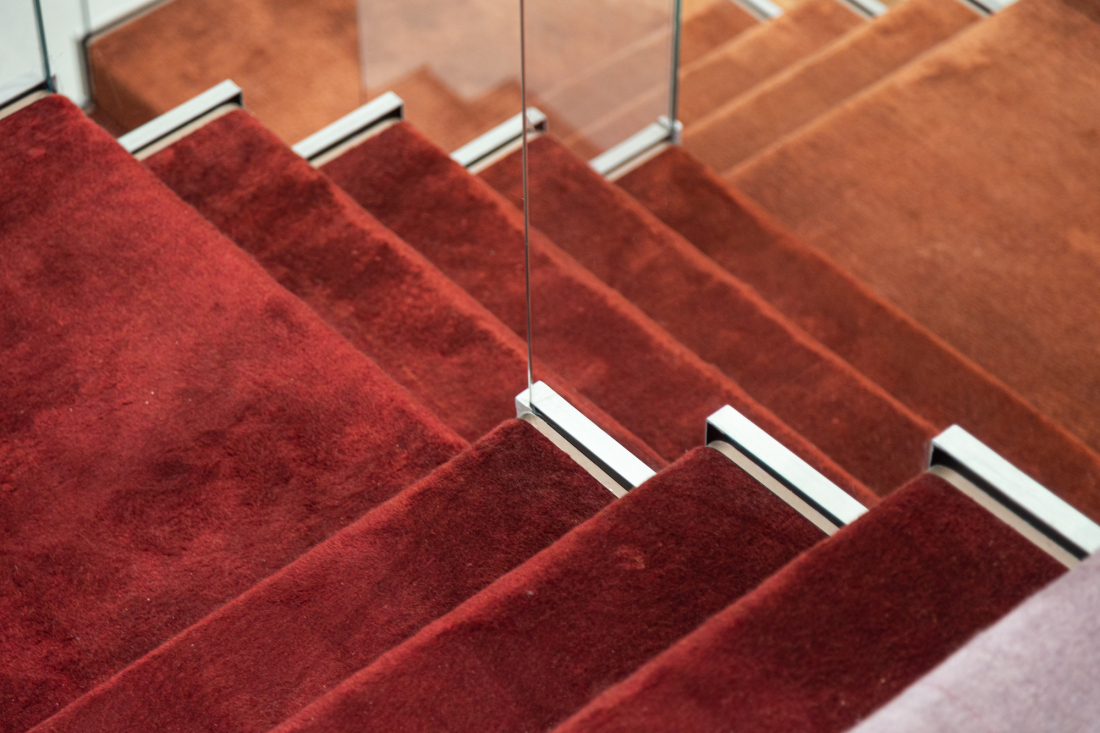 Pallavi Dean, Founder and Creative Director of Roar, continues: "We alluded to Jaipur's most emblematic spaces in a playful, contemporary manner. A key component that kept returning in our research was the city's ponds – water has a special significance in Hindu mythology, believed to be a boundary between heaven and earth – for centuries, the stepped ponds have played a significant role in functioning as traditional water systems, as well as being hubs of social and cultural interactions. Transposed into an interior setting, this element brings a very special spacial experience for the visitor. At the same time, we pay homage to the elaborate classical Indian painted surfaces and crafts by recreating a rich, textural decor."
The showroom is separated into two main areas. On the ground floor, visitors enter a vast open-plan space, which features spectacular floor-to-ceiling rug displays evoking Jaipur's stepwells on three of its walls. Embedded in the decor, Roar has imagined a series of niches entirely upholstered with carpets, with each alcove echoing the hues found on the adjacent stairs, forming an incredible colour gradient that presents the rugs as art pieces in their own right.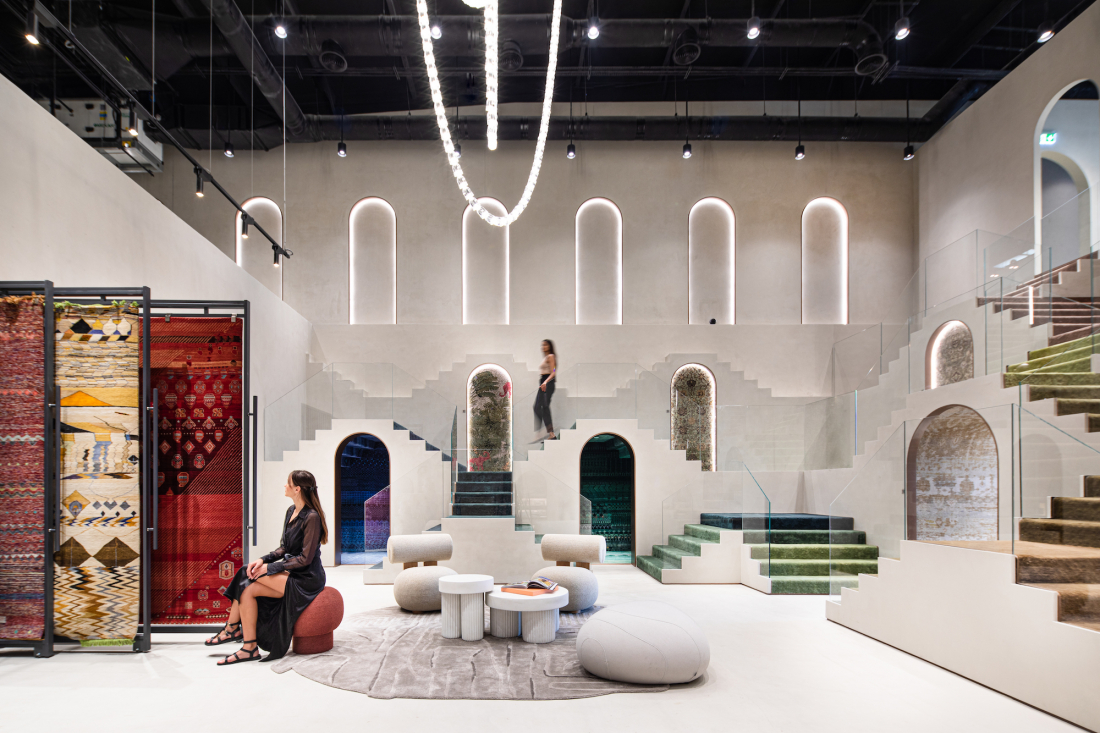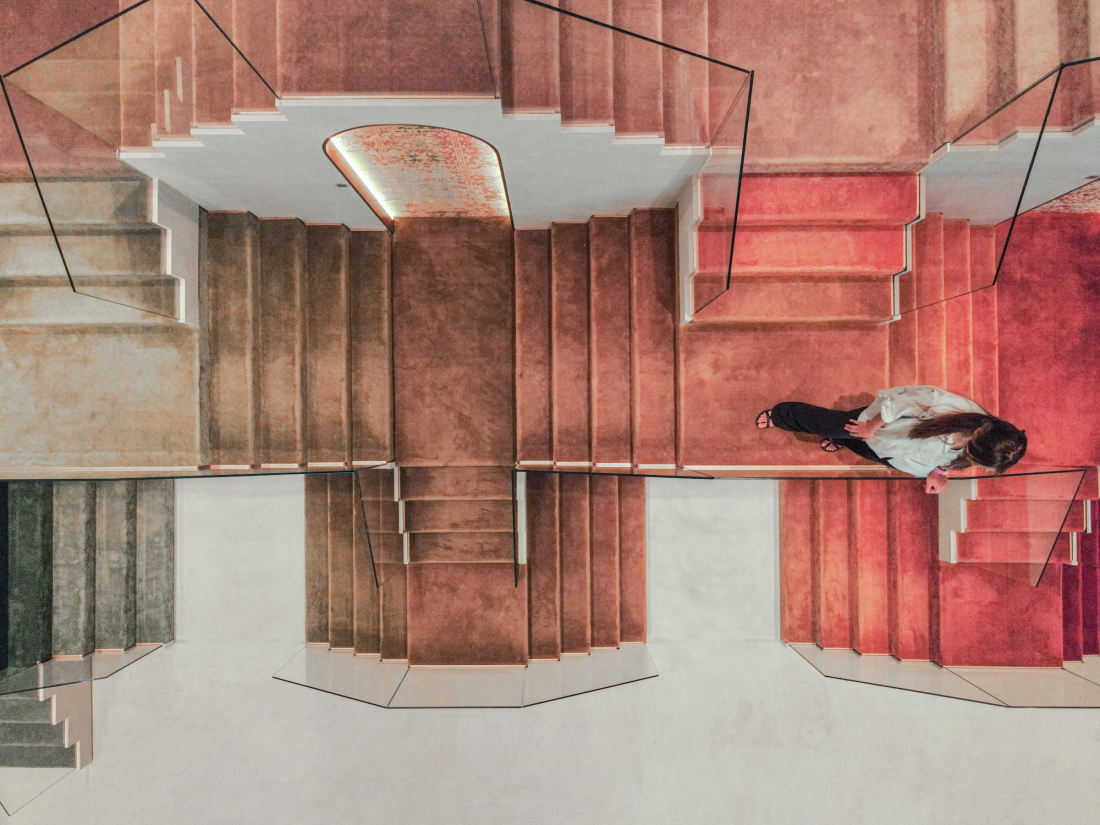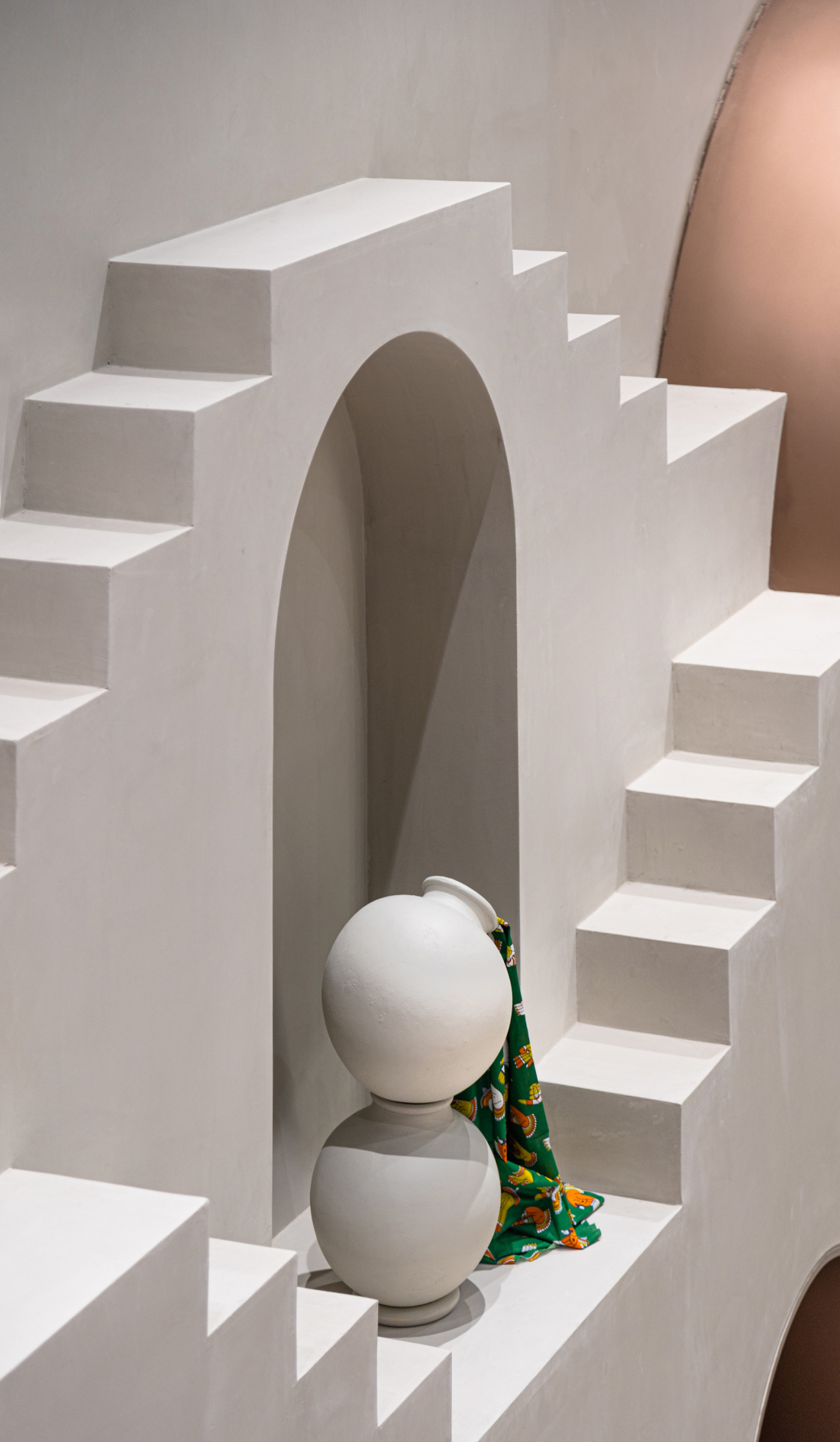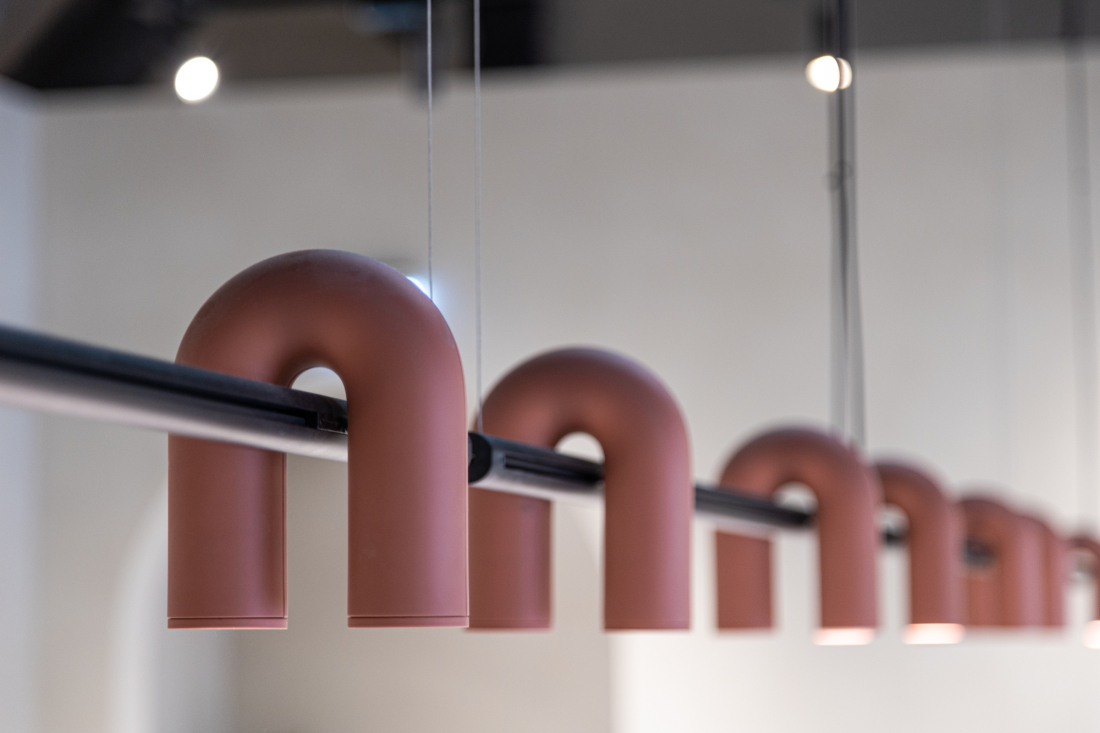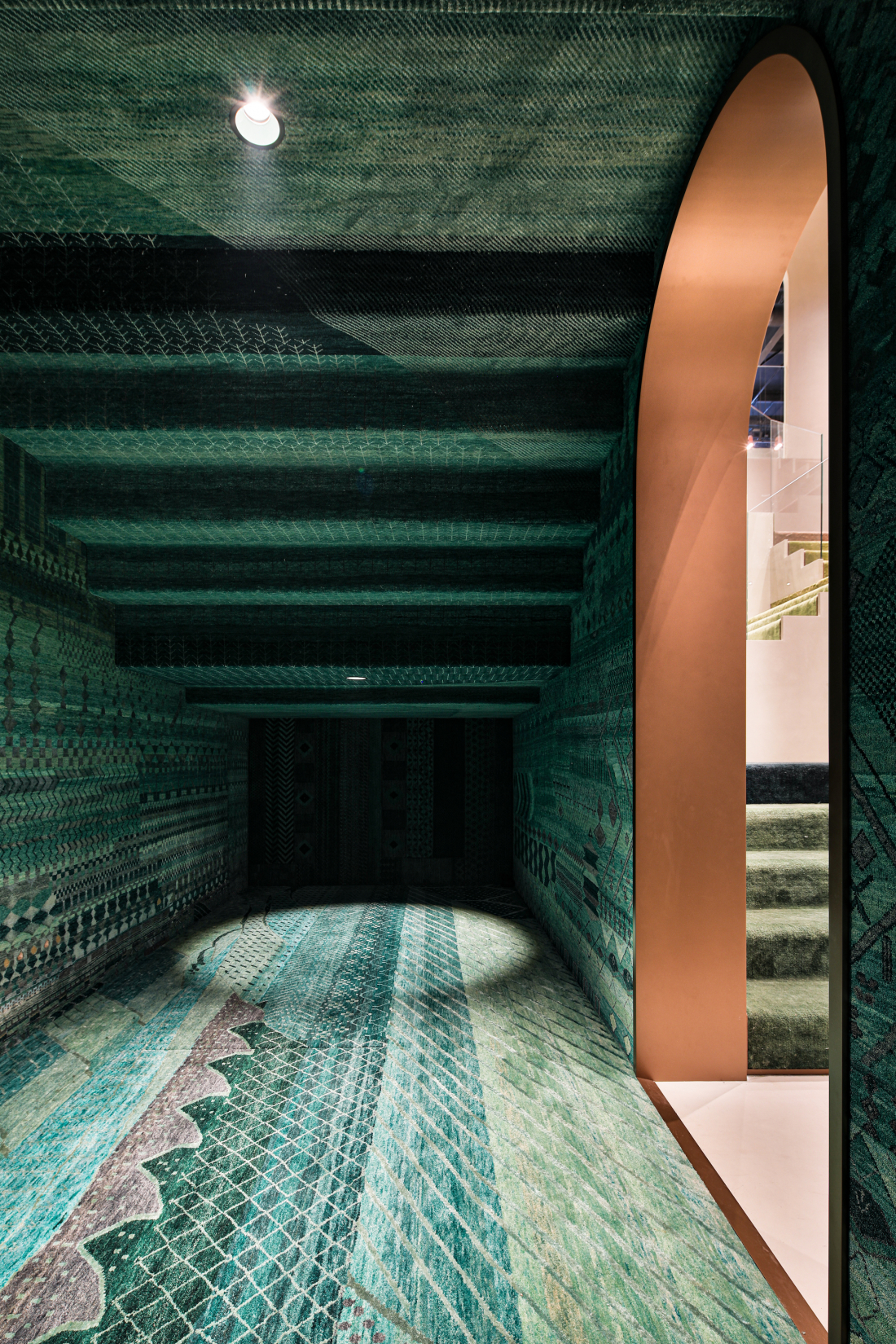 Alongside a string of 'rug libraries', which showcase products through custom-made sliding panels, two fully immersive rooms – the Sapphire and Emerald rooms – have been dedicated to the brand's acclaimed Manchaha collections, where visitors can admire rugs produced by Jaipur Rugs' artisans as part of the company's social enterprise initiative that gives weavers the creative freedom to design their own rugs.
The mezzanine area encompasses the manager offices and team workspace, featuring a communal table where designers can come and work for the day, alongside a series of closed offices and meeting rooms. A key focal point is an art-like installation, created by Roar, in the form of an unbounded ribbon of rugs, reminiscent of the pond architecture's sense of infinite repetition.
Roar has kept the overall canvas of the space very neutral using a sleek warm-grey micro-cement and texture paint, combined with a dark-grey marble with hints of rose and blush tones. A subtle note of metallic rose-gold runs through the entire scheme – on door frames, signage, furniture, and lighting – drawing from Jaipur's unmistakable colour prism. Large-scale suspended lights and sculptural, tactile furniture pieces from international design brands Norr11, Pedralli and B&T are essential elements in completing the sense of drama in this double-height space.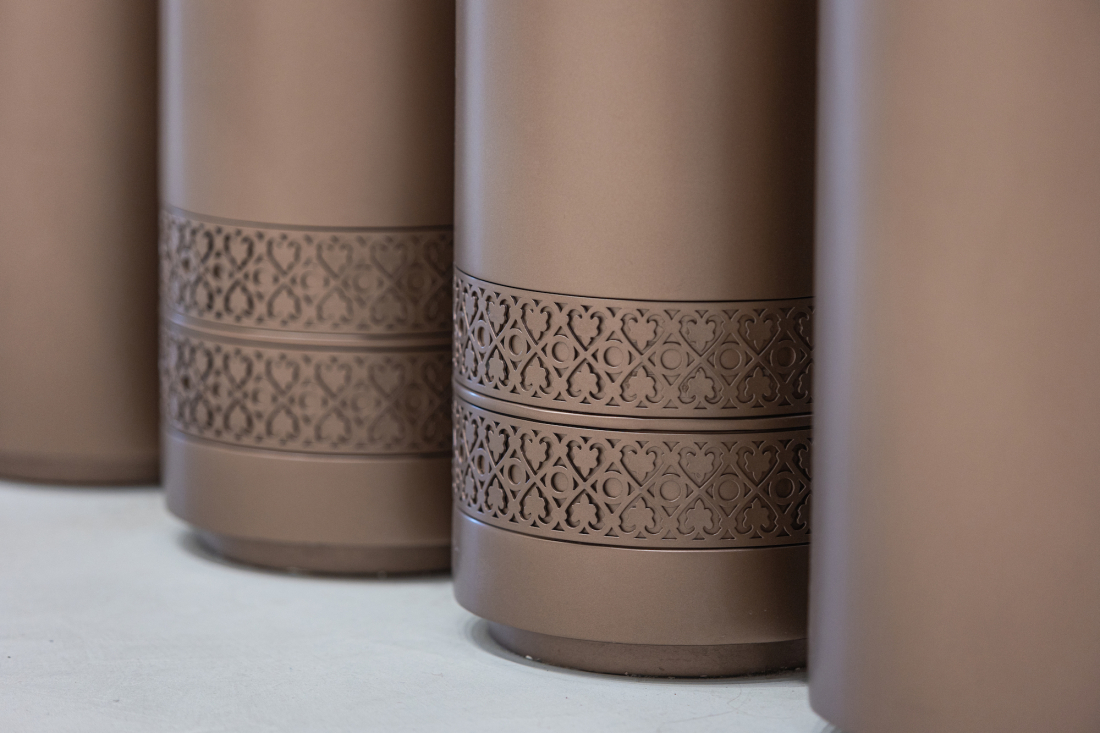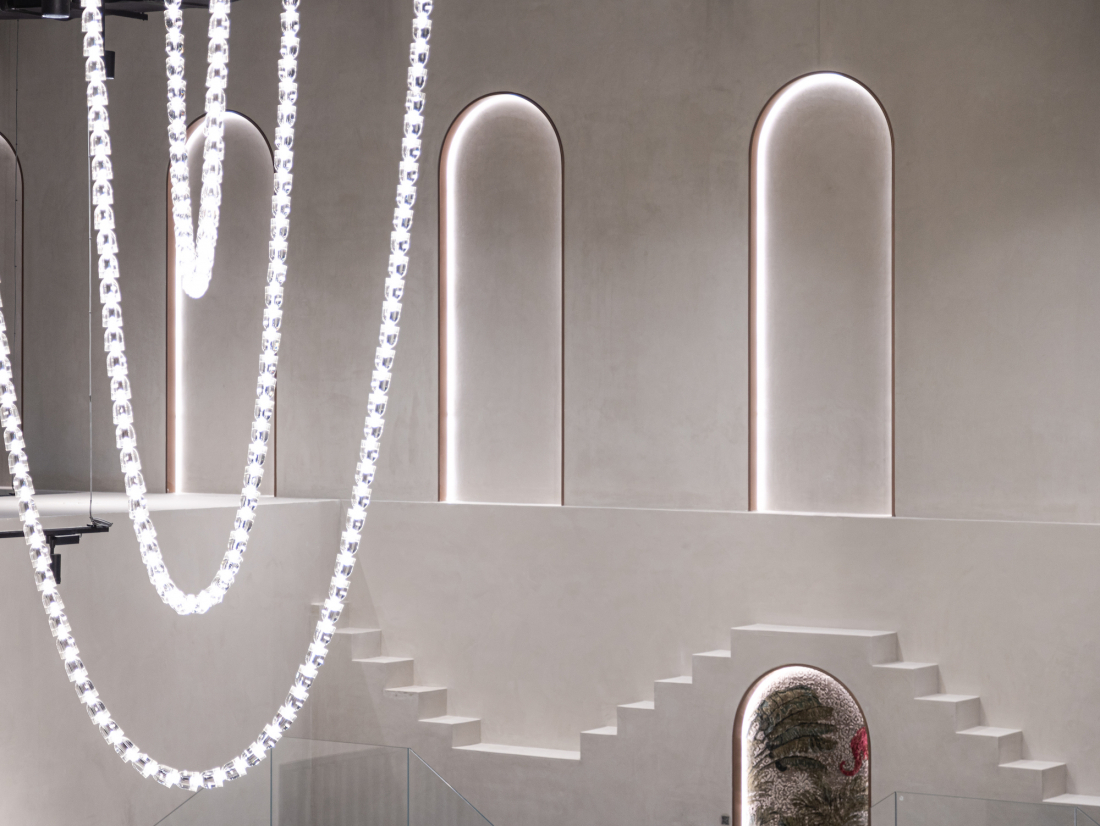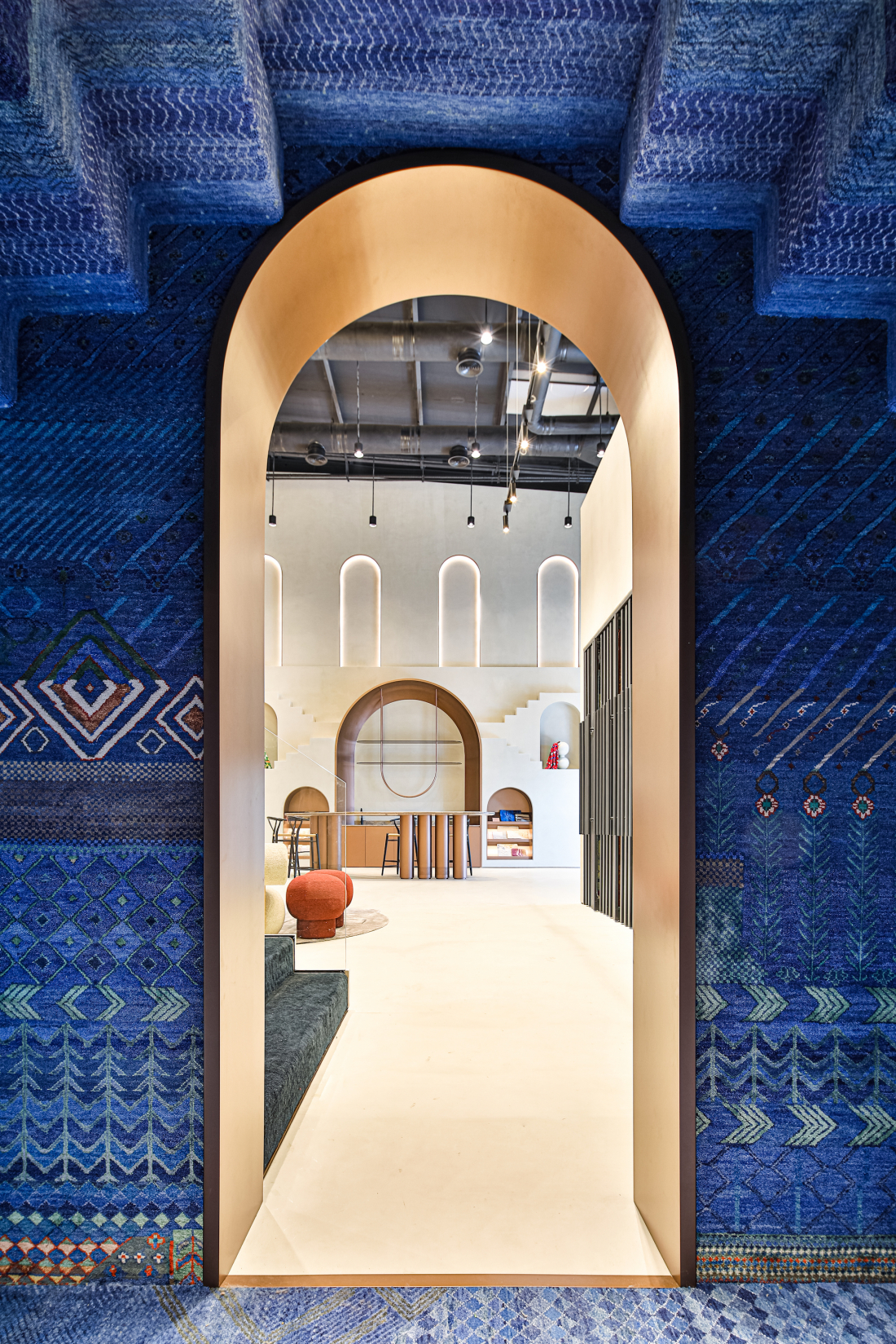 The lighting feature by Gabriel Chandelier resembles the beautiful jewels of Jaipur, adding a touch of sophisticated glamour to the space, and transforming it into a visually captivating experience. The sparkling and cascading effect created by the pendant lights evokes the allure of a radiant necklace adorned with exquisite gemstones.
Pallavi Dean concludes: "Our homage to the beautiful Pink City is all-encompassing, even the bathrooms have been designed to incorporate elements inspired by the vibrant culture of Jaipur. From the signage to the blend of patterned tiles and stylish sanitary-ware, we created a bold decor which embodies the age-old art of the city."