Ruud van Eijk on form versus function, collaboration and limitless creativity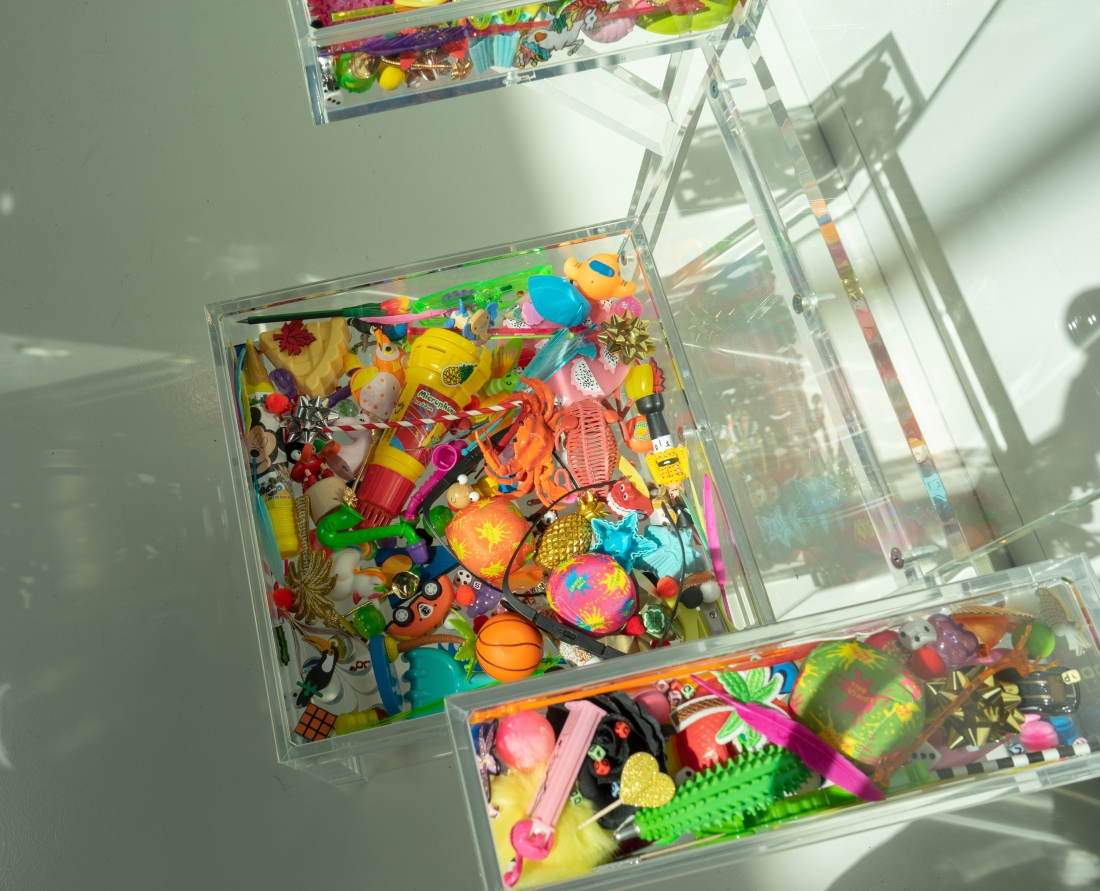 Ruud van Eijk is a graphic designer and art director based in Amsterdam, the Netherlands. In his day job, he designs brand identities, graphics and other creative solutions. However, by night, he works on personal art and design projects such as "Transparent and colourful at the same time", a vivid and fun furniture piece that's part sculpture, part functional item.
Having worked for a roster of internationally-renowned brands, Ruud has quite the portfolio of work under his belt. We caught up to find out more about his latest eye-catching project, which is all in aid of the fantastic Make-a-Wish Foundation.
You're a graphic designer and art director by trade. What took you into furniture design?
"I really love what I do. As a freelancer I'm busy with art direction, branding and graphic design. I have clients from all over the world, and I've worked for David Guetta, Red Bull, Zedd and more. I also work for restaurants and clothing brands in Amsterdam.
"Beside those projects for companies, I also feel a need to create my own personal art projects. Every week, I make at least one random design experiment. Often in Photoshop or on paper. I've been doing this since January 2012. I call those designs 'Weekly Wahini's'. Fun to do! But not enough.
"A few years ago I came up with an extra idea. I wanted to do a collaboration with a painter, to combine my 'digital' style with actual paint. Via Martin Garrix I found painter Lynn Spoor. Together, we made two paintings. A combination of digital visual arts and traditional art. I even ended up painting myself and Lynn ended up experimenting in Photoshop. It was an interesting collaboration and we organised an exhibition of the work. We eventually sold the paintings and it was a fun exhibition evening.
"I learned that I could come up with an idea for an art piece/collaboration, work together with other creatives, make something new together and besides having a satisfying new portfolio project I could even sell the work. It gave me new insights and possibilities within the creative industry and client work vs. personal work. I like a nice balance between those two things.
"After some extra collaborations with other creatives I came up with an idea for a chair. Personally, I'm also very interested in interior design and fashion design and I'm regularly doodling random ideas in my sketch book. Often I don't do anything with those ideas.
"A previous photography and graphic design project for a Dutch record label (with lots of toys that were photographed) inspired me to design and actually make a chair and fill it with those leftover colourful items. That idea and the vision to really make it was the start of an eight plus month-long collaboration with five people from various professional backgrounds, inspired by Gerrit Rietveld and David LaChapelle."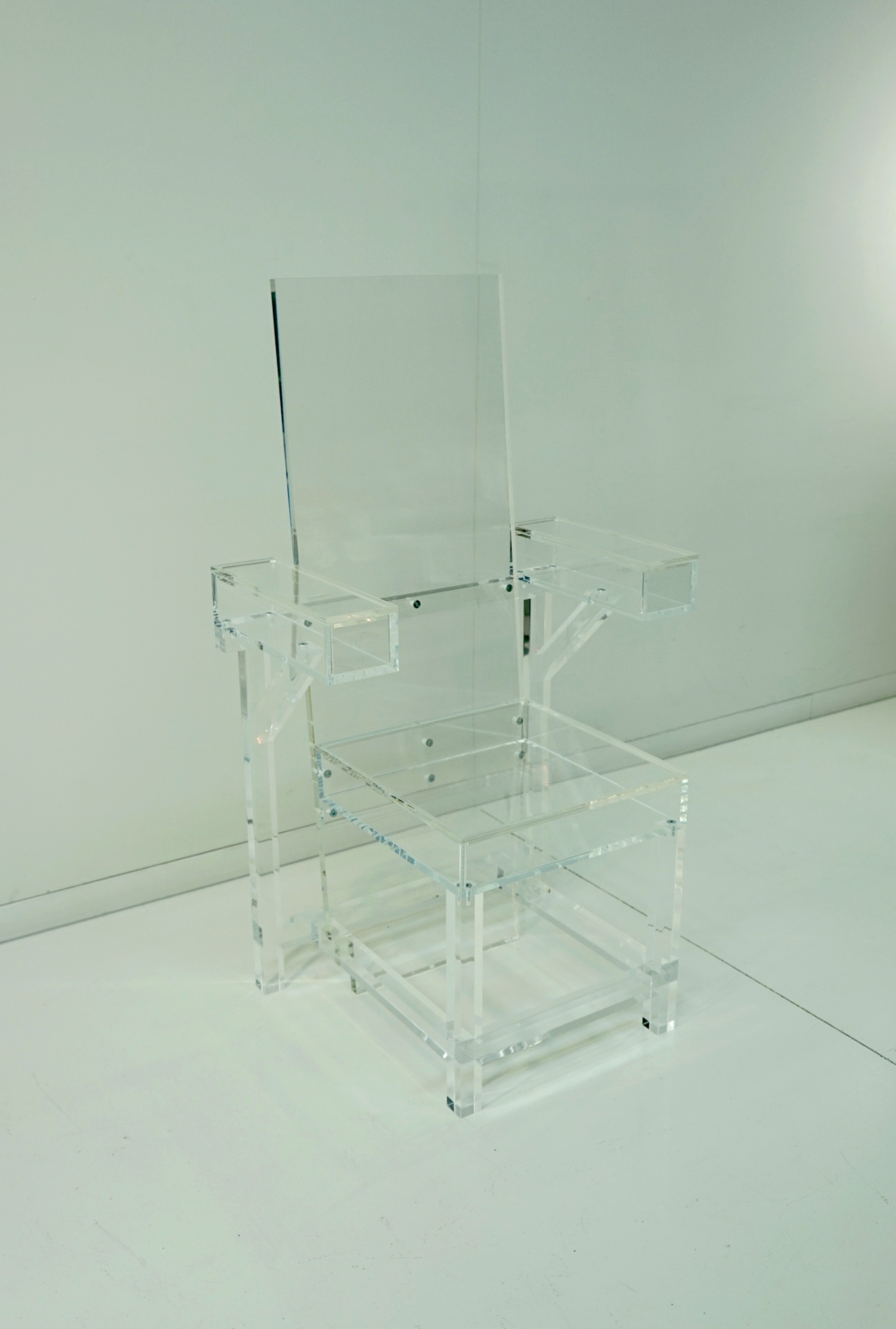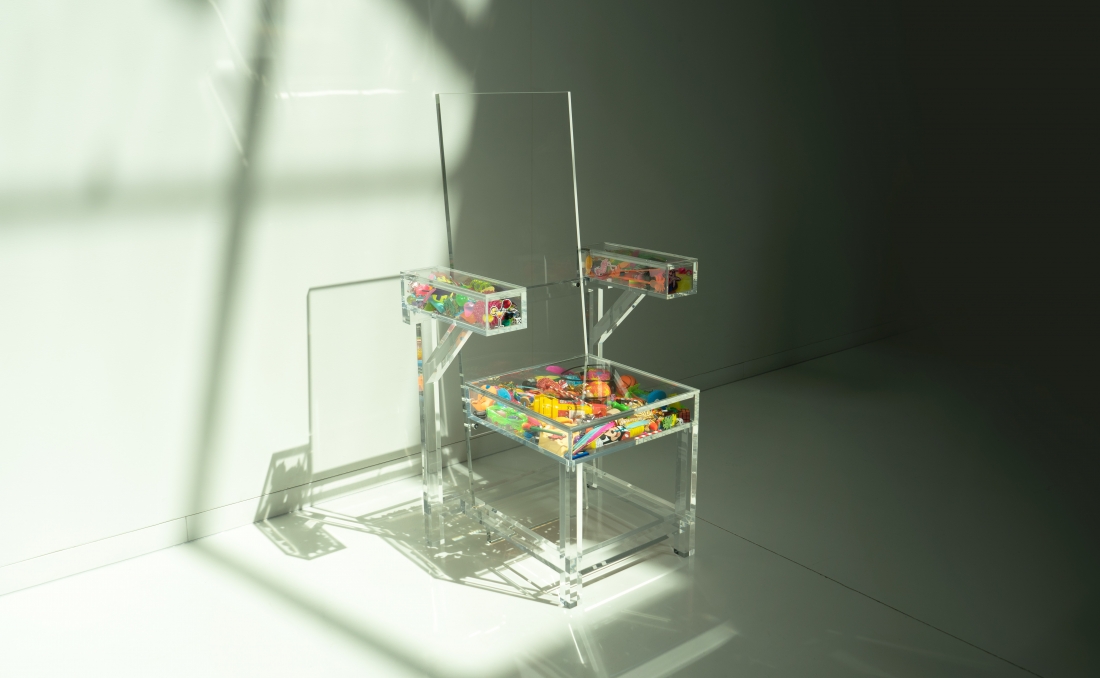 Your chair is part sculpture, part interior piece - do you intend it to be exhibited or sat on?
"When I started this personal collaboration project, I decided that I didn't need to make money from it. But I also didn't want to keep the result to myself. I decided that I would try to sell the chair and donate the net proceeds to the Make-a-Wish Foundation.
"I would love to exhibit the chair. Just to give it extra exposure so more people will see it and the price of the chair can go up. The more people see the chair, the more money that will be donated to Make-a-Wish. I also love the concept of creating a personal art project, and connecting it to a charity. There is no price for the chair. People can place their bid and at the end of the year I want to sell it.
"This chair blurs the line between sculpture and furniture. It looks like a chair and you can sit on it (if you're very careful). But personally I look at it more as a sculpture that looks like a chair. An art piece. There are already enough 'normal' chairs that you can sit on in this world, haha. The use of acrylic glass makes it a very heavy object, and I prefer people looking at it instead of touching it or sitting on it (I don't like finger prints on it, hehe).
"If you ask me, this is more of an art piece to place on a modern pedestal, somewhere in a home for instance. Also, when you sit on it you can't really see what's inside. And what's inside makes it colourful and more interesting. That's my opinion, but the buyer can decide for him/herself."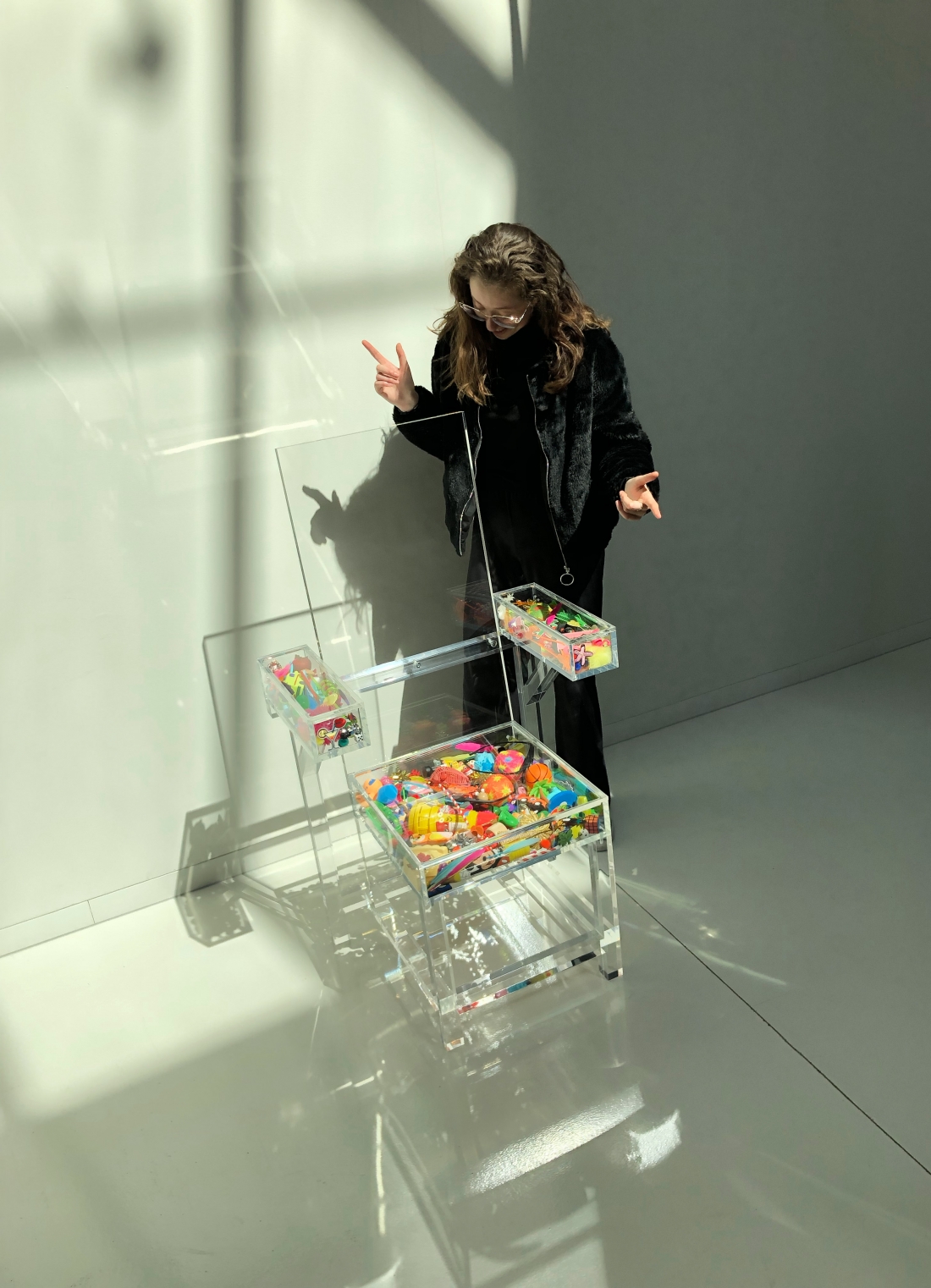 Can you talk us through your making process?
"The idea started after I finished a design project for a record label. There were a lot of leftover toys after over a 100 covers were photographed. From my office I started sketching a transparent chair that would be able to display the toys. Since deciding that it should be a collaboration, I worked together with Elena, an Italian product designer who transformed my sketches into a 3D model.
"To make the design come to life even more, a cardboard scale model was made in a workplace in Amsterdam. Together with my intern, Allison, I experimented with the proportions of the chair. Online, I found Alex. A laser cut expert. He helped us to create a thin acrylic glass scale model. We did this to get to know the material better and to see what toys would look like behind acrylic glass.
"A final medium-sized scale model was made. This model gave us the opportunity to test the strength of the material and to see the final look of the chair. All preparations and tests were done. A professional acrylic glass company in Amsterdam was contacted to produce the final chair. The result is a contemporary art object that will brighten up any space that it's placed in."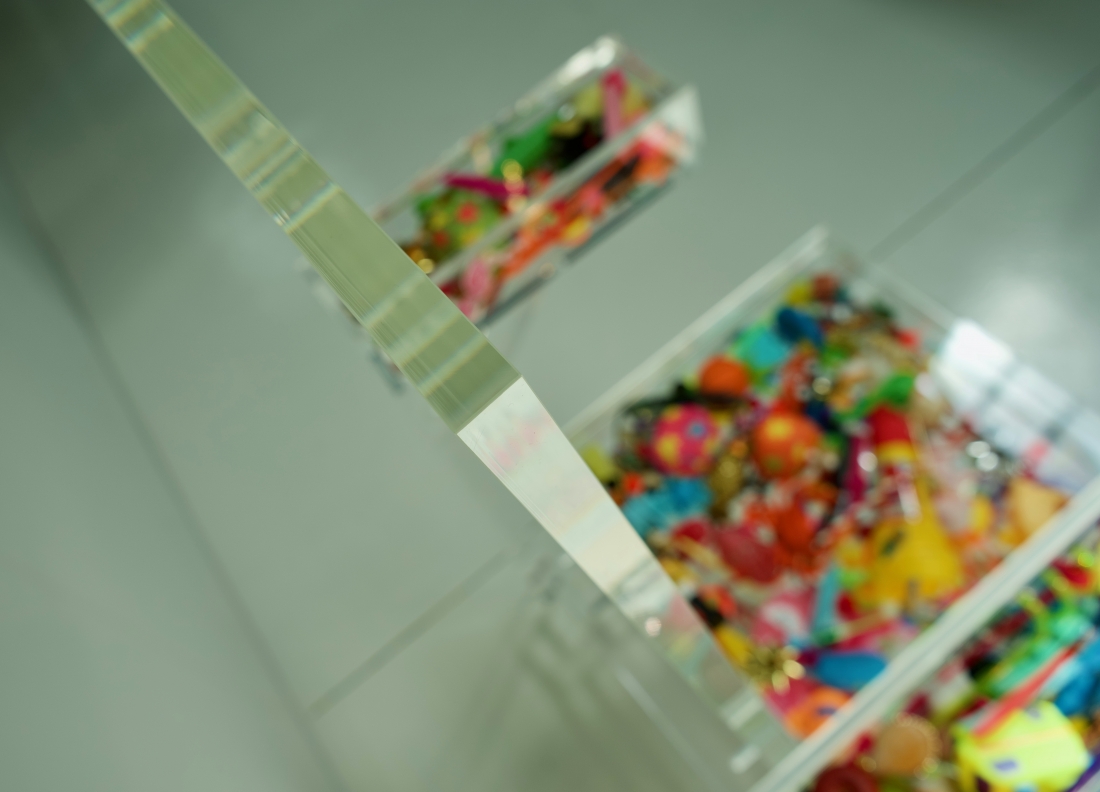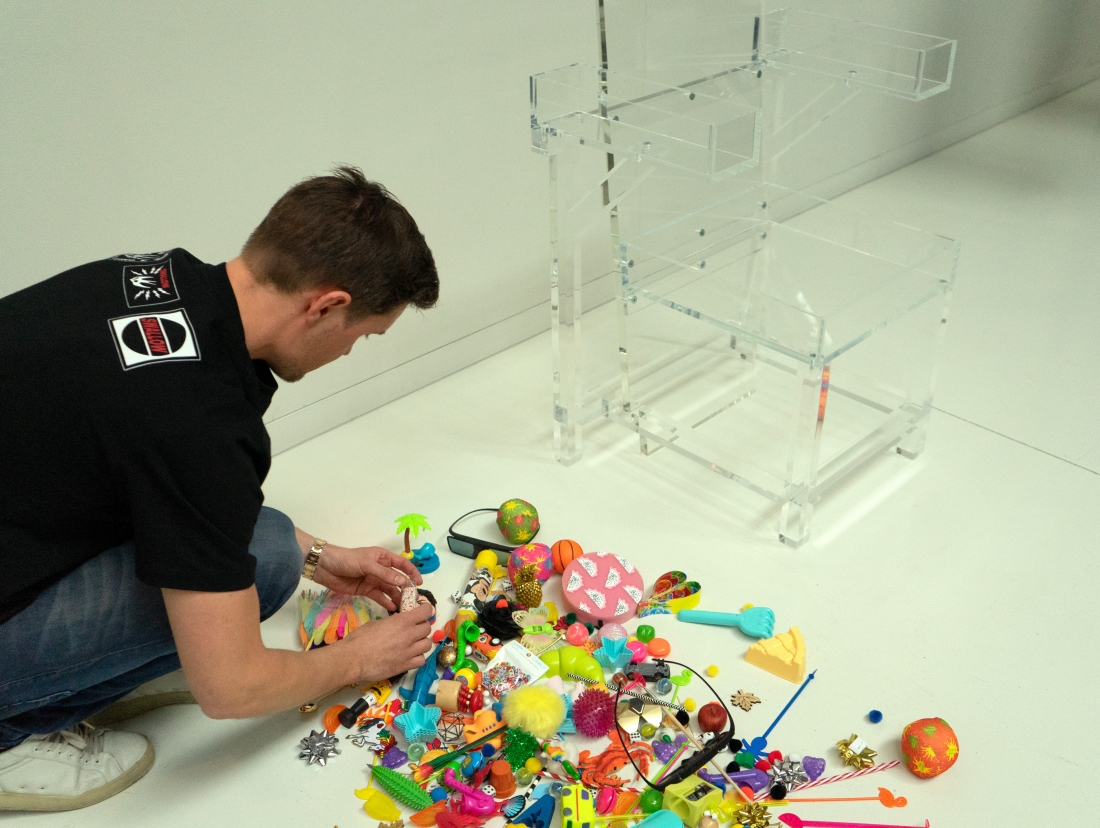 The arms of the chair can be opened and the content inside replaced. Did you intend on making the piece customisable from the start?
"Yes. The main idea was to make it fully transparent and to put toys inside of the seat. To have the contrast between transparent elements and colourful items. When I made more sketches I added the arm rests idea. I also wanted it to be very easy to be able to lift the top of the seat and arm parts (without using a hinge)."
Was the transition from graphic designer to furniture maker a natural one?
"Yes. I just had this random idea, and decided to actually make it (I didn't knew if it was possible before I started). In my graphic design work I also often like to combine modern design elements with very colourful visuals."
Is there anything that's particularly surprised or challenged you during this project?
"I learned a lot about materials in general! I had interesting talks about wood, acrylic glass, glass, furniture etc. Super interesting. I also learned more about working together with other creatives."
Who or what inspires you?
"Too many to mention. But here are some names: David LaChapelle, Virgil Abloh, Damien Hirst, Bas Smit."
Form or function?
"In this project: Form."
Do you intend on making any more chairs or furniture pieces?
"I would love to!"
What are you working on at the moment?
"I'm working for SandDollar Amsterdam on projects for Coldplay's Guy Berryman and perfume designer Azzi Glasser. I'm also rebranding a Danish hardstyle DJ/producer: Adrenalize."
And what's next?
"For my next personal art collaboration, I'm thinking about working with concrete, ink and/or mirrors. It might be an interesting combination. I don't force myself to come up with a new idea. Often it randomly comes across in my head. So we'll see about that! But I really like opposites. Transparent/no colour vs. colourful. Hard concrete vs. soft elements maybe in a new project? To be continued..."