Ryan Barrett on finding meditation in clay, homemade 3D printers and his TV debut.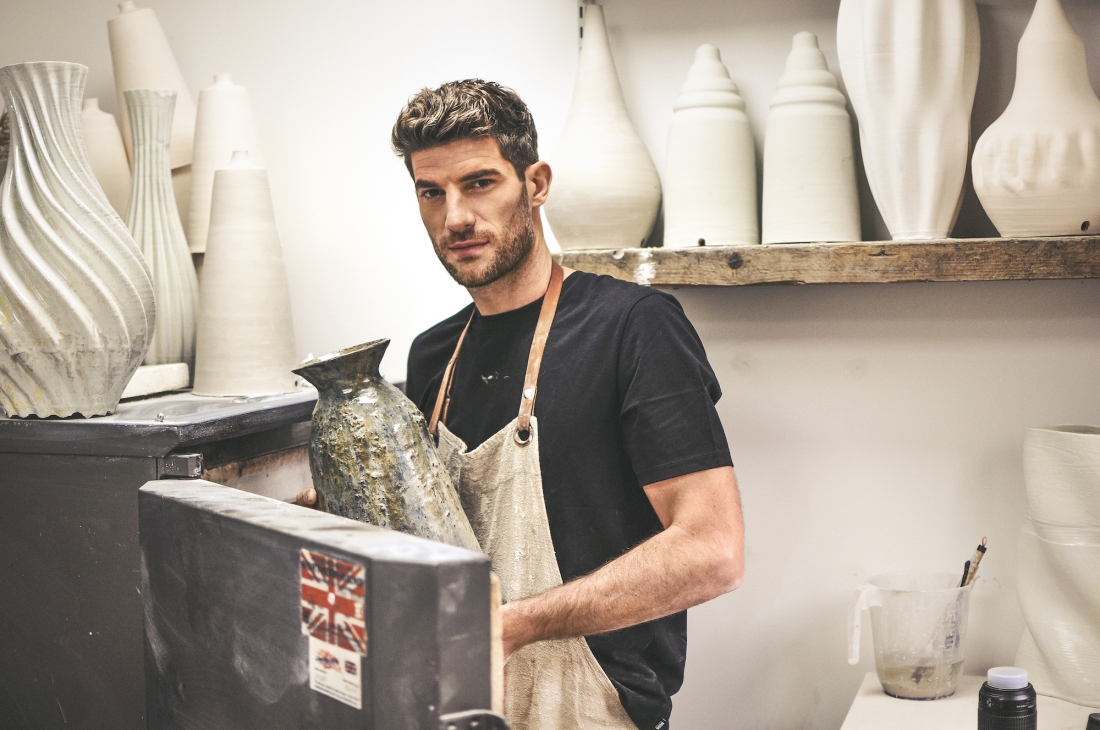 Ryan Barrett is a ceramicist, an innovator, "an orchestrator of controlled chaos".
You might recognise him as winner of the BBC series, the Great Pottery Throw Down. Or perhaps you've spotted him in a Versace campaign. If there's one thing that's for sure, Ryan's talents span many fields.
From starting a business in textile print design, to being crowned champion on a popular TV show, Ryan's career has been a creative one from the start; taking twists and turns along the way to lead him to his true passion: ceramics.
His work is sculptural, striking, and forward-thinking, using cutting-edge techniques to form unique textures and shape. We recently caught up with Ryan to chat in more detail about his journey so far, and to find out what's coming next.
Firstly, can you tell us where your love of ceramics came from?
"Ceramics is something I have always wanted to get my hands on, and never got the chance to at art school. I once went on a creative date on a taster pottery class and I instantly fell in love with clay. The week after I bought a pottery wheel and a kiln on eBay and moved into my grandma's shed to begin learning about the craft."
While studying at Goldsmiths University you were drawn to the world of textile design, and while living in New York, co-founded a print and textile studio, Vooprint. Can you tell us a bit about that time?
"I moved from my home town of Ipswich to London to go to Goldsmiths, which was a huge change in my life.
"I studied fine art textiles and really enjoyed my degree and discovering how to contextualise my work and process. I was approached to do textile print design and soon discovered there was a gap in the market for an E-commerce platform. So I founded Vooprint - an online marketplace for textile print design. We supply most fashion brands from Zara to Next and Topshop."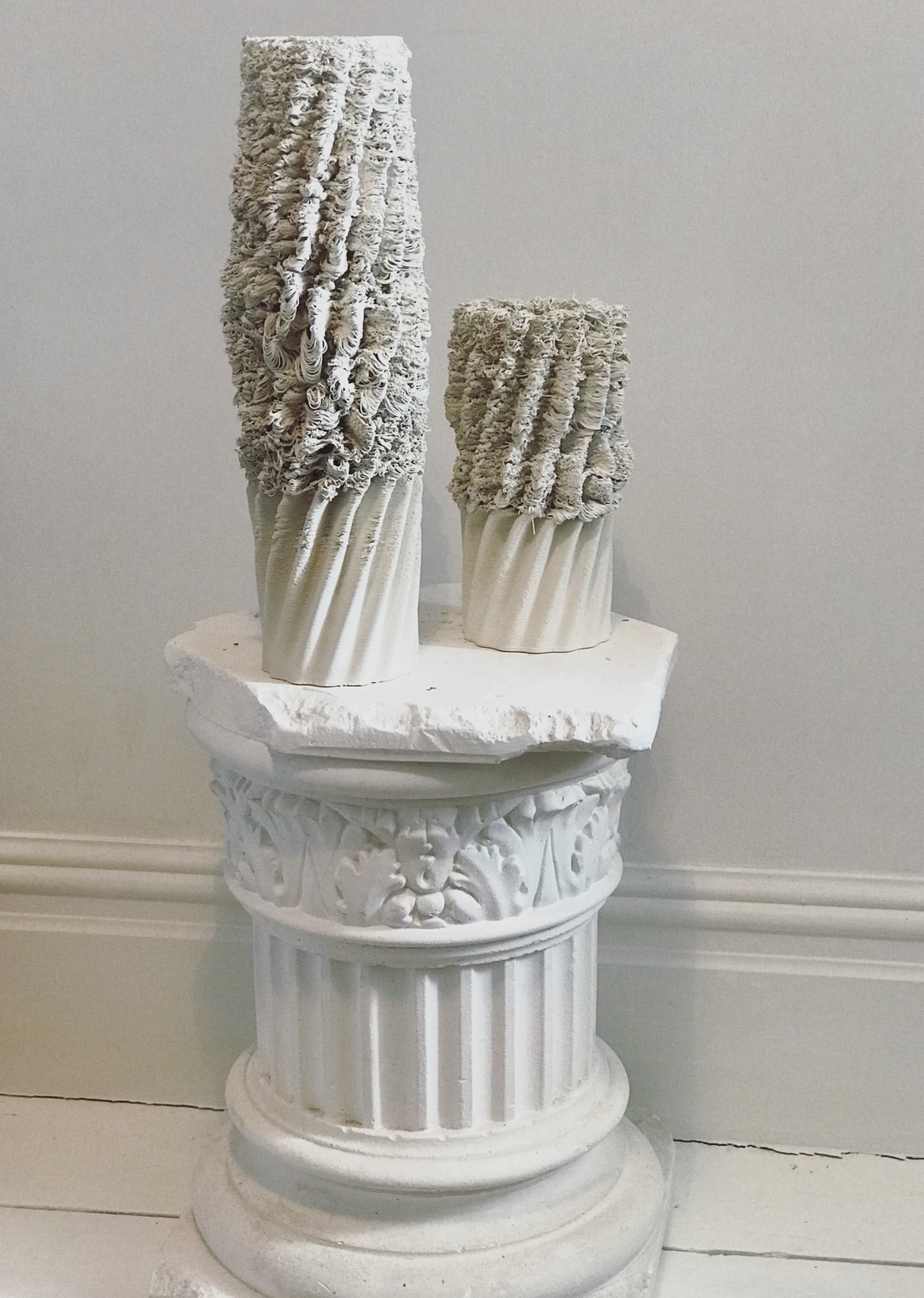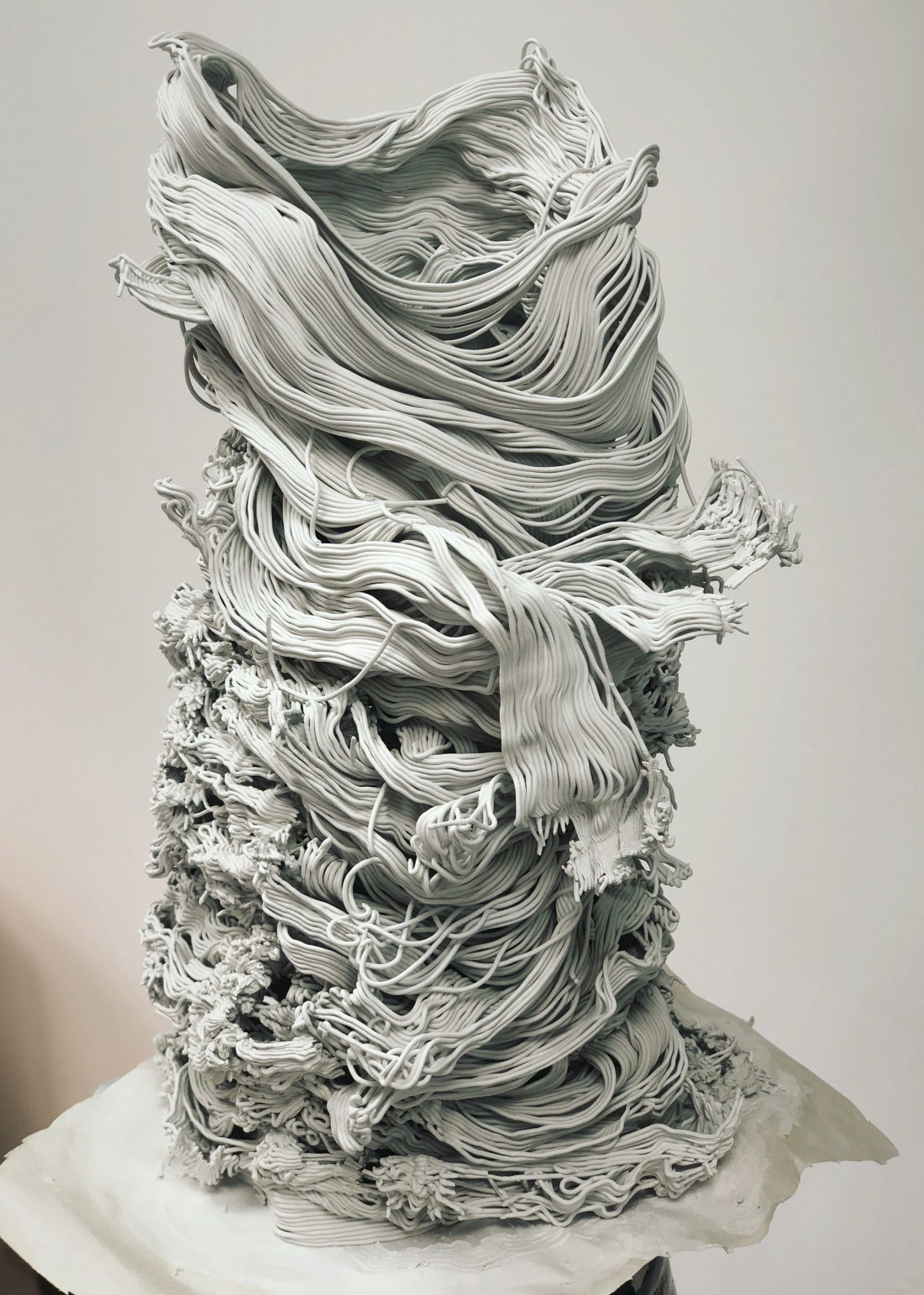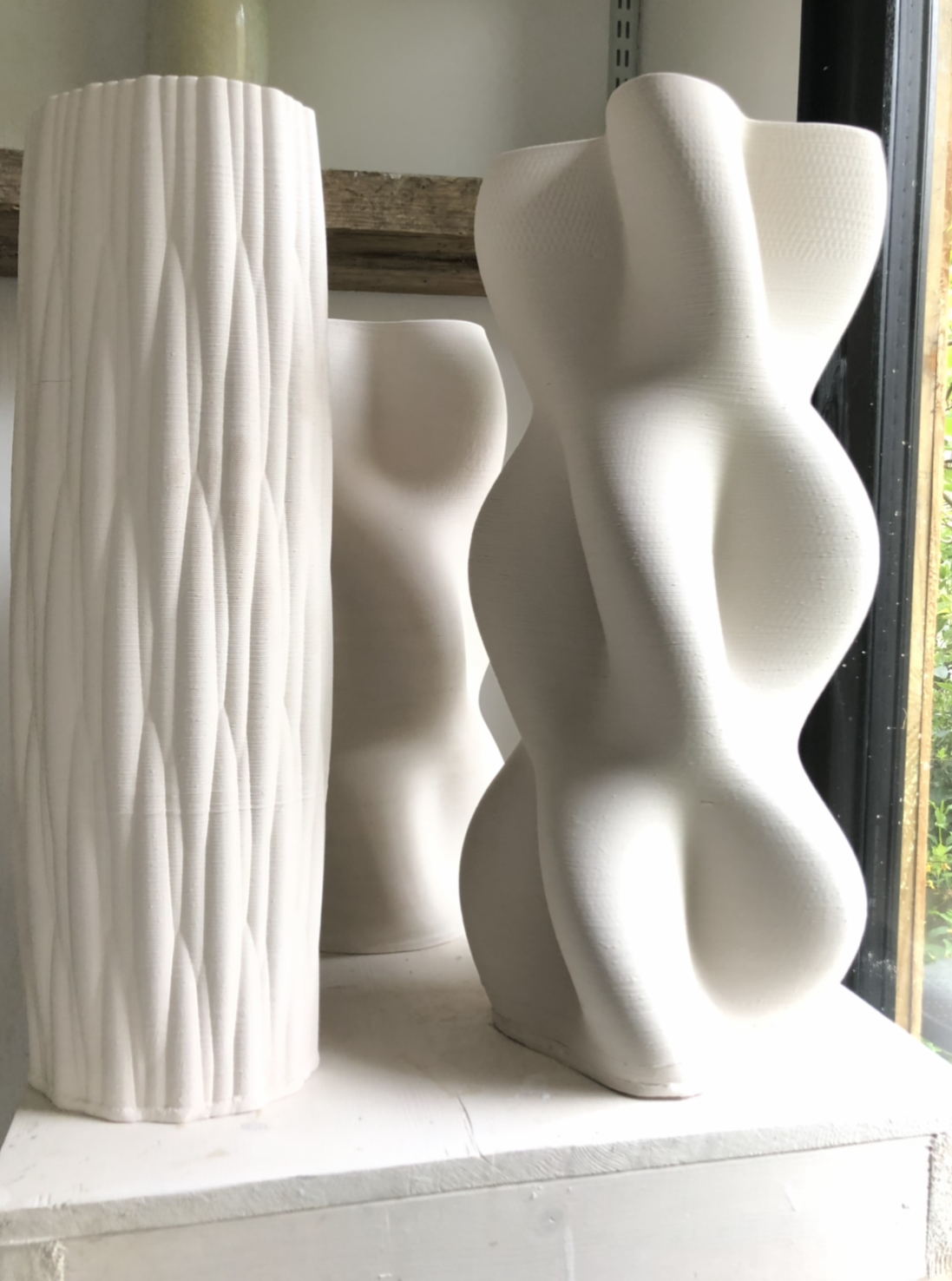 After this, you began experimenting with ceramics, setting up a pottery studio in your grandma's shed. What made you decide to put down the fabric and pick up the clay?
"I'm currently still juggling both projects as ceramics really started off as a creative hobby and has developed into something more serious. Clay has always been a form of meditation for me and is great for switching off from a busy world.
"P.s. Pottery in my grandma's shed was the best, as she would bring me food and tea all the time!"
In those early days, where did you get your inspiration?
"The early days were very experimental, and very much testing on my patience - I'd say I learnt pottery the hard way.
"I have always been inspired by sculpture. One of my first studies at art school was discovering Barbara Hepworth, though having textile knowledge, I was interested in the surface texture of glazes, so I would literally chuck everything at the clay."
You went on to win the Great Pottery Throw Down - congratulations! - despite being self taught. How did you find that experience? Were you at all daunted?
"When I first signed up to the show and then actually started filming, I had many moments of "OMG, what have I done!" I remember stepping on set and discovering every contestant had so much more experience than me, but I thought "I'm here now, so I just have to do my best"."
Your work seems very intuitive, with some pieces heavily textured and geometric, and others more fluid and almost figurative. Do you approach each new piece in creative isolation, or do you work on collections at a time?
"My latest work is from my homemade 3D printer, so I'm constantly discovering and pushing the limitations of printing clay. I do treat every piece with new ideas and techniques so really no two pieces are the same, even though they are printed."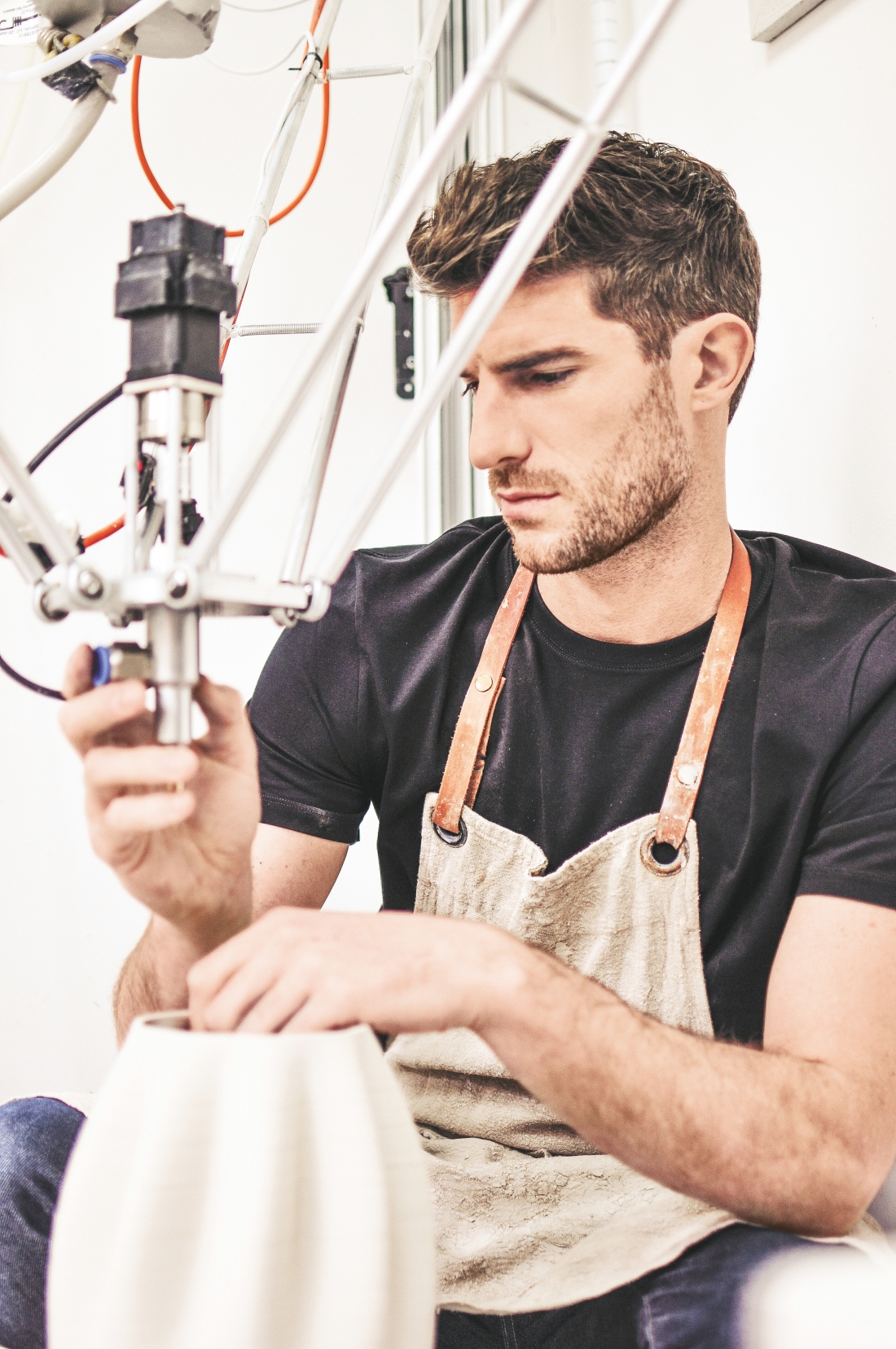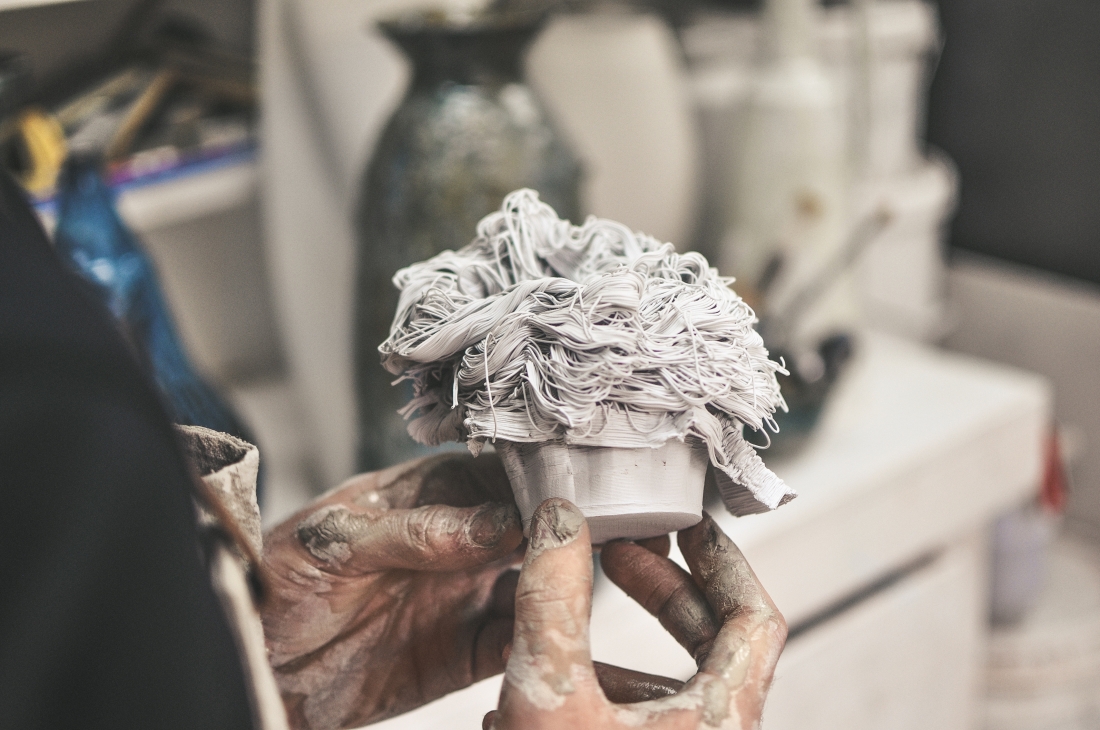 Can you talk us through your creative process?
"I have very fluid ways of working. I could be out walking and have a huge bolt of inspiration from a building, or I can be playing with drawing software and have a light bulb moment.
"The 3D printed work starts with a CAD drawing then gets sliced into layers for the machine to understand, I then prep a lot of clay and de-air it for being printed."
Where do you source your materials?
"The 3D printed works are always printed from porcelain, which I then add grog and oxides to form different colours. I use porcelain as it has a very high plasticity rate, which is ideal for printing, but the downfall is that it shrinks."
What are you currently working on?
"I'm currently working on a solo exhibition for 4 October 2021 at Oscar Graf Gallery in London. I have recently made a larger kiln allowing me to make bigger works for this, so I'm super excited."
And, what's next?
"I'm constantly coming up with new modifications for my printer and experimenting and innovating with concepts around what I can do with the machine; I'm always keen to push the limitations of what's possible."