Some people think pattern is just the surface stuff but through the lens of a microscope we ARE pattern.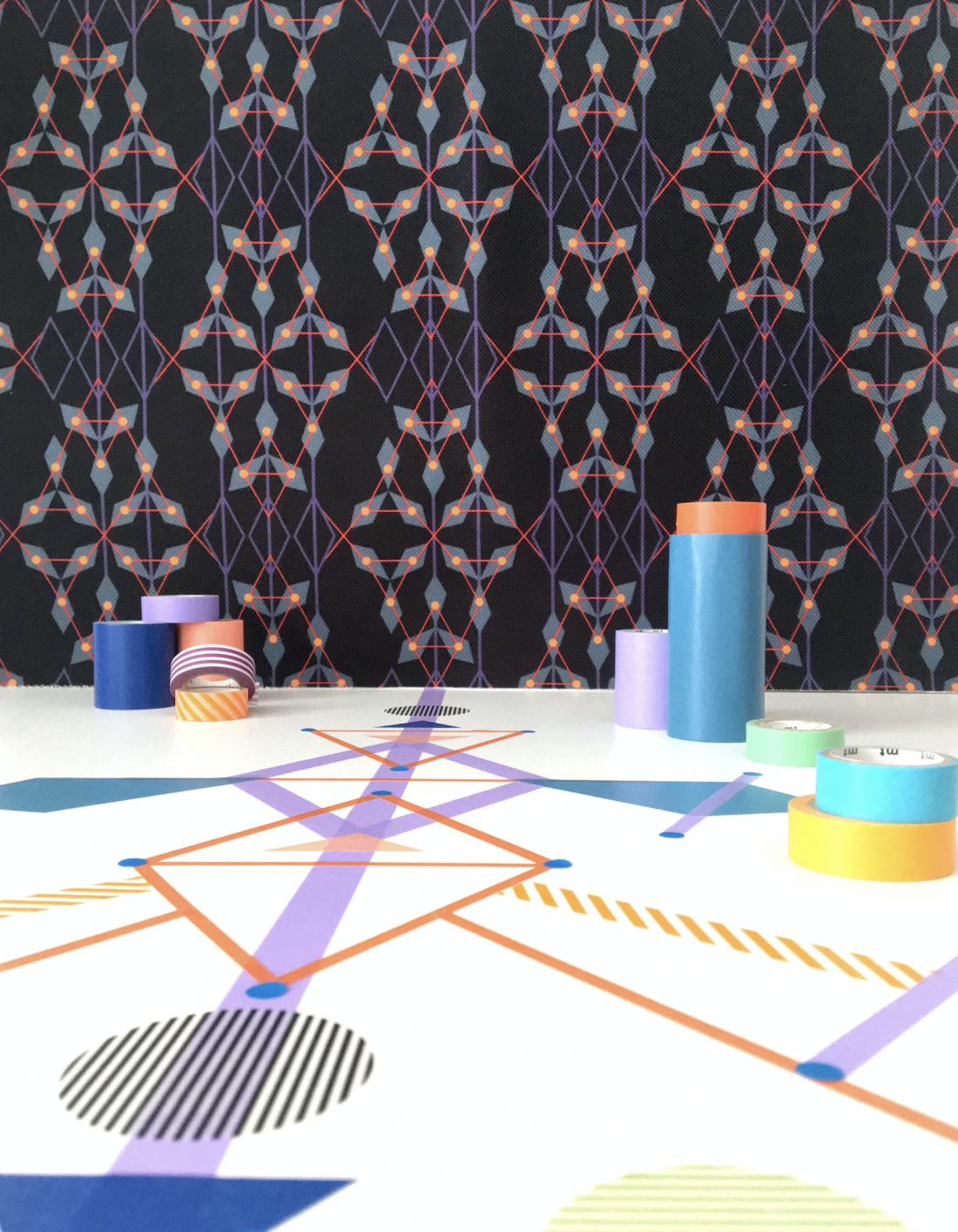 We thought it was time we caught up with the award winning and very wonderful Patternistas, AKA Chris and Suzanne Carpenter. Patternistas are a creative studio with a passion for pattern and the uplifting power it has to transform products and spaces.
Collaborative in their approach and flexible in their thinking, we wanted to know more about how it all started...
Tell us more about your background, and how your love of pattern started?
Our background is in graphic design, branding and illustration but there's a whole other lifetime that led us to this patterned platform. As children we were both introduced to amazing, eyepopping patterned cultures (Chris moved to Singapore with his family - Suzanne moved to Zambia with hers) The luminous colours and striking prints left a lasting impression. Bright, beautiful people swathed in stunning fabrics. Maybe you can see the influence in our aesthetic? We sold our successful branding agency nearly four years ago as we'd come to a point where we wanted to focus on our personal creativity. Patternistas is a release valve for the myriad of patterns that had built up in our brains.
What is it about pattern that you find so inspiring?
Some people think pattern is just the surface stuff but through the lens of a microscope we ARE pattern and recognising that connects us to one another and to the planet. In these tricky environmental and political times it can be helpful to remember that we have more in common than that which sets us apart. We love spending time outdoors and our lives are an intense game of I-spy; peering at ripples in puddles, studying veins on leaves and the shadows of trees. Collecting, absorbing, recording, creating; patterns underpin how we see the world.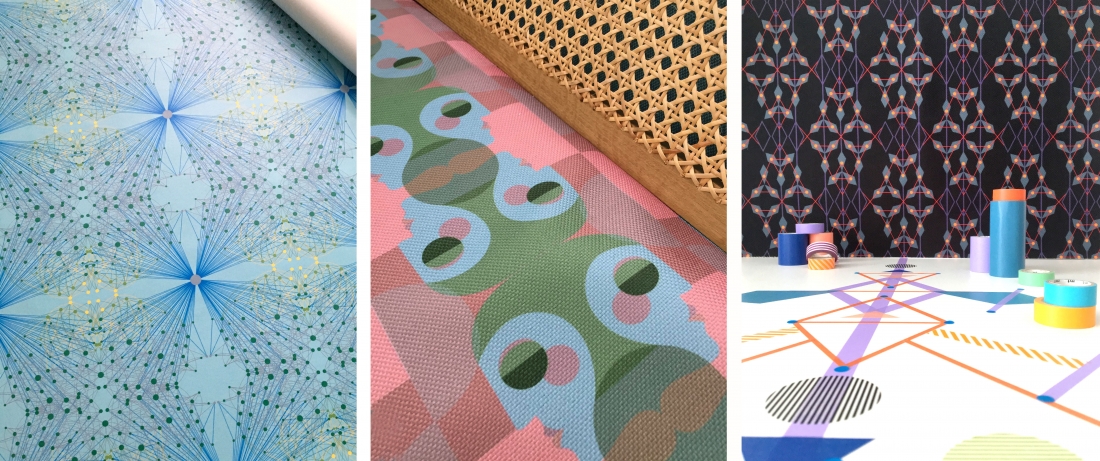 You're constantly working with new materials and brands, how has this evolved over the years?
We began almost four years ago with a lively collection of performance fabrics printed by Panaz for workplace upholstery. At the time the market was saturated with shades of grey and we wanted to put smiles on faces by offering an uplifting alternative. The fabrics made a splash when they launched with Ocee Design at Clerkenwell Design Week but though we were greeted with the smiles we'd hoped for, it took the market a while to come around to the idea of specifying anything other than plains.
Thankfully, research into Wellness in the workplace has changed things dramatically. Workplace design is now very much about user experience and no one wants to look corporate any more. We're so happy to say that pattern is now being used to add personality and vitality to a wide range of interior spaces and surfaces. We're also getting more and more enquiries from architects and interior designers who want to develop bespoke patterns for their clients. It's rewarding to design patterns that have direct relevance to a brand, it's people or location and that help employees feel a sense of pride and ownership of their space.
From a materials perspective, what materials have you worked with and which one is your favourite, and why? Sorry we have to ask!
We know it's a cop out to say 'all of them' but we never lose the excitement of seeing our patterns on new surfaces. So far we have worked with a range of fabrics, rugs, wallpaper, ceramic tiles, acoustic board made from PET, printed ply, laser cut ply, manifestation and window/wall vinyl. We're always looking for new surfaces to decorate and love to collaborate with manufacturers and designers. Each manufacturing process is so interesting and they're all so different. We've done a lot of factory visits but there are always new things to learn and for us that's what keeps it fresh.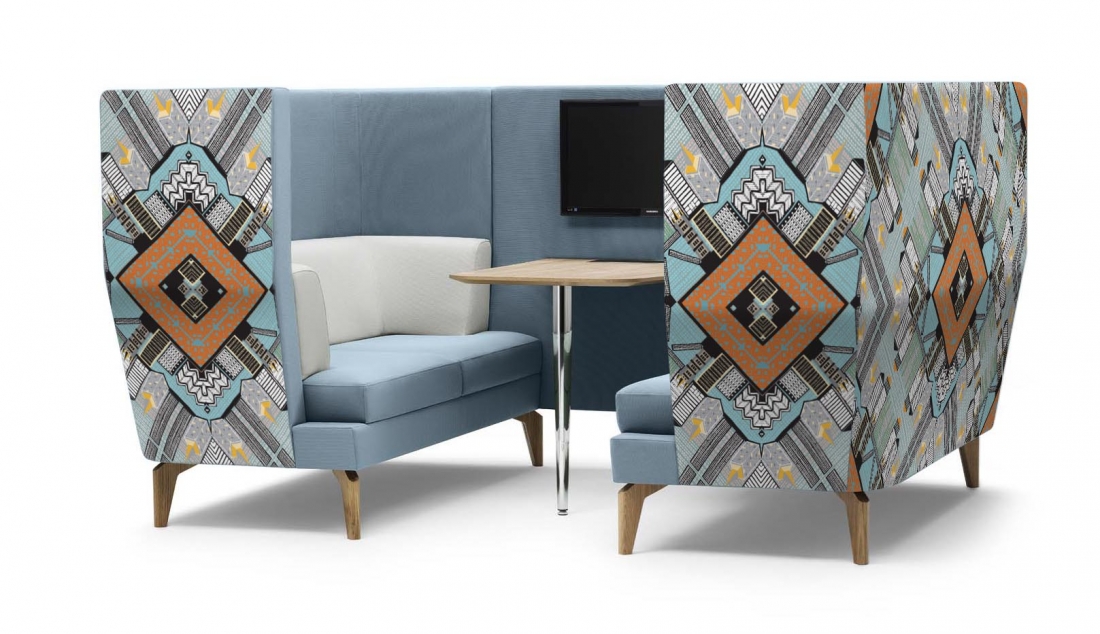 We love the bespoke projects that you've recently completed, tell us more about this and the creative process behind each one?
We collaborated with the strategic team of a global corporate to create London themed fabrics that they could use in their open plan offices to help give staff a sense of place and pride in their workspace. Each of the patterns has a number of colourways so they can be used to add personality and visual energy to a space as well as highlighting one zone from another. They also act as subtle wayfinding by helping users to orientate themselves on a specific floor and within the overall building.
The four patterns from our London Collection are available from Panaz for specification use in the wider market. We're over the moon that the collection has just been shortlisted in this years FX International Design Awards - Surfaces Category.
Blocks - a pattern developed from our hand printed image of the iconic London Bridge and the myriad of city skyscraper windows and reflections on the river. The colour ways include both a day and night version of the design.
Thames - a pattern developed from icons relating to past and present trade and recreation that takes place along the river. Along with cargo ships, taxis and runners we've included scissors, cutlery, locks and keys - small items that are used daily but could also have lain in the mud for centuries - little links to the past that are still relevant to life along the Thames today.
Streets - a pattern inspired by maps of London. It's a mirror repeat of the tightly woven network of roads and walkways that carve up the city. The distinctive shape of the iconic river Thames is highlighted in blue and is easily recognisable to the viewer. We also picked out the wonderful green spaces that London is famous for and that improve the wellbeing of both the people and the environment.
Tubes - a pattern that pays homage to the iconic London tube map which has long influenced and inspired other transport networks across the world. We created a geometric background pattern by filling in the shapes between the lines in tones of grey and then separated out the rainbow coloured routes. The result is a strong, bold design that is reminiscent of the map but with a very original look.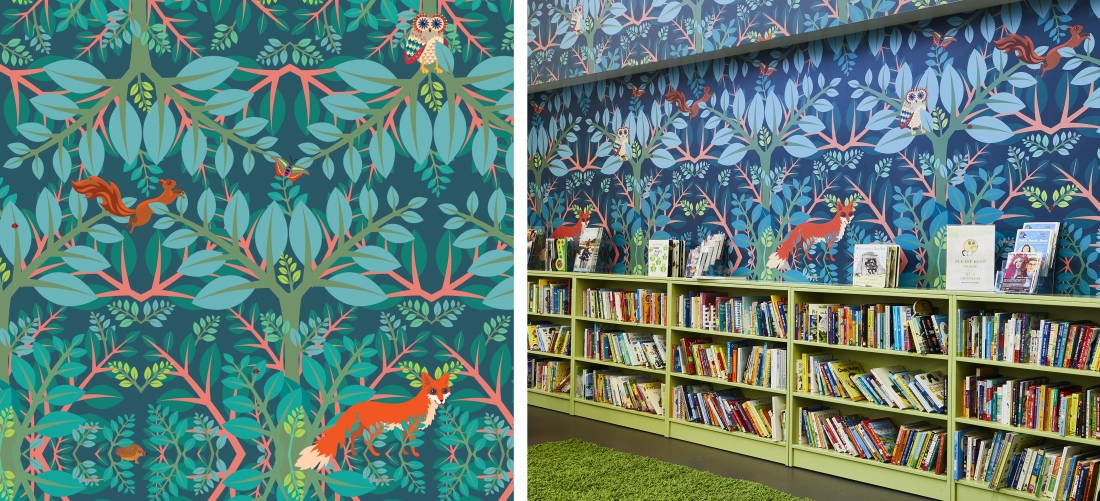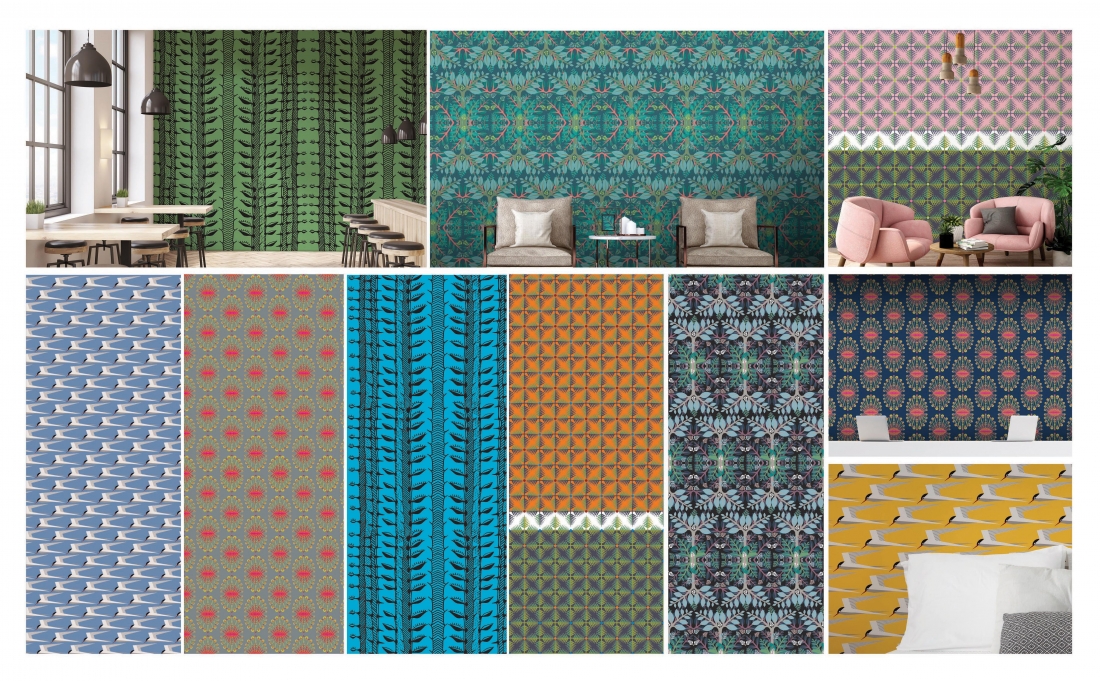 Can you tell us more about your pattern research, what are your top tips for getting inspired by pattern?
Engaging with clients to understand their stories and needs is always fascinating and inspiring. It draws out themes that we can work with and helps us develop motifs and patterns that are relevant to a space and the people within. Of course Mother Nature is the ultimate pattern expert so spend we spend as much time as we can in her company. Once you've tuned in to the world around you there's never a shortage of inspiration. Daily doodles and mark making experimentation also unlocks creativity often leads us to unexpected happy places.
We often see you out and about, working with your clients in workshops, encouraging creativity, how much do you enjoy this aspect of your work?
We love it. Creative play has been proven to be beneficial for relieving stress and enhancing problem solving skills. It's so rewarding to give a group of industry professionals the time and space to experiment with pattern and explore their own creativity without the pressure of client briefs and deadlines. The feedback we get is amazing and there's always a real buzz in the room. It's also a great way to get people networking or team building as the atmosphere is relaxed, fun and mutually supportive.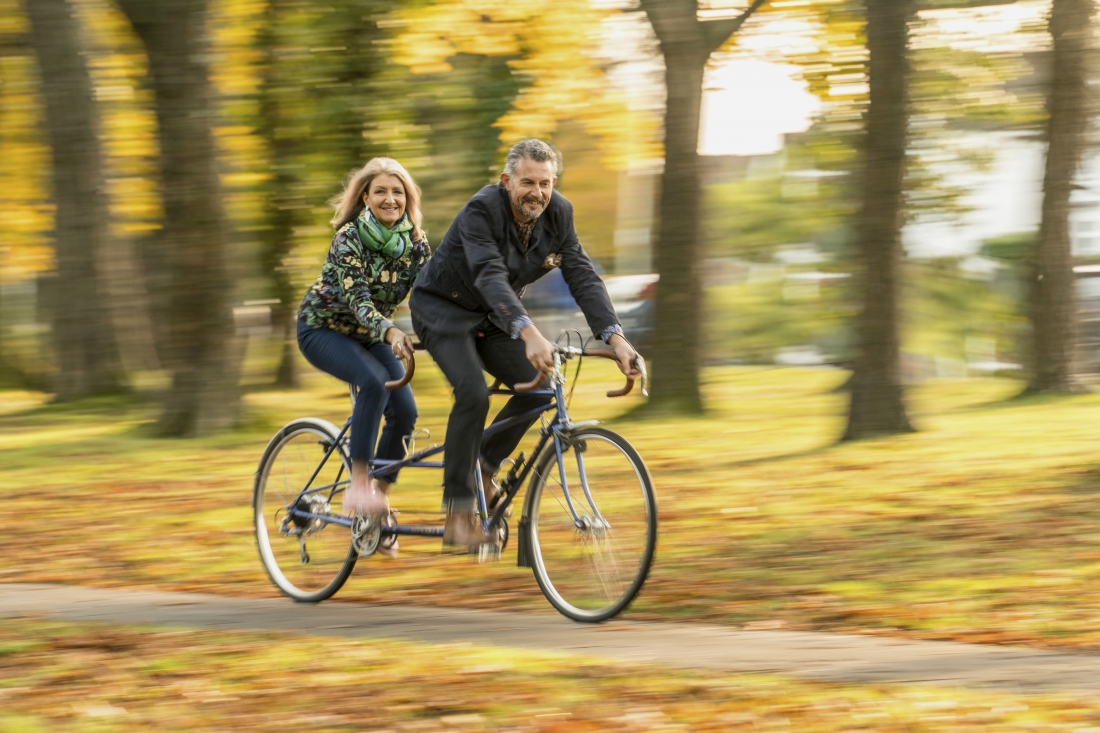 Who inspires you when it comes to design at large, and why?
There are so many inspirational artists and designers out there! Wherever we venture we seek out galleries and museums where we can feast our eyes on ancient, classic and contemporary art and design. We like to think of our creativity as a ravenous baby bird - we know that if we feed it with exciting aesthetics, it will grow and grow. When we're stuck at our desks we turn to our instagram where we follow a host of amazing designers from around the globe. We love bold aesthetics that make us smile. If you don't know them already check these fun feeds out @appetitefordecoration @town.and.concrete @moragmyerscough @camillewalala @yinka_ilori @stephenormandy
With all of the above going on, what's your next project?
We're just launching a new fabric collection for Panaz and behind the scenes we're working on new collaborations which we won't be announcing till early next year. We're exploring developing our own product range and we'd love to design a pattern book for children and one for adults.
Learn more at Patternistas.