Studio Sarmite on the growing commerciality of biomaterials, tailoring reimagined waste & design narrative.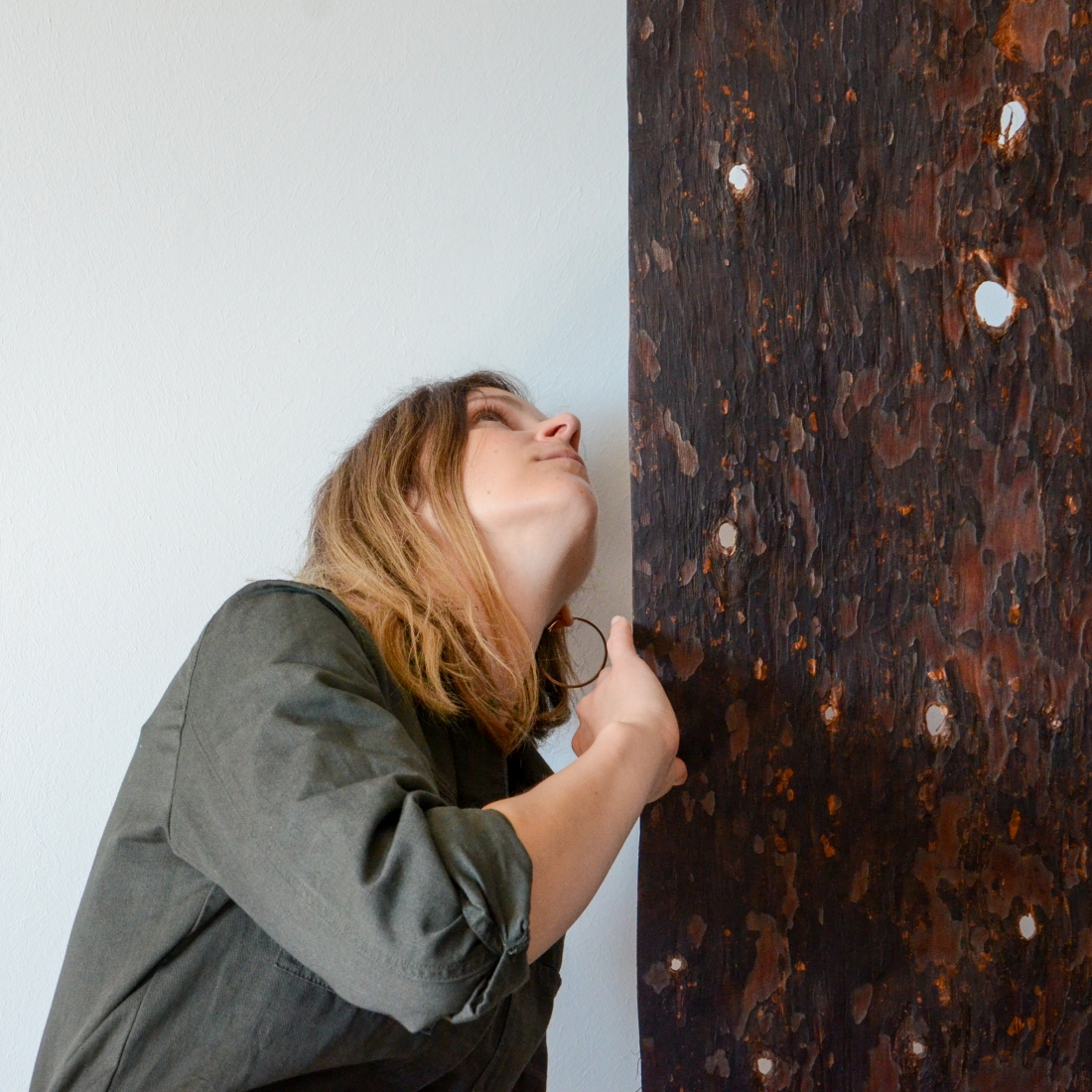 Studio Sarmite is the brainchild of Sarmite Polakova, a Latvian designer living and working in Frankfurt.
In 2015 she graduated from the Design Academy Eindhoven where she developed a special interest in raw materials and research. Her body of work focuses on transforming unassuming, natural materials into a new purpose and series of design objects through extensive theoretical and practical research.
Perhaps best known for her transformation of pine, Sarmite is a trailblazer in the world of biomaterials. So, naturally, we were keen to find out more...
Firstly, can you please introduce us to Studio Sarmite?
"Studio Sarmite is a natural materials design and research studio, currently based in Frankfurt, Germany. Led by Latvian designer Sarmite Polakova, the studio focuses on transforming industry waste and various byproducts into new high-quality materials that can be brought back to the market.
"I believe that the term "waste" should be seen as a surplus rather than something negative and thus can be turned into a resource for creating something new. Studio Sarmite combines experimental research with the manipulation of existing design methods, which leads to a design language tailored specifically for each material. Thus, the design objects become the main carriers of the narrative"
What first piqued your interest in bio materials?
"I come from a background where nature was always around me. From pine forests to grass fields, from games in the trees to picking berries and mushrooms - nature was my playground as a kid.
"After growing up and moving to the city I started to miss this connection. During my studies at design school I was tempted to use materials around us in new ways – from old fishing nets to newspaper scraps to tree bark.
"It is the idea that materials are more than a resource – they carry a message and traces from the past, our culture, ecology and even hints of the future. The message and the story of the material is a crucial part of all my projects. Once I started to work in this realm, I could not go back to conventional product design. It is always the "why" I am looking for."
Where do you source your would-be waste materials?
"It really depends on the project, but, in general – from the very core of the project. When it comes to pine trees, I source bark in collaboration with local tree cutters and involve the local community to help with processing. For PineResin I collect sawdust from local carpentry workshops.
"With Pre-Loved, I source post-consumer as well as post-industrial textile fibres from textile recycling centres. There are some challenges with sourcing work, especially when working with raw materials. These selling systems are tailored to large buyers and therefore require large minimal order quantities.
"For example, the MOQ for recycled textile fibres range between 300kg to 1 ton – that is quite a lot of material to deal with if you are a small-scale studio. Therefore, it takes time to find a trading partner who will listen and make an exception to their selling policy for this one designer who talks big and doesn't give up."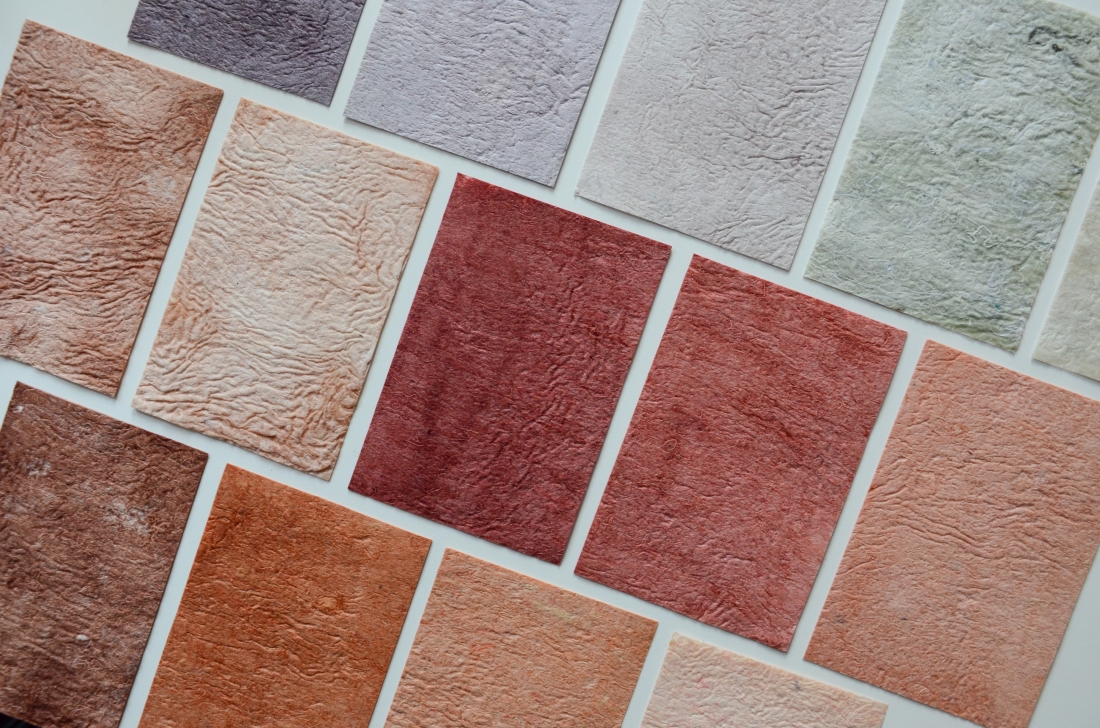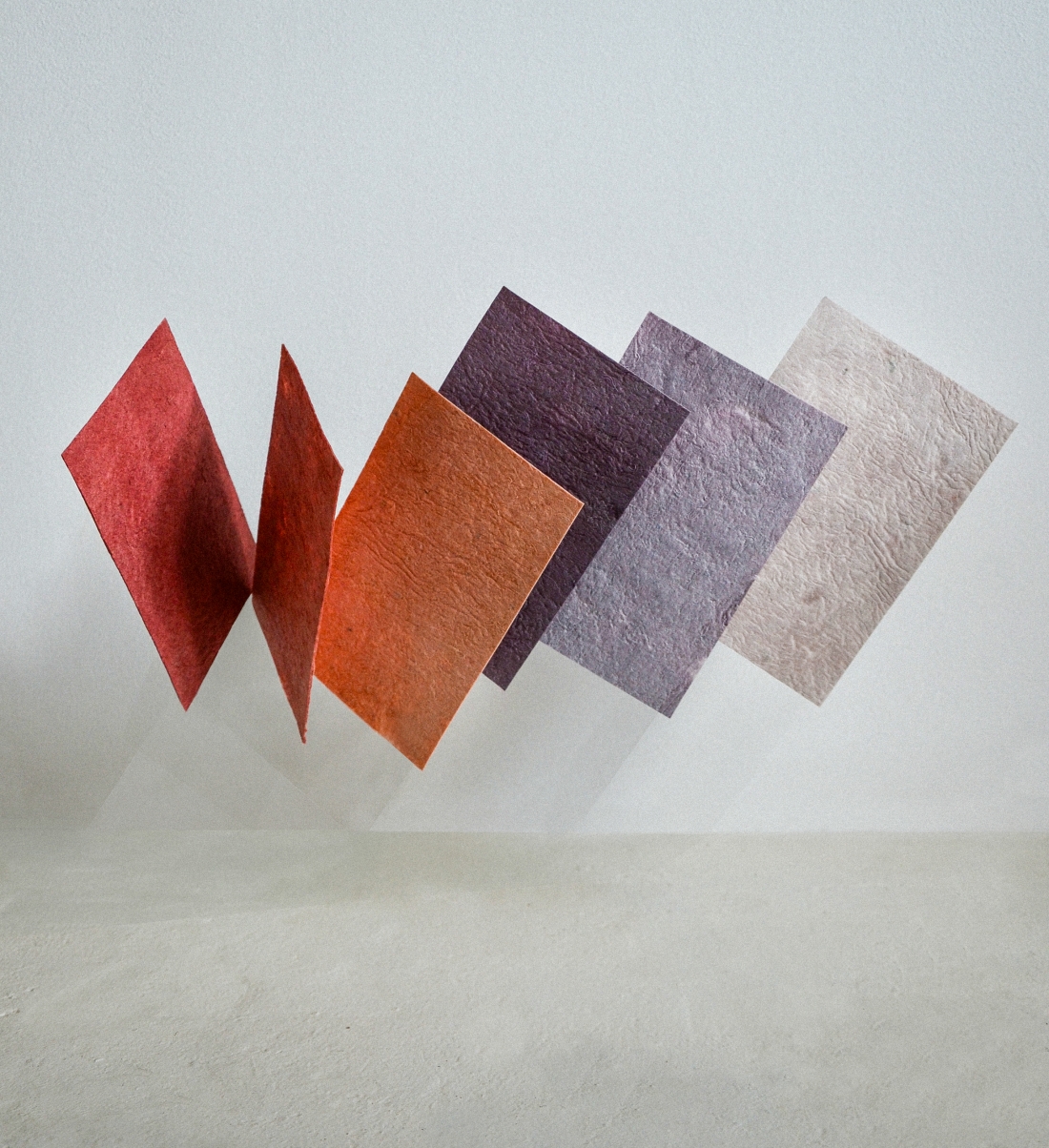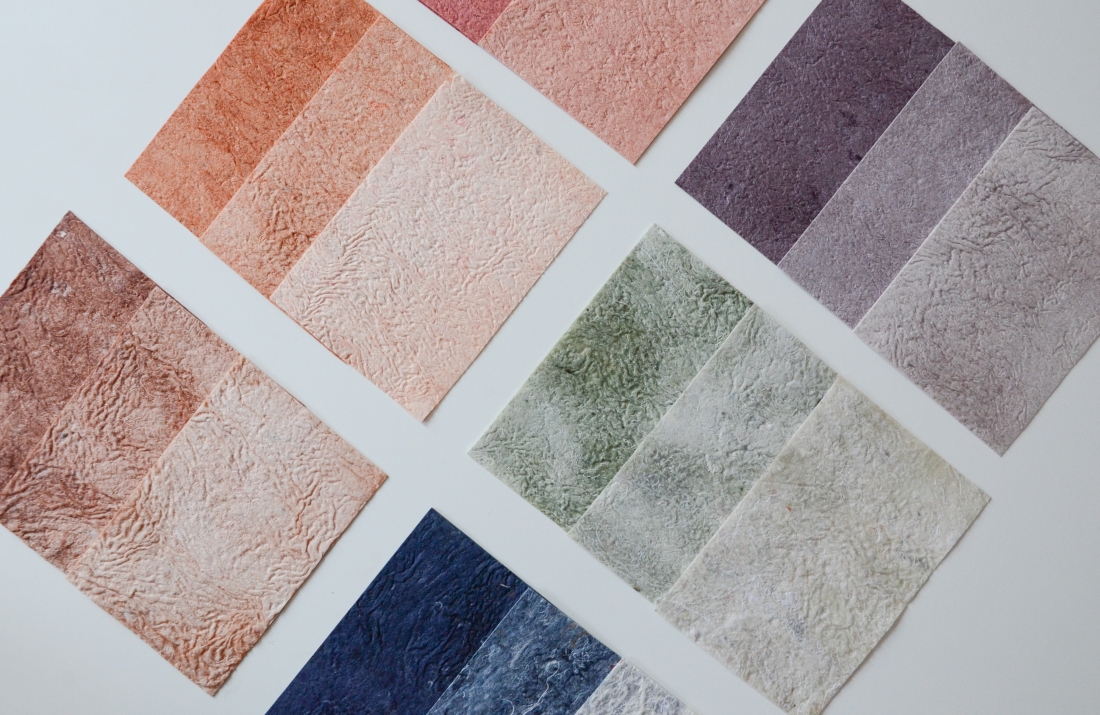 Amongst your innovative materials are Pre-Loved, PineSkins and PineResin - can you please give us a brief introduction to each?
"PineSkins is a versatile, leather-like material made of the inner bark of pine trees, a by-product of the tree cutting industry. Ranging from earthy brown to pink and to deep terracotta colours with a scent of wood, PineSkins carries a unique appearance that feels familiar yet unseen.
"In order to become flexible, the freshly harvested bark is treated with a bio-softening solution and enhanced with colour pigments and natural wax. On a broader level, the project addresses the current use of resources in forests with the aim to create more balanced methods and contexts in defining the future for trees. It is about creating alternative scenarios for those parts of the tree that usually are left behind in the forest after the tree is gone, one of them being the bark.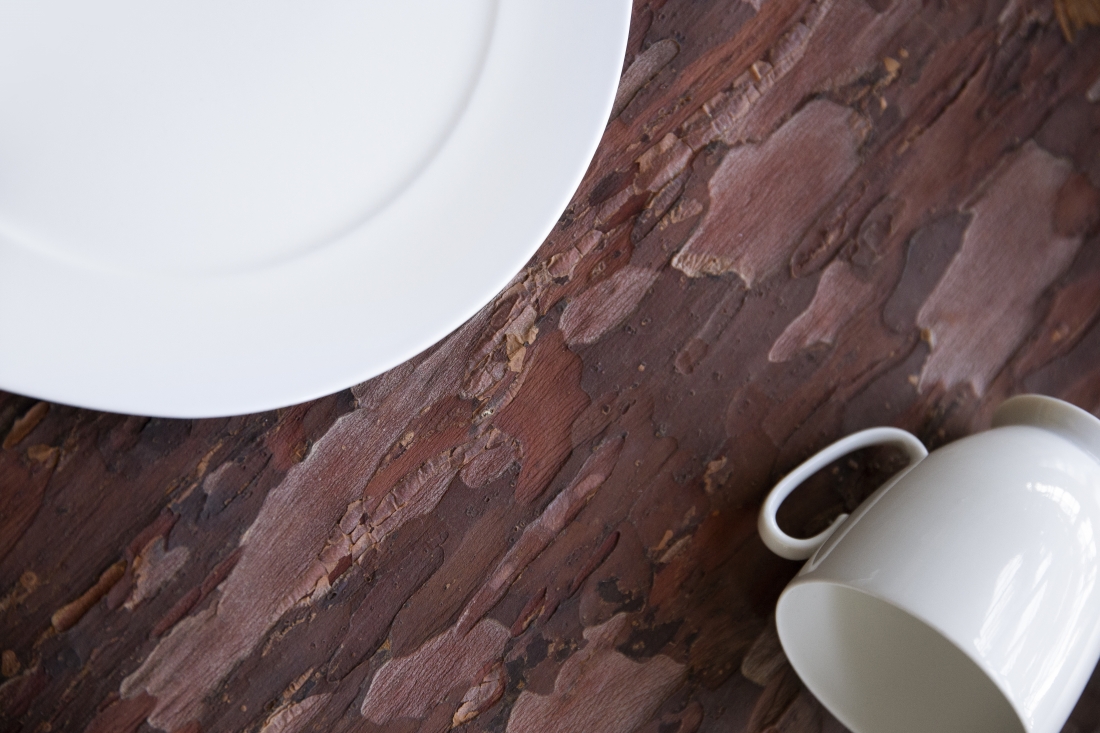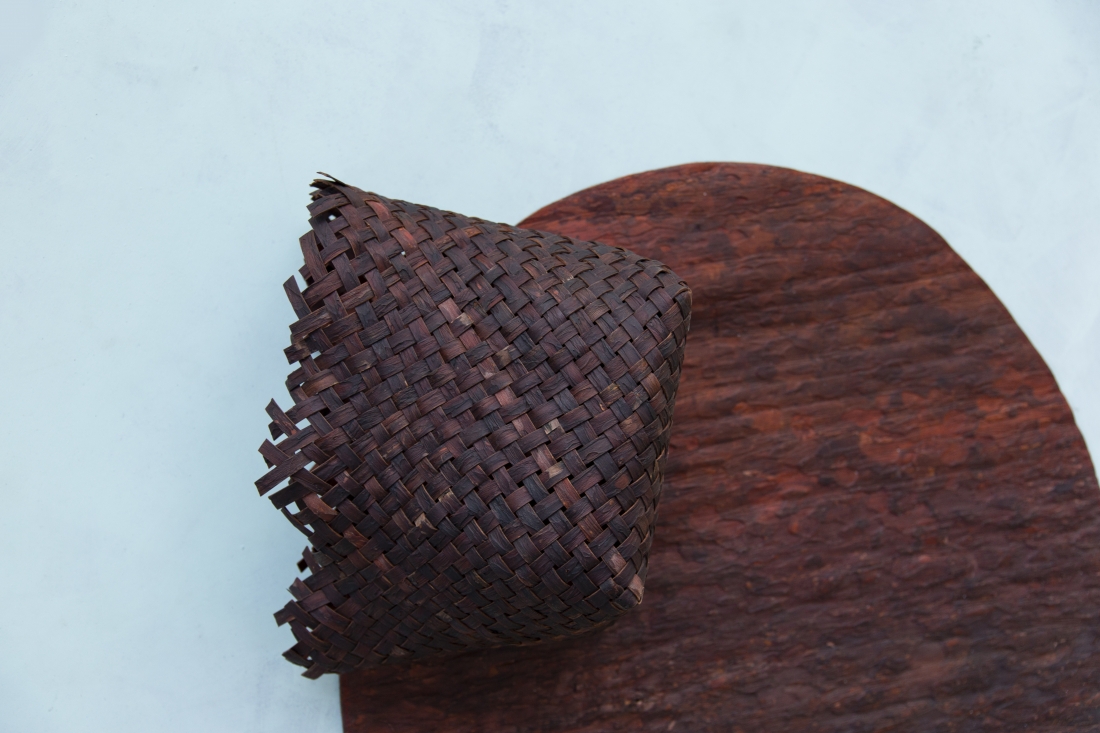 "PineResin is the continuation of the PineSkins project and was born out of the practical need to find a use for the leftover bark. It is also about discovering new material relationships deriving from the byproducts of the timber industry, specifically the pine tree.
"Pine resin, pine bark, sawdust, and charcoal are fused together to shape new structures, functions and aesthetics. With the help of natural pigments and varying proportions, the material can differ in colour and texture. Being a thermoplastic, PineResin can be re-melted and shaped back into the same, or any new shape over and over again, and thus it lives a continuous lifecycle.
"This transformability is embraced in a collection of vases – each of them are welcomed back in case they break or should the owner long for a change in shape. It is about creating a long-lasting dialogue between us, the products we own and the producers.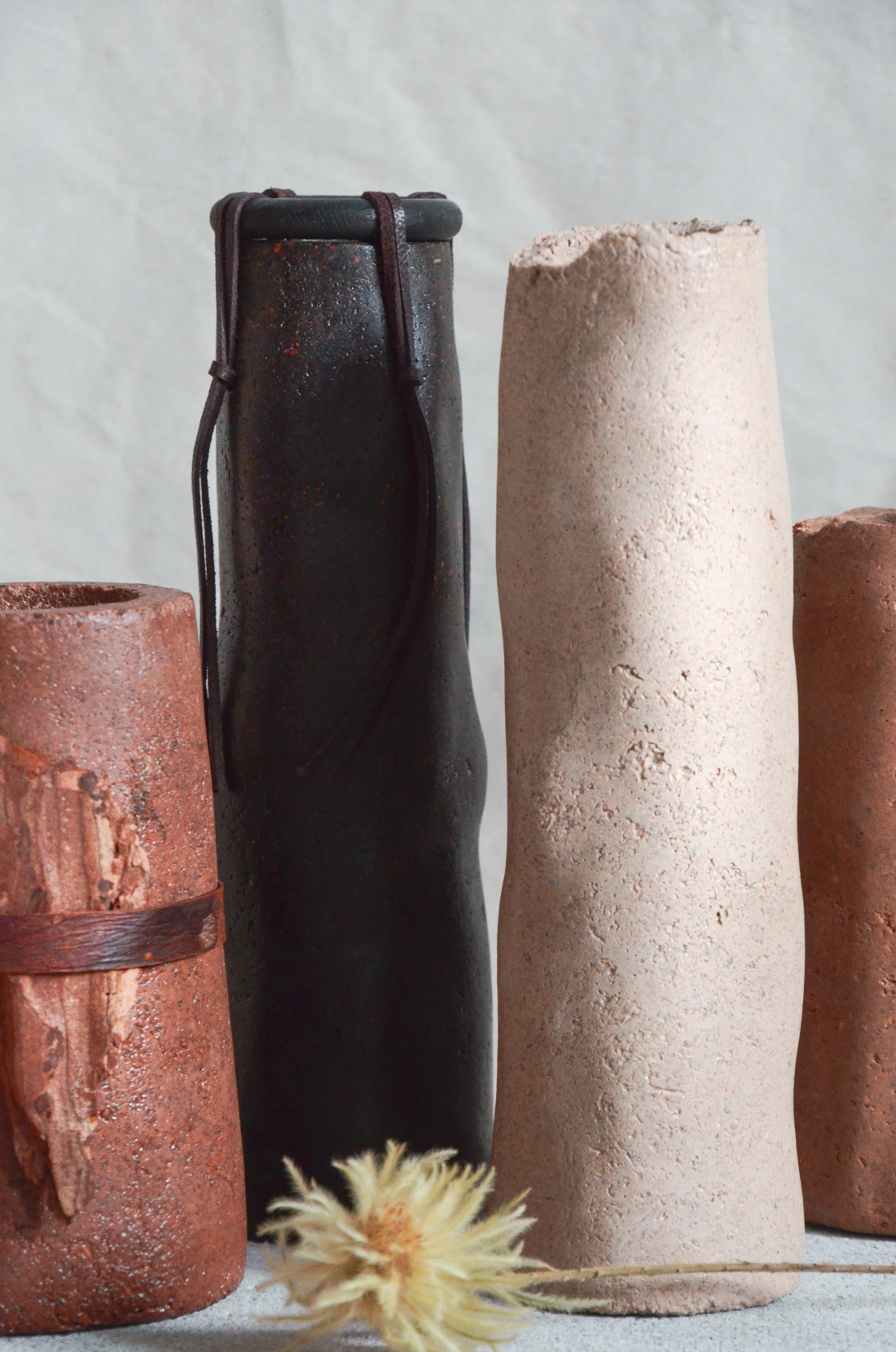 "Pre-Loved is a bio-textile with marbled pattern created from post-consumer textile waste and biodegradable binders. The project is a collaboration with designer Mara Maizele. Together we combine traditional textile making techniques with the use of bioplastics to create a new textile concept, which turns old garments into a resource for making new ones.
"Recycled textile fibres, also called shoddy, is the main ingredient for this material. It possesses excellent insulation capabilities, but traditionally is seen only as a functional material due to its visually unappealing grey colour. Didn't we learn in school, that, if you mix all the colours together, the end result is going to be grey? That's science. We separate the colours and manually create selected colour combinations, even using natural dyes, which results in a visually beautiful material. To the touch, it resembles paper and leather.
"Furthermore, Pre-Loved accepts this new man-made fibre type, which is the sum of all fibres mixed together during the recycling process – natural and synthetic ones blended together. Imagine the amounts of shoddy out there - a direct result of fast fashion. Together with Mara Maizele we wanted to show that there is more to this material than stuffing it into mattresses and behind walls."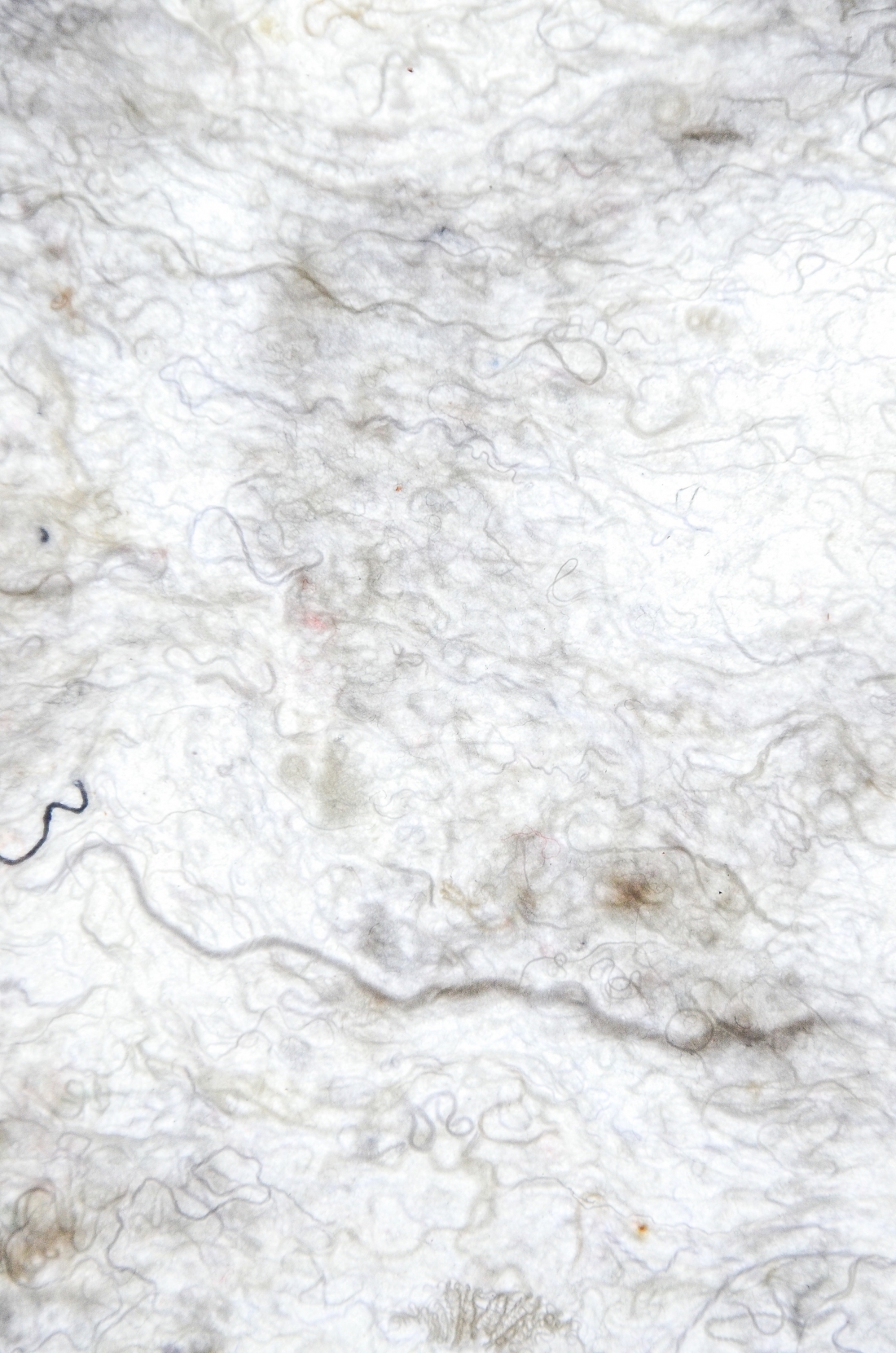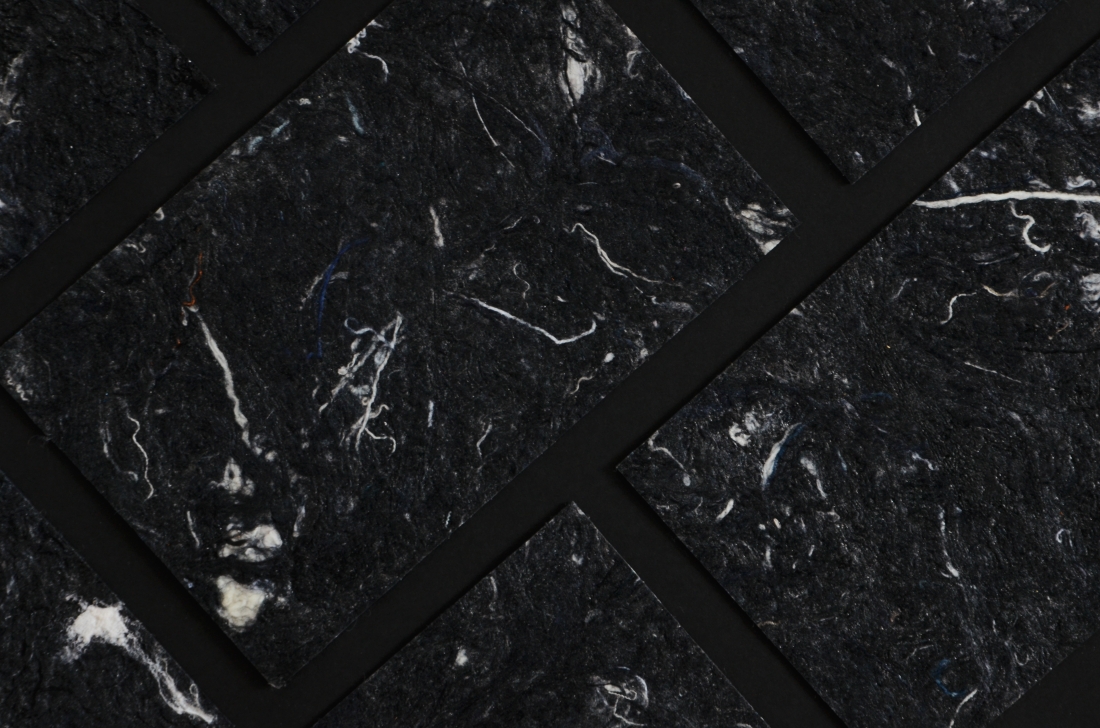 Where do you see your materials being put to best use?
"Pre-Loved is a great material for fashion and accessories. It is flexible, strong and comes in various thicknesses as well as colours. It can be made softer as well as harder. We also see Pre-Loved as a methodology and therefore welcome collaborations with brands that want to repurpose their textile waste. Imagine unique colour combinations and patterns tailored to each unique brand!
"PineSkins is a truly unique material like no other. It has a unique texture, a leather-like feel to it and a scent of wood. There is a lot of interest from the fashion and even automotive industries. However, the material is not strong enough to be used as the main construction material. It will eventually break and tear due to folding and bending. However, it is perfect for surfaces, wall coverings and products that do not require excessive wear. I envision the material best for use in interiors and product design.
"PineResin is the most experimental of all the projects. I love using its thermoplastic properties as a concept for making re-mouldable products and as an exercise to think about the reuse of materials. It is about accepting that a material has its limitations, but those can also be used to our advantage.
"With this project I always think of the work of Seetal Solanki, who advocates design according the properties of the material – in this case, design for repair and re-melt. However, I do not see it yet working in a large, commercial context. But perhaps, together with the right partner and the right application..."
Do you think biomaterials are being more widely accepted by the mainstream interior design/fashion industries as a commercially viable option?
"Absolutely yes. There is a substantial growth of acceptance of biomaterials in 2021 in comparison with 2015, when I'd just started with PineSkins. Larger companies are also more willing to adjust their processes and think along with the material to make it work for the envisioned application.
"It is also a result of maturing biomaterials – we see new biomaterial experiments made of so many interesting ingredients every day. Now is the time to level up, take these ideas further and turn them into strong materials. It is such a fantastic time to be a designer right now! Now is the time the rethink our systems, production and materials.
"Brands, producers and research institutions – everyone is open to collaborate in order to find better alternatives. Of course, everyone has different motives, whether they are financial, green-washing or truly innovative – that is where we have to be careful and mindful.
Accepting biomaterials is one thing. However, we also need to accept that not all materials can, and should, be scaled up. Therefore, the challenge ahead is to design production systems that accept a variety of materials in various scales.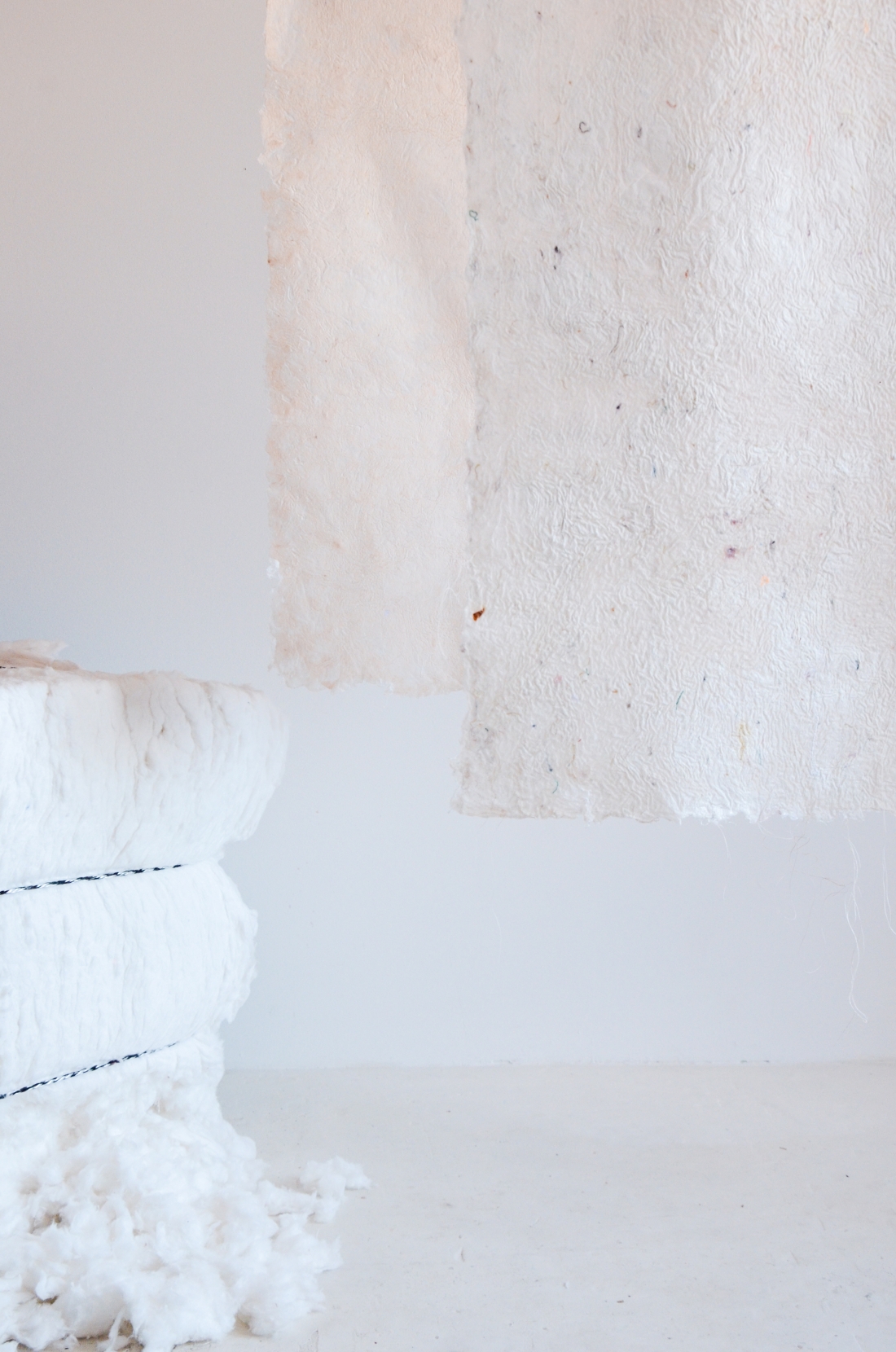 When creating a new material, where do you start? What's your creative process?
"It is usually a mix between a gut feeling, failed experiments and visual inspiration. It starts with an urge to do something regarding a resource – this is usually my starting point. Then research is done regarding what is already out there, what works and what doesn't. My design process is characterised by in-depth research followed by hands-on experiments. I mix techniques from existing practices and morph them to fit the new material.
"Sometimes I find a visual photo of a texture, for example. At that moment I might not understand why I am so attracted to it, but I have a feeling that it is important. Sometime later, I might realise that there is a connection between the experiments I made and the photo I found – that is always confirmation for me to follow a gut feeling. Once there is a learning from the experiments – something I can carry on – that's when an idea is born."
What does an average day at Studio Sarmite look like?
"It's easier to describe what a week at Studio Sarmite looks like. I try to focus on no more than two projects at a time, which require time planning and managing. Therefore, I organise my days per project - half of a week for one project, half for the other and an "office day" in between, which is spent organising supplies, planning, writing texts - all the non-design related tasks.
"Each of my projects has a never-ending to-do list, which I try to follow according to the stage of the project. This ranges from making new products to resolving an issue to making new experiments. One of the hardest things, in my opinion, is to manage all the aspects in running a project and those do not necessarily involve being creative all the time. A lot of time is spent organising, observing, making conclusions and planning next steps.
"On the one hand, I have so many ideas, which I would love to explore and keep making. However, it is important to consider growth, development and professionalisation. One doesn't exist without the other one."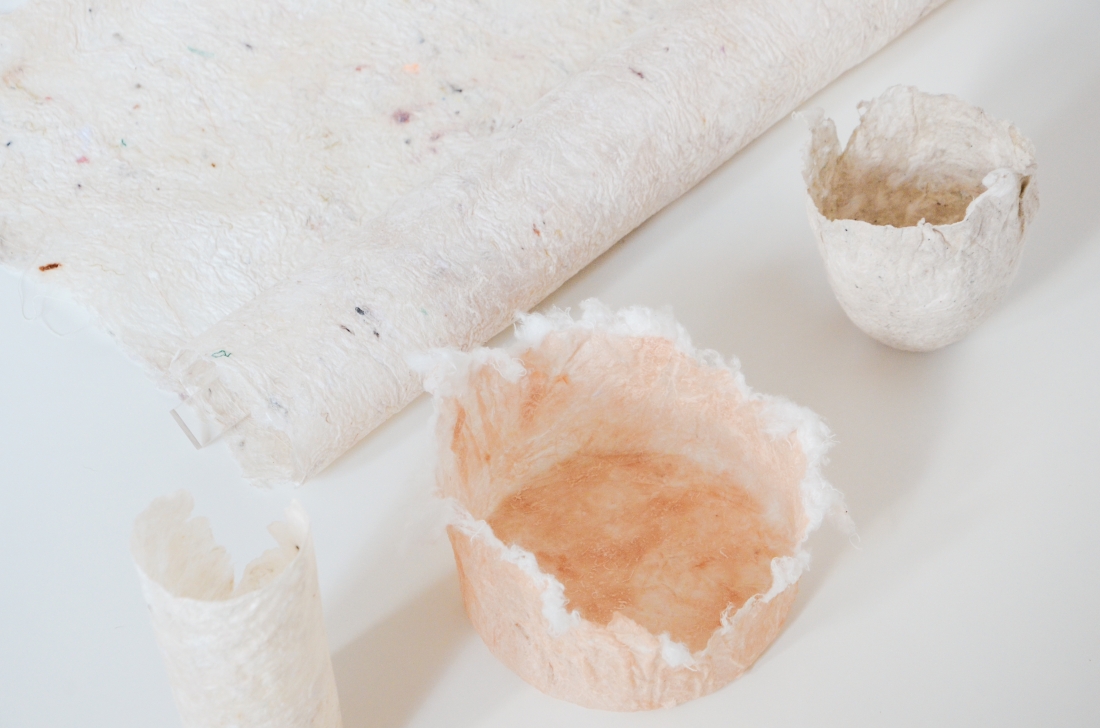 What are you currently working on?
"Currently my main focus is Pre-Loved. During the last year, a lot of research was put into the material itself, its recipe, the technique, colours, thicknesses. Now that these basics are in place, it is time for products and collaborations.
"I am also preparing for Munich Fabric Start, where Pre-Loved will be shown within the new innovations section – it is the first time Pre-Loved will be exhibited. I am very curious and excited for the feedback!"
And what's next?
"Pre-loved products and collaborations with designers and brands. More colour developments are on the way as well. Scaling up and perhaps even finding a business partner who will help us in this.
"On a consultancy basis, I am also starting to help other companies to better understand materials and their impact on our daily lives. I help them to develop or find a sustainable material option and envision sustainable scenarios for the future."