Meet the maker: Charlotte Smithson.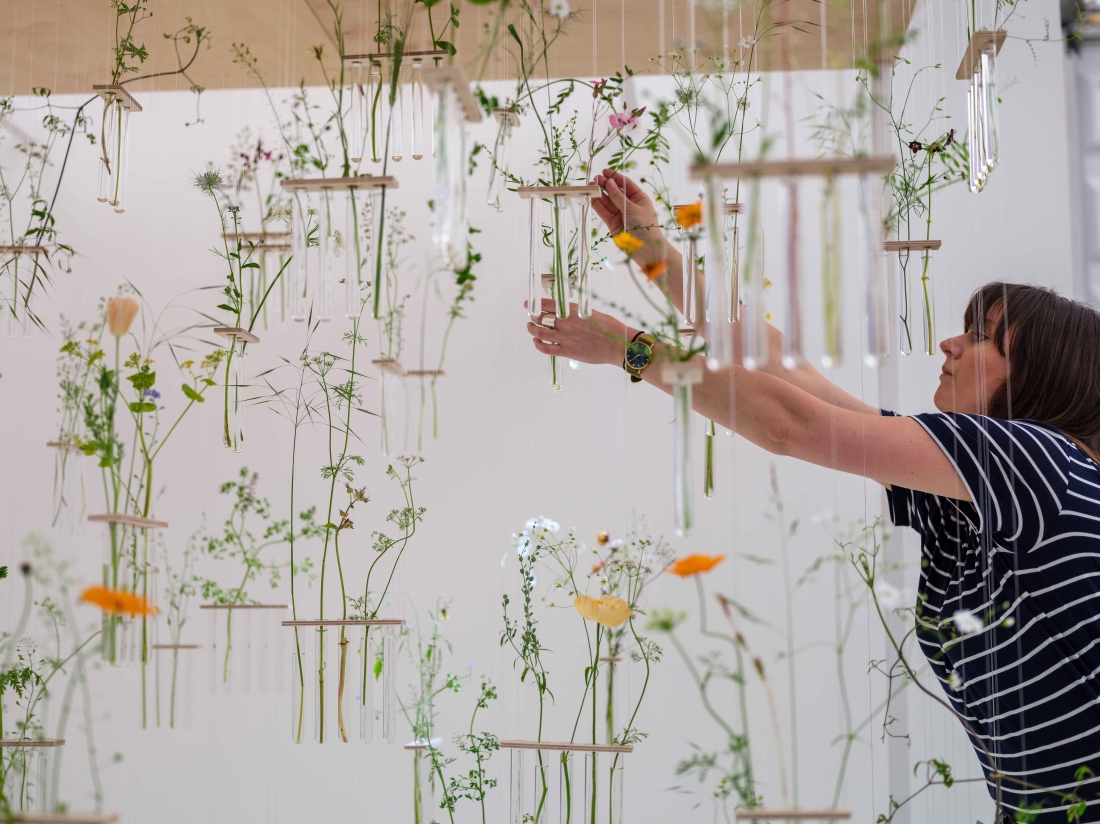 Charlotte Smithson is a British artist based in Manchester. Her work focuses on our connection to nature, which she explores through site specific installation, stitch, drawing, photography and plant studies.
Charlotte works extensively with galleries, museums, heritage organisations and other public spaces across the UK to design visitor experiences that tell stories. Her portfolio includes projects with the National Trust, Edinburgh World Heritage, English Heritage and the Science Museum Group.
At Chelsea Flower Show, Smithson will present Great Oaks from little Acorns grow, a carefully curated botanical installation of suspended glassware which mirrors a verdant ecosystem suspended in space featuring hydroponically grown plant and tree specimens as well as flowers, leaves, moss and soil samples.
Great Oaks from little Acorns grow invites viewers to reflect upon the earth and climate, and their personal role in restoring a more balanced relationship with the natural world. It contains a variety of British wild and garden grown productive plants, which have medicinal or health-giving properties.
The installation is a circular design, where the environmental impact of each component is minimised. It will contain organically grown plants, recycled laboratory glassware, reused and repaired mechanics, and compostable biomaterials. For the Oak Project commission, Smithson has for the first time experimented with and created custom mounts for the glassware made from plant based, compostable and fully handmade bioplastics.
Here she tells us more about this fascinating project...
Firstly, please tell us about your craft - how did you get started and what are your main areas of focus?
"Making things and enjoying nature have always been part of my life, and the two inevitably overlap. Even back in art school in the early 2000s my work involved growing moss on textiles and working with Manchester's rain to rust metals on fabrics. Over the last 8 years I've become interested in our relationship with nature in more detail, which I explore through site specific installation, drawing, photography and plant studies.
"My suspended installations of living plant materials celebrate the beauty and fragility of the wild. These use glass test tubes to hold and sustain plants, suspended in space where they can be observed in close detail. Through drawing, handling and growing plants I've become interested in how they work, their properties and natural cycles. I enjoy finding ways to emulate natural biological processes and plant science to inform ideas, processes and teaching practices."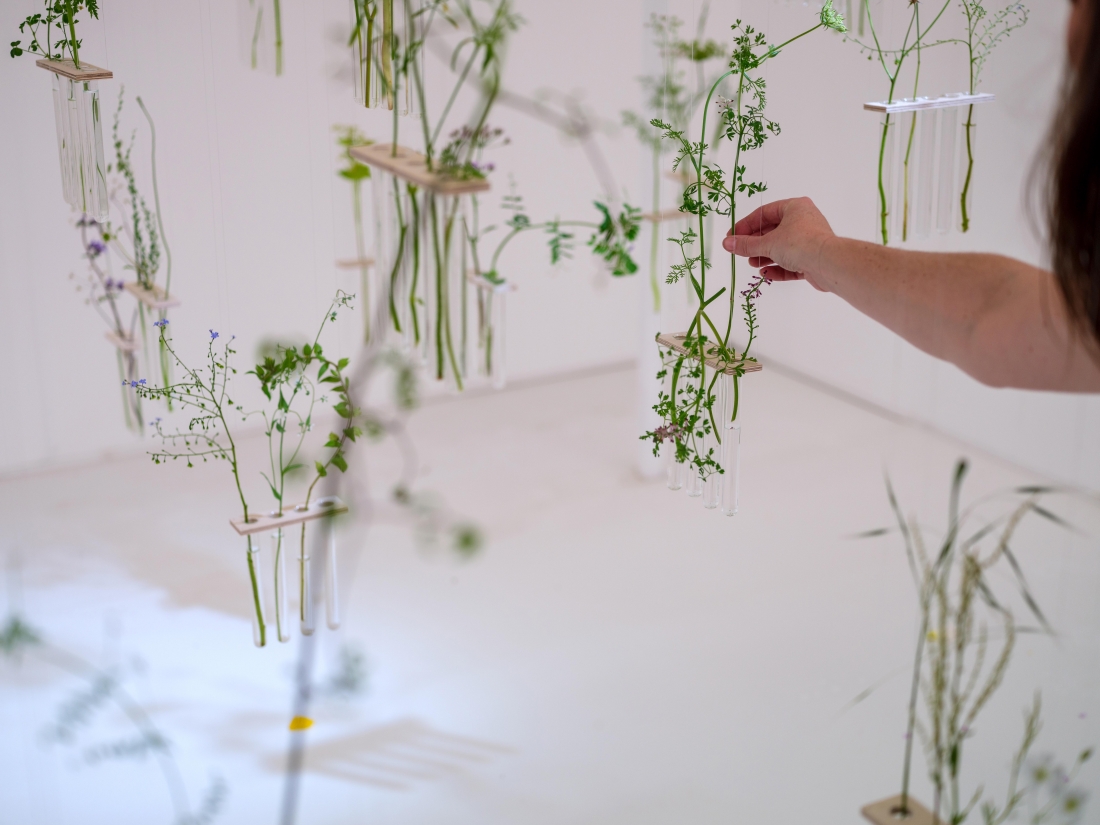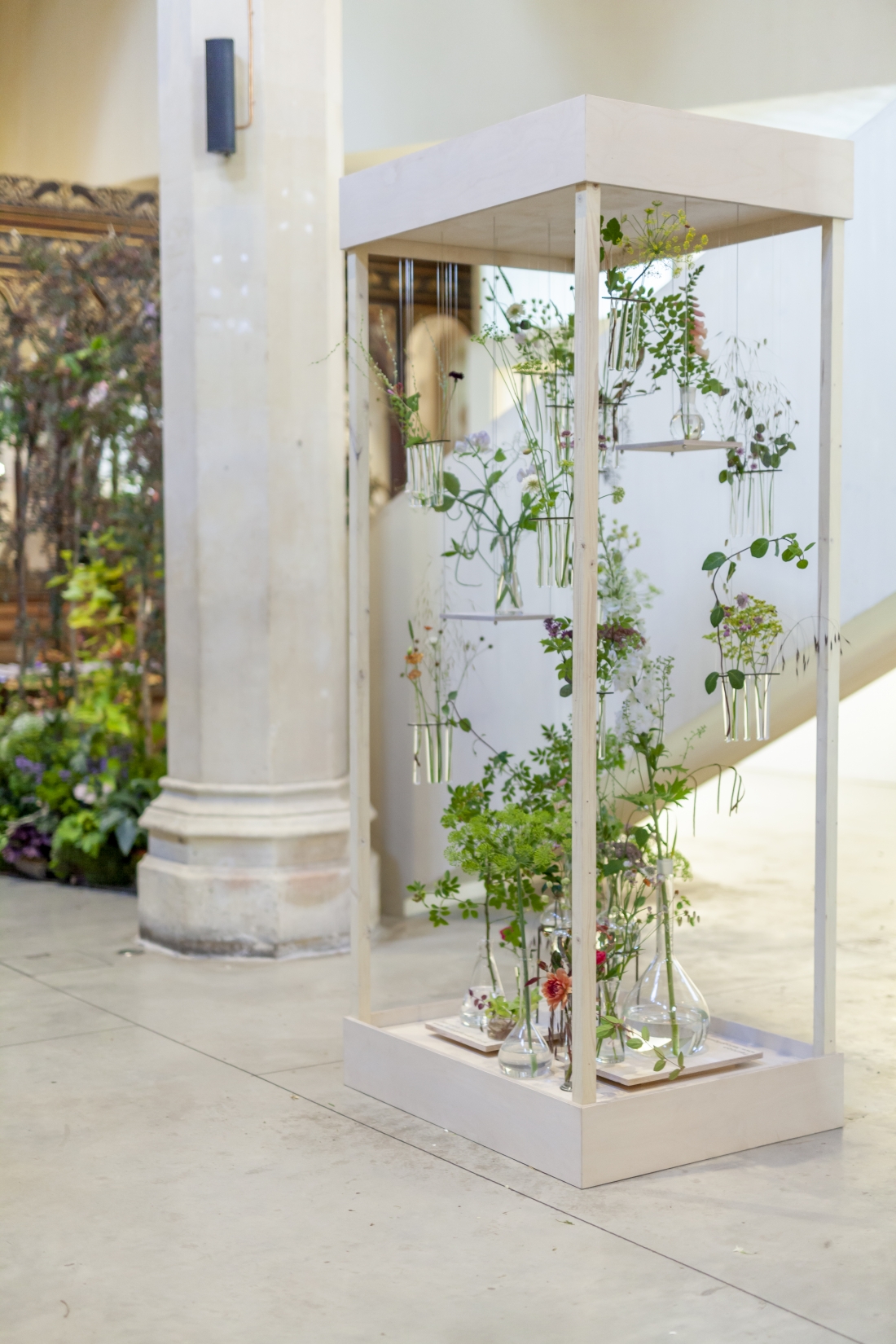 You are exhibiting your installation Great Oaks from little Acorns grow at Chelsea Flower Show - can you please tell us about that?
"For several years I have followed the work of the Nature Connectedness Research Group at the University of Derby. Their research reveals that environmental collapse is a consequence of our broken relationship with nature and that art can play a part in repairing it. In 2019 I contacted Professor Miles Richardson who leads this research and we came up with the idea of creating an installation, which makes use of their data. The result is Great Oaks from little Acorns grow, which has been commissioned by The Oak Project, a partnership between Yorkshire Sculpture Park, the University of Derby and the Bronze Oak Project Ltd, a not-for-profit that promotes art to create nature connection.
"The piece explores nature as our life support system. It studies the many relationships we have with nature through plants we use, control and suppress to those that can add meaning and beauty to our lives. It invites people to tune into nature's fragility and complexities, in order to sustain more balance on Earth.
"I'll be exhibiting a suspended installation in the Great Pavilion at RHS Chelsea, which is also part of the Climate Coalition's Great Big Green Week. The University of Derby will be evaluating how effective the piece is at connecting people with nature."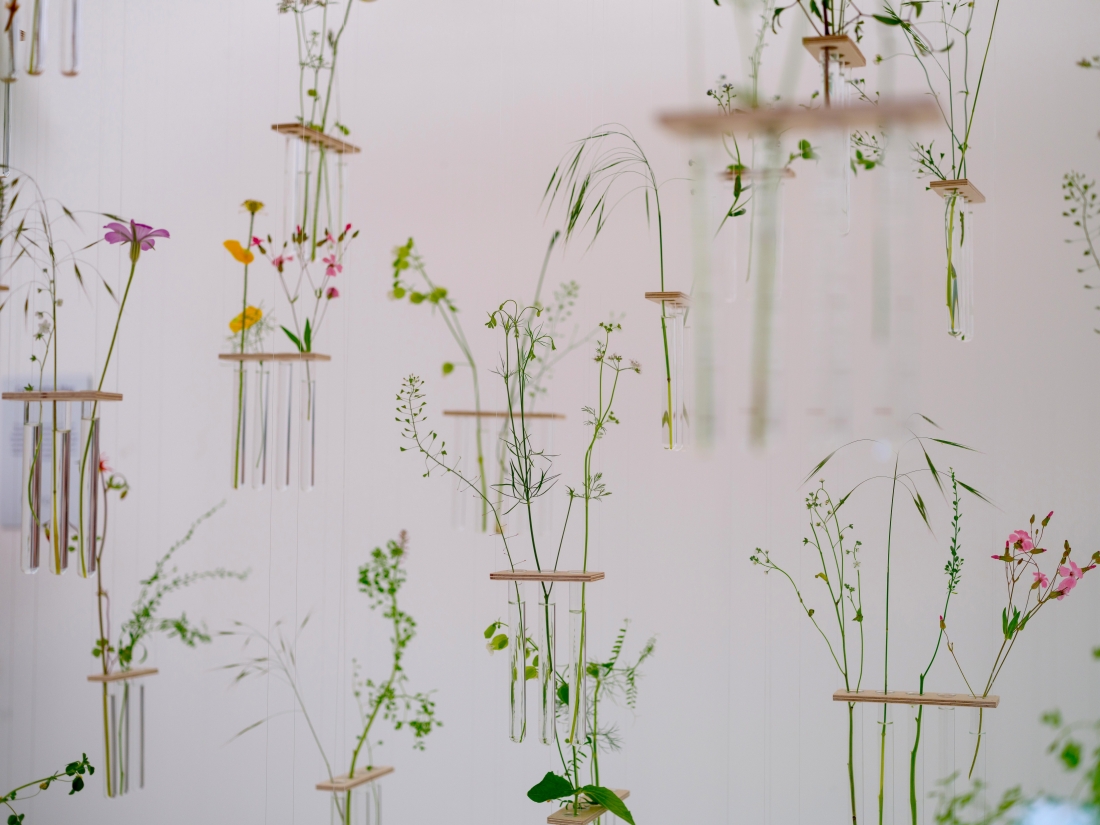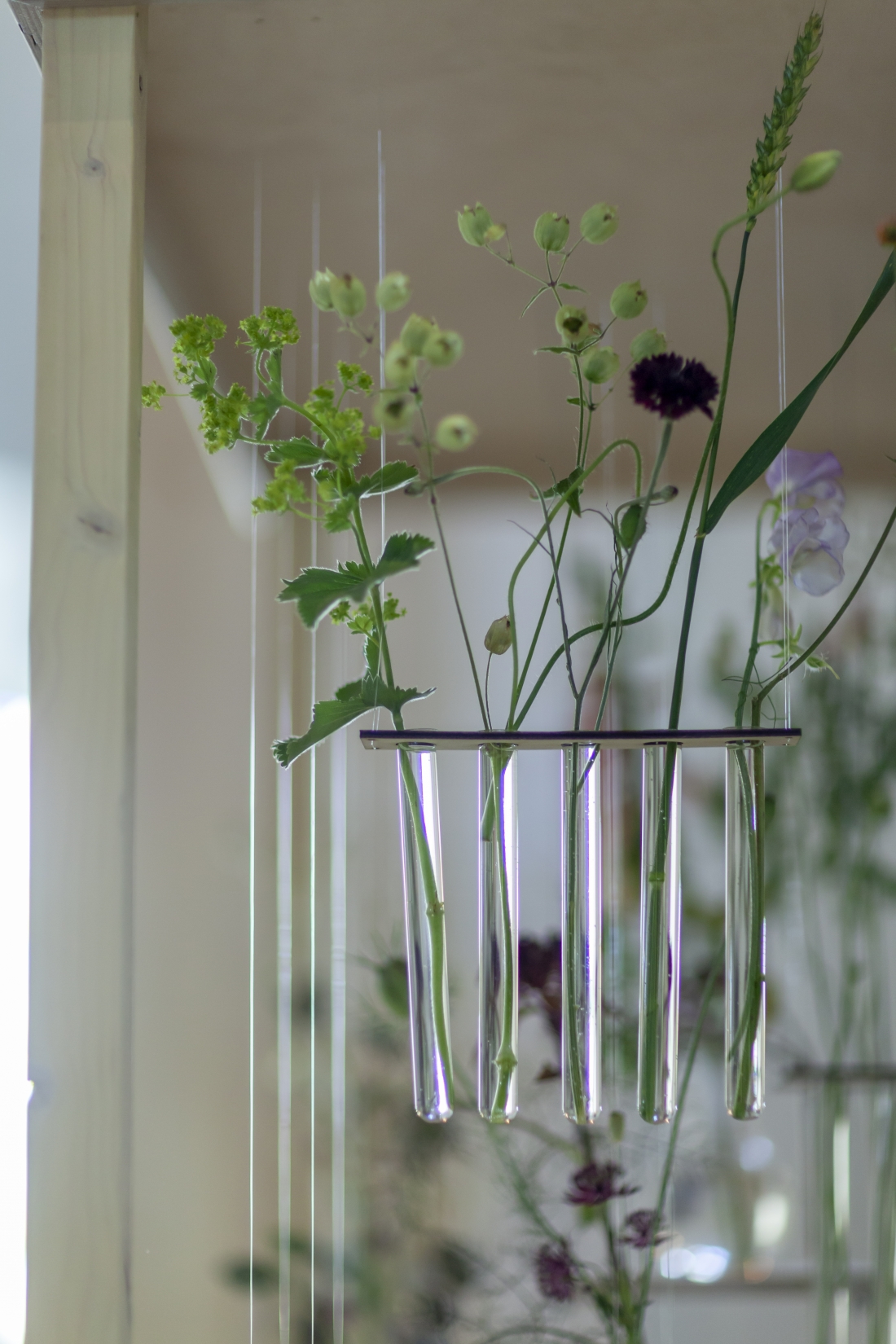 Sustainability is at the heart of your work. Can you talk us through the relationship between this and your pieces?
"My past installations have looked at species decline, habitat loss and our tendency to overlook nature, so the last thing I want is for them to have a detrimental effect on the planet.
Over the last few years, I've felt a creeping sense of unease about using natural resources and energy to make and exhibit work. It's something I unpicked throughout the pandemic, using down-time to analyse my practice.
"As a grower, rather than controlling and harming the earth, I want to enhance its biodiversity. As a maker, rather than producing carbon and using valuable materials, I want my work to have low impact. As an artist, rather than commenting on the climate emergency, I want my work to be useful. Those 3 problems can help resolve one another if the waste at my allotment and studio can be used to replace less sustainable materials in my work and support the messages it conveys.
"Studying plants and their productive uses has led me to experiment with making plant-based materials, like bioplastics and biocomposites, dyes, fibres and pulps, which I began experimenting with during the lockdowns. Trial and error have been plentiful - I am still figuring out the science. The great thing about working with natural materials is that everything can be composted if it goes horribly wrong or the effects aren't usable. I especially like the visual effect of living plants beside plant-based materials.
"I have adopted a circular design approach, where I reuse, repair and repurpose where possible, to minimise the impact of what I make. And where this isn't possible, I look for the most sustainable solutions for example using retired laboratory glassware from British labs, sourcing recycled and recyclable materials, and making sure all built components of my installations are produced in-house at my partner's factory, 24 Design in Manchester, where my studio is based. We use 100% green energy and strive for very efficient CAD/CAM processes, plus the team there facilitates me working with offcuts and waste.
"There is more I can do to reduce the environmental impact of my work though – this is an ongoing process."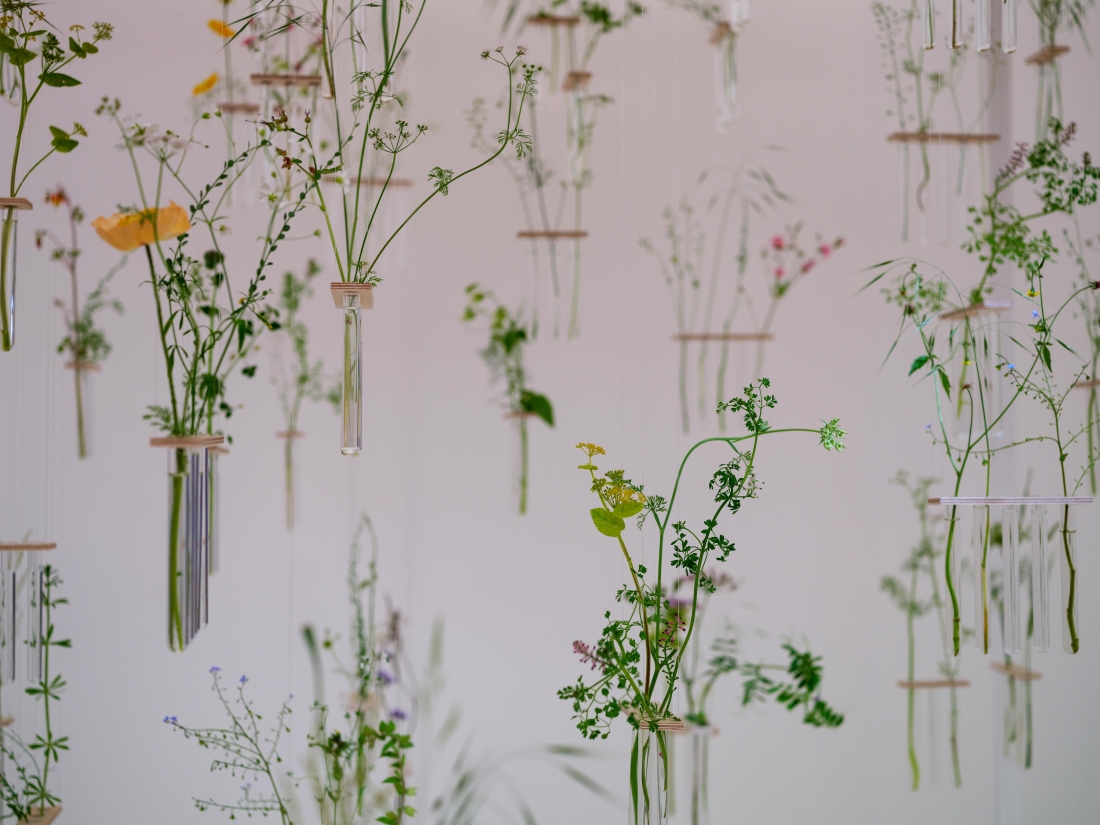 Where do you source your materials?
"Some of the plants I work with have been home grown either in my studio, greenhouse or allotment. I also source things from a handful of local British organic growers and sustainably forage and collect abundant or windfallen materials when I'm out in nature.
"The biomaterials I've experimented with use resources I have had to hand like sweepings of dried flowers from my studio floor, deadheaded flowers, coffee grounds, as well as plant materials I can access in abundance like the unruly mint growing on my allotment path and dried nettles from hedgerows nearby."
And, finally, where do you find your inspiration?
"Nature, ultimately. I am in awe of nature's sophistication and how everything is interconnected. I am also inspired by science. I am especially interested in the science behind biophilia and our relationship with the natural world.
"I find it fascinating how our bodies respond to the patterns, shapes, textures and sounds of nature. How being in nature soothes us and helps our immune system, circulation, hormones and mood. Ultimately, how we are a part of nature, regardless of having lost a sense of that, and how both humans and the rest of Earth benefits from us regaining that connection."