Talking collaboration, craft and the revival of the British Crystal Industry with Nicola Schellander.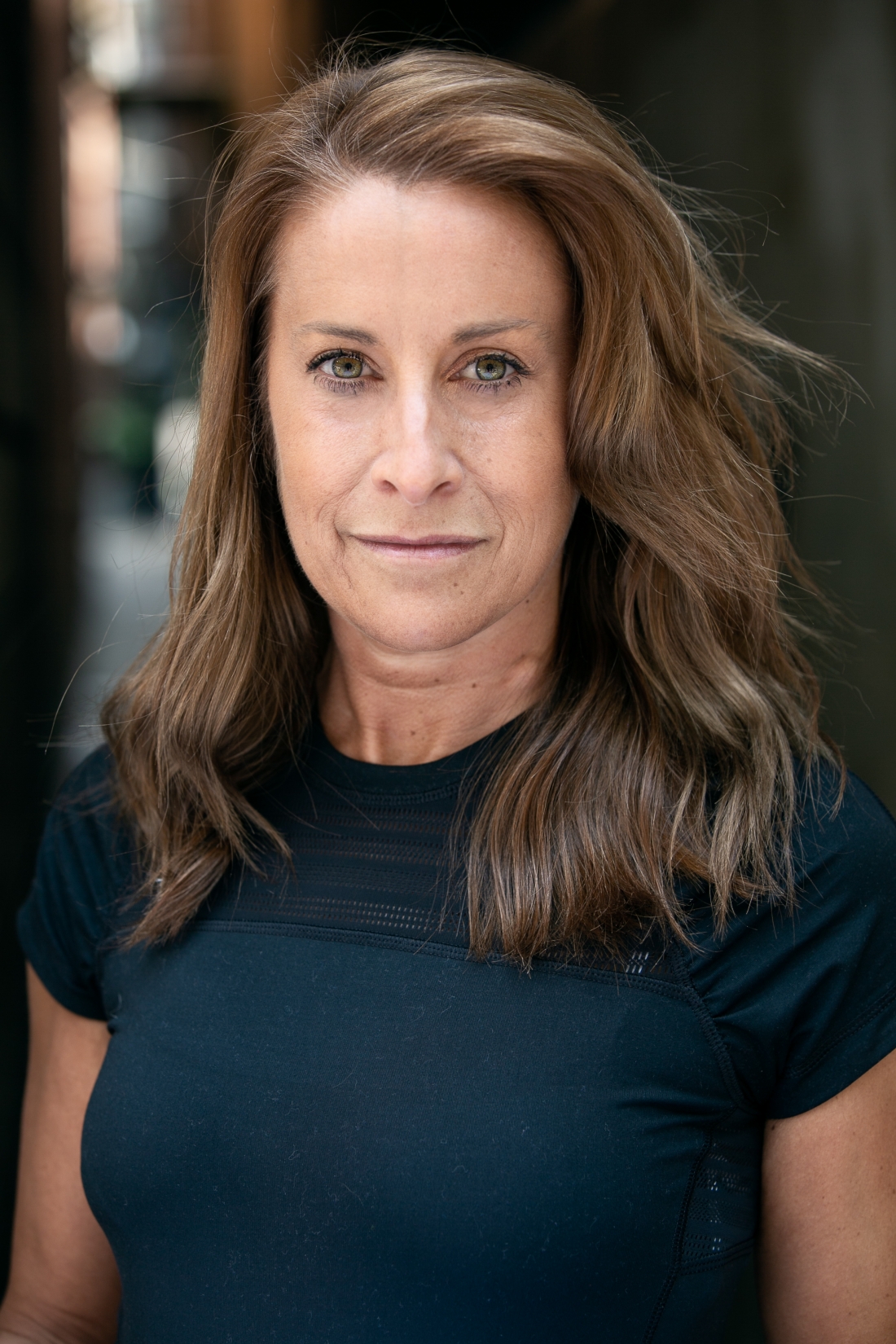 Nicola Schellander is an award-winning British designer who has pioneered a simple but striking style of design that has permeated her designs at every level, her work is featured across the globe.
As both a skilled designer and glassmaker, she is a specialist in her field working across a number of manufacturing platforms in glass - Blowing, centrifuging, pressing, moulding and cutting. She has successfully implemented her unique approach across many product areas, firmly establishing her reputation as an innovator.
With the creation of her own design studio, she now designs for sophisticated and design-savvy consumers and specifiers and her fresh and playful style brings sculptural symmetry and a sense of disciplined elegance.
We caught up with Nicola to learn more.
Nicola, tell us about yourself and how it all started?
From a very young age I had always enjoyed designing and making things with my father and I suppose it was a trait I inherited from him. He had always loved woodwork and was excellent at it, and when I was making things with him, I realised I had a bit of a flair for it and a passion for it. It all started from there really, and it led me to where I am today.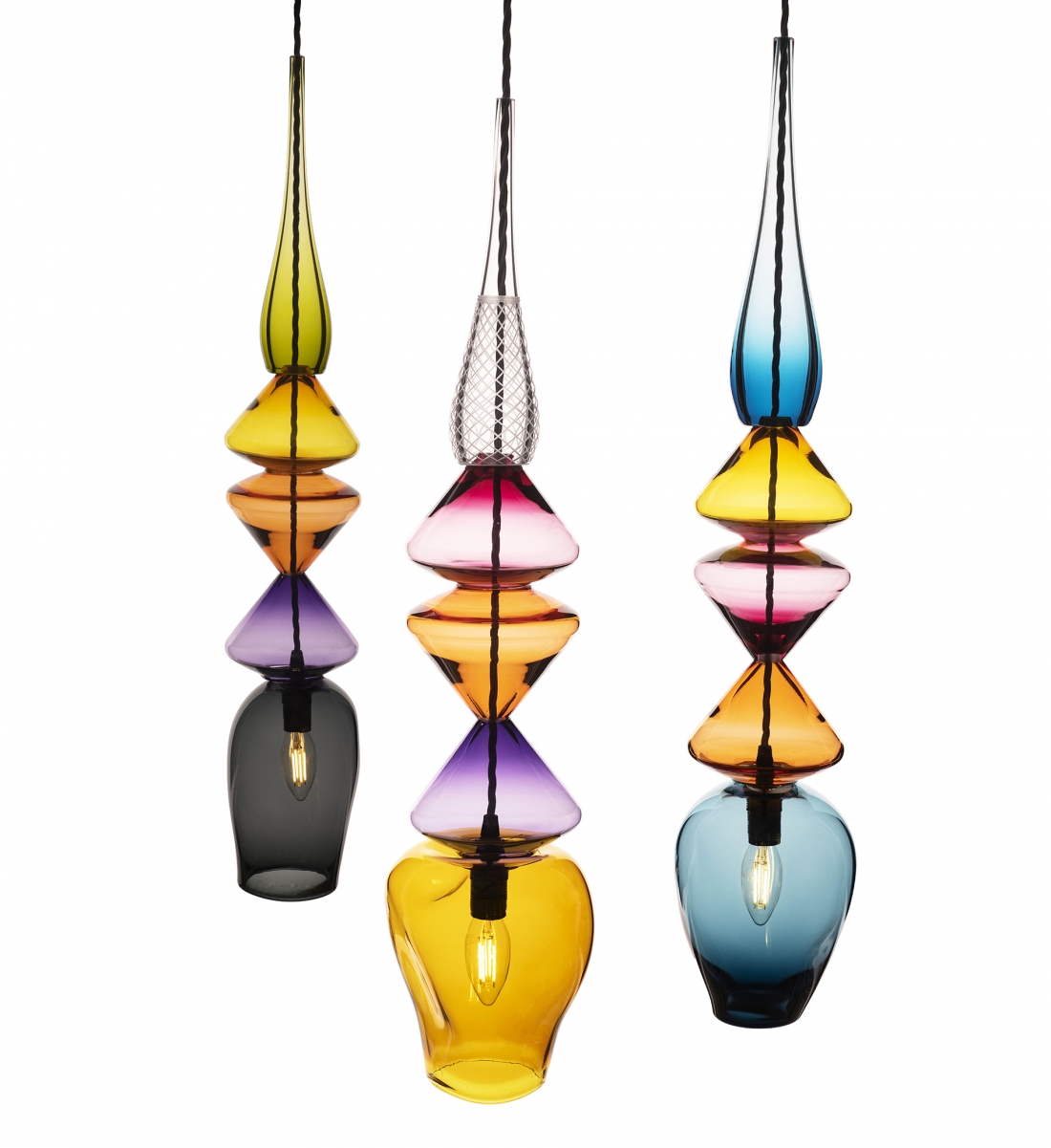 Your statement that you are on a personal mission to 'revive the British Crystal Industry' grabbed our attention. Tell us about the obvious passion behind this?
Crystal is an industry which is centuries old in Britain, but which has failed to keep up with the times and has been left behind, particularly over the past 10 years.
It doesn't get a fair deal, really. Very often, cut crystal is perceived as old-fashioned and something we associate with our granny's sideboard or see in antique shops. It's not a fair representation, really - it is a huge injustice to the material that is crystal. Crystal is simply a very high-quality glass. It takes around 7 years to train to become a master glassmaker, years of skill, training and craftsmanship to produce such meticulous cut crystal and this is a quality and a technique we are steadily losing here in the UK. It's a dying industry and has been forgotten and left behind along with the skills of some incredible craftsmen – so I'm doing what I can to preserve these skills and to help breathe new life into the industry.
Very often people who have started their careers in glassmaking might stay in the glass industry, going on to produce paperweights and other rounded objects. But my roots lie in the buzz of teams of glassmakers and craftsmen in the old factories in crystal. I spent my early years in crystal factories working as a designer. This experience, combined with my experience in hot glass, has given me a whole playground of techniques over the years as I am able to combine glassblowing with crystal cutting and hand carving. Blending both crafts is a USP of mine and with every design I aim to promote the beauty of glass crystal, utilising much fresher and more innovative techniques to give a contemporary feel, and hopefully produce elegant, sculptural contemporary pieces. This remains at the heart of everything I strive to achieve today.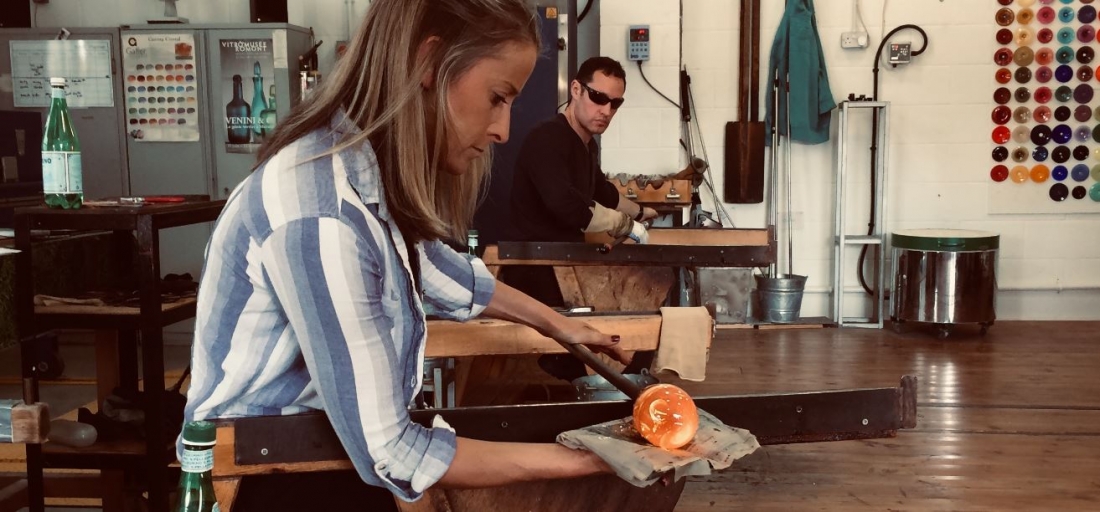 We are fascinated with your collaborative approach of skilled artisans, craftsmen and modern manufacturing techniques. How did this develop?
I think because I have a background in both glass and crystal, over the years I've achieved a fluidity between glass blowing and industrial design. And I am passionate about skill-sharing and learning as a team.
For many years I worked out of factories and out of other people's workshops, and one of the key advantages of this was that it enabled me to work with some really skilled craftsmen and engineers and to tap into their skills and experience.
So, whilst I use my own skill sets, I have always made a point of drawing on other people's as well. In particular. Having enjoyed working with makers from across Europe and the Far East, I now think it is important that we promote skills and makers in the U.K.
There are two crystal cutters I work with quite regularly from the old Stuart factories. One is Polish and one is based in the Midlands. They are fantastic to work with as he they are both old school craftsman who have been cutting crystal for about 40 years or so. I love working with the pair of them as I can chat with them about their experiences, I watch what they're doing so I learn as well. I also like to think I'm drawing them in a different direction and maybe giving them a fresh challenge as well.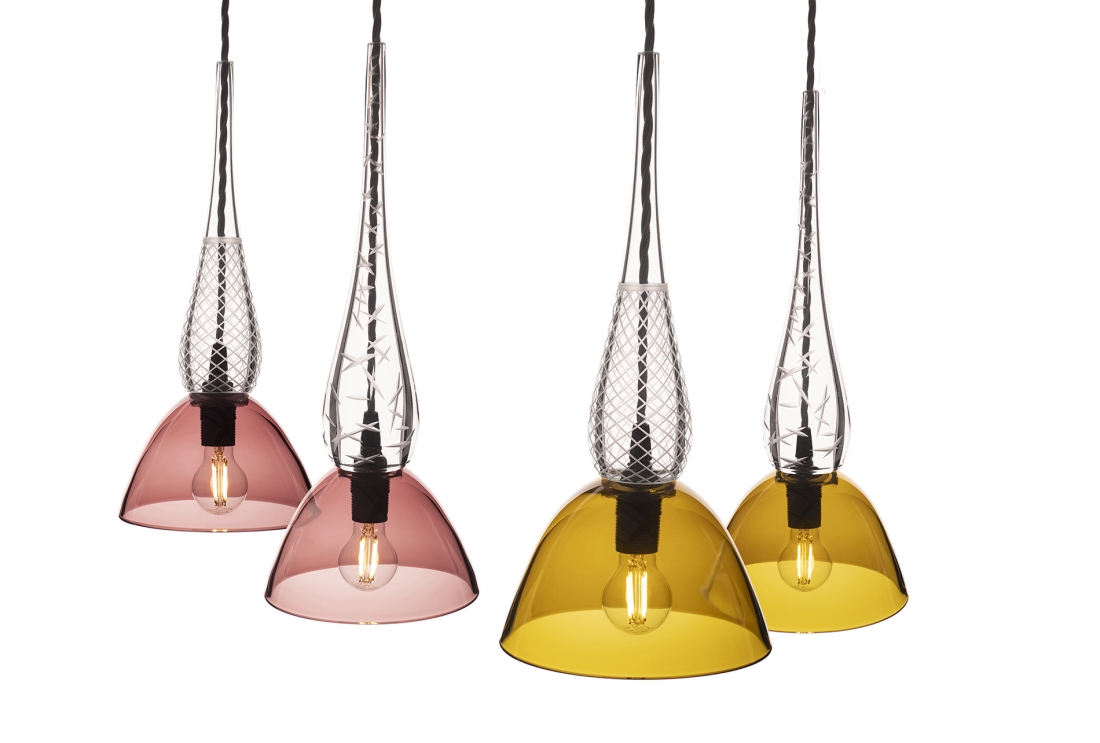 As a material, what's so special about working with glass?
Glass is an incredible material. It is so versatile; you can utilise its properties in so many ways. And as a fluid, it has huge potential.
Before I went to university, I visited a glass exhibition in London and it absolutely blew me away. Until that day I'd had no idea just how special glass was. I'd never worked with it before, so I suppose this exhibition is how it all started, it really opened my eyes. You can cast it, blow air and life into it, it can be molten, you can drill it, saw it, cut into it, colour it, give it transparency, render it cloudy. Rough or highly polished - it's both versatile and mentally challenging in equal measures – glass is a very exciting material which gives you endless possibilities.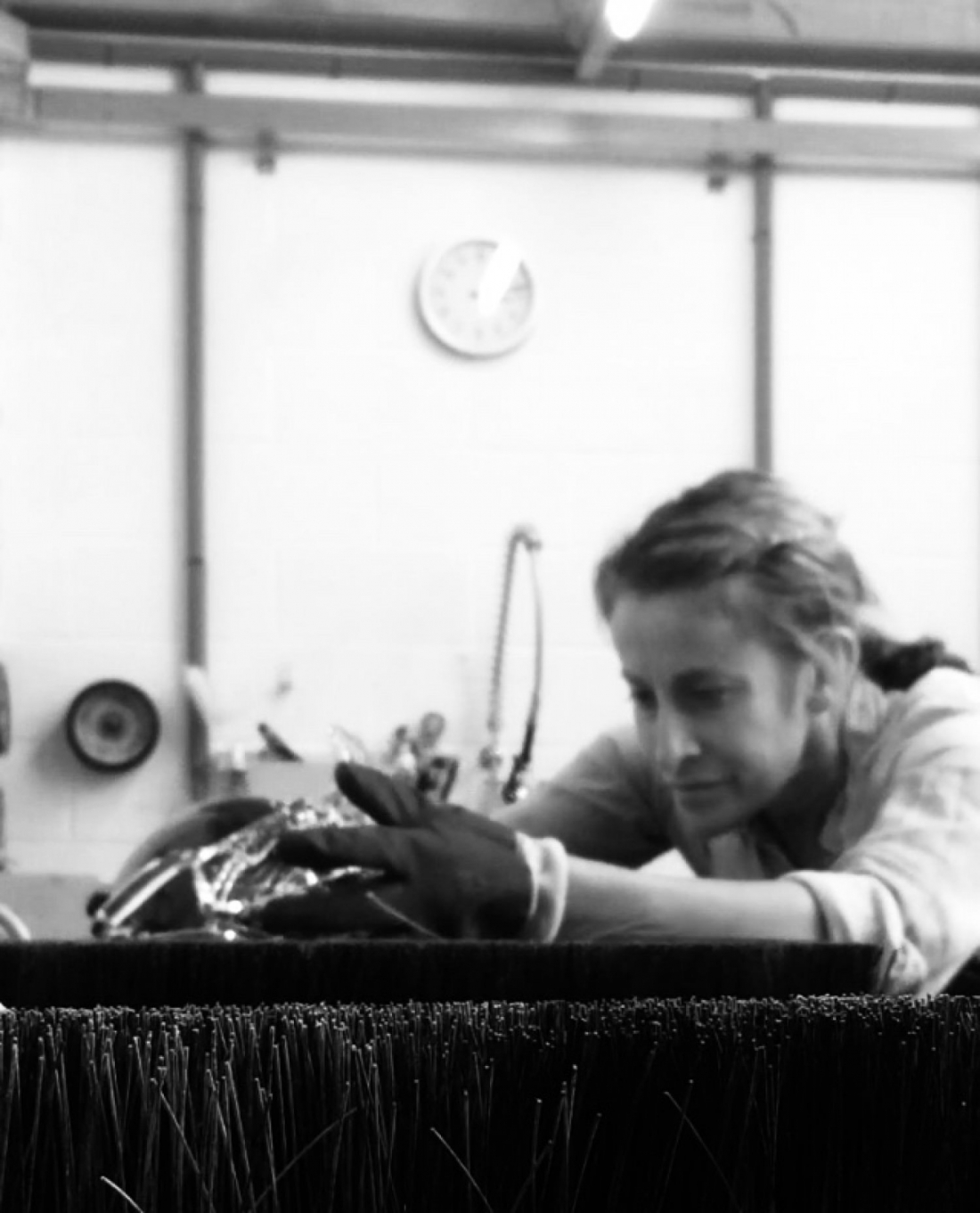 We are fascinated by the creative process. Please tell us about yours? How does it all start?
In my work I might find myself collaborating with commissioners, designers or private clients. Sometimes they may have just a rough idea of what they want and sometimes they may have no idea at all, but I always attempt to at least establish a brief. So, we might talk about initial ideas, whether they've taken inspiration from anywhere else, what kind of space they're looking at for the lighting, just developing a mood board with them. They might have ideas of a specific colour but not a design, or they may have a theme or a size that they want. So, it's gleaning what I can from the customer initially to gather a few ideas and then I take it from there, bringing my ideas and suggestions to them.
I think sometimes that part of the problem is we are limited as to what we see on the shelves. We're used to seeing conventional designs. If you think of a light you tend to think of something round and moulded. So, many of my customers don't at first realise just how much you can do with glass. More often than not I find it beneficial to both of us to explain the process a little more, and it's well worth it as I can actually sense them becoming more excited at the possibilities which is a great part of the process.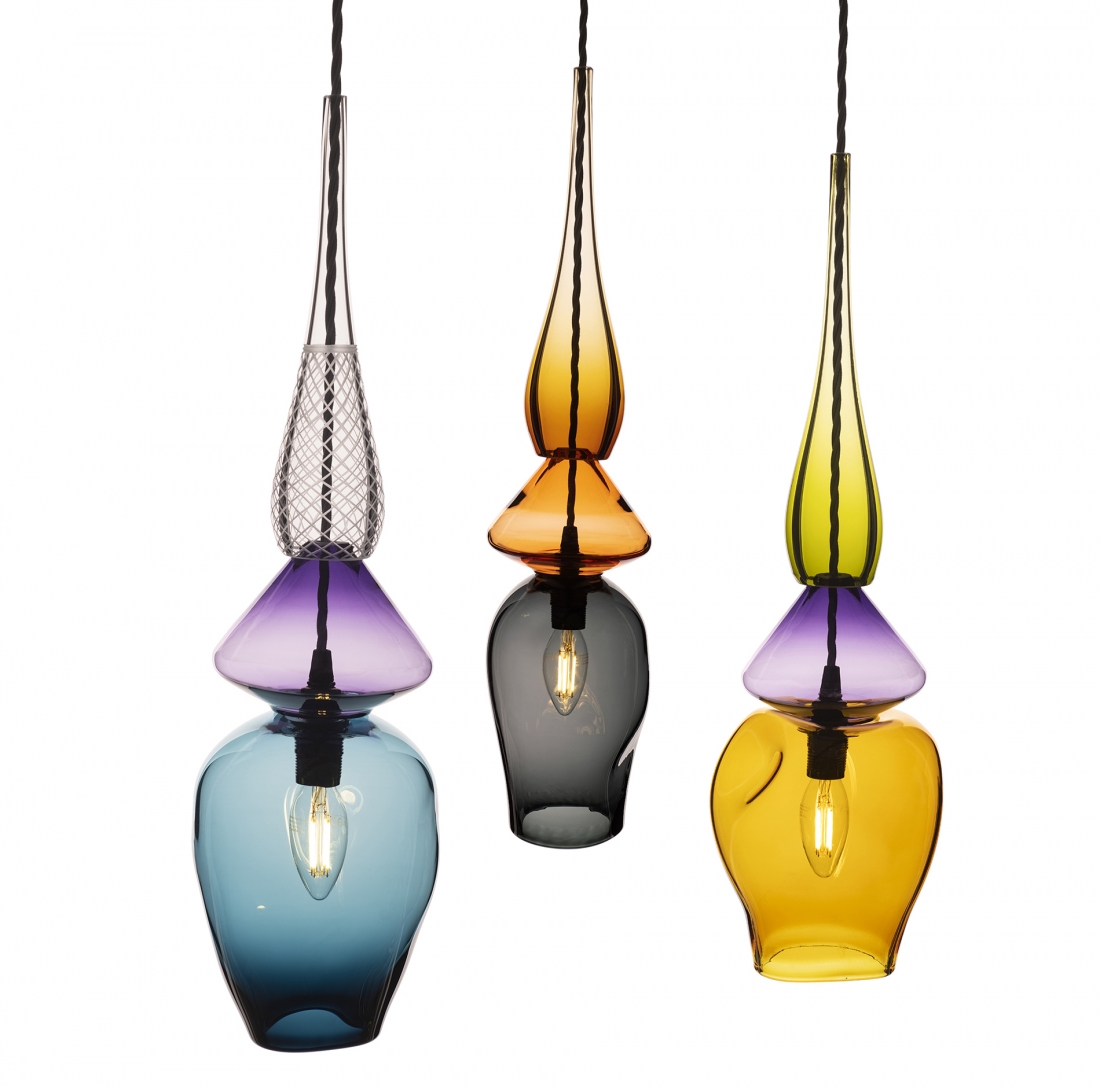 You've seen a new demand for innovative glass products. What do you think has driven this and has this renaissance allowed you to push the boundaries both in design and manufacturing?
Lighting historically was perhaps something which might have put the final touches to a room, but today I think most people would argue it can really make or break a room. It is definitely more of a focal point.
Unfortunately, though in the UK there is not much choice when it comes to glass lighting. There are one or two decent glass lighting companies dotted around England that manufacture or supply products but nothing more that is truly exciting in terms of sculpted or formed shapes. We seem to rely on imported products you might buy from places like Ikea, so I felt there was a real niche for hand-sculpted and shaped glass lighting.
I feel this is an area where I am pushing the boundaries, both on the design side and in the manufacturing. As mentioned, lights in the UK tend to be from a mould. They're normally round, giving the same view from every angle, and can be very boring.
But once they realise just exactly what you can do, more people are plumping for imperfect shapes. And this suits me perfectly. I enjoy playing with the glass - moulding and twisting shapes, cutting into the glass with different tools and implements and reheating them again and again, twisting the form and teasing the glass, so that each design is individual and if you were to study around the outside of it each angle would give you a different perspective. Designs like this are more exciting to work on. They enable me to embrace the use of different traditional glassmaking tools. They also celebrate the imperfections of the process of working and sculpting a material that is intrinsically fluid.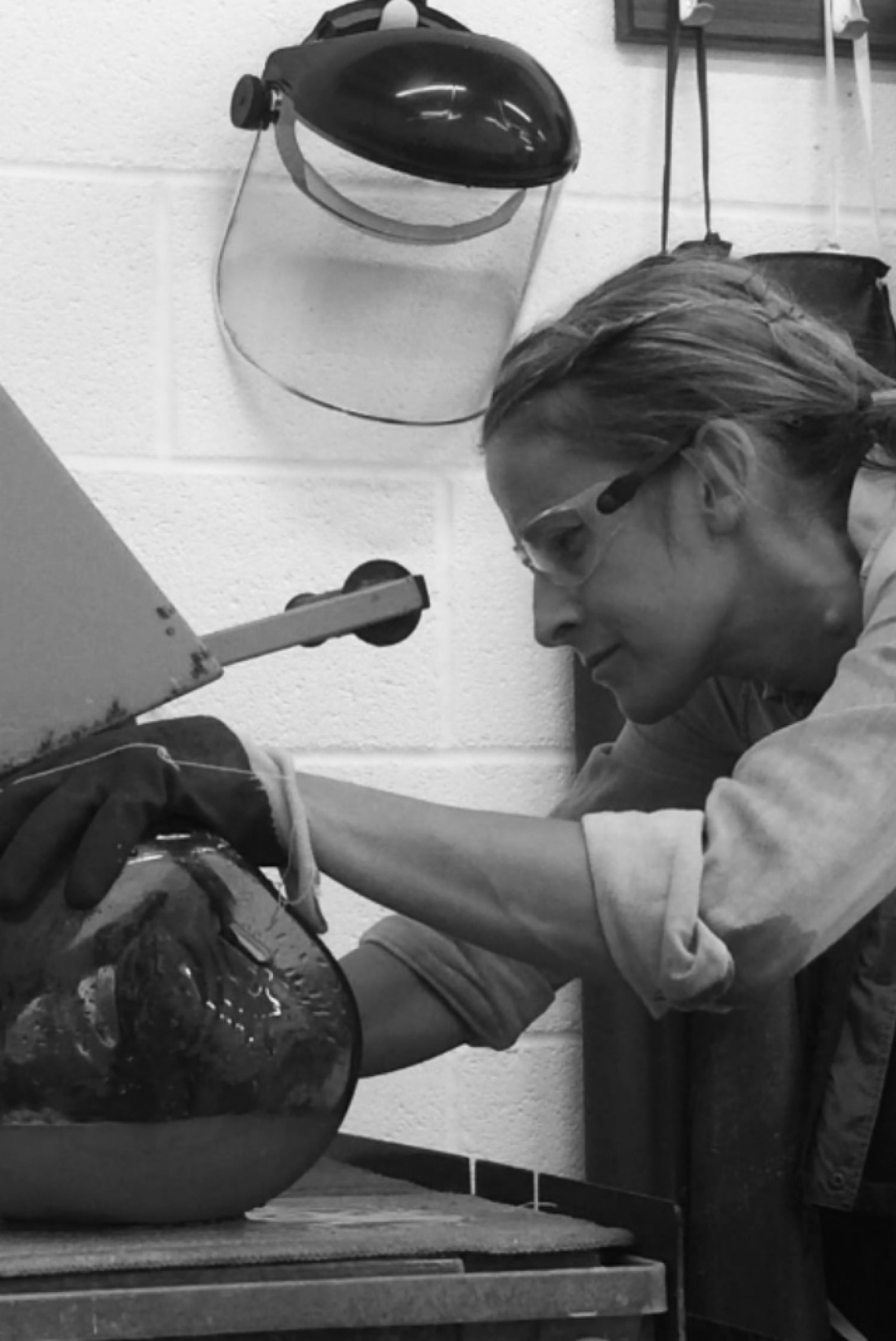 You have been selected as a Creative Enterprise Trainer for the British Council's Creative Economy Team and Nesta. How did this come about and what excites you about it?
It all started in 2008. I'd launched my business in 2007 and the following year I won a Nesta Award for it. I was invited to pitch for money in a Dragon's Den style entrepreneurs' competition in the south west, which I won. As part of the prize I won some money to design and produce a chandelier. I was also approached by one of the trainers on the committee who offered to personally mentor me for a year. He was great. He took me under his wing and then he put me forward as a Creative Enterprise trainer.
A year or two later Nesta and the British Council were looking for trainers and so I moved into that area. It's an area of my career I really love. I have a real passion for helping to develop a business, identifying problem areas and problem solving. It seemed a natural step for me to take, to try to help other young designers. So, I work with them to support their talents, harness their potential and help identify any problems in their business and devise solutions to work past these problems.
What's next for Nicola Schellander?
I recently expanded into a new design studio near my home in north Devon which was exciting. And I am now focusing on kitchen and bathroom lighting as well as stairwell and wall lights, where I think there is a real gap in the market.
I am seeing an increasing number of enquiries about residential lighting, kitchens in particular. This is possibly because kitchens today are more of a focal point in the home than they have ever been before. A lot of people are looking for feature lighting that might hang over kitchen islands, kitchen tables or dining table. When they're looking at them for stairwell lights it's usually for hallways and larger spaces. Also, bathrooms would be a great area to tap into. Bathroom lighting is a real speciality that very few designers and manufacturers are able to master as it involves developing a waterproof casing for a lightbulb. But this is the new thing. People are looking for bespoke lighting for bathrooms – for example, suspended lighting coming down over a bath.
Whatever products I'm designing, I endeavour to make them customisable. They come in 18 different colours and 14 different flex colours so they can be mixed and matched. If there is a colour that I don't do already a client can show me that colour and I will try to match it.
I also make a point of designing my products so they're interchangeable. As an example, one customer may want one pendant light within his design whereas another may want three of the same light hanging down. I design them so they're versatile.
Customers seem to really love this. This way also they know that they've had a hand in the design, rather than just buying something straight off the shelf. It's a deliberate area that I focus on which allows each of my customers to put their own stamp on the design.
Discover more about Nicola Schellander.