Vidhi Sharma, Creative Director Modus, talking creative process, sustainability and the workspace post Covid.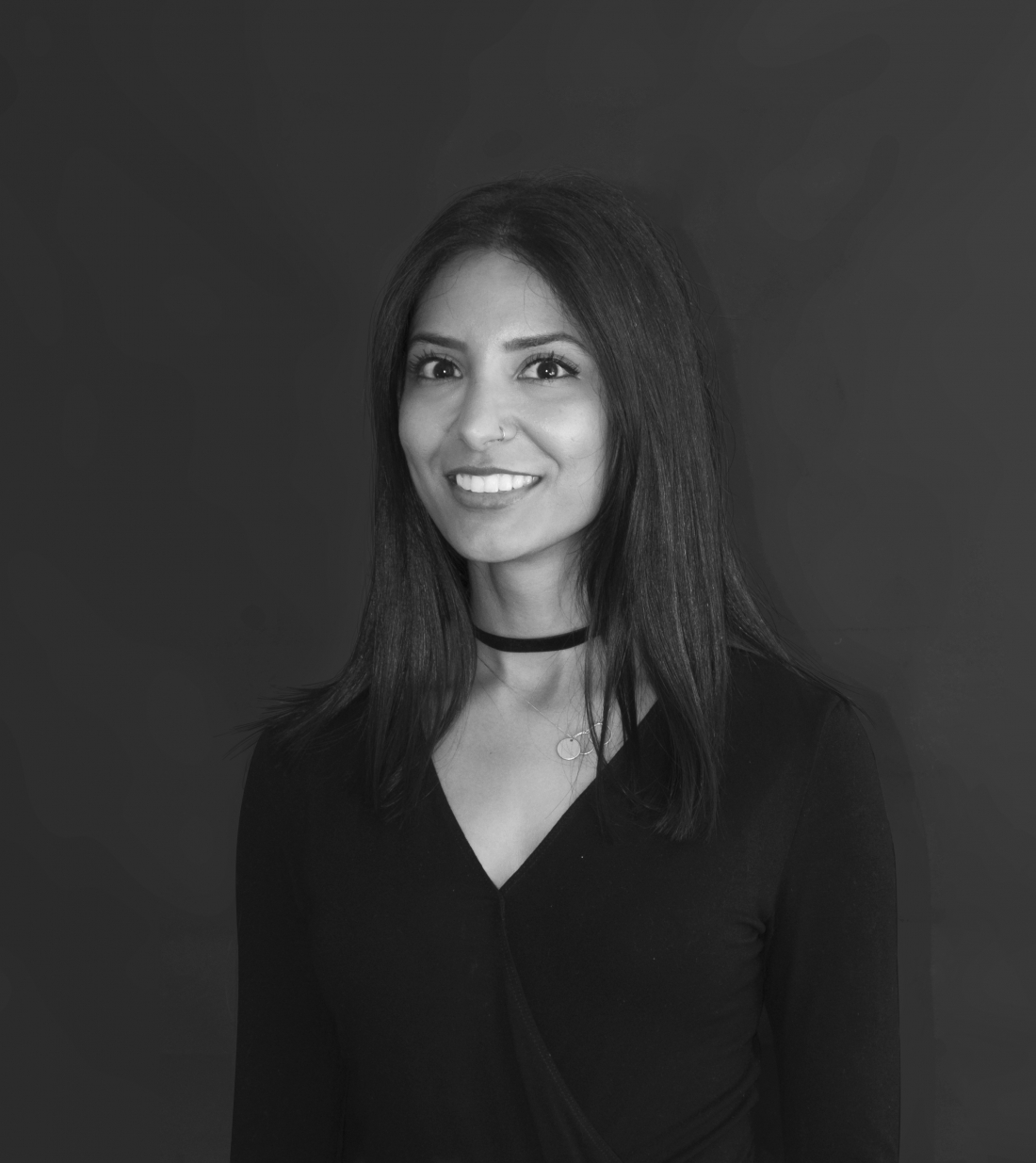 For the last 28 years Modus's success has been its client-focused approach. Modus prides itself on building close relationships with clients by thoroughly understanding their business needs. This has led to the company building a reputation for integrity, reliability, and quality.
Modus has an extensive in-house design facility and is unique in that they cover both architectural design and mechanical & electrical services design together. We took time to catch up with Vidhi Sharma - Creative Director to learn more.
Vidhi, tell us about Modus, how it began, and how you operate?
Modus came to life over a pint of beer in Wandsworth. In the company's first office - the CEO's dining room - a name was chosen, and a business plan was written. Within four months, the company hired its first designer, and Modus, as it is today, was born.
28 years later, we have more than 40 amazing people in our design team, and we're widely recognised as the leading creative company in the industry. Those designers are supported by engineers, project managers, and others who turn their 3D renders into reality.
A crucial part of Modus's success has been its client-focused approach. Modus prides itself on building close relationships with clients to get a thorough understanding of their business needs. This has led to the company building a reputation for integrity, reliability, and quality.
Modus is also one of four companies within Workplace Futures Group Ltd, all of which operate within the design and build sector. This client-focused ethos is also consistent throughout Workplace Futures Group, and, as a result, over 60% of its turnover each year derives from the existing customer base.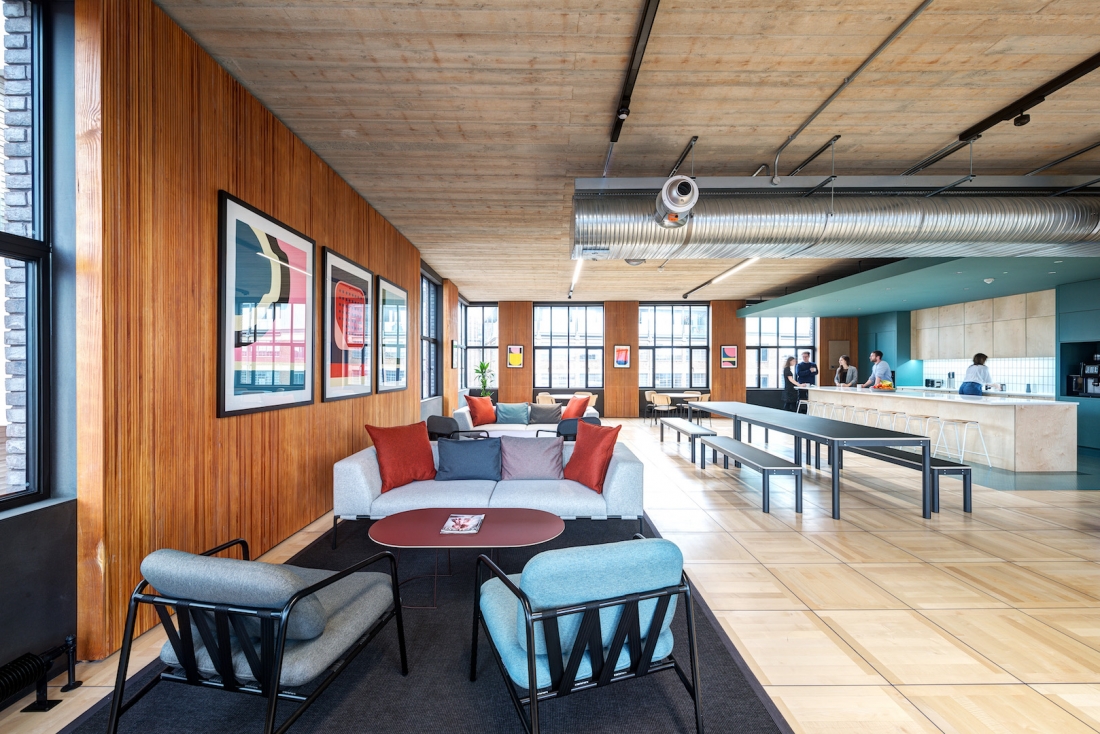 Can you briefly talk us through your creative process from brief to project completion?
I would describe our creative process as a journey. We start by aligning the right member of the team to the project. Then, we meet with the client to get to know what their key objectives are. Understanding what excites them allied to what they need as a business is a driving factor in finding out what they want to achieve. We also have multiple workshops with the client team to tease out further information and better understand the requirements.
Next, we begin the process of creating a scheme that conceptually meets (and hopefully exceeds) their expectations in line with what is possible for their organisation. This is supported heavily by 3D renders and virtual reality to help the client visualise the scheme.
Once a design is agreed, we then commence building works. To ensure the quality of delivery, the senior creative figure visits the site regularly, and the same team stays with the project throughout. It's all about taking our clients through a journey and really trying to personalise their experience. Creating a sympathetic and respectful rapport helps the process massively.
Although there is a process and a loose step by step agenda, it's never really the same process for every job. Every client has very different needs and could be a very distinct stage of their business lives. What works for a blue-chip will certainly not work for a media start-up. Their story will be different, and therefore the process is always bespoke.
You offer an extensive portfolio of services which of them do you think set you apart from your competitors?
Going back to number question two, I would say that our aptitude for creating cutting-edge designs coupled with a client-focused approach sets us apart. We aren't a business that churns out a process or works as cogwheels. We pride ourselves on keeping the design elements at the forefront of our project requirements and giving clients outstanding support.
For us, quality is everything. We want to make sure we can provide our clients with something special, giving them the assurance that they've made the right choice to work with Modus. You don't get fast, cookie-cutter design. The amount of repeat and referral business is a testament to our operation.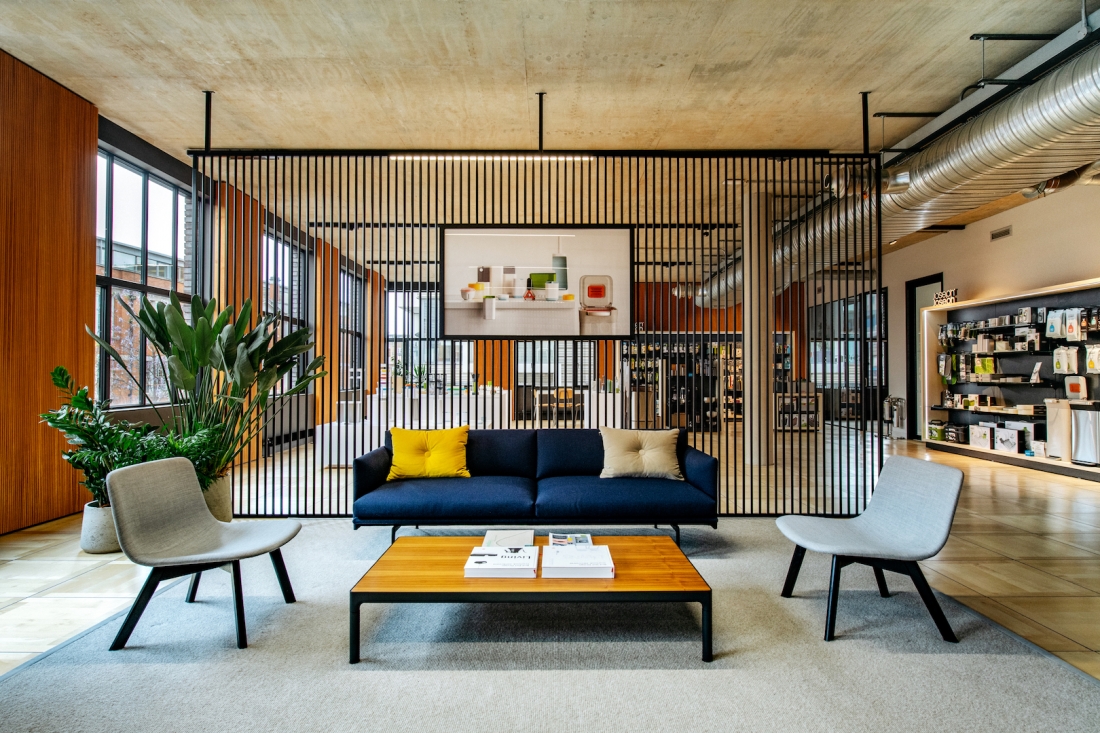 How important a role do your material selections play in your work?
I think it goes without saying how important the material selection is. It is vital to make sure we are not only selecting materials and finishes that are new and current, but that will have longevity. Faddish design dates very quickly. We like to introduce new materials just as much as we want to work with those timeless, sustainable classic finishes. Striking the right balance is key. It is also the part of the process that is very tangible: feeling and handling the textures and finishes as a client suddenly takes the project into a 3D setting.
Are there any emerging materials and products that particularly excite you?
Yes, anything that is new and sustainable! Discovering different ways to use materials that once may not have been acceptable to use in an interior setting. As a kid growing up, I'd spend a lot of time out in skate parks where the majority were built using OSB, and these days this is a very cool and acceptable 'sustainable' finish for many interiors we create. That and fabrics made from plastic bottles! How cool is that!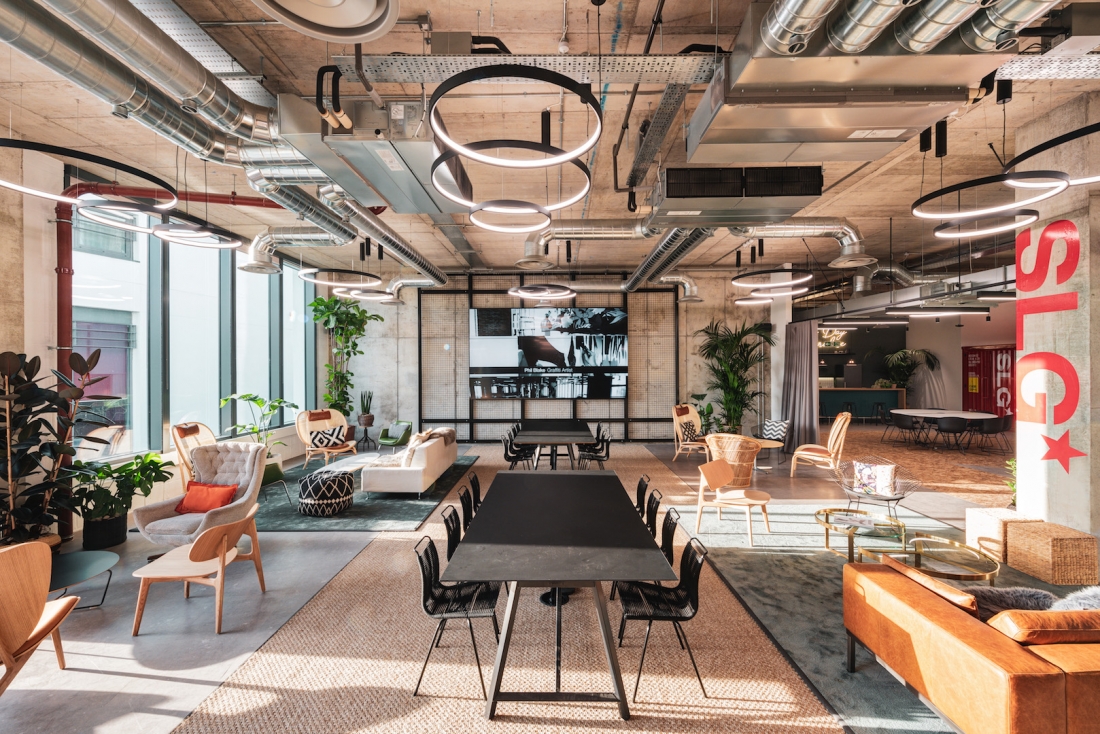 How does Modus approach sustainability when answering a client's brief?
Sustainability is always at the forefront of our design approach. In today's climate and market, this is more important than ever, so it's essential we have the know-how to give guidance on environmentally friendly solutions.
We are committed to using our design expertise to specify sustainable products and low energy systems. Whether it be recommending 100% recycled carpet or furniture made from renewable material, we pride ourselves on having extensive knowledge of eco-friendly solutions to ensure the client, and we are doing our bit for the environment.
When it comes to the project itself (for which we use BREEAM and SKA techniques), we try to source locally and assign staff to projects who live as close to the site as possible. Moreover, we maintain clear lines of communication with our supply chain to ensure they follow similar procedures.
We are also a partner of Business2Schools, an initiative which helps to reduce waste by re-distributing quality used office furniture to schools in the UK. We take great pride in doing our bit for the environment, and we aim to continue connecting businesses we work with to schools, which greatly benefit from receiving the furniture.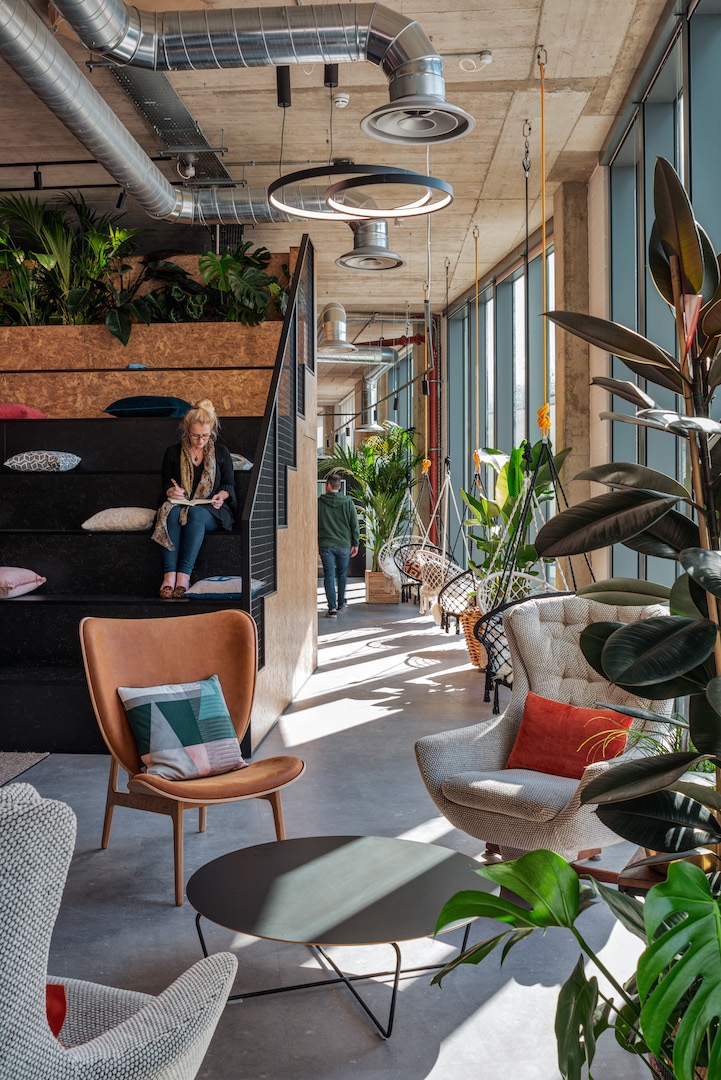 How have you seen D&B change since you started in the industry?
The change is significant, and I think this has come more from the client's side. Companies care more now or have to care more. It's not just about fitting out an office with 100 desks and a small coffee point – wellness is the key driver. The office has become the home away from home. This evolution has resulted in us creating spaces that allow people to work in many different – and more efficient – ways. New ways of working are taking over.
The nascent generation is a lot more connected – both locally and globally – and have a clearer understanding of what they want as an employee. It isn't necessarily enough for an employer to just be able to offer a job and a salary. We are increasingly finding that the employer has to use their space as a selling tool, so we have to make sure our designs are inspirational and at the vanguard of interior design.
Who or what inspires you outside of the workplace, where do you find inspiration? I'm lucky enough to live in Central London, and therefore I find inspiration everywhere I look. Be it the amazing smorgasbord of people, the juxtaposition of modern and historical buildings, or the neighborhoods that I encounter every day. My favourite thing about living in London is that I genuinely believe this city is at the forefront of most things creative. Art, fashion, culture, music, etc. I am constantly inspired by all these things daily – it's one of the reasons I came to this city and one of the main reasons I never left.
Where do you think the industry is heading, and what changes do you think will have to made following COVID?
I think this is a new and exciting chapter for our industry. A new challenge that will get us thinking about what the office of the future can and will have to become. We have already seen that our staff massively missed the human interaction element of their day to day working lives, while also showing that they can be very productive at home. The office itself will never disappear, but it's evident that for the time being, at least the office landscapes will likely change to support social distancing.
Our team of experts has formulated a Covid-19 Resource Centre on our website in light of the changes. There's lots of great information on there, like quick access to government guidelines, risk-assessment templates, and recommendations on things like furniture screens. This is an extremely valuable material for companies, and we're proud to be playing a part in helping them transition back into the workplace.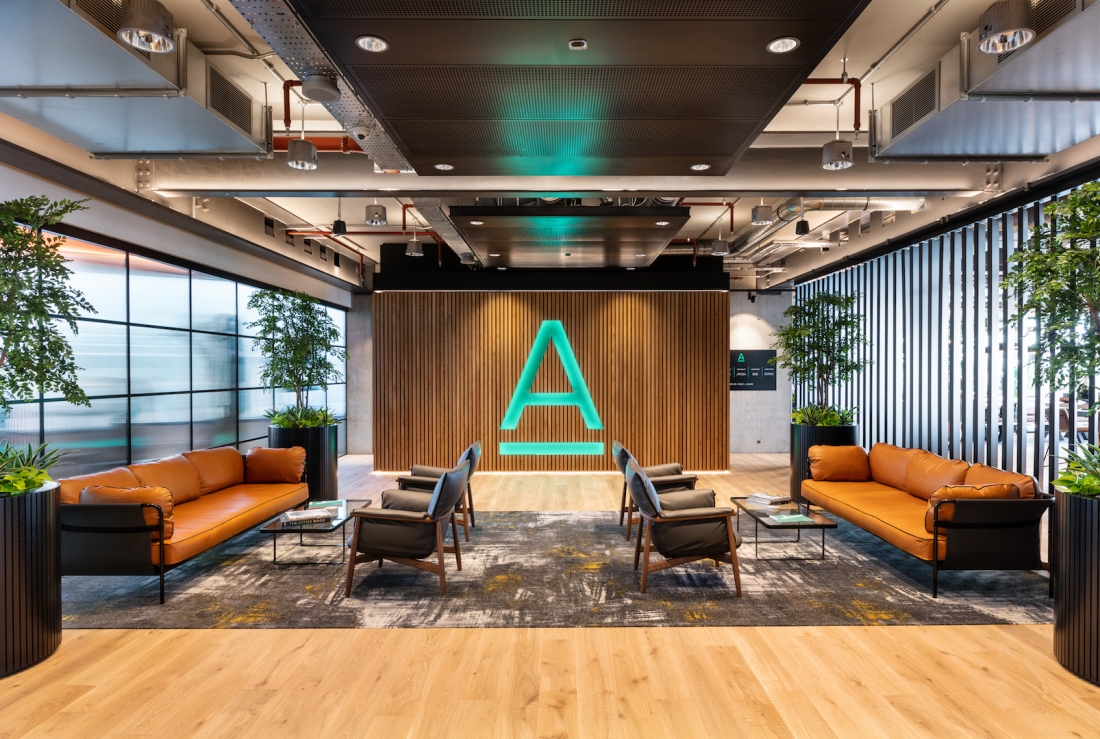 Considering the above, what's next for Modus?
I think the next step for Modus is to carry on supporting clients throughout the pandemic. We have a responsibility to adhere to safety regulations on-site to reduce the spread of infection, so that's a big priority at the moment. Of course, we are also on hand to help if any clients – new or old – need advice on how to configure their space in accordance with social distancing measures.
As for the future, technology has been making us more mobile for a while now, but this hasn't resulted in the death of the workplace. People actually want to come into work and be around their colleagues; I think that's something we've all missed. Because of what's happened, we may see more business opting for a more agile way of working, but this is nothing new, and workspaces will be part of that change. From our experience, we know that businesses understand how important the workplace for their brand, culture, and competitive edge, so the future looks bright for Modus!
Discover more about Modus.