Top 23 biomaterial designers to watch in 2023.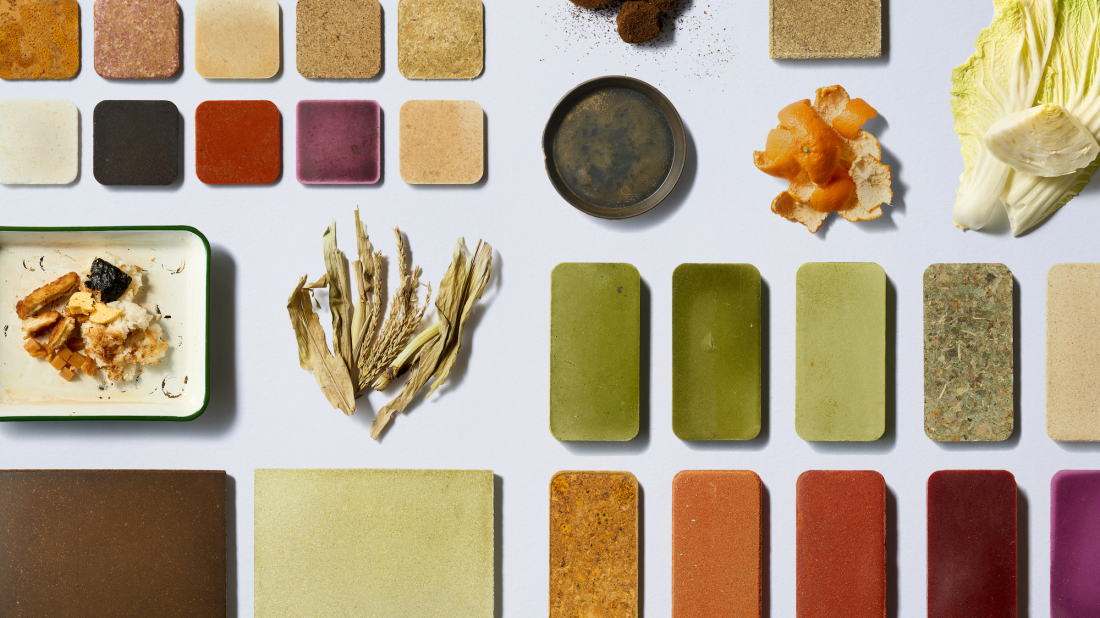 Biomaterials and their application are thankfully on their way to becoming an ever-present consideration within the built environment.
An urgency to address climate change and social responsibility is rising, with carbon neutrality, circular life cycle assessments and ESG rightfully becoming industry necessity. As a materialist at Material Source Studio, one of our key drivers is to probe insight into the bio-based material world.
The bio-based cohort included in this year's 'top biomaterial designers to watch' article reap innovative and regenerative material outcomes from unique and unexpected waste-streams, helping to restore and sustain a brighter future for the built environment.
Here we share some of the industry's finest, both up-and-coming and established, for consideration in your next project.
1. Fabula: Edible, biodegradable concrete solutions
Concrete is well known for its colossal carbon footprint and demands immediate attention to its carbon resilient construction. Additionally, household and industrial food waste continues to be managed poorly, resulting in large environmental and financial losses. Emerging out of the University of Tokyo, Fabula take on these two challenges in the development of an edible building material, made from food waste.
The material possesses four times the bending strength of concrete, whilst comprising of mainly vacuum dried and pulverised fruit peels and coffee grounds. The food scraps are mixed with water and seasoning and then pressed into a mould at a high temperature. Interestingly, Fabula discovered different fruit and vegetables perform differently in strength. For example, pumpkin did not survive the bending weight but the bending strength of Chinese cabbage resulted in being four times stronger than regular concrete.
Adjusting the flavours with different spices, the bricks can be boiled down and enjoyed as stock, as well as applied in the construction of household objects, furniture and edible makeshift housing following natural disasters.
Revolutionising the materiality of our built environment, we asked the researchers of Fabula, Kota Machida and Yuya Sakai about what drives them in the development of bio-based materials.
"Our purpose to distribute this material is to reduce the use of concrete. It is said concrete industries generate 8% of the world's C02 emissions. We are trying to replace concrete in the future by using our material for both interior purposes and exterior structural purposes. Since the material is produced from waste, we can build houses without consuming any natural resources someday".
Discover more: fabulajp.com / @fabula_inc
2. Krill Design Studio: 3D printed orange peel
Emerging in 2018, the Italian design practice Krill Design Studio is designing its way out of the global food waste crisis, one lamp at a time.
Intercepting food waste with material science and digital engineering, the team produces 100% circular, 3D printed products. Their radical product portfolio includes the 'Ohmie', an organic and compostable lamp, as well as an open vase named the 'Hidee'. Raw materials such as seeds, peels and zests from Sicilian oranges are manufactured into a filament and then 3D printed within a patented process.
When asked what drives the Krill Design Studio team in the development of bio-based materials, it boiled down to: "The desire to propose a Green Economy model that could combine the need to manage the recycling process of organic waste in an innovative way in the creation of new products, without drawing on virgin, raw materials".
Discover more: krilldesign.net / @krilldesignmilano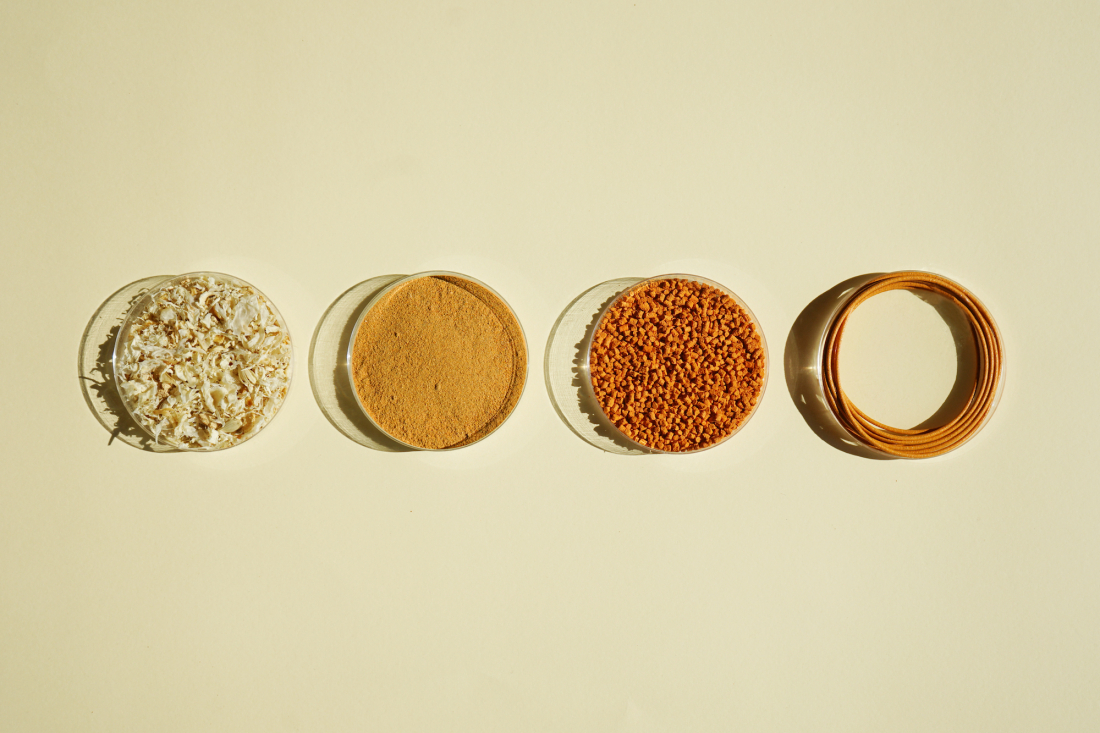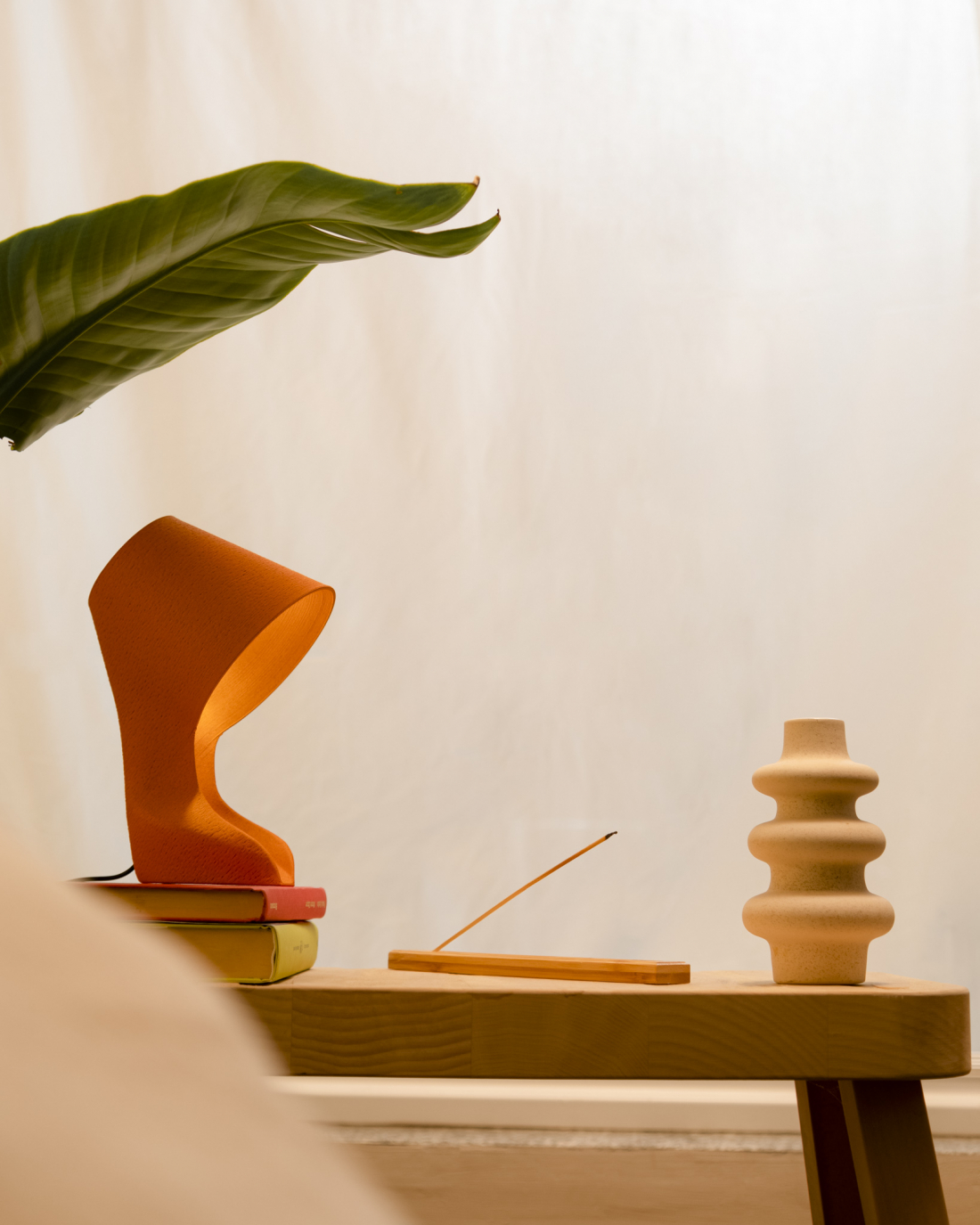 3. Tomtex
Tomtex is a 100% bio-based leather made from seafood shells and mushroom waste. Unlike many of its vegan leather counterparts, Tomtex is plastic free, using a coat of beeswax to enhance water-resistance rather than petrochemicals.
Despite being fully biodegradable, the material rates high in performance and durability, whilst also remaining soft to the touch. Tomtex provides designers with the same material qualities as its synthetic and animal leather counterparts, but with a 100% circular, transparent life-cycle.
Tomtex's founder, Uyen Tran, explained that her drive to create biomaterial solutions stems from the overflowing textile waste landfills that polluted her hometown."I envision a world where people surround themselves with high performance materials sourced directly from waste, not fossil fuels".
Discover more: tomtex.co / @tomtex.co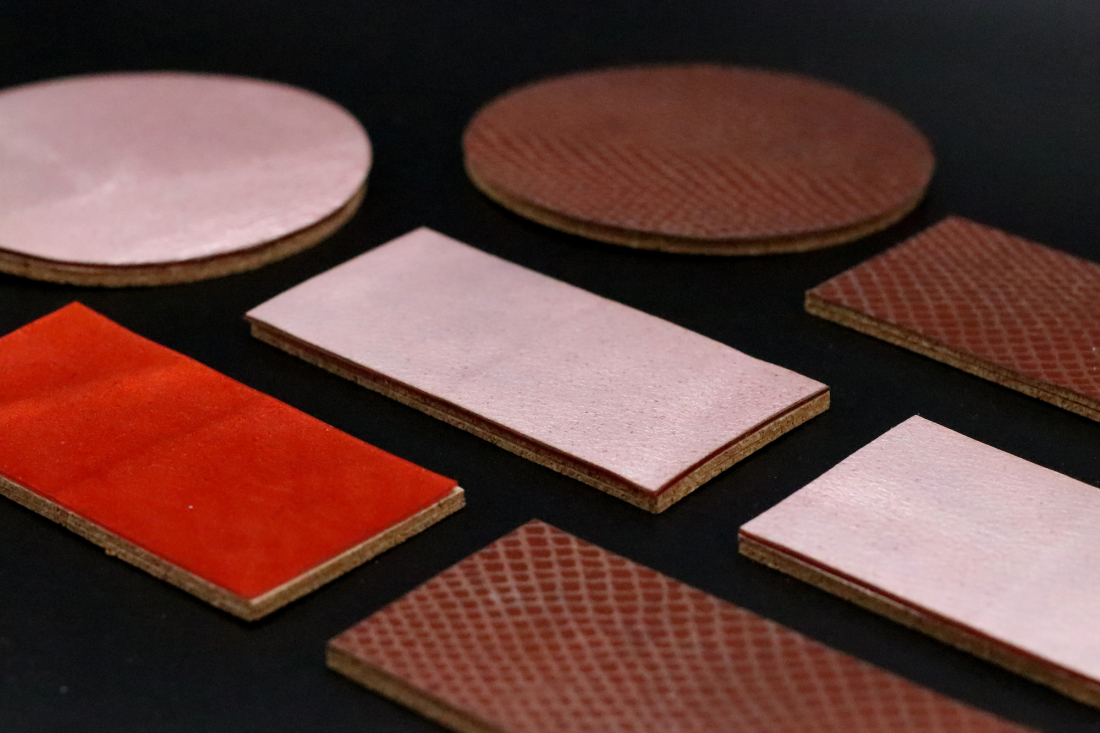 4. Fernando Laposse: The Dogs
Fernando Laposse's holistic, material led design practice has served us another bio-based ingenuity.
His project, The Dogs, crafts furniture using sisal - the raw fibres from the leaves of the agave plant. Pre plastic production, sisal used to be applied widely in the making of ropes, carpets and fishing nets in Mexico. For Laposse, people and community take centre stage in the design process of his pieces, working with indigenous communities within his native country to tackle environmental, agricultural and financial challenges.
Bringing the Mexican native plant back into production, it is harvested, its fibres extracted and then knotted by hand to create a series of benches and other furniture based objects. The Mexican and London based designer-maker advocates that the answers to some of our biggest environmental challenges lie in heritage crafts.
Discover more: fernandolaposse.com / @fernandolaposse
5. Hannah Elisabeth Jones: Lliw Lleol
Hannah Elisabeth Jones is no stranger amongst British biomaterial designers. Adding to her innovations such as patented material 'Biomarble', Jones' has now developed a comprehensive natural dye database, named Lliw Lleol, translating to 'Local Colour' in Welsh.
Using unbleached, mordant-free and organic textiles, Jones maps the seasonal changes and geographical locations of specific colours foraged around her home in North Wales.
Lliw Lleol promotes awareness of conscious consumption and a progressive transparency in the vast spectrum of forageable colour available in the North Wales countryside. Her ethical approach to textiles aims to connect people to the natural origins of colour.
Discover more: hannahelisabethjones.co.uk / @hannahelisabethjones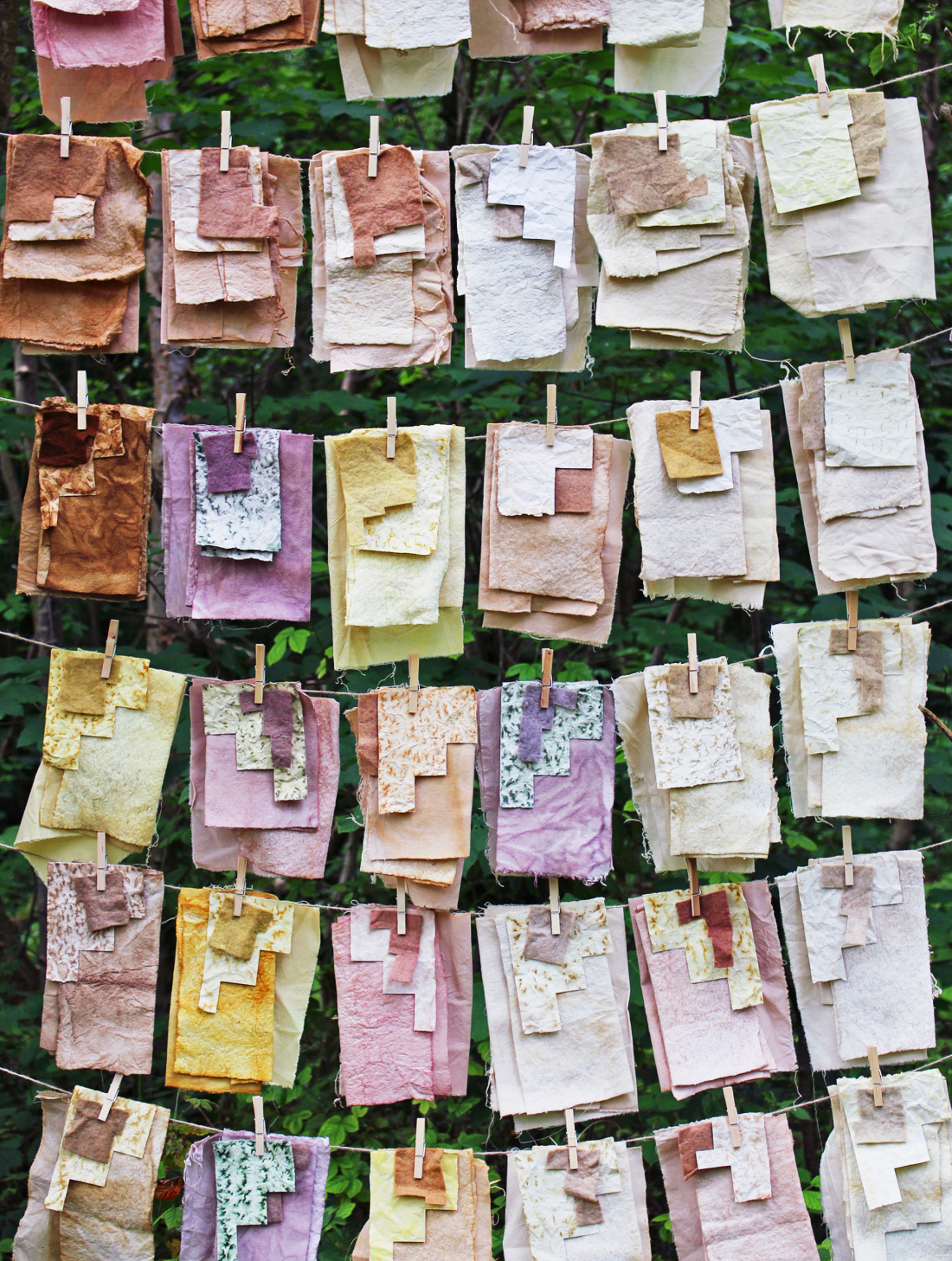 6. Markos Georgiou: Ostra
Cypriot, Markos Georgiou, is the maker and material innovator behind 'Ostra'- a ceramic and cement like biomaterial made from oyster-shell waste and seaweed extract. A champion of circular economy philosophy, Georgiou drives disruptive projects that re-evaluate abundant waste-streams and their application to the materiality of useful and meaningful products.
Whilst studying Product Design at Brighton, he discovered the need for system re-structure in the current operating system and supply chain of oysters. By grinding local restaurant obtained oyster-shells down to a powder and adding a seaweed derived glue, Georgiou is able to craft the lucent white Ostra Lamps, using his own CAD built mould.
"I believe combining knowledge and skills from multiple disciplines is key to innovating and solving complex problems. This is precisely what drives me in engaging with biomaterials and design, the vast knowledge available in each field, and the overall impact a project can have on people and the planet".
Discover more: markosdesigns.com / @markos_designs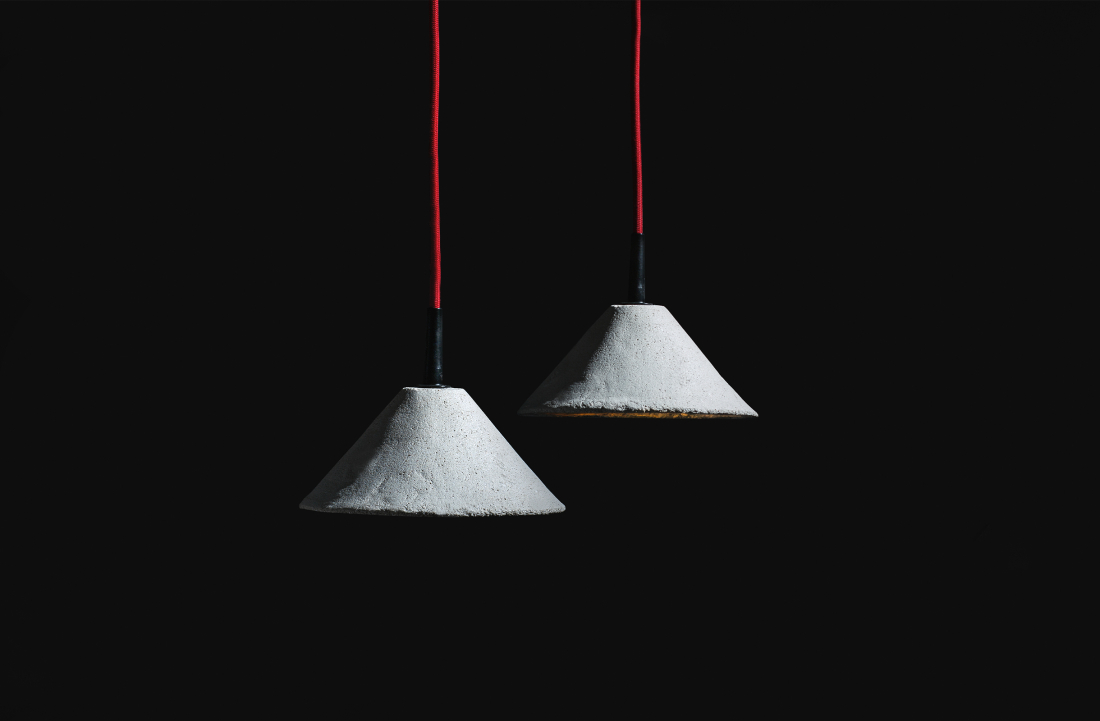 7. Salome Maarek: From Stone to Glass
From Stone to Glass is the sustainability paradigm project of Jerusalem based designer, Salome Maarek. Identifying that the current methods of dyeing glass can be harmful and unsustainable, Mareek set out to produce a naturally coloured glass, derived from local terrain.
Alongside geologists, Maarek identified and crushed different varieties of Israeli stones to obtain a multitude of colours such as moldavite green, turquoise blue, indigolite amber and tourmaline yellow. After two years of research, the glass is now available for jewellery or industrial production.
The glass has several advantageous characteristics, including being able to undergo temperature changes without cracking and being highly resistant of up to five tonnes. The glass is highly durable when shaped, cut, sharpened and even drilled.
When asked what drives her in the development of bio based materials, Maarek put forward a simple but poignant response.
"Stone, glass, colour, light or dark. One message, local."
Discover more: @salome_maarek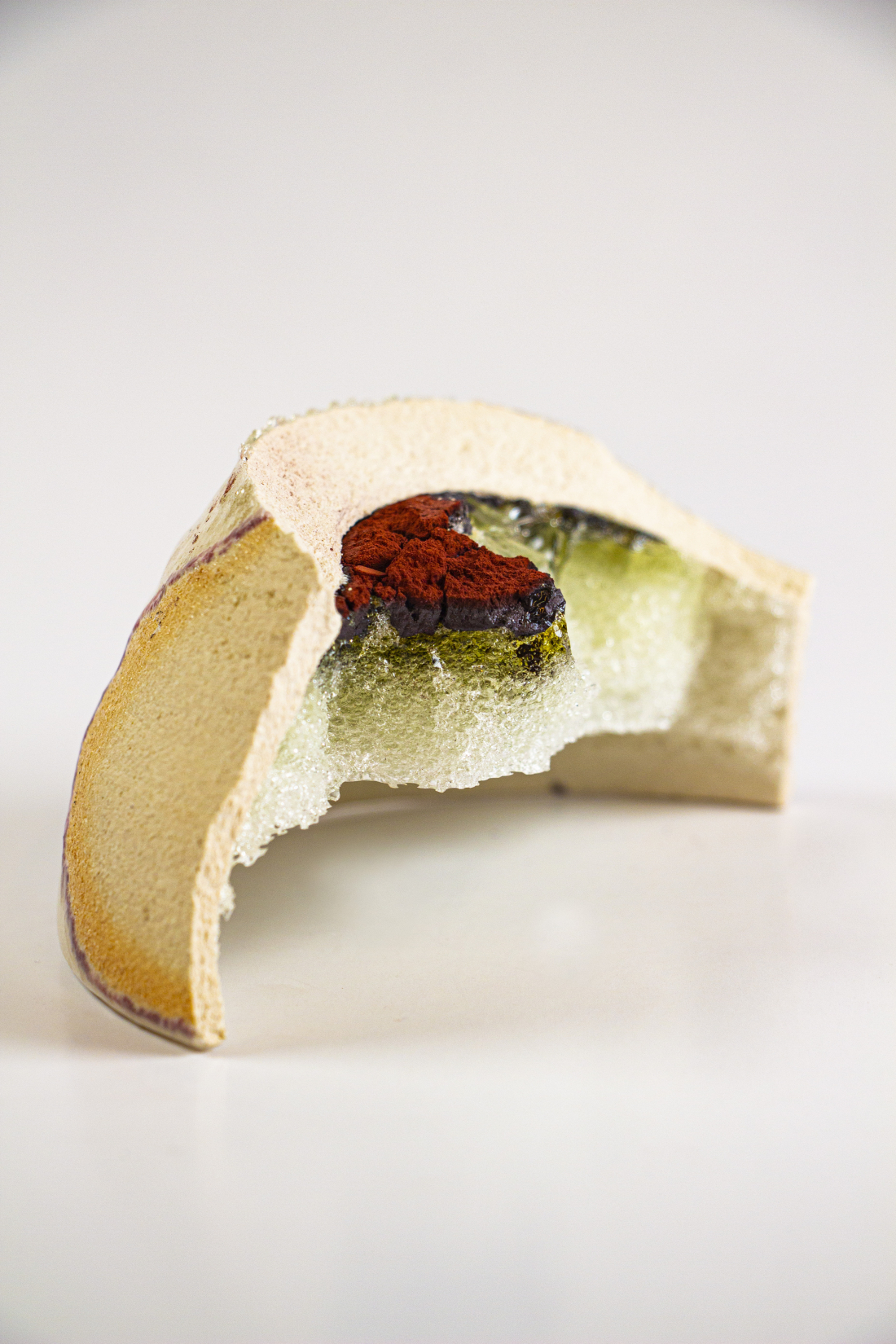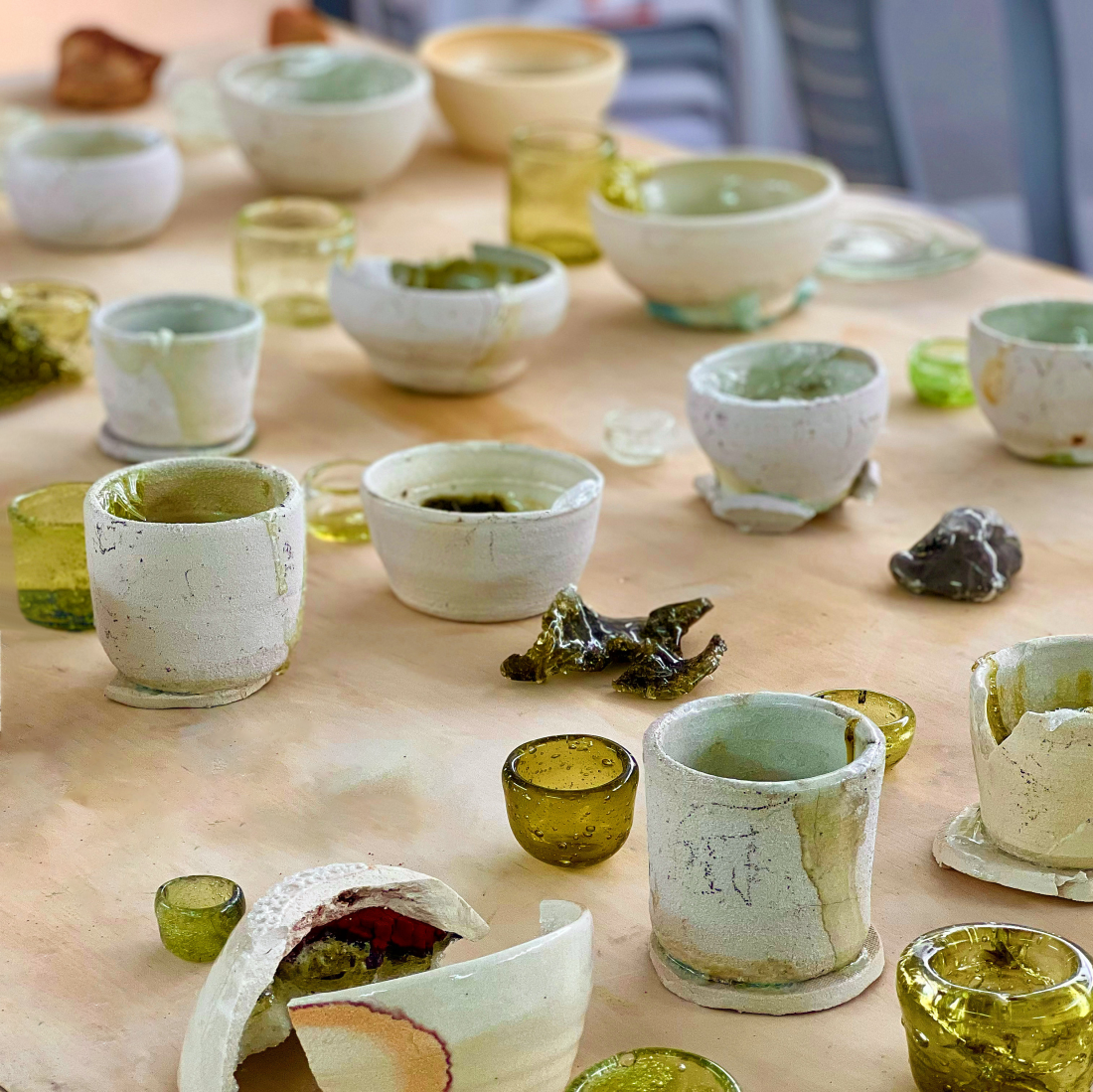 8. Nienke Hoogvliet: RE-SEA ME & Waterschatten
Nienke Hoogvliet has been well respected in the biomaterials industry since graduating from Lifestyle and Design at Willem de Kooning Academy in Rotterdam and establishing her studio in 2013. She has tackled multiple consumer crises in the textiles, food and sewage industries through methodical and holistic material investigation. Hoogvliet designs material alternatives that seek to spur change in perspectives and systems.
Now living in Delfhaven, her geographical and emotional connection to the ocean has prompted her exploration into fish skins. RE-SEA ME fashions discarded fish skins from the fishing industry into sustainable leather alternatives, tanning the skins by hand without any synthetic chemicals. The project hopes to re-define the design and manufacture of leather products, employing more circular practices.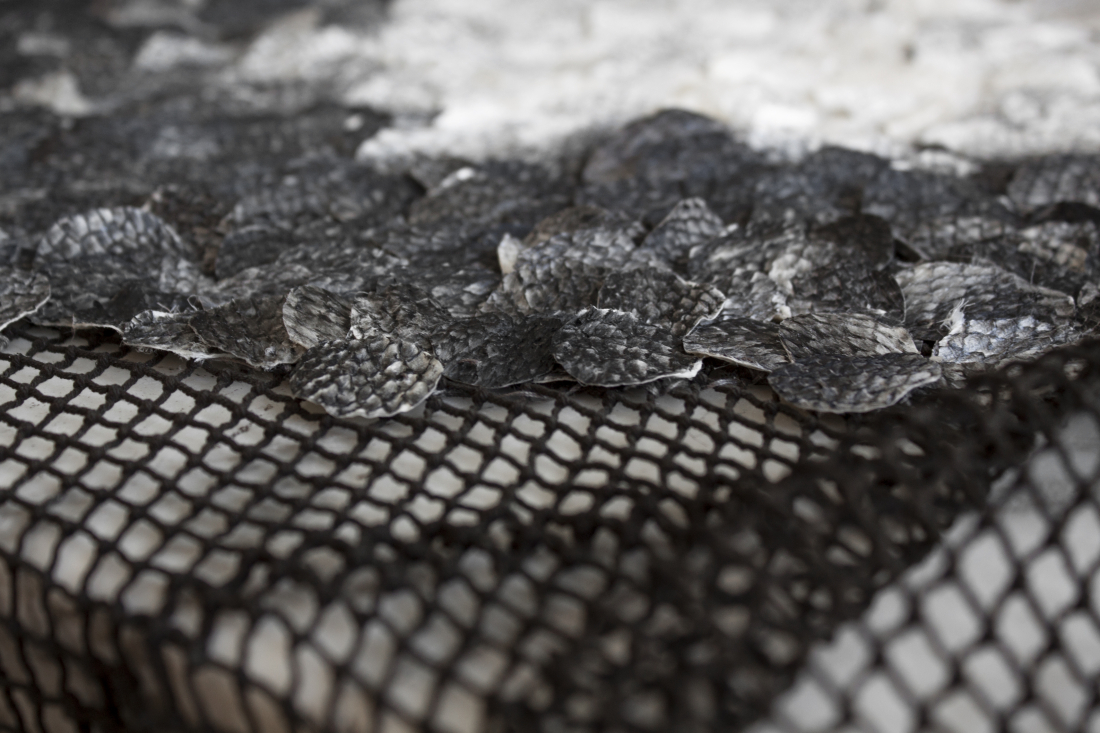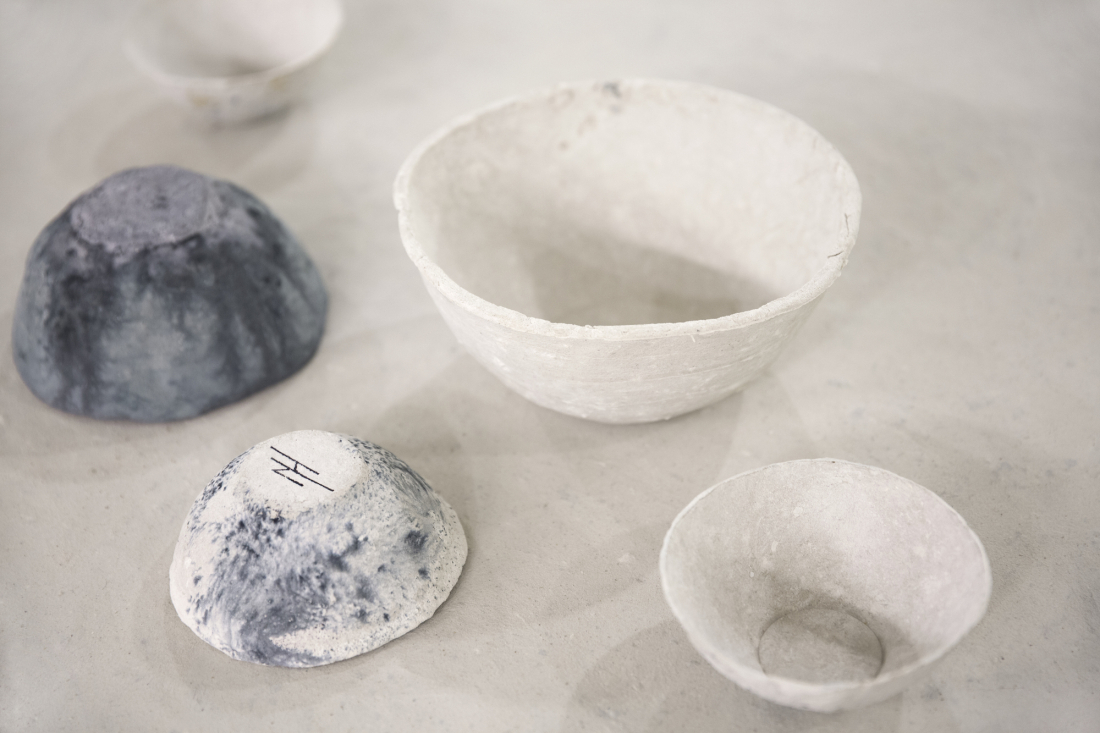 Waterschatten is a collaboration between Hoogvliet and The Dutch Water Authorities. Recently the Dutch Water Authorities have devised a method to recover the cellulose from waste toilet paper, awarding value to this widely overlooked raw material.
With the recovered cellulose, Hoogvliet crafts a series of objects consisting of a large table, bowls and lighting features to encourage positive association with the material and how it can inform the objects in our home.
As well as the recovery of cellulose, The Dutch Water Authorities can also reclaim energy and other useful materials that are highlighted inside the eight drawers of the table.
Hoogvliet has propelled a legion of projects that drive the development of bio-based materials.
"If our raw materials are not renewable and not biodegradable, it means they will create a problem somewhere. We see our designs as a tool to shape a harmonious reality between human and nature.
"The future is bio-based and therefore we place our focus there. But we also try to look beyond, how can we value the materials and objects we use more? We need to change our interaction with the products we use, otherwise we still have too much impact on the earth, bio-based or not."
Discover more: nienkehoogvliet.nl / @studio_nienkehoogvliet
9. Basse Stittgen: BLOOD RELATED & How Do You Like Your Eggs?
Basse Stittgen is well know for his unusual choices in materials, confronting his audience with bio-hazardous waste streams in the form of everyday objects, such as crockery and furniture items. An alumna of Design Academy Eindhoven, Stittgen established his studio in Amsterdam during 2017, where he continues to push the boundaries of controversially deemed materials, predominantly obtained from the meat and dairy industries.
Blood Related brings to materiality the contaminated blood from slaughterhouses that has little use and so is often discarded. The blood is cooked at a low temperature, dried and heat pressed. He realises the waste stream in a series of design objects such as tableware, and even a record player, making the by-product apparent and tangible in its extremity. Due to fear of the objects amplifying the meat industries' position, Stittgen has decided against commercialising the objects.
How Do You Like Your Eggs tackles a similar premise. Impelled by the amount of eggs wasted due to short shelf life or damaged during transport, Stittgen thermo-forms waste egg whites and egg shell into bio plastic cups.
Collaborating with a local farm, Stittgen is able to collect eggs that would otherwise be wasted and transform them into biodegradable vessels with zero additives.
Discover more: bassestittgen.com / @bassestittgen
10. MuDD Architects and MABE Estudio: Angelic Tree Bio Plastics
Spanish practice MuDD Architects has partnered with Brazilian designer MABE Estudio to develop a lighting solution made from angico bioplastics.
Materials from the angelic tree in Brazil and red cabbage are used to create a bioplastic that is then woven together to filter both natural and artificial light. MuDD's bio-lamp takes full advantage of the 100 shades the angico sheets can adopt.
Discover more: estudiomabe.com / muddarchitects.com/shop / @mudd_architects / @mabe_estudio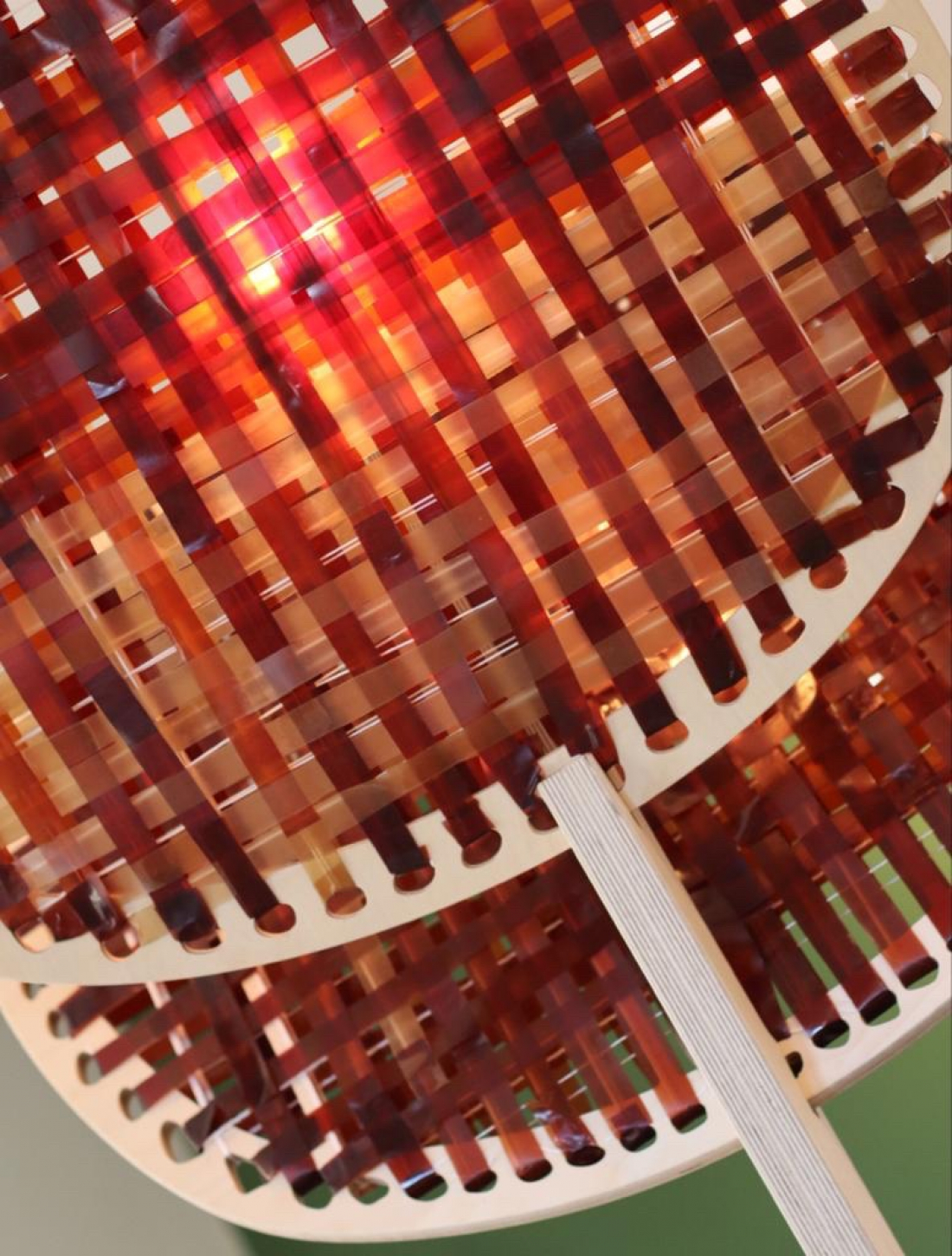 11. Caroline Hyde-Brown: Grass Pea
Embroidery and slow craft artist, Caroline Hyde-Brown, narrates stories through extraction of natural colour from flowers, herbs and weeds growing in the Norfolk and Suffolk countryside. Always maintaining a high degree of environmental stewardship in her work, Hyde-Brown forages wild flowers and grasses local to her as well as using household food waste, such as egg shells to create her pieces.
Her recent collaboration with the John Innes Centre in Norwich uncovers the material possibilities of an ancient crop called Grass Pea. Hyde-Brown developed a paper making recipe using harvested rain water and heat from the sun to prototype a pair of shoes, bowls and lampshades.
"Bio based materials should and will be part of everyone's life. I design and produce surfaces from cellulose as it is one of the most widely available renewable materials on earth. This provides a unique opportunity for us all to cultivate a reduced carbon footprint for a brighter, greener future".
Discover more: @artistcaz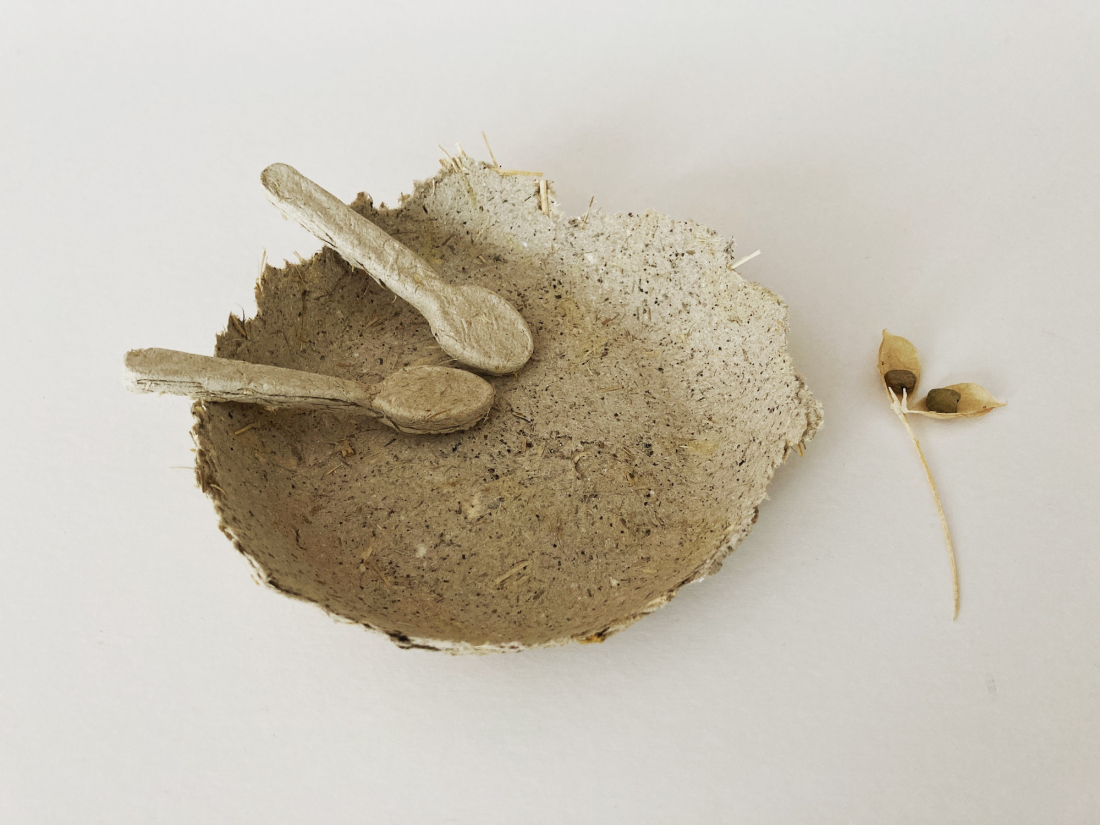 12. Ruth Lloyd: Bacteria Pigments
Ruth Lloyd is a London based design researcher who is delivering vibrant sustainable, circular and regenerative systems of colour to the textile industry. Whilst studying for her Textiles MA at the Royal College of Arts, Lloyd's practice based research focussed on the design potential of microbial pigments. Lloyd has continued to produce an array of pinks and reds, as well as other colours on the spectrum using micro-organisms, demonstrating the alluring possibilities of living colour solutions. This aims to levitate our reliance on toxic, petroleum based dyes.
"Colour brings joy and beauty to our lives, and is an important aspect of every designers' toolkit. It is the desire to develop colour systems in a planet positive way with drives my research into microbial pigments as alternative textile dyes".
Continuing her exploration into microbial pigments, Lloyd is now completing her PhD at the Living Systems Research Lab, where she will further test the capabilities of these micro-organisms to create human designed patterns.
Discover more: ruthlloyddesign.co.uk / @ruthlloyddesign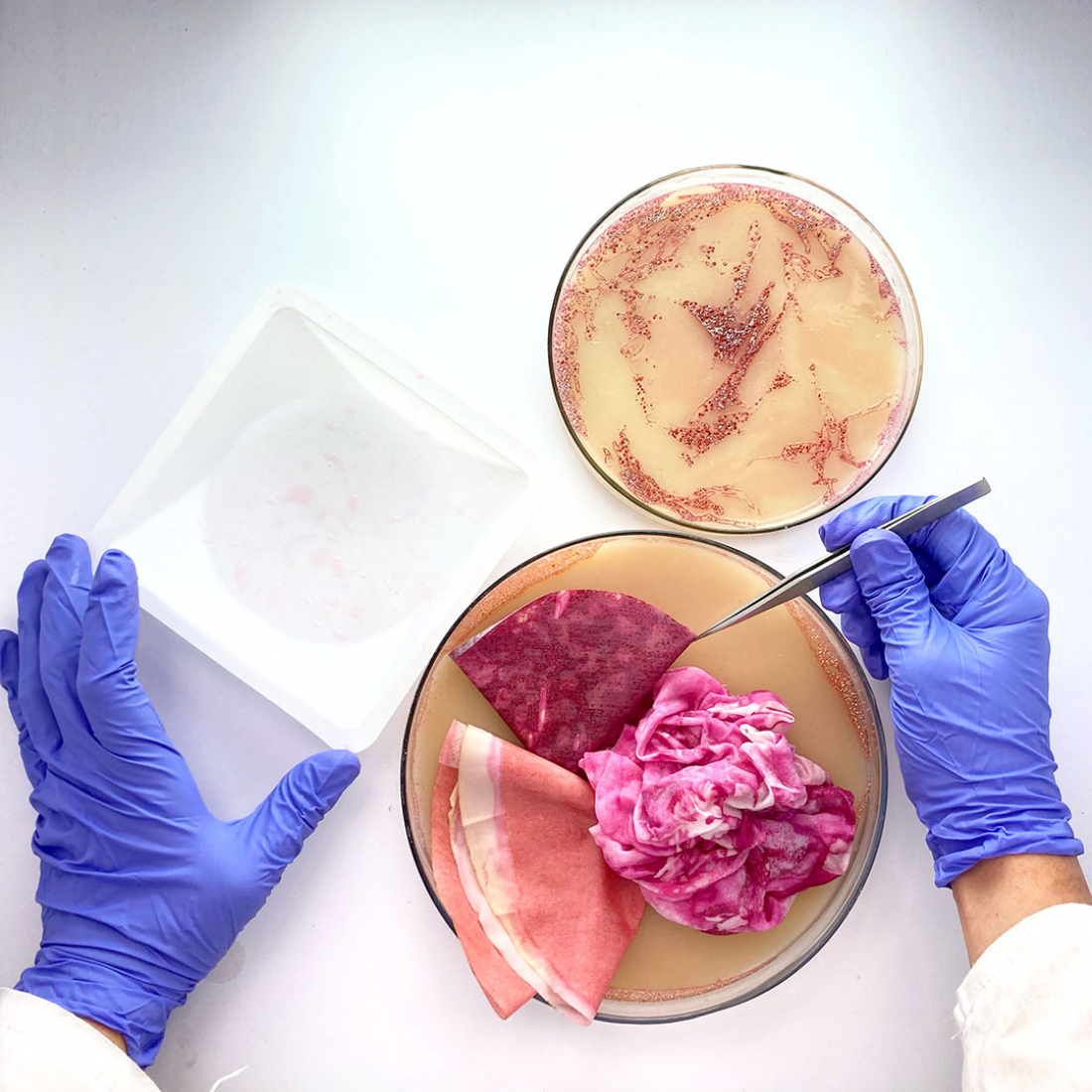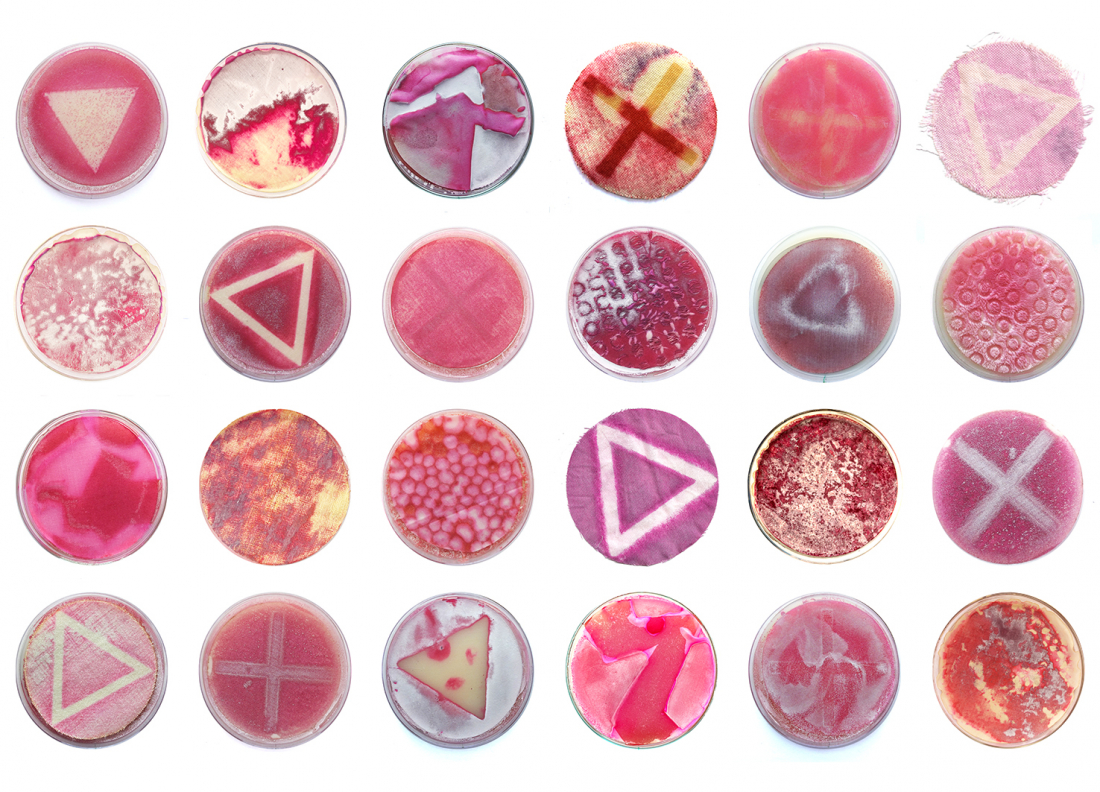 13. Tamara Orjola: Forest Wool
Another bio-based innovator is Tamara Orjola, who is pushing the material potential of pine needles to its optimum. Her exploration into pine tree debris has led to a myriad of material outcomes best applied to textile and product industries, finding they are a great alternative for a multitude of different fibres.
Pine trees are the world's main source of timber and so when we harvest the trees, the pine needles are left behind, which is 20 to 30 percent of the tree's mass.
Using guidelined manufacturing techniques, Orjola crushes, soaks, steams, binds and presses the pine needles to create textiles, papers, stools and carpets, breathing new life and a luxurious feel to this often overlooked by-product.
Discover more: tamaraorjola.com / @tamaraorjola
14. BIOHM: Edge & The Arbour
Biohm allows nature to innovate. A leading pioneer in the development of bio-based materials, Biohm is revolutionising the materiality of the built environment by bio-manufacturing products and solutions for construction, made from waste. Since exhibiting in our own biomaterials exhibition From the Ground Up, the Biohm team has been busy.
Its recent bio-based brilliance is Edge, a premium building insulation panel that harnesses the vegetative root structure that is mycelium. Edge improves the humidity and temperature balancing capabilities of its surroundings, as well as being 100% cold-compostable and regenerative. Biohm engineers different species of mycelium to achieve varying design effects, casting a velvety, marbled skin of browns, beiges, creams, greys and pinks across the interior of a building.
Now venturing into the realm of bespoke interiors, Biohm's collaboration with GS8 on The Arbour saw the team excavate soil from the North London based construction site to transform it into a wall cladded head board and lighting solutions. The pieces remain rooted in closed-loop design practice by being put back into the newly built houses on the same site.
Discover more: biohm.co.uk / @biohmhome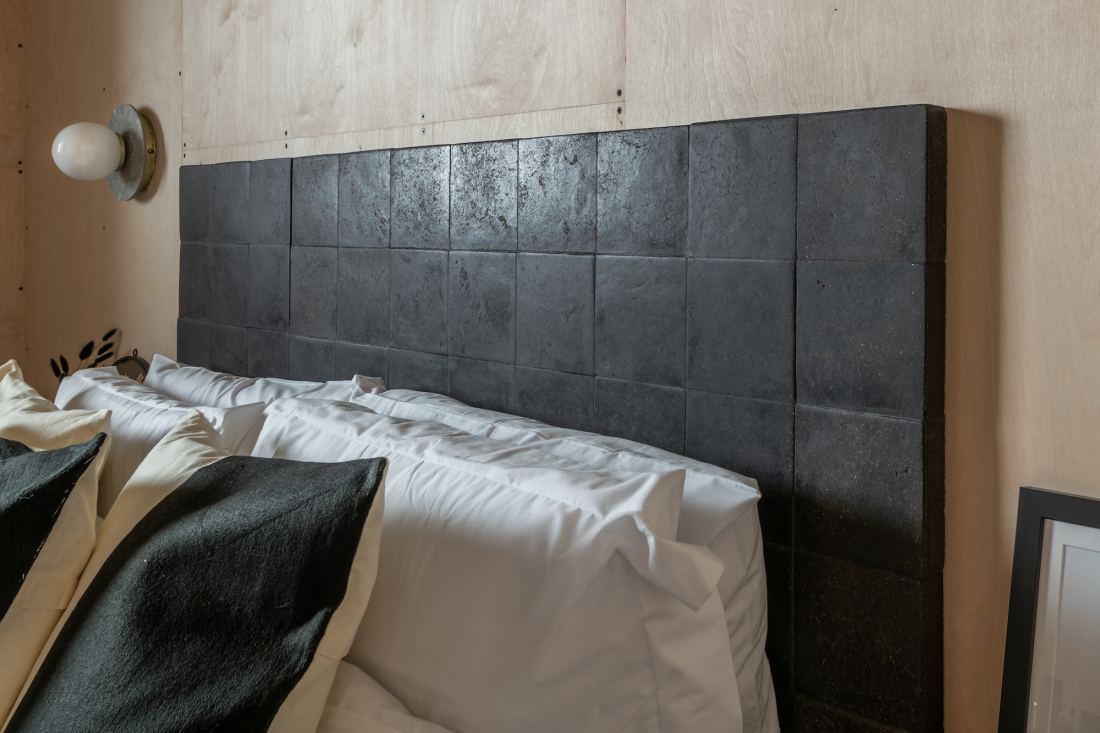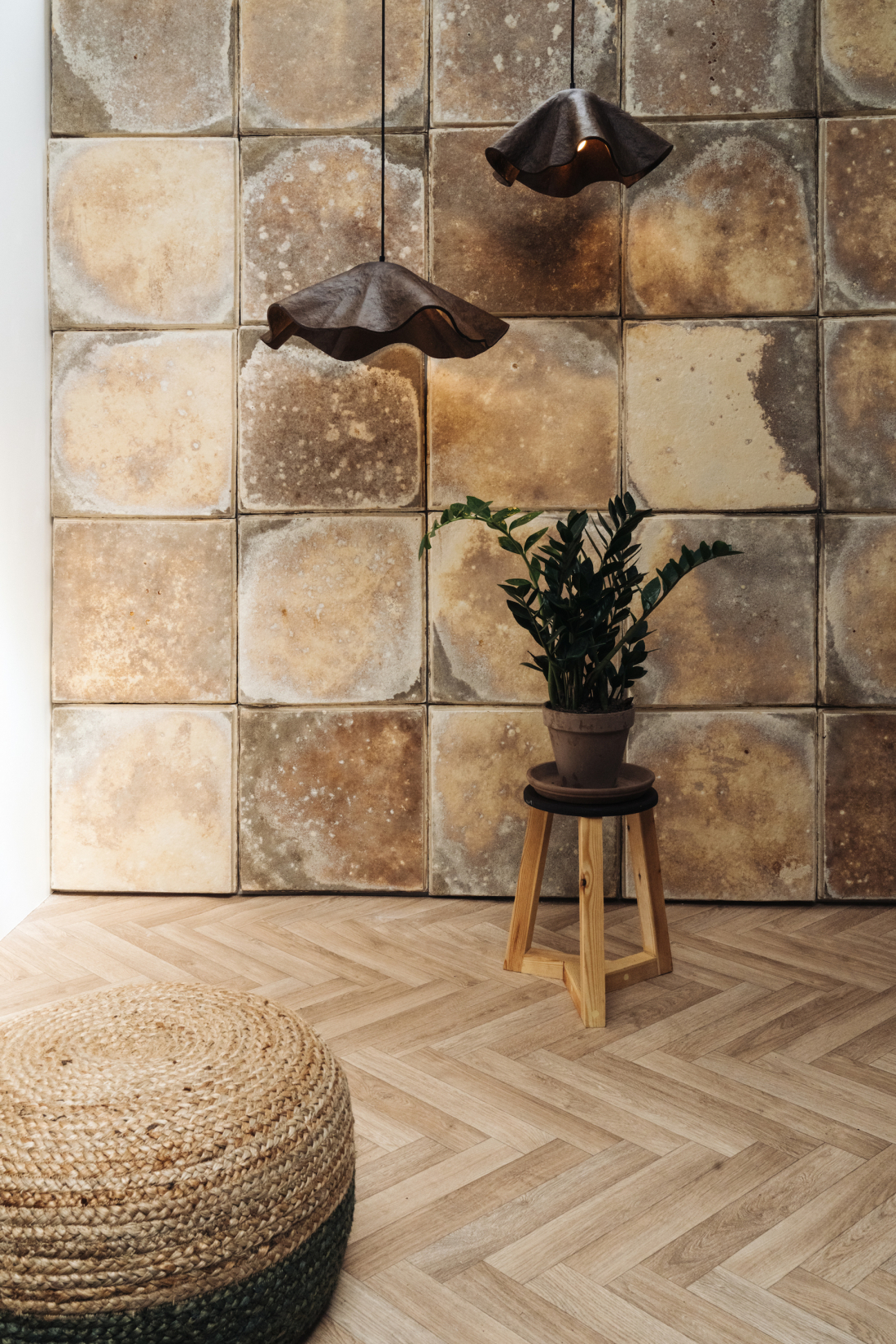 15. Alessandra Tuseo: Wolfwall
The public interest in pets unquestionably soared over the pandemic, with many embarking to add a new canine member to their household. Alessandra Tuseo's project Wolfwall, tackles the challenge of the excess, naturally shedded hair from our canine friends, which to date is considered a waste material.
The collected fur is washed, dried and needle punched to reach the desired thickness, in order achieve a sustainable thermal insulation material.
In testing, the material has demonstrated hypoallergenic properties and exceptional sound absorbing capabilities.
Tuseo's Wolfwall is driven by discovering unfound properties in raw materials and seeking new perspectives that take care of the environment which surrounds us.
Discover more: @wolflair.studio
16. Nicole Chrysikou: BacTerra
Harnessing the power of living organisms and biotechnology, Nicole Chrysikou's project BacTerra proposes alternative ceramics that are self-fired and biologically glazed.
The designer-maker from Greece breathes sustainable, circular practice into heritage crafts using ceramic waste and living organisms as her main ingredients in making pottery a kiln free, less energy intensive process.
"Nature has always been a source of inspiration for my work. But only during the challenging period of the pandemic did I realise the importance of nature as a co-creator in my design practice. Rather than trying to mimic or imitate nature, we need to start observing the environment around us and understand the beautiful mechanisms of the natural world.
"Its an impressive moment when you realise the solution you were searching for has already been answered by nature. The combinations of nature with technology can lead to new paths, discoveries and innovations".
Discover more: nicolechrysikou.com / @nicolechrysikou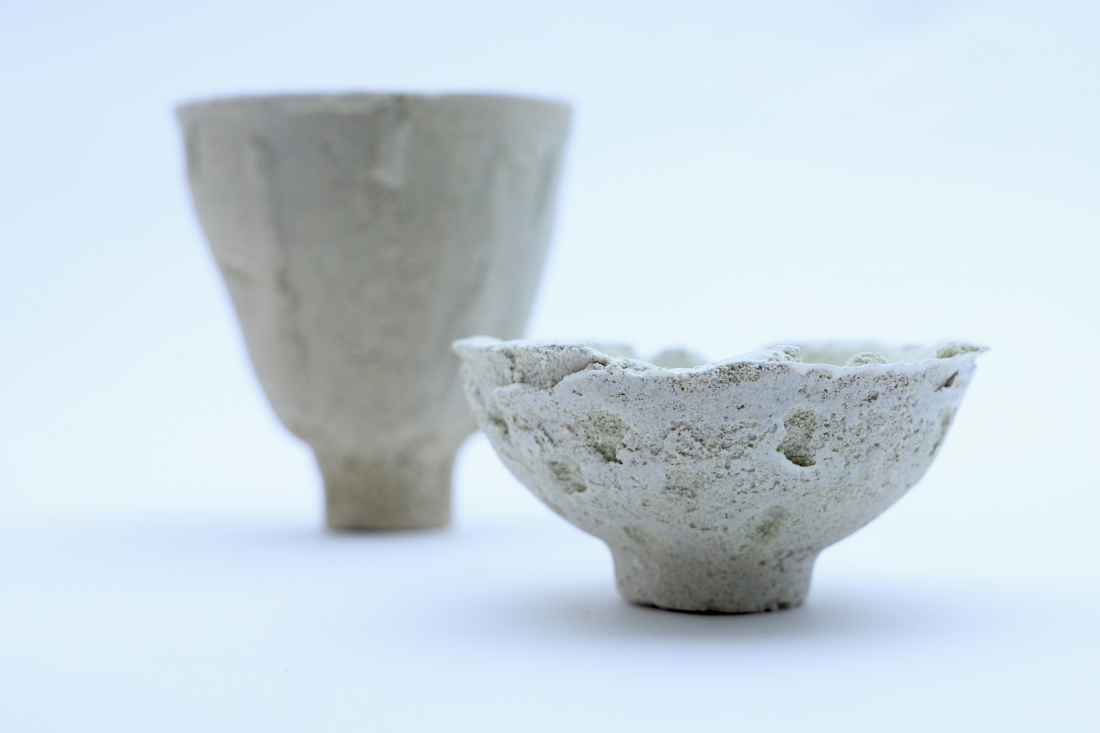 17. Lulu Harrison: Thames Glass with Bureau de Change
Showcasing another exhibitor from our From the Ground Up exhibition, Lulu Harrison has elevated the applications of her graduate project Thames Glass to new, architectural heights whilst collaborating with London architecture studio, Bureau de Change.
A recent graduate from the Central Saint Martins Material Futures MA, Harrison repurposes ground-up quagga mussel shells, a waste-stream that often ends up in landfill in the UK, as well as using sands local to the Thames river and wood ash to create beautifully crafted glass objects.
Harrison's drive behind her development of bio-based materials lies in her desire to "seek an alternative, more sustainable future for the glass industry- working with local communities, local materials and local production methods".
Following on from her unique material development, architectural practice and craft work together to produce cast glass surfaces inspired by ornamental, terracotta tiles that softly illuminate buildings with a subtle, prismatic quality.
Each tile is unique in its colour and translucency, making every surface a spectacle. Harrison and Bureau de Change are crafting their way to developing the sustainable, architectural cladding of the future.
Discover more: @lulu_h__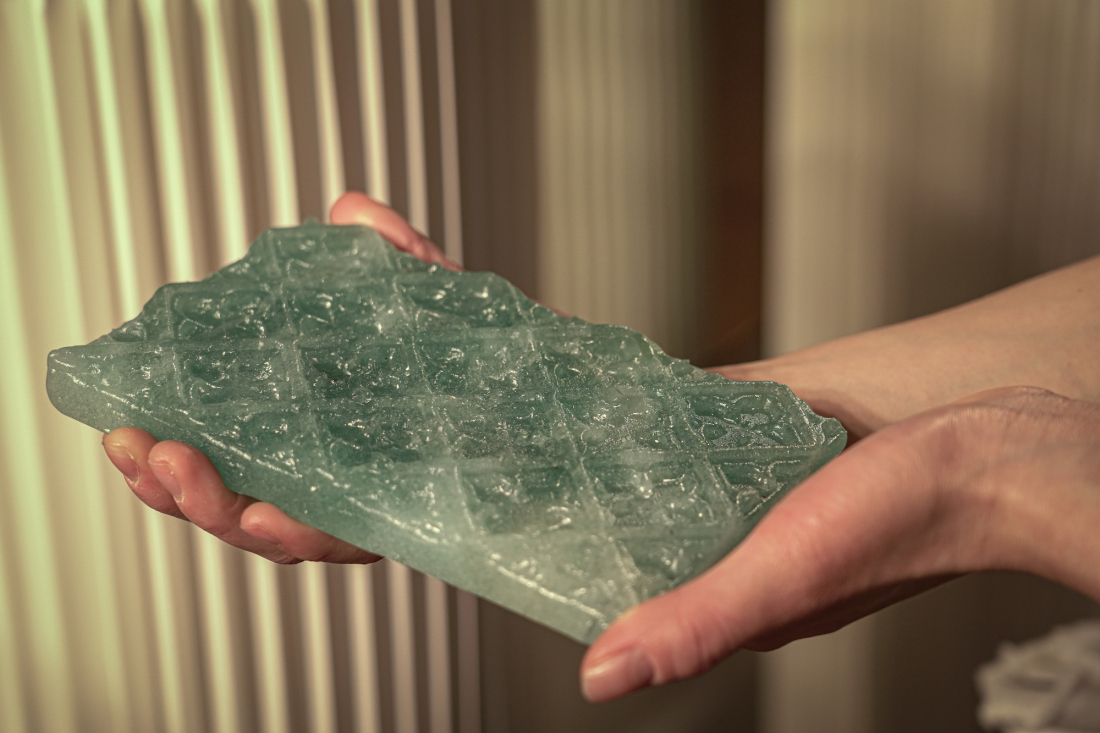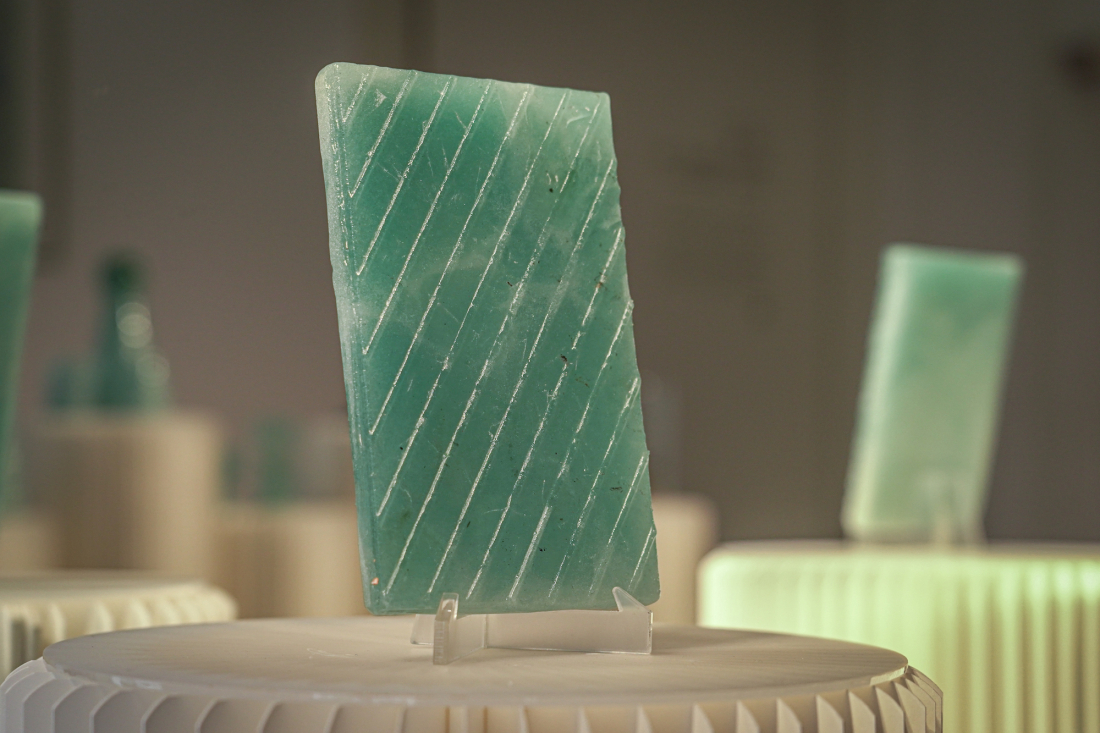 18. ecoLogic Studio: Otrivin AIRlab
This September a living show-room / urban laboratory was brought to London, manufacturing biodegradable bio-polymers that are made with the by-product of the air purification process- powered by living, photosynthetic micro algae.
Converting pollution into product, the design collaboration between ecoLogic Studio and Otrivin are revolutionising ways in which we can improve our air quality. The Otrivin AIRlab harvests carbon dioxide from the atmosphere, purifies the polluted air and creates a filament that enables the 3D printing of biodegradable plastic products. This empowers city dwellers to design new nature based circular economies, on an urban scale.
Using varying strains of algae through the filaments, a catalogue of beautifully coloured gradients are produced amongst the series of carbon neutral, bio-plastic vessels. The vessels bring an organic, fossil-like form to the conventional plastic bottle.
ecoLogic Studio acknowledge that despite the world saying we need to stop the ecological disruption that our planet is going through, change is an inherent quality on Planet Earth. "It changes continuously, but we can design architectural devices and instruments to establish a different understanding of change, as well as positive dynamics instead of disruptive ones".
Discover more: ecologicstudio.com / @ecologicstudio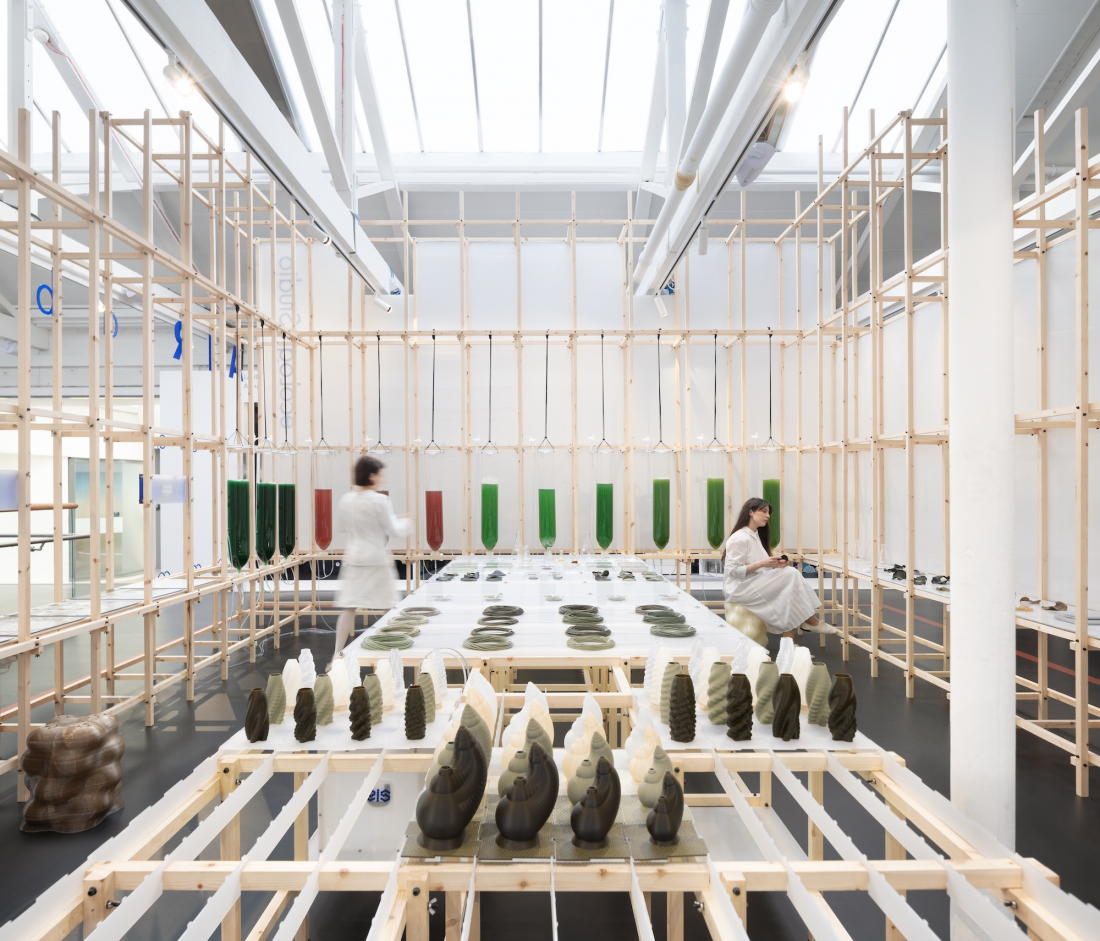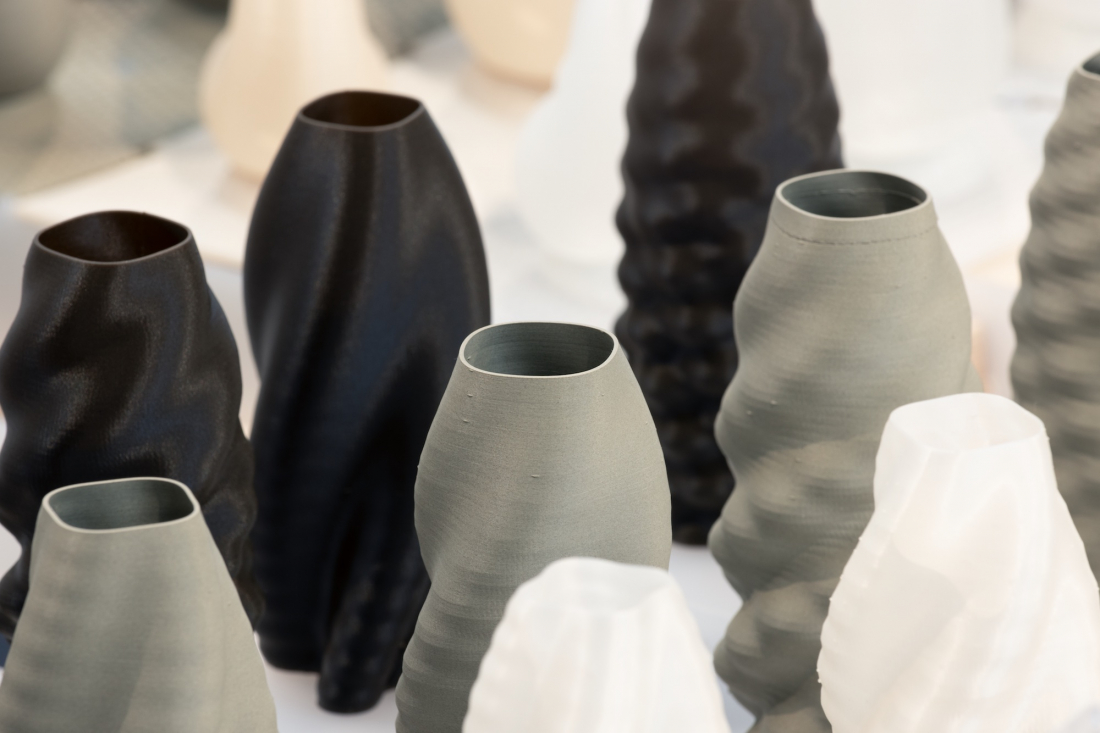 19. Thomas Vailly: Sunflower Enterprise
Thomas Vailly is a discerning bio-based thinker with extensive experience in exploring the materiality of wide ranging waste-streams.
His project, Sunflower Enterprise, interrogates the bio-matter waste from the sunflower oil, seed and bio-fuel industries. Typically the flowers are only pressed for oil and the rest of the crop is discarded.
Vailly conducts a holistic analysis of the crop, identifying material use in the fibrous bark and foamy structured stork, the marrow and the left over oil. He adopts a variety of making methods to achieve the most advantageous material properties out of the agro - waste streams to produce novel biomaterials. No synthetic binders or toxic varnishes are used in the production process, the materials are 100% sunflower.
Discover more: studiothomasvailly.com / @studiothomasvailly
20. Studio Peipei: Abandoned Earth & From The Ashes
Continuing the theme of circular philosophy, Studio Peipei is a responsible research and design studio that applies industrial waste to the creation of craft objects and materials.
Peipei discovered that many well-known, European retail chains conduct a large proportion of their ceramic production in China instead of in Europe. Tackling the ceramic industry's large carbon footprint, unbeknown to most that this is mainly due to travel, is Peipei's project Abandoned Earth. Locating waste from local ceramic retailers in the form of dried out clay from damaged packaging, the project produces earthy and tonal tableware.
Keeping the production line as ecological as possible, Studio Peipei avoids the use of plaster moulds and electric potter's wheels by keeping the design as minimalist as possible. Since the beginning of Abandoned Earth, they have recycled over 300kg of clay in the first three months of production - equivalent to roughly 600 plates.
From the Ashes is shaped by identical design principles. Glass vessels are crafted by extracting renewable raw materials, that are locally available worldwide.
Put simply, glass is comprised of sand, sodium carbonate and calcium carbonate. Although glass is highly recyclable, the properties needed to create it are non-renewable and reclining drastically. So in response, Studio Peipei sources alternative raw materials, obtaining calcium carbonate through sea shell waste from the seafood industry and potassium carbonate extracted from wood ash - a by product from pizzerias.
Using unique recipes, From the Ashes has produced a 100% natural glass, free from toxic additives.
Discover more: studiopeipei.com / @studiopeipei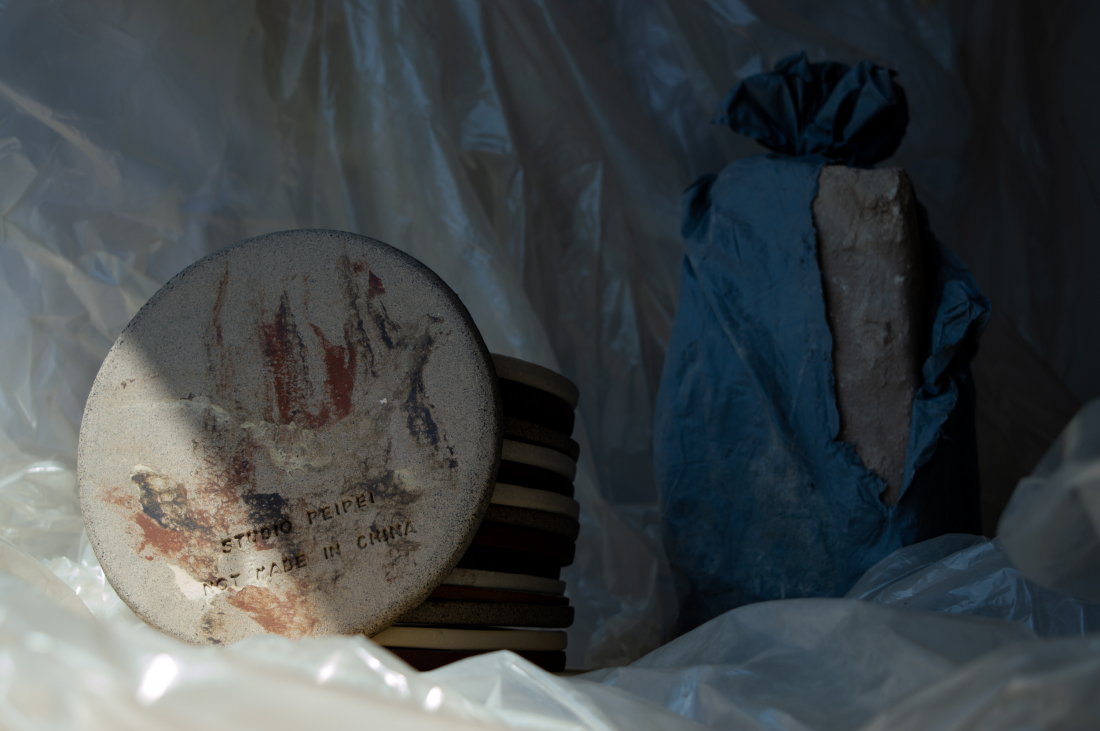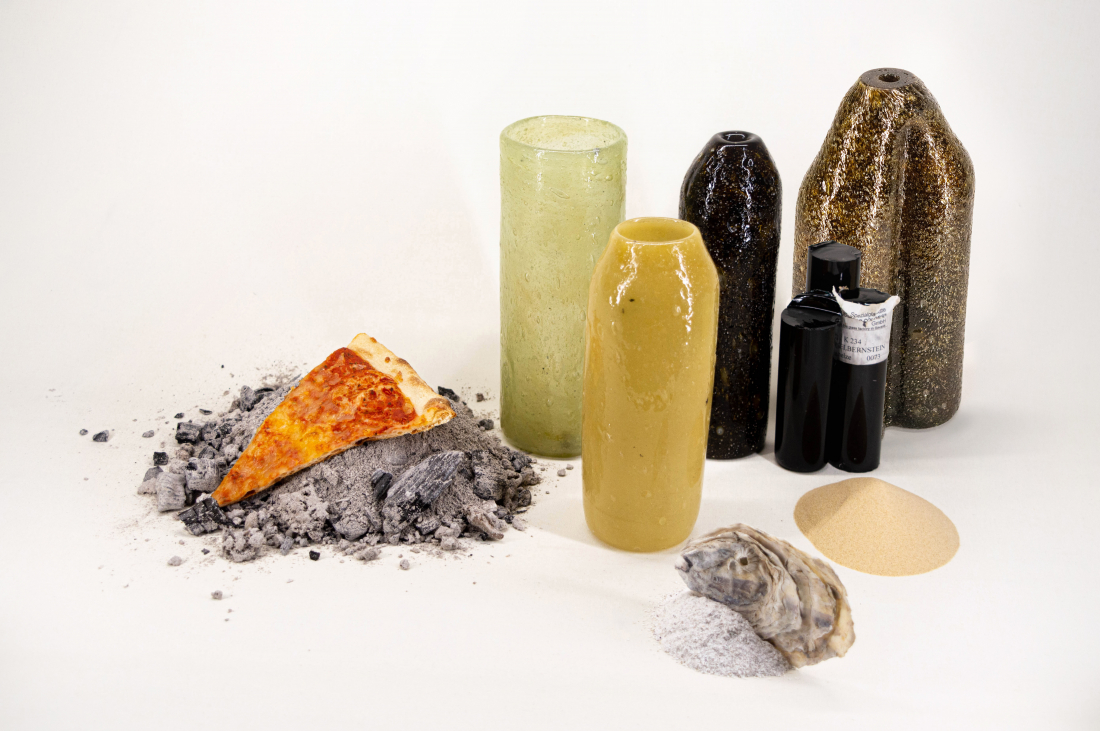 21. Omlab
Exhibiting as a part of this year's 'Building Biodiversity' programme at Dutch Design Week is Omlab - the Arnhem based circular design studio. Tackling the construction industry's need to re-design concrete using more sustainable and regenerative resources, Omlab has engineered a cement using 98% residential flows from sewage and drinking water treatment.
Omlab repurposes the 90% of calcium that is removed from drinking water with a small portion of cellulose from sanitised toilet paper, collected from sewage processing to design a completely biodegradable concrete. The materials are extruded through a 3D printer to build stackable construction elements for interior or exterior use.
Interestingly, this concrete alternative actually promotes many types of life because of the high calcium concentration.
Omlab emphasise that its dominant driver is the development of circular materials, rather than bio-based. They believe that radical change is needed to achieve the climate goals of 2030. "The construction industry is one of the most polluting and so this is why we have developed low-emission, cement free building blocks which are future proof and ecologically sound".
Discover more: omlab.nl / @omlabnl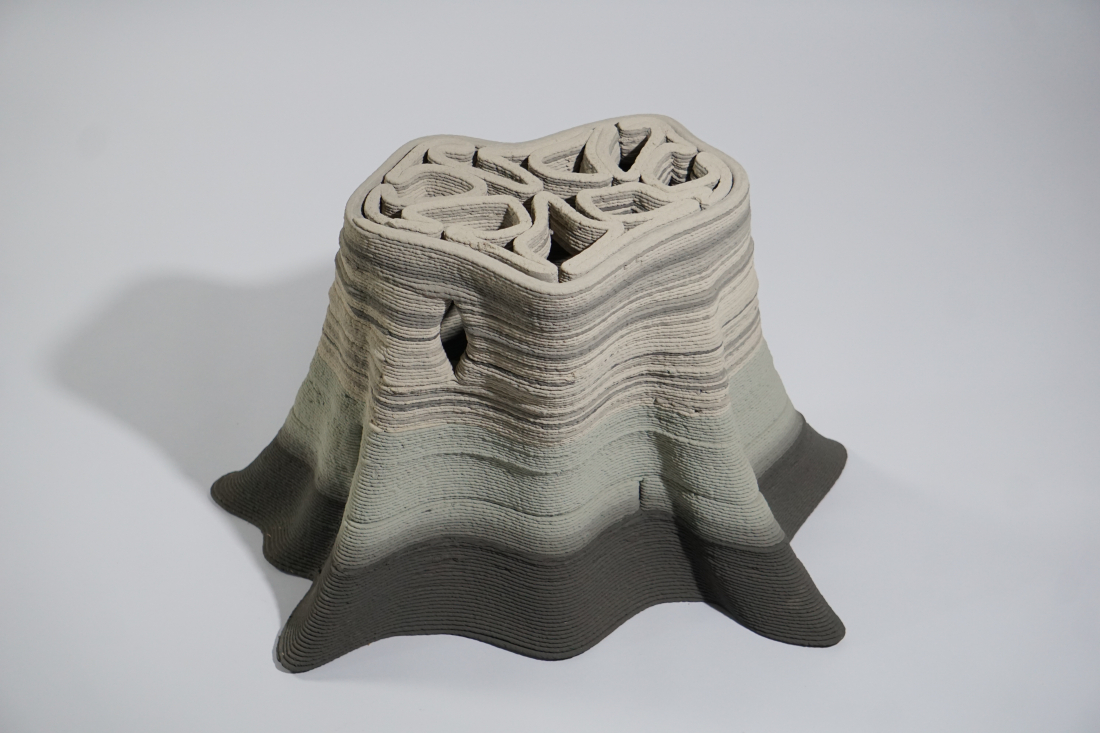 22. Zhongyue Mei: Echoes
Zhongye Mei's graduate project, Echoes balances the need to propose more regenerative material resources for the automotive industry alongside the industry's requirement of premium quality materials. A recent alumna from Central Saint Martin's eminent Material Futures MA and a United Matters exhibitor at this year's Dutch Design Week, she uses 85% waste derived materials from the gin making process to compose a CMF library that is both responsible and luxurious.
With sustainability becoming a necessary consideration in all sectors, automotive has had to follow suit, re-assessing their use of fossil fuels for electricity and reducing their reliance on the leather industry. With most of the eco based material alternatives mainly comprising of recycled content, Mei wanted to put forward a library of materials that were completely natural, whilst still maintaining a high-end, luxurious feel.
Combining gin pomace of different fibre textures with construction waste, she creates decorative panels that use different colours and textures to achieve an original automotive CMF design portfolio. Mei's drive to develop bio-based materials lies in the equilibrium between luxury and sustainability, advocating for their awareness and acceptance in the automotive sector. Through her project Echoes, Mei has brought about a thoughtful and artisan inspired materiality to the automotive industry.
Discover more: @meii_lizi
23. Vincent Dissaux: Cabana
Vincent Dissaux is last but by no means the least in our 2023 biomaterials round up. Harnessing the vegetative root structure that is ruling the biomaterials realm - mycelium, he has crafted the aesthetically beautiful, Cabana.
The Cabana is a shelving unit for the home that is engineered using a network of fungal threads, bringing the outside in with functionality at its core.
Emerging out of the Biodesign MA at Central Saint Martin's college, Dissaux's drive in working with bio-based materials lies in "establishing new paradigms for designers".
Discover more: @vincentdissaux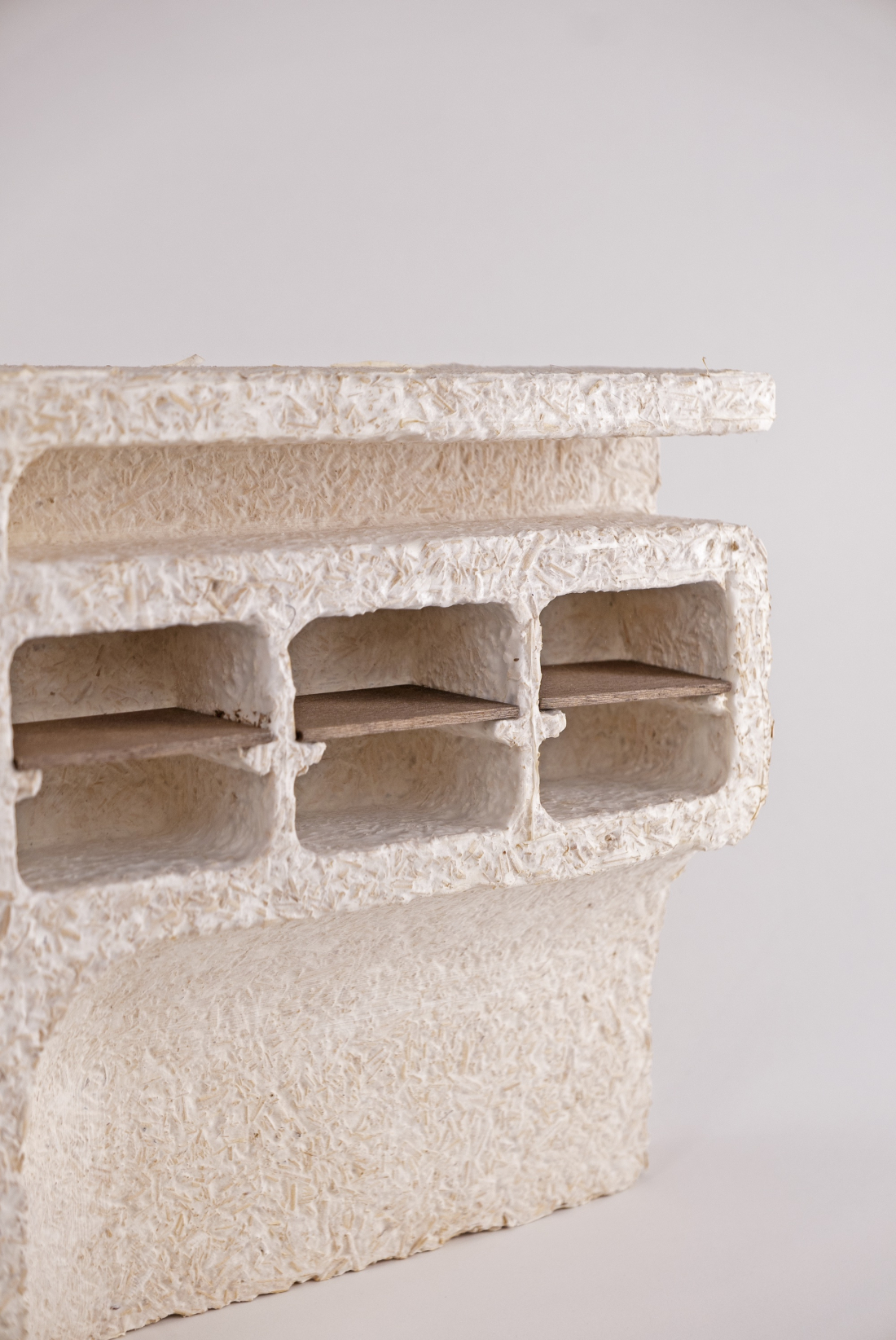 At Material Source we are extremely passionate about supporting the advancement of bio-based materials. Drop into the Studio to chat with our materialists or drop us a line on social media for support on using them in your next project.