USM reflects its personality and versatility with the relaunch of its Clerkenwell showroom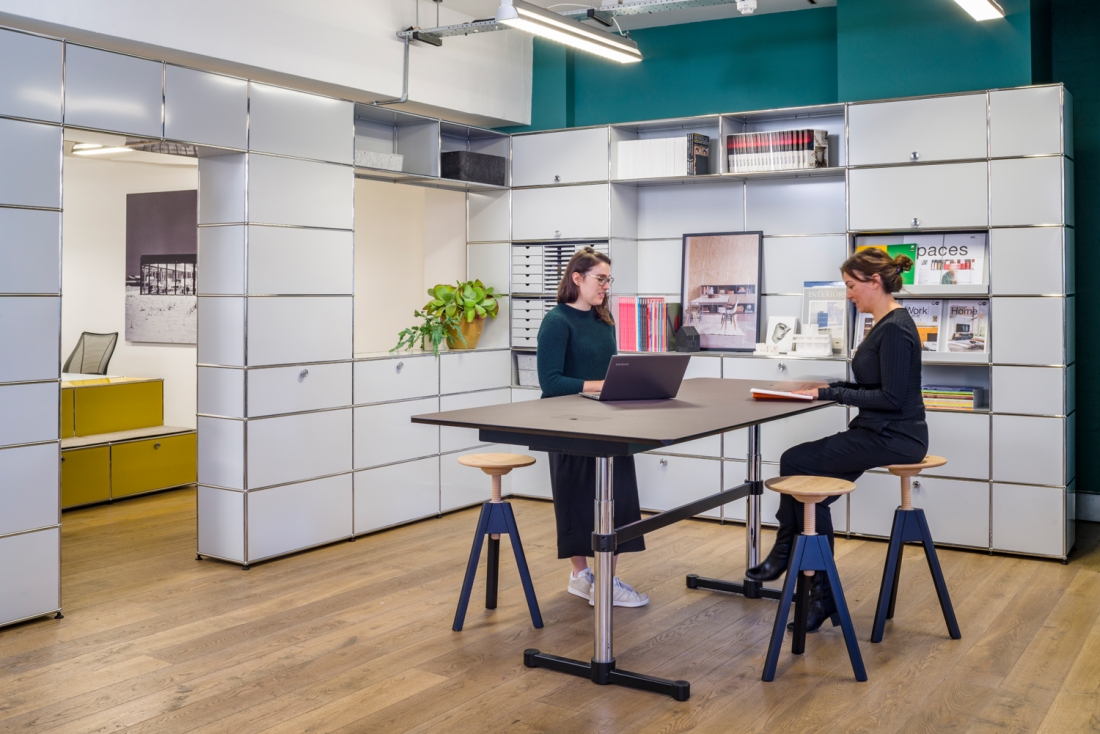 Swiss manufacturer of modular furniture, USM, has revamped its Clerkenwell showroom to create a modern and natural space to better reflect its personality, versatility and history.
The UK showroom and office opened its doors in 2015 to great success, reaching a new audience of architects and designers in London's most popular design district. The new iteration of the space sees a softer approach to the interior. The versatility of the USM Haller products manifests across the floor, seamlessly moving between workplace, residential lounge and back again.
USM appointed BDG architecture + design to the project who, having specified the product in a number of schemes, including its own workplace at Sea Containers, had the vision to create a space that speaks of design quality and timelessness.
"Our initial response was to go back to the people who specify the product and use it and look at the environments that it would sit in," says Colin MacGadie of BDG. "How do you set it up for hospitality and home? How do you set it up for office and working? How do you demonstrate its technical capabilities? How do you make it work for different customers so that they can relate to the product?"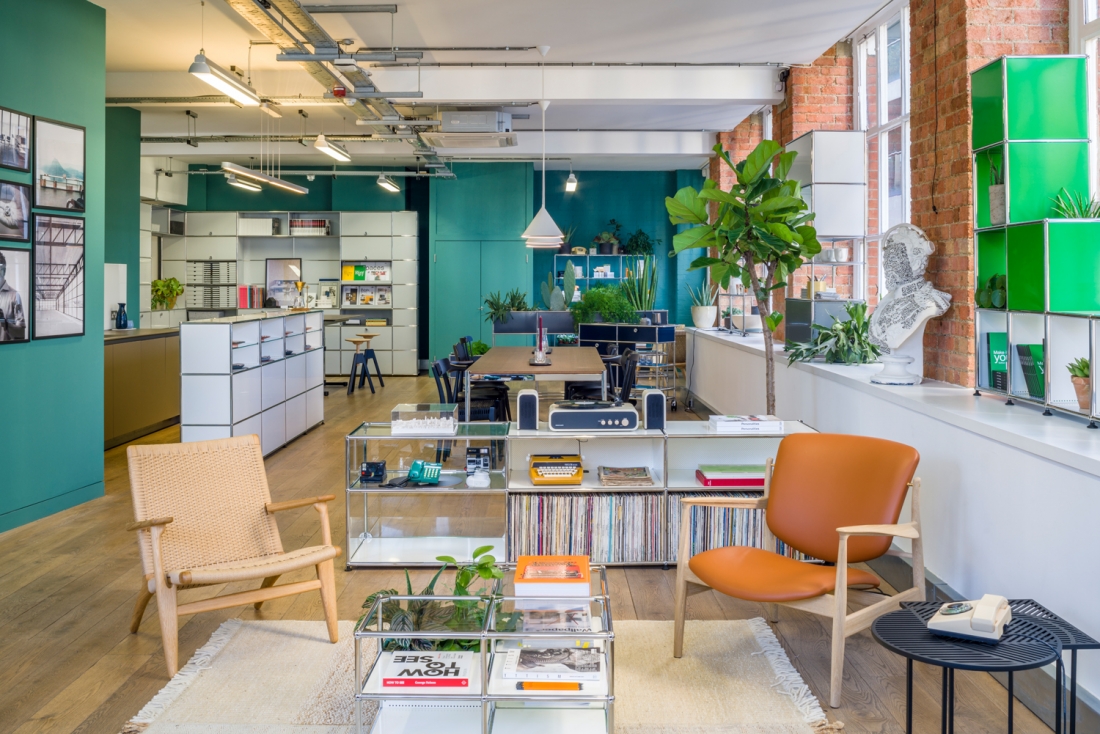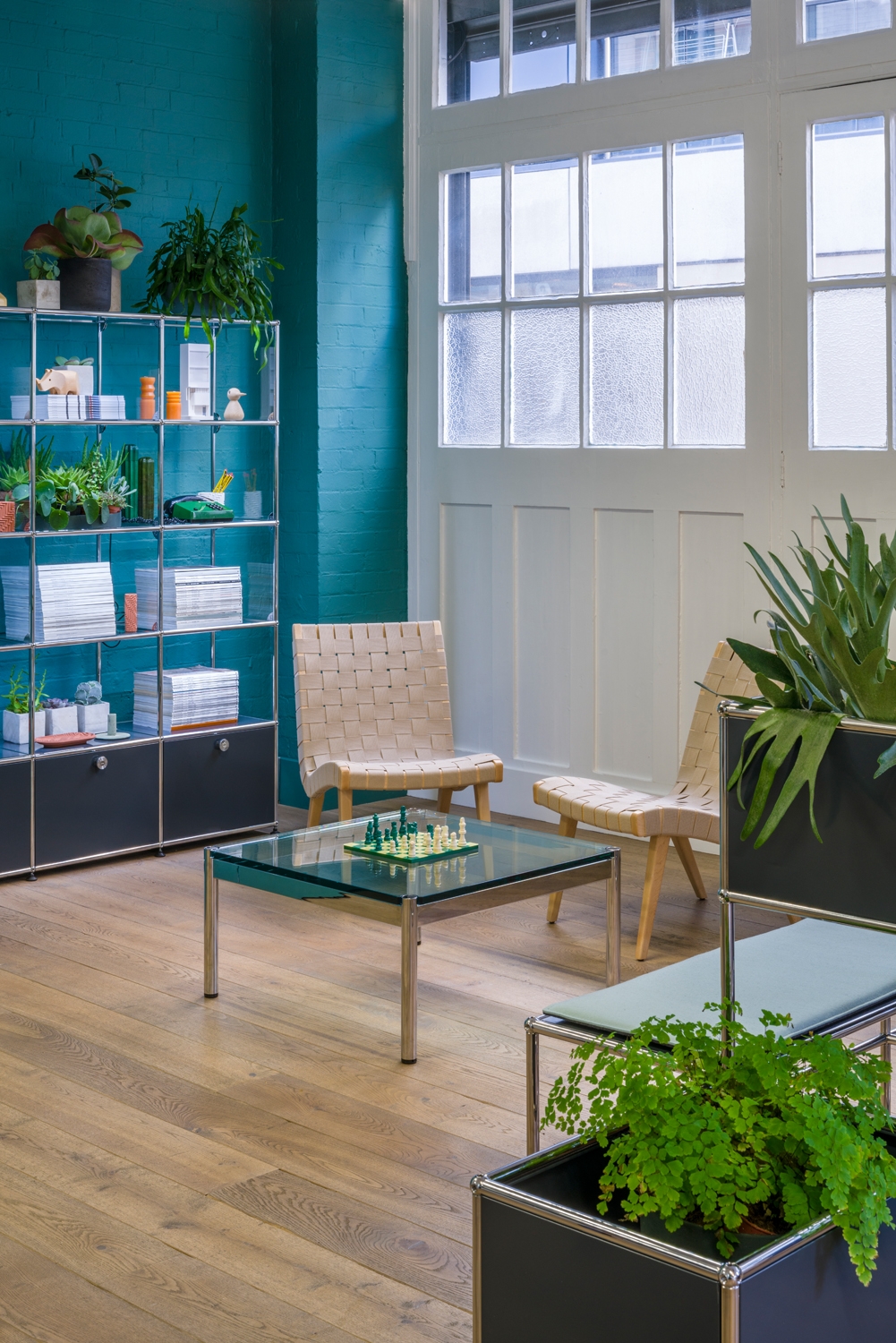 When you enter the showroom, you're now welcomed by a lounge area, complete with a sofa and coffee table that would be at home in either a residential or commercial space. A stunning credenza is used to store old vinyl whilst the coffee table is configured to include planting. To the side of the lounge area is a home office complete with stunning grey USM Haller furniture.
Further into the showroom, a beautiful oiled oak table sits opposite the open-plan kitchen, which is suitable for dining, meeting and touch-down work. The kitchen space itself is completed by USM Haller storage that at once divides the space, stores crockery and glassware while providing an informal, social meeting point at which to have a coffee and chat.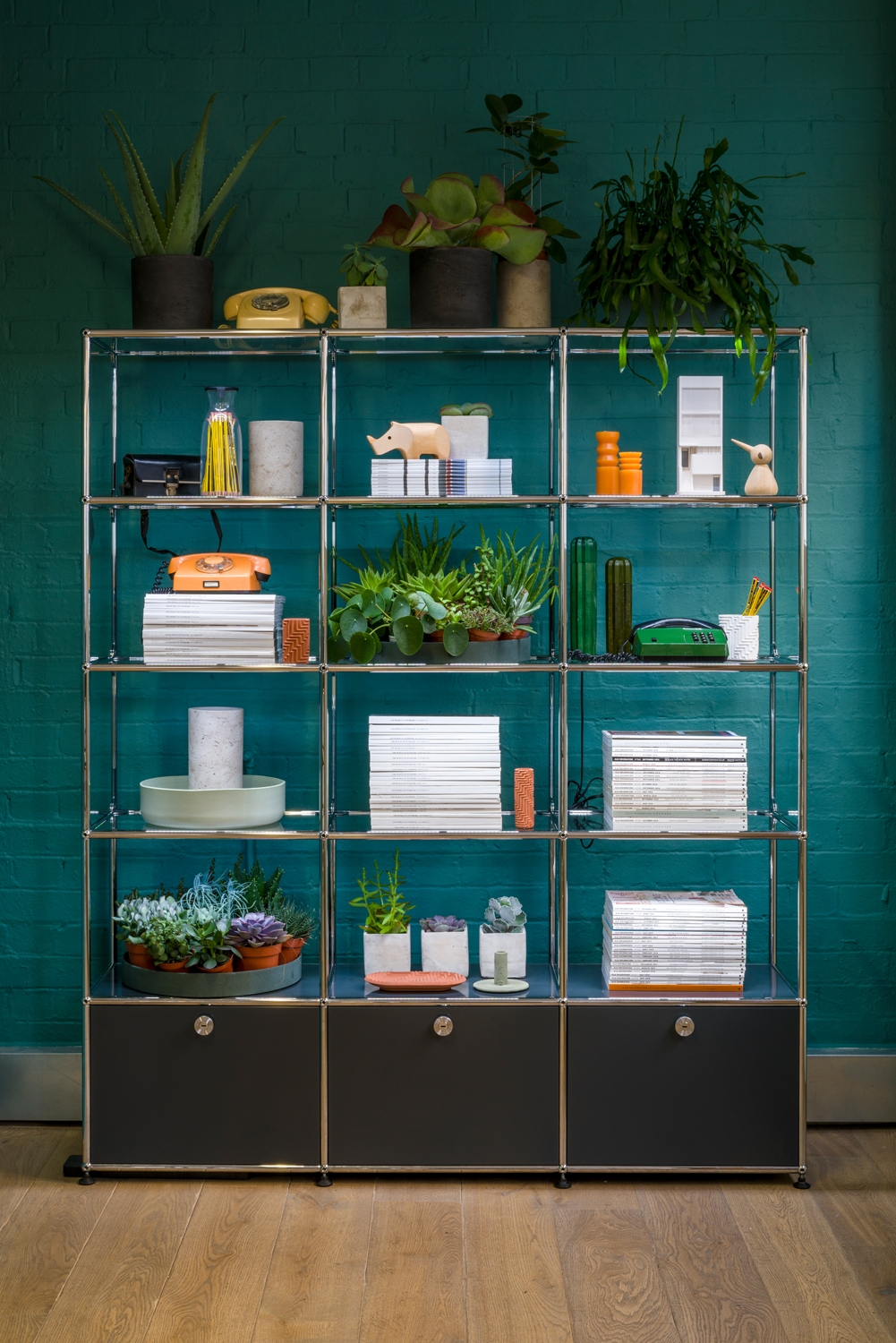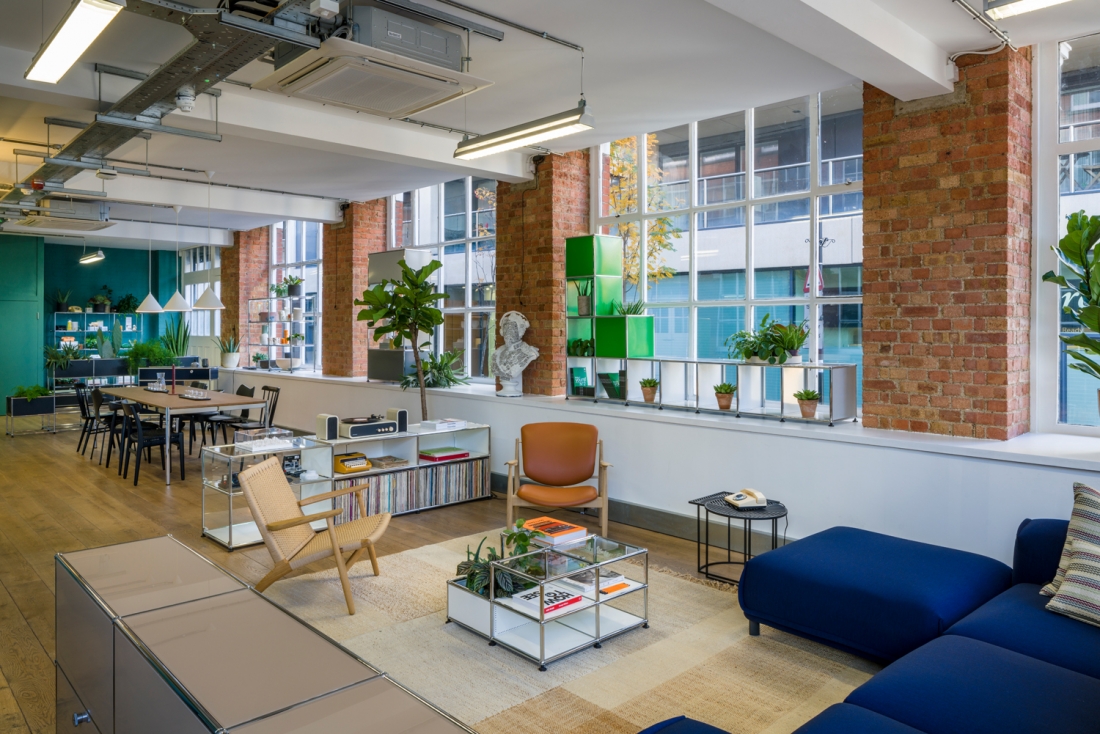 Adding height and biophilia, plants are housed in a large configuration of Haller that incorporates storage, seating and planters and acts as a space-divider between the dining area and a quiet reading corner.
Around the corner, past the height adjustable Kitos table at which consultations are held, an arch made of USM guides clients to the classic bench desking that houses the USM UK team as they go about their day-to-day business.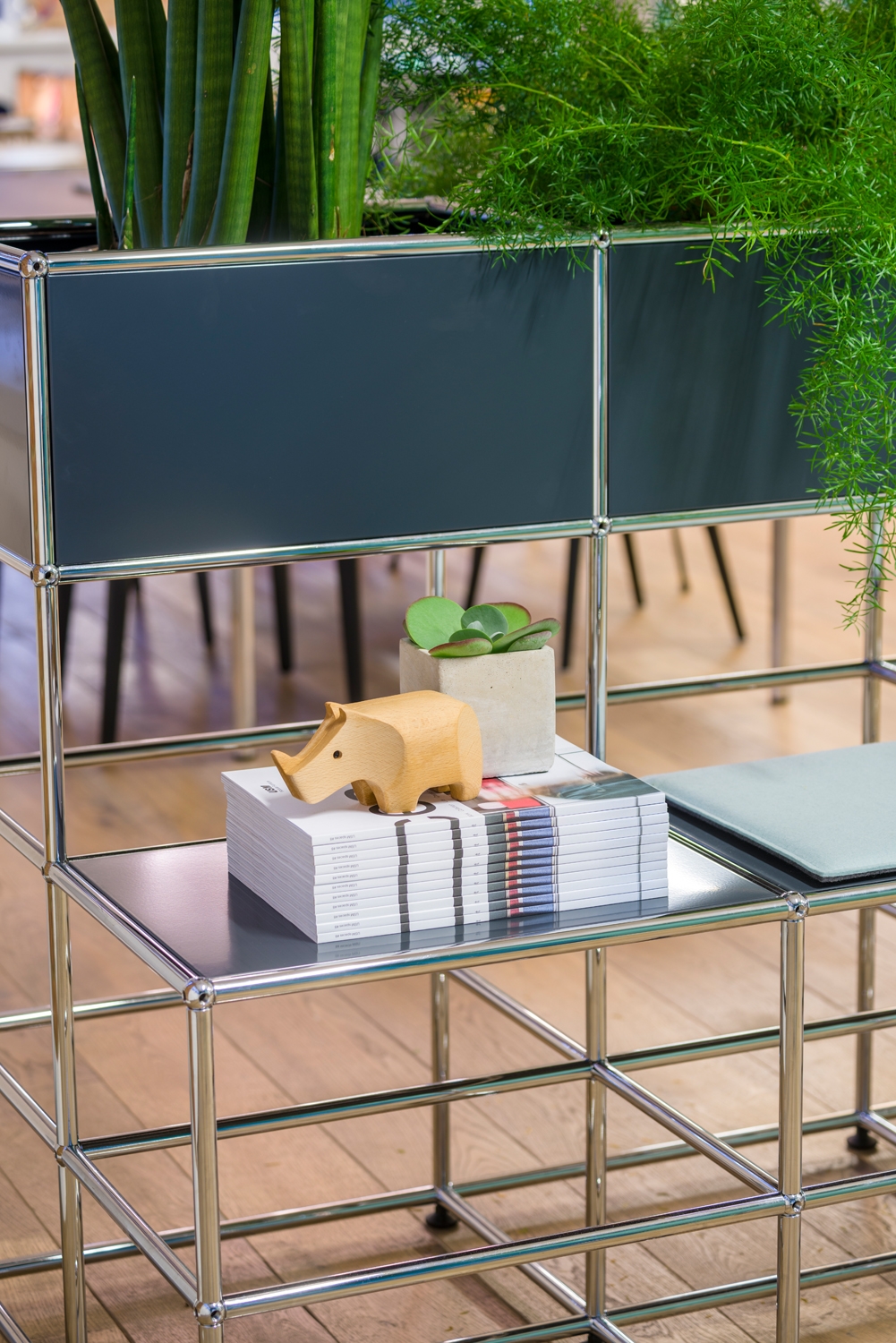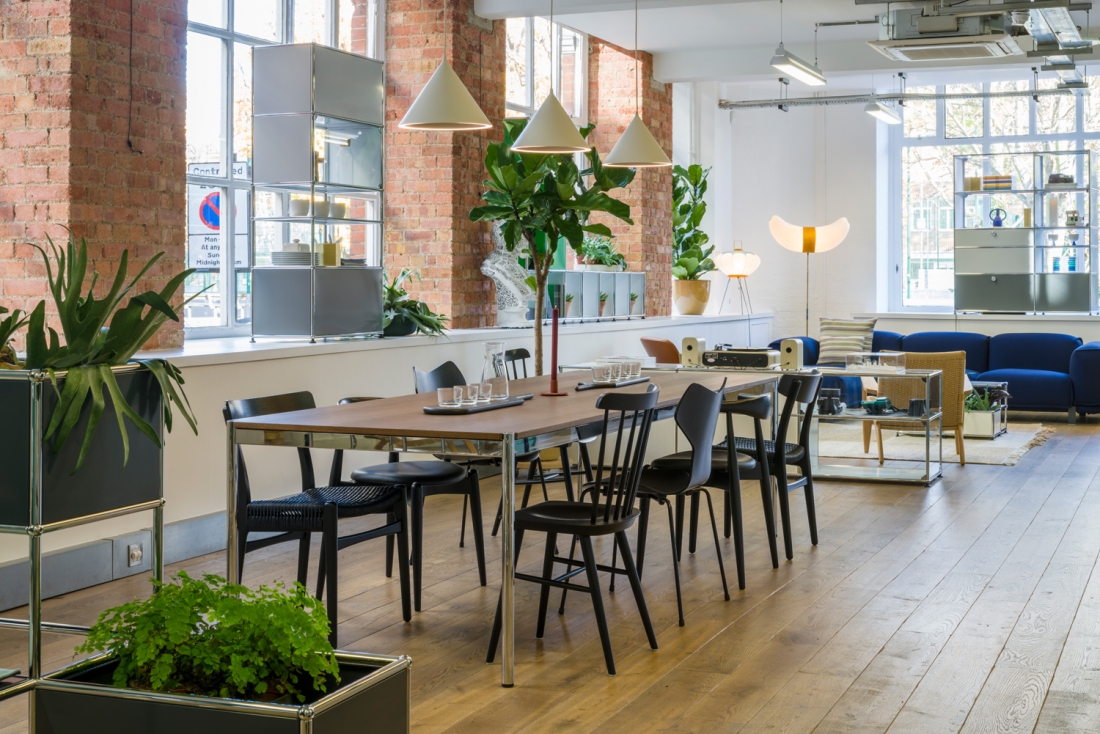 As a modular system, USM proved its sustainable credentials, with over 85% of the existing furniture being reconfigured and used in the new showroom design. USM Haller recently received Cradle to Cradle certification which defines and develops recyclable products. It differentiates itself from conventional recycling by maintaining the quality of the raw materials over multiple product life cycles and by only using chemicals designated as safe.
Ian Weddell USM UK CEO said: "The redesign of the showroom now takes you on a journey with defined areas that really showcase the creativity of USM. Blending between workspace design and residential the versatility and creativity of USM really excels. Clever styling with touches like the typewriters, cameras and old vinyl create warmth and reference USM's 50-year history. We couldn't be more thrilled."