Smile Plastics is a materials design and manufacturing house making exquisite hand-crafted panels from waste materials.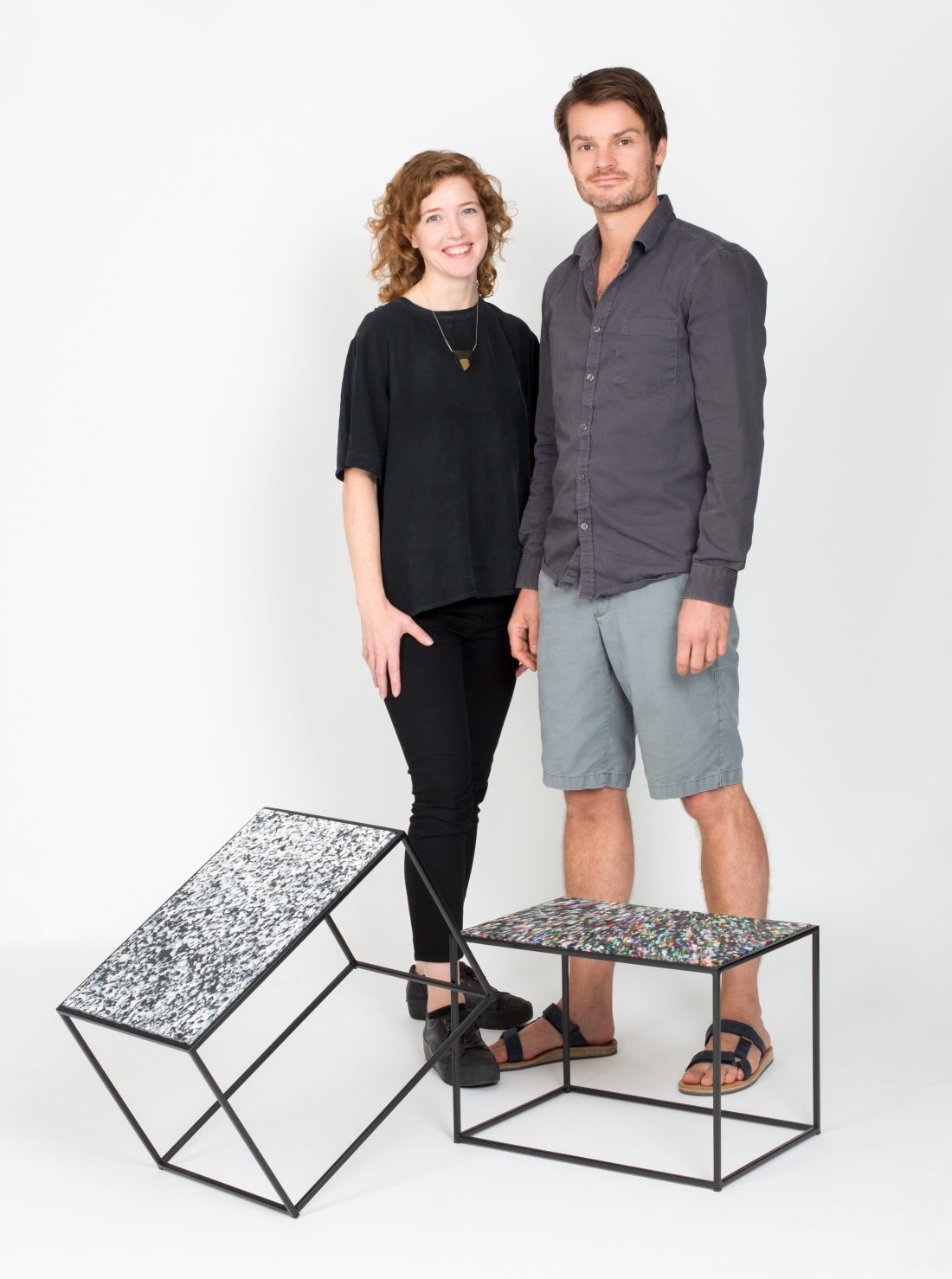 Smile Plastics is a materials design and manufacturing house making exquisite hand-crafted panels from waste materials.
Their materials have inspired designers around the world, and have been used in wide-ranging applications from small products to large-scale installations in both residential and commercial premises.
With a mission is to change people's perceptions around waste via innovation, art and technology; to unlock the hidden potential of recycling, and open peoples eyes to the unexpected beauty of scrap. They hope to inspire more people about sustainability and recycling. We caught up with them recently to learn more.
Tell us more about Smile Plastics and your mission to 'change people's perception around waste, via innovation'?
Smile Plastics is a materials design and manufacturing house based in South Wales. We take waste plastics, and other materials traditionally classed as waste and then transform them through our unique processes into large scale decorative panels for the architectural and design community.
We tend to focus on single-use plastics packaging and other materials that would usually find their way to landfill or incineration sites. We chose these plastics to disrupt the unsustainable industrial ecosystems that have become the norm whereby finite and useful materials have very short, single lives and end up polluting our environments.
The story of plastics is a hard one to come to terms with. Eight billion tonnes of plastics have been created to date, used for wide-ranging applications due to their amazing properties and ease of manufacture.
Astonishingly only 9% is recycled with the rest ending up in landfill or incineration plants...or worse still ending up in the environment. The real problem here is that we are not managing the lifecycle of plastics effectively in a fully circular system. Currently, plastics are regarded as low value and disposable with their short term and poorly managed lifecycles. We can start valuing plastics for their brilliant properties, and we can create a circular ecosystem for plastics where the plastics can be recycled time and time again.
Our mission at Smile Plastics is to encourage us all to value the materials around us more and therefore waste less. We do this by reimagining end-of-life materials into beautiful new products that tell a story and that people can connect with. The materials themselves usually have a strong narrative that is shared directly through the colours and patterns in the panels themselves. We pride ourselves in making some of the highest quality and striking decorative materials around.
Our materials are designed to last, but at the end of their life, they can be recycled over and over again both through local recyclers as well as through our buy-back schemes so that the plastics are constantly regenerated, facilitating a circular economy.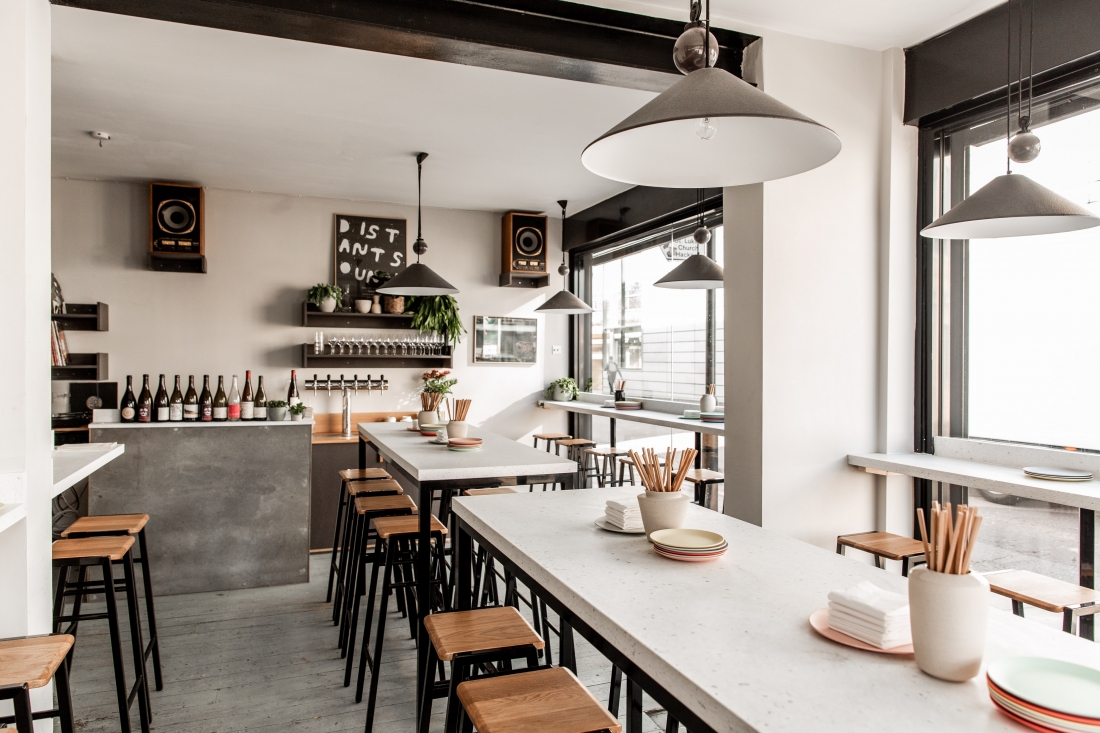 Starting at the beginning, how does your making process begin?
Our approach to making really depends on the specific project we have. We have a core range of 7-panel products called our classics, made from a variety of post-consumer and post-industrial recycled plastics. The classics family consists of 3 different plastic types currently, which have very varied aesthetics from more subtle lighter tones in our alba (yoghurt pots) to a sensational multicoloured kaleido (cosmetic pots).
We make these classics in batches of anything from 2 tonnes to 30 tonnes, and sourcing the right ingredients to create these batches is a fundamental part of the process.
Our supplies of raw materials vary quite a bit, and therefore we spend a great deal of time sourcing and then preparing our raw materials to give us a final aesthetic that has some consistency with previous batches. Having said this, we also embrace the nature of the waste feedstocks themselves and our artisan pressing processes, which lead to unpredictability in the results and variation both within and between sheets.
Our approach to making custom materials can be quite different from our classics family, and the first stage will depend on our customers' priorities. In general, though, and certainly in any self-led new materials development project, it tends to be the raw materials themselves that provide the first and most direct inspiration for the end result. We're interested in colours, formats, plastic types, and textures and their possibilities combined with other ingredients.
The making process itself requires good attention to detail and craftsmanship to deliver the end result. We take a lot of pride in the making process itself from the sampling for customers right through to the scaled-up small-batch production of our larger sheets.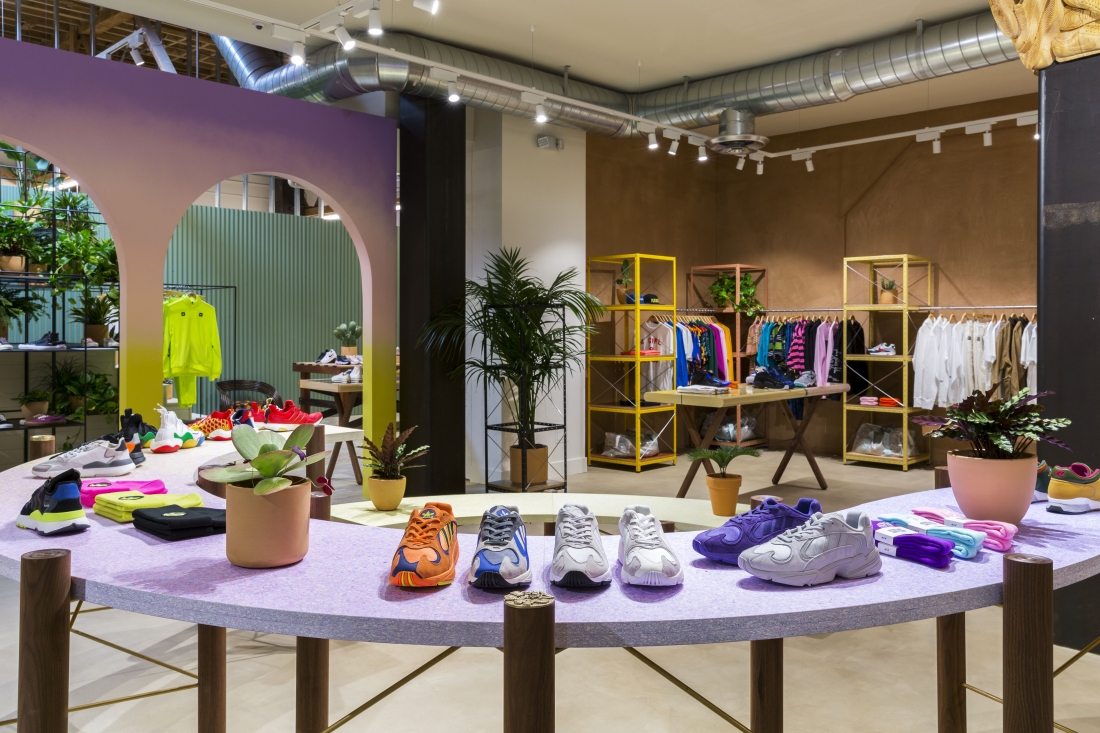 How do you supply your products, and what applications can your products be used for?
Historically we have sold our materials as flat sheets 2000 x 1000mm in differing thicknesses of 5, 12, and 20mm. Over the last year, we have introduced smaller sheet sizes for those doing sampling or smaller projects from 250mm2 to 1000 mm2, and we are just about to launch a larger sheet size of 3000 x 1200mm. In addition to the panels, we also offer a cutting and basic fabrication service for our customers to send out pre-cut shapes with different profiles like table tops or components in cabinetry. What's great about this is that we can reduce shipping costs for our customers and collect and recycle all the skeleton wastage and milled shavings, reintroducing them back into our future products.
While our materials do come as flat slabs, they are also incredibly versatile in that you can thermoform them into 3-dimensional structures and cut, glue, screw, and mill them, opening up a huge scope of possibilities. The panels are also solid and consistent throughout the sheet, which means that you can create beautiful detailing around the edges with minimal finishing required.
The versatility of our materials combined with their striking aesthetic and superior quality means that they get used for wide-ranging decorative applications in the commercial environment from displays, fixtures, counters, and furniture within retail, office, and hospitality environments, through to art installations. Our plastics are waterproof and rot-resistant, so they are perfect in wet environments as a replacement for tiling and bathroom panelling or for bathroom vanities and cabinetry. There are even some who have made jewellery and guitars from our materials, so the possibilities can stretch as far as your imagination.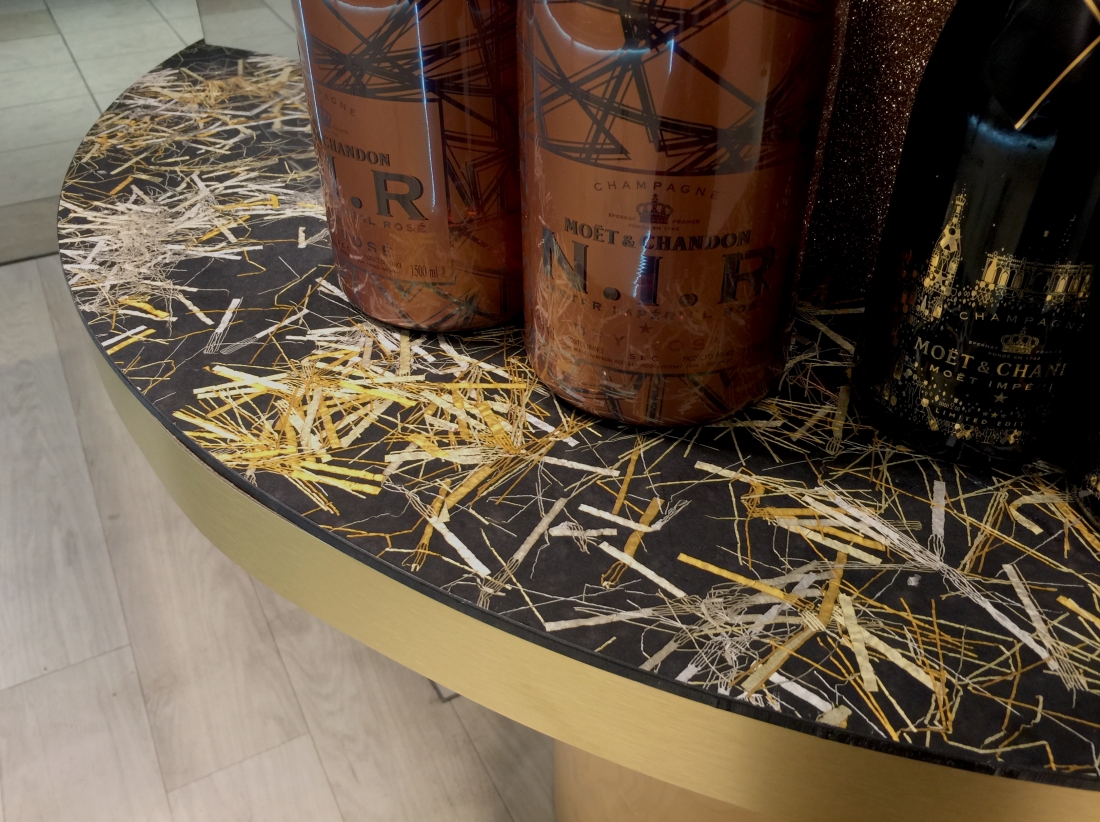 I have seen so many people (us included!) react to your products in such a positive and exciting way, why do you think this is?
That's great to hear! Smile is really passionate about making characterful products that we can all build a safe connection with, and that spark joy. Part of that is in the designs themselves. Still, another big part of it is in enabling us to understand the provenance of the materials themselves and the story of how those materials have ended up the way they are. There are nuances throughout the material, which gives it further depth and personality.
After launching a new material a couple of years ago, one of our customers contacted us to say they were so happy with the material that they wanted to hug. That put huge smiles on our faces and is precisely why we do what we do.
When you receive a bespoke commission, can you talk us through your creative process from brief to project completion?
Bespoke commissions are what get us most excited at Smile Plastics. We love the creative challenge of coming up with materials solutions that are going to meet our customers' aspirations. It all starts with understanding the real priorities for our customers and getting as much information at an early stage. Considerations around the application for the material and the sqm requirements are key because they then inform the types of plastic types and wastestreams that we can put forward for the project. Equally, receiving moodboards for the colours, patterns, and looks are also really important.
We have some customers who's priority is for us to focus on the narrative of the materials themselves. They may have ideas for the specific wastesteams that they would like to explore, or even want to supply those wastestreams themselves. They are often quite flexible in the end result, honouring the original waste plastics as much as possible. Then we have other customers who would like us to meet specific technical materials requirements or are after us achieving a particular RAL colour match. All of these briefs are possible for us to work from and continue to be an exciting challenge for us. We have worked on ombre materials transitioning quickly from one colour to another and materials that include more unusual waste streams such as cigarette butts, coffee grounds, make-up, ribbons, and Christmas decorations.
Unless there is a very simple materials solution, we tend to make up one or a series of small test tiles as inspiration or sign off, before scaling up to make a one-off larger 2m sheet. The whole process from start to finish can take as little as 4 weeks right the way through to several months if it's a larger-scale project with trickier materials sourcing or preparation requirements.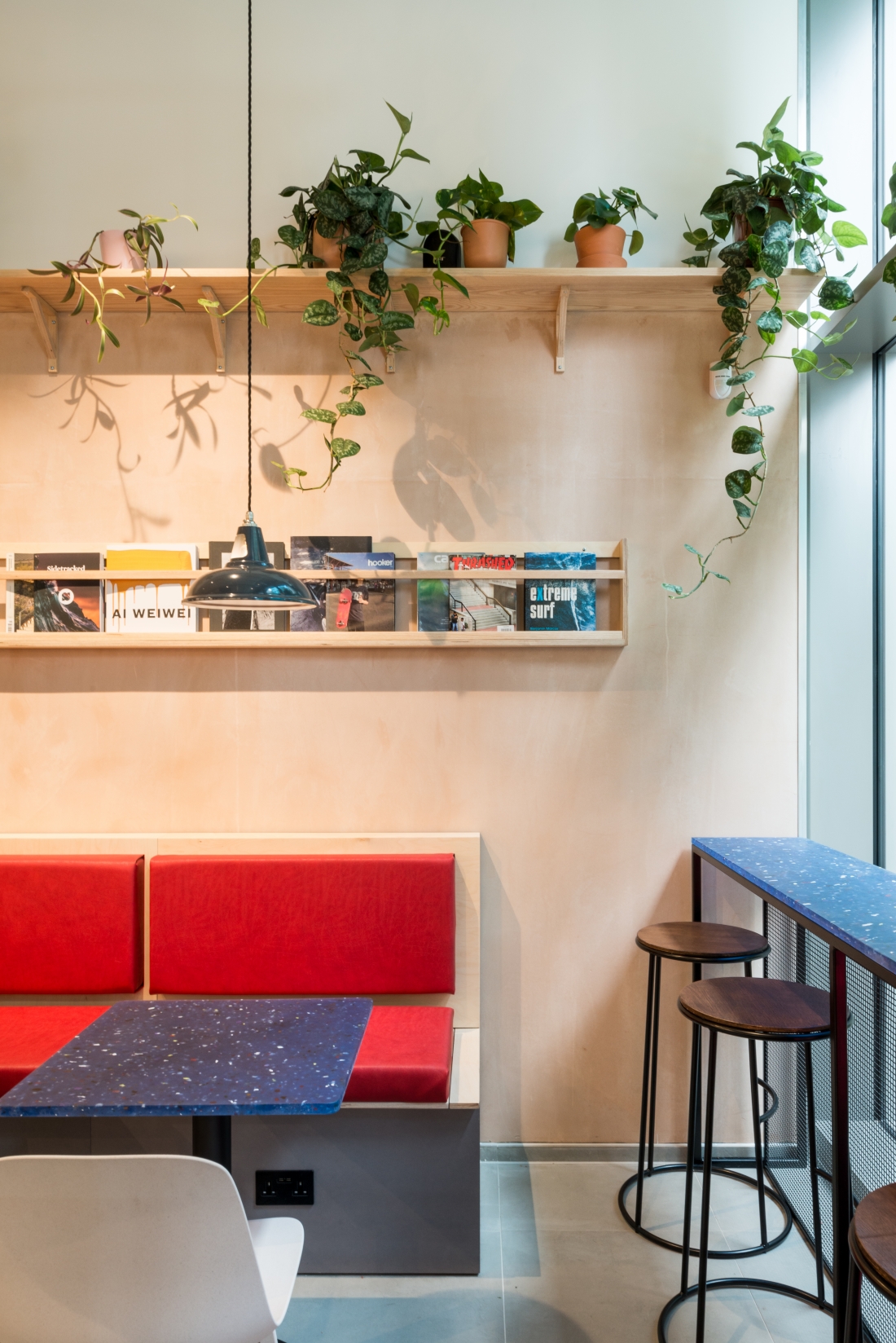 Who or what inspires you outside of the workplace, where do you find inspiration?
I'm inspired by the physical world around me and the craftsmanship that goes into making beautiful things. I'm a making-fanatic both inside and outside of the workplace, and I love the idea of being able to make all the physical things that I depend on around me from tableware to my own shoes. My aspirations far exceed both my ability and the time that I have, though, so I am limiting myself to a short ceramics course as well as my own jewellery practice that I work on when I get a spare moment.
Until a couple of years ago, I lived in London, and it was the urban landscapes that I was most drawn to from the brickwork in dilapidated buildings to the stark geometry of high-rises in the city. Now that I live by the sea on the Gower in South Wales, I'm currently drawn to the extraordinary geological rock formations hugging the coast and the continually evolving patterns that develop in the sand.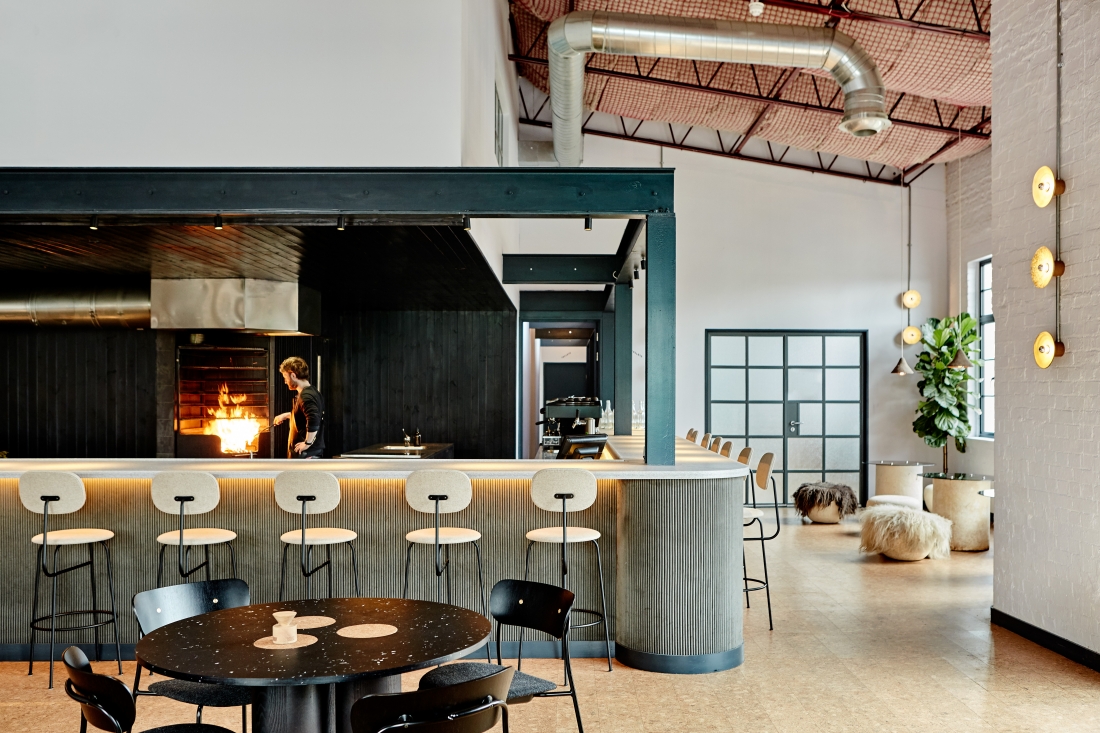 Looking at the material world, what other new materials are exciting you currently?
New companies are making beautiful materials from fungi and organic waste, and I am really excited by the possibilities of those materials combined with their low environmental impact. I'm also surprised at how robust and inert the end result is while also being able to fully degrade when the time comes. The companies include Blast Studio in London and Ty Syml based in South Wales. Both companies are working on a pretty small scale at the moment, but there are enormous possibilities for both functional and decorative applications, and I'm looking forward to seeing how those businesses evolve.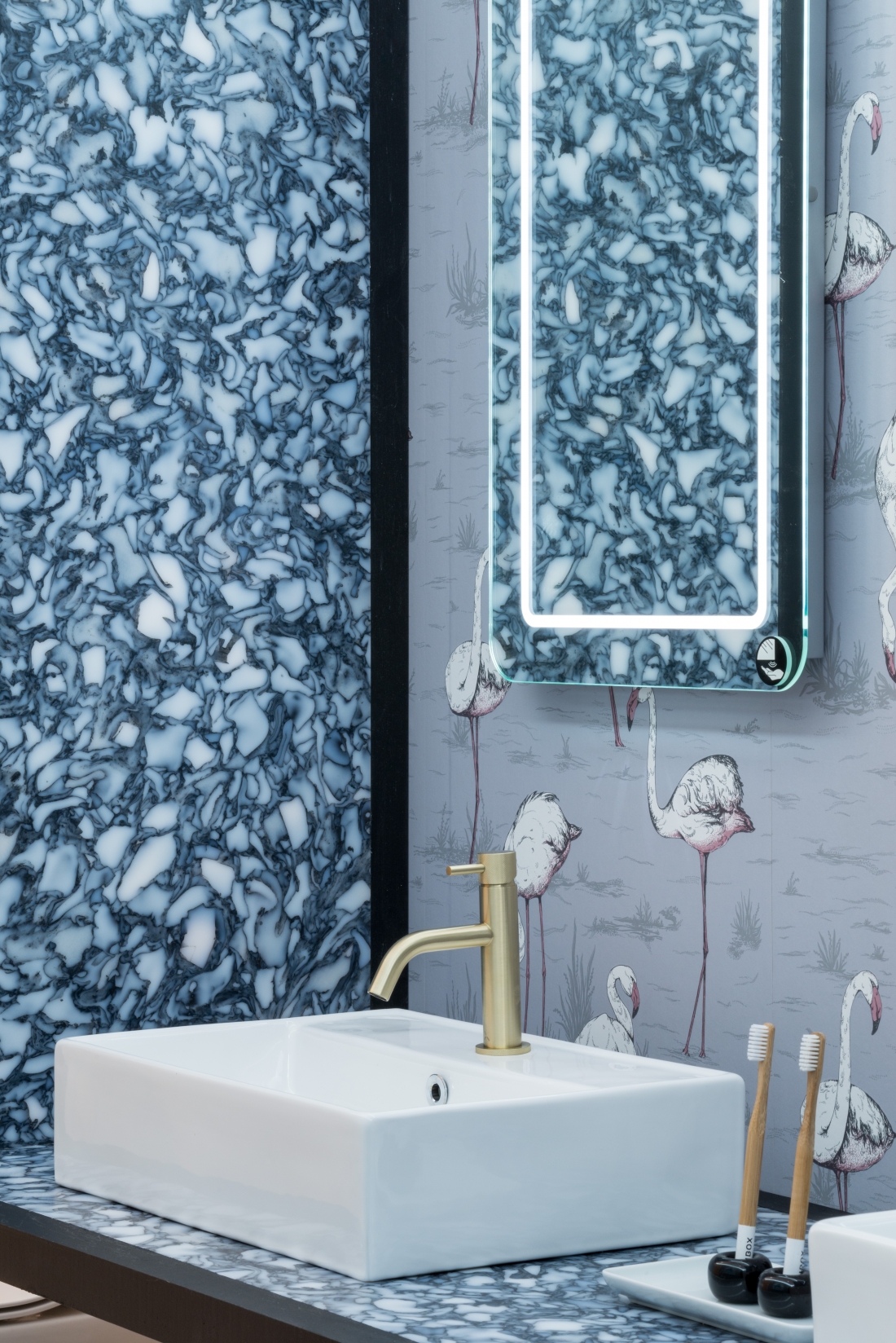 Sadly, we have all been affected by the current global pandemic, some much more than others, what changes do you think this will make at large and also to your approach?
Yes, it's an extraordinarily difficult time for so many businesses across the globe, and I expect most businesses are going to feel the impact. I think there will be a more obvious immediate effect through a stuttering economy combined with the challenges of social distancing, but I do hope that we can find some grounds for hope.
I've been reading recently about how this unprecedented halting of business activity over the last few months has given us some proper time for reflection. In this time, we have been able to evaluate and reprioritise the most important things. Many are seeing the significance of being part of a thriving community. The global concern around our impact on climate change and the environment has been accelerating over recent years. It is now high, and I hope that as business activity commences again, we will all be more considered in the choices we make and the impact this may have on our communities and the environment.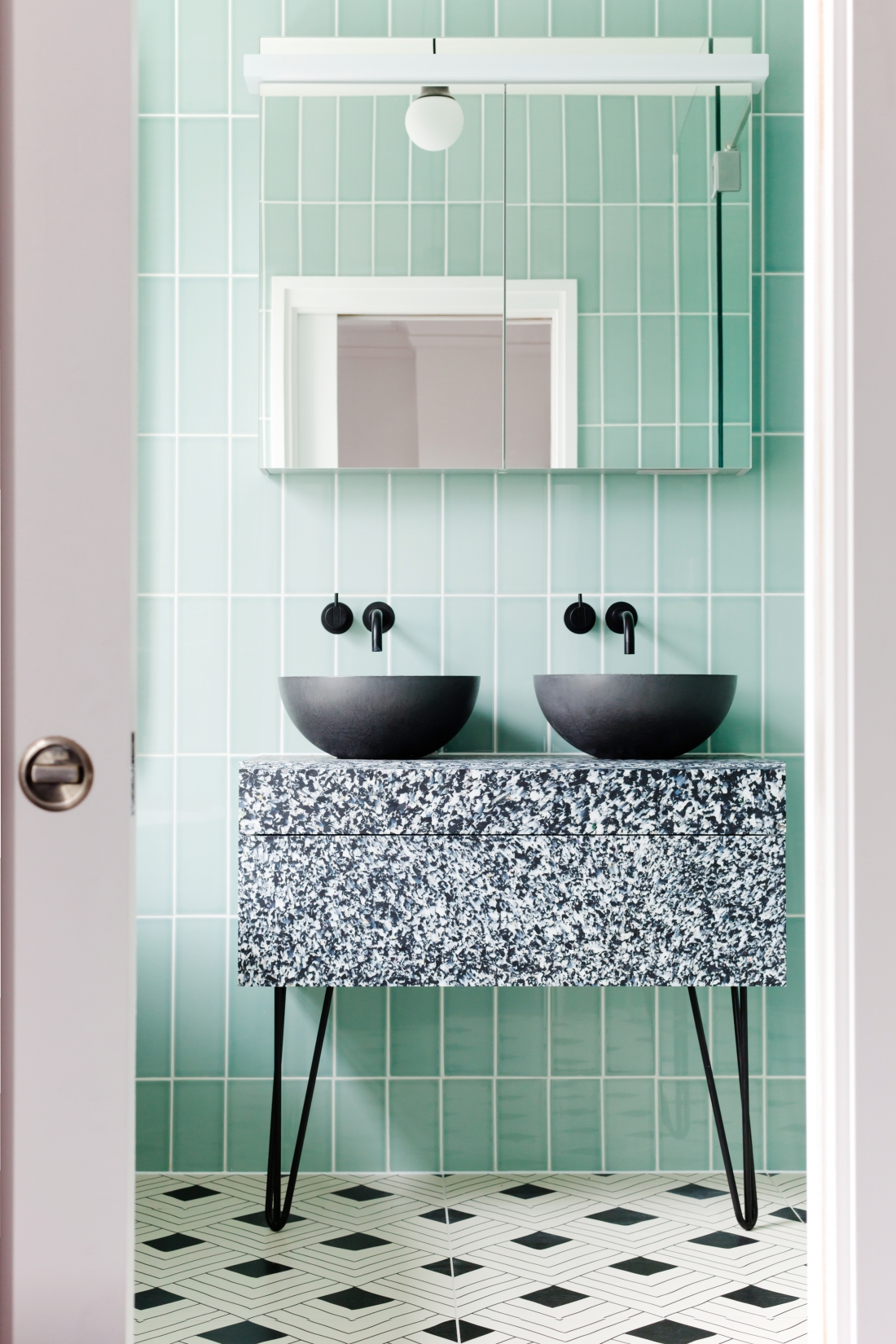 Finally, what's next for Smile Plastics?
Our microfactory in South Wales supplies the UK, but we're also sending out quite a bit into Europe and more far-flung places around the world. Our next step is to build on our concept of distributed manufacturing by opening up a series of plastics micro-factories across the globe. Over the next year or so, we will seek partners in multiple locations to set up micro-factories where we can take the local waste and transform it into beautiful panels and products for local markets around the world.
We're also hoping to open up a showroom in London over the next year so that people can meet our materials family and us in person.
Discover more about Smile Plastics