21 biomaterials designers to watch in 2021.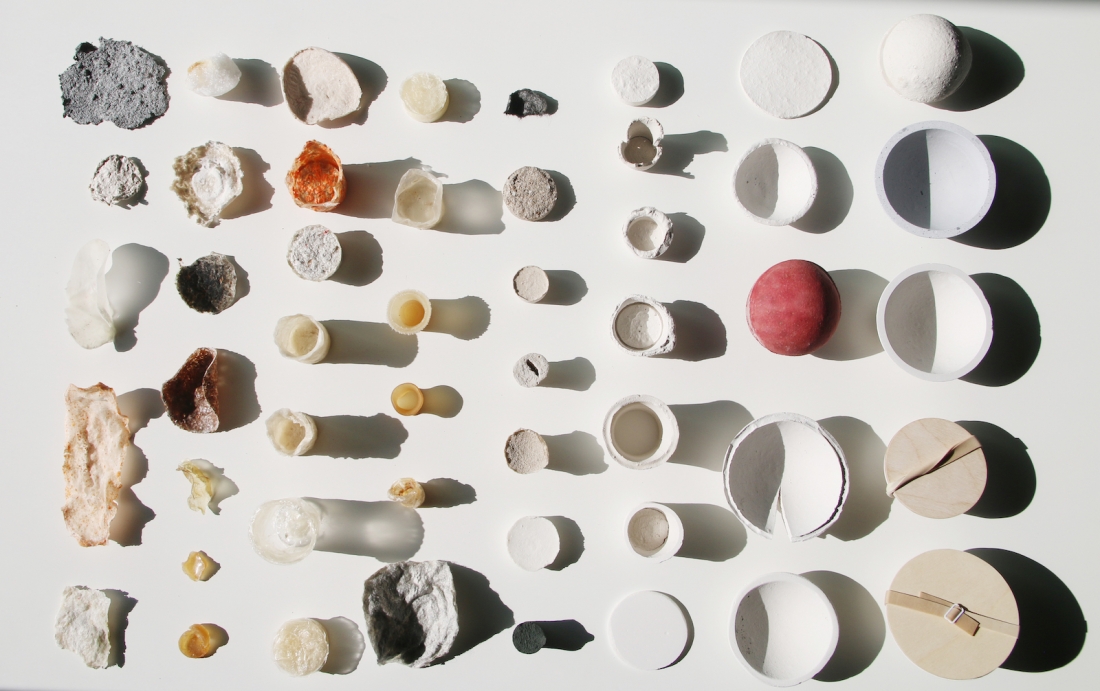 As we settle into a creativity-fuelled year, we take a look at the rapidly expanding world of biomaterials.
Thanks to a growing platform, we're increasingly seeing innovative interior and building solutions making it to the specification hit list - a hugely encouraging trend on the rise. So to help inspire your upcoming projects, we've pulled together 21 of the most promising materials and their designers for your perusal.
1. Ecovative
At Ecovative, the team's mission is to "grow better materials that are compatible with Earth". Using its Mycelium Foundry, Ecovative collaborates with companies to create plant-based biodegradable packaging, amongst other things, to replace plastics.
Its MycoFlex™ product is made of 100% pure mycelium structure, and similarly, the MycoComposite™ platform also uses mycelium, the root structure of mushrooms, to bind together organic agricultural byproducts, such as wood chips, to produce durable, bio-based and 100% compostable materials. Check out the Mushroom Packaging, and the rather nice light-shades.
2. Alice Potts
Alice Potts is a material researcher and inventor that's spent the last six years working on the development of sustainable biofabrication for industry. Her focus is on "the importance of bodily function within the materiality, looking at the interconnection between biology and materiality."
Alice's bioplastic product is made of food that has been discarded, and she has successfully adapted the material from a solid to a silicon quality, allowing for endless design possibilities - from weaving to joining and dry molding.
3. Scarlett Yang
Scarlett Yang's 'Decomposition of Materiality and Identities' speculates a simulated ecosystem where biomaterials grow, decompose and shift form through time and changing environments. The project explores sustainable design solutions through combining bio design, digital fabrication, 3D-generative simulation and traditional fashion design and was awarded the LVMH Maison/0 Green Trial 2020 prize.
A result of intense experimentation and development in a laboratory, the final outcome is a glass-like fabric crafted from algae extract and silk cocoon protein (an otherwise-wasted by-product of textile manufacturing). This sensitive, reactive material responds directly to its environment and is able to fully biodegrade in water within 24 hours.
4. Blast Studio
The Biological Laboratory of Architecture and Sensitive Technologies - or Blast - is a group founded in 2018 with the aim of exploring the possible relationships between new technologies and living things in order to develop new processes of artistic and architectural creation.
Digital design and manufacturing tools are at the heart of the studio's experiments in design, scenography and architecture projects. Blast Studio develops research to explore new ways to bring nature and technology into dialogue. "Inspired by nature we created a new ecosystem in the city, where we recycle urban waste into outstanding sustainable objects and furniture thanks to living organisms."
5. Sachi Tungare
Sachi Tungare has found gold in, well, the marigolds. Spotting an opportunity to provide new life to old flowers used in the daily prayer rituals of Indian culture, the innovative designer makes bioplastic composite from the rotting material.
"The amount of flowers generated in temple systems across India, along with the floral remains post-festivals like Diwali and Ganesh Chaturthi, is a large-scale resource generated, that can be made use of as an alternative sustainable material.
"Based on the theory of circular economy, an extensive material exploration was carried out using marigold as the starting point, and then using all kinds of flowers collected from temples, shops and homes post the festival of Diwali. The business of flowers and flowers themselves have an ephemeral nature. A sense of transience. Temporarality." The resulting bioplastic composites are compressed into sheets in order to sustainably make, fully biodegradable disposable hotel room amenities.
6. Orange Fiber
Orange Fiber is an Italian company "made up of equal parts innovation and elegance". The talented team creates exquisite sustainable fabrics from citrus juice by-products that would otherwise be thrown away, representing hundreds of thousands of tons of precious resources.
Envisioning a new life for these materials, Orange Fiber transforms them into refined, ethereal fabrics perfectly suited to the Italian penchant for high-quality fabrics.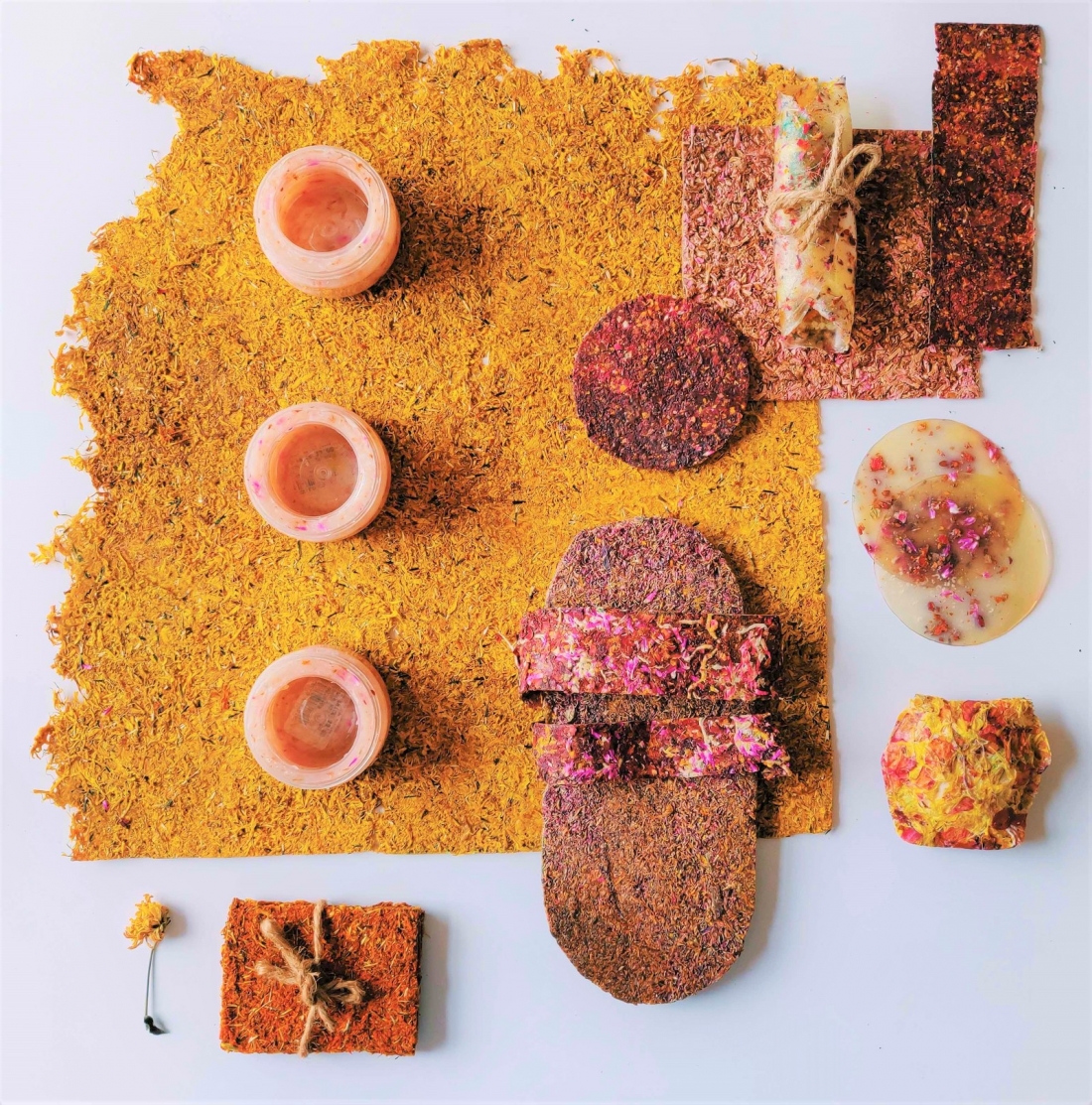 7. Marie Melcore
Amongst her many projects, Marie Melcore turns fruit and vegetable waste into a viable leather substitute. Using melon, pineapple and oranges, she produces interesting colours and textures reminiscent of the animal skins from which they're inspired.
"For billions of years, terrestrial and marine habitats have thrived by producing vast quantities of materials, all without landfill. By using this recycling approach, as old as the world, the aim of the project is to promote a circular economy while removing the use of animal leathers from the fashion industry. In sum, the development of these biomaterials is as ecological as ethical. It is time to collaborate with nature."
8. Peel Saver
Peel Saver is the brainchild of Italian design collective Simone Caronni, Paolo Stefano Gentile and Pietro Gaeli. The designers have developed eco-sound packaging made from discarded potato skins.
Using the potato's natural starch and fibres, the mixture is left to dry naturally in order to bond, and the finished result is made completely of waste while being 100% biodegradable. Following its use as packaging, the skin can be repurposed as plant fertiliser.
9. MOGU
From agro-industrial residues to luxury living environments, MOGU Floor is a collection of bio-based resilient tiles for interior design and architecture - "a perfect solution to support a fully circular approach within the building industry."
The tiles consist of a mycelium composite core, coated with a formulation of 90% bio-based resins. It replaces traditional industrial pigments with low-value biomasses, such as corn crops, rice straw, spent coffee grounds, discarded seaweed and clam shells.
MOGU was founded on the belief that it is possible to employ nature's intelligence to radically disrupt the design of everyday products, seeking a finer balance between the man-made and the rhythms of the natural ecosystem.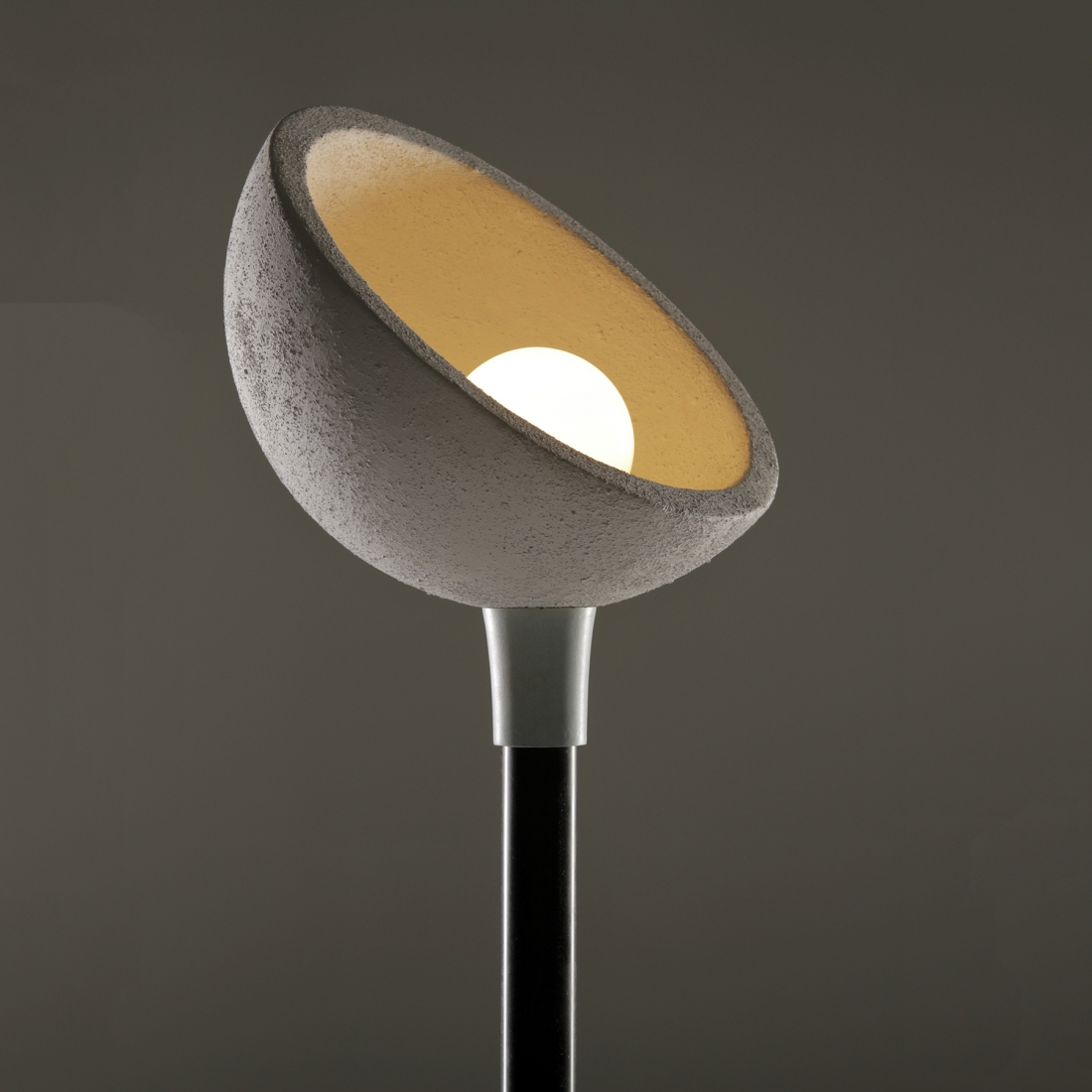 10. Fernando Laposse
The latest ingenious offering from innovator Fernando Laposse is the Lufa Series. "Loofah is the fruit from a tropical vine that is related to pumpkins and cucumbers and grows vertically attaching itself to trees. Once this fruit matures it is then dried and harvested, leaving a xylem of fibres behind which is mainly used for scrubbing.
"Each of the objects in this series exploits one or many of the qualities of the material, like lightness, translucency, heat insulation, texture, shock absorption etc.
"Overall, the project aims to push the association we have with the material beyond the realm of the bathroom to be present and perform other roles in the rest of the house giving it a new perceived value."
11. MIYUCA Studio
MIYUCA stands for handmade product design using natural materials. Since 2015, the studio has created objects made of autumn leaves. These products are called LAAB, which literally translates as 'leaves' in the South Tyrolean language. Jasmin Castagnaro founded MIYUCA after working as an industrial designer for several studios.
Inspired by the light that shines through the leaves in autumn, MIYUCA developed a unique series of lamps with the aim of using raw materials that we normally consider waste. LAAB lampshades are handmade and unique in composition and light transparency. The types of leaves used determine the structure and colour. Many of the individual parts, which are normally made of plastic, have been replaced by handmade metal and enriched with details.
12. Atticus Durnell
Although you're likely familiar with Atticus Durnell's That's Caffeine tiles, you might not be as acquainted with his floor lamp. Inspired by the fact that in the UK alone we generate more than half a million tonnes of coffee waste annually, the That's Caffeine project takes advantage of the readily available material and transforms it into something long-lasting. In this case, an illuminating floor lamp for adding interest and eco-creds to interior projects.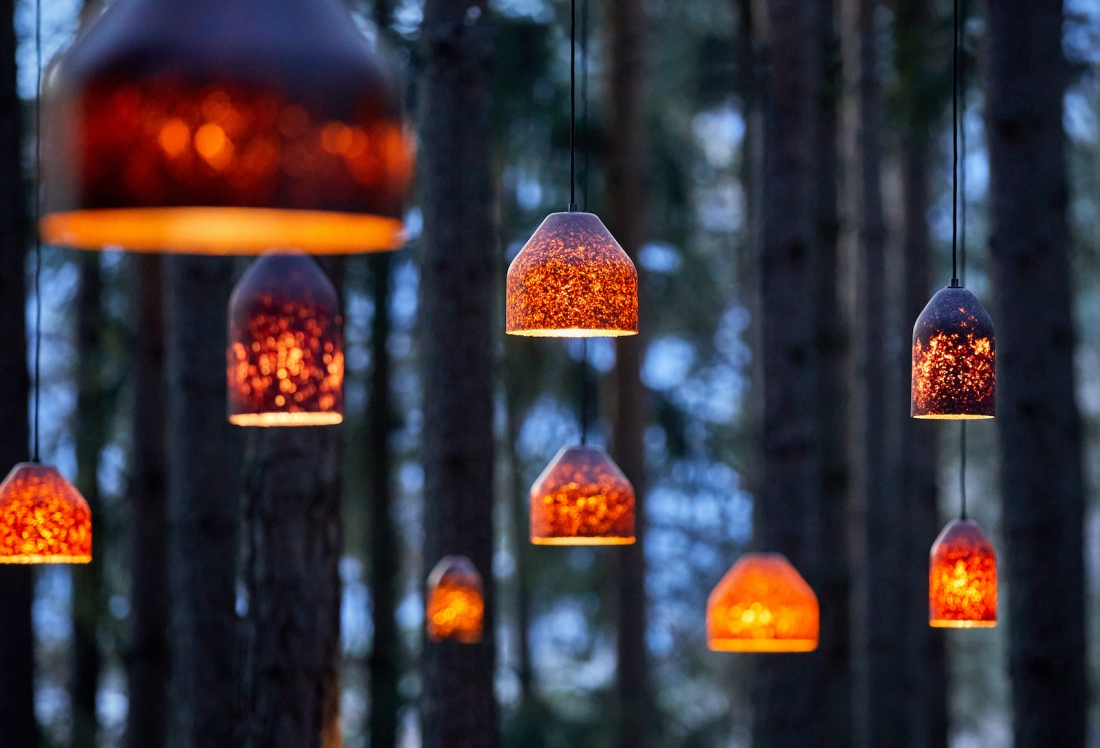 13. Company New Heroes
If you visited Dutch Design Week in 2019, you may remember The Growing Pavilion (as one of the show's highlights, how could you forget it?) The piece was the result of a collaboration between Company New Heroes and the Dutch Design Foundation to showcase the true creative possibilities of biomaterials.
The pavilion was unique in the way in which a large number of bio-based materials, such as wood, hemp, mycelium, cattail and cotton, came together to form an extraordinary creation. Something never seen before. We're eager to see what comes next from the collective following their latest piece for the World Design Capital in Lille.
14. Jonas Edvard
Jonas Edvard is a Danish product designer who studied at the Royal Academy of Fine Arts, Denmark. His work is focused on research into raw and natural materials, the history of their use and the future of their existence.
His series of Myx lamps consist of plant fibre and mushroom-mycelium. The lamp is grown into shape during a period of 2-3 weeks, where the mushroom mycelium knits the plant fibres together into a flexible and soft living textile. After two weeks, the healthy oyster mushrooms can be harvested. The waste product can then be dried and used as a lightweight material, that is organic, compostable and sustainable.
15. Philipp Hainke
Philipp Hainke is a product designer that combines an artistic background with technical solutions. His project Organico utilises traditional and renewable resources for the development of a new, innovative material. An adhesive, composed of calcium hydroxide and casein is used to press hemp fibres and shives into solid forms.
Through extensive research, the optimal composition and structure was developed: a sandwich material with a cover of hemp fibre and a core of hemp shives, that is simultaneously stable and light. The resulting objects are characterised by an appealing design aesthetic somewhere between nature and technology.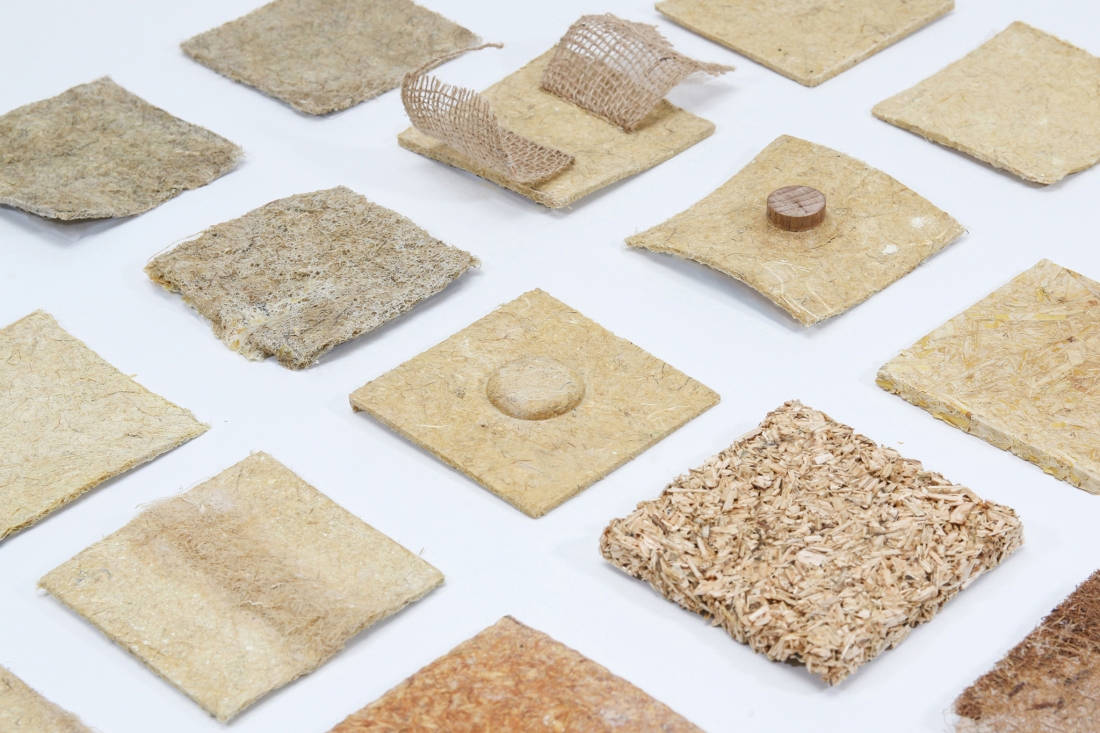 16. Romy Design Studio
Romy Design Studio specialises in industrial design and product development. The studio creates modular and efficient systems that "boost the linearity of the designs". For the past year, Romy Di Donato has immersed herself in the analysis of hemp and eco-products.
So much so, in fact, that she opened a shop entirely dedicated to hemp - Chez Marie-Jeanne in Liège, the only 100% hemp concept store in Belgium. From wall panels to lighting solutions, Romy proves that a little hemp can go a long way.
17. Austeja Platukyte
Austeja Platukyte is a creative researcher working between the disciplines of material design and science, technology, and craft. Her creative solutions are systematically linked to the theme of organic matter and a topic of materials transforming into other forms, introducing new social, cultural, economic, and psychological context into her creative process.
In her Zero Waste project, Austeja presents experimental packaging made from algae-based material. "This project is a result of an experimental practice that was aimed at finding a substitute for synthetic plastic using only natural resources which would, later on, form a new cycle of nature.
 I have tested a number of natural materials as well as their mixtures before I came up with the most suitable solution - biodegradable algae-based material.
"This new material perfectly holds its shape, is waterproof, and protects the product against possible damage. Made of only two natural ingredients, this material is wholly organic and compostable."
18. Naifactory Lab
Naifactory Lab has developed a new line of circular materials that use olive stones as a base - "a very abundant by-product whose current use is basically burning for biomass, and for which we have created a recovery process as a raw material". The basic mixture of olive pits with other 100% natural ingredients allows its diversification into a wide variety of textures and aspects depending on the quantity and quality of the pits (granules, powder or flour) used.
They are mouldable, compostable materials that can be reused by melting them again without leaving residues in the process. And the result is a multitude of applications in design packaging, decorative objects, furniture, toys, and even gastronomy.
19. Christien Meindertsma
Christien Meindertsma thoroughly explores the life of products and raw materials in her work. Her Flax chair is the result of a collaborative project with natural fibre specialist Enkev. For the piece, a new composite material was created using four layers of an existing woven flax textile and five layers of a newly developed dry-needle felted flax.
The woven linen and PLA (a biodegradable plastic) textile uses long flax fibres and is therefore extremely strong, whilst the felted flax material provides bulk and texture. The soft pile of fabrics is heat pressed, melting the flax and PLA into the shape of a rigid chair.
The ambition for Meindertsma was to make an affordable, scalable, environmentally friendly, locally-made product, whilst exploring a new production method in the process.
20. Lionne Van Deursen
The studio of Lionne Van Deursen focuses on experimental research, to give insight into the possibilities of new materials. Currently, the designer is focusing on a material made of bacterial cellulose - Biotic.
After a growing process, Lionne experimented with different natural plant dyes and dyes made from fruitwaste to see how they can affect the colour and texture of the material. The study resulted in a collection of viable fabrics with varying colours, translucency and textures.​
21. Youyang Song
Youyang Song is a textile and material researcher designer based in Berlin. Her "Cooking new materials" project is an independently developed technique which aims to process bio-waste into a soft yet robust leather-like material.
"The seemingly useless food waste will be reborn with a second life. Banana and orange peel or soy-milk are combined with a natural binding agent as the substrate. The resulting composite is fully biodegradable and can be easily reused after the re-cooking process."