Apple's Champs-Élysées store in a Parisian Apartment by Foster + Partners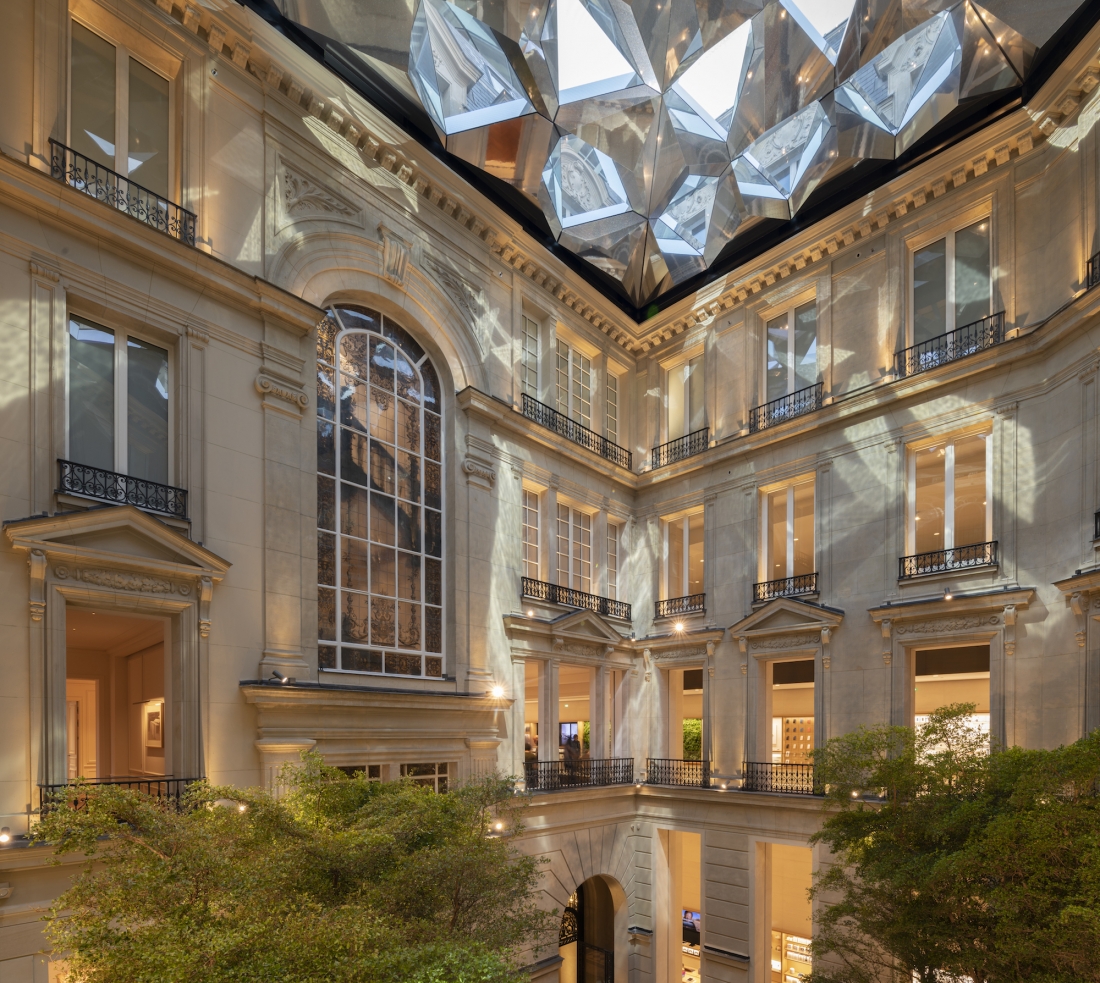 Foster + Partners has unveiled its latest Apple Store design, built within a quintessential Parisian apartment on the Champs-Élysées in Paris.
Situated on the corner of Champs-Élysées and Rue Washington, the surviving original detailing of the historic building has been carefully restored and sympathetically juxtaposed with contemporary features.
The entrance is via a beautiful 19th-century Parisian passage, with display spaces on either side. It leads to a newly revived courtyard with large, mature trees that create an almost external and natural setting and a unique 'kaléidoscope' solar roof-light, featuring mirrored pyramids that reflect dappled sunlight onto the internal façades and floor below. Covered by photovoltaic panels above, the Cubist-inspired roof-light reflects fragmented images of the surrounding building fabric when visitors look up from within the courtyard.
Adjacent to the courtyard are calmer spaces, green walls and seating for visitors to pause and rest. Each of the rooms also has balconies that open onto the Champs-Élysées, against the backdrop of Paris and views of the Eiffel Tower.
The building has gone through several incremental changes throughout its lifetime, and Foster + Partners' design aims to revive the original spirit by restoring detailing such as the original timber and marble escalier d'honneur (grand staircase), blended with the new additions, such as the roof light.
"This is one of the most unique Apple flagships in the world, located along the world's most beautiful avenue." Says Stefan Behling, Head of Studio, Foster + Partners. "In true Parisian style, it is rich in texture and envelopes a range of experiences that stimulate your senses. This is emblematic of the idea of juxtaposition runs that throughout the interior spaces, bringing together the historic and contemporary, interior and exterior, and ground and sky."