Marcel Wanders' theatrical interiors for Qatar's Mondrian Doha hotel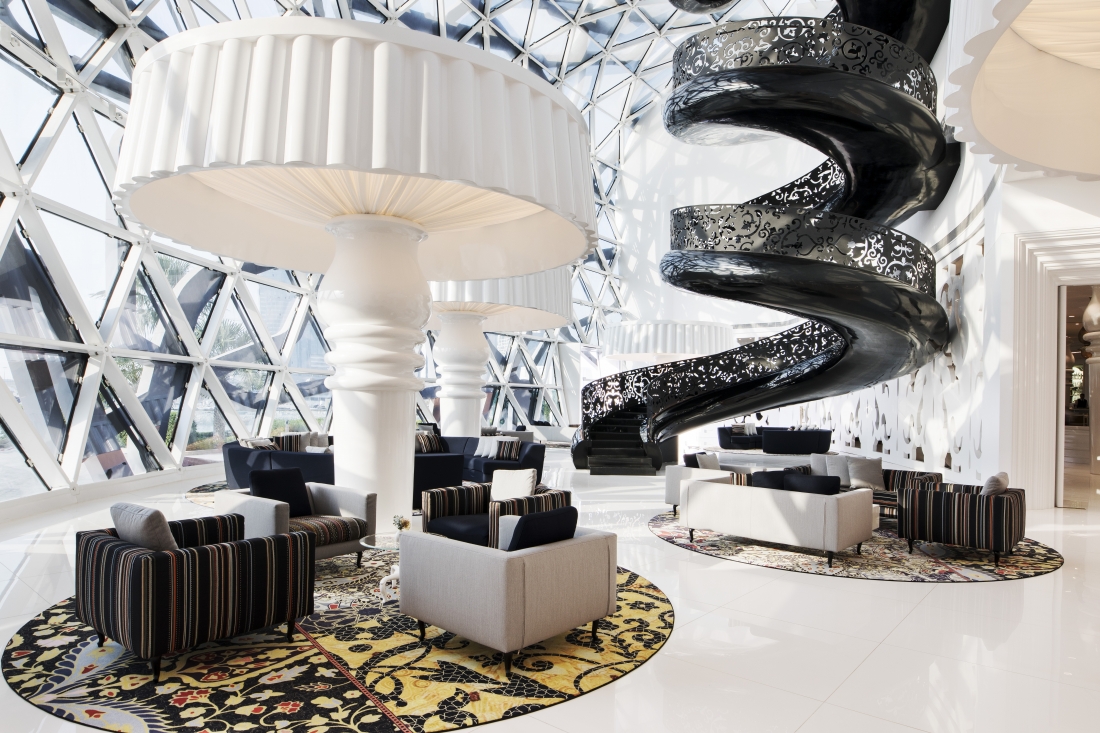 Dutch designer Marcel Wanders' interior design for 5-star hotel The Mondrian Doha in Qatar exudes his sophisticated yet whimsical signature style.
With its grand, extravagant spaces and opulent, sometimes surreal detailing, wandering through the hotel feels like stepping into a fairy tale. Wanders' vision for each space was to possess its own unique identity, with a story unfolding as guests travel from room to room.
"Many themes are layered in the hotel. With each individual space telling its own tale, guests have many different experiences, and therefore, weave for themselves a volume of stories to share," says Marcel. "Conceptually, we have married local culture with a modern design aesthetic to compile tales told from legends through sophisticated verses of poetry."
An iconic, 24-storey skyscraper designed by SWA architecture, The Mondrian Doha contains apartments and a luxury hotel with 270 rooms and suites. The large atrium and lobby space is filled with giant white lamps and a black helical staircase with an ornate cut-out pattern, which extends up over four floors.
In the lobby, an oversized gold leaf bell with a crystal chandelier welcomes guests, while in the lounge, a surreal white forest is characterised by giant white 'Trees of Life'.
Local culture is reflected throughout, with Arabic writing, historic souks, ornate stained glass and intricate mosaic tiling. There are also multiple references to the falcon – the national bird of Qatar – with giant columns with golden eggs, ornaments, paintings and falcon video art, mirroring the Falcon-inspired architecture of the building itself.