Jay Gard creates a special edition of the B 9 tubular steel stool for visitor seating at the Bauhaus Museum Dessau, plus two limited 'artist's editions'.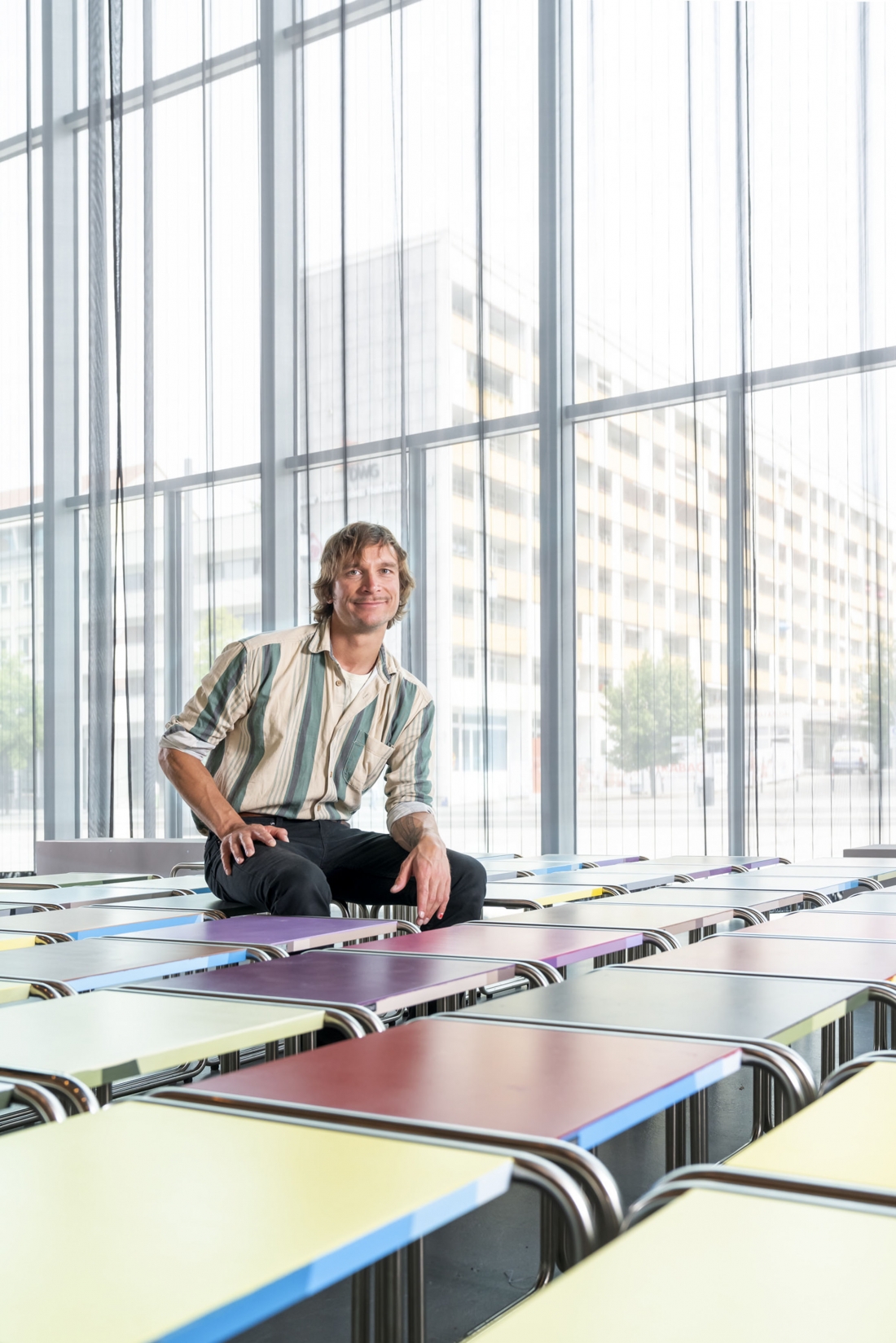 The Bauhaus centenary was cause for a multitude of celebrations in 2019. The Bauhaus Dessau Foundation opened a new museum that showcases an extensive collection of original pieces with a connection to the famous art school, as well as contemporary work.
One of these pieces is the B 9 tubular steel stool, first designed by Marcel Breuer in 1926 and now revamped by Jay Gard for the Bauhaus Museum Dessau and Thonet GmbH: there are precisely 100 of these one-off colourful stools designed by Gard as visitor seating for the museum.
The colour concept of his vibrant artwork entitled "Margaretha" is based on the hues of a children's room carpet designed by Margaretha (Grete) Reichardt, one of the most successful Bauhaus artists, in 1929. He has also designed two artist's editions (Margaretha 2 and 3), which can be purchased from the museum shop.
During his Bauhaus Centenary Residency in the summer of 2019, Jay Gard (born 1984 in Halle/Saale) worked extensively with furniture pieces created during the Bauhaus period. "For me, the B 9 by Marcel Breuer, with its brilliant design and perfect interplay of curved metal and angular wooden top is much more than a piece of furniture – it's a marvellous piece of art," says Jay Gard.
When the Bauhaus Dessau Foundation asked if he would like to create a special edition of the B 9 stool as visitor seating for the new museum, he jumped at the chance. Gard found the history behind Marcel Breuer's B 9 tubular steel stool, an icon of modern design in the 20th century, fascinating.
At the time, Gropius and Breuer themselves argued over whether the stool should be an article for mass production or an artistic design. The "Margaretha" and "Margaretha 2" collections are the result of the interplay between Breuer's design, Reichardt's colours and Gard's interpretation. They come together to create a new artistic work, in which the age-old question of individual authorship resonates.