In-between, Architects, redesign the Canton Room, a symbol of the old Hong Kong.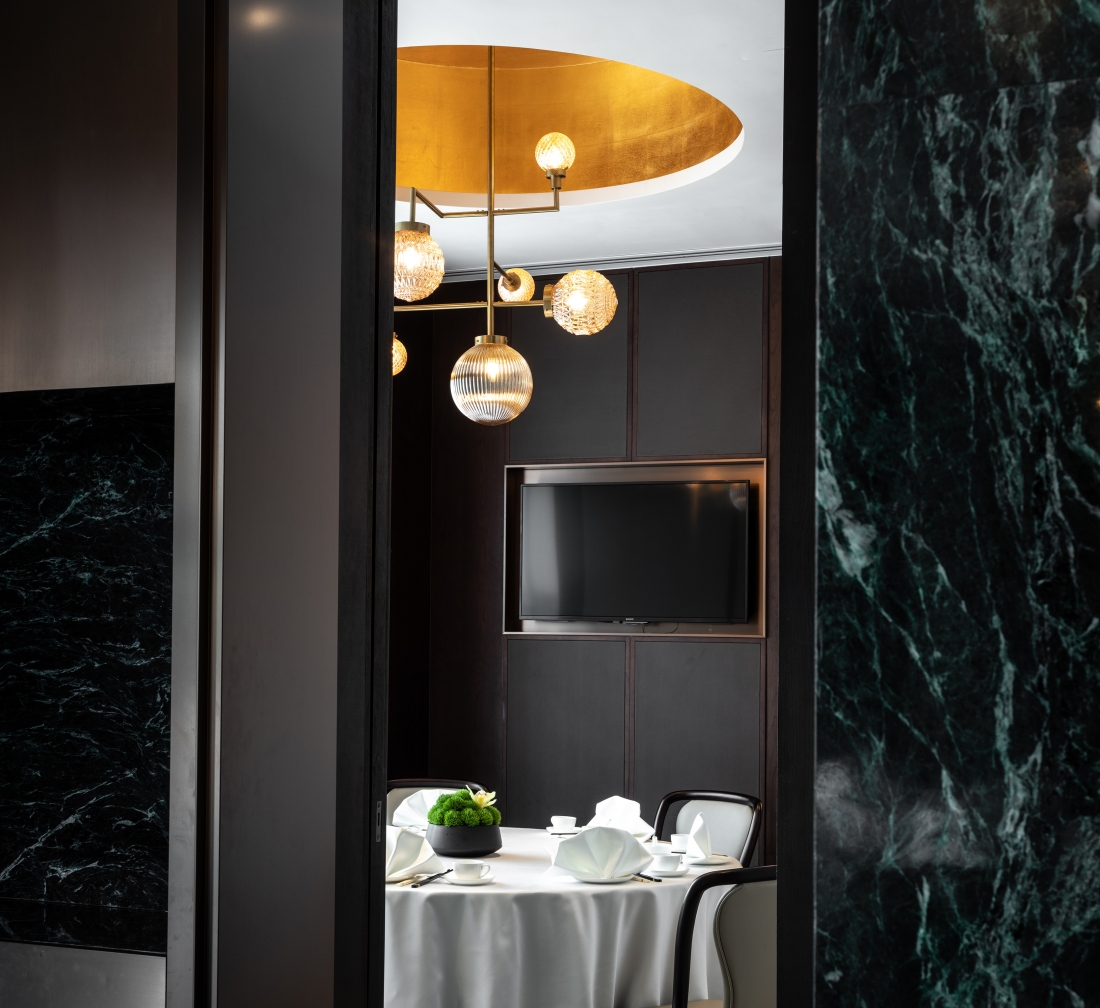 Situated on a landmark site in Wan Chai that overlooks the Victoria Harbour before Hong Kong's massive land reclamation, the historical Gloucester Luk Kwok Hotel features Canton Room's signature restaurant well-known for traditional Cantonese cuisine.
In-between Architects were commissioned to completely redesign Canton Room with a new look that reflects the rich history of this site and the vibrant characteristics of the old and the new streetscapes of Wan Chai.
Architects Ivan Wong and Michelle Kwok found inspiration for the restaurant redesign from Richard Mason's 1957 novel "The World of Suzie Wong." The writer stayed at the Luk Kwok hotel on this site to complete his novel set in old Wan Chai.
As a result, the new Canton Room is articulated throughout with symbols and subtle details from the late 1950s to 1960s. These include decorative curves on the furniture and walls that allude to the traditional Qipao dress that Suzie Wong wore regularly. Patterned glass, retro lighting fixtures, and the signature dark green colour accents that one can still find on Hong Kong ferries and trams represent the most traditional forms of public transportation in Wan Chai and its surrounding neighbourhoods.
Hong Kong's geography is defined by water and mountains, much like ancient Chinese ink paintings' key features. The Canton Room's design captures these critical elements in the use of natural colours, highlighted with earth tones and deep blues and greens. Combined with distinct flowing motifs to the restaurant's carpet and accent wall fabrics, reflecting the values of living harmoniously with nature. At the entrance, a forest green marble portal was preserved from the former restaurant design to respect the origins and heritage of this historic hotel.
The restaurant layout comprises of two distinct areas, an entrance reception hall at the front and more private banquet rooms at the back. These two areas are bridged by a narrow columned corridor-like space. The design team took on the challenge to accentuate this constrained in-between space, introducing linear banquette seating in a sharp green tone to symbolize the traditional tram experience of Hong Kong, an allegorical "portal" to connect the two main areas of the restaurant. An antique porous Chinese wooden screen is used as the backdrop to this banquette area to represent this tram's windows.
'Keep Wan Chai Weird' is a hidden slogan one can find as graffiti in the back lanes of Wan Chai. With all its sensory allusions to old Hong Kong, the new Canton Room is a continuing tribute to the eclectic historical charm of this neighbourhood.