British independent vintage retail giant COW has opened its new flagship store in its hometown of Leeds.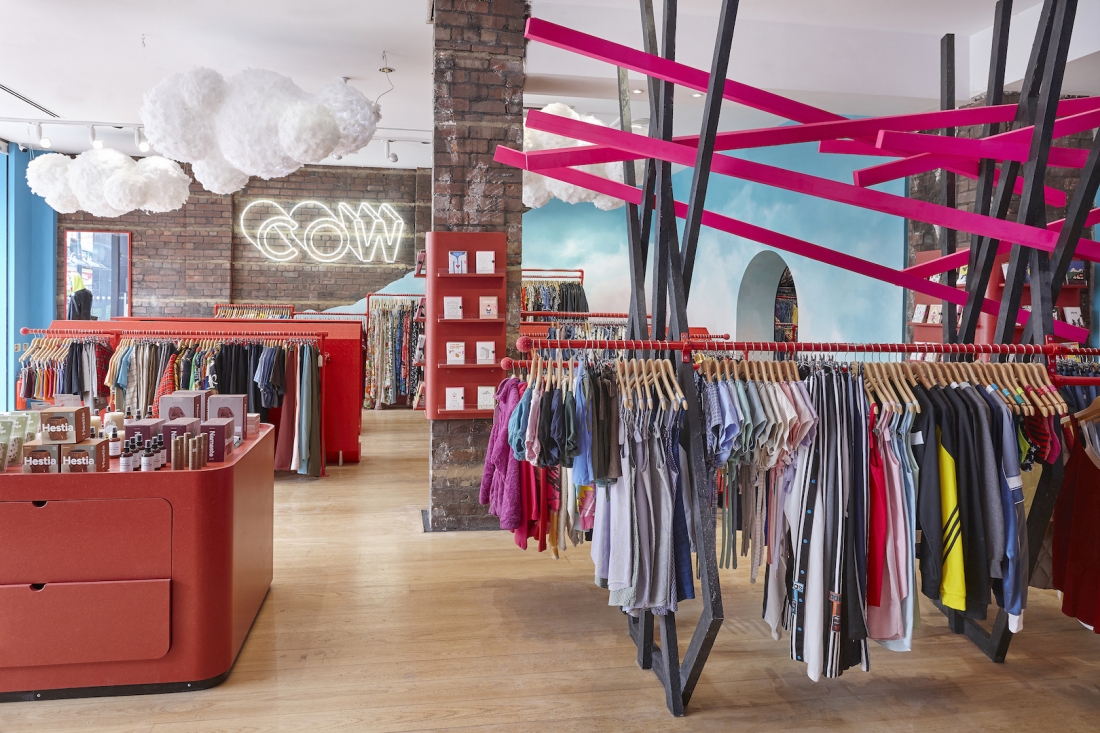 British independent vintage retail giant COW has opened its new flagship store in its hometown of Leeds. Based on Vicar Lane next to the prestigious Leeds Victoria Gate development; the store is the brand's largest shop to date, boasting two floors of vintage and reworked handmade menswear and womenswear sourced from around the world.
Established in 2008, the shop is the companies sixth store, with premises in Manchester, Nottingham, Liverpool, Birmingham and Sheffield, alongside its two Thift stores in Bristol and Manchester.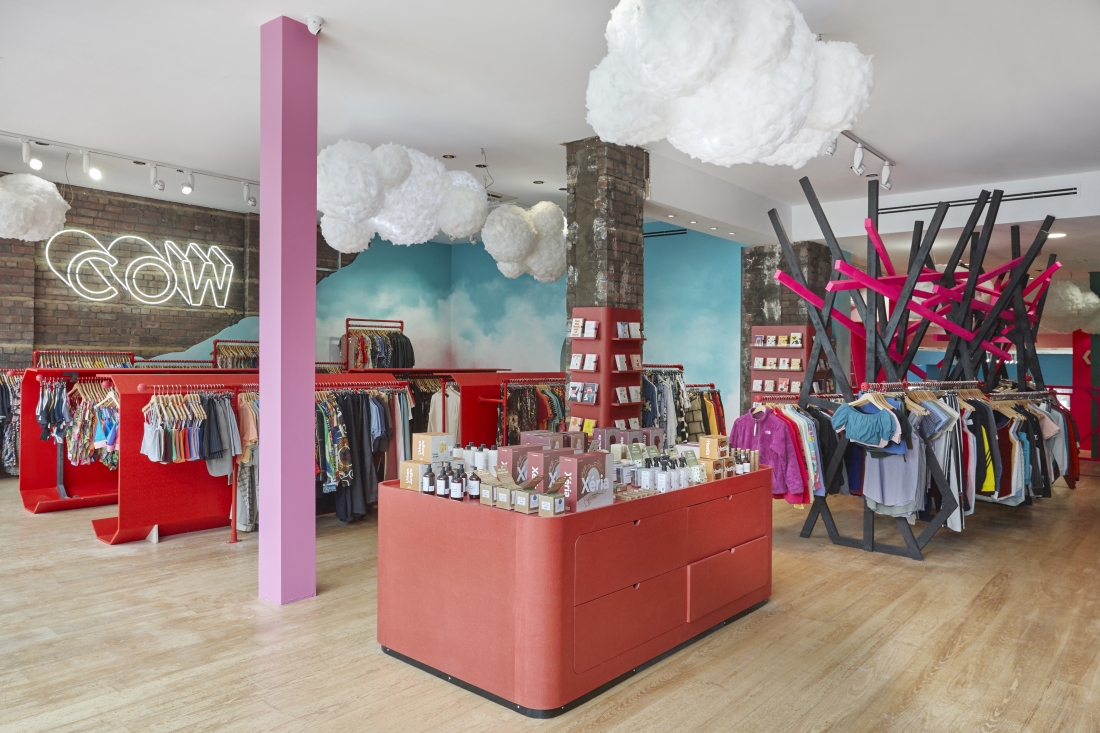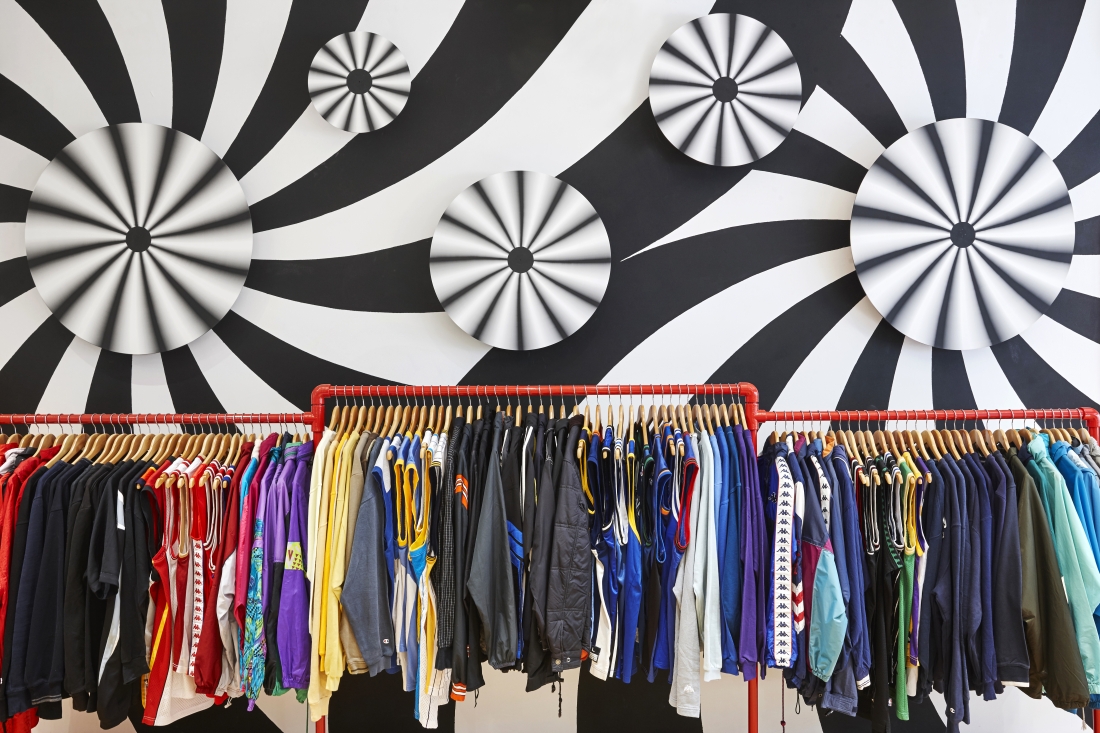 Like each piece of clothing the shop sells, each COW store is entirely unique in design - the Leeds store is no different. Instantly recognisable as a retail destination for its mix of colourful interiors and recycled materials; the stores act as an extension of COW's brand dedication to the idea of reuse and rework, helping to boldly promote sustainable shopping as an eco-alterative to fast fashion.
At the Leeds store; reclaimed wooden ladders, wallpaper off-cuts, dog balls, and COW store staple scaffolding-poles have been used to create various retail fixtures; alongside plinths and wall art cut from sheet materials left by the previous tenant. Finished in an array of vibrant colours, this furniture acts to contrast to the original brick wall and unfinished concrete columns that make up the structure of the existing shop.
In the true COW spirit, many of the fixtures and fittings in the project were also handmade and were designed through experimentation with materials and shape; with many pieces details and colours being refined through the making process rather than through detailed design drawings. This was a process favoured by the store's designers, who made many of the pieces themselves.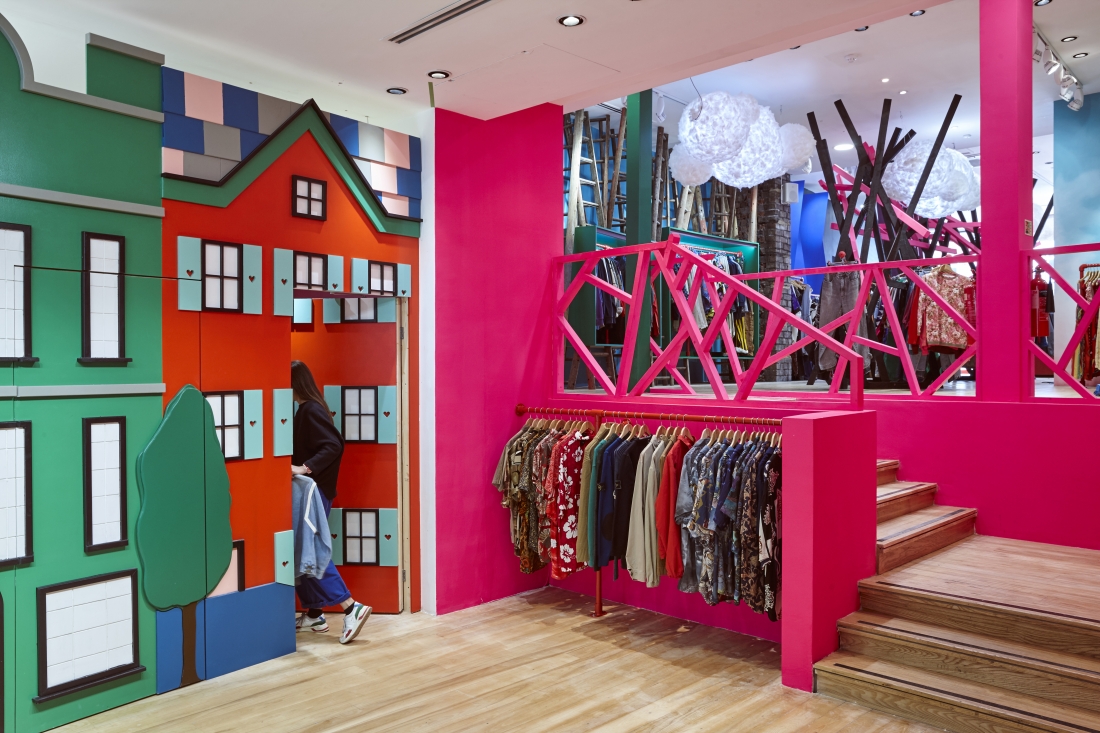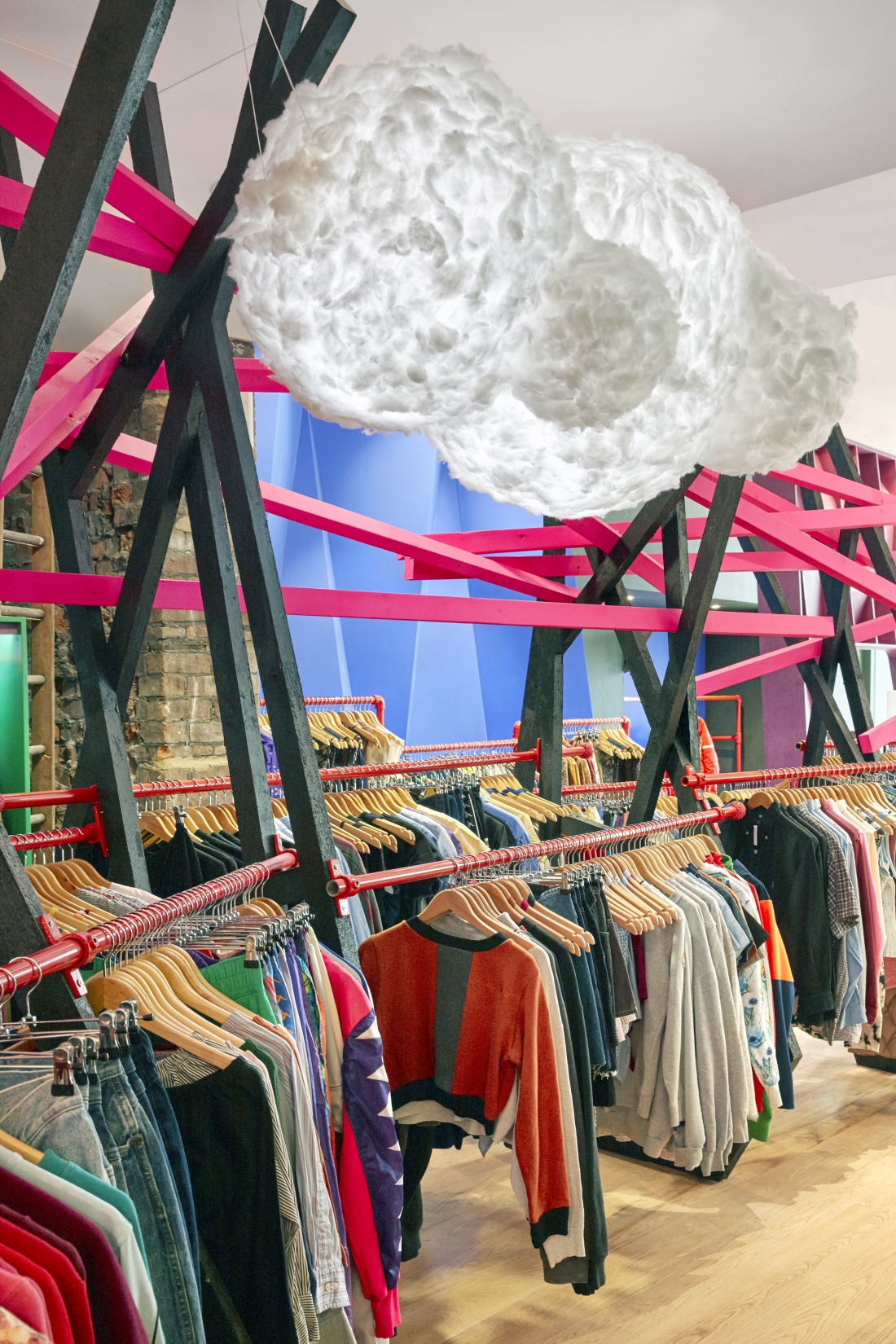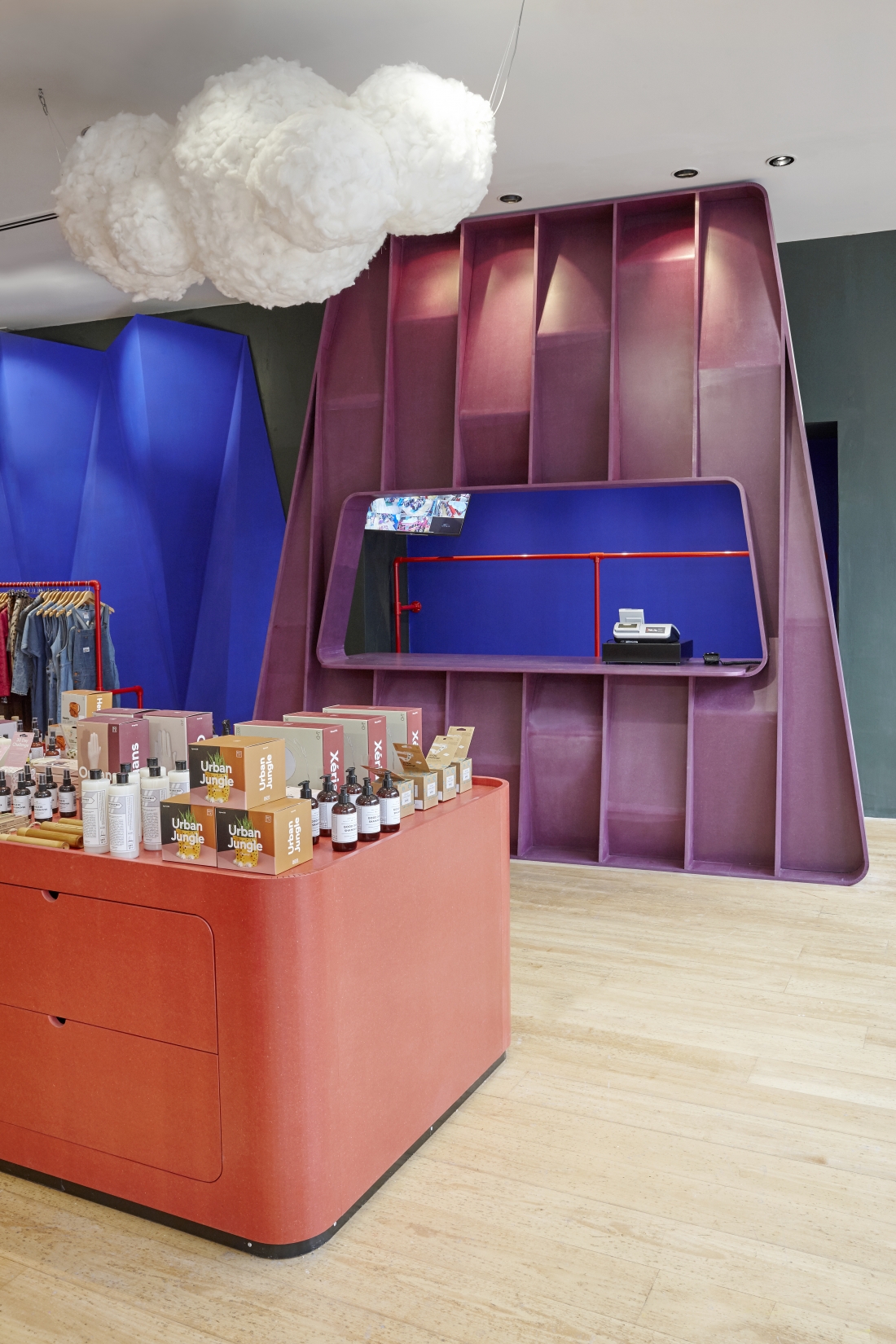 The store design was collaboration between interior and furniture designer Pete Masters; and Manchester based design/make studios Playground and Northern Makers. As the designer behind all the previous COW stores; Masters was keen to bring on board new rising talent from the North West to create something visually stimulating and interactive. 
Due to the owner's home-town link, the shop was based around the concept of suburban dreams/nightmares, with the shop divided into different zones to playfully reflect this. From to the cloud light fittings and hand painted wall mural (by Cave Studio) at the front of the shop; through to the mirrored kaleidoscope room housing the remake station sitting alongside the wild-woods clothing rails in the centre; to the doll-house fitting rooms and spinning twilight-zone wall at the shop's rear.
As owners Nigel Coughlan and Steve Adamson explained 'We have both lived in Leeds for over 15 years. We wanted to create an exciting destination store that gave local people a chance to celebrate with us the COW brand and this unique, vibrant and colourful city of Leeds where it all started.'
More about COW.