Cameron Fry of Liqui Group talks about designing coffee shops and understanding the business of coffee.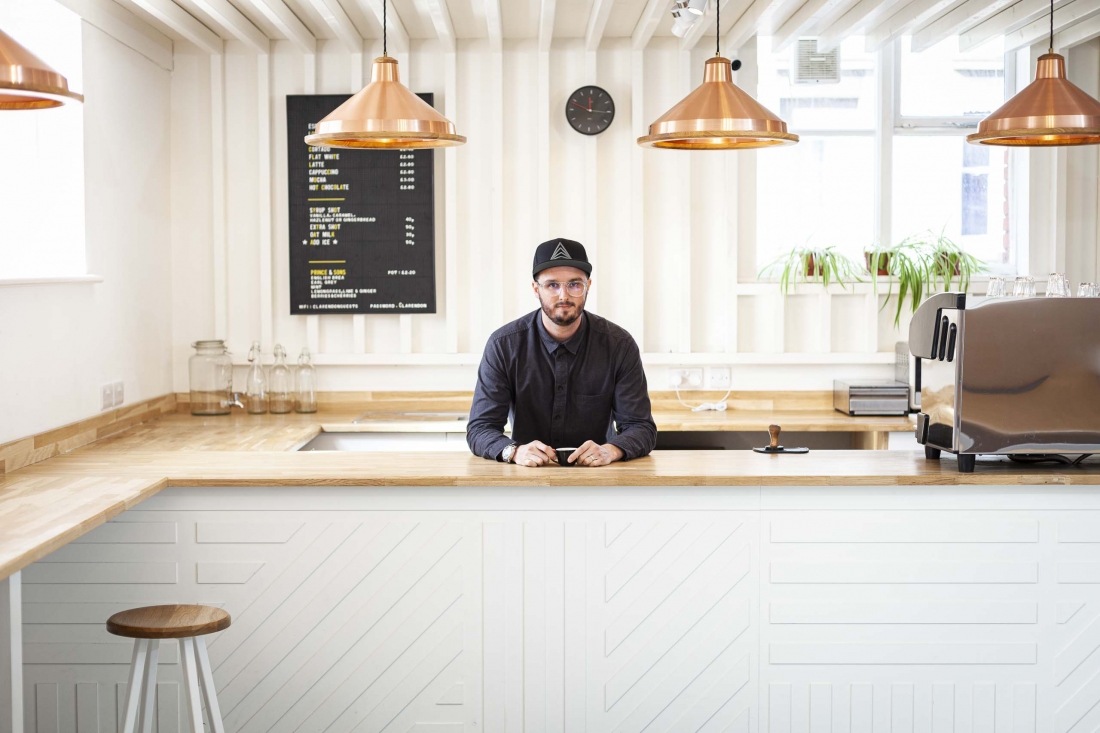 Speciality coffee is big business, requiring the dedication of many people: from the coffee farmer to the green coffee buyer, the roaster to the barista, and of course, the consumer. As an industry, its scale is entirely diverse.
You will find speciality coffee in demand in regions across the world, ranging from small independent cafes to global corporations. Understanding the business of coffee requires a huge commitment, one that involves comprehending the lifecycle of a coffee bean, including how coffee is served and where it is served. As such, design plays a key role in the coffee industry. One company that truly understands the industry — from business to design to consuming the perfect cup of joe — is Liqui Group.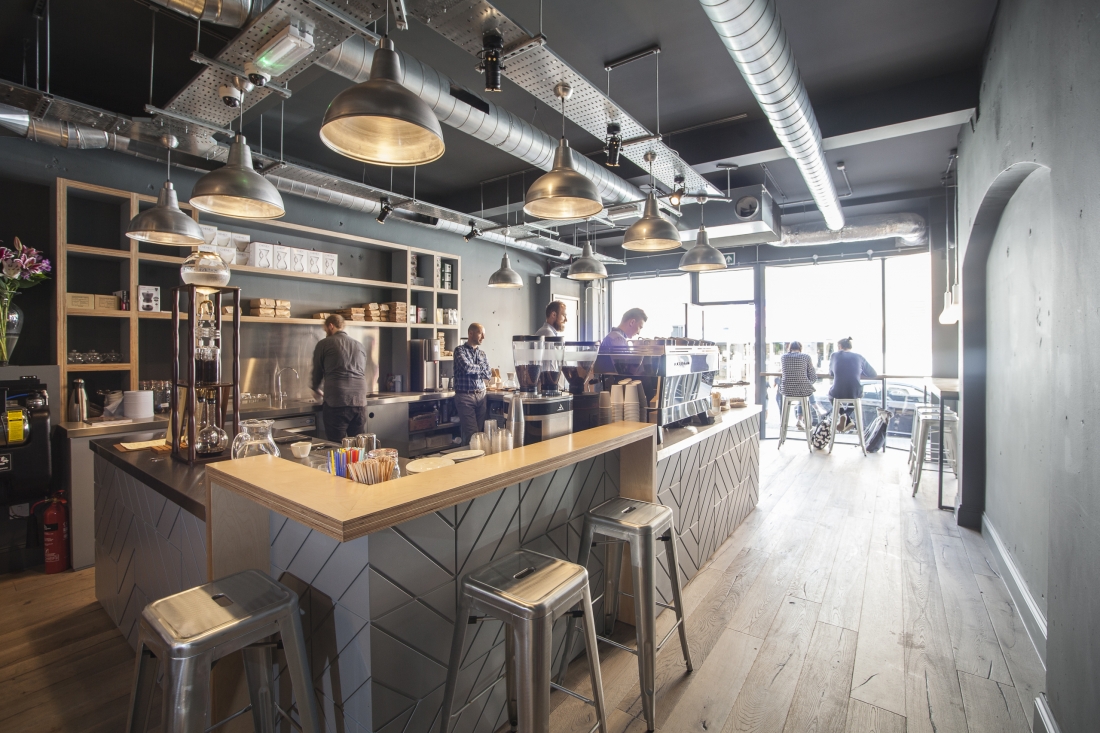 As an accomplished British interior design studio, Liqui Group has designed and completed a number of coffee shop interiors, including shops in Saudi Arabia, the UK and the Netherlands. The studio has also designed 'The London Coffee Festival' exhibition. Liqui has an insightful approach to coffee shop design, based on experience and in-depth knowledge of the coffee industry. When designing interiors, the studio incorporates its own furniture and lighting pieces to create a truly holistic space, one that seeks to enhance both the business and the customer experience. In this interview, we talk to Liqui's founder, Cameron Fry, about his work with the coffee industry.
What attracted you to designing coffee shops?
Really, it's because I know coffee, coffee shops and cafes, and grew up with them. My Mum used to run cafes and bakeries, and I would work with her behind the counter during the school summer holidays. When I went to college, I became a manager in a coffee shop in our local town. I knew building work as well, because I'd worked in building. I had the opportunity to redesign the layout of this coffee shop for the owner, as it wasn't ideal. I literally drew a sketch on a napkin and when they changed the layout, the revenue increased by around 25 percent. I was serving a few hundred coffees a day and understood the patterns, as well as the profit margins.
When I had my first 'real' client—they wanted me to design some chairs for their coffee shop—my experience made it easier to help them. For example, I pointed out that the coffee machine was in the wrong place. They asked what I would do differently, and in the end, asked me to design the whole shop. They couldn't afford to pay me, but that was fine because I had the opportunity to try something out and if it worked, I could potentially go on to do more. That project was for Artisan in Putney and it won a gold award from the Cafe Association. My previous involvement with the industry, serving coffee and making sandwiches, very much helped in the design process. More than simply making a coffee shop look good, I knew how to think about the layout and day-to-day running.
What is your idea of the ideal coffee shop interior?
The design of the ideal coffee shop is focused around a given space—it's the ideal layout for that particular location. In London we typically get long, awkward spaces, whereas in the Middle East they can be massive in size. If a client wants a cosy coffee shop environment, then of course we need to do something that will transform a massive space into a cosy place.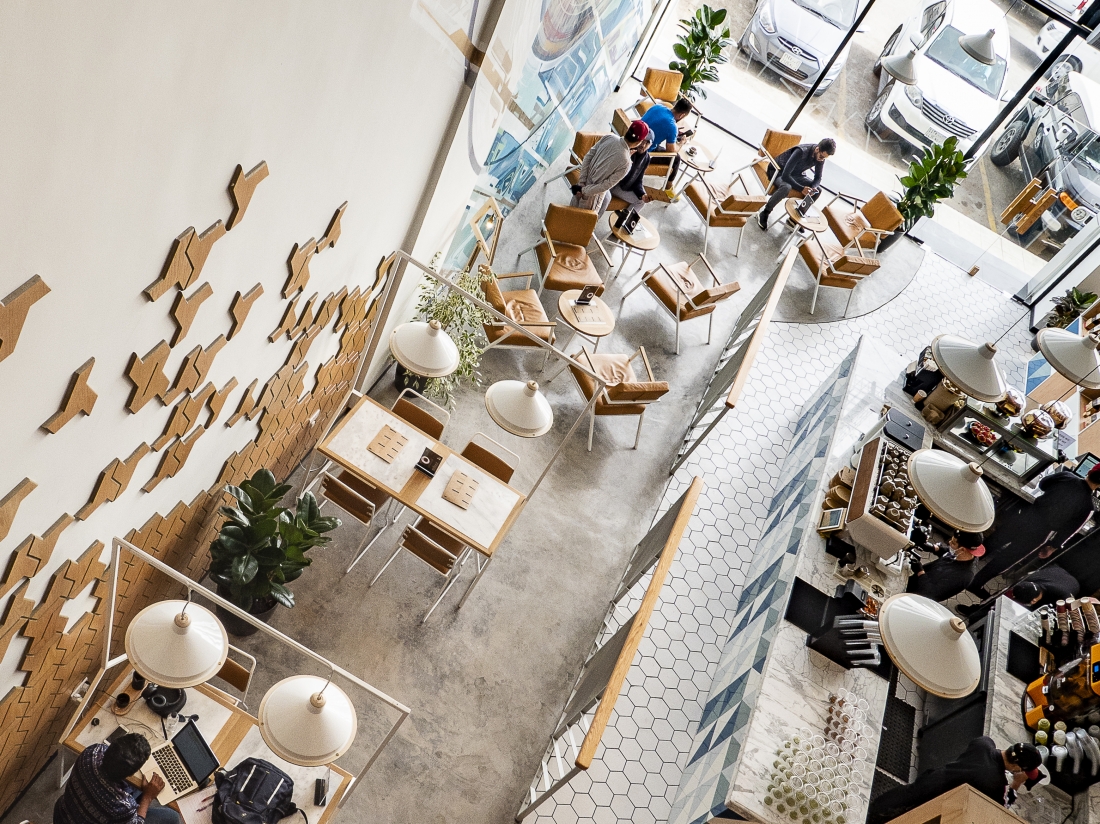 Really, it's about creating an ideal atmosphere—the design is then steered by this. Coffee shops can be noisy and so soft furnishings really help. The business model is also important: if the client's business is coffee-centric and does not offer food, then this should be incorporated into the arrangement of the space. For example, there will be a certain type of seating for people who want to sit for a while, and different seating for those who are there to quickly drink a coffee and go. Liqui has designed several coffee shop interiors for Brew92, a Saudi Arabian-based speciality cafe and roastery.
How did this work come about?
People don't drink in Saudi Arabia It's a "dry" country. A coffee shop offers a very different dynamic and is a space in which to socialise. Instead of meeting at the pub, friends will meet at a coffee shop, probably at a Brew92. And the coffee shop can remain open until 1.30am, so it's a completely different scene compared to the UK. The work for Brew92 came about because Liqui had built a reputation in the industry over the course of seven years, culminating in designing The London Coffee Festival . We had a stand at the festival and a visitor asked what else we had designed. So, we showed them several of our projects, and explained that we had also designed the entire festival. He went for a wander, returning later and asking to speak with me—that's where it all kicked off, when the work with Brew92 came into being.
How did you set about designing the spaces for Brew92?
In creating spaces for Brew92, we were given a lot of free rein. They very much believe in the experience side of the coffee shop, and that made our job a lot easier. Brew92 wants to offer an experience to every customer walking through the door, and every one of their stores is different: Brew92 in Jeddah is different from Brew92 in Riyadh. There is also a greater emphasis placed on a comfortable environment—Brew92 doesn't mind people sitting for longer and will offer table service, for example. As a brand, it is seeking the upper level of coffee, service and design. There's a wow factor when you walk into Brew92's flagship Al Khayyat cafe and roastery, with a magnificent glasshouse that separates the roastery, a large bespoke island coffee counter, and a striking spiral staircase. We also built in a cupping room within the glass house, so the customer can see the roasters, baristas and coffee consultants cupping the next batch—it's all about the experience and engaging with the customer.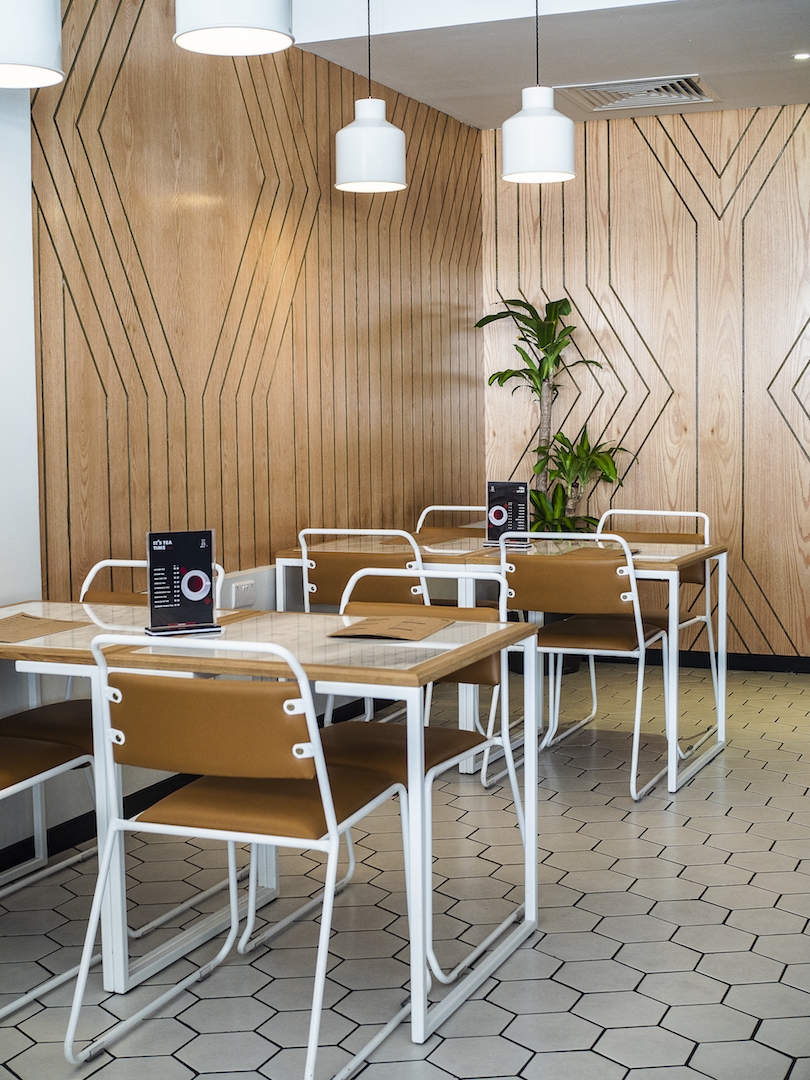 How important is experience of the coffee industry when thinking about coffee shop design?
At Liqui, we've learned a lot through working with The London Coffee Festival, as well as working with some of the best, award-winning baristas and coffee consultants in the world. We're giving barista training to our team, so they can really immerse themselves in the semantics and culture of coffee. I've done it—I've had that experience and feel I'm a better designer for it. I'm also a hyper-detail kinda guy and want the design team to understand the various nuances around working with coffee. Anything we can do that will technically and creatively advance our design processes, we'll do it. It's an obsession and we're all pretty geeky.
What is the one thing that a coffee shop really needs?
The number one thing that a coffee shop needs is amazingly good coffee. Some of our clients have the best coffee I've ever tasted. If you have bad coffee and we've created a really great coffee shop design, then in my opinion you've destroyed the design. Today, people do know a lot more about coffee and in many ways, it's like a fine wine.
And what about today's coffee shop aesthetic?
Some of our clients might want an industrial look, but they're miles from where they need to be. They should be thinking more about a luxurious aesthetic, mixing leathers, marble and colours. Think of a good hotel. Things have changed in the industry and are much more refined. We try to find customers that see both sides—good coffee and good design.
In a world with ever decreasing natural resources, how do you ensure Liqui's coffee shop interiors focus on sustainable design?
I specialised in plastics at university, and was taught by boatbuilders and various craftspeople. I was moulding shapes from fibreglass—Liqui Group takes its name from liquid forms, and I started the company at uni.
With today's mass consumer culture, I began thinking about what happens to the fibreglass pieces I was designing—where do they end up?
Out of nowhere, I switched and began concentrating on biodegradable materials, specifically cardboard. I took a cardboard coffee table to New Designers [an exhibition of up-and-coming design talent], and was shortlisted for New Designer of the Year. After that, I was hooked and knew I was doing the right thing.
Liqui was originally a consumer-based company. We sold sustainable products, the most famous of which is the Bagalight . We are now a contract company and have moved away from such obviously environmentally-friendly design. Things need to be extremely hard-wearing in the contract sector and we strive to mix quality with sustainability. The Bagalight will not last for one hundred years. Instead, we're using old-school manufacturing techniques and almost over-engineering products to ensure they're bulletproof.
Most of the furniture we put into a coffee shop is made with solid, sustainably sourced timber, but the quality also makes the furniture sustainable, ensuring it will last. And we've made our products in such a way that they can be refurbished, rather than disposed of, so reducing our carbon footprint. We've also changed our design ethos at Liqui, and are striving to make more timeless designs. It's about avoiding fashion trends, but knowing our designs and interiors will remain relevant in years to come.
What's on the horizon for Liqui in terms of coffee shop design?
We're working on a number of projects in the Middle East as well as several high-end concepts in London. We want to keep on honing our skills in the coffee industry, continually learning from and improving on what we've already achieved.
Learn more about Liqui Group.