Holly Hendry on exhibiting at Yorkshire Sculpture Park, skin and pushing materials to their limits.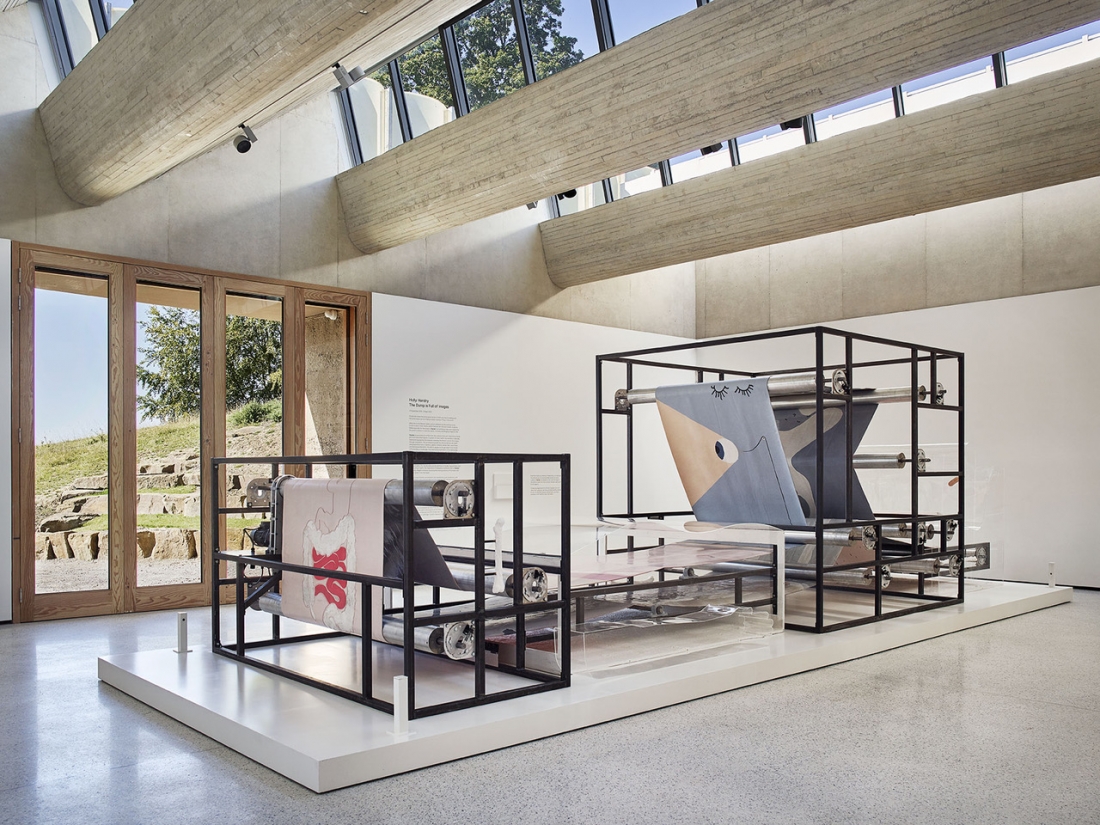 Holly Hendry is one of Britain's most exciting young sculptors whose work has been shown at Baltic, the Liverpool Biennial, and, most recently, Yorkshire Sculpture Park.
In 2018, Holly became the first artist commissioned to create a work for Selfridges' Art Block, a permanent destination for sculpture within the London store, in partnership with YSP.
Her practice involves an interest in skin and containers, which has led to an exploration of the physical properties of a range of materials. As you can imagine, Holly's work is right up our street, so we grabbed half an hour out of her busy schedule to catch up on her latest projects. Here's what she had to say...
Your latest work The Dump is Full of Images is currently being exhibited at Yorkshire Sculpture Park - can you talk us through your inspiration for the site-specific piece?
"I was thinking about ideas of deadness, flatness and fullness, and the slapstick idea of bodily collisions with machines, or a fear of that. At the same time, I had been reading Miles Orvell's book The Real Thing, which talks about replication and authenticity.
"In the epilogue, he speaks of junk as a perceived system of disorder and the idea of mass-produced objects becoming something individual again when they're used, reused and then thrown away.
"The moving element and the somewhat figurative forms within the show came from being at Yorkshire Sculpture Park and looking out at the landscape while the new Weston Gallery was half-built.
"I was thinking about the lines of the building and its positioning in the landscape. I was also thinking about the permanency of the Henry Moore sculptures outdoors; the recumbent figure and the act of lying down, whether through sleeping, exhaustion or death.
"For me, it all links to activity and passivity: the movement that happens during an implied stillness, such as digestion when you're lying down; or changes in weather, light or season in the landscape; or decomposition when something dies. I am trying to get my sculptures to deal with this."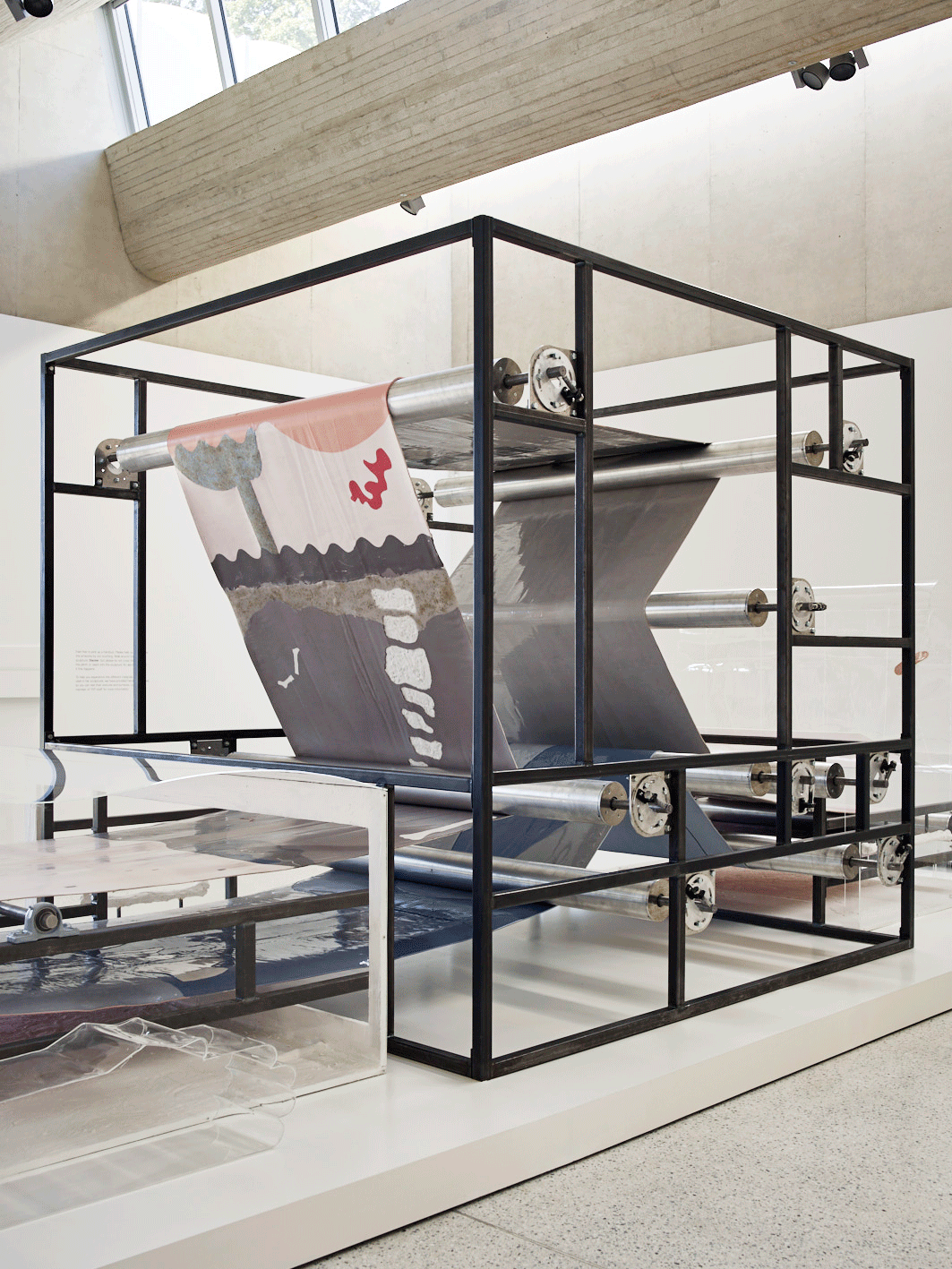 You are particularly interested in 'skin' - where did this interest originate?
"I am interested in edges and boundaries and points of intersection where one thing ends and another begins. The word skin implies surface but also relates to touch, intimacy, boundaries, internal and external, and ideas that are a bit more slippery or hard to grasp."
Your work is quite visceral. Do you intend people to feel a certain way when they view it?
"I don't intend for people to specifically feel a certain way but I hope my work conjures a physical reaction that you feel in your gut or on your skin. I enjoy the fact that these kind of reactions can happen through looking or hearing."
This latest work showcases a new material made from "artificial skin substances and reused plastic". Can you briefly talk us through your making process?
"The 'band' part of the work Slacker was made from mould-making substances such as silicones and polyurethanes which were mixed with an aggregate of plasticky studio detritus like used pens, wrapping and packaging.
"The imagery in the band depicts bodily organs, food and stuff that fills our lives. I was thinking about what I consume, both day to day as well as in sculpture-making.
"My work has a lot to do with the idea of edges, shifts in our perception of edges, where one thing ends and something else begins, so turning objects into materials felt similar to digestion, in that to consume erases the distinction between body and thing.
"It was an absorption of objects that become a part of the body. A play of flatness and fullness where solid objects had been ground down and made back into images, which the rollers and movement then reconstitute as a body again.
"The band was then made by drawing shapes into a five metre shallow mould using plasticine, and then pouring and drawing with pigmented silicone. It was an approach similar to the surrealist exquisite corpse technique where parts are drawn separately and blindly in relation to each other, but then connected and opened out to form a monstrous whole once complete.
"For me, the motor and the rollers completes this exquisite corpse by physically animating it and displaying it as a whole, where different anatomical parts match up or disconnect at different points in the rotational cycle."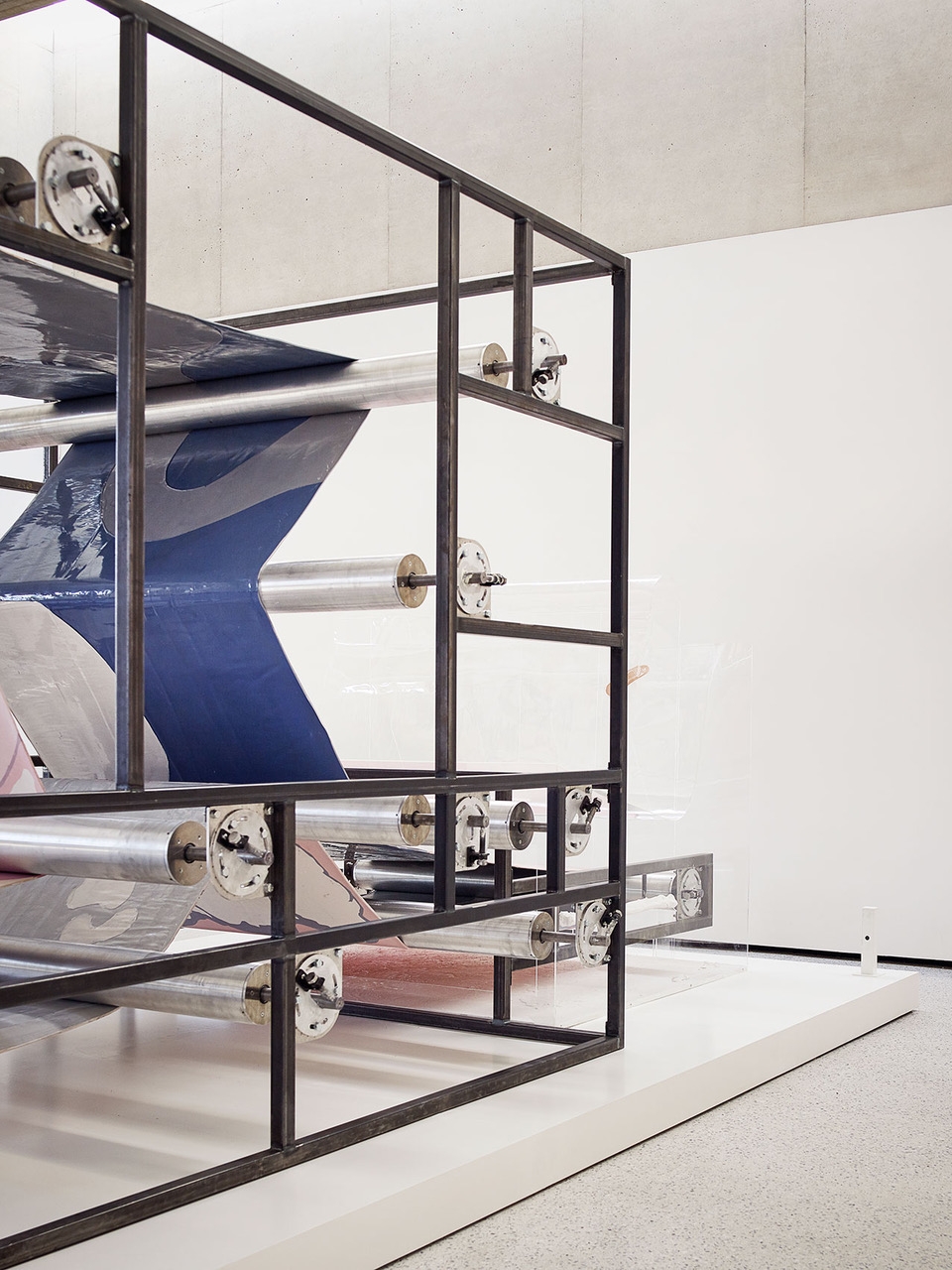 'Biomaterials' are currently having a 'moment'. Have they always formed a part of your work?
"My work has sometimes alluded to biomaterials in terms of ideas of repairing or replacing parts of the body but the materials I use are engineered by me, and are the opposite of biomaterials in that they are usually quite basic sculptural or building materials that I attempt to push and adapt.
"This approach to materials has been a constant thread in my work for a while. I have recently learnt about the ways that biomaterials can change lives and our current landscape through conversations with Professor Parik at the University of Huddersfield.
"It was exciting to see the amount of detail and testing that happens through this research, and their approaches which totally push the use of materials to new levels I had never imagined were possible."
Do you have a favourite material to work with? Or any you'd like to try?
"Jesmonite and plaster feel like materials that are a second language but I enjoy trying to push the limits of materials. I hope to incorporate glass into some sculptures that I am starting to work on now."
Your work has been exhibited extensively. Do you have a favourite site-specific piece and why?
"Working with the space at BALTIC in 2016 felt special, having lived in Newcastle for a while before and seeing the spaces transform and mutate when different artists took it on. I had always enjoyed the outside views from there too – a different kind of way to see a city from above.
"I loved working to the architectural height, and those vertical moments that came through the tall space. The work happened at an important point for me. This work and this space felt like simultaneously reaching up and digging down which fits with these ideas of verticality.
"As I have mentioned, the space and the work at YSP is very much based on ideas of horizontality, lying down, or a cyclical movement of rotation back and forth as a form of regurgitation."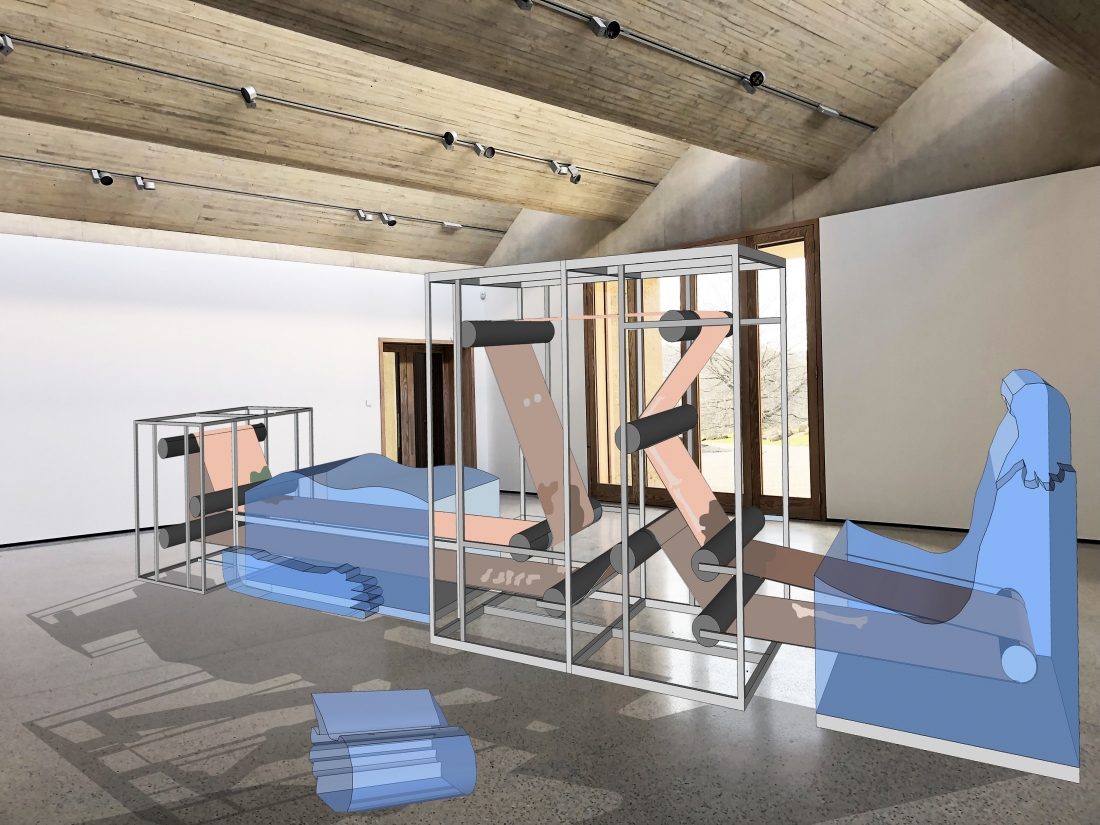 Your YSP exhibition runs until April 2020. What's next?
"I will be making a public artwork that will be part of the Waterfronts commissions along the South Coast of England in 2020.
"The work will be on show outside of the De La Warr Pavillon in Bexhill and I will also be presenting a body of work in the ground floor gallery inside the De La Warr at the same time.
"Both works will be connected so there will be a dialogue between internal and external conceptually as well as through the physical installation."