First look at new HQ for Brabners by workplace design specialist, Incognito.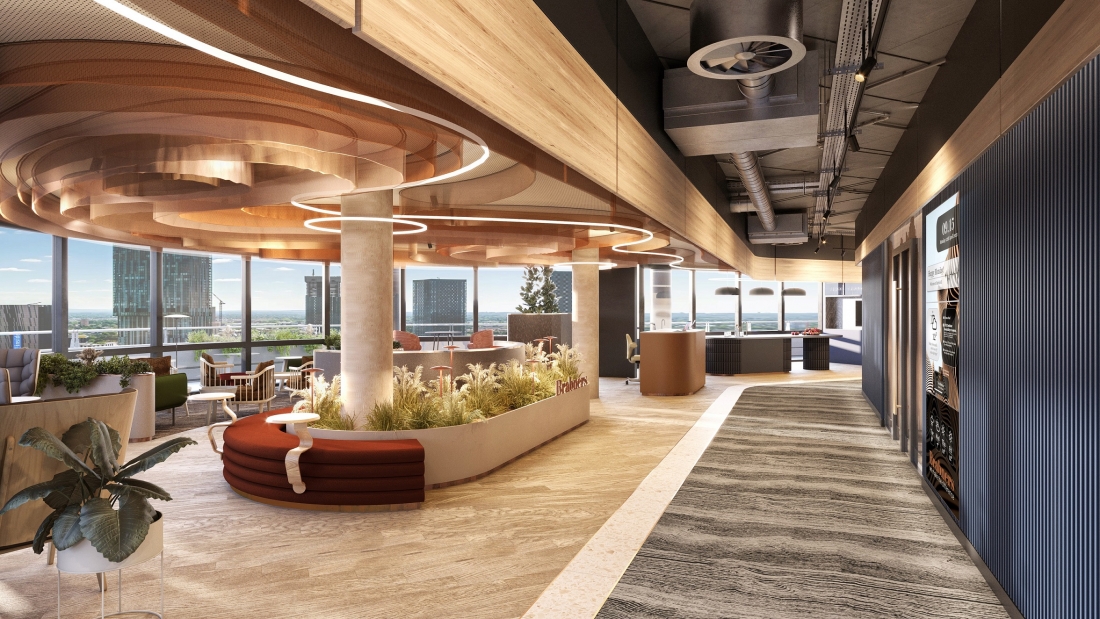 Incognito, a commercial interior design and workplace consultancy specialist, is set to transform leading independent law firm Brabners' new Manchester HQ at 100 Barbirolli Square.
The project is expected to be one of the first new look offices designed for a post-Covid world, and will enable Brabners to embrace agile working more effectively, in a modern collaborative office environment. In addition, the firm is championing cross office working and will encourage colleagues from both Preston and Liverpool to use the new workspace to maximise its potential.
Relocating from its existing premises on King Street, Brabners is expected to move its Manchester team into the 20,000 sq ft workspace, spread across the top two floors of 100 Barbirolli Square, in the Autumn of this year.
Employees will have access to amenities including a coffee lounge and a fitness and yoga studio, as well as the scheme's new £1m independent street food venue, Society, which is due to open this summer.
With a design concept inspired by the property's namesake, British conductor John Barbirolli, employees returning to the office will enjoy a modern working environment which offers a range of flexible work settings and uses 'sound' as a common theme throughout the interior. Sound waves and sweeping curves can be seen in the joinery detailing, and contrasting colour palettes have been utilised to separate areas expected to attract a high sound frequency such as collaboration or social spaces (lighter, more vibrant textures) with quiet, low frequency zones aimed at focused working or confidential activities (darker, more intimate tones).
Robert White, chief executive at Brabners, said of the project: "Our Manchester relocation is driven by a desire to embrace agile working more effectively and to grasp the opportunity to re-define the purpose of our office space. It represents the latest major investment in Brabners' future. In Barbirolli Square, we will have modern and collaborative spaces to be proud of, and we hope this outstanding space will prove to be more important than ever, to our clients and our people as we emerge from the pandemic.
"When looking for a company to work with on this project, it was important for us to find an independent team who would push boundaries – Incognito have done exactly that and we are all very much looking forward to moving into our new Manchester home in the Autumn."
Howard Powsney, director at Incognito, added: "The past twelve months have changed the face of the office for good and workplace design is being used extensively by companies wanting to embrace the change in the most positive way. Brabners is a modern, independent law firm with a collaborative culture and clear dedication to its clients, its people and its community. The firm's move to Barbirolli Square gives it a unique opportunity to lead the way in a post-Covid world, a chance to showcase the possibilities in the workplace and how the office can still be a valuable place to engage with clients, bring teams together and attract talent of the highest order. The office is not dead, there is a bright future ahead as its purpose and definition evolves to meet the changing needs of the workforce. It is an incredibly exciting scheme to be involved with and we look forward to sharing it with you in due course."
Refurbishment works are expected to begin this summer with a completion in the Autumn. It is being project managed by Knight Frank and the M&E consultant is Crookes Walker.