Heather Levine on vintage stoneware ceramics, the influence of California and her love of clay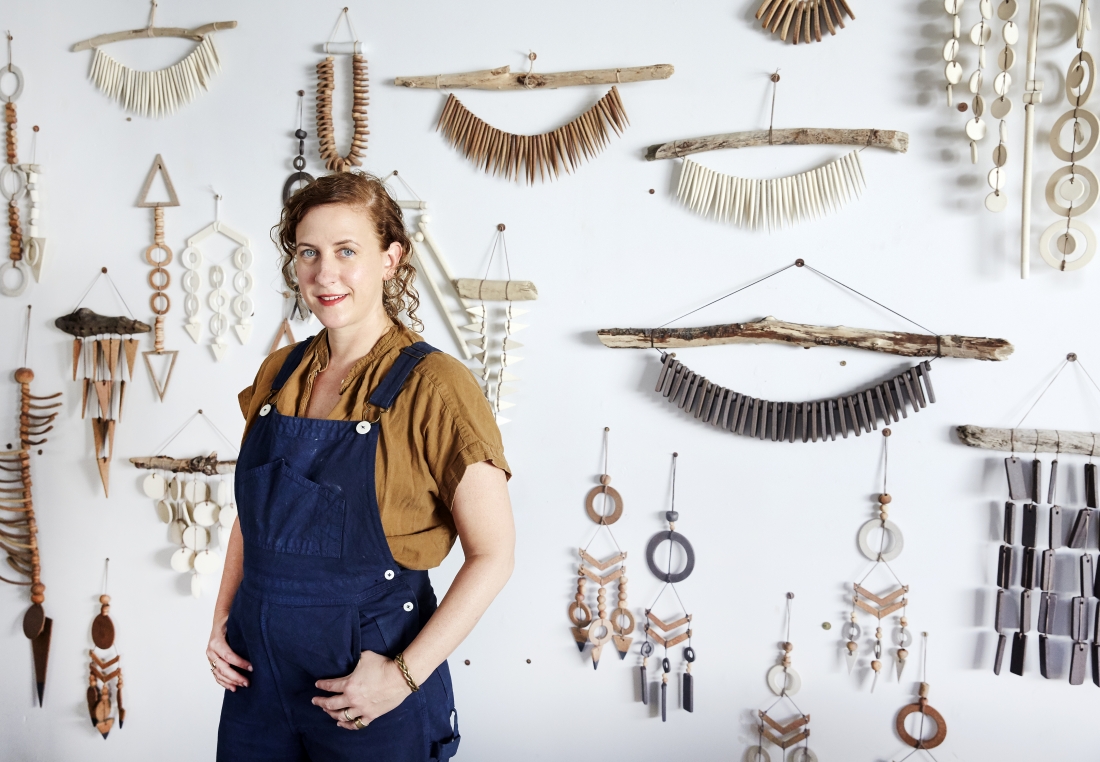 From her Glendale studio, Los Angeles native, Heather Levine creates otherworldly wall hangings, pendant lamps, planters and ceramic chandeliers inspired by the idea of "transforming simple spaces into veritable spectacles, all with the help of a little light and the ways in which they ricochet through select markings upon clay".
Defining herself as a lighting designer and ceramicist, her work can be seen at The Standard East Village, Ojai Rancho Inn, Le Mary Celeste, Wildwood Restaurant and other commercial spaces across North America. With such a beautiful collection of accessories, we popped along to her studio to find out more about her inspirations, her developed style and what she has next in the pipeline.
Firstly, what inspires your work? Does California play a part?
Vintage stoneware ceramics, mid-century architecture and the diverse California landscape all influence my work. I make decorative pieces so I strive to make them feel comfortable in their environment by using materials, colours and textures all sourced from nature.
Why ceramics? What is it about this material that you like so much?
I've been working with clay since 1990 and to me, it really feels like a material I can't escape. Using clay is all about understanding the material that can only come with experience and experimentation my work essentially reflects my experience over the years.
Clay is demanding with timing and always changing depending on the weather and studio climate. To me, it often feels like a boss or supervisor of some sort that demands I listen to its needs in terms of developing the next step in the process of creating. In the studio, I use three clay bodies that feel extremely tactile and earthy with glaze and sometimes use them without glaze.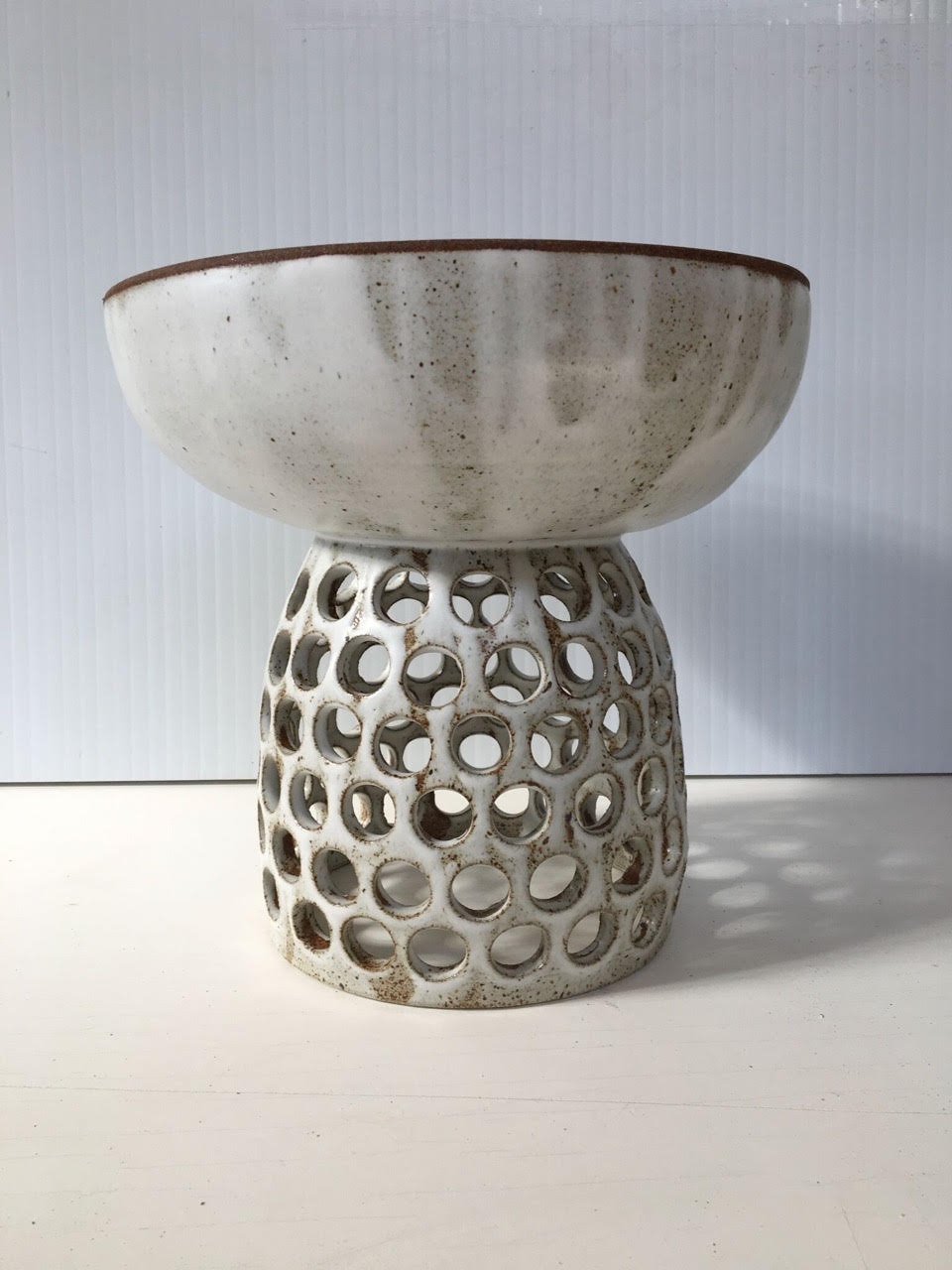 We especially love the wall hangings. Tell us more about those
The wall hangings started about 10 years ago and are a by-product of the lamps I began making with cutout pieces of clay, and so naturally I started saving the cutouts to avoid wasting materials.
I liked the shapes but wasn't sure how to incorporate them into the lamps, so after accumulating a few, I started cleaning the parts and firing them (with no glaze) and then began to string them together into simple designs. Friends and clients were really drawn to them and once they started to become popular, I was able to sell the pieces and develop them into larger and more intricate designs.
Then I began receiving commissions for restaurants and other commercial spaces which increased the interest and now each handmade design is a one-of-a-kind creation, although often imperfect but definitely balanced. I've probably made close to 4,000 over the years.
Can you talk us through your process from idea or brief to finished product?
For a chandelier commission, I usually start with a conversation with the designer which normally entails references of the space and of the pieces that the designer is inspired by. Then I decide on sizes and materials and start the process. The pieces are thrown on a wheel, so if I need five pendants for a chandelier I will likely make 10 pendants to carve.
After the drying process is complete, I lightly design the pattern on the surface and then use a small knife to cut each part out by hand. Intricate pieces can often take up to three hours to carve and clean. Each opening is then cleaned thoroughly with a sponge and water.
They then dry slowly before being fired to Cone 06 in my gas kiln. The bisque piece is then masked with tape and newspaper before I spray the pendant in my spray booth with glaze. Next, the piece is fired again to Cone 10 Reduction in the kiln. Once the 10 pieces are all fired, I choose the best five and photograph them for the client's approval. Once approved, the pieces are wired by my electrician and all the custom metal work is made-to-order.
Moving on, did you always know you wanted to be a designer? How did you get here?
No. I worked in commercial advertising for 17 years as a producer but always had an interest in ceramics and a studio space to work with as a hobby. After I had my son, I didn't want to travel and work such long hours, so it was a nice transition into becoming a full-time designer.
I already had the experience of working with clay, as well as the business background, so I was very fortunate that it all evolved so naturally.
What challenges have you faced and overcome since running your business?
Managing expectations with a Cone 10 Reduction firing. The results are always different from each firing which is what makes the process so interesting to me. Sometimes, it's difficult for clients to understand why the final result often differs from the visual reference shot.
What's worked for you in getting your name out there?
Instagram has been an amazing tool for sharing my work. And a great way to reference my pieces for clients.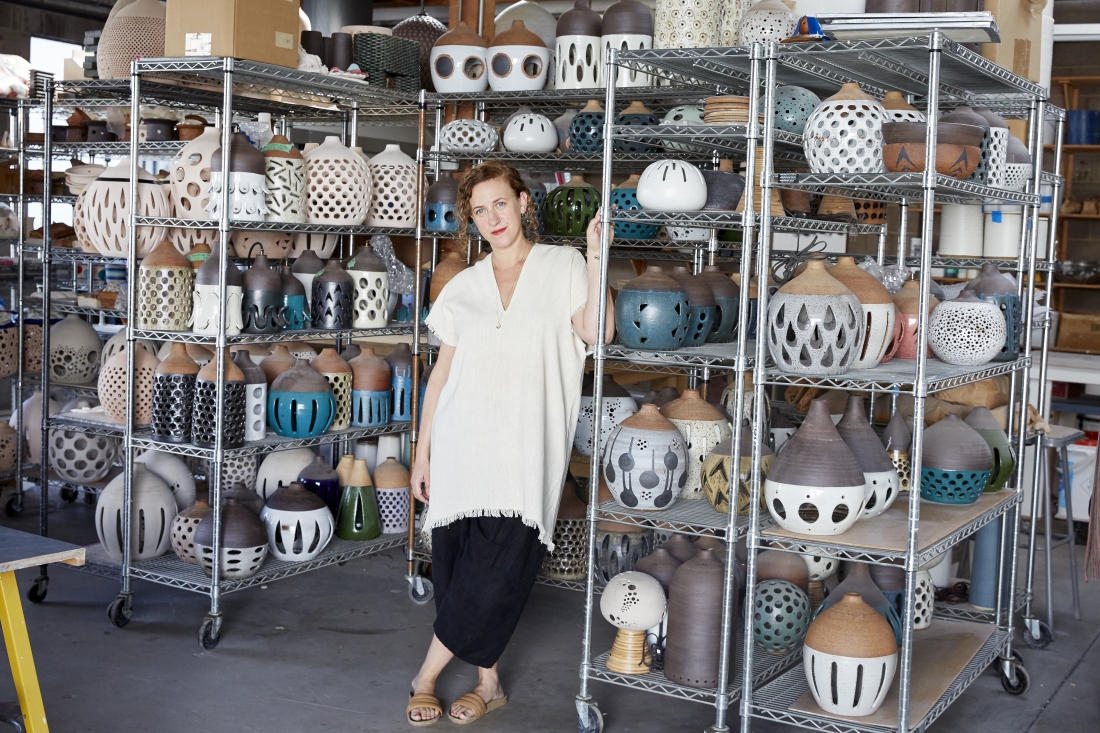 Describe your studio. What happens there?
My studio is a 2,500-square foot industrial warehouse with skylights and roller doors so I'm lucky because the space has incredible light.
We fire the kiln once or twice a week so my schedule is often dictated by what I can get ready for the firing that week. We throw and create parts on a slab roller and focus on lots of sponge work and cleaning to refine the clay edges. We load (and unload) kilns and create our wall hangings in-between spending our days packing and listening to great podcasts (often way too many with a political focus these days).
What's next for you?
Larger commercial spaces and commissions, many of which are exciting and represent a challenge for me. My focus for 2019 is really about developing my business into becoming a solid showcase of my work in both populated and well designed spaces.