Tim Denton helps others to hand-craft lampshades inspired by an art deco hippodrome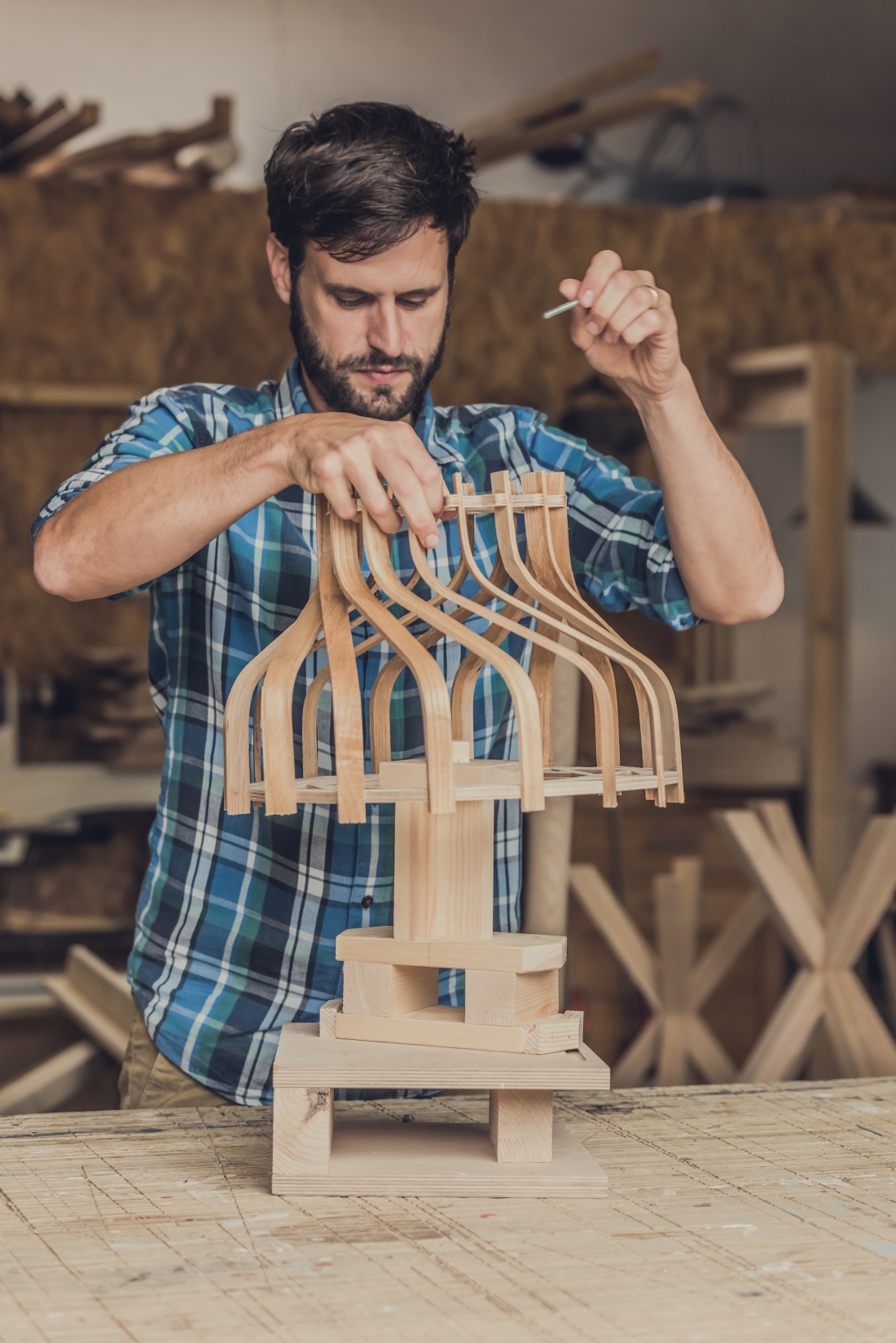 Bespoke hand-crafted lampshades inspired by Wrexham's art deco hippodrome light and created by Manchester-based designer Tim Denton clearly showcase the power of community collaboration.
During workshops throughout 2018, Denton and his team were able to guide members of the local Wrexham community through the process of creating these intricate wooden lampshades, which have since been flying off the shelves at Ty Pawb's Siop Shop.
Denton and his team initially conceived and prototyped the idea, with considerations made for the commerciality of the final product but also the craft techniques involved to ensure the project acted as a genuine learning experience and skill building exercise for all participants.
It was decided to use steam bending techniques; a craft that doesn't always have expected outcomes but helped to introduce a practice which the community may otherwise not have the opportunity to experience. Instructions on how to construct a steam bender were also passed to participants, to increase their exploration into new techniques and increase their input into the project.
The community then took over. The lampshade building process starts with ash components which are steamed by participants and then clamped into a jig, to be left for a week. Previously CNCd components are placed onto moulds provided by Denton's team, to which the steam bent ash elements are then glued, producing the final product.
Denton told Material Source: "The lampshade was designed to give people the ability to make small choices during the construction as opposed to a puzzle that simply needed fitting together, reflecting our shared aim with Ty Pawb and the funding bodies to provide an opportunity for the community to have an influence and feel part of the wider story at the centre.
"After working at Ty Pawb on the production of infrastructure, including display boxes designed in collaboration with a local school and furniture also created with local community groups, it was great to be asked to continue building on this experience through the design of the lampshades. Working with CAIS and Cye Cymru was a real pleasure and it's amazing to see the final product gain such popularity and interest from across Wrexham."
The popular original art deco light now hangs in the South Arcade of Ty Pawb but fans can purchase their own uniquely inspired steam-bent version from Siop Shop at Ty Pawb, and this is the first product created through the new Designer Maker project – a collaboration between Ty Pawb, CAIS and Cye Cymru, a mentoring and employability project for people with experience of substance misuse and mental health conditions.